Are you ready to head back into the classroom? These cheap and free school fonts are perfect for all of your back to school crafts, including bulletin boards, t-shirts, classroom decor, worksheets, and more!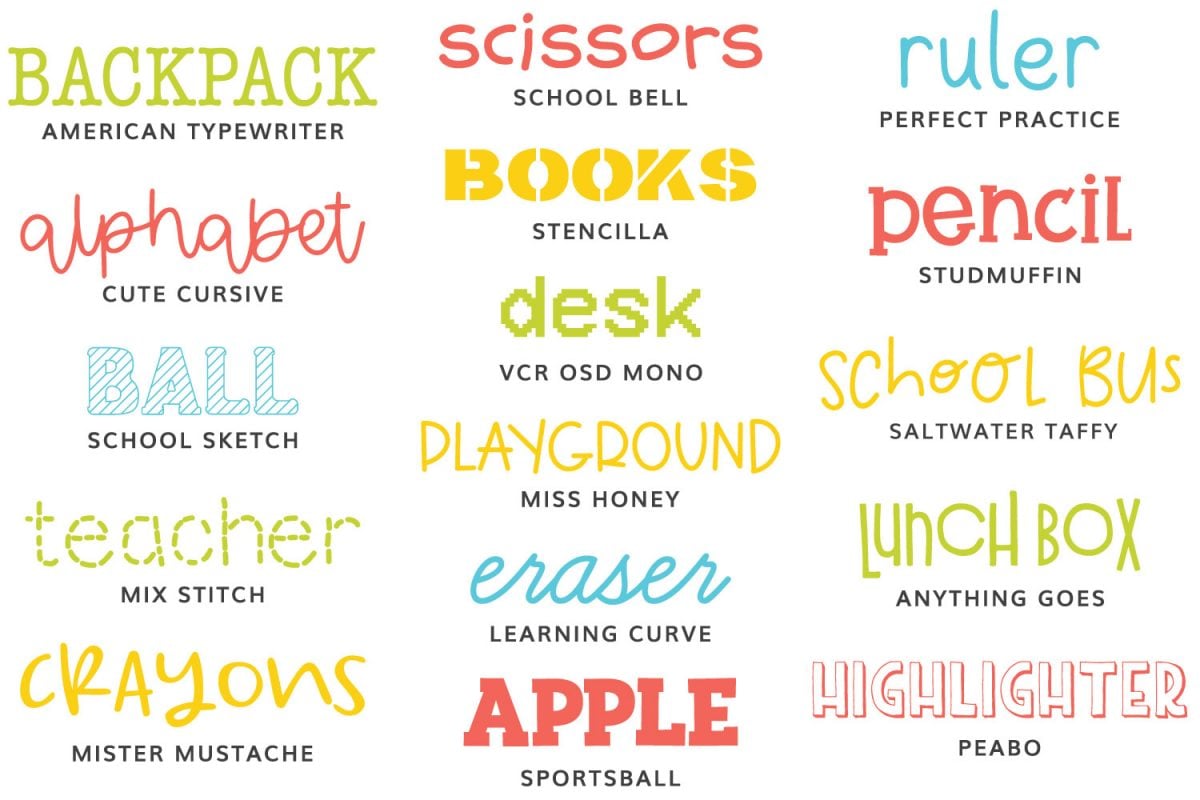 We're more than halfway through July and the first day of school is starting to get a little closer! I know kids who go back at the end of July (how?! so early!) but our boys don't start until well into September. That's one thing I love about living in the Pacific Northwest—we want to enjoy every ounce of summer so the districts often push back the start of school. That gives us more of a chance to be outside and enjoy the weather before the rainy season starts.
This year still may look a little different thanks to the pandemic, but there's no reason we can't celebrate the back to school season! Whether you're back in the classroom or doing another year of dining table school, let's get ready for another year of learning!
If you're crafting for the upcoming school year (think t-shirts, teacher gifts, totes), I've rounded up some of my favorite cheap and free school fonts that are perfect for all of your back to school crafting! When researching the best school fonts, I found a problem—so many of them are NOT good for cutting machines! Think sketch fonts and chalkboard fonts and crayon fonts. They are all "rough" and your Cricut will struggle to cut them. So I found others!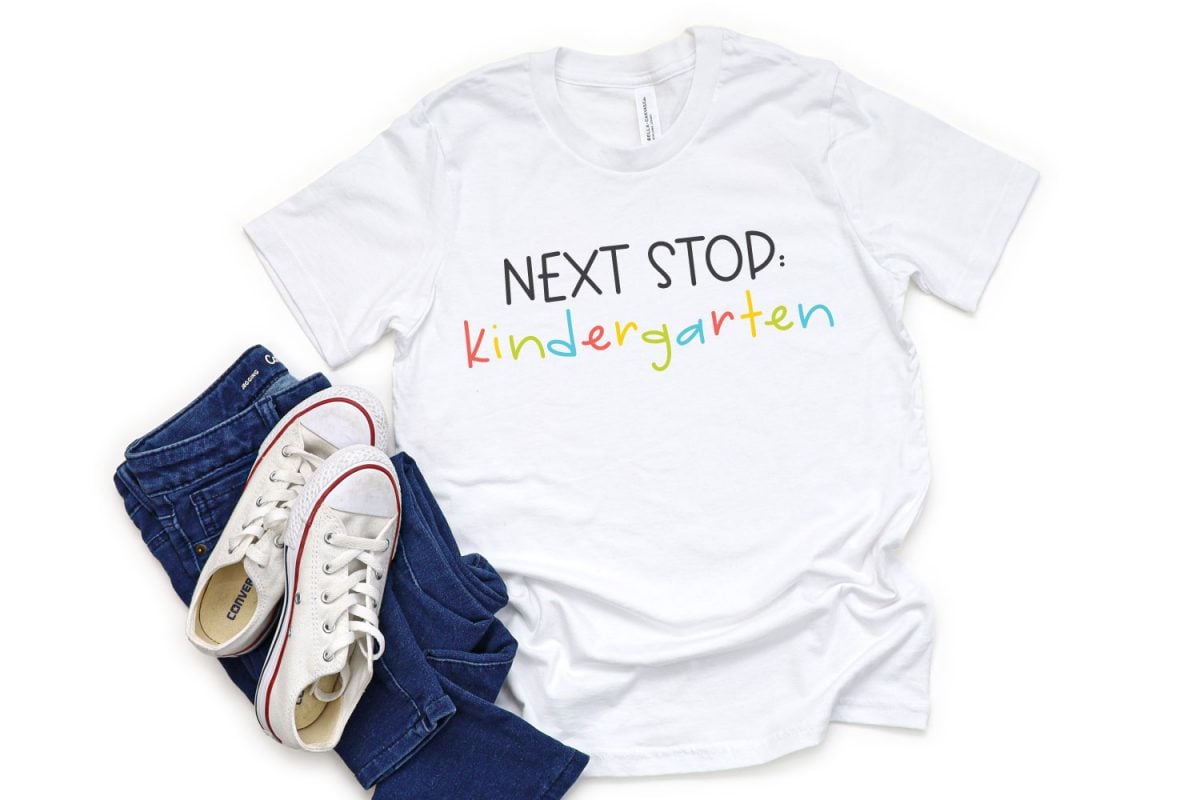 These are all fonts that I've verified will cut nicely on your cutting machine (see notes on the individual fonts below for suggestions). This is a combination of free and paid fonts. While getting fonts for free is great, I also think that the best, most "cuttable" fonts are often ones you pay for—plus you're helping support graphic designers!
Want to learn more about fonts with your Cricut? Check out these posts.
The Best School Fonts for Cricut & Silhouette
Backpack | American Typewriter: This is a classic, easy to cut typewriter font that looks great in all sorts of school projects. Before you download it for free, check to see if your computer already has it installed! It came with mine.
Eraser | Learning Curve: Another free font that looks like the classic cursive you were taught when you were in school! There are other versions including a dashed version, but be careful cutting the dashes—those small pieces can get lost.
Alphabet | Cute Cursive: If you're looking for something with a little more pep and bounce, Cute Cursive is a sweet font that still has that "my kid wrote this" feel.
Pencil | Studmuffin: Studmuffin is a font that I've used quite a bit on SVG files—the thick slab serif is fun and cute on all sorts of school projects. Font Bundles calls this one "adorably handsome" and I'd have to agree.

Ball | School Sketch: It took me a while, but I finally found a "sketch" font that can cut okay on your cutting machine. You'll want to use this one sparingly—it's a lot to weed! But if you use it sparingly in combination with another font here (I like Miss Honey, for example), you can get away with the "sketch" look without it being a nightmare to cut.
School Bus | Saltwater Taffy: Looking for a font perfect for the littles? Saltwater Taffy has a playful feel that reminds me of kids who are learning to write! I used it in the "Next Stop: Kindergarten" shirt above.
Teacher | Mix Stitch: There's something about dashed letters that just scream school! Use these to create a "tracing" image, like this fun letter tracing mat.
Lunch Box | Anything Goes: This is one of those fonts that I come back to all the time—it's so cute on all sorts of projects, and the dramatic narrow and wide letters makes it feel perfect for school.

Crayons | Mister Mustache: This font cuts so easily and echos a kid's handwriting. A quirky font, perfect for school-themed crafts.
Highlighter | Peabo: I wanted to include an open font here, because for some reason they feel really "schooly" to me. This one has some very thin edges, so cut large and weed carefully.
Scissors | School Bell: School Bell is a cute free handwriting font that can look a little messy when it's used a lot. Use this one for headers, but try Perfect Practice below if you have a lot of text.
Playground | Miss Honey: I really love this font, which is pretty new. It cuts beautifully and it's playful but legible. It's the perfect school font!

Books | Stencilla: Stencil fonts scream school to me, and I like the chunkiness of Stencilla. Easy to cut as well!
Ruler | Perfect Practice: Perfect Practice is designed to look like perfect handwriting. It's so great for school-themed bulletin boards. It's only available in a mini bundle of fonts, with a few others featured in this school fonts post!
Desk | VCR OSD MONO: There's something about a pixelated font that makes me think of afternoons playing Oregon Trail in elementary school (yeah, I'm that old). This free VCR font harkens back to those days!
Apple | Sportsball: Varsity fonts are super popular for school projects, and I use Sportsball ALL THE TIME in athletic SVGs. There's the straight version featured here, as well as a more fun and quirky version.
Check out fonts for other seasons!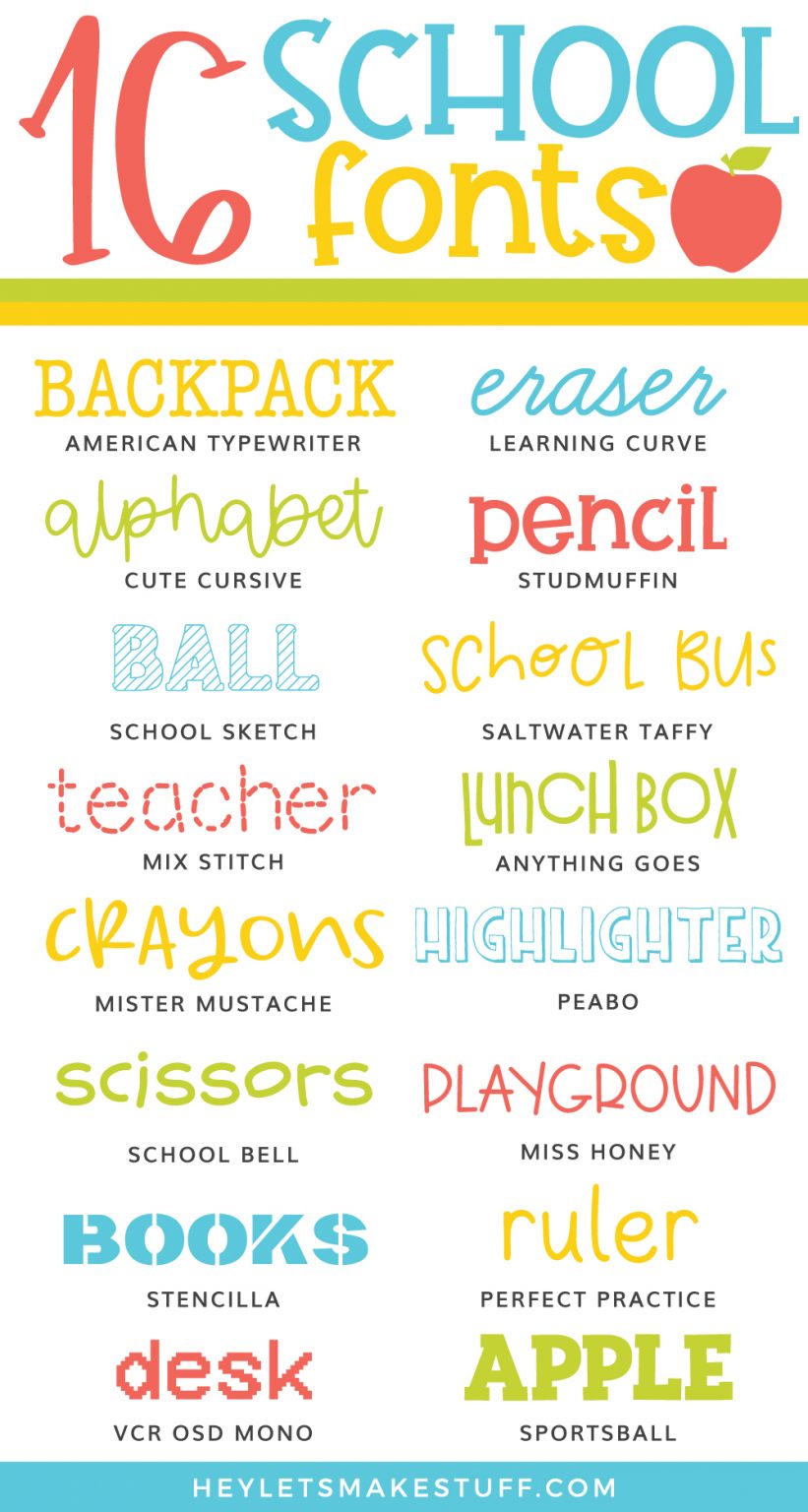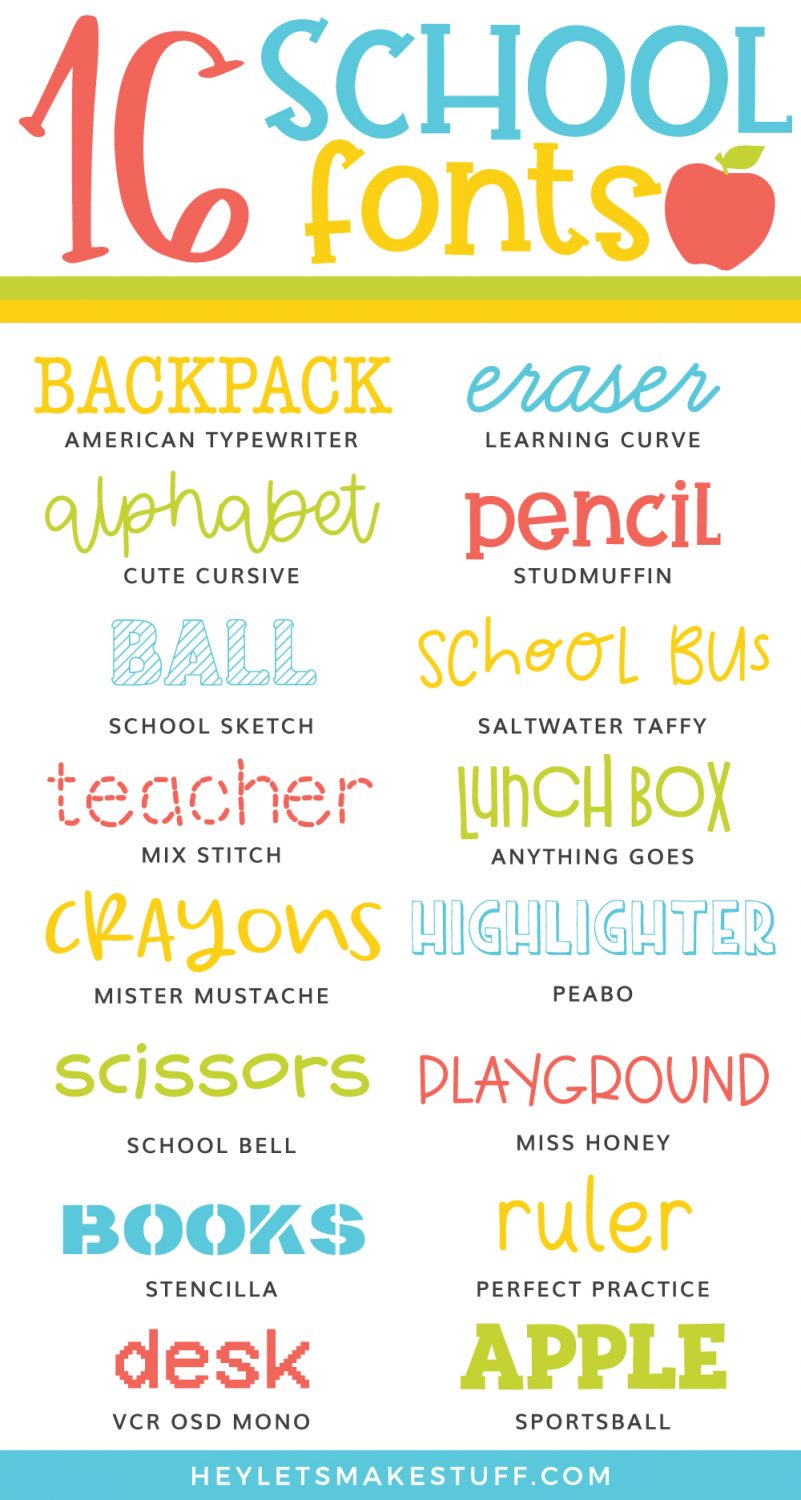 Get Ready for School