It's heating up and it's time to start crafting for summer! These cheap and free summer and beach fonts are perfect for all of your summertime cutting machine crafts, including tank tops, can koozies, home decor, and more!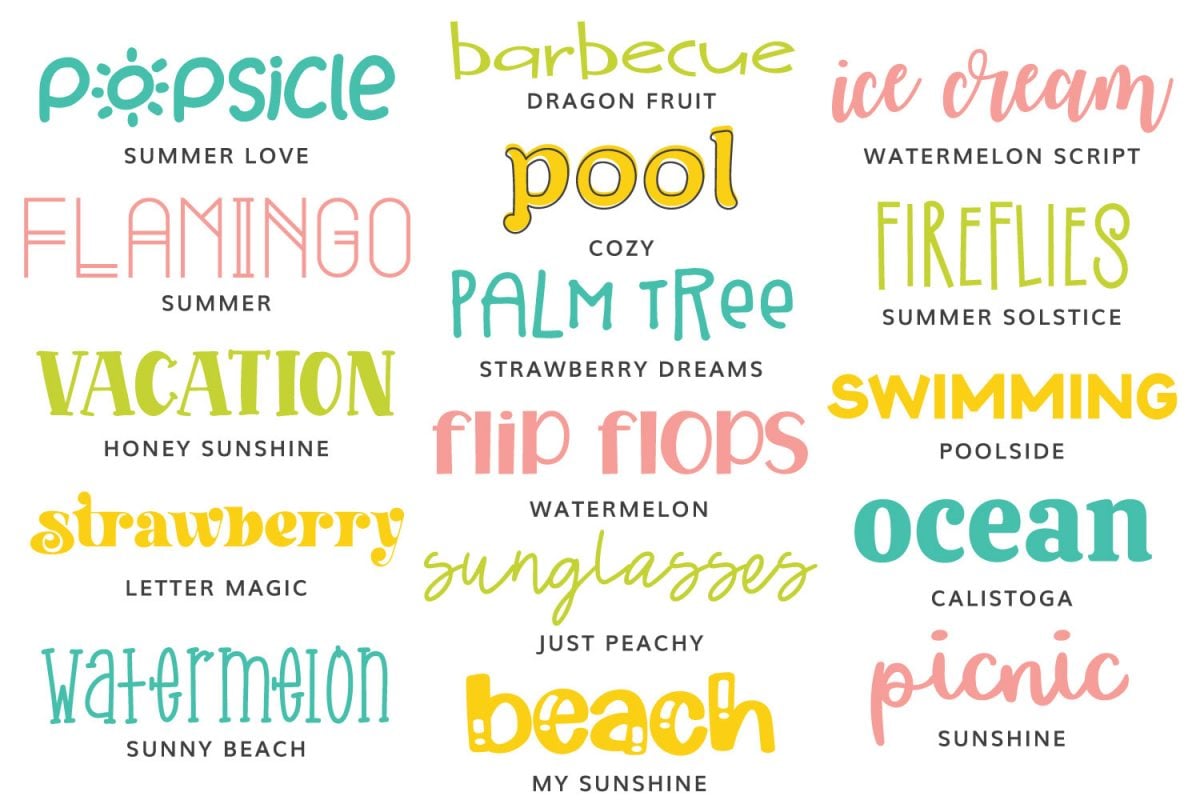 My entire life in California, I actually dreaded the summer. It was always so hot and in the last few years, so smoky. As soon as the weather started heating up, I started to dread the summer!
That's the main reason we made the move to Washington last year—the summers her are absolutely gorgeous. Take today, for instance. It's about 70 degrees, the sun is shining, the open windows are letting in a nice breeze, and we're barbecuing burgers on the deck for dinner. I realize that's called "spring" in most places, but I sure love it as summer weather for me!
Whether you live somewhere temperate or are watching the mercury climb, you may want to get Cricut or Silhouette crafting for summer! It's the season to make creative can koozies and flip flops and barbecue gear and all sorts of other fun summer projects. Google "summer quotes" and "beach quotes" for ideas!
These are all fonts that I've verified will cut nicely on your cutting machine (see notes on the individual fonts below for suggestions). You want to make sure you have the right kind of font when using with your Cricut or Silhouette—smooth edges and a wider stroke width, for example.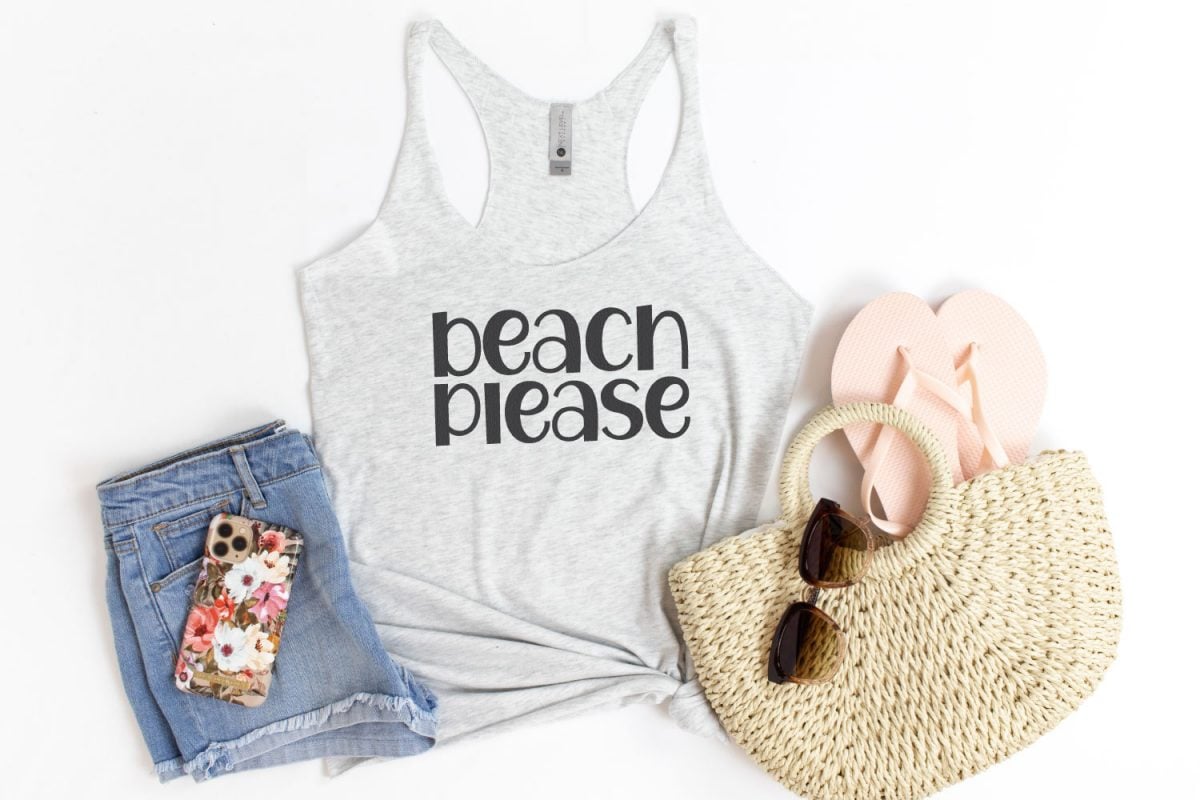 If you don't have a cutting machine, you can use these beachy fonts in your print projects as well! These fonts work in all software programs, like Photoshop, Illustrator, and even Microsoft Word.
This is a combination of free and paid fonts. While getting fonts for free is great, I also think that the best, most "cuttable" fonts are often ones you pay for—plus you're helping support graphic designers! Sometimes the free version will be for personal use but you'll need to upgrade to the full version for commercial use.
If you want to use these summer and beach fonts for items you're making to sell, make sure you have that commercial license. Some licenses will even allow you to use these fonts in logos and posters and other signage if you have a beachy business!
Want to learn more about fonts with your Cricut? Check out these posts and resources:
The Best Summer and Beach Fonts for Cricut & Silhouette
Head to the links below to download or purchase these typefaces!

Popsicle | Summer Love: The little sunshine icon "o" makes everything feel more summery! This free font is great for kids' projects and is a good beachy font.
Barbecue | Dragon Fruit: This font is great for pairing with taller, skinnier fonts! Use Dragon Fruit on all sorts of t-shirts and invitations for summer parties.
Flamingo | Summer: This fun, tropical font evokes vibes of Palm Springs in the summer. Perfect for summer party signs—and even better, it's free! You'll want to keep this font medium or bigger—those thin lines might be hard to weed if it's too small.
Pool | Cozy Outline: This layered font is so fun for your summer projects! These layered fonts are super trendy right now, so use Cozy as an inspiration for all of your warm-weather crafting.

Vacation | Honey Sunshine: Honey Sunshine is a font that works well for a lot of different types of projects—it's fun on shirts, signs, koozies, and more.
Palm Tree | Strawberry Dreams: Strawberry Dreams is a playful font with letters in different sizes. Because it looks handwritten, it's great kids' projects!
Strawberry | Letter Magic: This is a newer free font that I keep coming back to. With lots of glyphs, ligatures, and letterforms, Letter Magic is a whimsical font that will have you daydreaming about how to use it.
Ice Cream | Watermelon Script: Watermelon Script has been around for a while and you can see why it's so popular—the bouncy letters are playful but overall it's still very pretty. It works well for signatures, too.

Watermelon | Sunny Beach: I love a good quirky serif font! Sunny Beach is great when space is limited—the skinny letters mean you can fit more text into a smaller space.
Fireflies | Summer Solstice: Get in the summer state of mind with Summer Solstice, another cute skinny font that's good for limited space. I love how the S is really curvy in this one.
Flip Flops | Watermelon: One of my favorite free fonts, this mono-height font is just about perfect for all of your summer projects. Love the big round letters and thick/thin strokes.
Swimming | Poolside: Poolside is a nice chunky font. It's the opposite of the narrow fonts featured here and is a great option to pair with either Sunny Beach or Summer Solstice above.

Sunglasses | Just Peachy: The easy-breezy script font Just Peachy makes me want to chill out on the beach. It's also surprisingly pretty for things like modern wedding invitations.
Ocean | Calistoga: Calistoga is a nice, bold, easy to cut font that looks good on just about anything. Add some summer clipart to bring out the summer vibes of this font.
Beach | My Sunshine: My Sunshine is part of a bigger bundle of great fonts, but I love it for summer with it's "shine" accents. It's one of the best beach fonts in my opinion!
Picnic | Sunshine: Looking for an easy-to-cut script? Look no further than Sunshine—a free font that's easy to craft with.
Check out fonts for other seasons!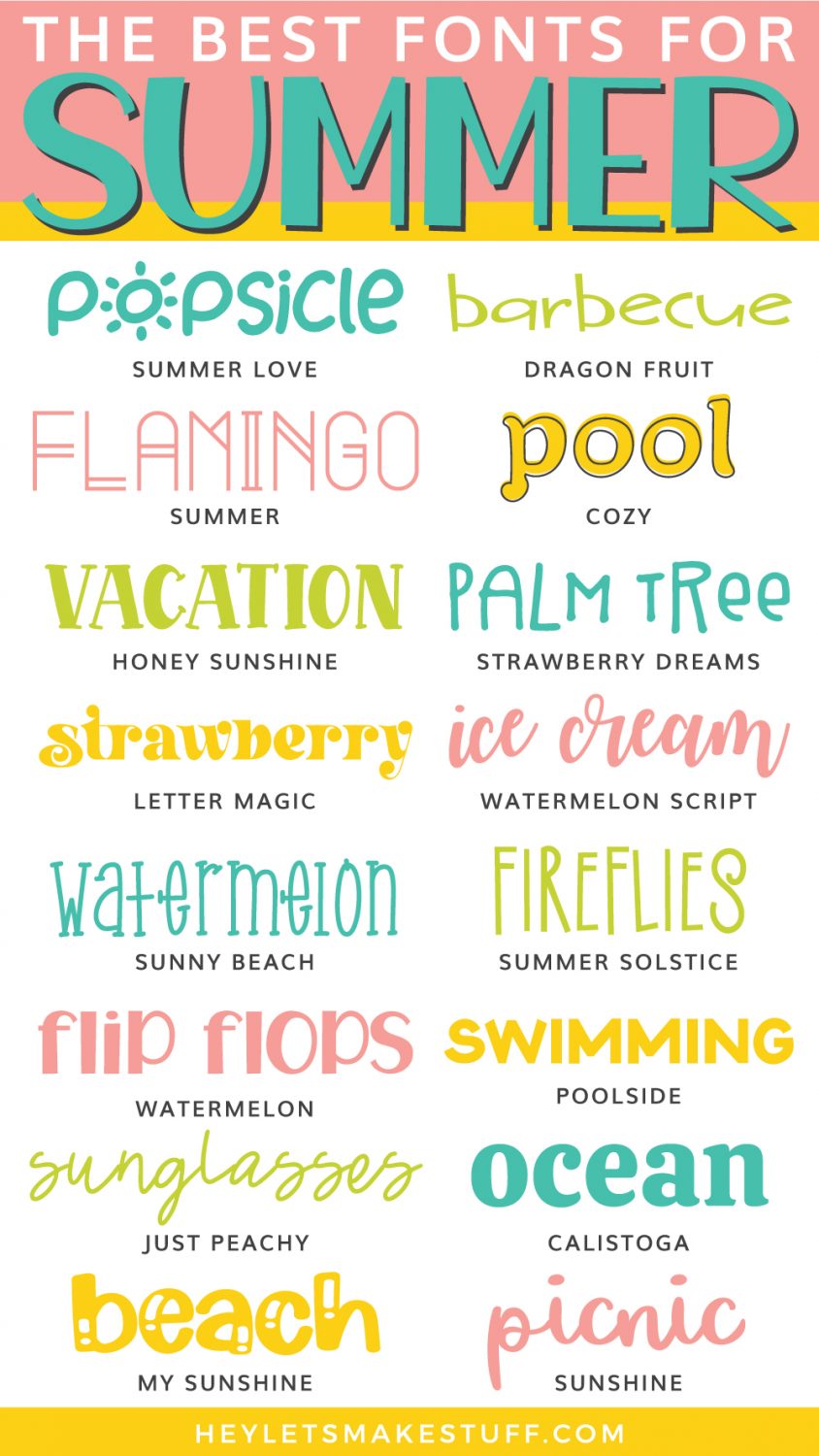 Get Ready for Summer