Grab those sparklers and get ready for Independence Day! These cheap and free 4th of July fonts are perfect for all of your patriotic cutting machine crafts, including tank tops, can koozies, party decor, and more!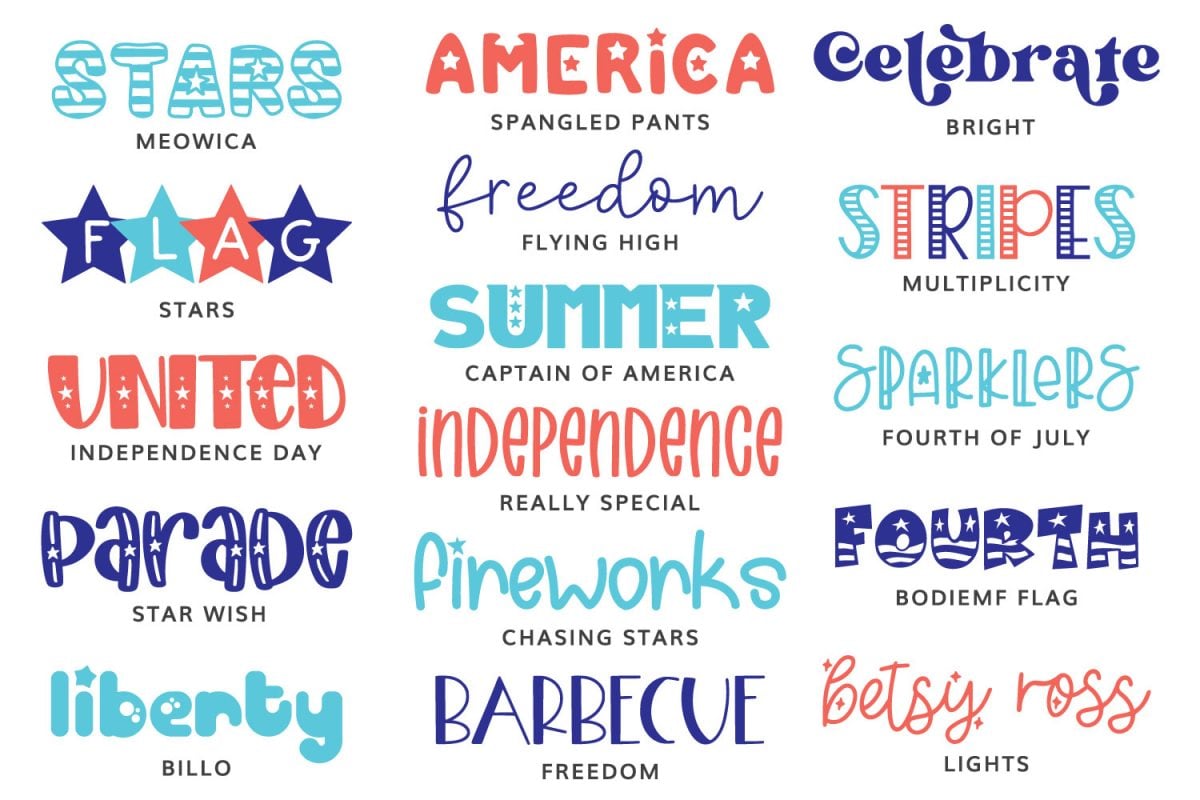 My last five Fourth of Julys have been pretty much exactly the same. I stay home with my young boys while Ryan goes to set off a professional fireworks shows with a friend who's a licensed pyro-technician. Boys in bed early and then I spend the next several hours comforting the poor dog who is terrified by fireworks. You haven't lived until you've sat in a closet for two hours with a panicky Bernese mountain dog, I tell ya.
This year, though. This year is gonna be different.
Because we moved from California to Washington, we're not near enough for Ryan to help with the fireworks show this year. And, sadly, we lost our pup to cancer back in December. I think the 4th of July will be the only day of the year I'm thankful he's not here. And finally, the boys are old enough to stay up late and watch fireworks!!
I can't wait to find a local show and experience the magic of fireworks with our boys (without the terrified dog and nervous wait to find out my husband is safe after the show!).
If you're crafting for the fourth (think can koozies and flip flops and barbecue gear), I've rounded up some of my favorite cheap and free 4th of July fonts that are perfect for all of your patriotic crafting!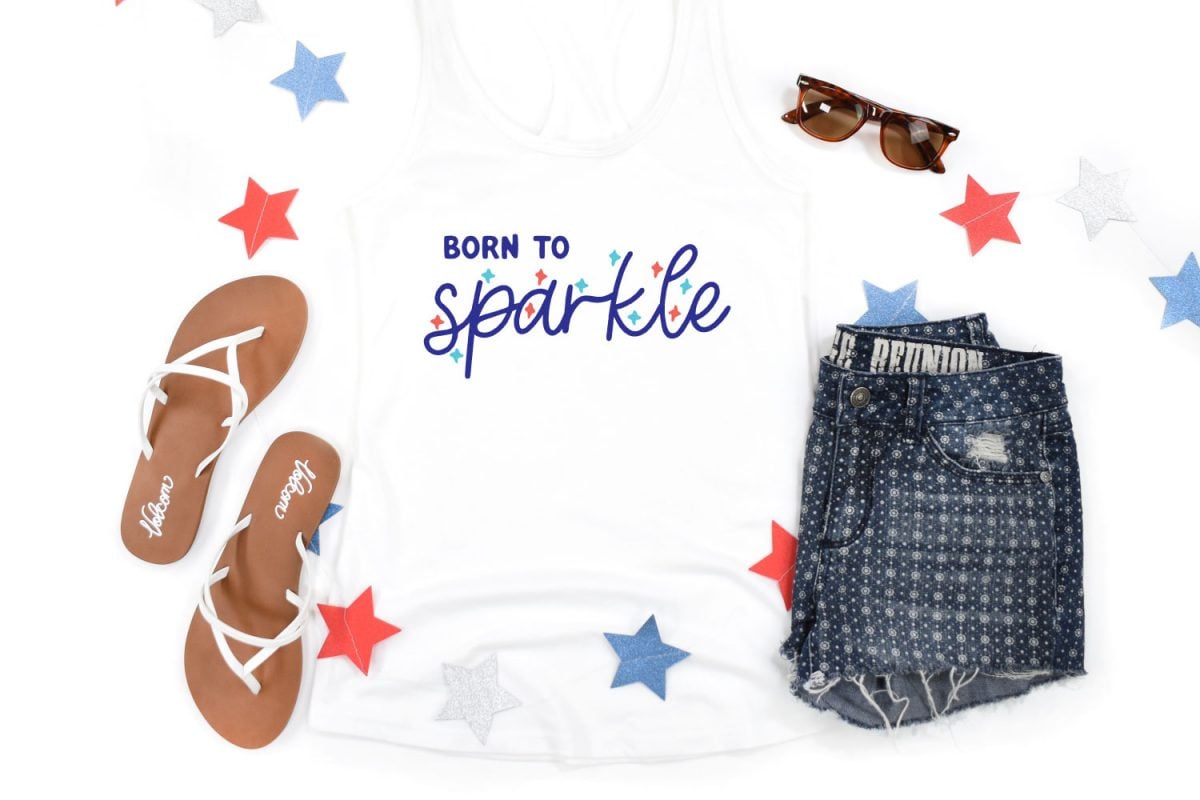 These are all patriotic fonts that I've verified will cut nicely on your cutting machine (see notes on the individual fonts below for suggestions). Just head to the site, click, (pay if necessary), and download.
This is a combination of free fonts and paid fonts. While getting fonts for free is great, I also think that the best, most "cuttable" fonts are often ones you pay for—plus you're helping support graphic designers!
Double check the licensing if you are going to be selling items you make using these fonts. You want to make sure you have a commercial license (not just a personal use license).
Want to learn more about fonts with your Cricut? Check out these posts.
The Best 4th of July Fonts for Cricut & Silhouette

America | Spangled Pants: This is my favorite font for the 4th of July with it's cute star cutouts. But it also has a non-star version, which I use all the time in other ways (like in the "born to" in the "born to sparkle" shirt above!).
Celebrate | Bright: Modern-but-retro fonts are really popular this year, with lots of letter options with swoops and swashes and glyphs. Bright is one of my favorites and has a fun, retro patriotic feel to it.
Barbecue | Freedom: Freedom is a fun font with two versions—the solid seen here and one with tiny stars. The stars are a bit small for a cutting machine, but work really well on printables!
Stripes | Multiplicity: Pair Multiplicity with some of the star fonts here for a fun stars and stripes feel! Don't cut this one too small or you'll be weeding those stripes forever.

Fireworks | Chasing Stars: Chasing Stars is a free, childlike font that is cute for kid's projects. The i and the j both have a star instead of a dot!
Freedom | Flying High: A lot of the fonts featured here are big and heavy, so pair them with a font like Flying High to give them a lighter feel.
Stars | Meowica: Love the font Meowica because not only does it combine both stars and stripes, there are fun extras for patriotic cat lovers! Lots of creative ideas for this one!
Liberty | Billo: Billo is a round futuristic font that has fun accents like the star over the i and the "shine" on some of the letters. The perfect font for fun, retro party.

Independence | Really Special: A lot of patriotic words are long! If you're looking for a way to fit more text in a smaller space, a narrow font like Really Special is the best way to make it work.
Sparklers | Fourth of July: Sparkers is a new font to my collection, but I like the combination of thin lines and stars to give this one a fun 4th of July feel. This would be a fun one for 4th of July party invites.
Flag | Star: Star is the quintessential 4th of July font. You can overlap the letters in different colors or use them all spread apart. This could also make a fun banner!
Summer | Captain of America: What's the 4th of July without a little superhero power? This fun free Captain of America font echoes WWII fonts.

United | Independence Day: This is a fun font for cutting large—but if you want to cut it small, I'd contour out the little stars or your cutting machine might struggle a bit.
Fourth | BodieMF Flag: BodieMF Flag just screams 4th of July, with both stars and stripes! It's A LOT in one font, so use it sparingly in headlines and not text.
Parade | Star Wish: Parade is a super-cutttable font that is perfect for your Cricut or Silhouette Fourth of July projects.
Betsy Ross | Lights: Lights has two versions, one with little stars and one without. I like combining the two to create a sparkly-but-not-too-sparkly look!
Check out fonts for other seasons!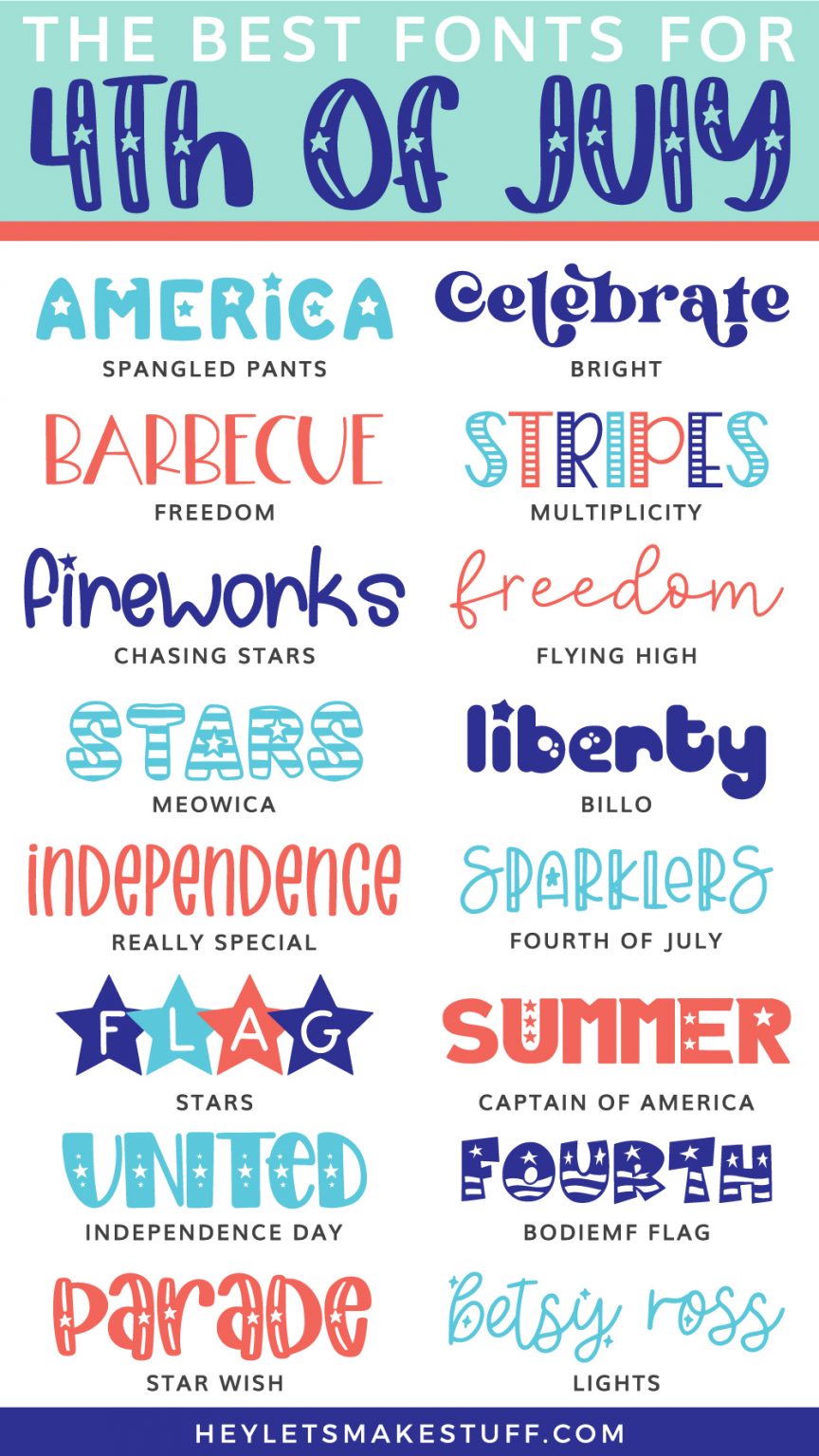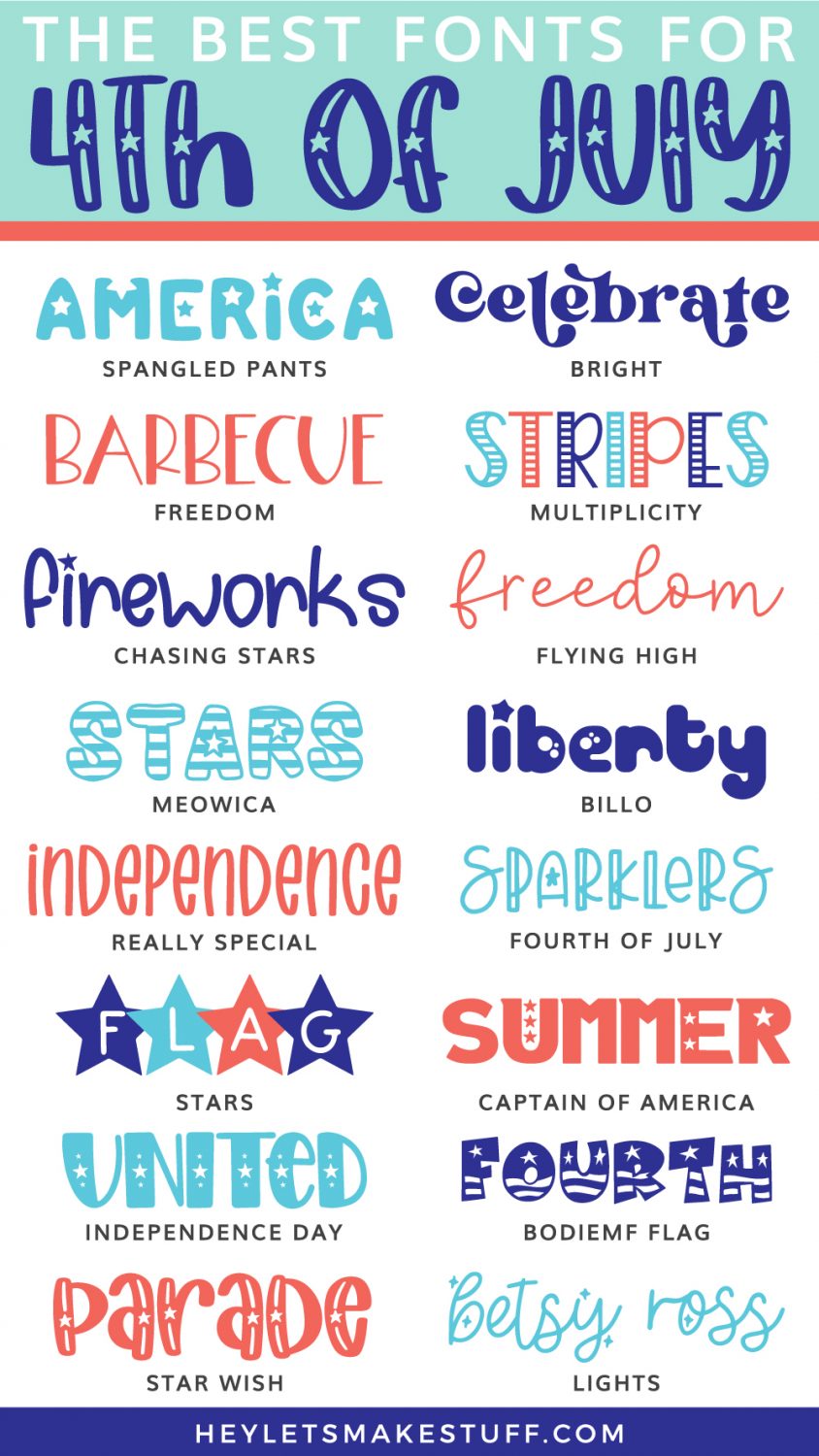 Get Ready for 4th of July