Looking for fonts that cut well on your Cricut, Silhouette, Brother, or Sizzix machine? Look no further! Here are more than 100 fonts for cutting machines that will cut cleanly and beautifully!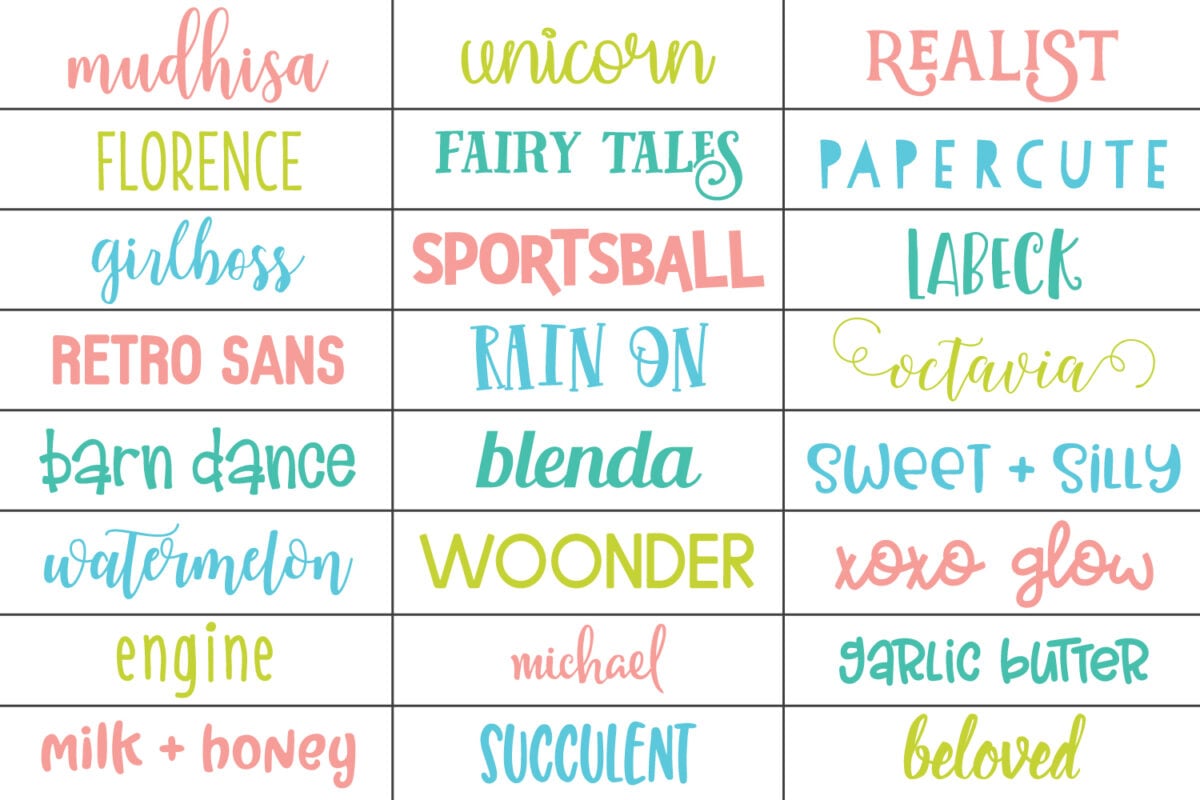 I got a text from a friend the other day lamenting that the grunge font she chose for a t-shirt cut like a nightmare and ruined her vinyl. As much as I wish it wasn't true, not all fonts are created equal, and not all fonts will cut well with your Cricut or other cutting machine!
In this post, I'm going to go over a few font basics and give you a TON of both free and paid fonts that are perfect for cutting. But before that, I want to give you a few more posts that you'll find helpful when working with fonts, particularly in Cricut Design Space (since that is my jam).
What Makes a Cuttable Font?
Cutting machines cut mathematically simple files better than they do mathematically complicated files. Take a look at Anodyne. It's a great grungy font. And there's a good chance it will destroy your material.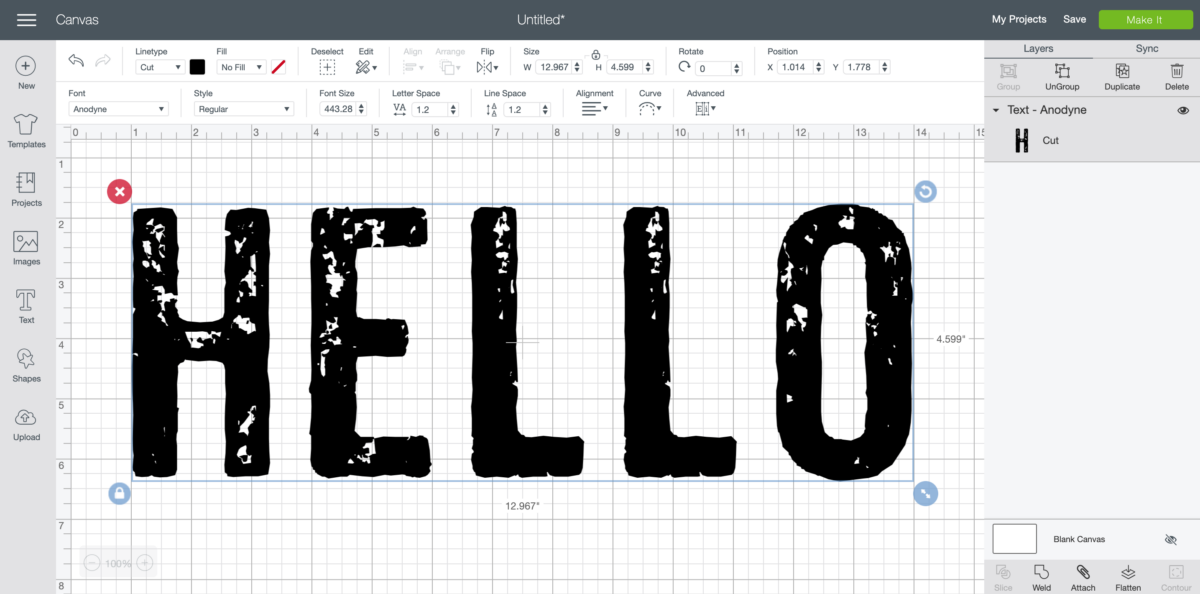 Look at all those little angles and cutouts! Every time, the machine has to adjust the blade and cut direction.
The best fonts for cutting have smooth edges and few tiny cutouts. Keep this in mind when choosing one of your system fonts to cut with your cutting machine!
Many of the paid fonts below also come with more than one version of the font! Take a look at everything you're getting and decide if it's worth it for you.
I've tested more than 100 different fonts — all of these cut GREAT using your Cricut! Some of these fonts are paid, and some are free, all are fabulous. As always, do a test cut in your material before making your whole projects, particularly for fonts with thin elements.
NOTE: when downloading free fonts in particular, websites can be a little tricky. Make sure you're downloading the font and NOT clicking on an ad that says "download."
If you can't figure out which link to click, email me at hello@heyletsmakestuff.com and I'll point you in the right direction. I am NOT responsible for any viruses or malware downloaded on your computer (again—this is another reason I like paid fonts from sites I trust! See my post Where to Find Free and Cheap Fonts for the Cricut for more information).
101 Great Fonts for Cutting Machines
Pricing is subject to change.
Basic Text Fonts for Cutting Machines
Decorative / Display Fonts for Cutting Machines
Script / Calligraphy Fonts for Cutting Machines
Scrapbook / Cute Fonts for Cutting Machines
If you need help installing your fonts, click here: Mac / PC.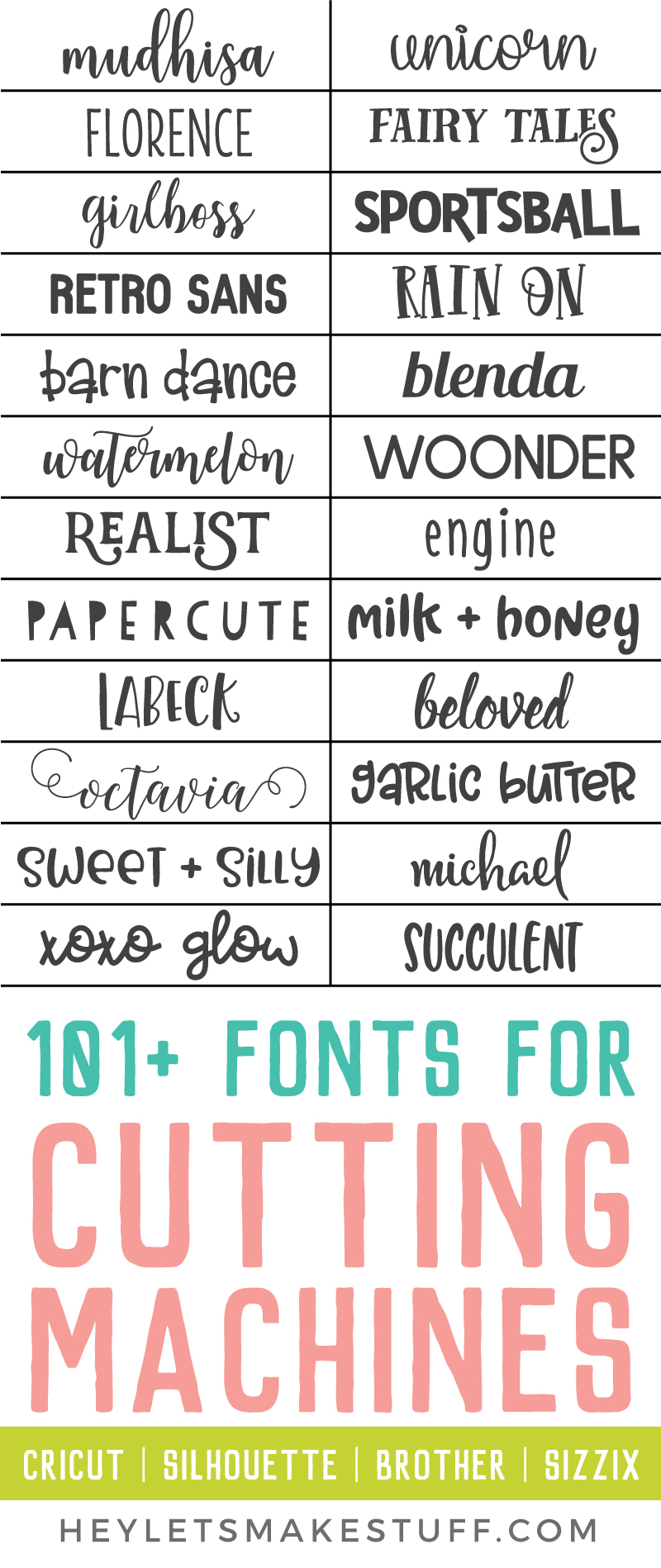 More Fun with Fonts
[ess_grid alias="fonts"]
Get a Cricut