Want to find cheap or even free fonts for your Cricut? Look no further! I've rounded up my favorite sites for free and cheap fonts, plus what to look for when you're downloading any font for your Cricut.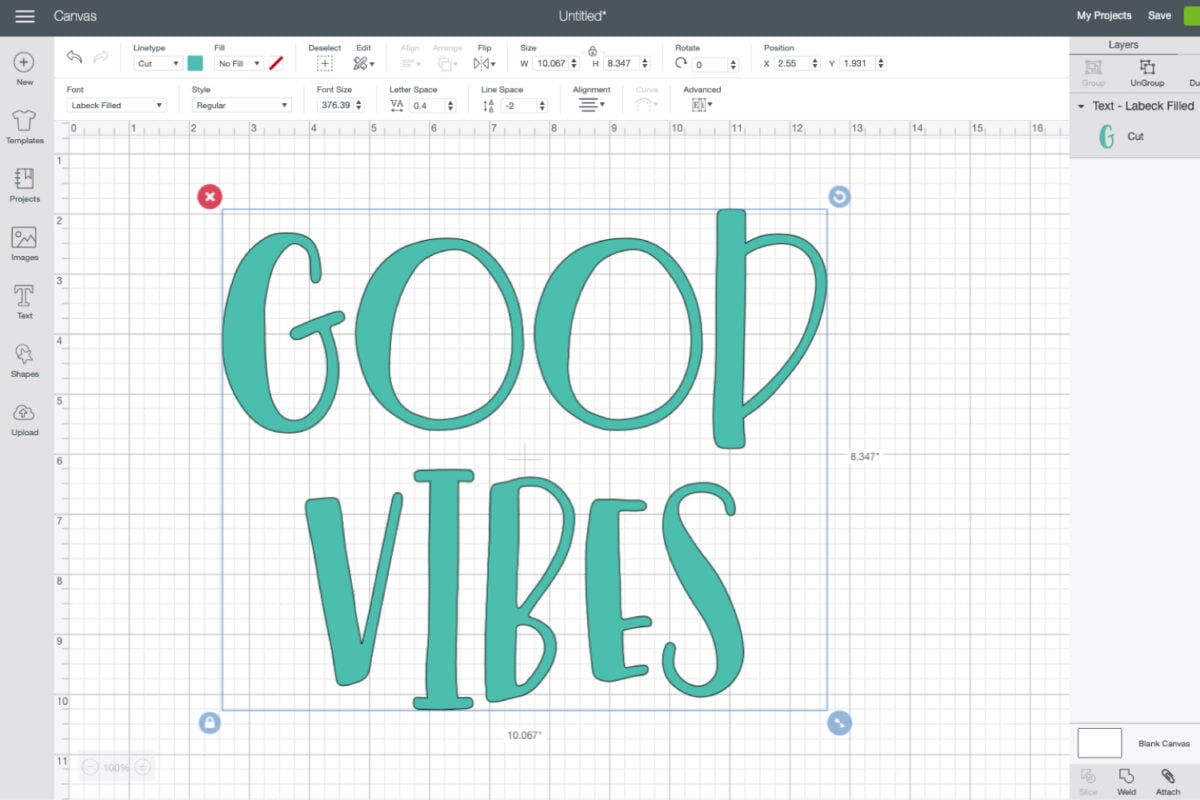 Who here also love fonts? I love fonts like a cat lady loves cats. I tend to be fairly minimalistic in most areas of my life, but the font folder on my computer suggests otherwise—1384 fonts.
That's not crazy, right? Tell me I'm not crazy.
So, where can you find new fonts to download? I used to just download fonts that were free wherever I could find them online. But this came with several big problems.
Often I didn't know if I could use those fonts on products I sell, like the digital artwork in my shop. Some fonts had a commercial license listed on one site and not on another. It was a mess.
Additionally, sometimes free fonts are poorly designed, so I spent a lot of time frustrated with letter spacing and other font design issues. Once I got a virus on my computer from a font—nightmare!
Why Purchase Fonts?
I now almost exclusively purchase my fonts. Let's talk about why.
Font Designers Deserve to be Paid
Designing fonts is not easy and I'm a big fan of paying people for the work that they do. As a society, we love freebies (which I totally get! I offer a lot of freebies like SVG files for you all the time!), but I feel like we've lost our compass when it comes to paying people for their hard work. Fonts are not that expensive (particularly if you buy in bundles) and I think it's important that we help everyone put food on the table.
Commercial License
Most often (not always, though), purchased fonts come with a commercial license, meaning that you can sell things made using the font. This may not matter to you if your projects are for your own personal use. But if you're making anything for sale, you really need to make sure you have a commercial license for the fonts you are using in your files or projects.
No Viruses, Malware, Etc.
Commercial fonts from the sites I list below have generally been vetted and approved by the sites. They will not add viruses, malware, spam, or other junk to your computer.
Glyphs
A "glyph" is a fancy word for a letter that has more than one letterform/alternate. For example, you may have an "A" and a more stylized "A" with a swoosh (this font is Angelline). Here's how you can use those special glyphs in Design Space.

Lots of commercial fonts have these stylistic alternatives (not all), but very few free fonts do. I like having the options of different letterforms—it allows me to personalize my designs even more. Some fonts also come with other goodies, like illustrations or dingbats (picture fonts).
Overall Quality
Just because something is free doesn't mean it's good. Often, it means the opposite! I find that most purchased fonts just function and cut better than many free files.
Free Fonts for the Cricut
That being said, you can find free fonts out there if you know where to look, and there are sites that offer weekly freebies or discounted fonts, making it much easier to grow your font library without breaking the bank.
In general, downloading a free font from a site that also sells paid fonts is a much better option than downloading fonts from a website that is only free fonts. The site that sells paid fonts wants you to come back and spend money with them, so they don't want you to have a bad experience with their terrible free fonts.
Free versions of paid fonts are also a good option. Often the free version may be for personal use only and it may not have all the glyphs and other goodies that come with a paid font. Free versions of paid fonts are also great if you're trying to decide if a font will work for a particular project. I don't see a lot of these out there anymore, but it's always worth a Google search if you find a paid version of a font and want to see if there's a free personal-use version.
Before we get to my favorite font sites, here are a few posts that you might find helpful when it comes to working with downloaded fonts in Cricut Design Space:
Best Sites for Cricut Fonts
Now let's get to my favorite sites! These are sites I consistently come back to when looking for new fonts for my projects. Sign up for the e-newsletters from these companies—they'll often send out emails with deals and freebies each week!
No matter what, remember that the cleaner the font, the better it will cut. Grungy fonts, hand-written fonts, etc. look great but often they won't cut as well as a font with smooth edges.
Creative Market
Creative Market has weekly freebies, which include fonts and other art files (like digital papers, mock-ups, and illustrations). Check back each week to grab new freebies! Their freebies are most often personal-use only, so you want to make sure you're using them per the licensing agreement.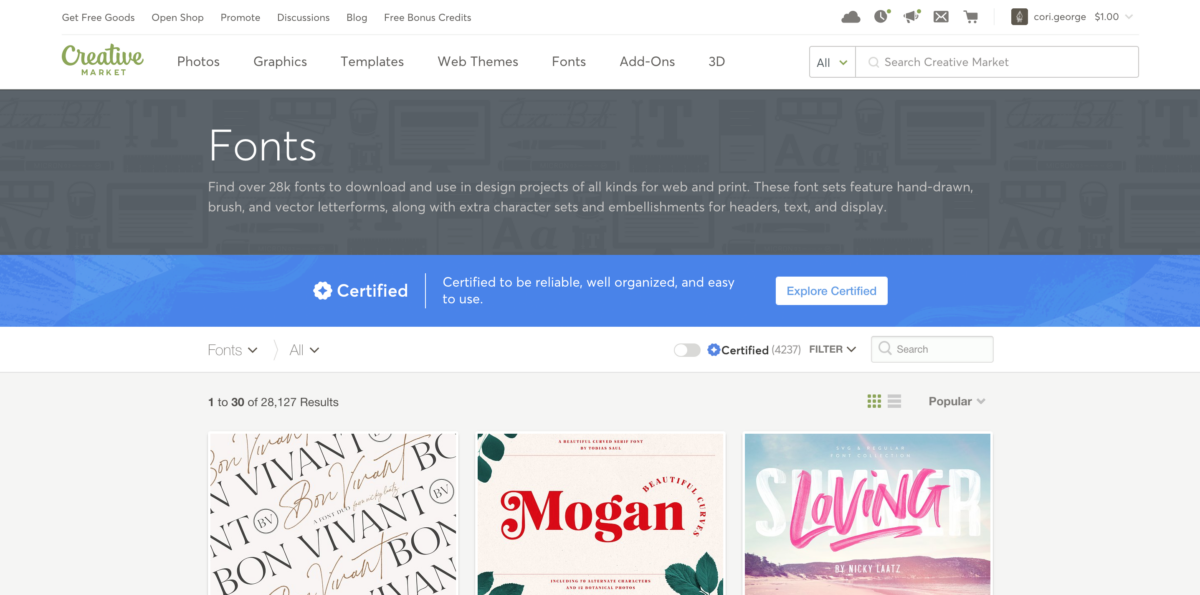 Overall, Creative Market has a TON of fonts and resources and is one of the first places I look when I want a specific font. They also have "certified" fonts, which have been tested for quality. Note that certified does NOT mean that it will cut well on the Cricut, it just means the font itself has been tested for quality.
The Hungry JPEG
The Hungry JPEG is a great resource that has both awesome free fonts and great font bundle deals. You can often get free fonts here by sharing deals on Twitter or Facebook (that's your "payment"). Often their freebies have a commercial license, which is awesome.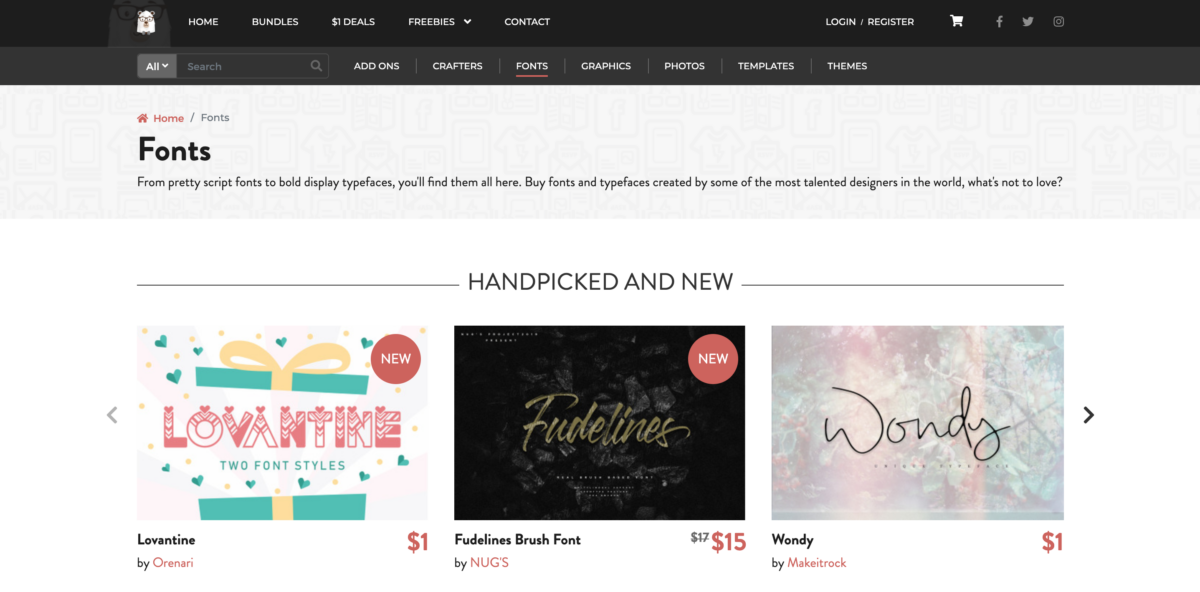 So Fontsy
So Fontsy showcases various designers and has a ton of adorable fonts and cut files that you can snag! They often have sales and bundles going on as well for cut files and fonts.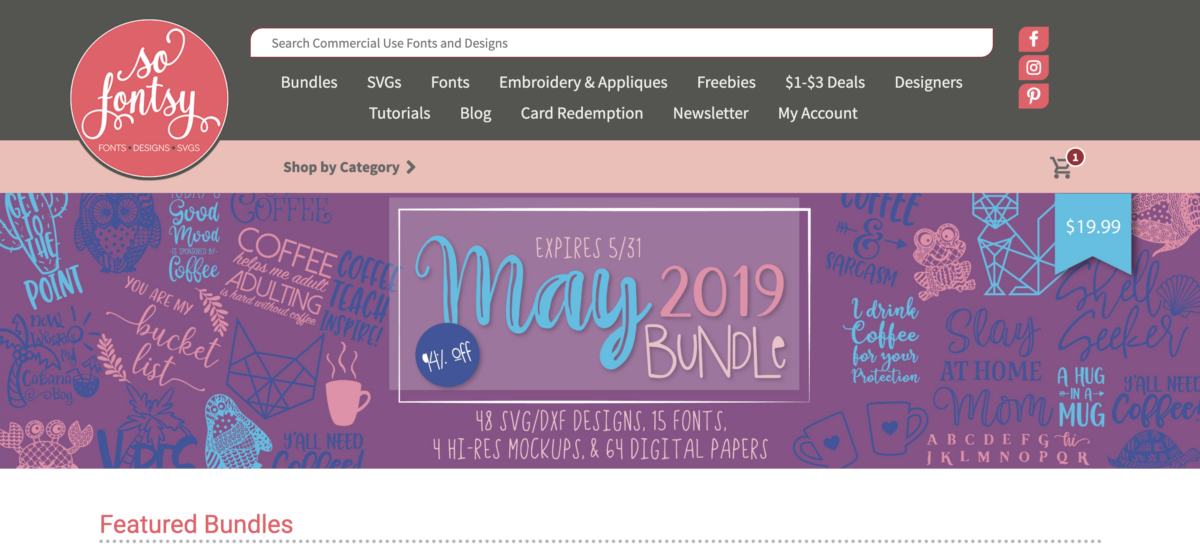 Font Bundles
Font Bundles is exactly what it sounds like—bundles of fonts! It's an incredible site for font lovers like myself. They have huge bundles of fonts for a low price—often more than $250 worth of fonts for $20 or less. It's a great way to quickly build your font library.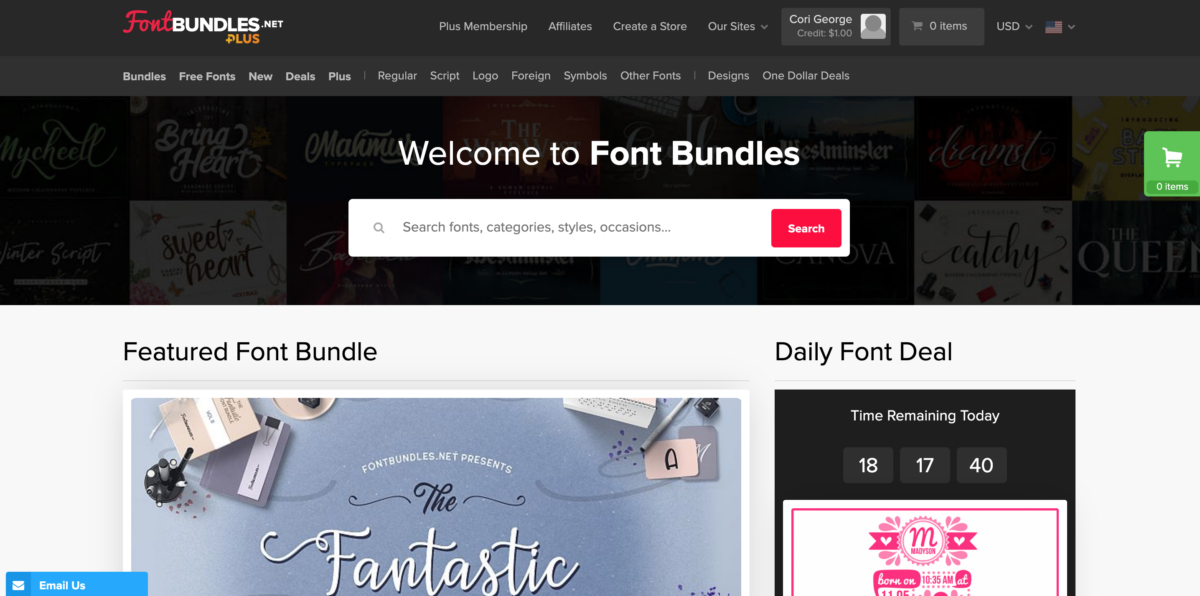 That being said, you will probably only want to use a portion of the fonts you download in your bundle—so make sure there are a bunch in there that look good to you before you bite the bullet on the bundle.
Mighty Deals
Mighty Deals offers limited time deals on fonts and other graphic design files—if you see something you like, make sure to grab it before it's gone! They also have a huge freebies section.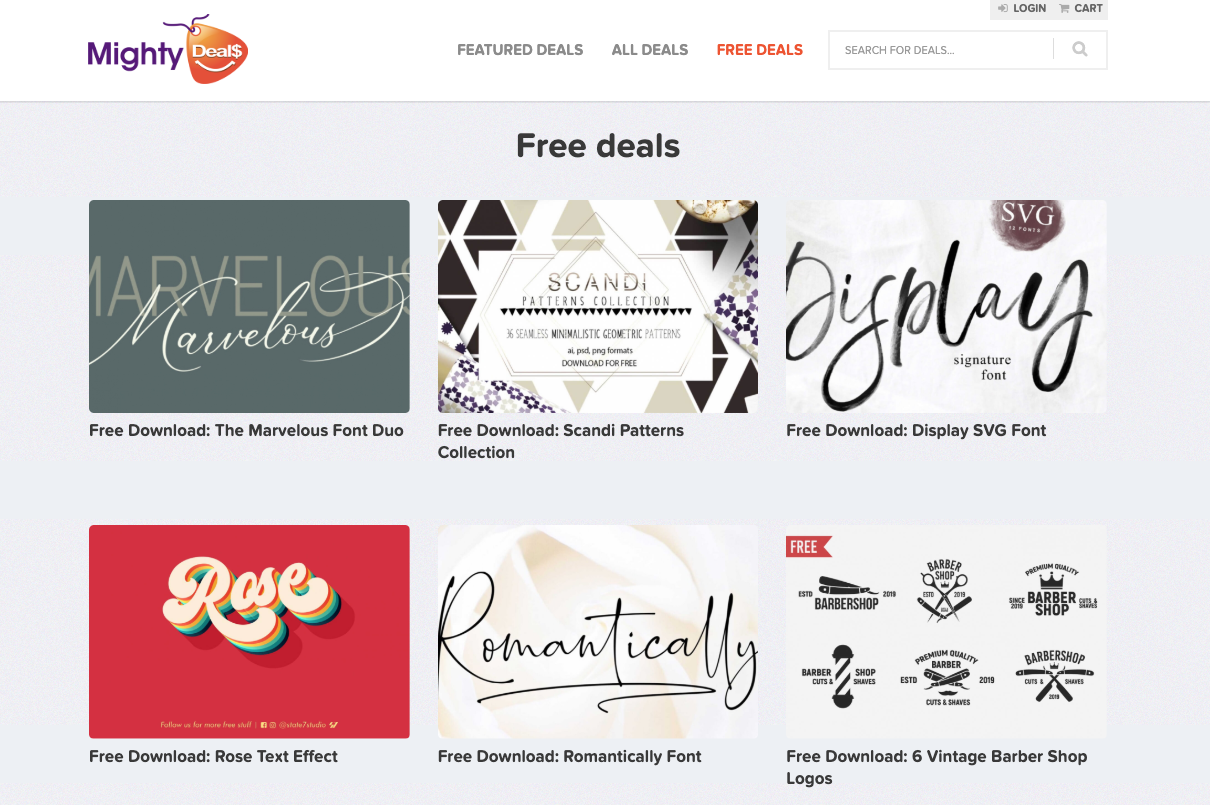 If you're looking for specific font ideas, check out these 101 fonts for cutting machines.
I hope you found this list helpful in building a resource library for cheap and free fonts for the Cricut! If you have any other sites you use regularly and trust, leave a note in the comments so other readers can take advantage, too!