Cricut Design Space fonts are not as straightforward as you'd think! Why are your letters all spaced out? Why are all your letters cutting separately? Check out these font basics in the Cricut Design Space!
This post originally appeared on the Cricut Inspiration Blog. I have updated it to include recent changes to Cricut Design Space.
Some people are crazy cat ladies, but I am definitely a crazy font lady. I have hundreds (upon hundreds) of fonts and I can never say no when I see another font bundle with swirly swashes, adorable ampersands, and lovely ligatures (only crazy font ladies love ligatures!).
Needless to say, I always love talking about fonts. This post is square one—start here if you haven't worked with fonts in Cricut Design Space before. You may also want to check out these font posts:
In this post, I'm going to take one simple word and show you how to manipulate the font in the Cricut Design Space.
Using the Type Tool
Creating text in the Cricut Design Space is easy. Just click on the Text tool in the Design Panel on the left start typing. Note that a new menu will appear at the top of the screen—this is the Font Toolbar.
Changing the Text Size
You can easily change the size of your text by using the drag and drop arrow in the bottom right corner of your text box. You can also use either the Size or Font Size tools in the toolbar at the top.
Note: if you don't see the Font Toolbar, make sure you have your text selected—it only appears if you are actually manipulating your text.
Changing Your Cricut Design Space Fonts
You can change your font using the dropdown menu in the Font Toolbar. You can choose between Cricut fonts and your own system fonts. Cricut fonts have been specially designed by Cricut. System fonts are fonts that exist on your device—they either came installed on your device or you downloaded and installed them yourself.
Cricut Access fonts will be denoted with a green "a" and are included in a Cricut Access subscription. For other Cricut fonts without the "a," there may be a small fee. At the top of this menu you can sort by Cricut fonts and System fonts. You can also search for fonts if you know the name of the font you want to use.
Cricut Fonts are designed to be cut on a Cricut, so they are always a great choice for your projects (the exception to this rule is Cricut fonts specifically designed as a writing style—I'll get to that in a moment).
Using Cricut Fonts
Let's choose a Cricut font and take a look at it more carefully. This called Quarter Note—it's a Cricut font I come back to again and again.
As is, it sort of works. You could cut this file. But it's not great—the letters are all spaced out. So let's manipulate it a bit.
The Cricut Design Space defaults to letter spacing of 1.2 (1.2-what, I have no idea), but I want each letter closer together. I would love the letters to overlap so I can cut them as a single script cut. So I decreased the letter spacing to -.5. You can play around with these numbers depending on the font you are using.
I don't, however, love how the exclamation point is oddly stuck to the end of "hello."
You can use the Advanced drop-down menu to select Ungroup to Letters.
This separates your letters so you can move them individually—you'll see this reflected in the Layers Panel on the right. I can move the exclamation point so it's not so awkwardly stuck to the end of the word.
If we cut our project now, all of the letters will still cut individually, despite them overlapping. To fix this, we need to Weld our letters.
Drag to select your entire word, and then hit Weld in the bottom of the Layers Panel on the right. Your word will be welded together into one cut file—this is now reflected in the Layers Panel.
Note: even if your letters are not overlapping, you will still want to Weld or Attach them so they cut in the right order. See my Weld and Attach posts for more information.
Changing Your Font Color
You can then change the color the same way you would any other object in the Cricut Design Space. This is done in the Edit Toolbar at the top.
You're ready to cut! Have any questions up to this point? Leave me a comment and I'll try to help.
Using System Fonts
Using a system font that you have on your computer is no different than using a Cricut font as above, though there is one big pitfall I want to mention here.
The Cricut cuts mathematically simple files better than it does mathematically complicated files. Cricut fonts are designed to be mathematically simple, so they cut easily. Your system fonts, however, might not be as simple. Take a look at Anodyne. It's a great grungy font. And there's a good chance it will destroy your material.
Look at all those little angles and cutouts! Every time, the Cricut has to adjust the blade and mat direction. The Cricut is an amazing machine, but that's impossible to cut out well.
The best fonts for cutting on the Cricut have smooth edges. Keep this in mind when choosing one of your system fonts to cut on the Cricut!
Writing Style Cricut Fonts
I mentioned writing styles above. As you probably know, the Cricut can do much more than cut. Using the Cricut to write is a fun way to add all sorts of text and embellishments to your projects.
When choosing a font to write with, I recommend choosing a Cricut font that specifically has a writing style. If you choose a system font and change it to a writing style, it will outline the font—which drives most users crazy.
Select only Cricut Fonts and then click the little drop-down on the right side of the search bar and select Writing. This will narrow your choices down to the fonts that are specifically designed to be written with the Cricut.
Here's what that original Cricut Sans font looks like as a writing font:
Check out how I addressed my boys' birthday invitations using the Cricut!
Beyond Text
If you're really stuck you can always check out the extensive library of files in the Cricut Image Library (click Images on the left in the Design Panel). There are so many cool words and quotes in there to create any project you can imagine!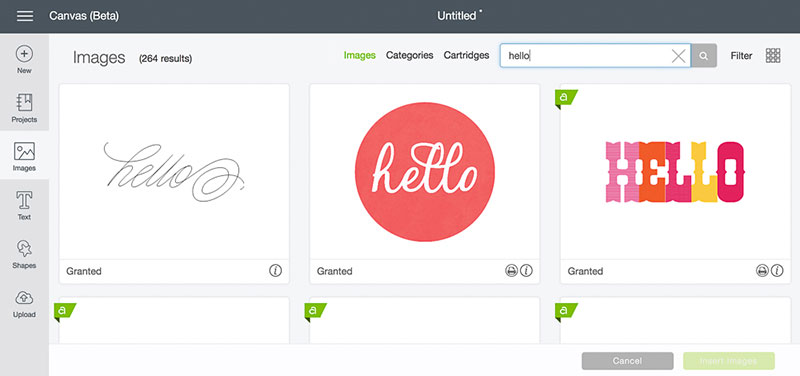 I hope you've found some helpful basic tips about working with fonts! Have questions? Let me know!
More on the Cricut Design Space
Get a Cricut!
Latest posts by Cori George
(see all)