Design Space contains more than 700 Cricut fonts! Here are the best 120 Design Space fonts, plus get a printable list so you can easily reference it while you're designing and crafting!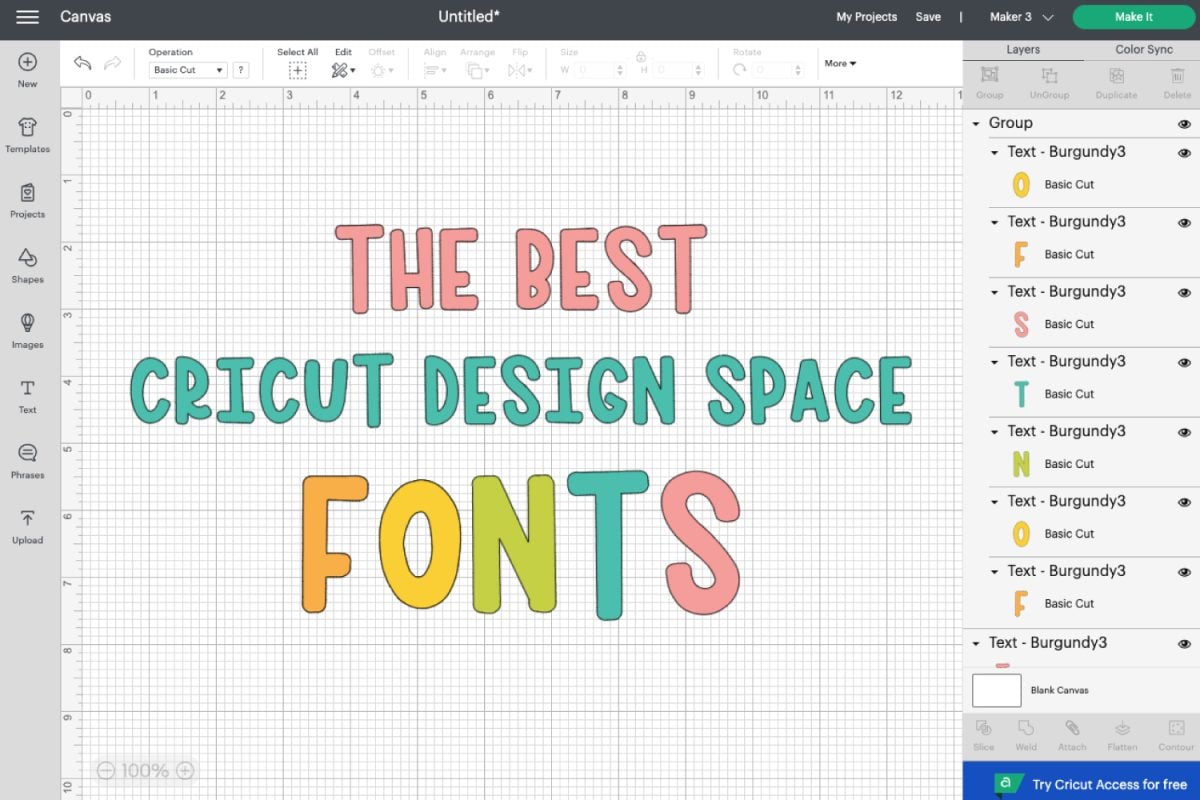 Cricut fonts have vastly improved over the last few years. While you can still upload your own system fonts to use in your own Cricut projects, Cricut now has a ton of great fonts to choose from right in Cricut Design Space. You can use these fonts to make all sorts of projects with your Cricut machine, like t-shirts, home decor signs, mugs, labels, monograms, and more.
As of writing the writing of this post, Cricut has more than 700 fonts in Design Space, and new ones are being added all the time.
This makes it difficult to create a full list of the fonts in Cricut Design Space, so instead you'll find a list of 100 popular fonts that crafters use to make amazing projects, plus an extra 20 writing fonts that are designed to be used with the Cricut Pen or Cricut Foil Transfer Tool. Even with this abridged list, you're sure to find the perfect font for your project!
I've already written extensively on using fonts in Design Space—check out these posts!
Viewing Fonts in Design Space
Let's take a look at where to find fonts in Design Space. Click the Text tool and insert some text. With your text selected, click the font dropdown to view all of the fonts you can use with your project.

To view only Cricut fonts, click "Cricut" at the top—this excludes all of your system fonts. System fonts are the ones you have on your computer or mobile device and can use in other programs, not just Design Space.
The "Only Kerned Fonts" box will be checked. Kerned fonts have much better letter spacing than older Cricut fonts. If you un-check it, you can see ALL of the Cricut fonts, including those with the old, bad letter spacing. Learn more in my post Design Space Kerning and Letter Spacing. All of the fonts featured in this post are kerned!
Note that if you click "download" next to a font, you can save it for offline use.
Free Cricut Fonts vs. Cricut Access Fonts vs. Premium Cricut Fonts
There are three types of fonts (not including system fonts) you'll find in Design Space. Cricut Access is Cricut's monthly subscription service. I think it's a great deal, particularly if you don't do a lot of design yourself.
Free Fonts: These are free for anyone to use. If you do not have a Cricut Access subscription, you will not see a price. If you do have a Cricut Access subscription, these are just included in Cricut Access and are denoted with a green "a" next to them. If you have the mobile Design Space app, you can filter by free fonts. Filtering by free fonts is not available on desktop.
Cricut Access Fonts: These fonts are included with a Cricut Access subscription, and include most of the fonts in Design Space. They are denoted with a green "a" next to them.
Premium Fonts: There are a handful of fonts in Design Space that have an extra fee associated with them, usually $4.99 or $6.99. They often include "licensed" fonts, like Disney.
Why Use Cricut Fonts?
Cricut has tested their fonts for clean, accurate cutting on your Cricut Maker, Cricut Explore, and Cricut Joy.
Some of your system fonts may look like they would cut cleanly, but the font designer didn't design them with cutting in mind, so they end up tearing your material. Cricut fonts, however, should always give you a clean, crisp cut. Perfect for materials like vinyl, iron-on, and cardstock, among others.
Cricut's fonts are generally covered under the Cricut Angel Policy and have a commercial license, meaning you can make things to sell using these fonts. This does not include fonts with licensed content, like Disney fonts.
The Best Fonts in Design Space
You can get a printable version of this list below in my shop, but if you just want to use the search bar in the Font dropdown, you can find these fonts! All of these are from the Kerned list, making them easy to work with in Design Space.
Here are the most popular fonts for crafters, broken down into five categories: cute and quirky fonts (crafters love playful fonts!), heavy and bold fonts, script and cursive fonts, simple and classic fonts (includes both serif and sans serif fonts), and writing and engraving fonts (also called "single line fonts").
Cute & Quirky Fonts
Alphabet Soup
BFC Artisan Bread
BFC Christmas Cards
BFC Caramel Cake
BFC Holiday Party
BFC Santa's Candy
BFC Stylish Safari
DTC Barn Acre
DTC Brown Sugar
DTC Fall and Flair
DTC Fresh Brew
DTC Harvest Moon
Felix
Four Seasons
ITC Anna
ITC Zipper
Koorkin
Kyden
Saphir
Scary Night
Bold & Heavy Fonts
April Skies
BFC Craft Table
BFC Foxy
BFC Parkway
BFC Retro Cookie
Beefcakes
Boink
Candice
Eagle Bold
Glow Worm
Headline News
ITC Machine
La Beau
Magnifico
Metropolis
Paddington
Phosphor
Stencil Moonlight
Stilla
Xenois Soft Pro
Script & Cursive Fonts
Alyssa Stencil
Babette
Bickley
Cloud 9
DTC Bikini Babe
DTC Cottage Style
DTC October Daylight
DTC Sahara Smooth
Double Whipped
Embassy
Gravura
Haley
Hey Marilyn
ITC Studio Script
ITC Regallia
Lara Jane
Merlot
Rapier
Santa Fe
Sivellin
Simple & Classic Fonts
Americana
Aldine
Caslon Graphique
Classic Roman
CG Symphony
Cochin
Cricut Sans
Dear John
DIN Neuzeit
Grafiko
High Tide
ITC Adderville
ITC Napoleone
Koala
Ocean
Peignot
That's the Ticket
Typewriter
Wade Sans
Windsor
Writing & Foiling Fonts
Alyssa Stencil
Babette
Dear John
DTC Apple Cider
DTC Lemonade Script
DTC Shiplap
DTC Sunny Woods
DTC Zombie Crawl
Four Seasons
Girlie Stencil
Haley
Headline News
High Tide
Little White Lies
Loop-di-Loo
Merlot
Scary Night
Sunday Swirls
Sweet Dreams
Telegram
Printable Cricut Font List
Grab the printable list of fonts here—125 beautiful fonts, all in an easy-to-read format!
Want More Fun Fonts?
Not finding what you want in Design Space? You'll want to add system fonts! Here are a few of my favorite places to purchase and download free fonts for your Cricut:
Learn more about using system fonts, including the installation of a zip file, in my post How to Upload Fonts to Design Space. You can also check out my list of Where to Find Cheap and Free Fonts for the Cricut, which includes an overview of personal and commercial use when it comes to fonts.
Have questions about using fonts in Design Space? I'd be happy to answer them below!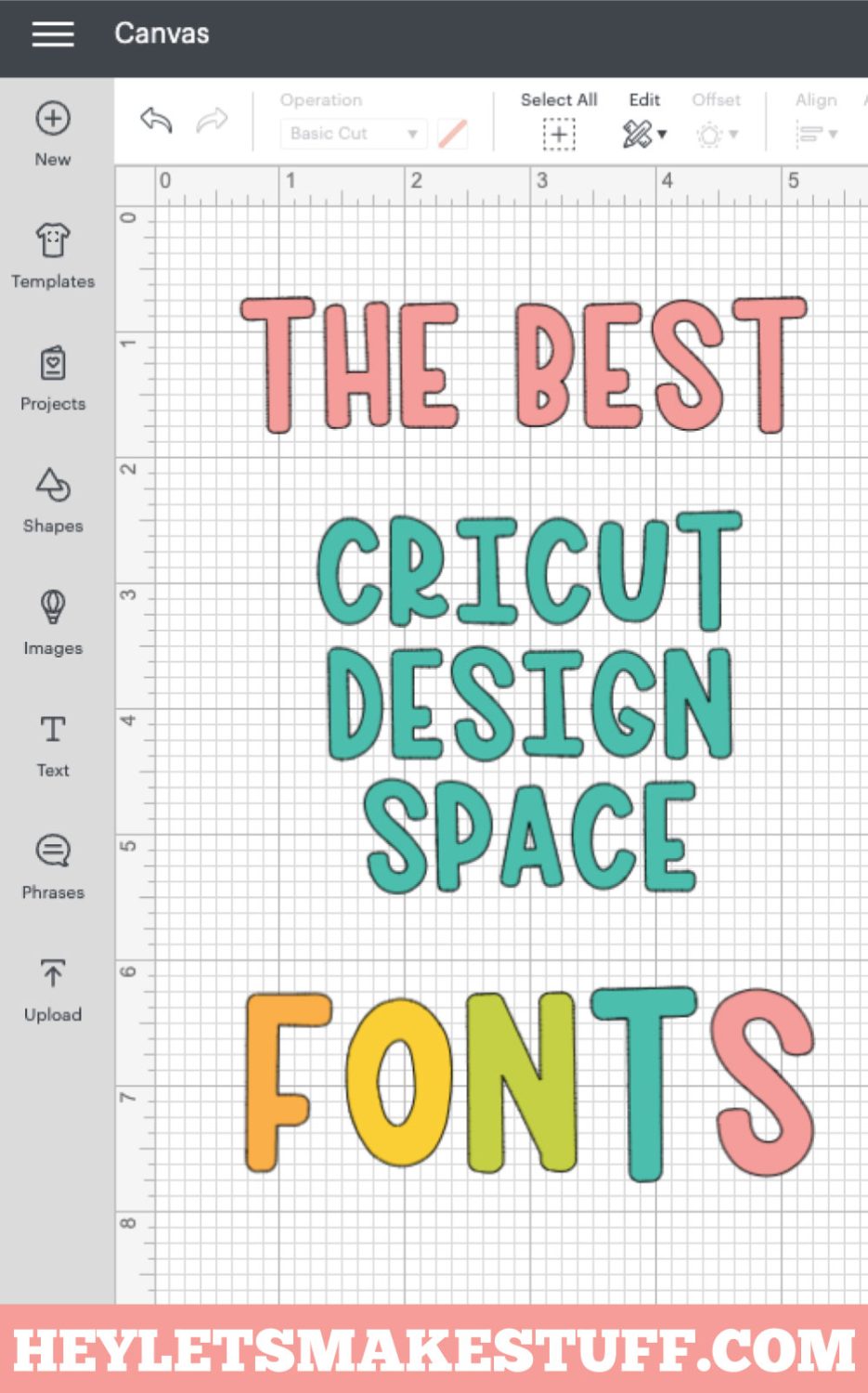 Get a Cricut!