Make these giant paper flowers using my template (hand cut or Cricut SVG) and then get my best tips and tricks for making them easily! Perfect for giant paper flower backdrops, beautiful home decor, and festive party decorations.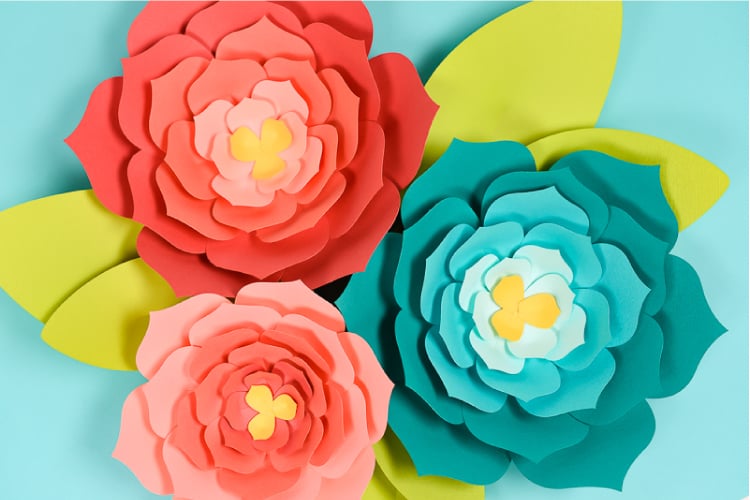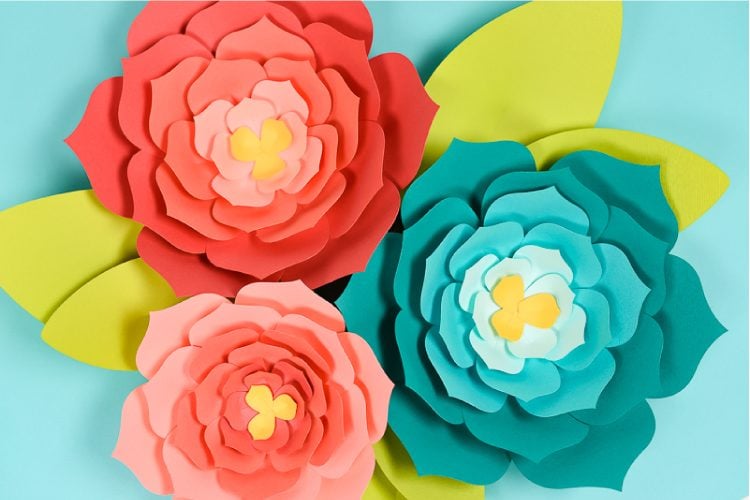 This post is in partnership with JOANN.
Tissue paper flowers have long been my go-to party decoration, but lately I've been experimenting with card stock flowers. Both materials have their benefits.
Tissue paper flowers can be made quickly, easily, and generally super inexpensively. Cardstock flowers take more time but really pack a polished punch, if done well. I recently designed a simple template to make giant paper flowers.
As I was designing and testing this template, I found a few tips and tricks that made creating these so much easier, so I thought I'd share those with you!
These giant paper flowers are part of my partnership with my favorite craft store, JOANN. All of the paper I used in this project is Bazzill and can be found on JOANN's website, as well as in-store (selection may vary).
I like using a gradient to create these flowers, but of course you can use whatever colors you'd like! I think they would also look really cute in different subtle patterns. The colors I used are:
Pink Flower
Flamingo
Arroyo
Coral Cream
Mexican Poppy
Teal Flower
Kachina
Navajo
Turquoise Mist
Mexican Poppy
The leaves are my absolute favorite green: Granny Smith.
Download the Giant Paper Flower Template
This tutorial has two different files—one SVG file to cut the flowers using your Cricut or other cutting machine, and a PDF that you can use as a template for tracing and cutting by hand.
You can cut the SVG files at whatever size you like. They are sized to make a flower nearly two feet across! But if you'd like to size them down, you can make smaller versions.
For the larger flowers I made, I sized the file down to about 6″ tall, to give me a 12″ flower. The two smaller ones are sized to 4″ tall, to make an 8″ flower.
Enter your first name and email address in the box below for access to this freebie, along with other fun free files in our email newsletter! If you have already received a freebie from my site, just enter your information again—you won't be added to any additional lists.
This freebie is for personal use only. You can learn more about our commercial license.
Assembling the Giant Paper Flowers
Once you have all of your pieces cut out, you'll see that each petal has a slit that starts at the bottom of the petal.
Use a little craft glue and overlap the bottom to create dimension with each petal. It doesn't matter how far you overlap—just be consistent with all your flower petals.
Once dry, you'll glue all the petals to create the flower. Start with your largest petals at the bottom — glue in a ring on top of the circle template piece. Once the first layer is set, do the second, and so on, until you have the whole flower.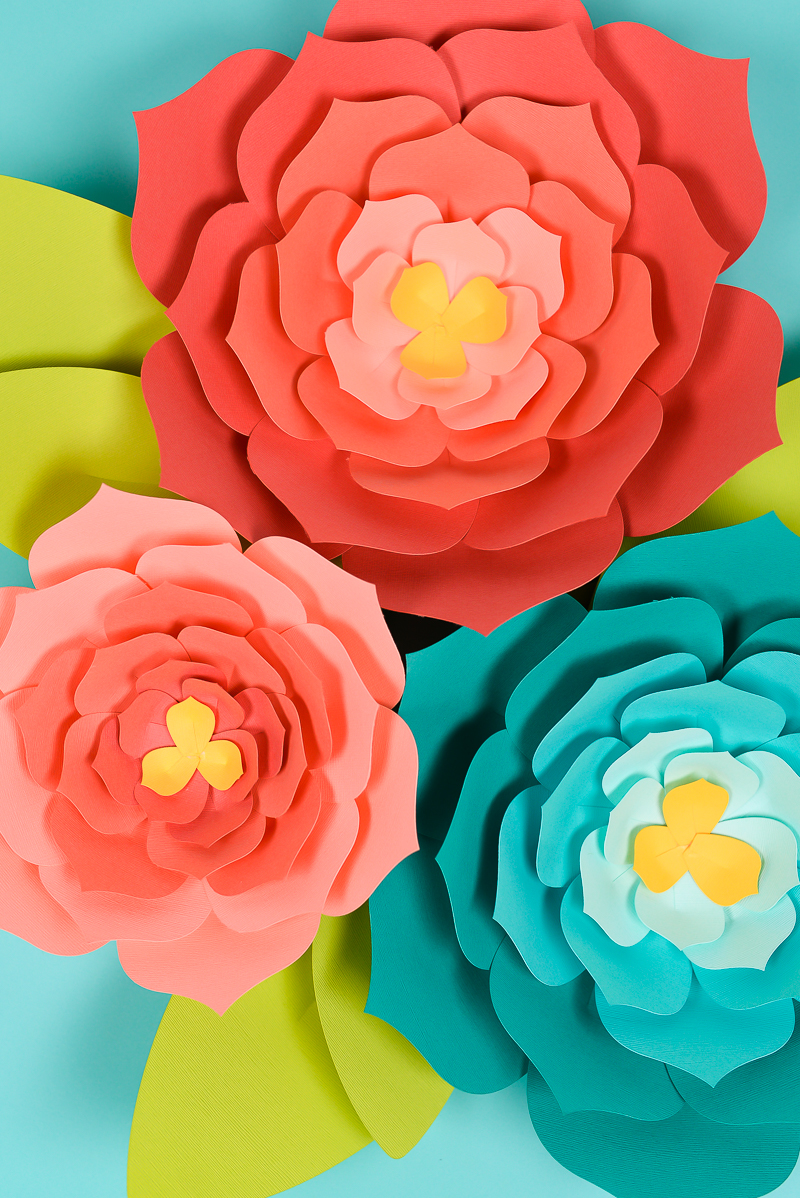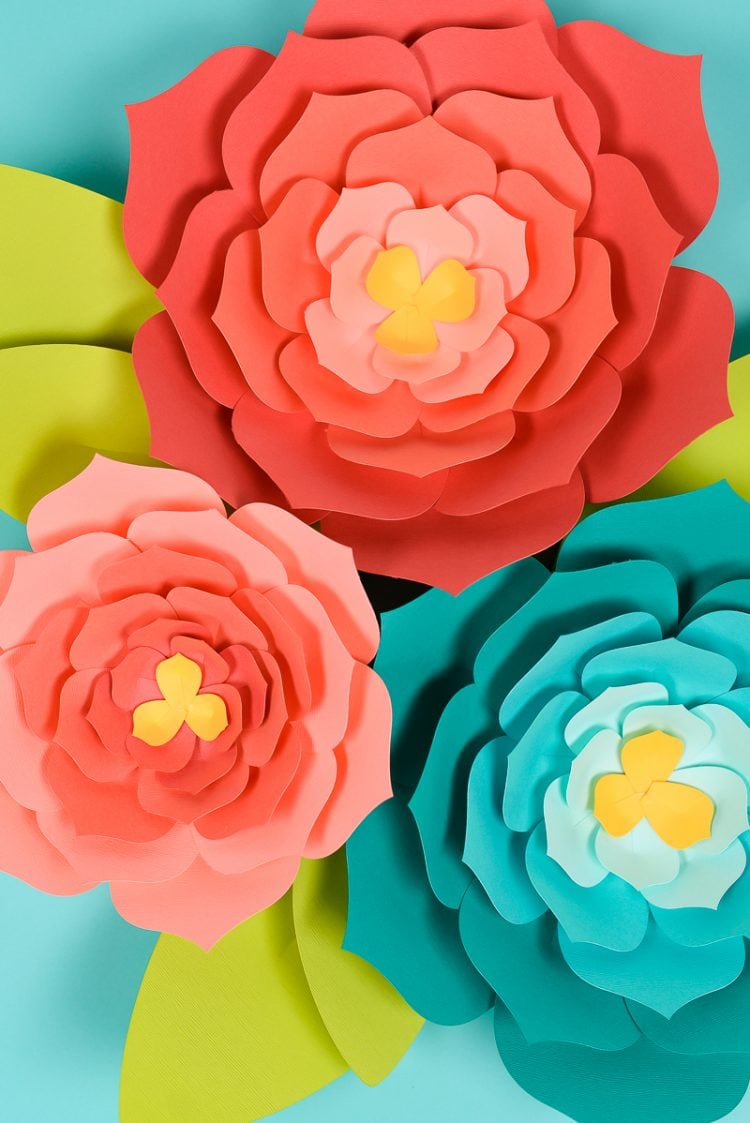 Giant Paper Flowers: Tips & Tricks
Okay okay, I realize the above directions are way too simplistic. Let's go into detail on a few different things I did to make these flowers come together easily and quickly!
Use a Cricut
While I did provide hand-cutting templates, the best way to speed up this flower making process is to use a Cricut or other cutting machine. I used my Wisteria Cricut Explore Air 2, which is exclusive at JOANN.
Stop pulling your hair out and start creating confidently with your Cricut! Check out our helpful Cricut Resources—everything you need to know to learn and love your Cricut.
It's perfect for speeding up projects like this, plus your template pieces will be so perfectly cut they will look professionally finished. And you can easily change the dimensions of your template pieces to cut your flower in any size you desire. If you don't have a Cricut, however, I've provided a template for cutting by hand!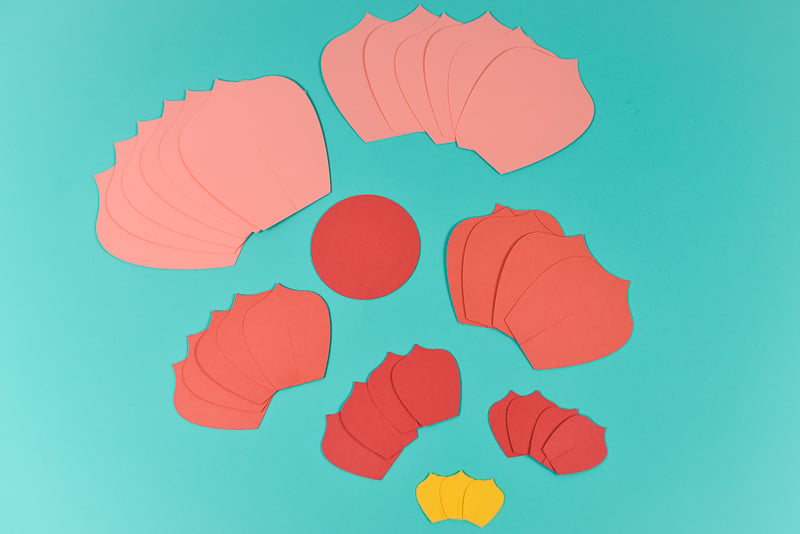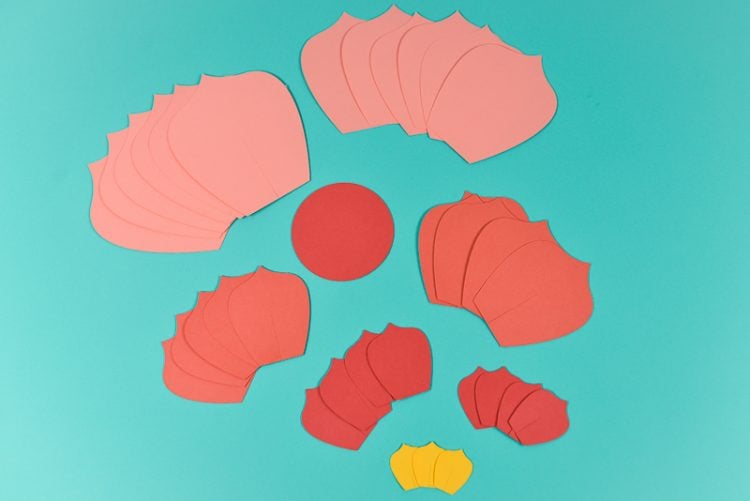 Giant Paper Flower Glue
What kind of glue should you use? I found that Aleene's Quick Dry Tacky Glue was a good choice. It dries quickly, but not so quickly that you can't make adjustments if you don't get your petals placed right the first time.
Even better, get the "Always Ready" bottle that stands so the glue flows down, and you'll never have to sit there shaking the bottle, trying to get your glue to come out. That's next on my list once I empty this bottle I currently have.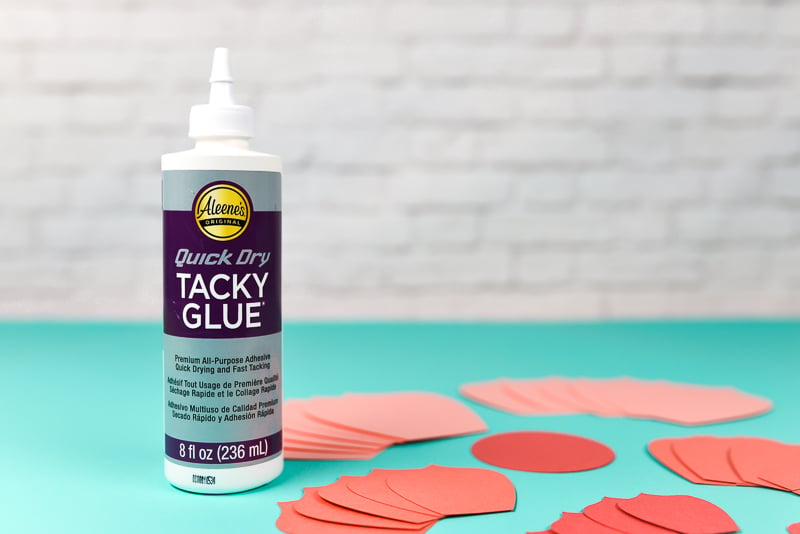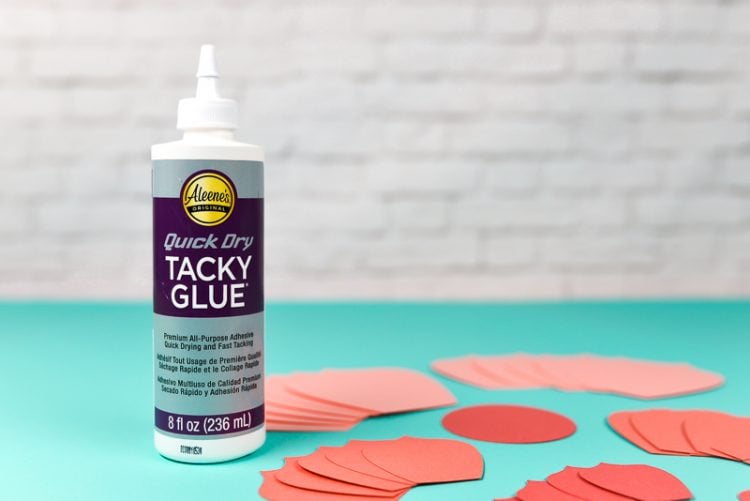 Create an Assembly Line
Like I said above, quick-dry tacky glue is awesome for putting these flowers together. I line up six to eight petals, side by side, and put a dab of glue on each. Then I hold them together, using my next little trick.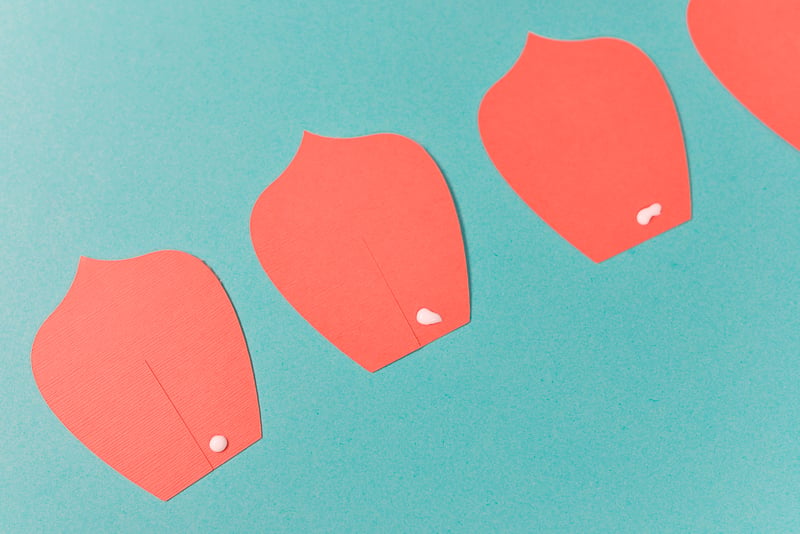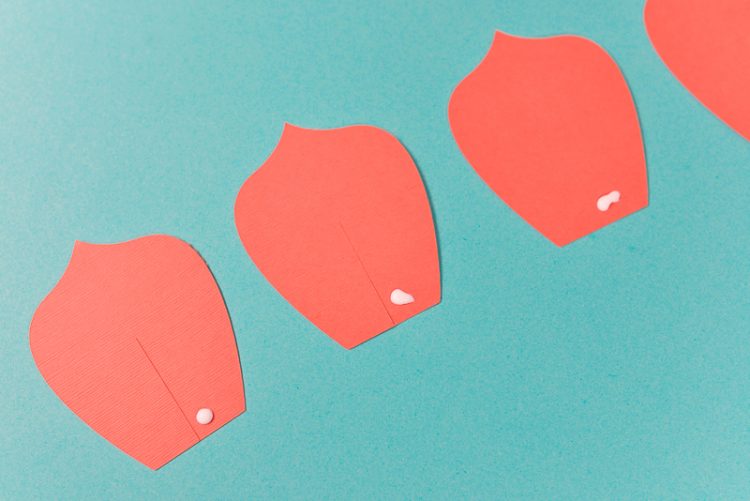 Wonder Clips are like Extra Hands
When I first started assembling these flowers, I held onto each petal until the glue set enough for me to put it down. So each flower took me approximately four days (ha!).
Then I realized that I could use Wonder Clips, which are basically like having a bunch of tiny friends holding your petals together for you. Just clip on and let them sit.
They do live a small indentation on your paper, but all but the inside layer is covered up by the later on top of it. If that indentation bothers you, just hold the three center pieces between your fingers as the glue sets.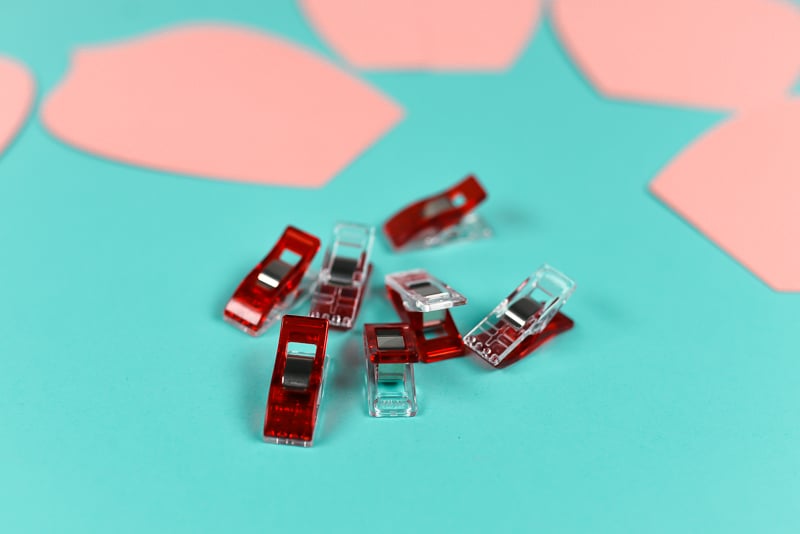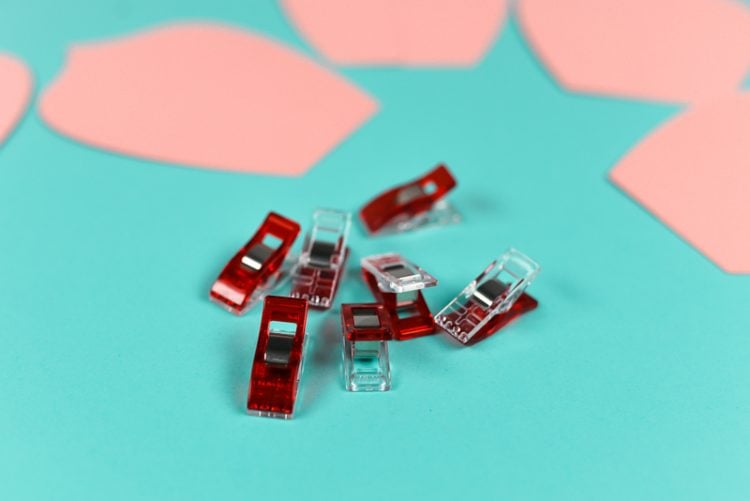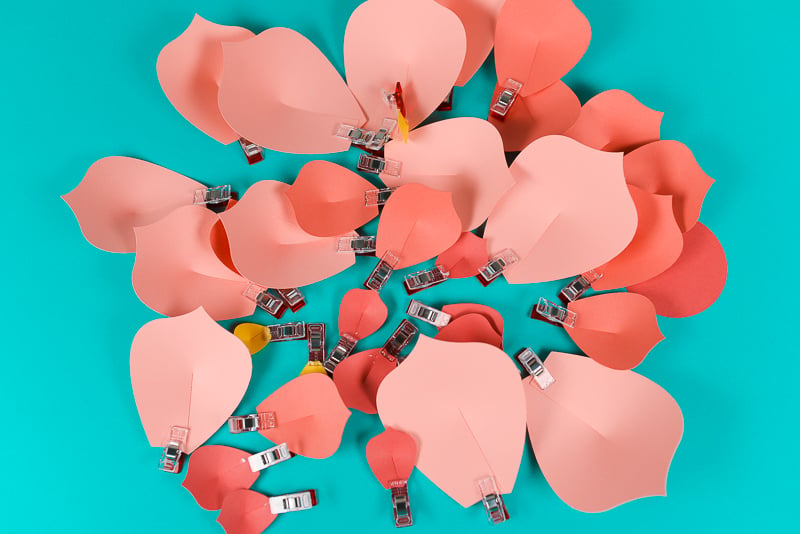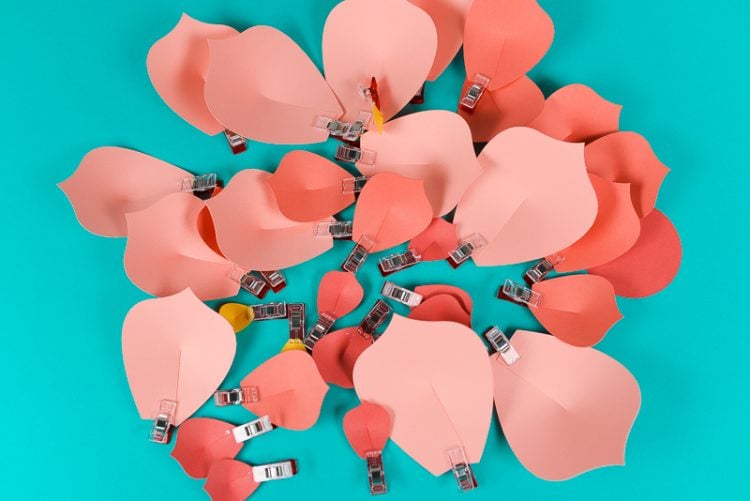 Work One Layer At a Time
This probably goes without saying, but start with the bottom layer and work up. I will do a layer and then set a bowl or (as I get more toward the center) a bottle of glue or craft paint to help keep everything in place as it dries. This, like the Wonder Clips, means that I don't have to hold the flowers while the glue sets!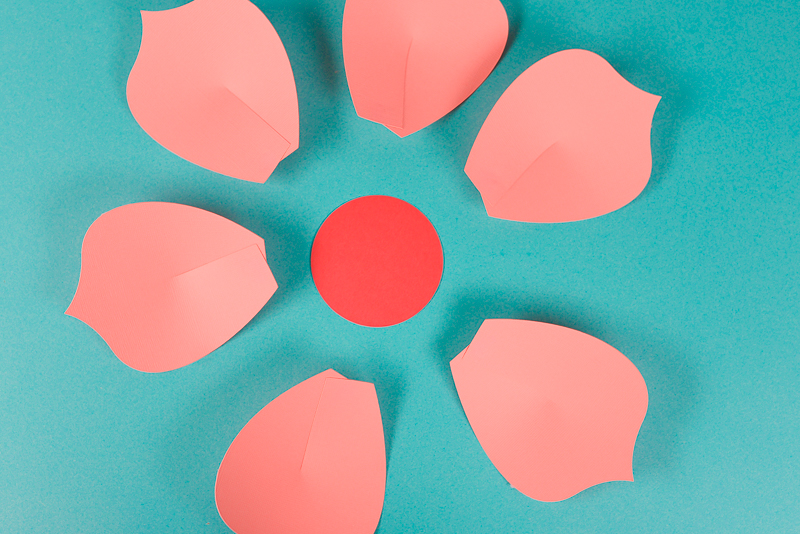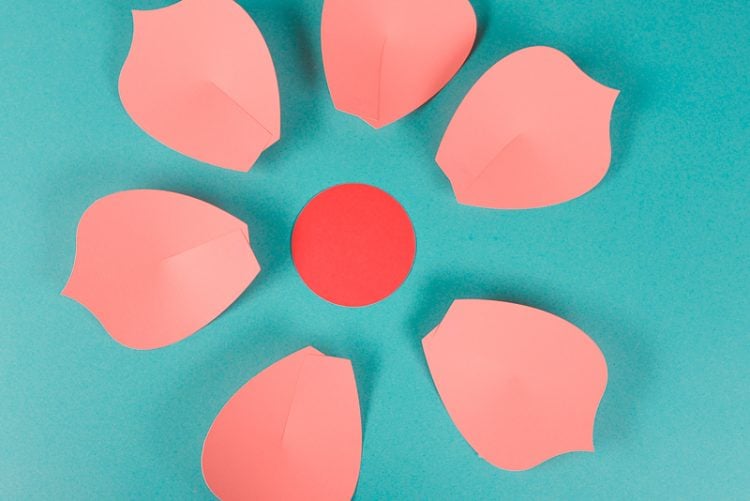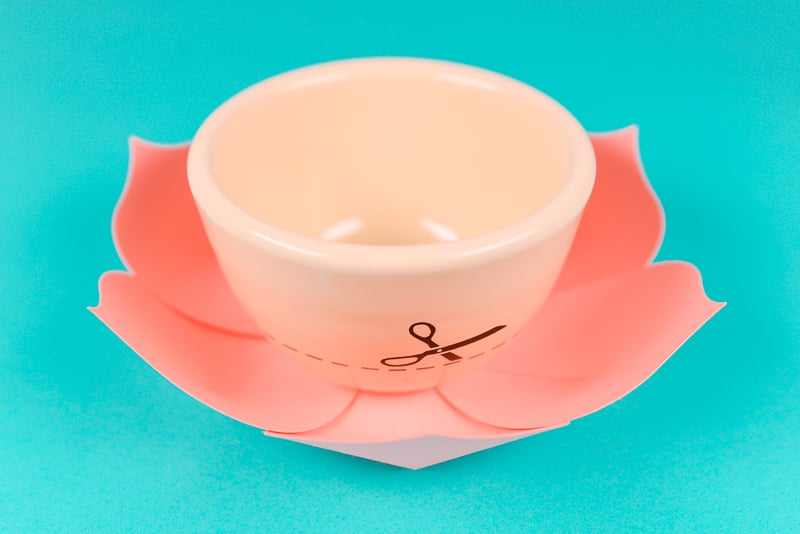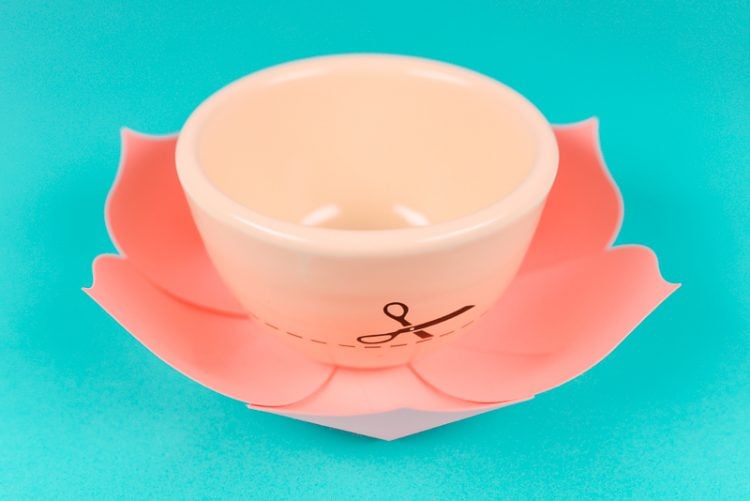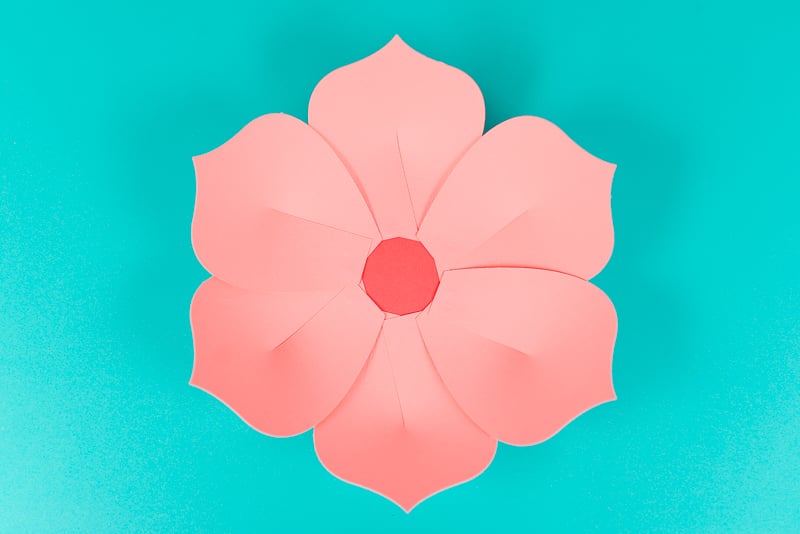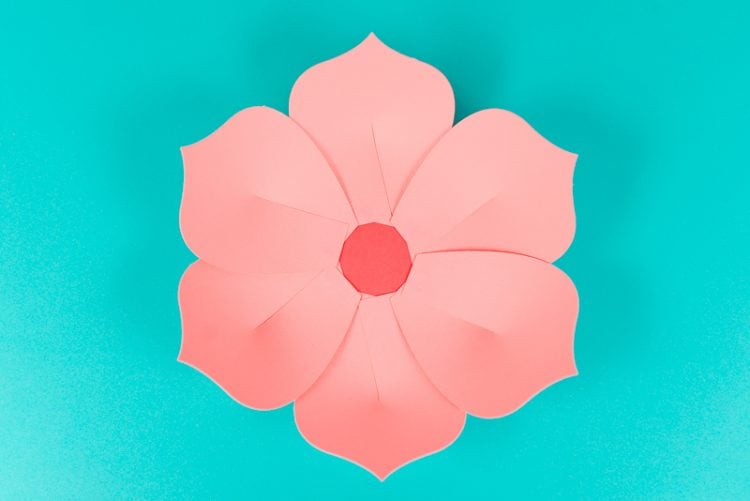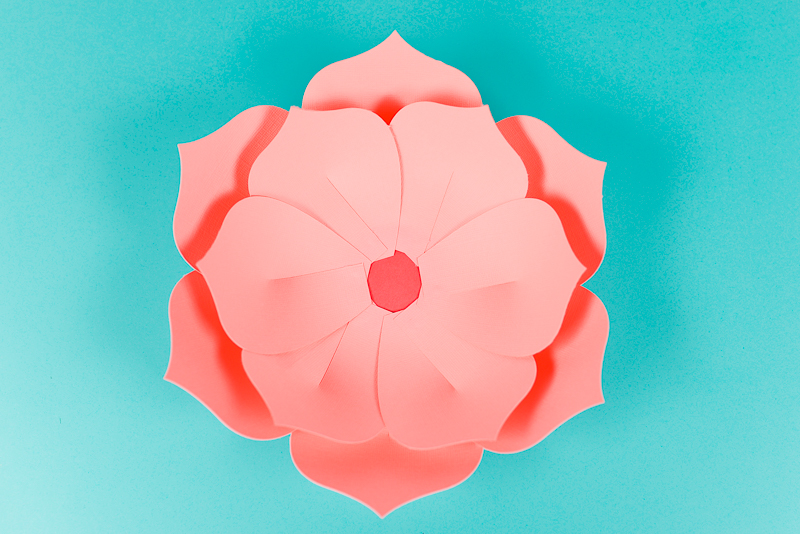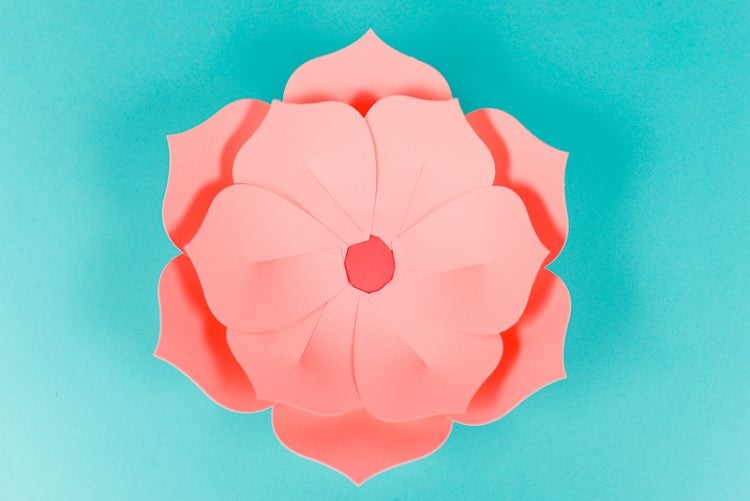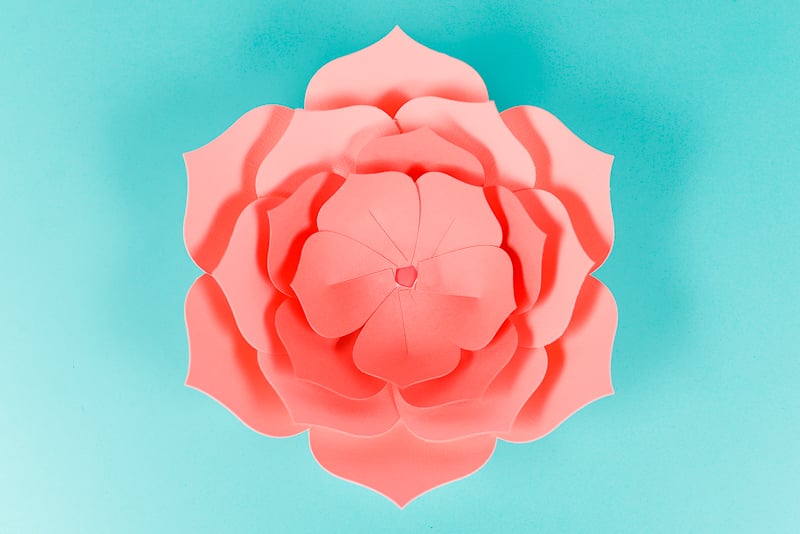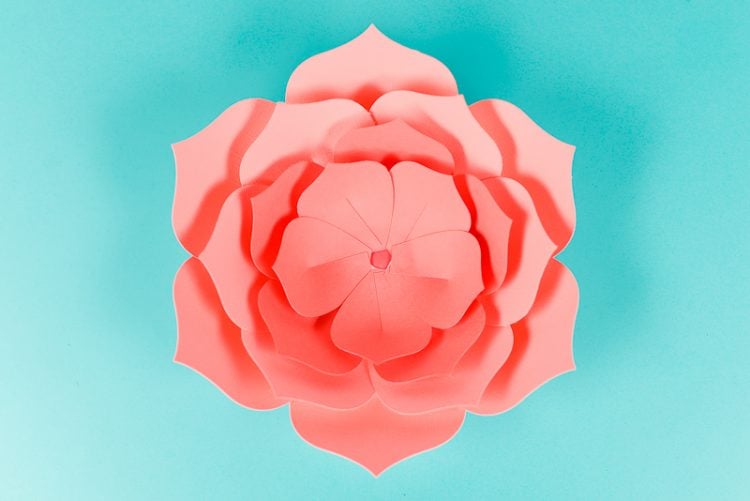 Continue on until you have all of your pieces in!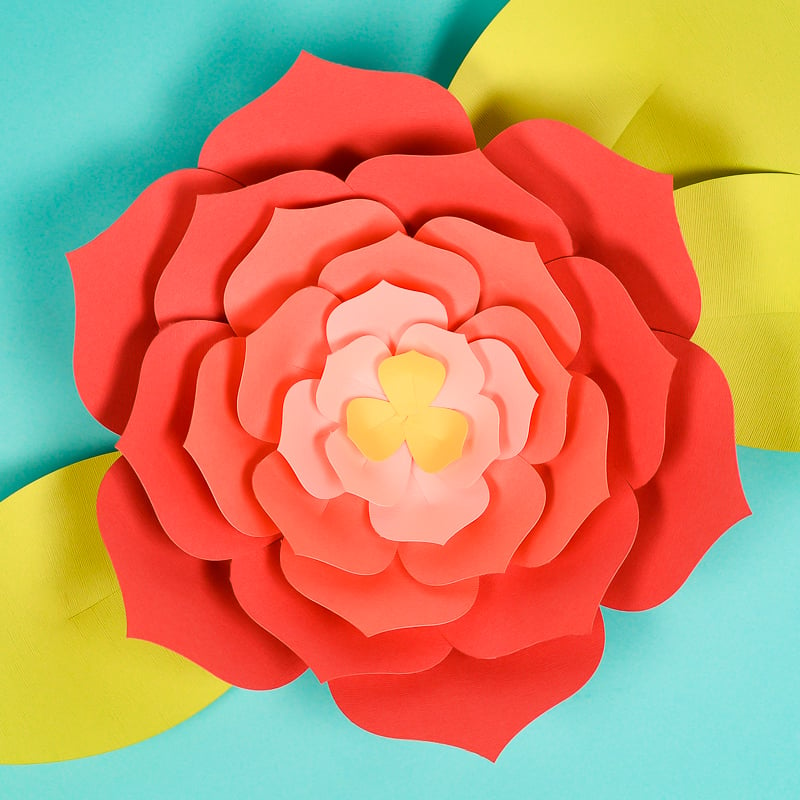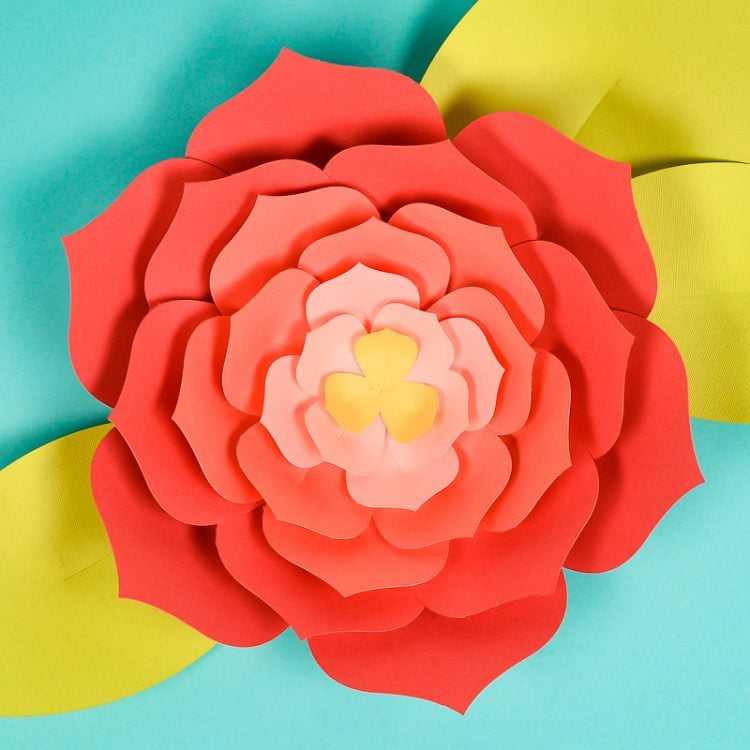 It Doesn't Have to Be Perfect
Try to get your petals to line up, but it doesn't have to be perfect. Nature isn't perfect and neither are you! The two most outer layers have six petals, the two middle have five, and the two smallest have four. The final center only has three. So there's no way to line them up perfectly based on the row before it—just try to get them evenly lined up(ish) for each layer.
And that's it! You can see how these simple tips and tricks make creating giant cardstock flowers a lot less daunting. Do you have any tips and tricks for assembling big projects like this? I'd love to hear them in the comments!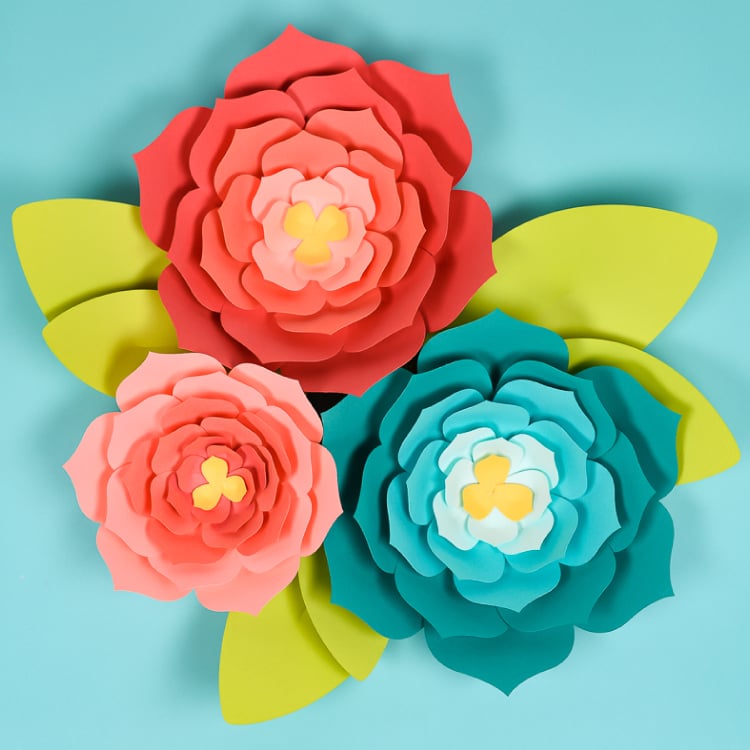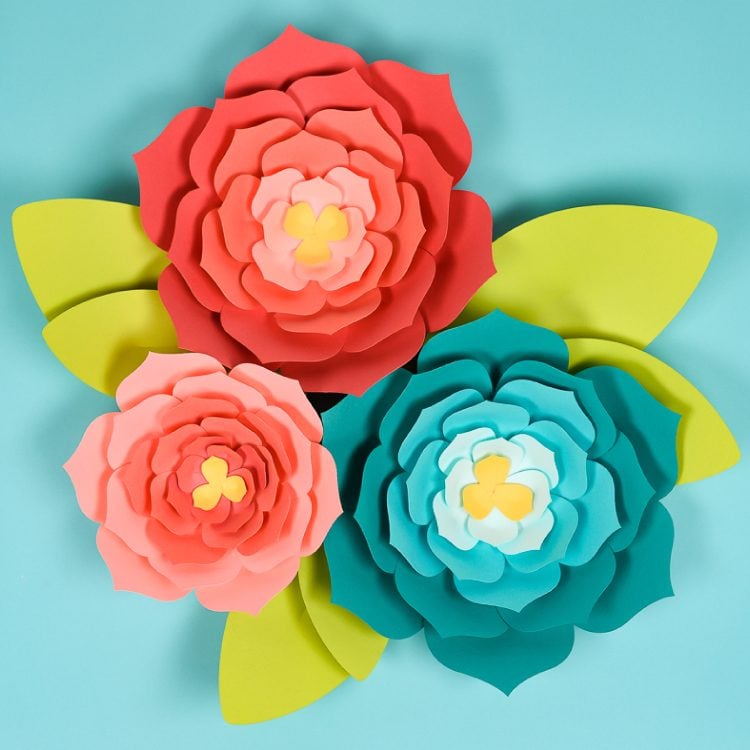 More Cricut Projects
[ess_grid alias="cricut_crafts"]