Beat summer boredom with this free printable summer word scramble! This fun game is great for hot summer afternoons after hanging out at the pool—unscramble all 16 summer words!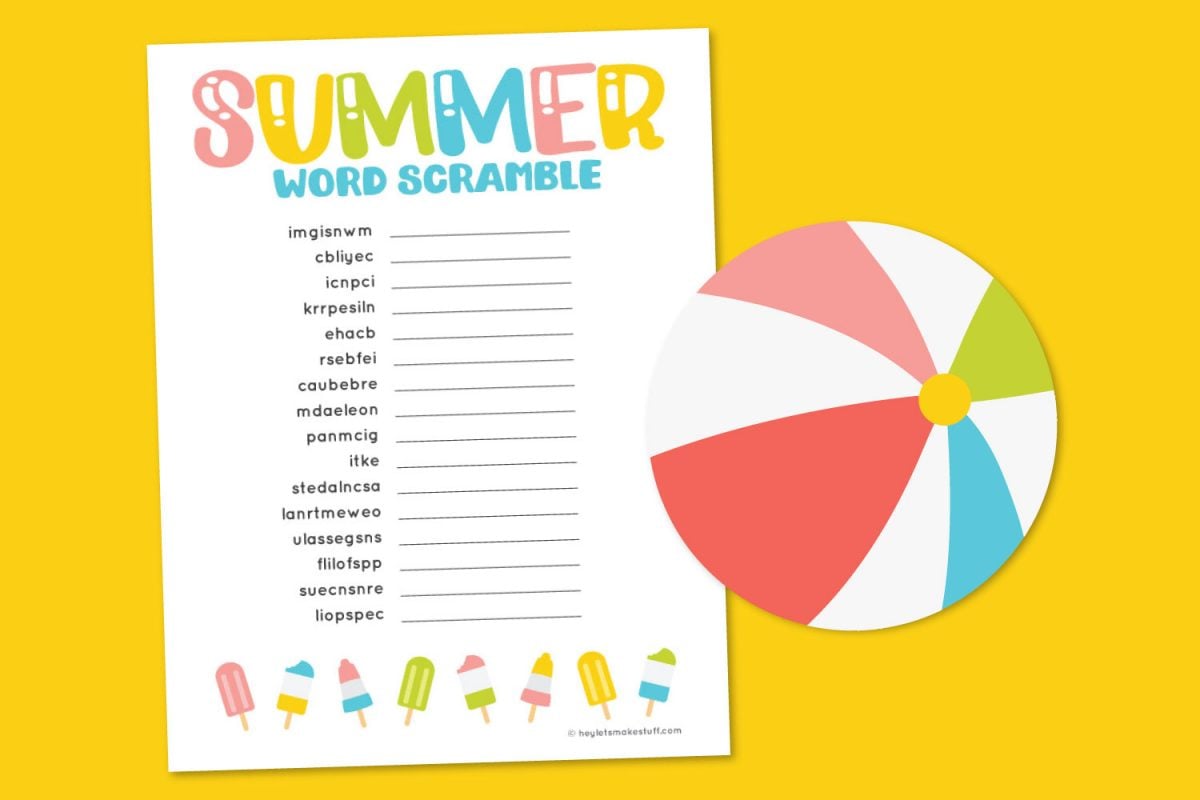 It may be the beginning of April, but summer is just around the corner. If you're from a warmer part of the world, you may already be feeling those summer temperatures!
(Of course, up here in the PNW, summer seems like it's never going to show up—it's gray and dreary this morning!)
Today I've joined up with some of my best blogging friends to bring you a bunch of totally free summer-themed printables! From printable summer games to to fun summertime activities to sunshine-inspired decor ideas to coloring pages, we've got all sorts of summer printables to help make your summer memorable this year.
I've designed this fun printable summer word scramble. I always find these a lot more challenging than I expect! This scramble has sixteen summer-related words for you to unscramble. And if you get stuck, I've included an answer key!
This free printable game is a fun summer activity for older kiddos and adults—younger kiddos may have trouble with the answers! Break out this word puzzle on a particularly hot day, or bring some copies on a road trip.
It's also good for an end-of-the-school-year classroom game for upper grades, when kids are so ready for summer vacation!
Also check out my Free Printable Summer Scavenger Hunt, Free Printable Summer Word Search, and Free Printable Summer Coloring Page!
Make sure to head to the bottom of this post to get the links to all of the other free summer printables my friends have for you!
Benefits of Word Scrambles
Word scrambles are the perfect activity to keep your brain active. They help with spelling and word recognition, problem solving, and they can also improve your concentration! Also, they can be a lot of fun, which is important to brain health as well! A fun summertime activity that's good for the brain? Count me in!
Download the Free Summer Word Scramble under PRINTABLES P116
This file can be found in my Free Craft Resource Library. The file number is: P116.
Want access to this free file? Join my FREE resource library! All you need is the password to get in, which you can get by filling out the form below!
More Free Summer Printables
If you're looking for more ways to have fun in the sun (or in the shade!) this summer, check out all of these fun freebies from my friends! Includes coloring pages, mazes, bucket lists, checklists, crossword puzzles, and more! Head to each blog to download the PDFs individually! Also check out my round up of 20 Fun Printable Summer Games for Boredom Busting!