Ready to craft for fall? These fall fonts are perfect for all of your cutting machine crafts, including hoodies, mugs, scarves, and more! Grab your apple cider and start crafting!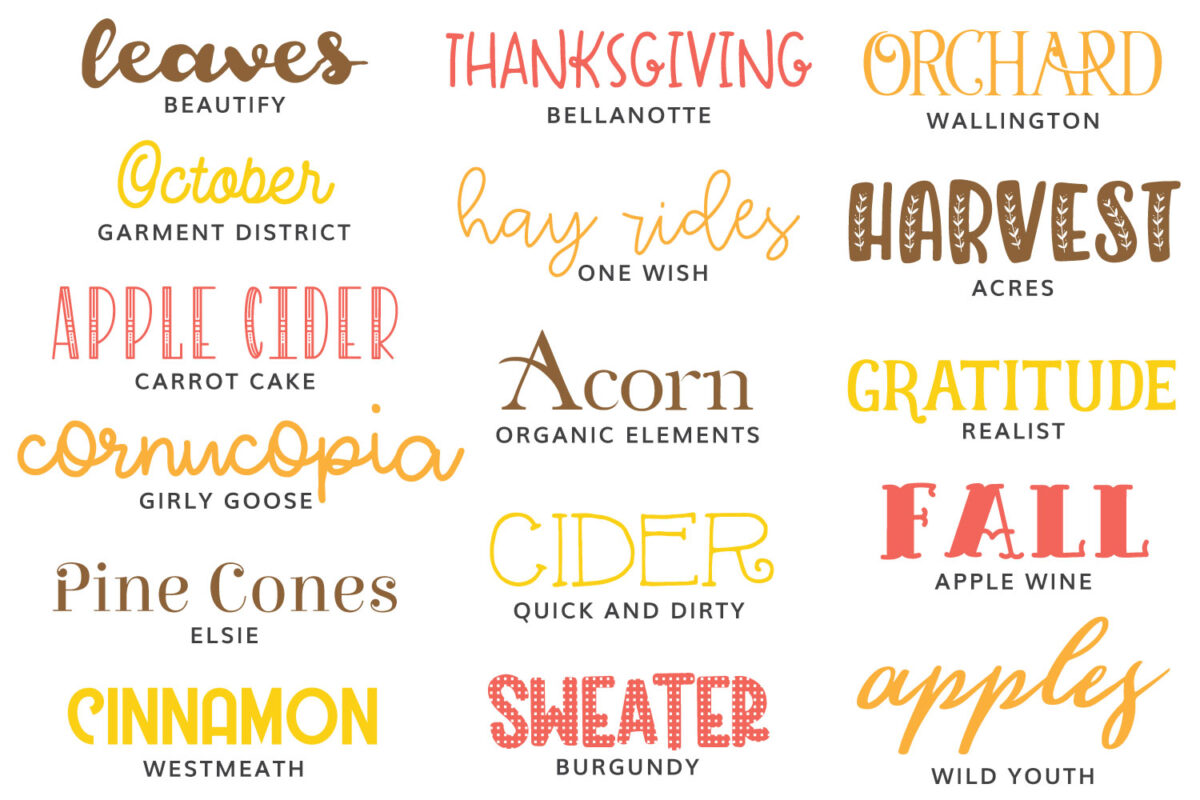 Are you ready to get crafting for fall? I sure am. I've never been a huge fan of summer—give me sweaters and cider any day of the week. If you're planning on making fall projects with your Cricut or other cutting machine, I've rounded up some of my favorite fonts are perfect for all of your fall crafting!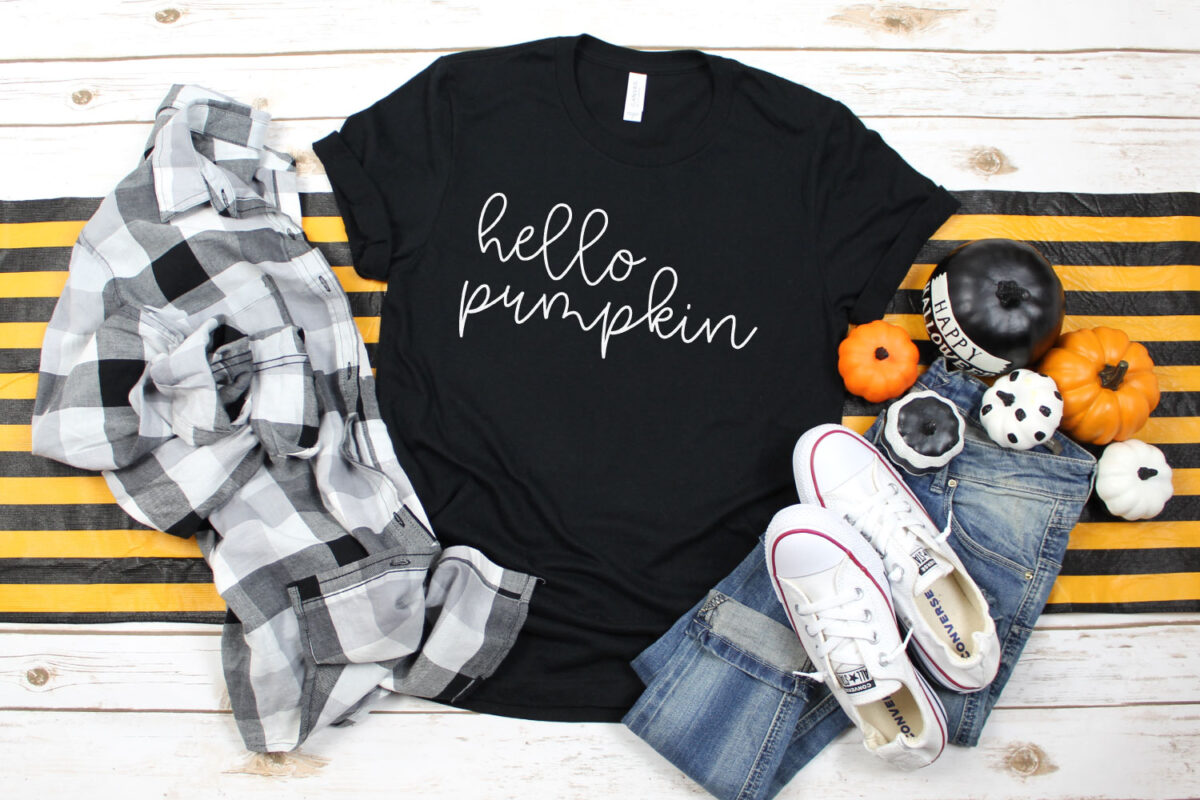 These are all fonts that I've verified will cut nicely on your cutting machine (see notes on the individual fonts below for suggestions). This is a combination of free and paid fonts. While getting fonts for free is awesome, I also think that the best, most cuttable fonts are often ones you pay for—plus you're helping to put food on the table of a designer!
Want to learn more about fonts with your Cricut? Check out these posts.
The Best Fall Fonts for Cricut & Silhouette

Leaves | Beautify: Beautify is a chunky script with a bunch of alternate characters for really customizing your projects. This is a free font, but you'll have to put in your email address.
Harvest | Acres: Acres is a bold font with cutout leaves. If you are cutting a smaller project, I suggest contouring/deleting the berries out of the leaves—they are a bit small.
Apple Cider | Carrot Cake: This vintage font is perfect for larger projects. It's a weeding-heavy font, but can be so cute on signs and t-shirts. Grab it on its own, or in a bundle of 23 cut-friendly fall fonts.
Cornucopia | Girly Goose: This is one of my favorite monoline fonts. You'll often see it on files in my shop. It also comes with a "doodle" font that has lots of cute images.

Orchard | Wallington: This elegant font has a ton of ligatures (combined letters) and alternate characters, allowing you to create beautiful fall projects!
October | Garment District: I love this monoline font for fall projects—it's retro yet playful and you'll love using it on your projects this fall.
Gratitude | Realist: Realist is one of the most popular fonts I recommend because I used it on my pantry labels! This font has fun alternates and a real farmhouse feel, which is perfect for fall.
Fall | Apple Wine: This chunky fun serif font is just asking to be made into a wooden fall sign! Buy it on its own, or in a bundle of 23 cut-friendly fall fonts.

Thanksgiving | BellaNotte: Denise Chandler is one of my favorite font designers—her fonts, like BellaNotte, are so clean and perfect for cutting machines.
Hay Rides | One Wish: One Wish is another monoline font that you'll see a lot on my projects. It's actually one of two fonts in this duo—the other is a chunkier monoline that you're going to love.
Acorn | Organic Elements: This free font has an earthy feel—I love it on invitations and cards for fall. Take care weeding this font, since the sharp points can be a little tricky.
Cider| Quick & Dirty: Quick & Dirty is a whimsical, curly font that I use often during both the fall and winter seasons. With more than 75 alternates (including fun stacked letters!) this is a versatile font.

Sweater | Burgundy: If you love buffalo check, Burgundy is the font for you! This is a very clean font for cutting machines, but it's best for larger projects since weeding those tiny squares can be challenging.
Pine Cones | Elsie: Elsie is a playful serif font that's both feminine and elegant. I love it on t-shirts and invitations. Grab this one for free!
Cinnamon | Westmeath: There's something about art deco fonts that remind me of fall. Westmeath, a free fall font, feels both classic and trendy at the same time.
Apples | Wild Youth: If you're looking for a swoopy script, Wild Youth is a great option. With big ascenders and descenders, this is a great font for all your fall crafting—and it's free!
Check out fonts for other seasons!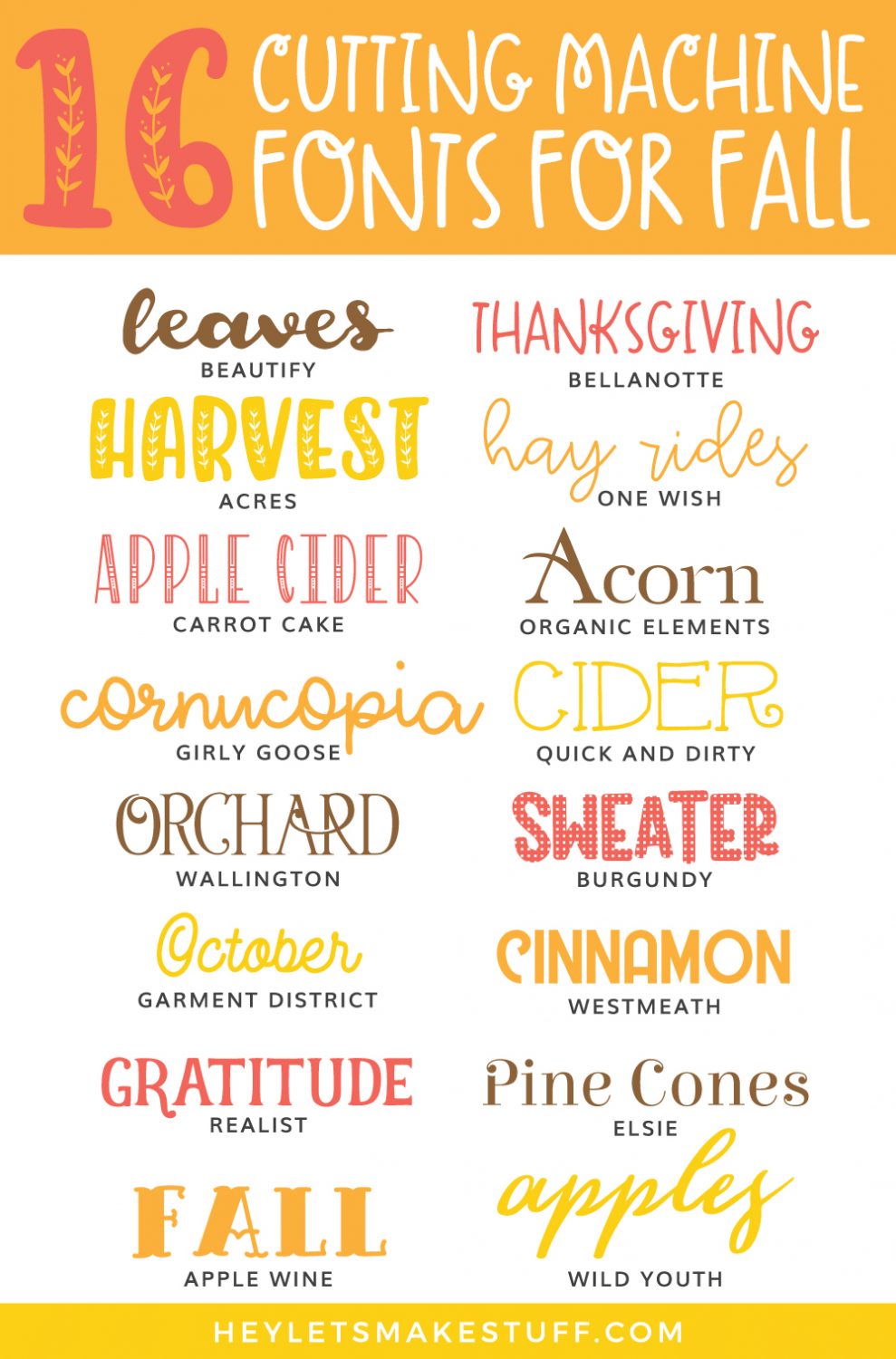 Get Ready for Fall