Getting ready for festive Christmas crafting? These cheap and free Christmas fonts are perfect for all of your cutting machine crafts, including stockings, hoodies, decor, and more!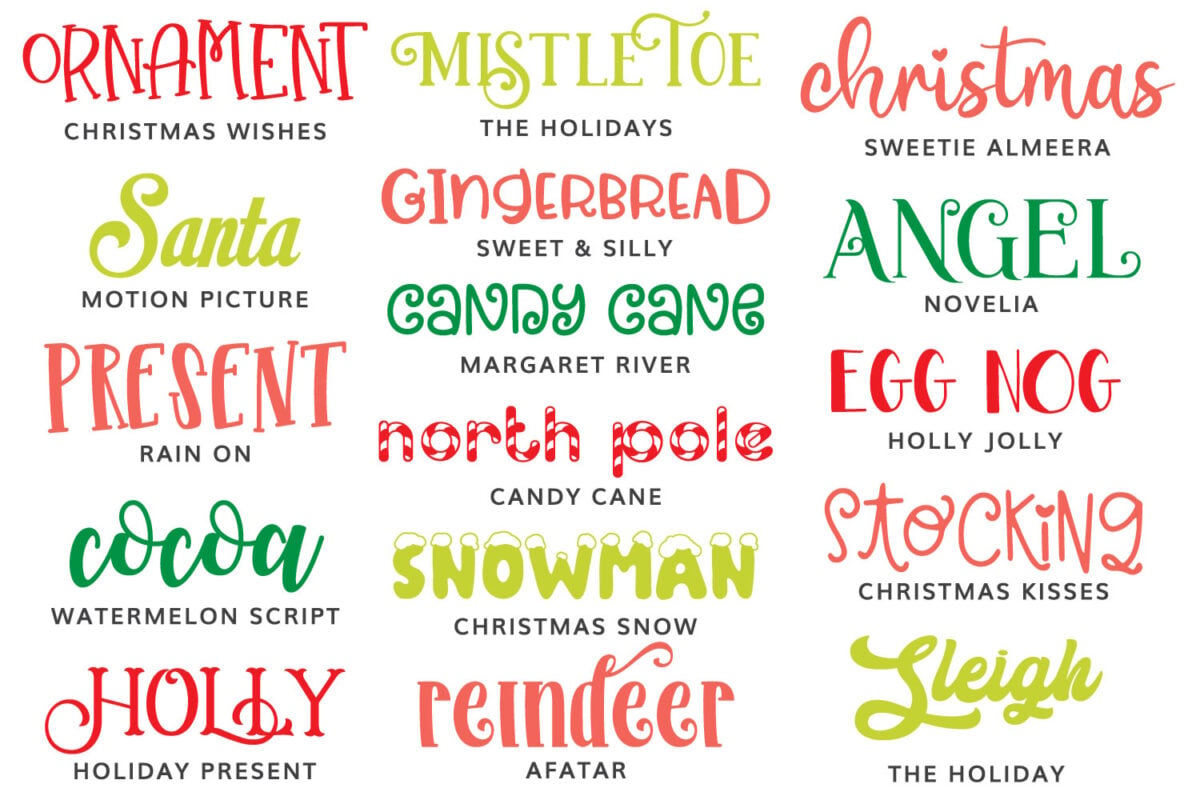 Christmas crafting is in full swing for many folks! Whether you're sewing stockings, making ornaments, or crafting decor, you may be looking for Christmas fonts to use in your project. Today I've rounded up some of my favorite cheap and free Christmas fonts are perfect for all of your holiday crafting!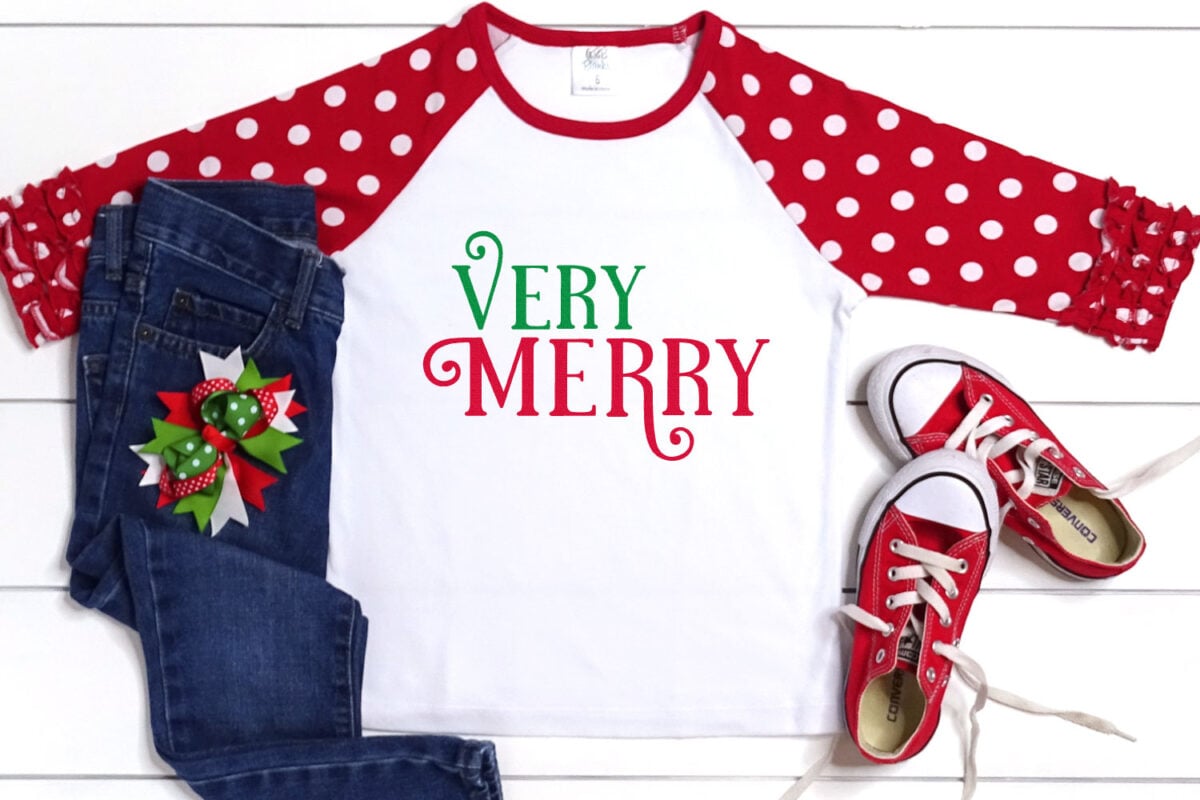 These are all fonts that I've verified will cut nicely on your cutting machine (see notes on the individual fonts below for suggestions). This is a combination of free and paid fonts. While getting fonts for free is awesome, I also think that the best, most "cuttable" fonts are often ones you pay for—plus you're helping to put food on the table of a designer!
Want to learn more about fonts with your Cricut? Check out these posts.
The Best Christmas Fonts for Cricut & Silhouette

Ornament | Christmas Wishes: Christmas Wishes is a cute little hand-lettered font, perfect for whimsical holiday projects.
Mistletoe | The Holidays: I love the big swooping letterforms available with The Holidays font! It's a Christmas font that I come back to again and again.
Santa | Motion Picture: Motion Picture is a retro font that works well with a vintage Christmas style. Lots of fun uppercase letters in this free font to add retro style to any project.
Cocoa | Watermelon Script: Watermelon Script is one of my go-to free fonts year-round, but it's particularly bouncy and fun for the holidays!

Gingerbread | Sweet & Silly: You'll see Sweet & Silly in a lot of the SVG files in my shop—I love the combination of uppercase and lowercase letters in this one. It can be so charming!
Angel | Novelia: If you're looking for something a little more fancy, Novelia might fit the bill! With elegant curls and tapered lines, this one is beautiful on a wide range of Christmas projects.
Snowman | Christmas Snow: Dreaming of a white Christmas? This Christmas Snow font is perfect for Christmas invitations, decor, and more. Be careful weeding this one—those edges around the snow are delicate.
Egg Nog | Holly Jolly: I love a good thick/thin font, and Holly Jolly is no exception! This freebie is great for holiday crafting, but my guess is you'll return to it throughout the year.

Present | Rain On: Rain on is one of my favorite fonts—I love the way the letters look paired together! This is a great skinny font for ornaments.
Reindeer | Afatar: Afatar is an elegant free font that has a lot of interesting letterforms, like the "d" in reindeer up there.
Christmas | Sweetie Almeera: If you're looking for a fun, bouncy script for your Christmas projects, Sweetie Almeera is a great font. I love the little hear above the letter "i"!
Stocking | Christmas Kisses: Christmas Kisses is the cutesiest of the bunch, but it works so well on all sorts of holiday crafts, particularly for the kiddos.

Holly | Holiday Present: Holiday Present is another gorgeous, elegant font that is so lovely on home decor signs and other holiday projects. Lots of beautiful swooping letters!
North Pole | Candy Cane: If you're going classic Christmas fonts, Candy Cane is a freebie that you won't want to pass up! Use this sparingly—it can be hard to read if you have a text-heavy project.
Candy Cane | Margaret River: Need a font for the land of swirly twirly gumdrops? Margaret River is a great font for your most whimsical projects.
Sleigh | The Holiday: The Holiday is another fun retro font that is so good for your Christmas crafts. Lots of fun uppercase letters and I like the heavy weight of this one—really easy to cut on your cutting machine.
Check out fonts for other seasons!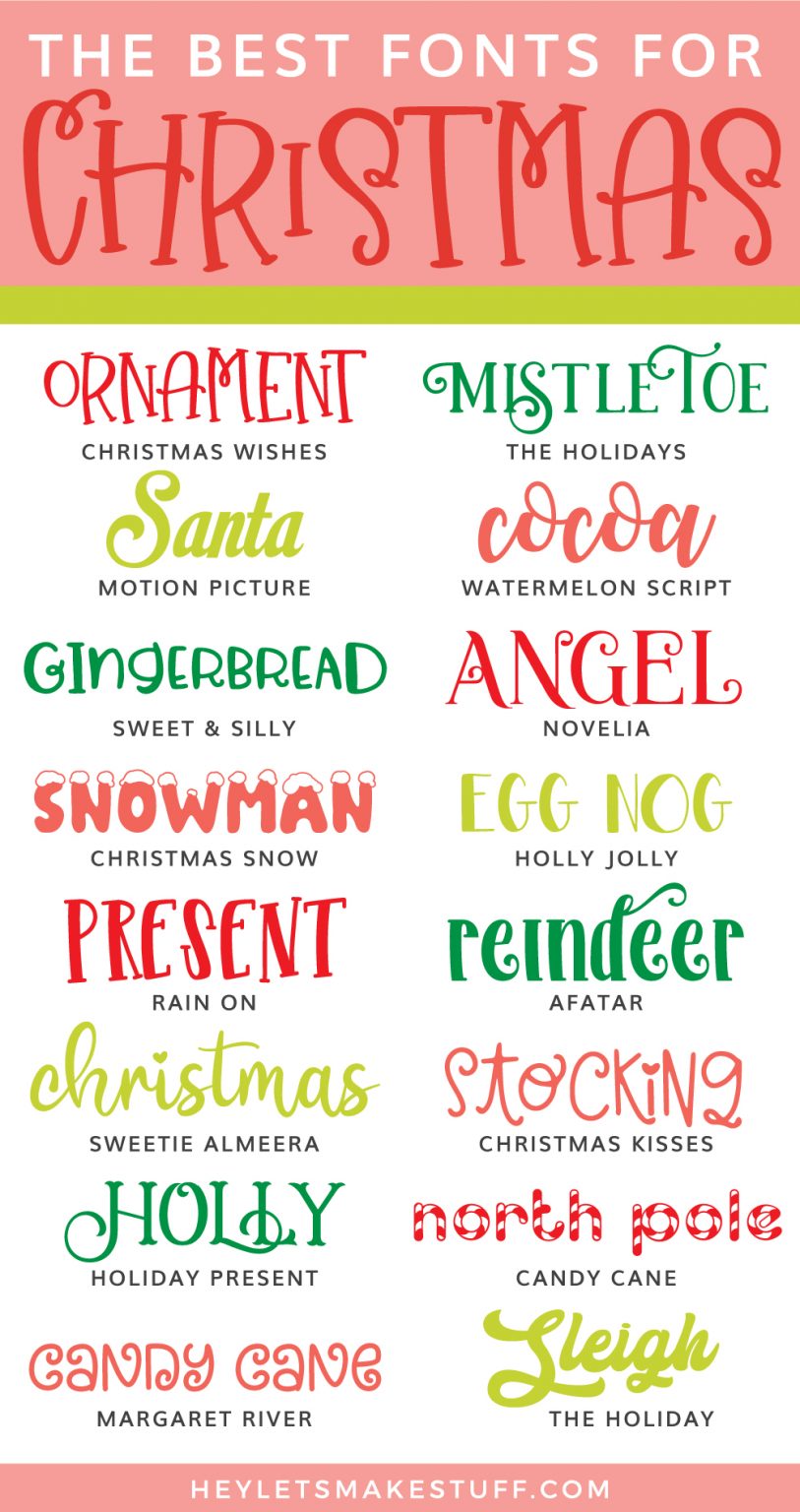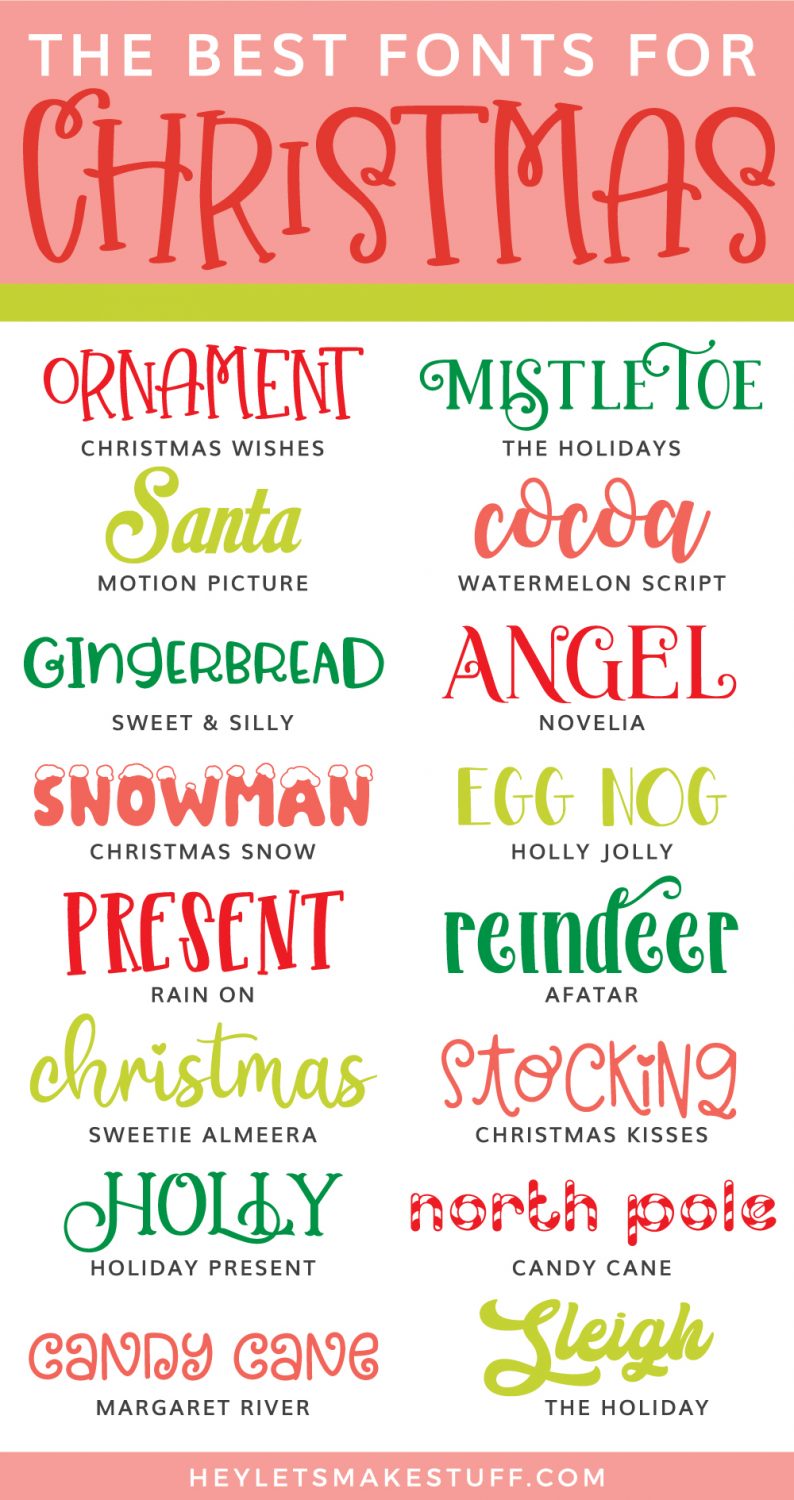 Get Ready for Christmas