Getting ready for spooky Halloween crafting? These cheap and free Halloween fonts are perfect for all of your cutting machine crafts, including trick or treat bags, hoodies, decor, and more!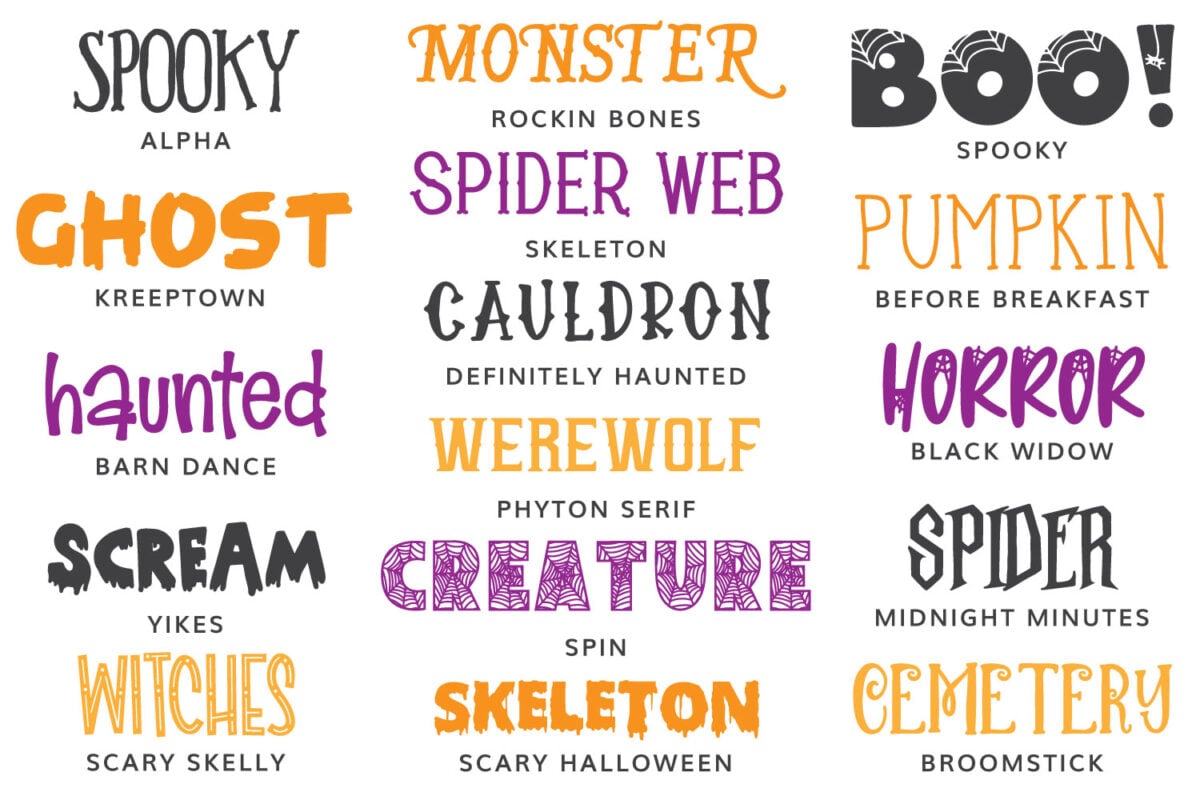 After a long summer, I think we are all ready to dive into the fall/Halloween season! I've been crafting for Halloween for the past few weeks—I just love spooky crafts! If you're planning on making Halloween projects with your Cricut or other cutting machine, I've rounded up some of my favorite fonts are perfect for all of your Halloween crafting!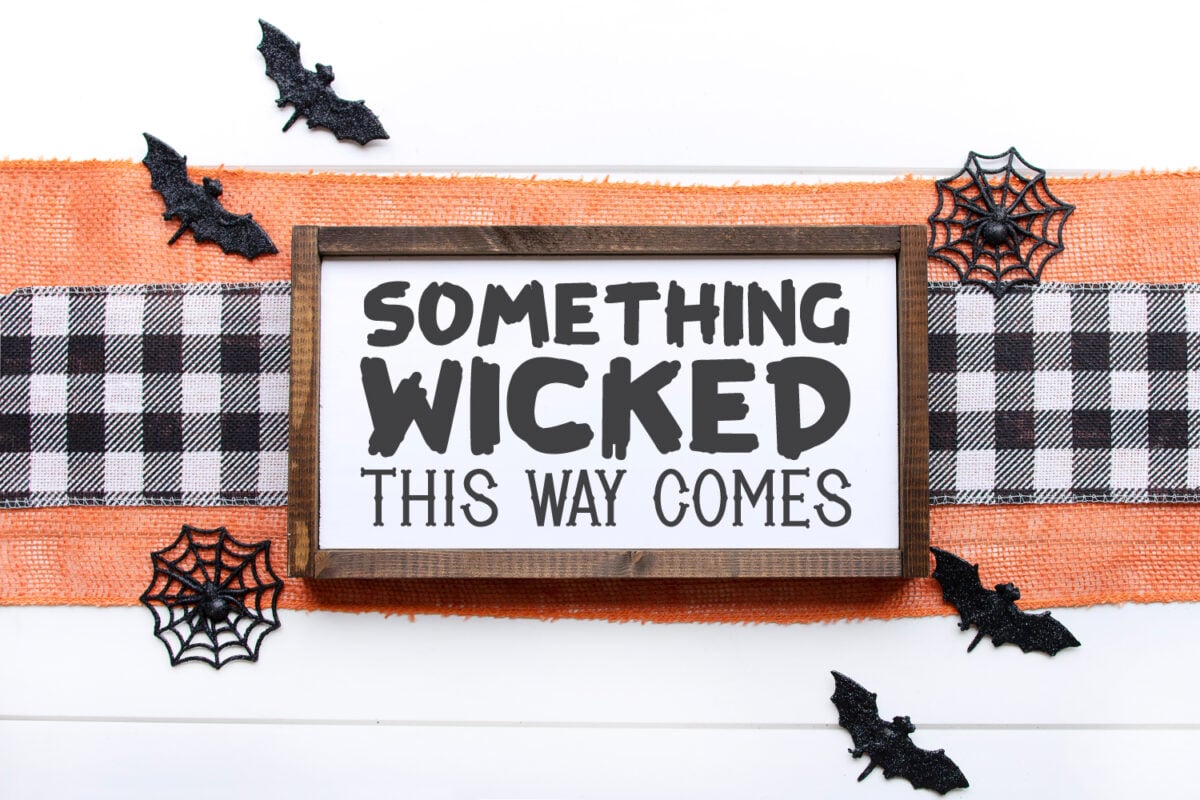 These are all fonts that I've verified will cut nicely on your cutting machine (see notes on the individual fonts below for suggestions). This is a combination of free and paid fonts. While getting fonts for free is awesome, I also think that the best, most "cuttable" fonts are often ones you pay for—plus you're helping to put food on the table of a designer!
Want to learn more about fonts with your Cricut? Check out these posts.
The Best Halloween Fonts for Cricut & Silhouette

Spooky | Alpha: Alpha has a hand-drawn organic look to it—the serifs remind a bit of bones!
Creature | Spin: Nothing says Halloween like spider webs! Spin is a spooky spider web font. It's best for large projects—some of those webs are really delicate. Also available in a bundle of 8 Halloween fonts!
Ghost | Kreeptown: Sometimes cutting machines struggle with "rough" fonts, but Kreeptown is smooth enough to cut perfectly. Grab this one for free!
Pumpkin | Before Breakfast: Before Breakfast is a spindly yet versatile font that will work for both Halloween projects, as well as other crafts throughout the year.

Haunted | Barn Dance: Barn Dance wasn't designed to be a Halloween font, but I feel like it works perfectly with it's overlapping elements. This is a great font for Halloween onesies and kids projects and comes with alternates for a truly custom design.
Cauldron | Definitely Haunted: With a name like Definitely Haunted, this font is perfect for Halloween crafts. It's playful and comes in a thick and thin version. Also available in a bundle of 8 Halloween fonts!
Scream | Yikes: Creepy dripping letters? Must be Halloween! Yikes also has alternate characters with bats and spiders—perfect for October 31.
Spider | Midnight Minutes: Midnight Minutes, reminiscent of Harry Potter a bit, is a great font for Halloween crafting. And it's free!

Cemetery | Broomstick: Broomstick is a wonderfully witchy font, with organic curls and swirly serifs. If it has a witch on it, it needs the Broomstick font.
Monster | Rocking Bones: Rocking Bones is an elegant "skeleton" font that has alternate capital letters with swashes. I love this one for creepy party invitations or home decor signs.
Werewolf | Phyton Serif: If you need a more elegant Halloween font, Phyton Serif is a great (and free!) choice. Grab this one and get both this serif font and a calligraphy script.
Witches| Scary Skelly: Scary Skelly has quickly become one of my go-to Halloween fonts! I love the "skeleton" look of the letters. Cut this one a bit bigger—those details can be a bit tricky to weed. Also available in a bundle of 8 Halloween fonts!

Boo | Spooky: Spooky is another font specifically designed for Halloween! With spiders and spider webs, this display font is perfect for all your Halloween crafting.
Spider Web | Skeleton: Skeleton has little bone-shaped serifs, making it a fun little font for your creepy crafting. It's part of Font Bundles "plus" program, which gets you a certain number of downloads each month for a set price. I am a member and I love it!
Skeleton | Scary Halloween: Scary Halloween is another drippy font—makes me think it just came out of the swamp! Grab this one for free!
Horror | Black Widow: Black Widow is somehow both cute and creepy at the same time—the scrapbook font with with spider webs is a great combination! Also available in a bundle of 8 Halloween fonts!
Check out fonts for other seasons!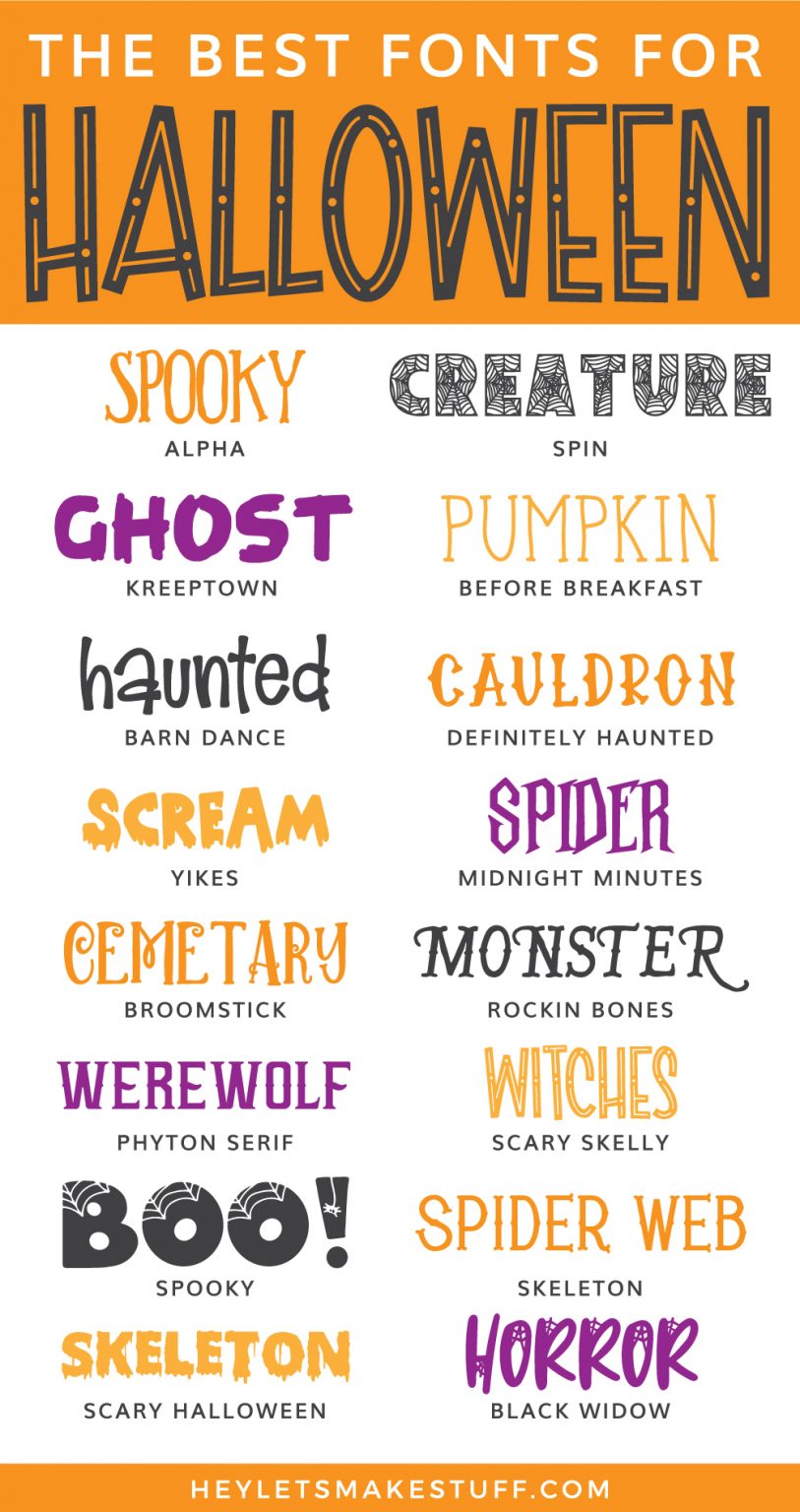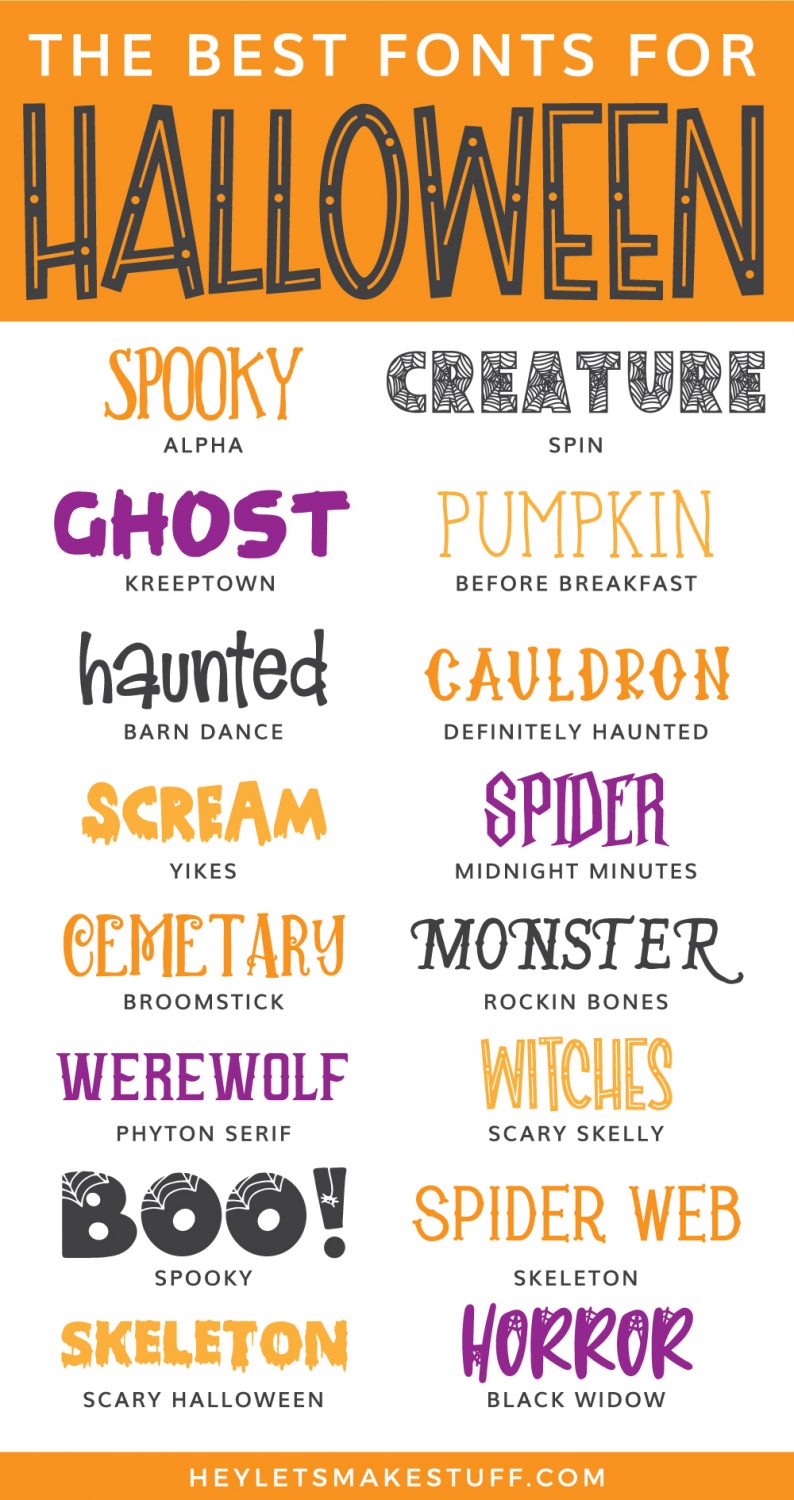 Get Ready for Halloween