Want to make t-shirts, tote bags, and tumblers with your sublimation printer? This is the ultimate guide to finding the best sublimation blanks and substrates for your projects!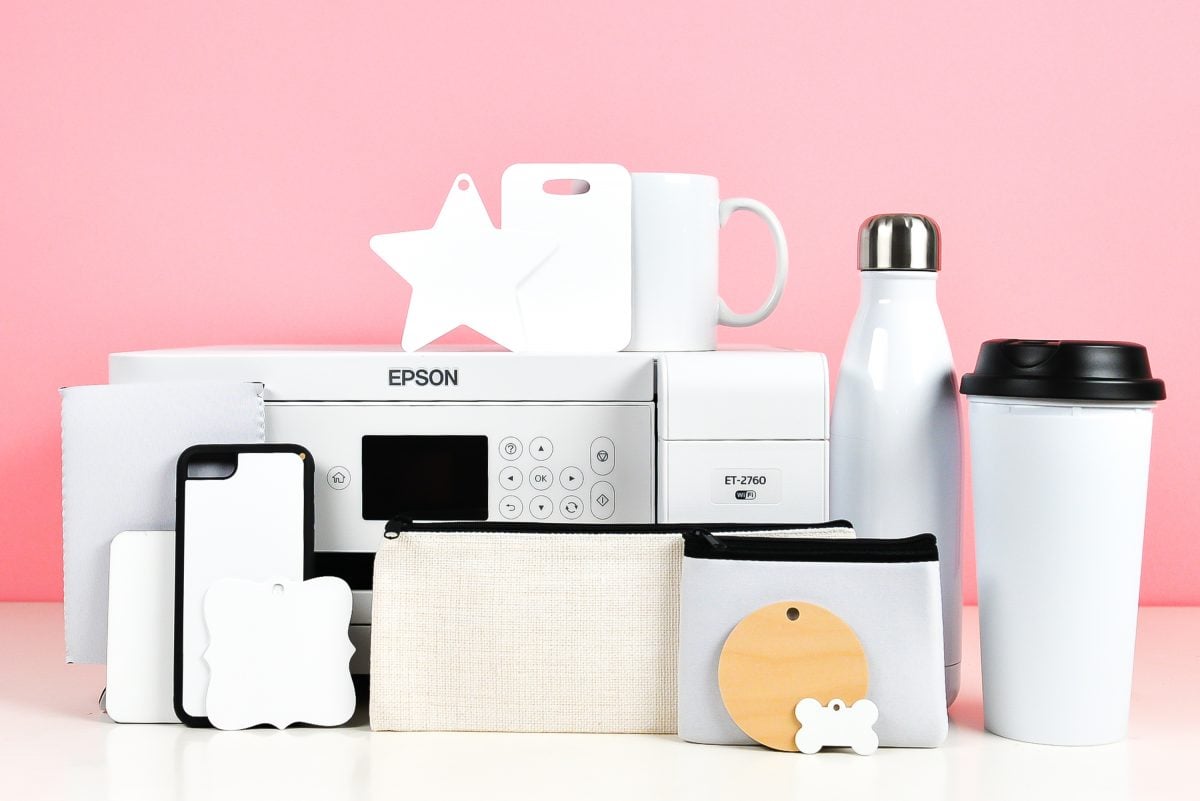 Welcome back to this series on sublimation! Today we're talking blanks and substrates.
In sublimation printing, you need a special blank or substrate with a poly-coating or enough polyester (we'll cover that later) to transfer the design. A regular kitchen mug or 100% cotton t-shirt won't work. If you use an item that isn't meant for sublimation, you'll end up with a faded design or no design at all.
In this post, we'll talk about the different types of sublimation blanks you may want to use in your crafts, plus my favorite places to buy them! There's so much information in this post, so make sure to bookmark it to return to as you begin to explore sublimation printing.
Join our Sublimation Made Simple Facebook group for tips, tricks, support, and resources!
In This Post:
What is a Blank or Substrate?
A blank, also often referred to as a substrate in sublimation printing, is a general name for an item that you can customize using sublimation prints with sublimation ink or Cricut Infusible Ink.
Sublimation blanks are different from regular blanks you can use with vinyl or iron on with heat transfer vinyl. I have a separate post on the best blanks for Cricut—these are great, but aren't designed for sublimation specifically.
Best Places to Buy Sublimation Blanks and Substrates
Here are direct links to the sites and suppliers and I use for purchasing blanks for sublimation printing projects. A lot of the smaller retailers here can offer really competitive pricing on quality products, particularly if you buy in bulk.
Sign up for the email lists for these sellers. They will often send out coupons and other deals like free shipping.
Threadsy – polyester shirts and more (Save 10% Off Orders $110+ at Threadsy with Code HEYLETSMAKESTUFF10. Valid through 10/21/22. Not stackable with Super Simple Bulk Savings.)
Cricut.com – Cricut Infusible Ink (You can use HEYLETSSAVE to save 10% on your order!)
JOANN – Cricut Infusible Ink
Michaels – Cricut Infusible Ink
Note: Cricut, Michaels, and JOANN all sell blanks for Cricut Infusible Ink. These same blanks can ALSO be used for sublimation projects, since Infusible Ink is a sublimation product. Outside of Cricut Infusible Ink blanks, many the other blanks sold at these retailers are generally not sublimation friendly. Make sure to check the or product page to see if they are sublimation-friendly.
A lot of the small businesses listed here also have great customer service so reach out if you have questions about a specific question! They have years of experience and can help a lot more than the larger online retailers that do not know sublimation crafting well.
Now let's take a look at all of the amazing types of blanks out there, and where you can get them. I've broken them out by type of blank so that you can find what you're looking for quickly and easily!
Drinkware Sublimation Blanks
The Process for Sublimating Drinkware
There are many types of sublimation drinkware you can use. Everything from coffee mugs to tumblers, glassware and more. To sublimate on the curved surface of a mug, you have several options for your heat source: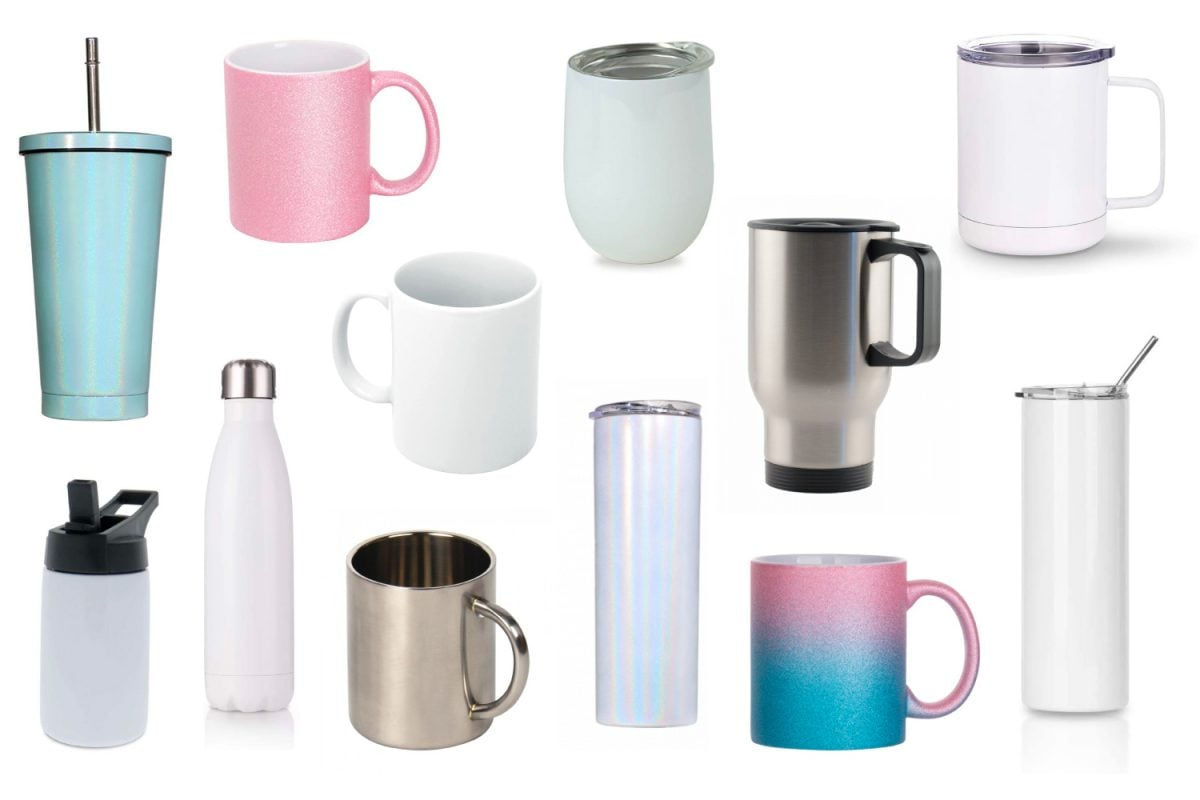 Sublimation Coffee Mugs
Coffee mugs are my favorite type of blank for sublimation, and the Cricut Mug Press makes it easy to make them! If you want to use mugs in the mug press, look for an outer diameter of 3.2″ to 3.4″.
Sublimation Travel Mugs
Travel mugs are generally designed to fit within a car's cupholder and usually have a lid. They often require a mug wrap or shrink film to get an even transfer since the walls are not straight-sided.
Sublimation Water Bottles
Stay hydrated! Water bottles come in both straight-side and tapered-side styles. Make sure you're purchasing bottles that will fit in your press, or the necessary wraps or shrink film.
Sublimation Tumblers
Tumblers are often skinner than may fit in a mug press, and are occasionally taller than some of the convection ovens out there. Check out How to Sublimate a Tumbler Using Shrink Wrap & a Convection Oven for more information.
Other Sublimation Drinkware
Barware and Kitchen Sublimation Blanks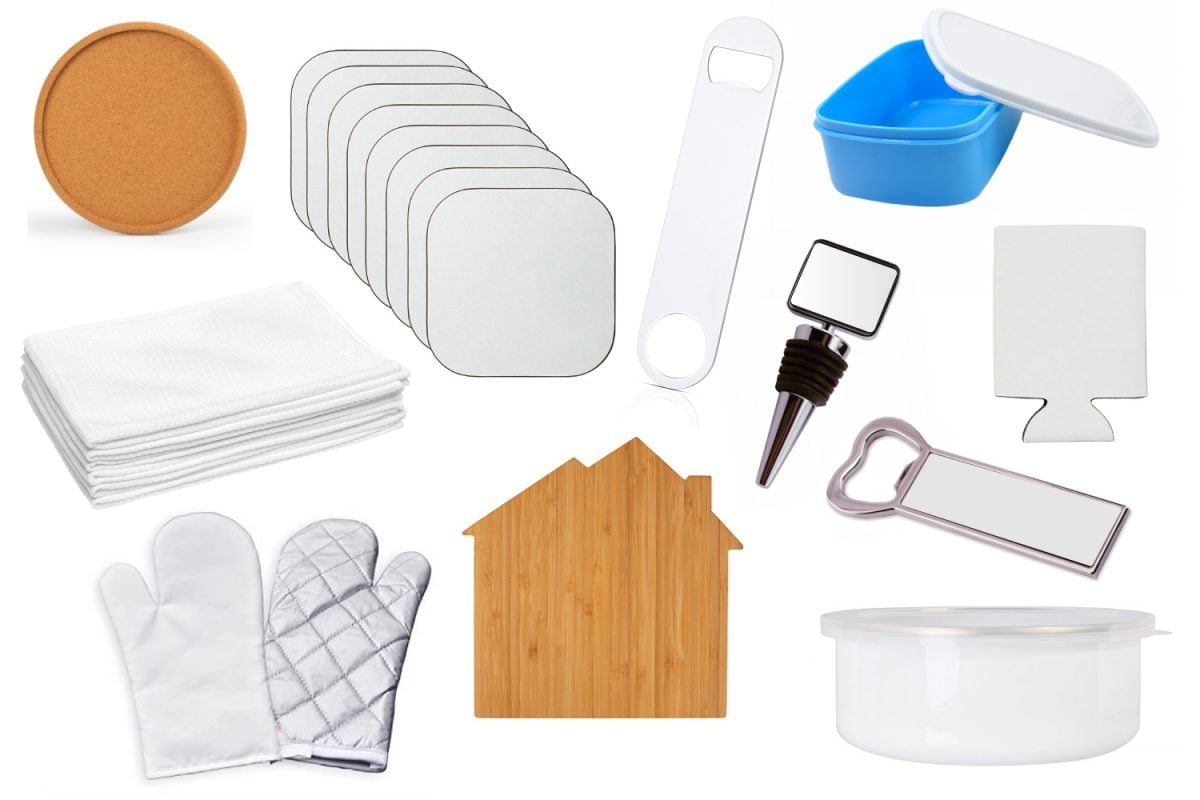 Barware Sublimation Blanks
In addition to actual cups and tumblers and mugs, there are lots of other fun "barware" blanks to sublimate—think just about anything you might find on a bar cart or in a hostess gift basket!
Kitchen Sublimation Blanks
Then head to the kitchen with these fun blanks and substrates!
Apparel & Soft Blanks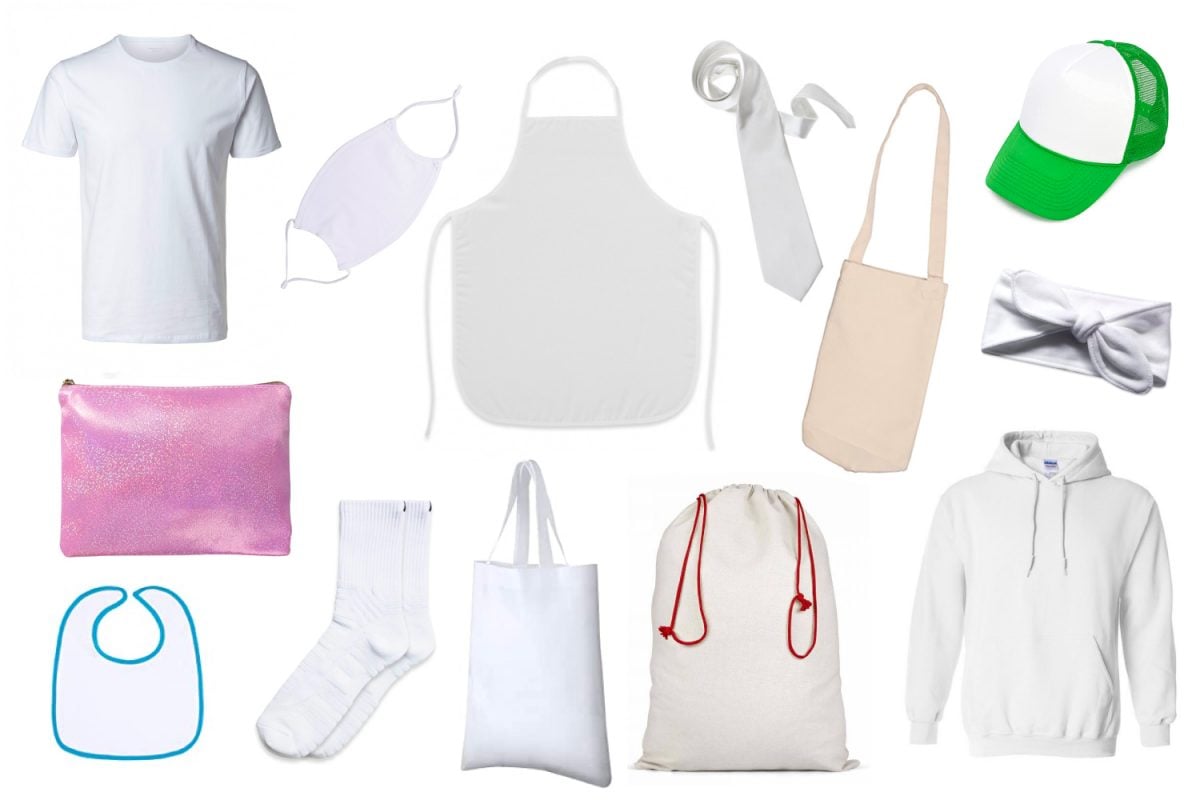 Let's talk clothing and other soft blanks! One cool thing about sublimating apparel and other soft items is that you do not necessarily have to purchase an item that is specifically labeled for sublimation. Sublimation works best on 70% – 100% polyester fabrics, which you can often find in everyday places you shop. Just check the tag!
When looking for polyester counts, you want at least 65%, but ideally more like 75%+ will help your transfer work really well. The lower the polyester count, the more "vintage" your design will appear.
Apparel Sublimation Blanks
Sublimation Bags, Totes, and Pouches
Home Decor Soft Blanks
Miscellaneous Blanks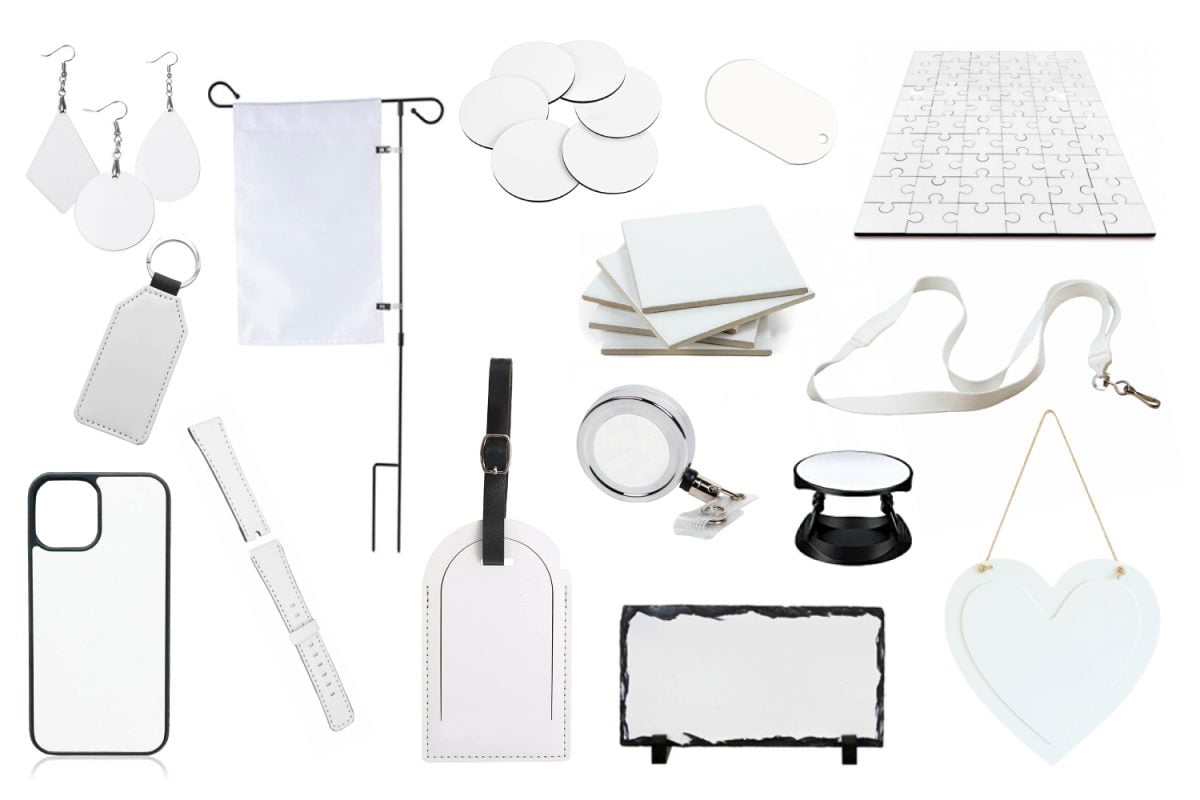 This is another area where you can have A LOT of fun with sublimation. You wouldn't believe how many everyday items are created using the process of sublimation. You can add a family photo to your mobile phone case, create custom luggage tags, and more! Here are a few of my favorite miscellaneous blanks for sublimation!
Tech Blanks
Home Decor
Gift Ideas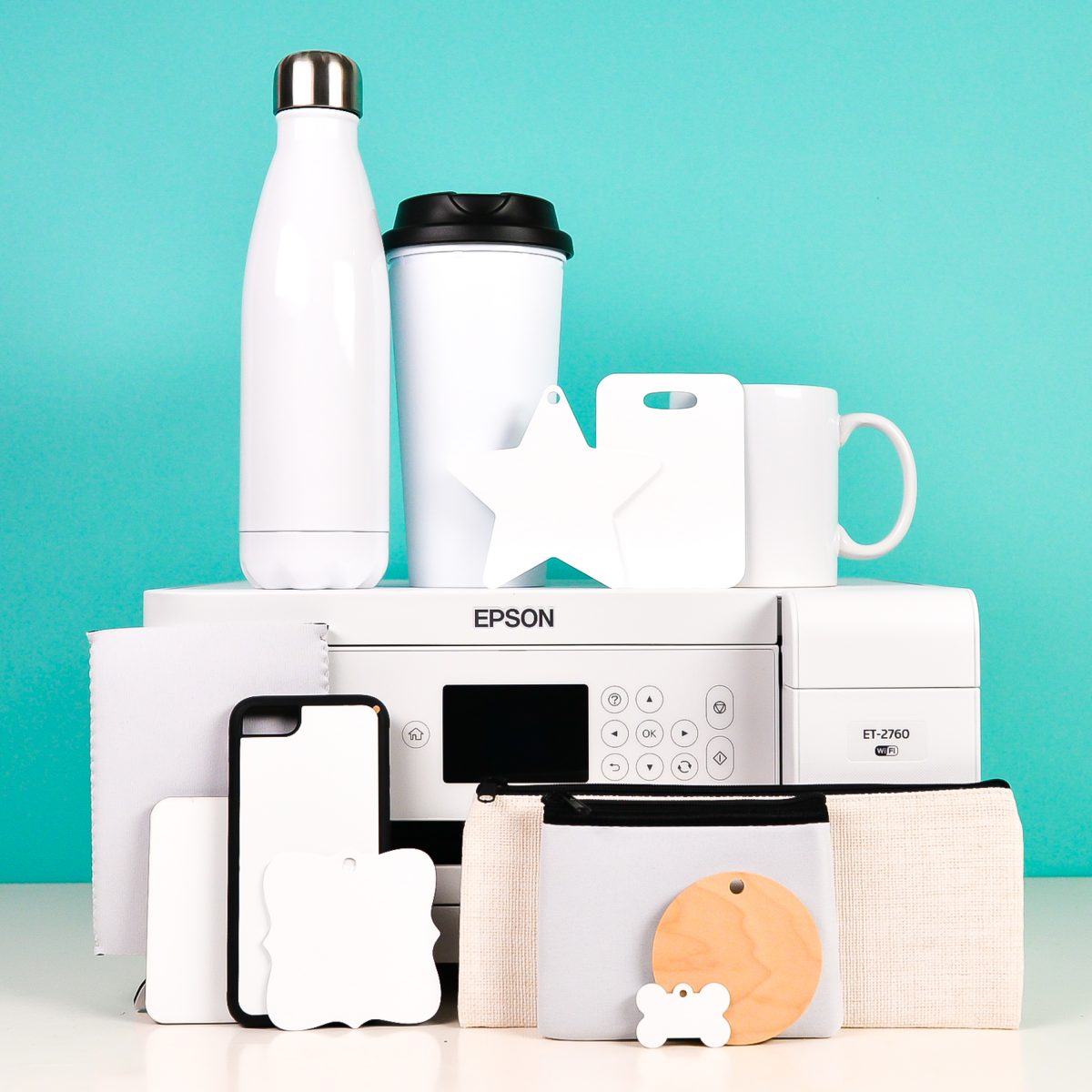 Frequently Asked Questions about Sublimation Blanks
Where Can I Get the Cheapest Sublimation Blanks?
Prices and sales change all the time, so it's best to shop around. But remember that cheapest isn't always the best. Really cheap blanks often produce poor transfers or have sublimation coatings that chip or flake.
What is a Poly-Coating?
Hard sublimation blanks, like mugs and tumblers, have a special poly coating that allows for the sublimation process to work when the transfer is applied to the blank using heat. You must have a sublimation blank with the poly-coating for sublimation to work.
What Polyester Count is Best for T-Shirts?
If you're doing soft blanks, like t-shirts and other apparel, 65% polyester will get you a more faded vintage look, and the higher you go, the brighter your transfer will be.
Check Out these Additional Sublimation Posts & Tutorials!
With sublimation printing, the possibilities truly are endless! There are so many substrates/blanks out there to experiment with. Have a favorite you don't see on the list? Leave a comment or email me at hello@heyletsmakestuff.com. I'd love to add it to the list!