In addition to a printer, paper, a heat press, and blanks, what else is necessary for sublimation printing? I'm sharing my must-have and nice-to-have sublimation supplies, tools, and accessories!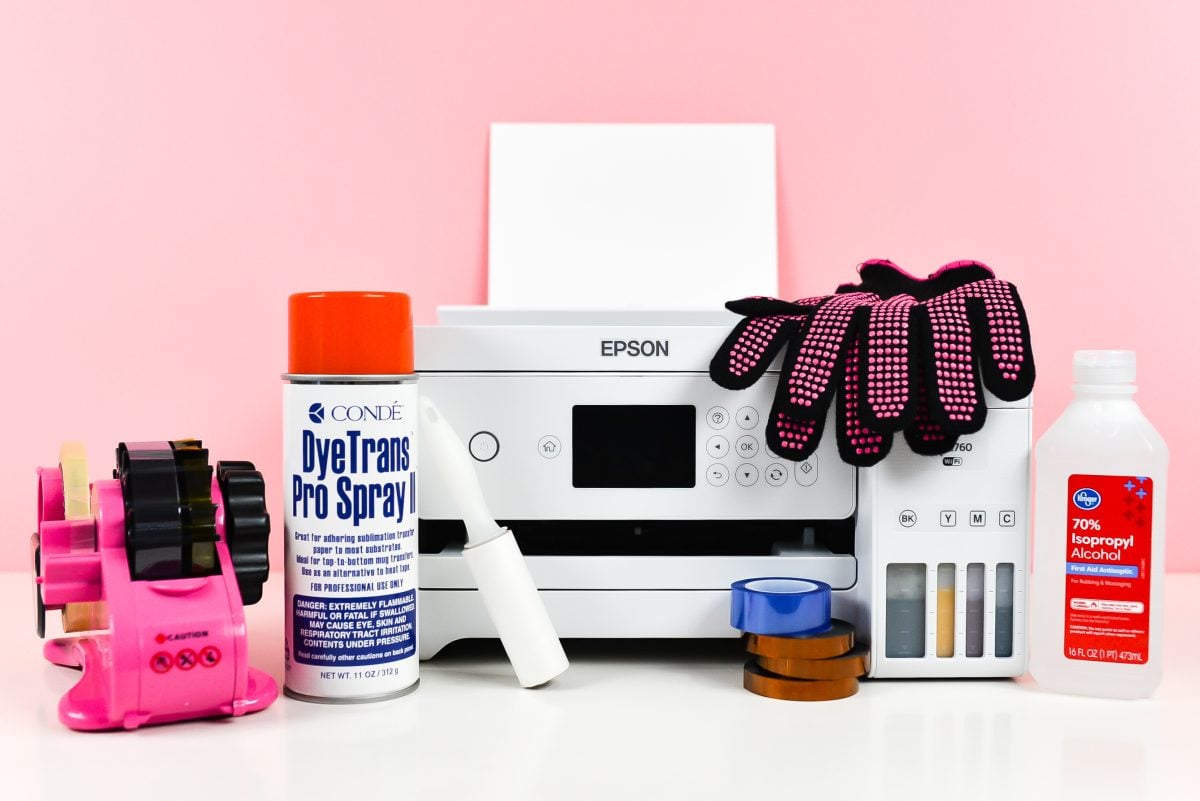 So you've got yourself a sublimation printer! You're all set with sublimation ink, sublimation paper, a heat press, and your favorite sublimation blanks.
But what other tools and supplies might you find helpful for sublimation crafting?
This post is part of my sublimation series geared toward beginner sublimation crafters. I'm breaking down the complicated, jargon-filled world of sublimation printing so you (yes you!) can understand it more easily and get to making beautiful things without a lot of overwhelm.
You can check out all the posts in this series here:
Now that I've been doing sublimation crafts for a while, I've collected quite a few accessories, supplies, and tools that I've found helpful. Of course, you don't need all of these things for sublimation crafts, but as you start to make more and more sublimation projects, you'll figure out which you might want to add to your craft room!
Here are a few places I like to shop for sublimation supplies:
Hot tip: sign up for the email lists of these companies to learn about sales and coupons!
We'll start with the things I think are most helpful—my "must haves"—and then move to the other supplies, tools, and accessories that I think are handy to have around when you're doing sublimation crafting.
Must-Have Sublimation Supplies and Tools
Here are a few things that I think every sublimation crafter should have in their craft room. Have questions about anything? Let me know in the comments!
Heat-Resistant Tape: Heat-resistant tape is used to secure your printed transfer to your blank so that it doesn't shift during pressing. These days, I more often turn to my Heat-Resistant Adhesive Spray, which is listed below, but tape is less expensive and often easier to procure, so it's on my must-have list.
Butcher Paper: Butcher paper both protects your blank from the heat platen, as well as the plates of your heat press from ink bleed-through from your image. I used to buy butcher paper on rolls, but now I spend just a bit more to buy it in sheets (which are generally designed for deli meats!). Sheets are about a million times easier than dealing with butcher paper on the roll. Make sure you are buying unwaxed, uncoated butcher paper.
Lint Roller: Before you press just about any sublimation project, it's best to run a lint roller over the entire surface of your blank. Dust, lint, and other small particles can cause spots and other issues with your transfer. A lint roller is an easy way to prevent that! You can also use rubbing alcohol on non-porous surfaces, which I've linked below.
Polyester Fabric for Testing: One of the best things I did was buy several yards of 100% polyester fabric. This has allowed me to test all of my prints before printing and sublimating them onto the more expensive blank! Doing this has saved me so much trouble and money because any issues I might have with my print (usually involving color) are discovered BEFORE I press the image onto my blank. I HIGHLY recommend doing this.
Nice to Have Sublimation Supplies and Tools
These next items are super helpful to have, but don't feel like you need to invest in everything right away! As you craft more and more with your sublimation printer, you'll figure out which of these things will make your life easier.
Auto-Cut Tape Dispenser: Heat-resistant tape is a must-have, but if you want to make it easier on yourself, check out this awesome tape dispenser. It holds up to four kinds of tape and it automatically cuts pieces as your spin the wheel. This tape dispenser makes that process so much easier, dispensing perfectly sized pieces of tape so you can tape down your transfer to your blank quickly and easily. Love this thing.
Rubbing Alcohol (and Cotton Balls): A lint roller will work for cleaning just about any blank before applying your transfer, but I have found that rubbing alcohol on a cotton ball is just easier than a lint roller on things like mugs. Personal preference, but you may wish to give this combo a shot in addition to a lint roller.
Heat-Resistant Adhesive Spray: I mentioned it above, but I've come to really love my heat-resistant adhesive spray. Instead of bothering with tape, just spray a bit of this adhesive on your transfer and press to your blank. The adhesive doesn't leave any sort of residue on the blank and it doesn't affect the transfer. SO easy. This one isn't available on Amazon, but you can grab it from Conde Systems.
Heat-Resistant Gloves: If you need to remove a pressed item from a hot press, these heat-resistant gloves make it easy. I used to fuss with a pot holder, but now I just throw on these gloves and I can move items from my hot press to be cooled. Easy and not expensive.
Heat-Resistant Mat: Speaking of moving things to a cooling area, you'll probably want a heat-resistant mat for your hot projects. You can use a Cricut EasyPress mat, but I more often use my wool pressing mat. It's a bit more thick and sturdy so items like tumblers don't tip over quite as easily.
Pressing Pillow: Use a pressing pillow on soft blanks and garments with zippers, buttons, seams, and pockets to help get an even press. You place the pillow inside the shirt or other blank to basically raise up the pressing surface above the troublesome parts of the garment for an even press.
Heat-Conductive Rubber Pad: Some blanks, like ceramic tiles, may require you to use a heat-conductive rubber pad when you press so that it can form to the shape of the blank more easily. The manufacturer's pressing instructions will let you know if you need one and how to use it. They aren't cheap, so make sure you really need one for the types of projects you want to make. Also check out Conde Systems for availability.
Nomex Pad: Another option is a Nomex pad. This is a thick (thick!) piece of felt that works similarly to the rubber pad for pressing. If you use a convection oven for sublimation, you can also use a Nomex pad inside the oven to protect your blank from rack lines. These are also a bit harder to find and are expensive as well, but may be required if you're using certain types of blanks.
---
And there you have it! My must-have sublimation supplies and tools, as well as a bunch of other things I find super helpful to have in my craft room. Have anything to add to the list? Let me know in the comments!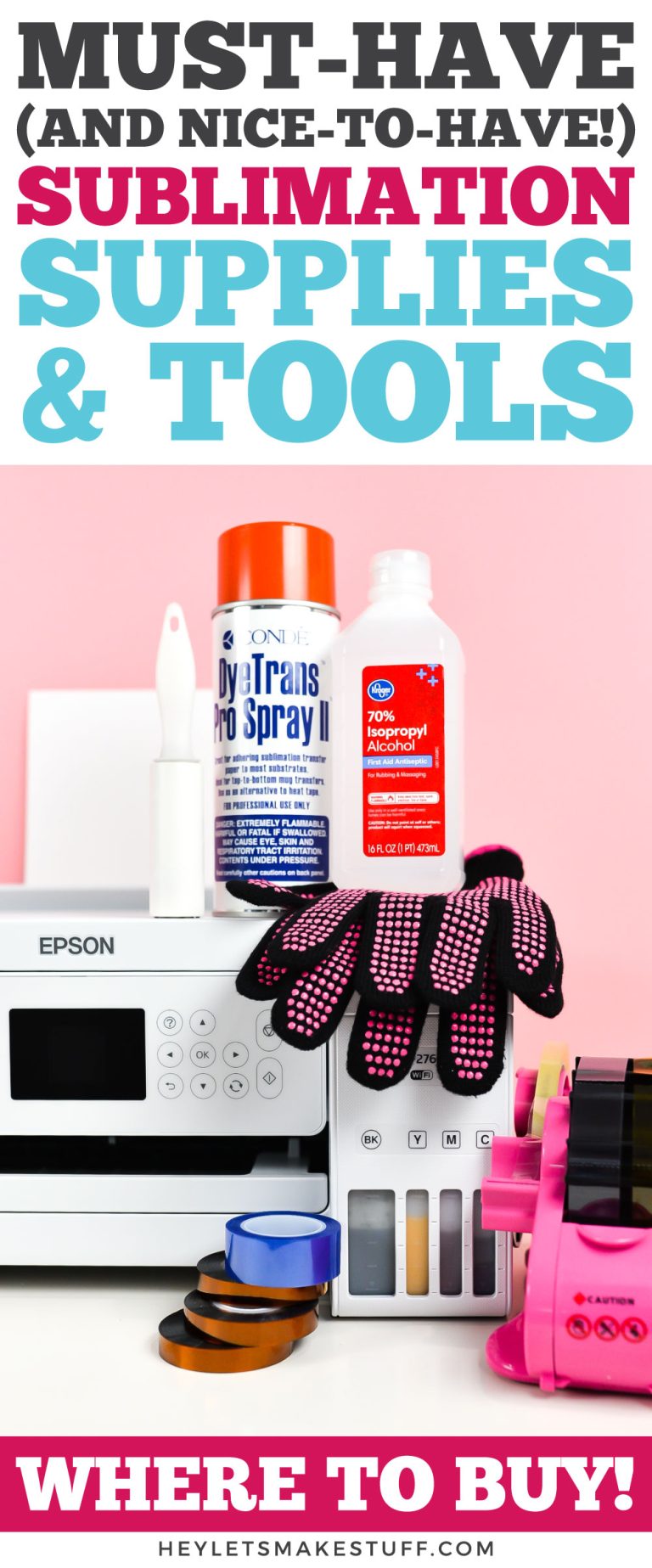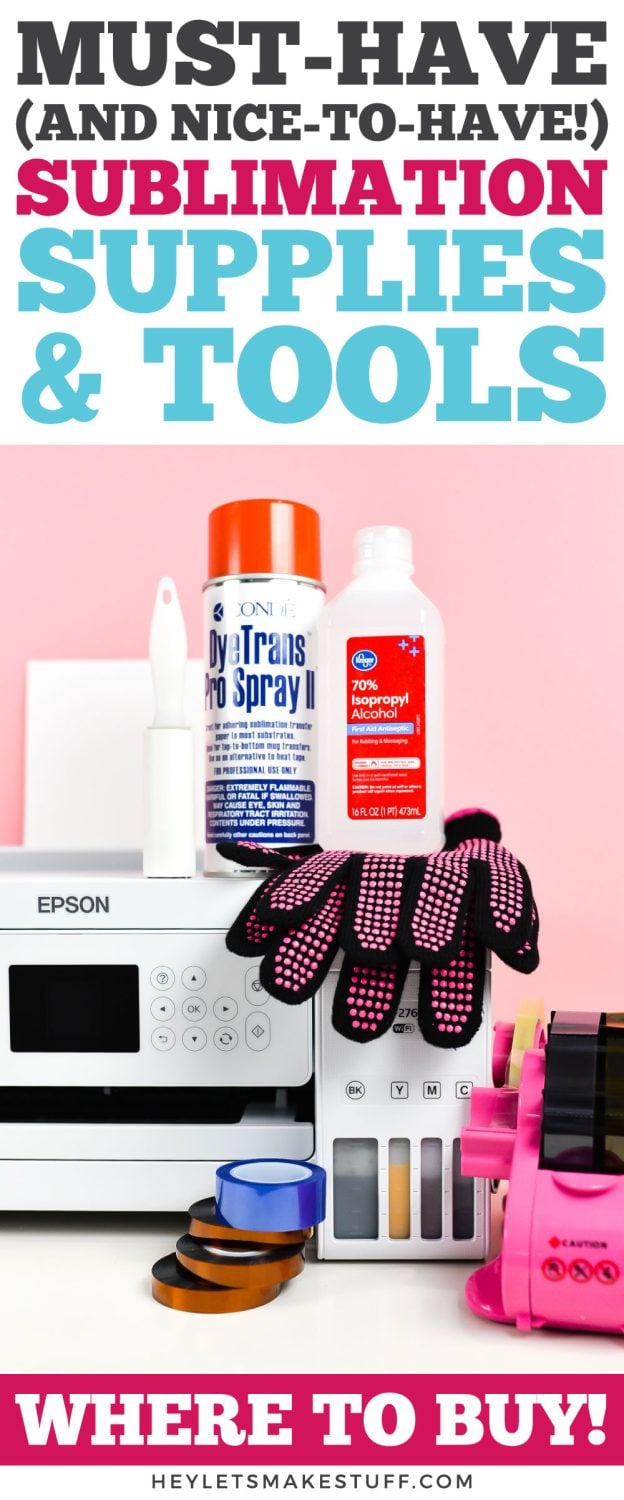 Sublimation Supplies You Might Need