Sublimation woes? If you're having problems like ghosting, fading, or banding—or maybe your sublimation color is off—this guide will help you troubleshoot sublimation printing. Stop wasting time and materials and learn how to get your sublimation projects right on the first try!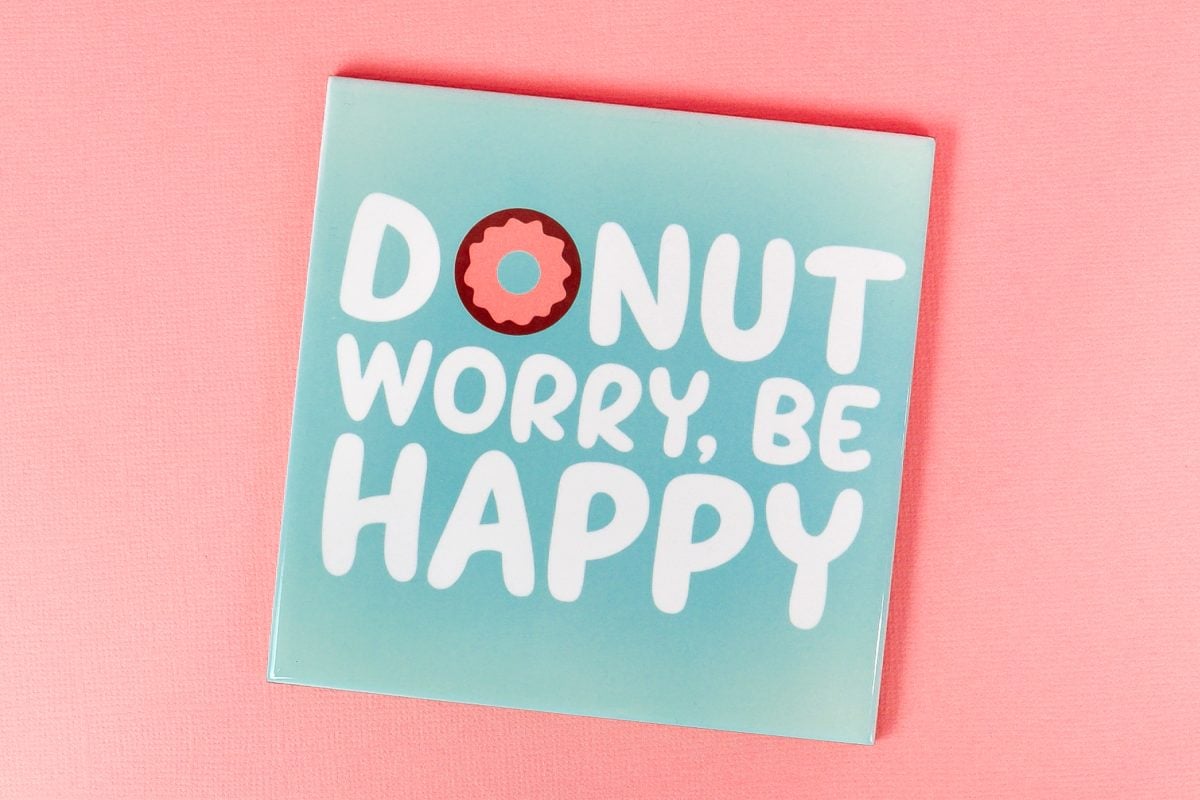 So, you've converted your printer, purchased your sublimation supplies, read all the tutorials… and somehow, something goes wrong with your sublimation transfer.
We've all been there. In fact, I've had so many fails during all of my testing and learning, it's really easy for me to have examples for this post, as you'll see! Even us "professionals" struggle, so don't be too hard on yourself as you work to get better.
Join our Sublimation Made Simple Facebook group for tips, tricks, support, and resources!
Full disclosure: I do not plan to get super technical in the ways of sublimation technology, large professional printers, specialized heat presses, etc. If you suspect something is wrong with your printer or heat press, it's best to reach out to the manufacturer or distributor directly. They can best support you.
You can check out all of the posts in my sublimation printing series here (this list is updated as more posts are added):
What's In This Post?
Use the links below to learn the answer to your questions so you can get a flawless transfer!
Sublimation Transfer Has Streaks or Banding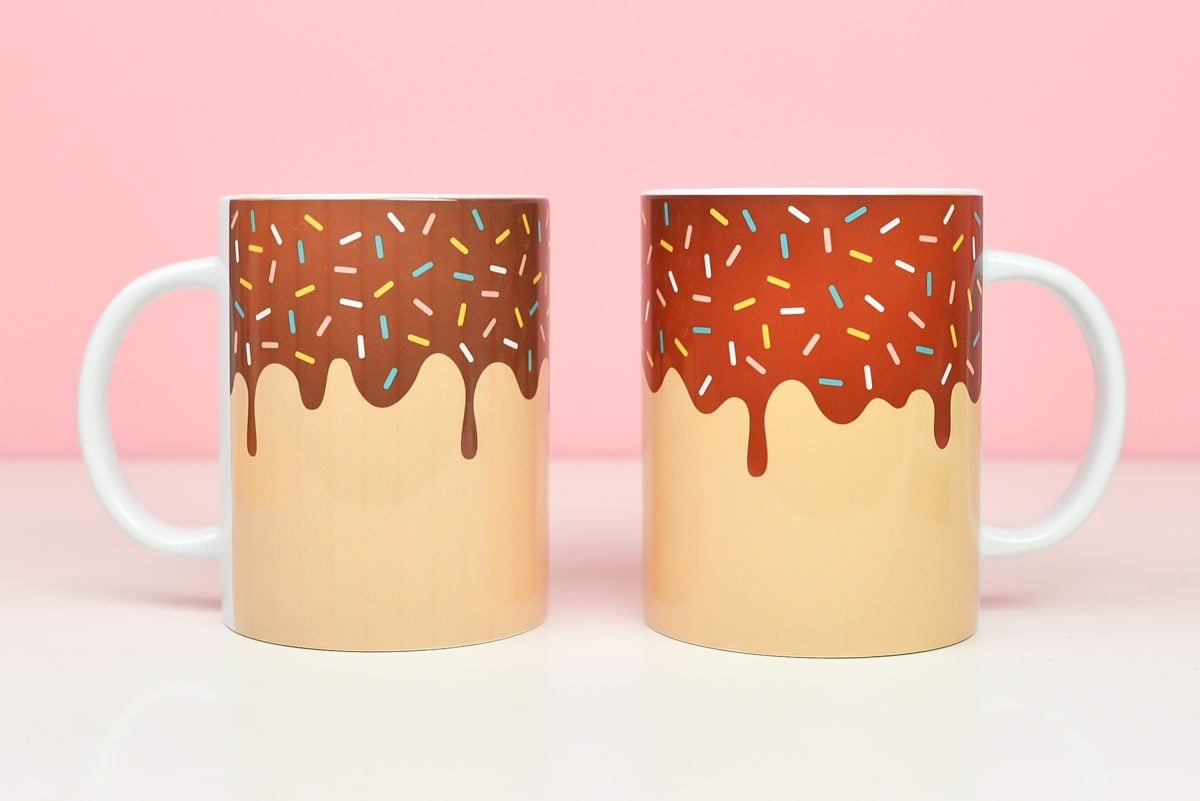 If you notice that you can see the "printer lines" in your printed image (like on the mug on the left above), or if you have white or mis-colored streaks in your print, there are a few things you can try to fix this problem:
Print Quality is Low
The first thing you want to ensure is that you have the highest quality print setting turned on. When a printer is in normal or ink-saving mode, you are much more likely to see printer banding. Sometimes this setting is hard to find, depending on whatever program you are using to print your images.
I use Photoshop and you go to print, you will see your printer settings. You may not know that if you click the dropdown show with my first arrow, you'll see additional settings. And there you can select your print quality so you know you're getting the highest quality print.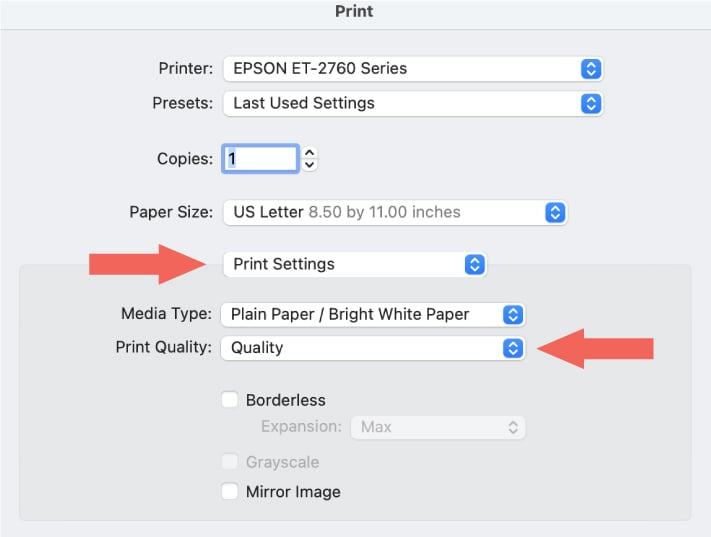 If you are using another software, poke around and do some research to make sure you're getting the best print quality possible.
Printer Heads are Clogged
Additionally, streaks or bands may appear on a printed image due to clogged printer head nozzles. This can happen more with converted printers (like Epson printers) vs. purpose-built sublimation printers (like Sawgrass printers), especially if it's been a while since you've printed anything.
To fix this banding or streaking, run a printer head check and cleaning. Each printer will have its own set of steps in order to do this, so check your printer's website for details for your specific printer. For most printers, this will be under the maintenance menu of your printer.
Printed Sublimation Image is Faded
It's no fun to peel back the sublimation paper to reveal….a faded image. Whomp whomp. Here are a few things you can do to ensure a bright, even image.
Paper Issues
To start, you want to make sure you're using a high-quality sublimation paper. I have a review coming of different sublimation papers (and a bonus test to see if copy paper works), so be on the lookout for that!
You'll also want to be sure you're printing on the correct (generally the whitest and brightest) side of your sublimation paper. Most sublimation paper has a watermark on the back—make sure you're printing on the front.
Substrate Issues
You'll also get a faded image if you're not using a polyester or poly-coated base. For clothing, the lower the polyester content, the more faded your image will be. That may be okay if you're going for a more vintage look, but if you want a bright, vivid image, you'll want at least 75% polyester in the content.
Like with the paper, you want to make sure you're sublimating the correct side of your image. It's clear for most substates, but can be a bit harder to see on something like a sandstone coaster that's white on both sides. You want to transfer your image to the whitest and brightest side of the substrate.
Not Enough Heat Press Pressure
You may also find that your heat press doesn't have enough pressure. My heat press has a hand crank at the top and it took me a while to get it to the right "firm" pressure. You can see the faded edges of this tile.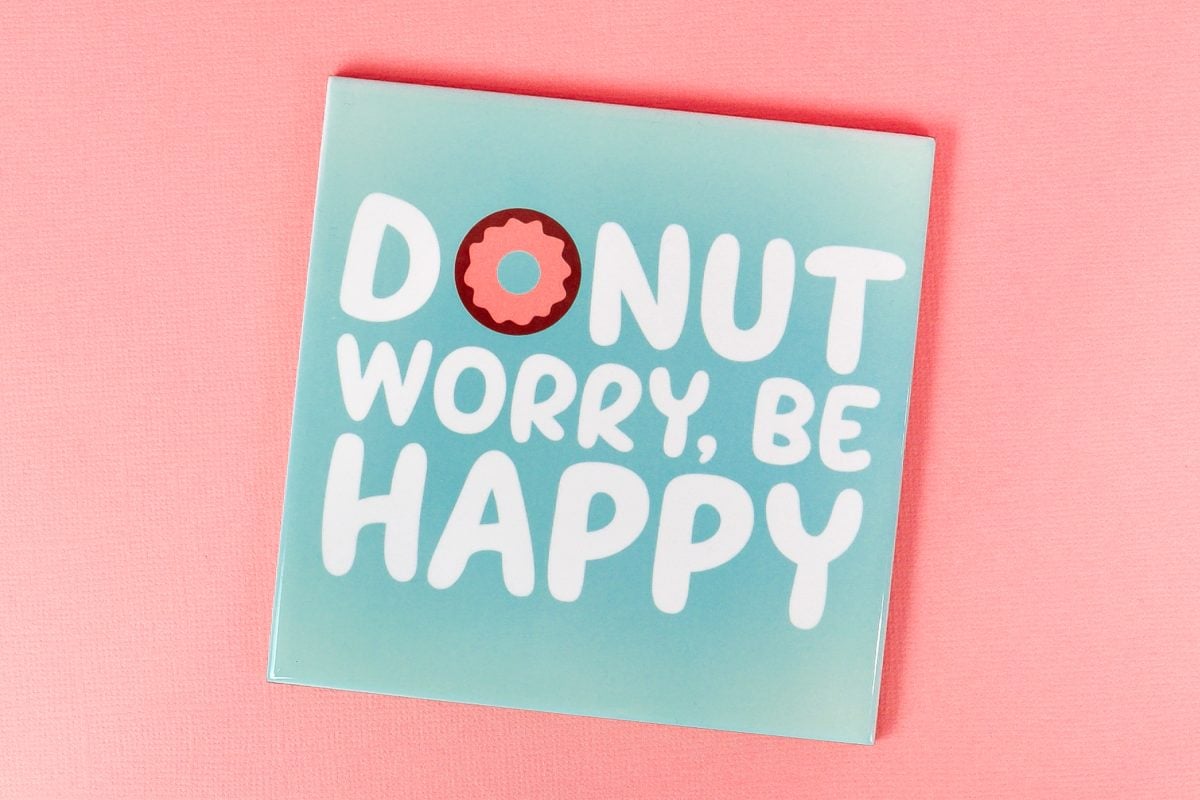 When I increased the pressure, this tile turned out even, all the way to the edge.
Sublimation Transfer is Blurry
I haven't had too much blurring occur (though I've experienced ghosting, as mentioned below), but here are a few things that can cause a blurry image:
Too Much Heat or Time
If your image looks blurry when you pull the transfer paper off, you may have applied too much heat and/or time to your transfer causing your image to bleed out a bit. Often, reducing your time will resolve the issue.
Uneven Pressure
If you find little bits of your image are blurred, you may have uneven heat press pressure. If there are any gaps in your pressure, your image may "gas out," which means the ink is sort of sucked into the gap as it turns into a gas. This can cause blurring in your images. To fix this, use a pressing pad or pillow and make sure that the platen of your heat press or mug press has even pressure across your whole image.
Moisture
Finally, you may have an issue with moisture. Trust, me, living in the PNW, it's *always* damp around here. If possible let your substrate sit under your heat press (with it open, just hovering over your image, not clamped down) for 30 seconds or so. This will help dry your substrate so you'll have a cleaner press.
You may also find moisture in your sublimation paper itself. Keep your paper in a dark cabinet, in the box it came in, until you go to use it. Then print my image and transfer it right away, so it doesn't have time to absorb any moisture from the air.
Sublimation Transfer Ghosted
If you notice a "ghosted" double image of your transfer or your image, you are probably dealing with a:
Shifting Transfer
Sometimes your image may shift while you're pressing it. This most often happens when you open or close your heat press (or move your EasyPress). You can use a heat resistant tape to tape down your printed image, or you can use a product called ProSpray to adhere your transfer to your substrate. I've been using the ProSpray for a while and I think it's both easier to use than the tape as well as you don't risk having yellowed tape lines on your substrate after pressing.
Sublimation Transfer has Spots
Sometimes you'll notice tiny dots, spots, or squiggles on your project. Annoying!
Dust and Lint
Most likely, dots and spots are due to dust or lint that made its way onto your substrate or printed transfer image. The high heat of your press can transfer the color of the lint onto your substrate! For soft fabrics, use a lint roller before you press. For hard surfaces, wipe clean with a lint-free cloth.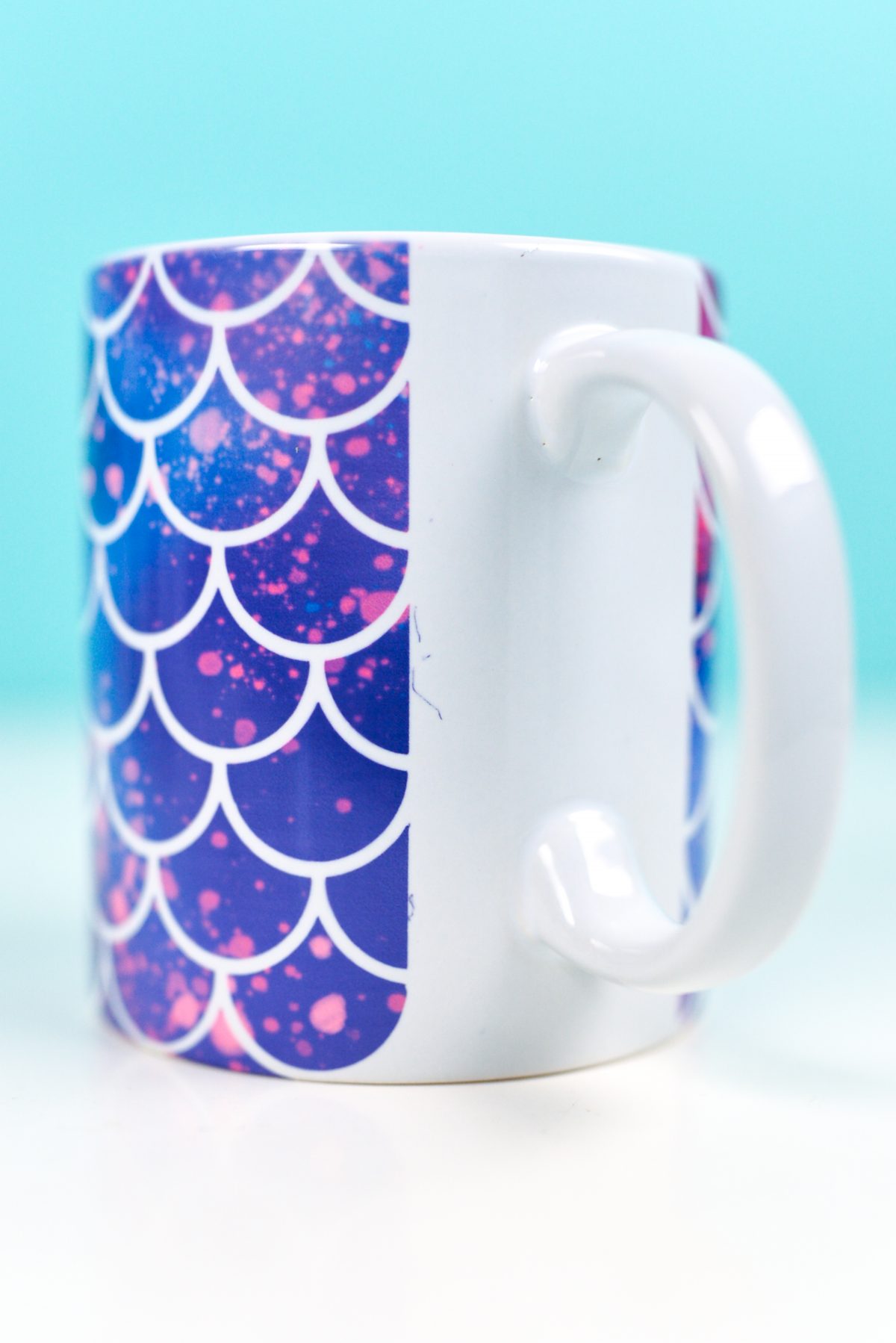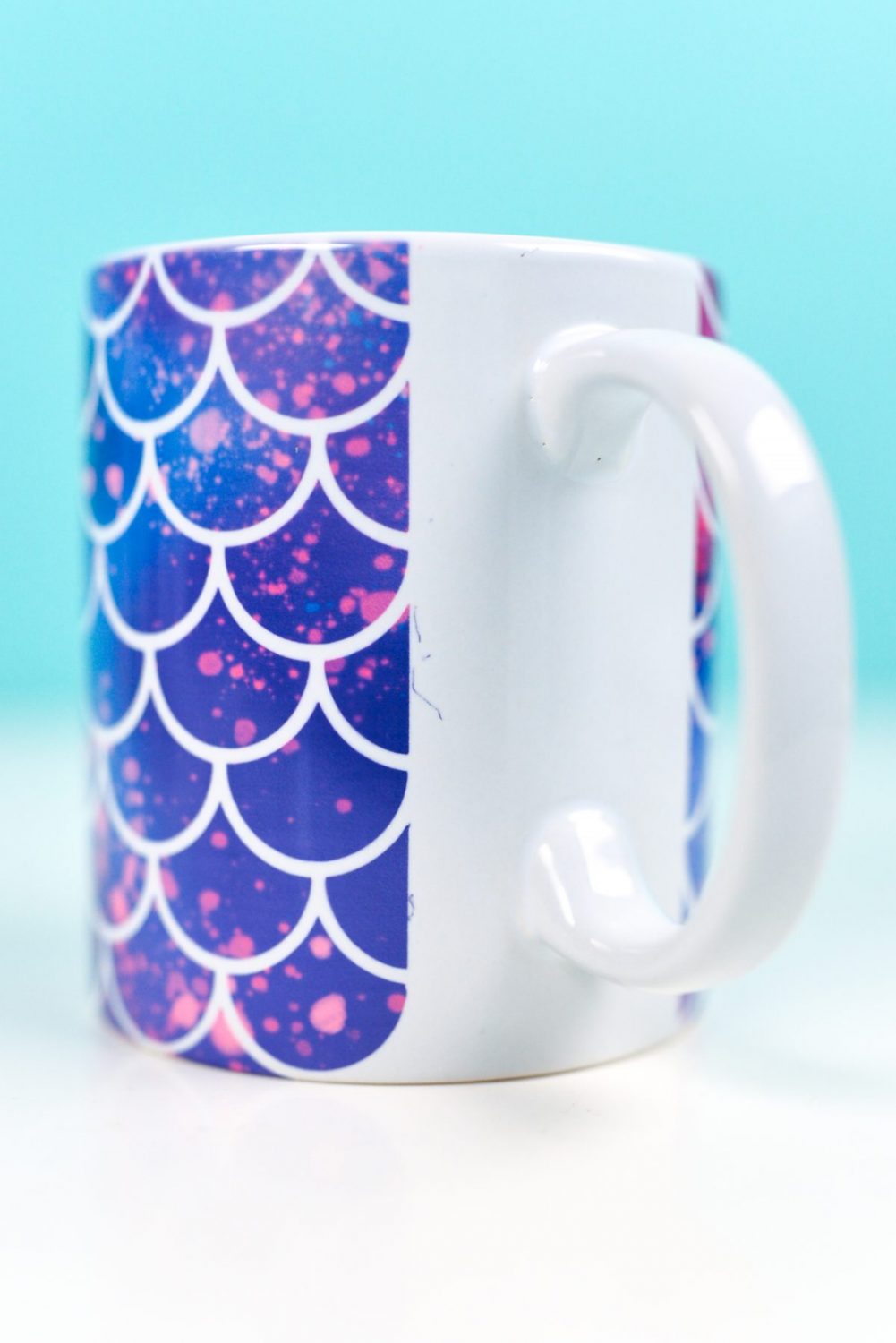 Sublimation Transfer Color is Off
This is a big one and I know it's a huge headache for a lot of new sublimation crafters. You have this beautiful image you've designed on your computer, but when you transfer it to your substrate, your color is TERRIBLE. There's one major culprit:
No ICC Profile
The main problem is that you probably do not have an ICC profile installed in your image software. This is super important for getting the correct color in your images if you are using a converted printer like an Epson.
Sublimation printers, however, will do their color correction within the printer, so you shouldn't have to worry about installing an ICC profile for sublimation-specific printers.
For example, this is the SAME donut file. The one on the left is printed through Photoshop with an ICC profile and the colors are true to life. The one on the right was printed through Cricut Design Space which has no color profile. I was hoping to use the Print then Cut feature to cut around my donut instead of having to do it by hand but instead… HELLO ORANGE.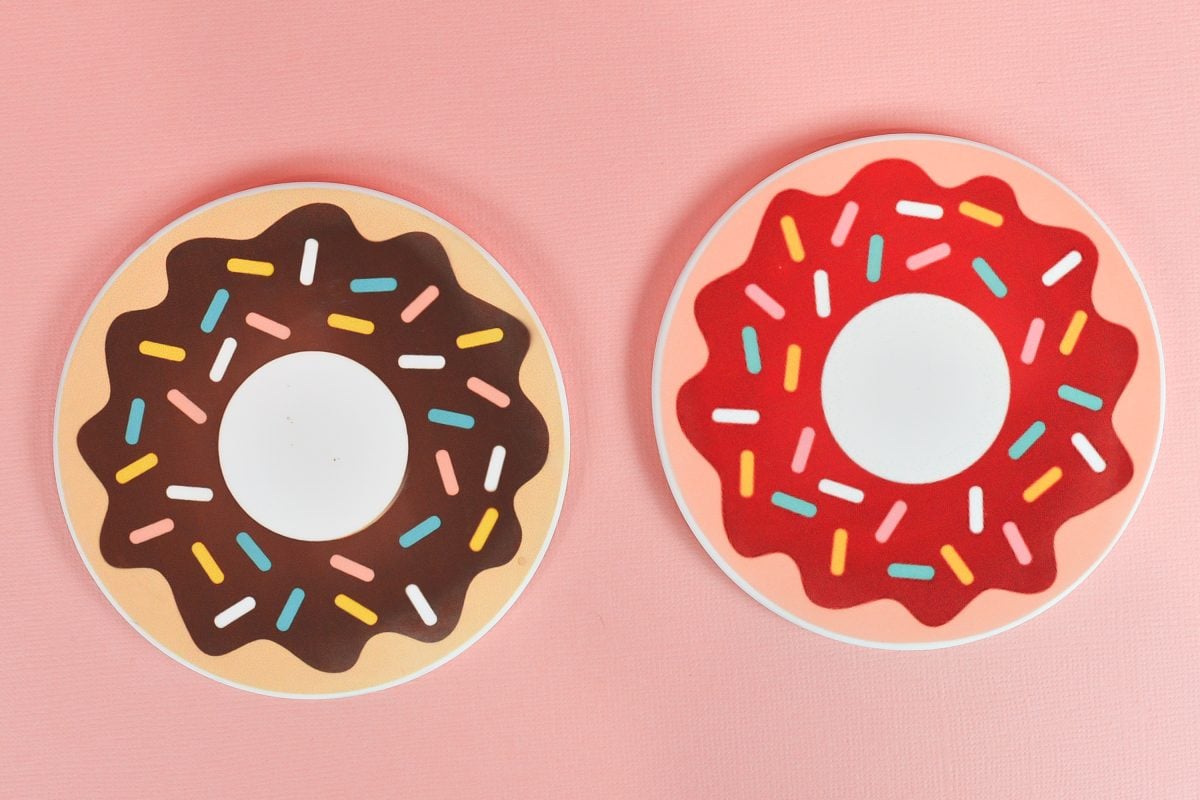 It's hard to believe those are made with the same PNG! Learn more about installing ICC profiles here. Look for more information on all of this in the future!
The Sublimation Transfer is Reversed
Mirror Your Image (Once)
Okay, this one seems obvious—you need to reverse your image before printing so it will appear the right way when you transfer it to your substrate. That being said, I wasn't paying attention and I had my image DOUBLE reversed. There are two places in Photoshop to reverse an image. The first is in the Photoshop printer settings and is labeled "Emulsion Down."

The second is in the printer settings, and is labeled "Mirror Image."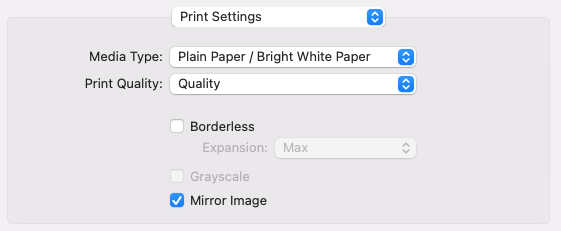 Because I had BOTH of these settings checked, the basically canceled each other out. And because I was printing an image that had sort of a loopy script, I didn't notice until it was too late. Whoops!
So the answer here is to check only ONE of those boxes and to confirm that your image looks backward when you print it out. If it's readable, go back and mirror your image and print again.
---
Okay, I know that's a lot of stuff that can go wrong! But I hope you found these tips helpful. If you are having a sublimation problem that's not listed here, let me know in the comments! I'll be happy to troubleshoot for you, and you never know—someone else could be having the same issue as well!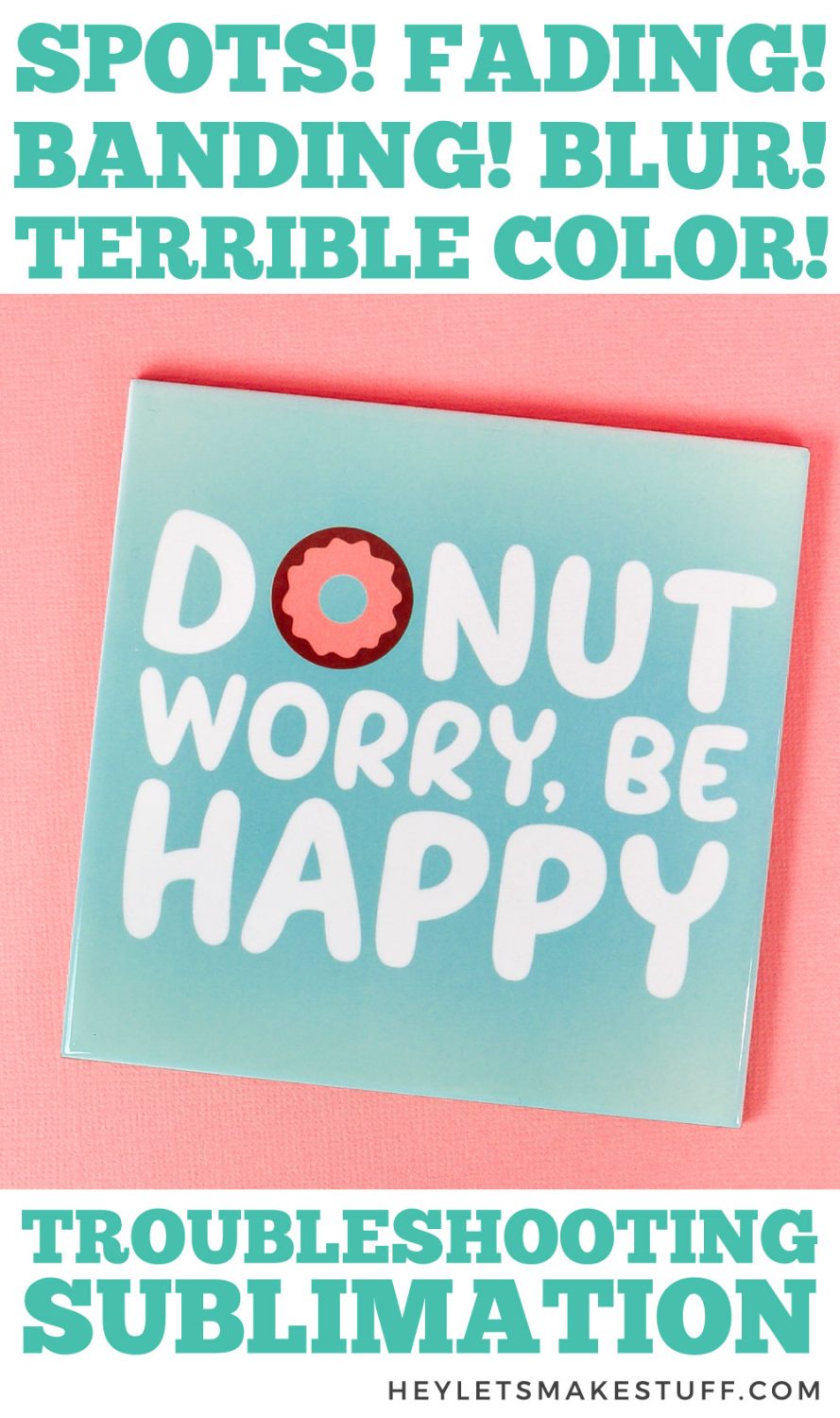 Sublimation Blanks