The Sawgrass SG500 sublimation printer makes sublimation crafting easy! Just set it up and you're on your way to making beautiful sublimated crafts.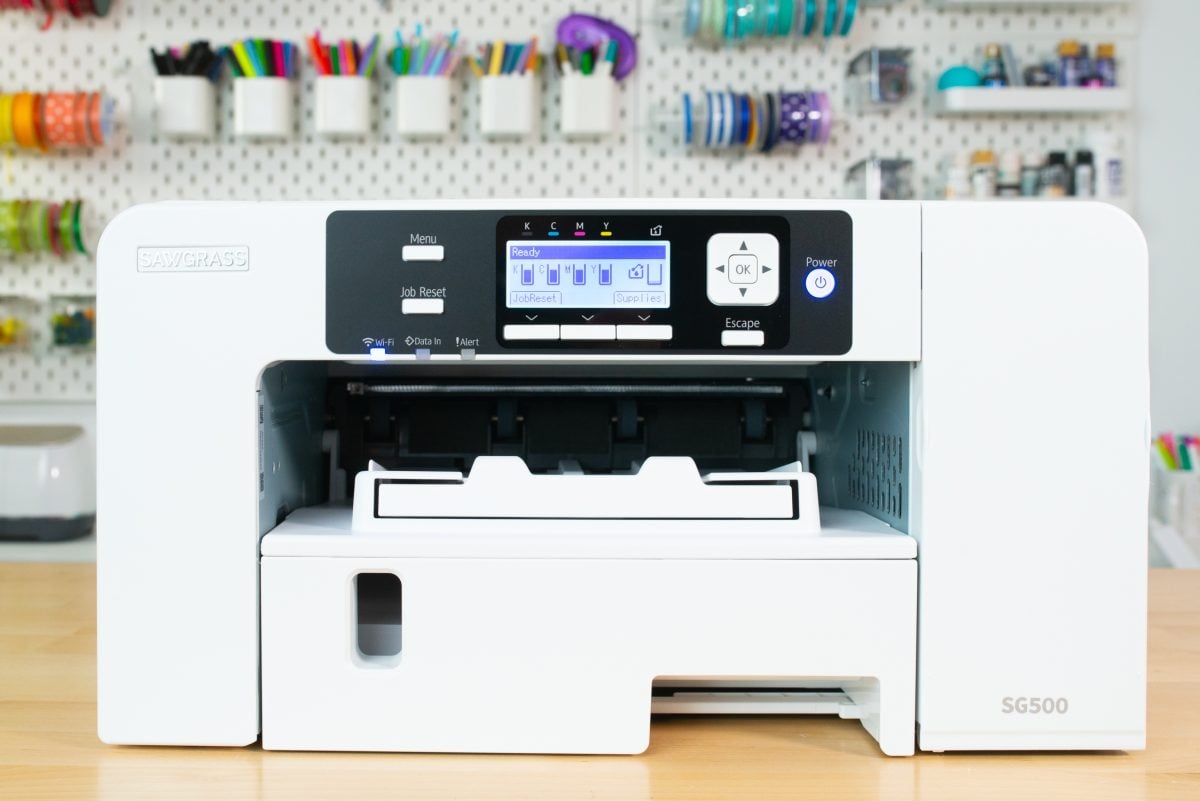 It's time to upgrade my sublimation printer! When I first got into sublimation, I converted a regular Epson EcoTank printer into a sublimation printer by adding sublimation ink. It's worked pretty well for me for the last year, but I am ready for an upgrade. Enter my new Sawgrass SG500. It's designed for sublimation and I'm so happy to have one in my craft room!
In today's post I'm going to share all the details about the Sawgrass SG500 and why I like it. You can also check out my full sublimation printer comparison post, where I talk about the differences between the Epson and the Sawgrass in more detail, as well as talk about the Epson F170.
Visit my Amazon shopping list to find everything you need to get started with your Sawgrass printer!
Video Overview
Watch to see my video overview of the Sawgrass SG500, plus I make a quick project to show you how easy it is to use!
What is a Sublimation Printer?
If you're new to sublimation, you'll want to check out my post The Ultimate Guide to Sublimation Printing & Crafting for a more in-depth overview. But to make it short, sublimation is a process for transferring a printed image to a blank. But not just any printer to any blank. You need a sublimation printer with sublimation ink, and you need a polyester or poly-coated blank.
The special sublimation ink is designed to create a chemical process when heated—your design is transferred from the printed sheet to your blank and it's actually infused in the surface. It's vivid, it's permanent, and it's a lot of fun! But you do need a sublimation printer with that specific ink to do sublimation crafting.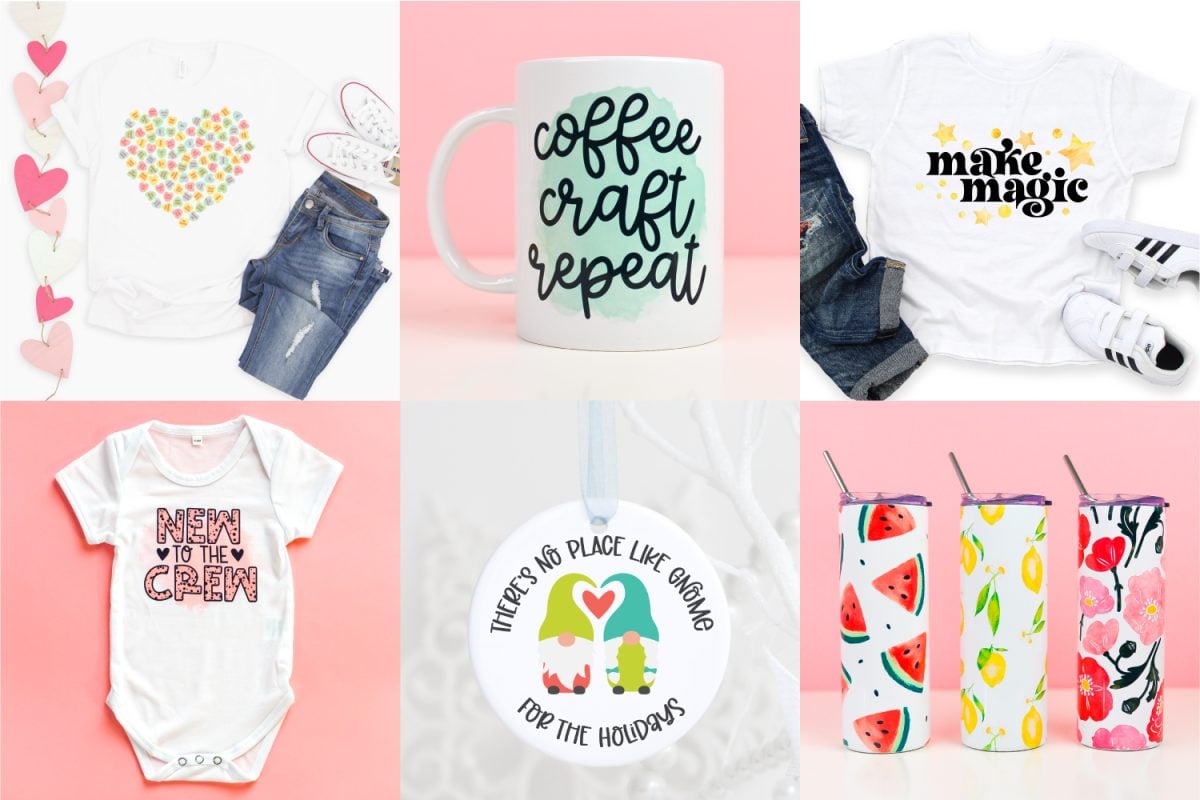 What is Sawgrass?
Sawgrass is a sublimation printer company. This is what they do—they make "fully integrated" sublimation printers. This means that their printer, their ink, and their software are all designed to work together. And, as you'll see in this post, they are pretty darn good at what they do. In addition to being the industry leader in desktop sublimation printers, they also have stellar customer support, which I'll touch on later.
What Printers does Sawgrass Sell?
All prices current as of September 2022.
Sawgrass has two printers designed for at-home crafters and small businesses:
You're probably thinking that this is significantly more than a converted Epson printer…and you're right! If it's out of your budget, that's totally okay. But if you want a more sublimation-specific printer without a lot of the problems that come with a converted Epson printer, you may want to start saving up.
Sawgrass Set Up
Normally, in a post like this I'd walk you through setting up your printer. But Sawgrass actually has an onboarding team to do it for you. You can sign up for a time to meet with one of their customer service reps over Zoom (don't worry, you can have your camera off) and they'll remote in to your computer and do all of the set up for you. It's all complementary when you buy a printer!
This is a great option because as my rep was going through the process, I was thinking, "this isn't particularly straightforward and I'm glad she's doing it for me!" They can also troubleshoot any issues as they go and make sure both the printer and the software is installed correctly and working.
The Sawgrass SG500
I have the Sawgrass SG500, so that's what I'll be sharing in this post. It's about the size of a standard inkjet printer and looks very similar. You have the paper tray at the bottom, and the prints come out the center of the printer.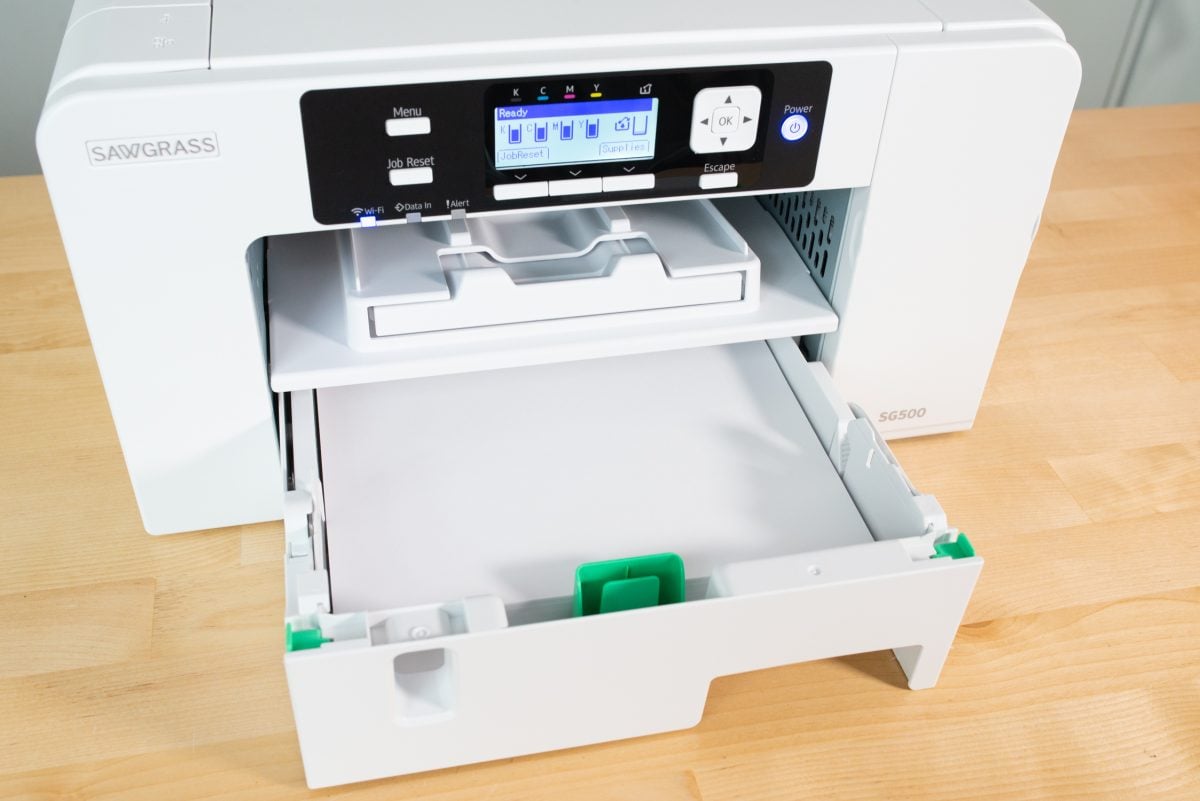 There's a control panel on the front that's pretty similar to any other printer control panel.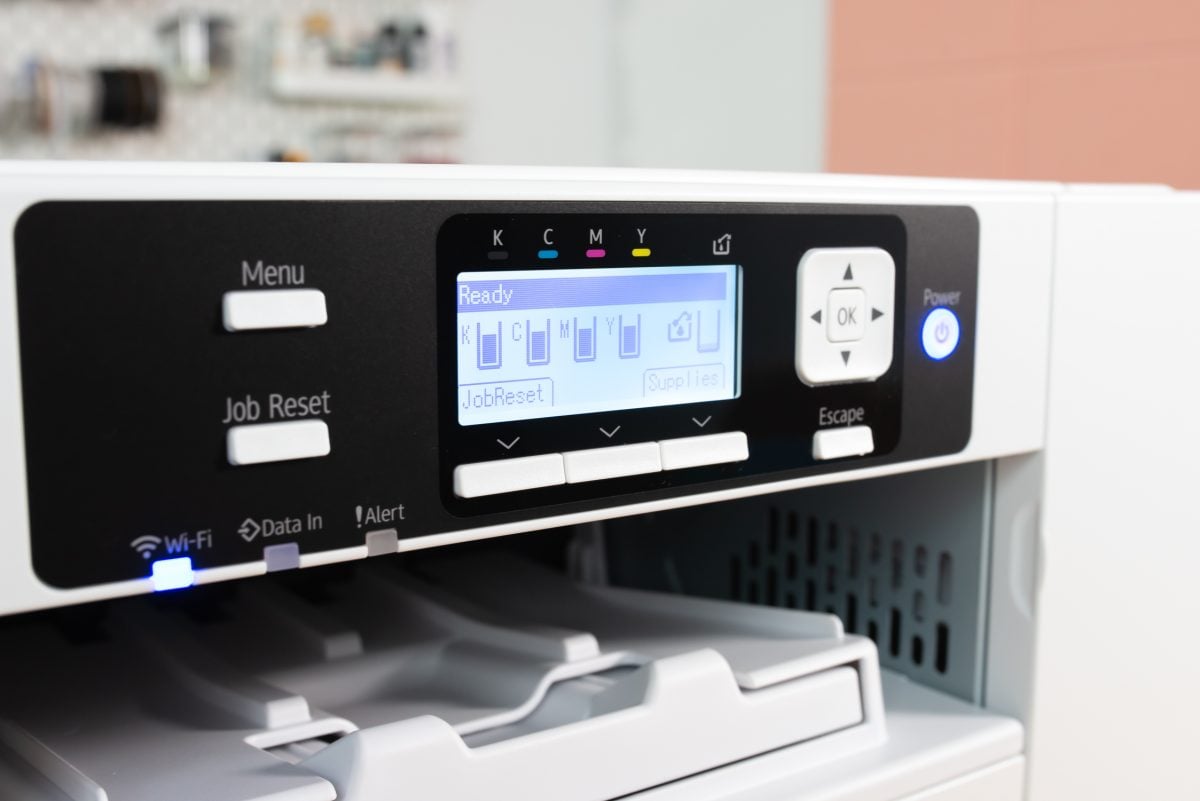 And then there's the ink on the side. The inks are sort of tall and narrow and are very easy to install.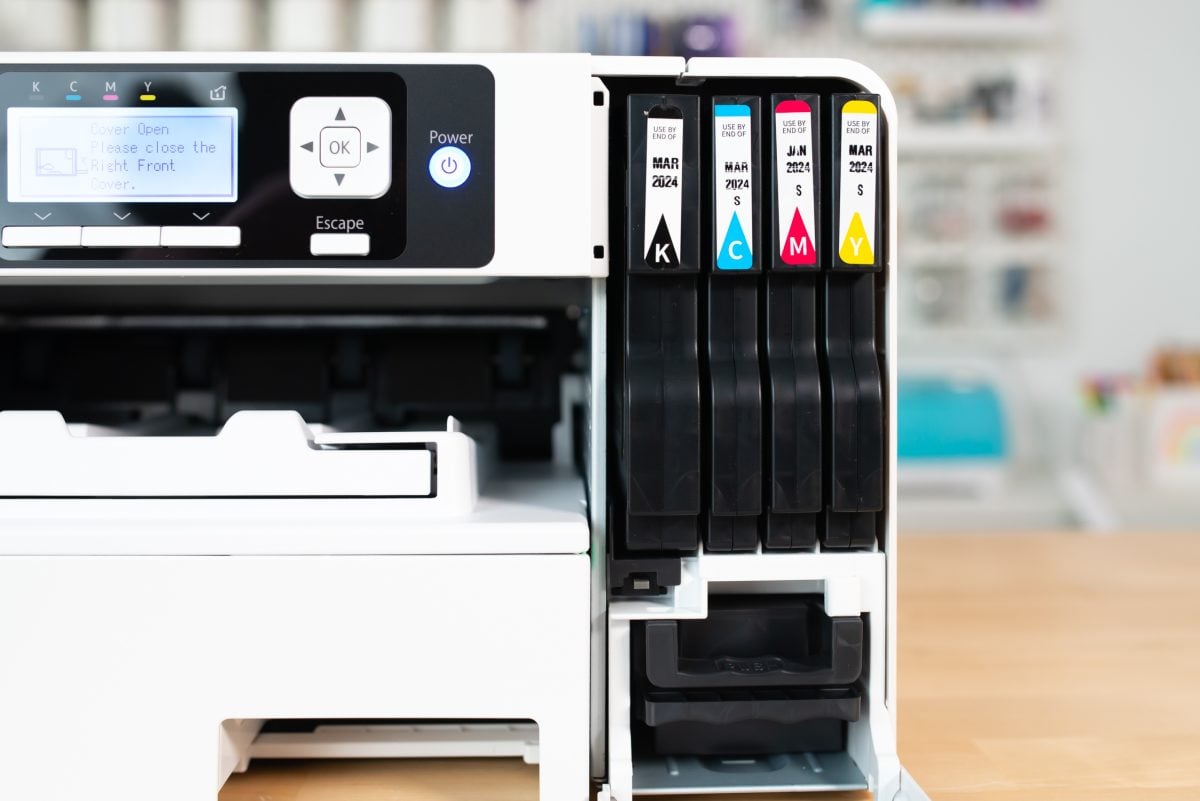 Underneath the ink cartridges is a fifth cartridge. This is the waste tank, which I'll talk about more in a bit.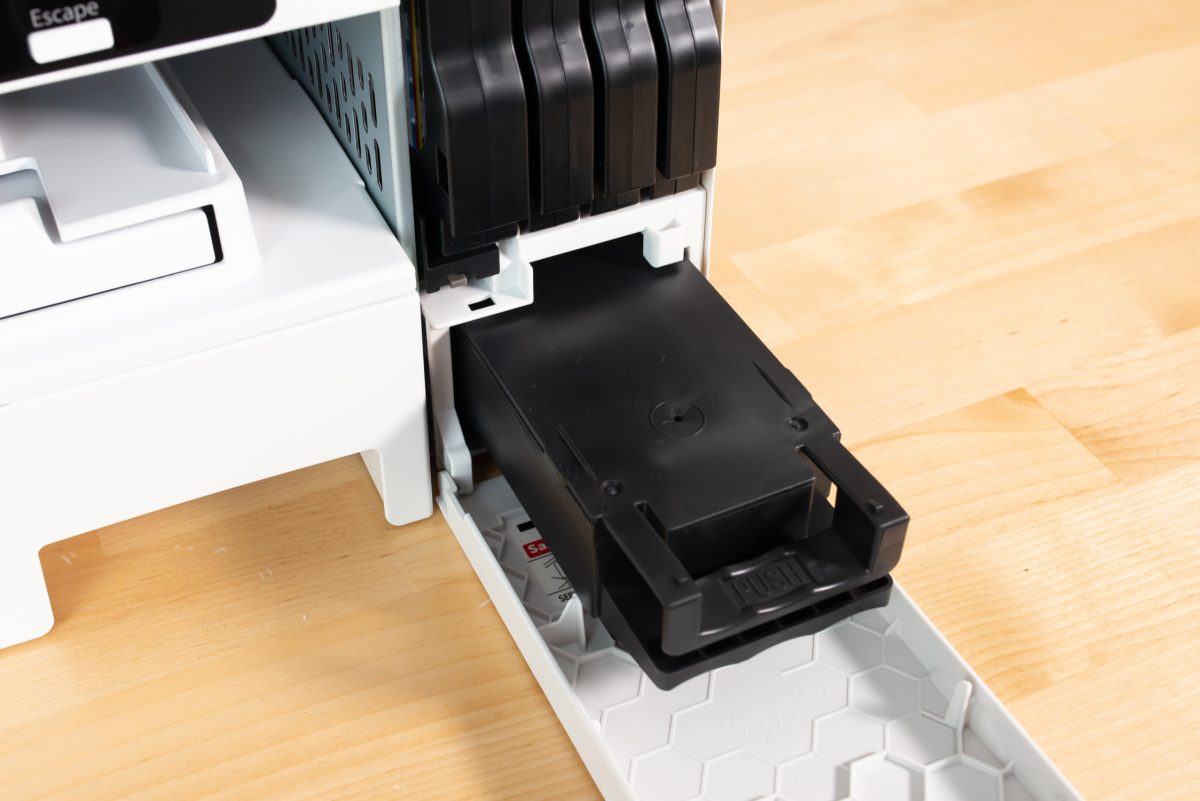 Sawgrass Ink Options
Speaking of ink, of course this printer has sublimation ink instead of regular ink. If you're looking at getting a Sawgrass, you'll have a few options:
SubliJet Ink
SubliJet ink has been the standard ink for Sawgrass printers. It creates beautiful, vivid color for all your projects.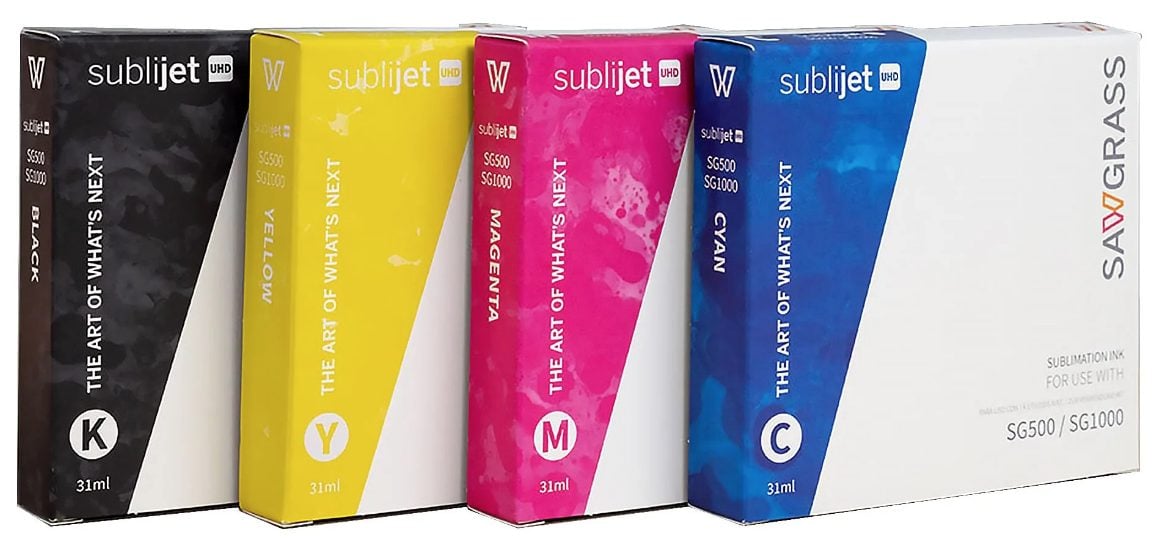 EasySubli Ink
But now there's also EasySubli Ink (which I have) which gives you one more option. It's designed to work with Siser EasySubli sheets. Special drying agent so that you can use sublimation on cotton or dark fabrics. The prints may be every so slightly less vibrant than the SubliJet ink, but I've been very happy with my prints so far using this ink.
ChromaBlast Ink
There's actually a third ink, ChromaBlast. This is not an ink that Sawgrass promotes much for crafters—it's for soft blanks only and it's not quite like sublimation ink. The colors may be a bit brighter, but you can use it on blanks like t-shirts, and it sits on top of the material instead of becoming infused in the material like sublimation. For almost all everyday crafters, I'd suggest the EasySubli or SubliJet over the ChromaBlast.
Color Management
When talking about sublimation ink, we always need to talk about color management. Color management is one of the things that people really struggle with when using a converted Epson printer.
The great thing about the Sawgrass printer is that it has built-in color management. The printer knows that it has sublimation ink and has been specially programmed to lay down the color accurately. After struggling with color for so long with my Epson, the built-in color management of the Sawgrass is the biggest benefit for me. No messing with ICC profiles or wondering why your pinks look orange or your greens are super teal. It all should work, right out of the box.
I've been really impressed with all my prints from my Sawgrass SG500 so far—they are vivid and the color is true to life.
Maintenance
Maintenance is another big difference between the Epson and the Sawgrass. I mentioned that waste tank above, so let's talk about that a bit more. Sublimation ink is formulated in a way that causes it it clog more easily than regular printer ink. Therefore it needs to run through the lines more often—letting it sit means your printer heads can clog.
To prevent this from happening, the Sawgrass has an auto-clean function. On a regular schedule, the printer pushes a bit of ink through the lines to keep the print heads from clogging. This extra ink is collected in the waste tank I mentioned above. Yes, this does use ink, but I think overall it's better than dealing with clogged print heads.
You will need to replace the waste tank. I recommend keeping one on hand just in case yours becomes full and you need to keep printing!
Software
There are two software programs that come with your Sawgrass.
The first is Print Manager, which is a very simple way to print your images. It's a program that's installed on your computer. In Print Manager, you can change the type of substrate you are using, and the printer will formulate how the ink lays down according to your selection. You can also make changes to the layout on the page (like adding more than one image) as well as mirror your project for printing. You can also print from other programs (like Photoshop) to Print Manager quickly and easily.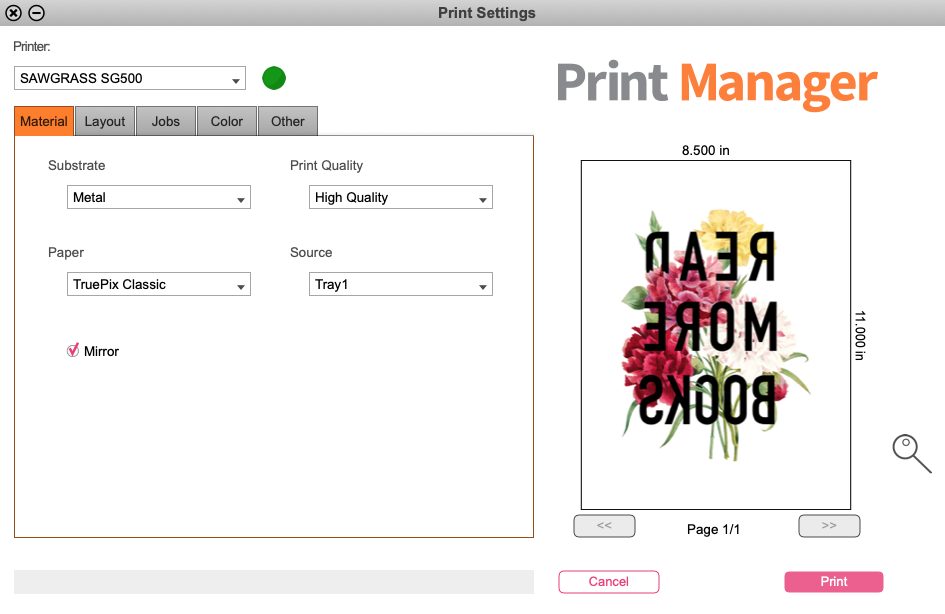 They also have Creative Studio, which is their design software. This is internet-based (you open it in an internet browser). For example, if you want to make a certain size t-shirt or a dog tag or an oval slate (see below), all of those templates are built in to Creative Studio. This makes it super helpful for using with sublimation, because something like Photoshop doesn't have any built-in templates.
I'll be doing a deep dive into both of these software programs soon!
Customer Service
Like I said earlier in this post, you can opt to get your machine all set up and running with a Sawgrass agent, but their customer service doesn't stop there. If you have any issues at all, Sawgrass has a team ready to help. I haven't had my printer long enough to need any service, but I've heard good things in our Sublimation Made Simple FB group about the Sawgrass customer service team. Having issues with your color, streaky printing, ink clogs, the software or anything else—just reach out to their team.
Overall Impressions
I haven't had my Sawgrass for long but I already love it. While I think the Epson is a good budget option, especially for those just getting into sublimation, the Sawgrass definitely raises the bar on just about every feature. Yes, it's more expensive and I totally understand if it's not in your budget—we're all just working with what we got! But if you really want to dive more into sublimation with fewer issues and you can swing it, I would definitely get yourself a Sawgrass!