There's a new sublimation printer in town! Here's my review of the new Brother SP1 sublimation printer and the Artspira app, as well as a comparison with other sublimation printers on the market.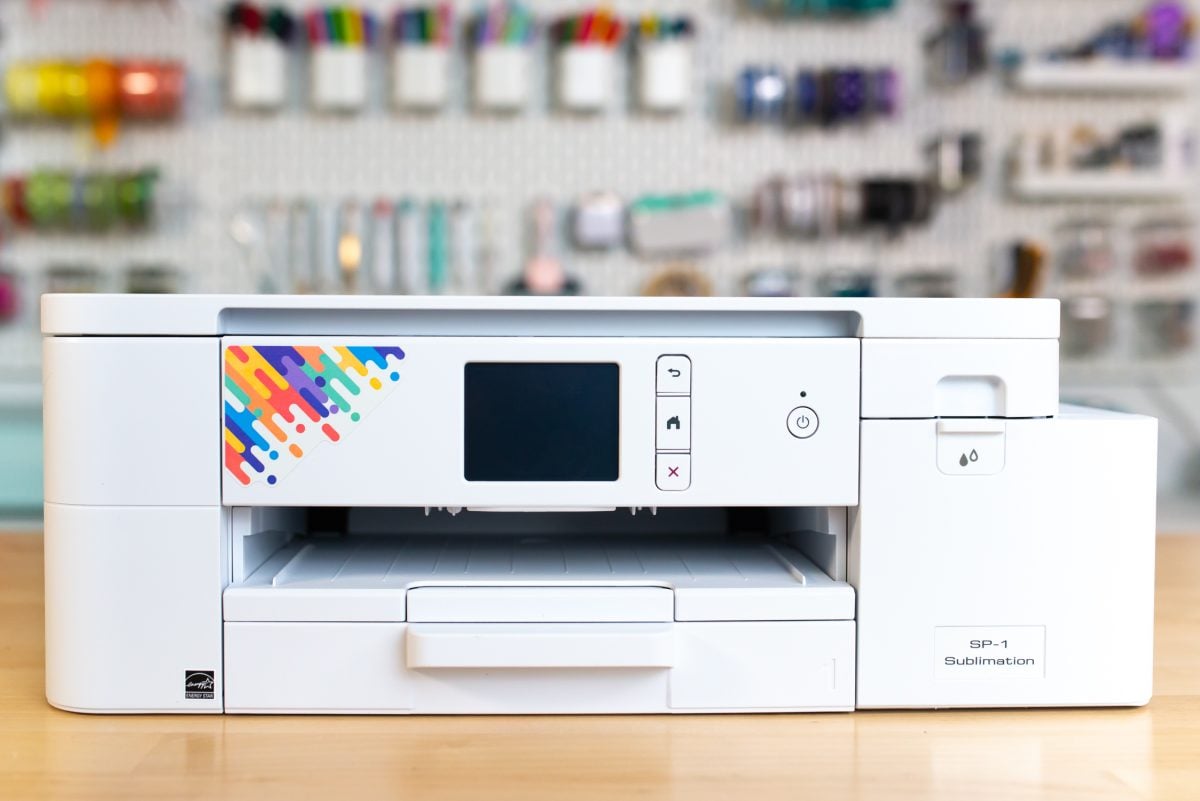 If you don't have a sublimation printer, and you're looking at buying one, there is a new option from Brother. The Brother SP1 sublimation printer is a new entry into the sublimation printer market, though they've been making other consumer printers for a long time.
In this post, I am going to share all about this new Brother sublimation printer, including how it works, how to use it with the Artspira app, as well as my overall thoughts about this printer. I will also compare it to the other sublimation printers I have, including a converted Epson EcoTank printer and my Sawgrass printer.
If you're new to sublimation, sublimation is a printer craft that allows you to print vibrant, full color images and press them to all sorts of blanks. This includes garments, drinkware, home decor items, and more. You can learn more about sublimation in my post The Ultimate Guide to Sublimation Printing & Crafting.
Note that sublimation prints need to go on polyester or poly-coated blanks—don't buy this printer thinking you can put these prints on dark or cotton garments!
Check out my Amazon shopping list for all my must-have sublimation supplies!
Watch the Video
Want a video overview of this printer? Check out my video! Or read on for all the details.
What is the Brother SP1 Sublimation Printer?
There are quite a few sublimation printers on the market right now, and this printer marks Brother's entrance into the sublimation game. Sublimation has exploded in the consumer space in the last few years, so I'm not surprised to see more and more companies joining this expanding market.
One big thing that makes this Brother printer different than the other printers on the market is the Artspira app, which can be used on a mobile device. Printing from a phone or tablet to one of the other sublimation printers can be tricky, but this app makes it a bit easier. We will go into how to use the Artspira app later in this post.
The dimensions of this printer are really nice. It's only 17.1" wide x 13.5" deep x 6.2" high and would fit easily in a smaller craft space. It prints up to 8 1/2 x 14" (legal) paper in addition to the regular 8.5″ x 11″, meaning you can make some slightly larger prints.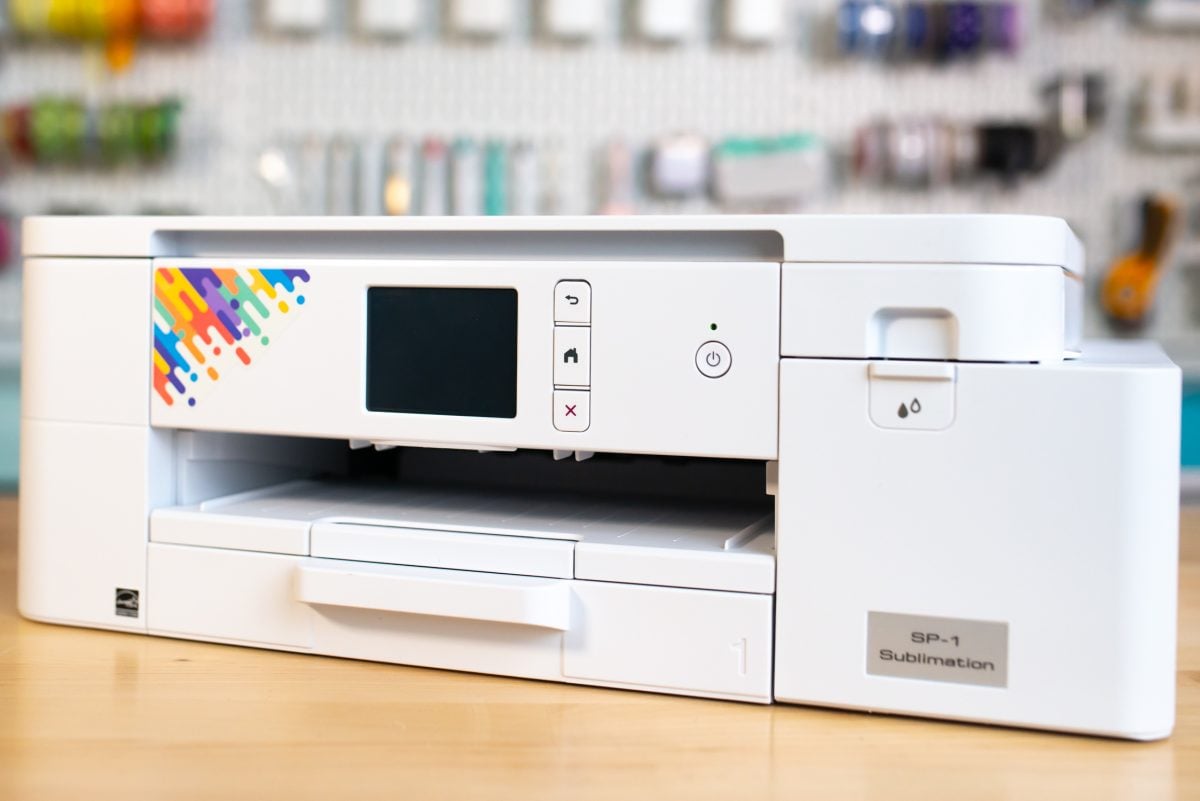 I have to say, I am not the biggest fan of the artwork physically on this printer. It feels a bit like a PowerPoint presentation. My husband now calls it my "Trapper Keeper" printer. I really wish they had just kept it simple and white.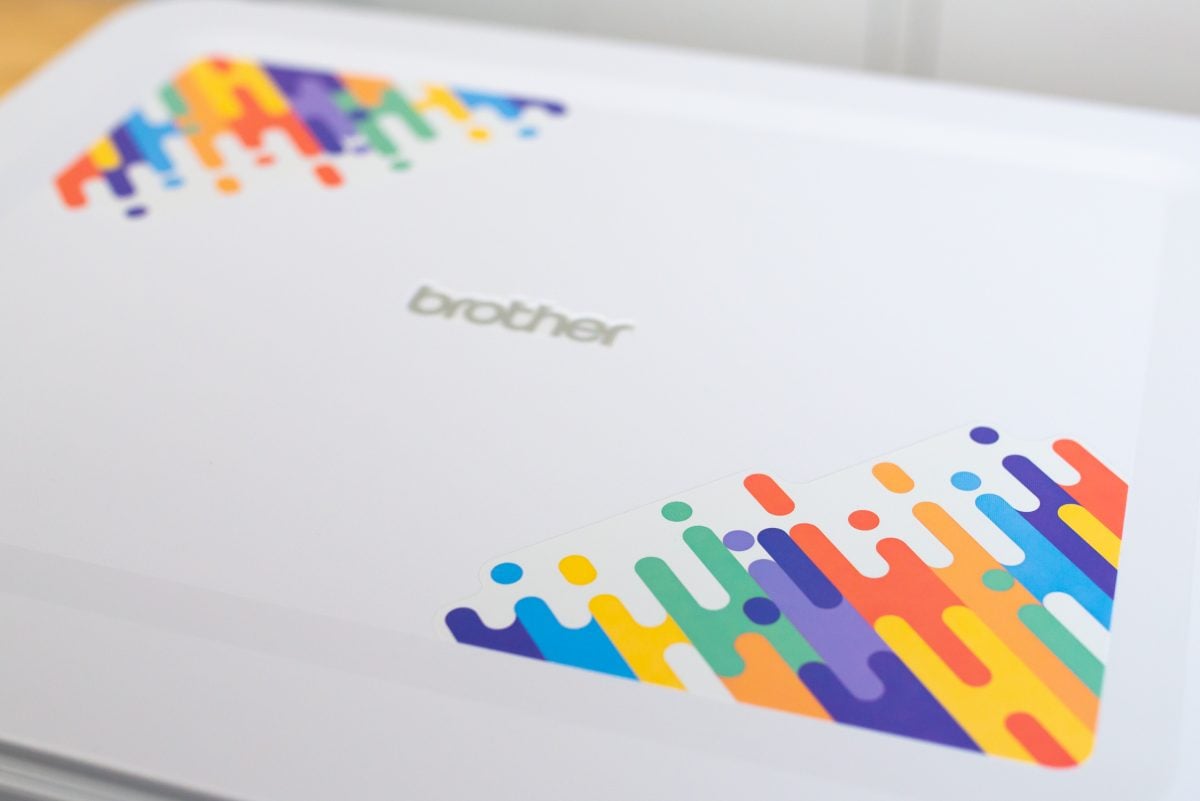 Brother Sublimation Printer Price
The Brother sublimation printer is priced at the mid-level of consumer sublimation printers. At $399, it's more expensive than converting an Epson EcoTank printer, it's under the Epson F170 sublimation printer which is $449, and it's less than the Sawgrass printers which start just above $500
Ink will run you $39 a cartridge or $156 for all four colors. To refill a converted Epson Ecotank you're looking at $25 for all four inks, for the Epson sublimation printer it's around $100 for all four, and for Sawgrass it's $244.
Overall, it's reasonably priced and should appeal to a wide variety of crafters at this price point.
Brother Sublimation Paper
You'll get 10 pieces of sublimation paper along with the printer. A new pack will cost you around $35 for 100 sheets, which is more than some of the other sublimation paper brands I use, including A-Sub and HTVront which are less than $20 for a pack of 100 sheets.
One feature I do like about the Brother sublimation paper is that there is a small notch cut out of the corner. This makes it easy to know which side to put down in the printer—the notched corner should be in the bottom right in the tray. A great little feature…but worth the extra $15 per pack? Probably not, for me at least. Many other sublimation paper brands just put a watermark on the back of the paper instead, so it's easy to know which side is up.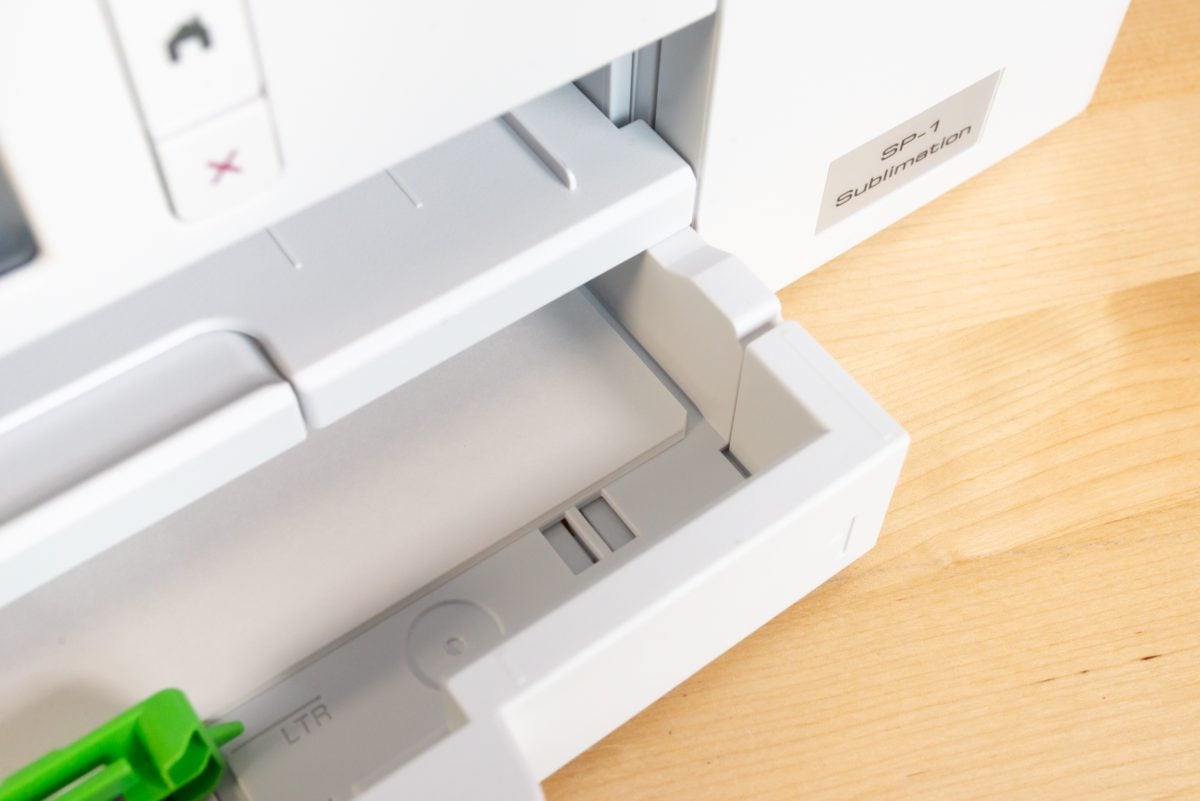 Brother sublimation paper only comes in 8.5″ x 11″—if you want the larger 8.5″ x 14″ legal size, you'll need to buy another brand.
Setting Up the Brother SP1
Setting up the printer is very simple. I unboxed it and plugged it in. I loaded the four ink cartridges into the right front of the printer, shaking them a bit and snapping them in easily. This might have been the easiest ink I've ever loaded into a printer…and I have a lot of printers.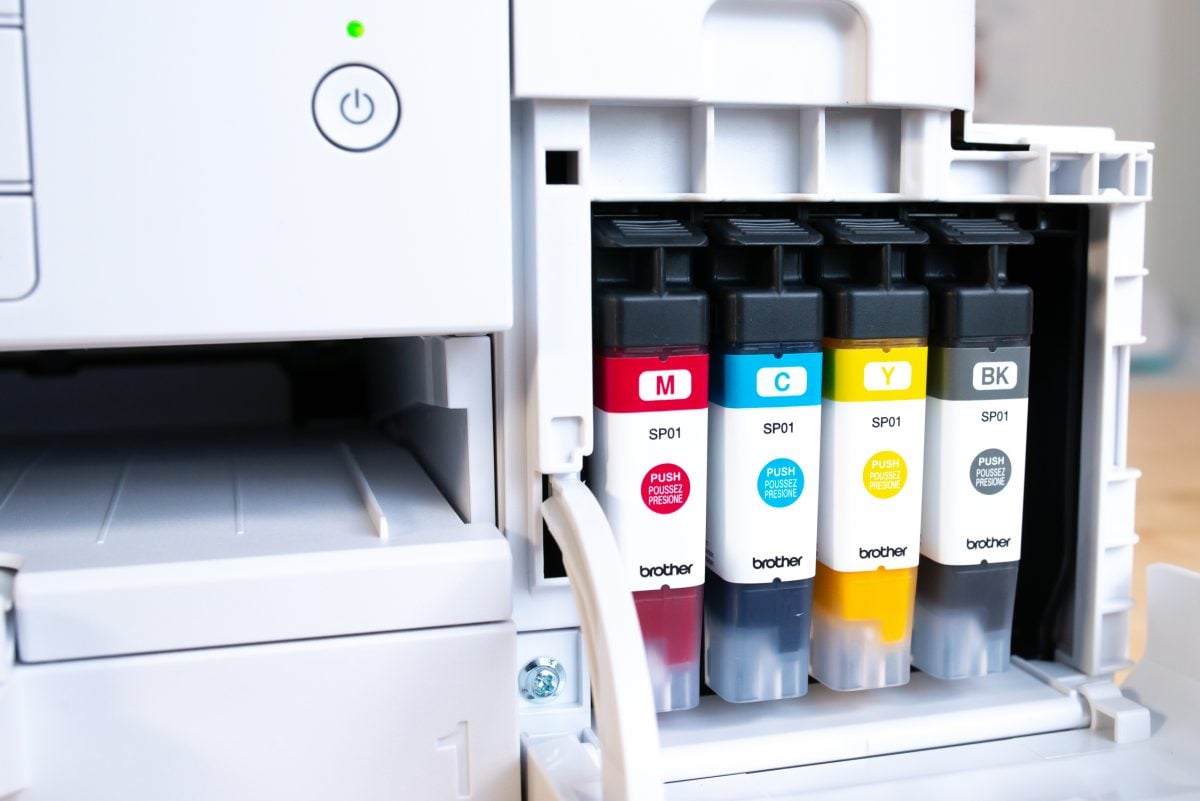 Brother is pushing their Artspira app, but you can, of course, also use the printer from your regular computer. If you have a regular computer, I would definitely recommend using it vs. the app, as you'll see.
To download the correct drivers for your computer, go to the Mac drivers or the PC drivers, depending on what type of computer you have. Then follow the onscreen instructions to install the drivers to your computer. It went fine for me—mostly clicking "next" and once having to press the wifi button on the home screen of the printer itself.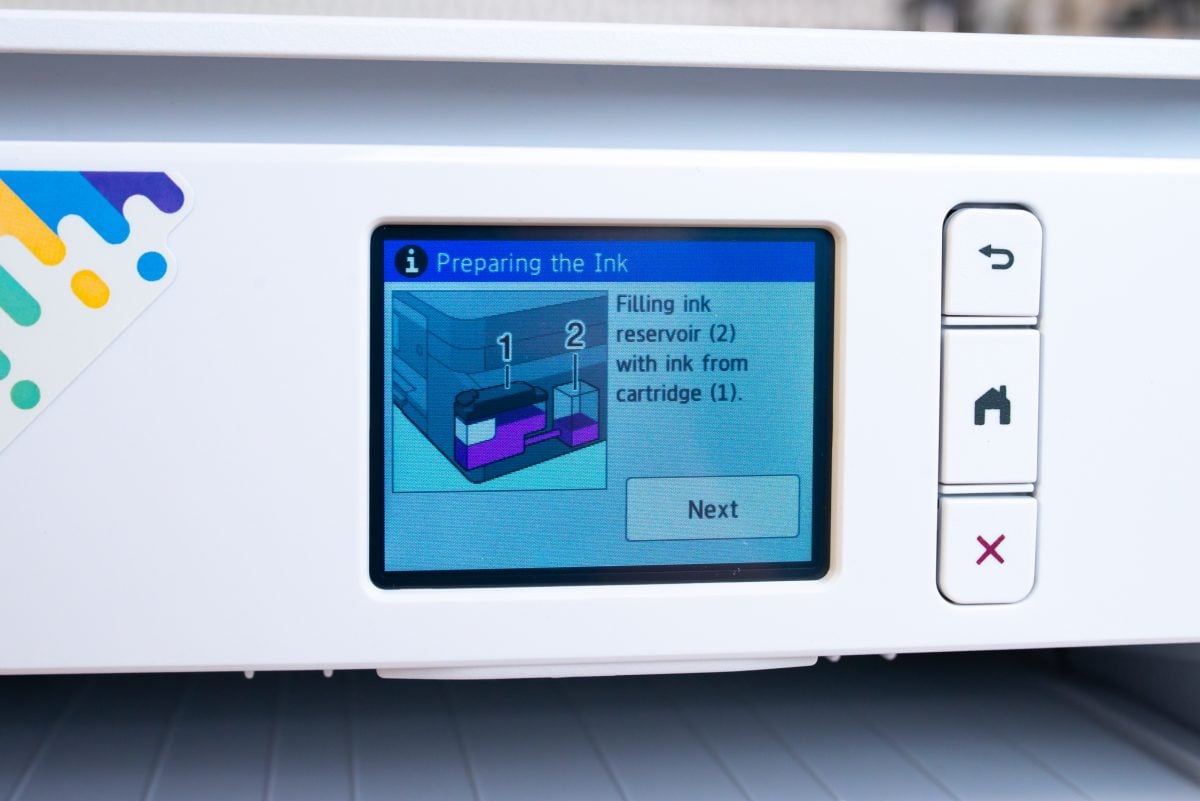 Once my printer was successfully installed, I went to my Mac's Printers screen and saw it wasn't actually there. So I clicked on the + sign and easily added it to my printer list, and it will now show up as a printer option when I go to print from my different software programs. You may need to do something similar if you are on a PC.
Artspira App
The Artspira app was clearly designed for Brother's other offerings—cutting machines, embroidery machines, and regular printers. Since I got this sublimation printer right when it launched, the sublimation offerings in the software are…minimal. There are currently three free sublimation files and none of them are really coded for sublimation. Not exactly great right out of the gate.
You can upgrade to the Artspira+ subscription plan for $12.99 a month, which gives you access to a whole bunch of things you won't need for your printer, including 7000 embroidery designs and 3000 cutting machine designs. Right now there are maybe 30 premium sublimation designs, so I'm really not sure that subscription plan is worth it until they really build out the sublimation part of the app more. There are a lot of regular printing designs that could be used for sublimation, but the search also leaves a lot to be desired.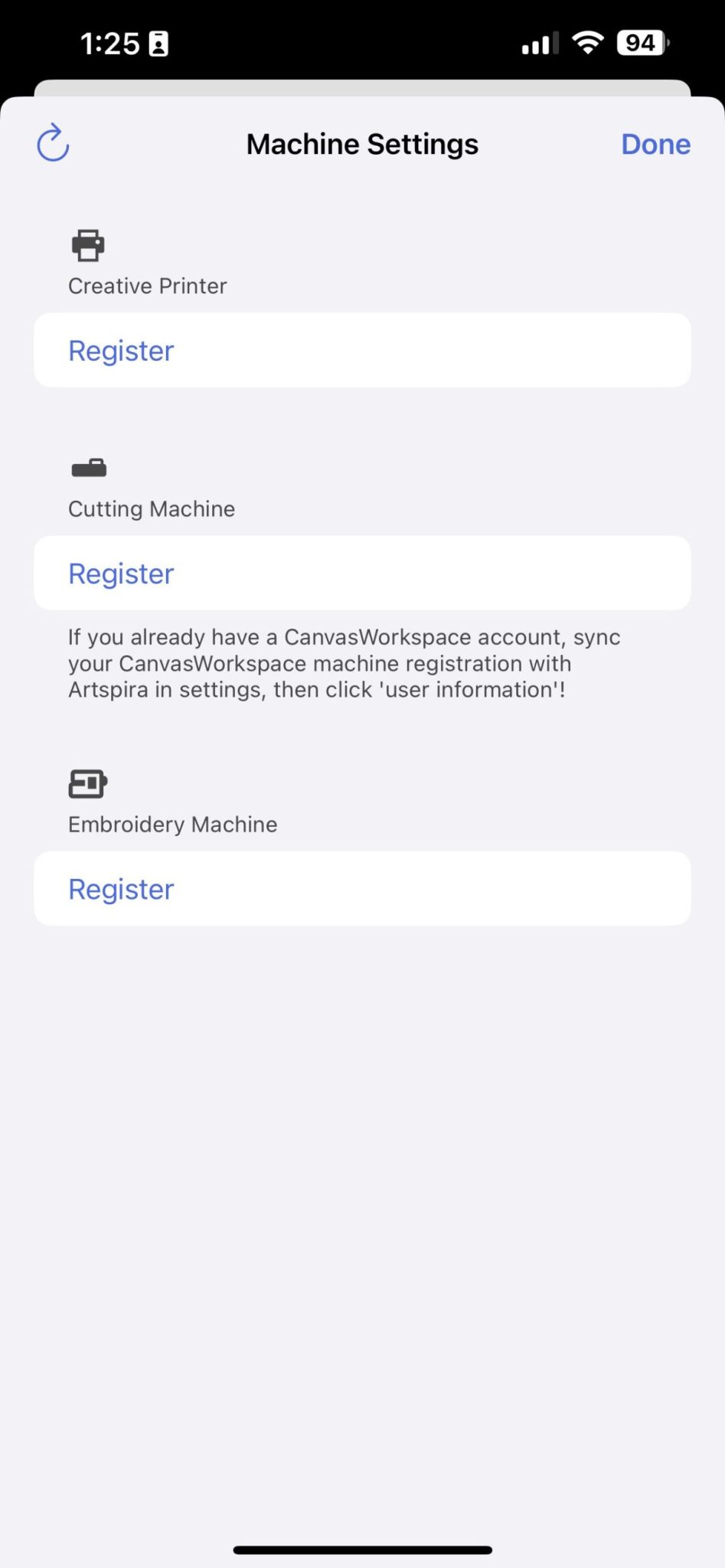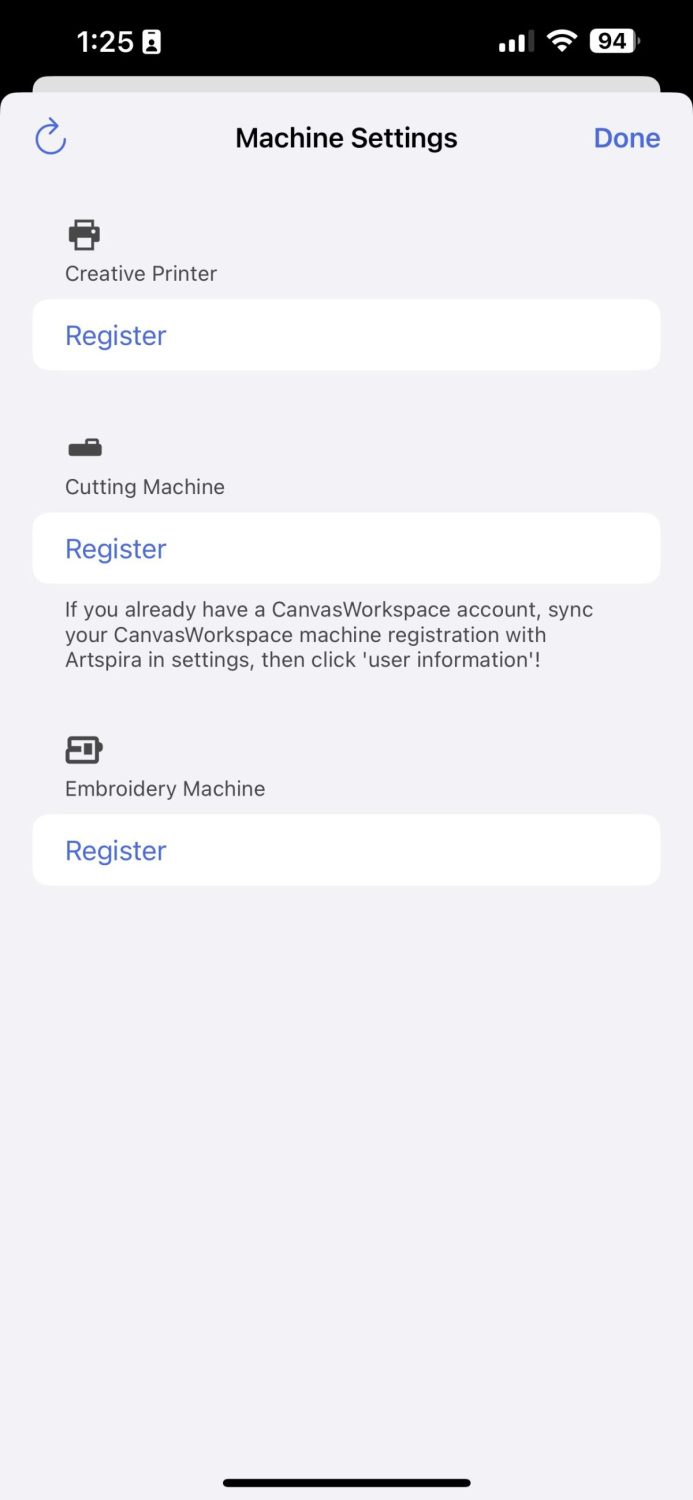 This app would also really benefit from some sublimation templates. Right now you can resize things in inches, but it would be great to have templates for things like 12oz and 15oz mugs, 20oz tumblers, etc.
The one nice thing about thing about the app is that you can easily upload photos. So if you want to sublimate photos you have on your phone, this is a pretty easy way to do it. Just upload to the app, resize and print.
This app has potential, but it's really not there yet for sublimation. But if you don't have a computer, you can use this app to print your files and photos more easily than you can printing to an Epson or Sawgrass printer from your mobile device.
Other Sublimation Software
The Brother sublimation printer doesn't come with any additional software beyond the mobile app. So if you are going to print from your computer, you'll need to choose your own program. Depending on your graphic design skills and budget, one of these posts might help:
I was able to print from Photoshop just fine!
Printing Speed
I did notice that this printer is much slower than my Sawgrass printer, in particular. I'm pretty sure it's slower than my converted Epson as well. I couldn't find specifications for print speed, but it is significantly slower. If you're looking to do a higher volume of prints, you may want to think twice about the Brother.
Brother SP1 Color
One of the main things I look for in a sublimation printer is how well the color is rendered for my prints. If you've used a converted Epson EcoTank printer, you can know that getting correct sublimation color can be very difficult. But because this is a sublimation specific printer, the color is dialed in. Which means that right out of the box, I had really great color with this printer.
For sublimation, your color will look terrible out of the printer. It will look dull and faded and your colors won't look right. But the magic comes when you press. That sublimation ink on the paper bonds with the polyester or poly coating of your blank and your colors should look amazing.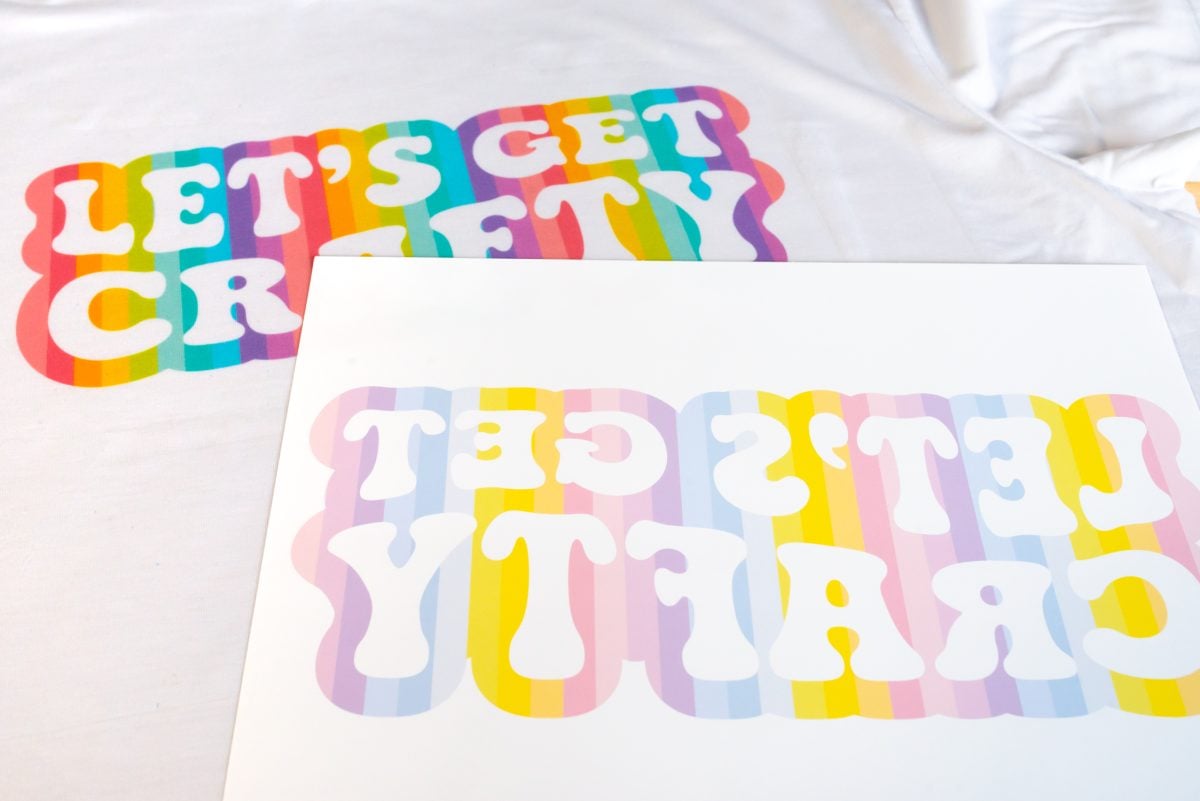 I was impressed with both the color and print quality of the Brother sublimation printer. And really, this is probably the most important point—do the images look good once I've pressed them onto my blank? And it's a resounding yes for the Brother sublimation printer.
Brother SP1 Maintenance
Once of the big differences between converting an Epson EcoTank printer and buying a sublimation-specific printer is maintenance. I have to say, there wasn't a lot of information about any maintenance required for this machine until I really dug into their user manual.
The manual does say "the machine automatically cleans the print head when needed" but I am not sure if this is a daily cleaning or if it somehow detects ink clogging or issues and does the cleaning then. I haven't noticed it running an automatic cleaning, but I also haven't had it very long.
The nozzle check out of my printer was perfect on my first try and I haven't had an issue since I started using it. I am going to let it sit for a few weeks soon so I can see if it does, in fact, clog like other sublimation printers often do.
I couldn't figure out how to run a nozzle check or cleaning from my computer like I can with my Epson, but it was easy to run both of these processes from the screen on the printer itself.
Overall Impression
This is a great sublimation printer! Set up was pretty easy and I am really pleased with the overall quality and color of the prints. It's a nice small size and is a great price point for entry-level sublimation crafters.
Compared to a converted Epson EcoTank, the Brother printer clearly wins. It may be a bit more expensive, but you don't have to deal with color issues that come with a converted printer, and I have high hopes for less clogging.
Compared to the Sawgrass printer, it's close. Even though it can be glitchy, I do like that Sawgrass has their own software that really is tailor-made for sublimation, including templates and all of the print settings you might need for sublimation printing. I also have a Sawgrass SG1000 and I love being able to print on the larger 11″ x 17″ paper. But the Brother sublimation printer is pretty comparable to the SG500 in features outside the software.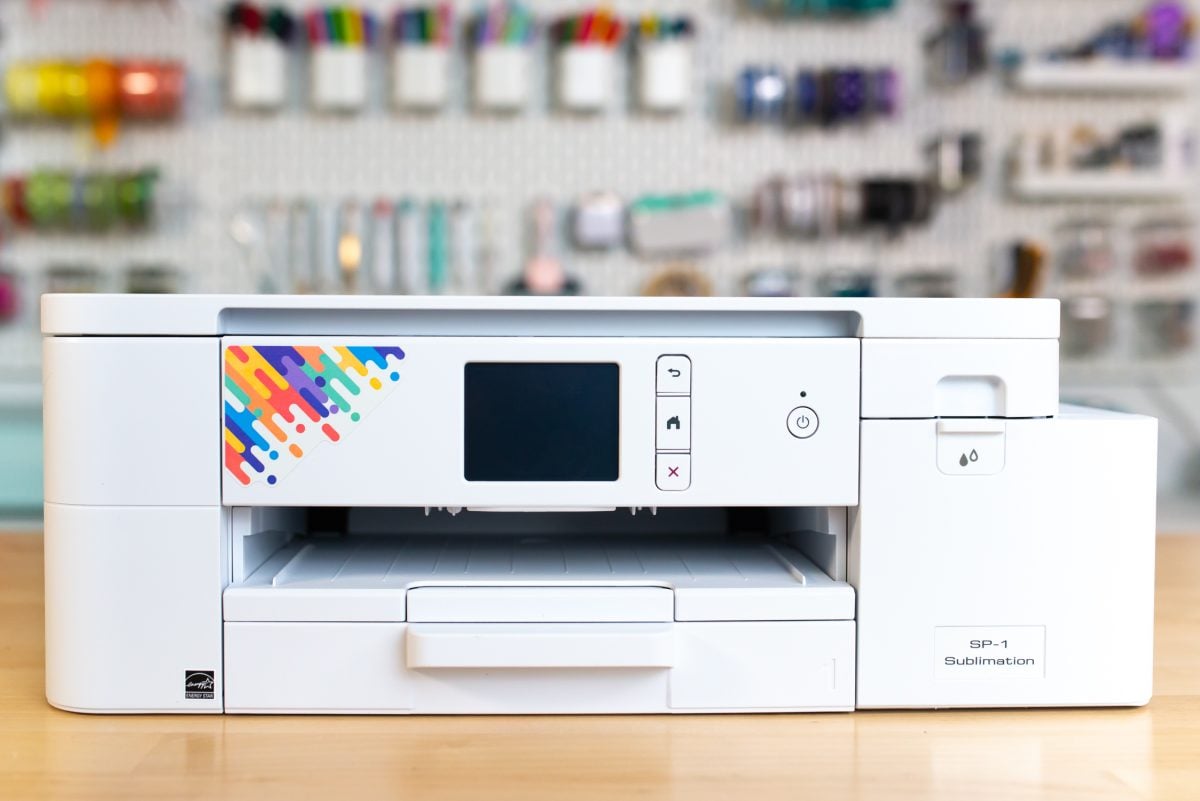 My biggest issue with the Brother SP1 is with the Artspira app—they are trying to cram sublimation into an app built for embroidery and cutting machines. There's a long way to go before I think it will be really useful for the average sublimation crafter. But if you don't have a desktop computer and you want to get into sublimation crafting, this app, even with all its faults, will let you do that.
If you end up getting the Brother SP-1 Sublimation Printer, let me know what you think of it in the comments!