Did you know you can use a convection oven for sublimation? This post walks you through how to sublimate a tumbler using shrink wrap and a convection oven. It's easier than you think!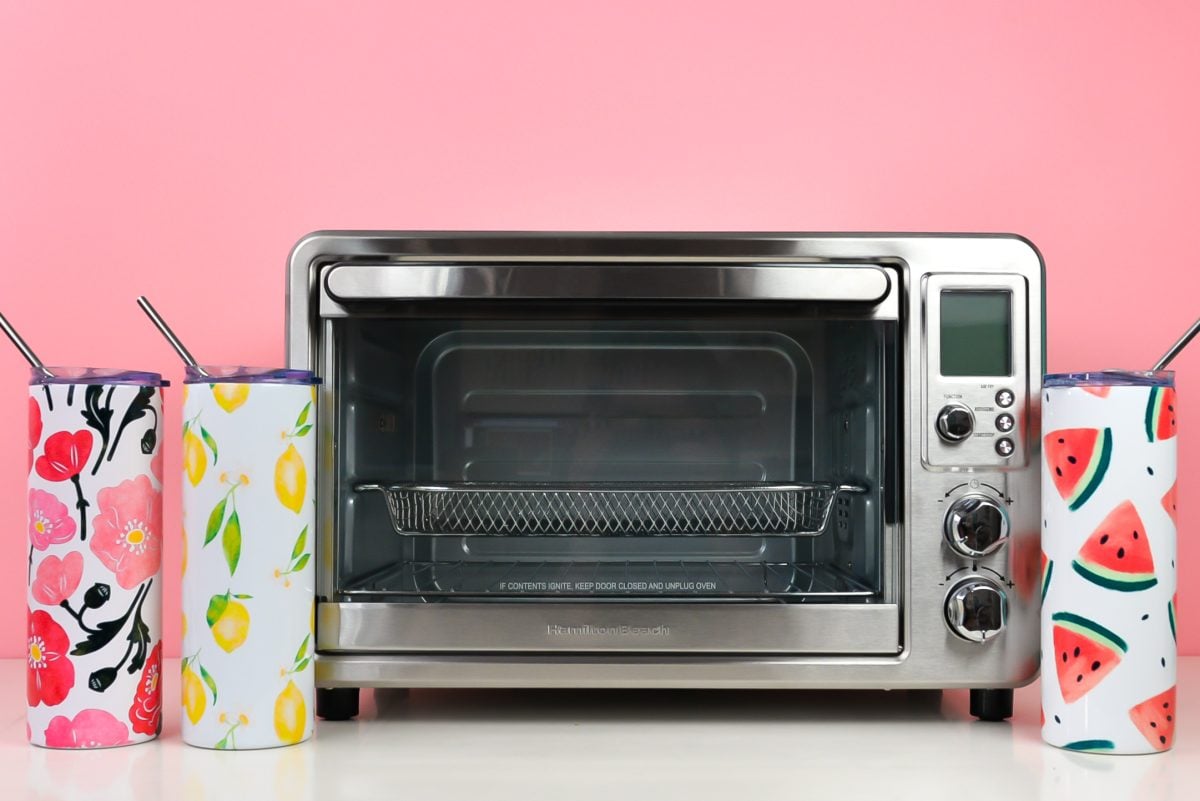 If a standalone mug press or tumbler press is outside your budget, or you have something like a Cricut Mug Press which is limited to certain sizes, a convection oven is a great option for sublimating!
You can easily spend $200 and up on a specific heat press for mugs and tumblers—not to mention all of the different inserts for doing a variety of sizes. But you can spend less than $100 for a convection oven and sublimate all sorts of different items using shrink wrap!
Today I'm going to share how to sublimate a tumbler using shrink wrap using a convection oven. One of the things I love about this method is that it's one and done. You don't need to press the top half of the tumbler and then press the bottom half of the tumbler. If your convection oven is evenly heated, you don't even need to rotate the tumbler while it's cooking! It's so easy.
This post is part of my larger series on sublimation for beginners—everything you need to know about sublimation without all of the technical tutorials and confusing jargon. You can see all of the sublimation posts in this series here!
I'll be using a 20oz. skinny tumbler with a clear lid and a metal straw for this project, but you can buy all sorts of sublimation blanks and different sizes of shrink wrap to expand the types of sublimation projects you can make in your oven.
Watch the Video Tutorial
Watch here for an easy video tutorial of sublimating tumblers in a convection oven. If you'd prefer written instructions, read on!
Before we get to the tutorial, let's cover some frequently asked questions!
Using Shrink Wrap for Sublimation Questions
Can I Use My Sublimation Oven for Food?
Absolutely not! During sublimation process, the ink turns into a gas and some of this escapes into the inside of the oven. It is unsafe for food consumption. Do not use your sublimation convection oven for food.
Can I Sublimate in My Regular Oven?
Again, NO! It's not safe to do sublimation in an oven you are also using for cooking food.
Can I Use an Air Fryer?
YES! My convection oven is actually an air fryer. They are technically the same cooking process. I've seen people use air fryers that look like a conventional convection oven, as well as the trendy ones that are shaped more like round…spaceship.

I really like using the air fryer basket in my oven because it doesn't leave any heat marks on my tumbler.
Can I Sublimate On Any Tumbler?
You must have a sublimation tumbler for this project. It must have the poly coating for the sublimation process to take place.
Does this Work on Tapered Tumblers
Yes! Make sure you are using a sublimation image that is designed for the taper on your tumbler, and then a regular shrink wrap sleeve should work.
Can I Use Cricut Infusible Ink?
Yes! You can cut an Infusible Ink transfer sheet using your Cricut and apply it to your tumbler using this same process.
Do I Need Butcher Paper for Sublimating in an Oven?
I know you need butcher paper for almost all sublimation crafts, but you can skip the butcher paper for this particular technique.
Do Sublimation Tumblers Need Epoxy?
Nope, they are good to go as is! The permanent design will not wash off and you don't need to seal them in any way.
Supplies for Sublimating a Tumbler using Shrink Wrap
Setting Up the Tumbler Sublimation File
Let's start by setting up our file in our software. For this project, I used three different files: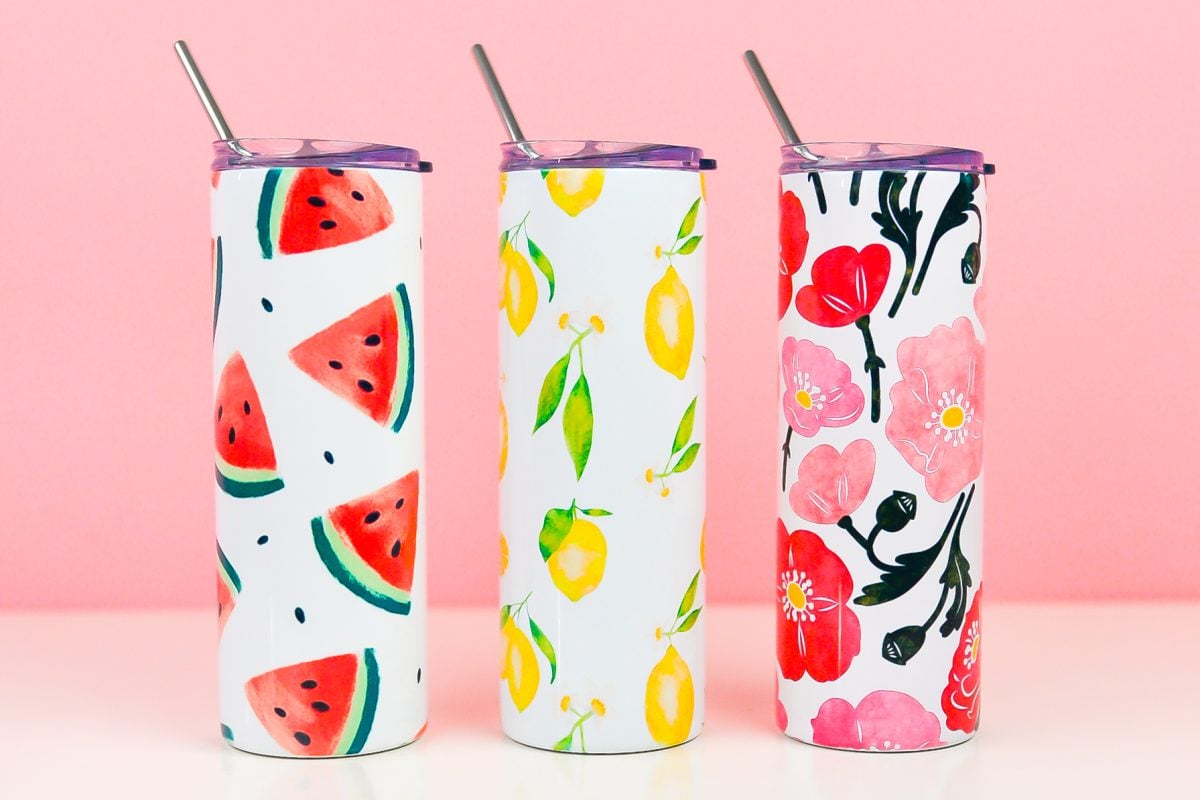 You can use almost any graphic design software for this part. Cricut Design Space does have its limitations, since the size of the image needed for a skinny tumbler is larger than the Print then Cut maximum of 6.25″ x 9.25″. So for this project, I opened the PNG in Adobe Photoshop.
If needed, resize your image and then print using your sublimation printer. I'm a big fan of converted Epson EcoTank printers, but if you have a different sublimation printer that's great too!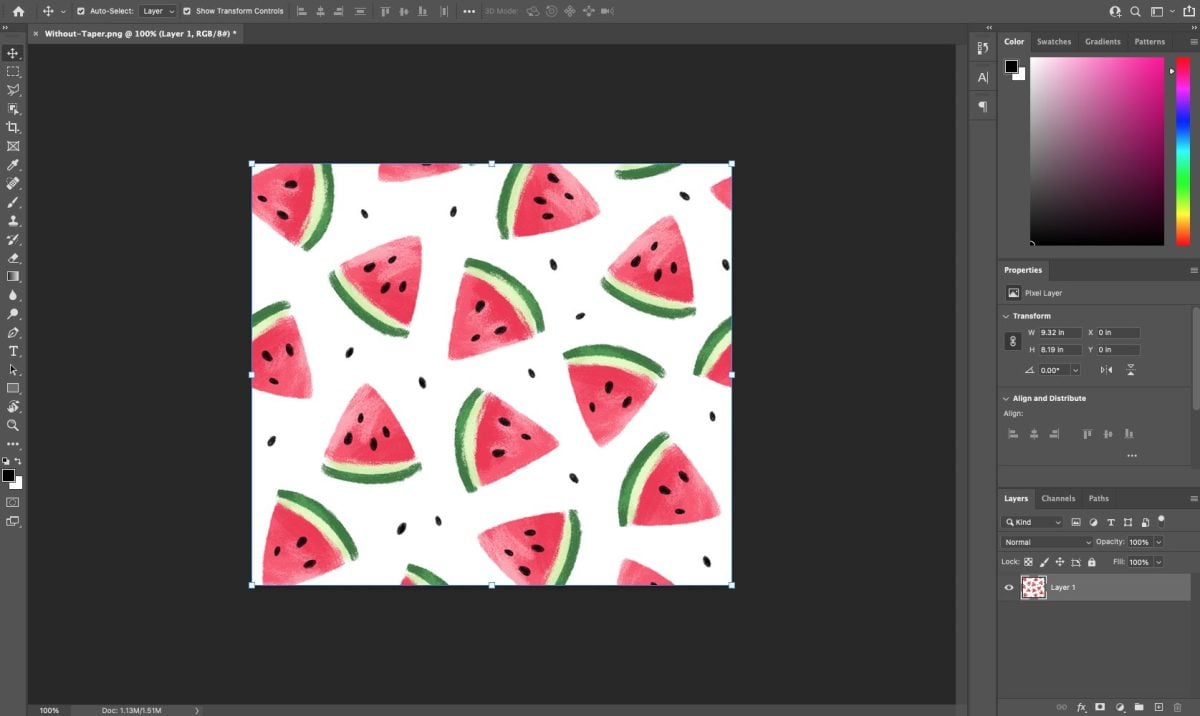 In the Print Settings, make sure you have your ICC Profile selected if needed, and click Emulsion Down to reverse your image.
Note that your transfer will be duller and the color may not be quite what you expect on the print. If you'd like, you can do a test press using a piece of polyester fabric to make sure the colors are correct before printing another transfer and using it on your more expensive blank.
How to Sublimate a Tumbler in an Oven
Okay, let's make our tumbler using shrink wrap sleeves! Start by turning on your convection oven and setting it to 375 degrees so it heats up fully while you work on creating your transfer.
NOTE: Temperature will vary based on the manufacturer of your blank. Always check manufacturer instructions. I also like to use two inexpensive thermometers inside my oven to make sure I have even temperature. Even the digital convection ovens aren't always 100% accurate with heat settings.
Clean your tumbler using a lint roller. Any pieces of lint or dust can sublimate onto the tumbler and leave spots.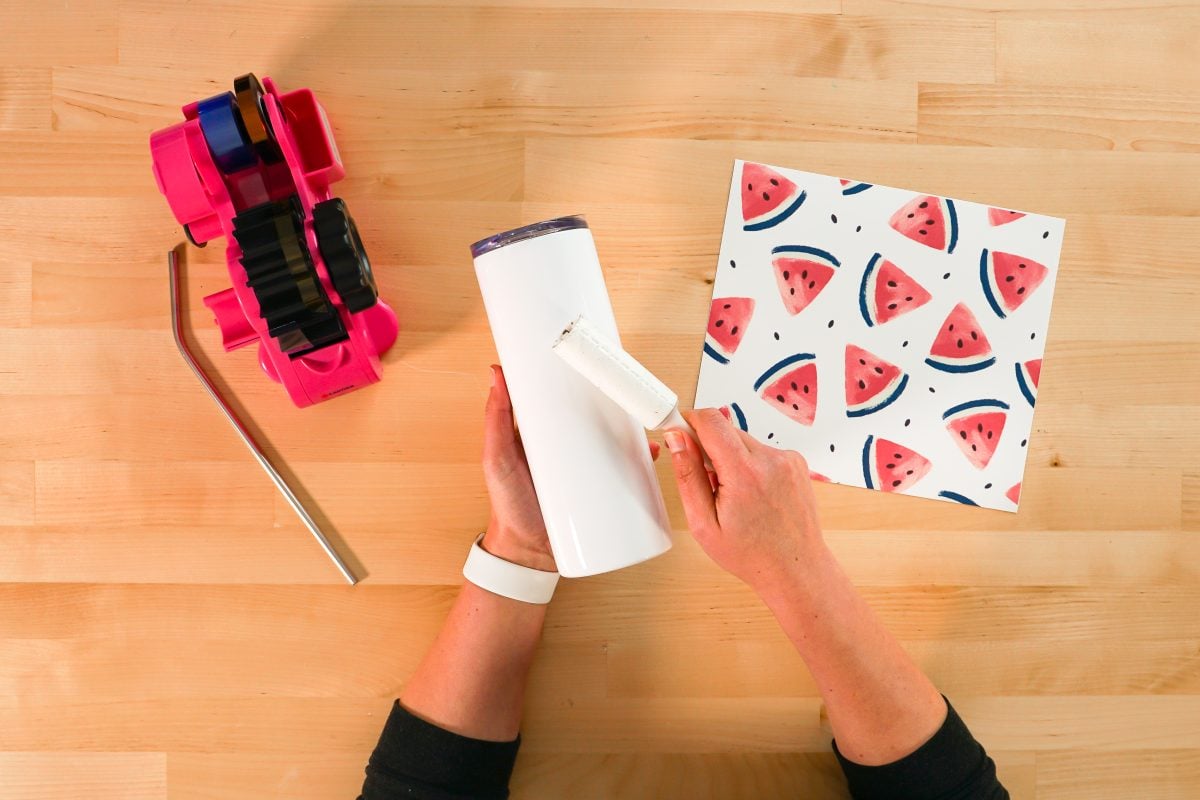 Trim your design to fit on your skinny tumbler. Leave a tiny bit of overhang on both the top and bottom of the mug. You'll want this so there isn't a blank white area around the edges. Also, ensure you have just the tiniest bit of extra so your transfer overlaps slightly when it's fully wrapped around your tumbler.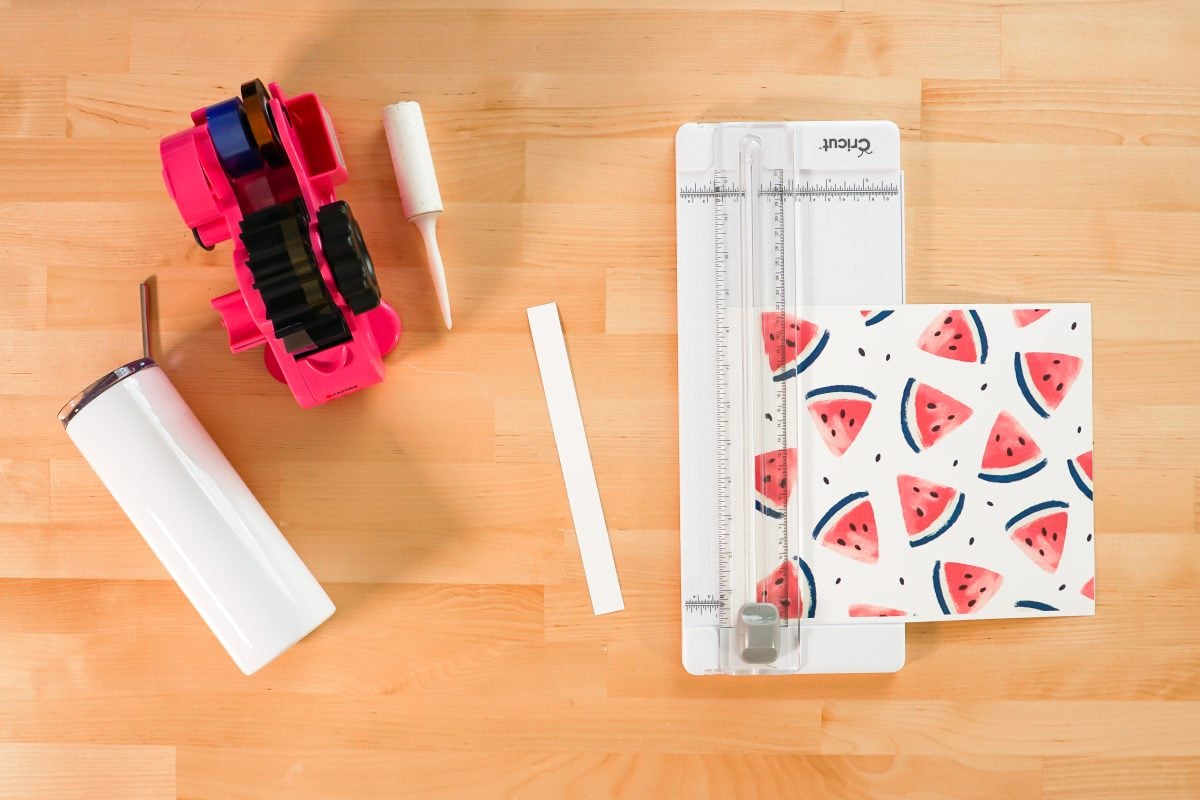 Remove the cap and straw from your tumbler.
For a more detailed tutorial, check out my post How to Tape a Tumbler to Minimize Seams and Uneven Edges!
Center the design on your tumbler, pull it tightly and tape down the entire seam using piece of heat resistant tape. You'll want the slightest little bit of overlap so there isn't white space where your design connects. Fold down the bottom of your transfer paper slightly and tape around the bottom of the tumbler, as well. I've found leaving the top un-taped works pretty well, but you can tape the top if you'd like. Be sure everything is taped as tightly as possible. This will help prevent "gassing out" and blurry images.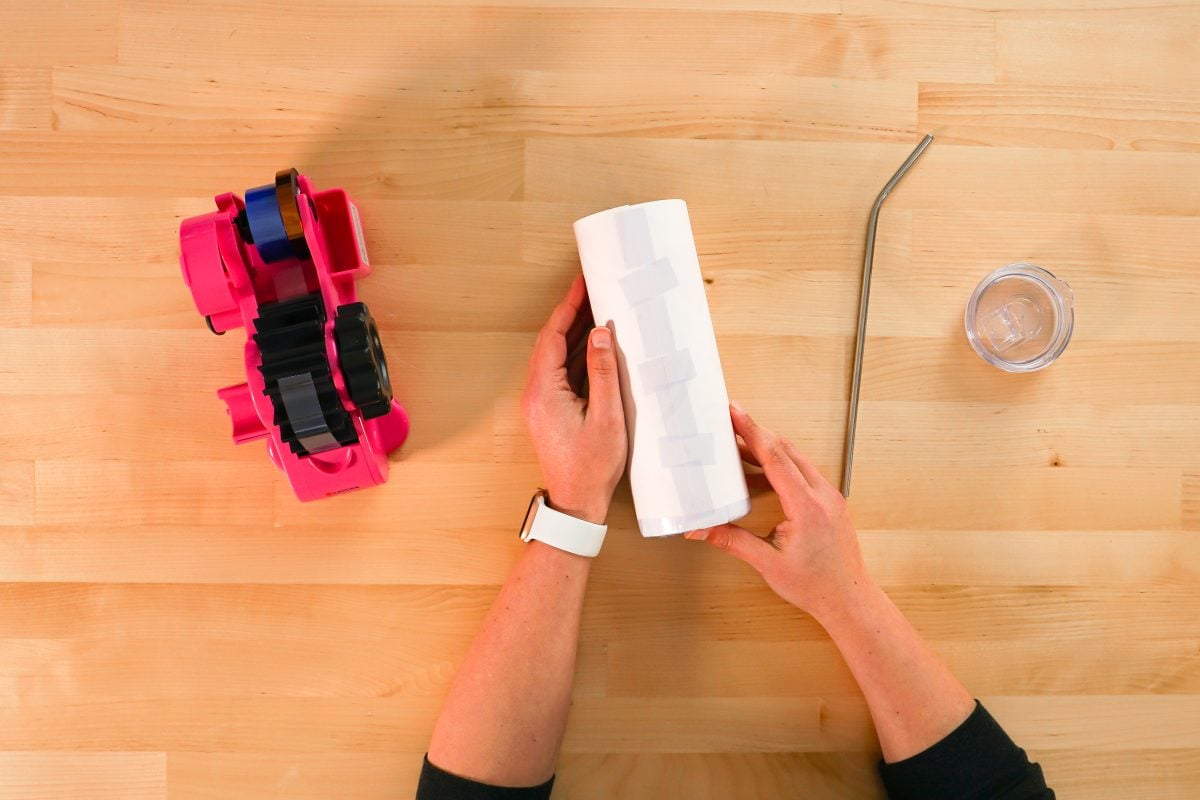 PS: love my auto-cut tape dispenser? Learn more in my post Must-Have Sublimation Supplies and Tools!
Place your tumbler inside the shrink wrap sleeve. Center it inside the sleeve as much as possible. Note that a lot of other tutorials will have you use a heat gun to pre-shrink your sleeve, but I haven't found this necessary. The second it gets in the oven the sleeve shrinks right up in the heat.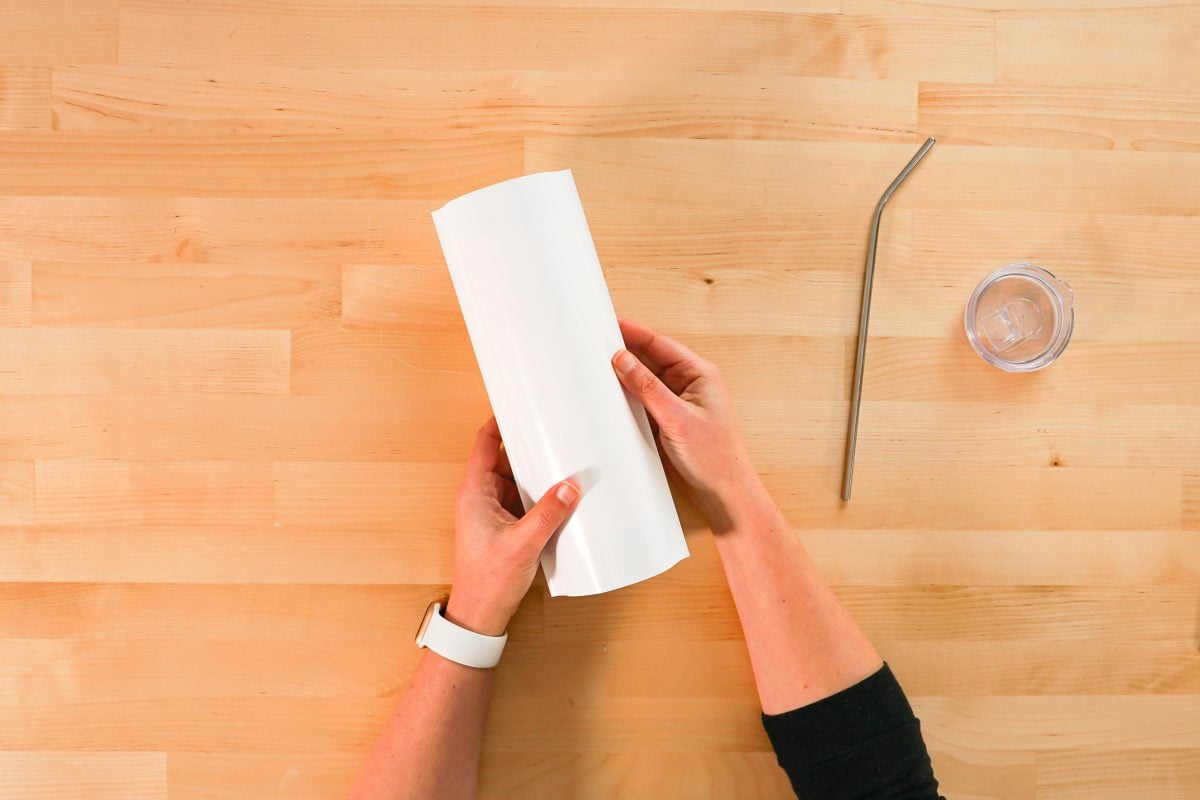 Once your oven is heated, place your tumbler inside laying flat. Set your timer for six minutes (or the manufacturer's recommended time for your blank). You may want to flip your tumbler halfway through, but I haven't found it necessary with my oven. But if you have an uneven transfer, you'll want to add this step.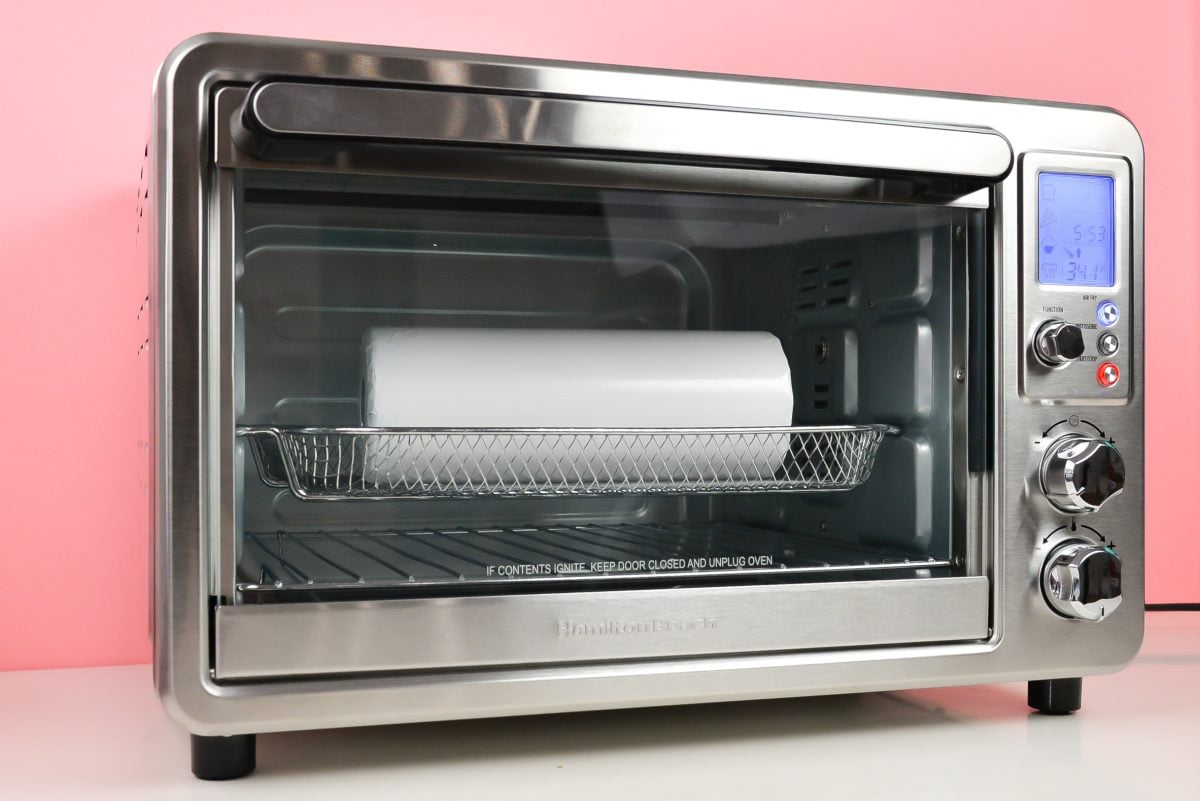 When the timer beeps, remove your tumbler from the oven. Use your heat resistant gloves to carefully handle the tumbler while cutting away the shrink wrap and transfer sheet. You'll want to remove the shrink wrap and transfer sheet right away. First because it helps keep your image from ghosting and second because it is SO MUCH easier removing that shrink wrap when it's warm.
Trust me on that one.
I've been doing sublimation for a while now and I'm always impressed with the end result. These tumblers are cute!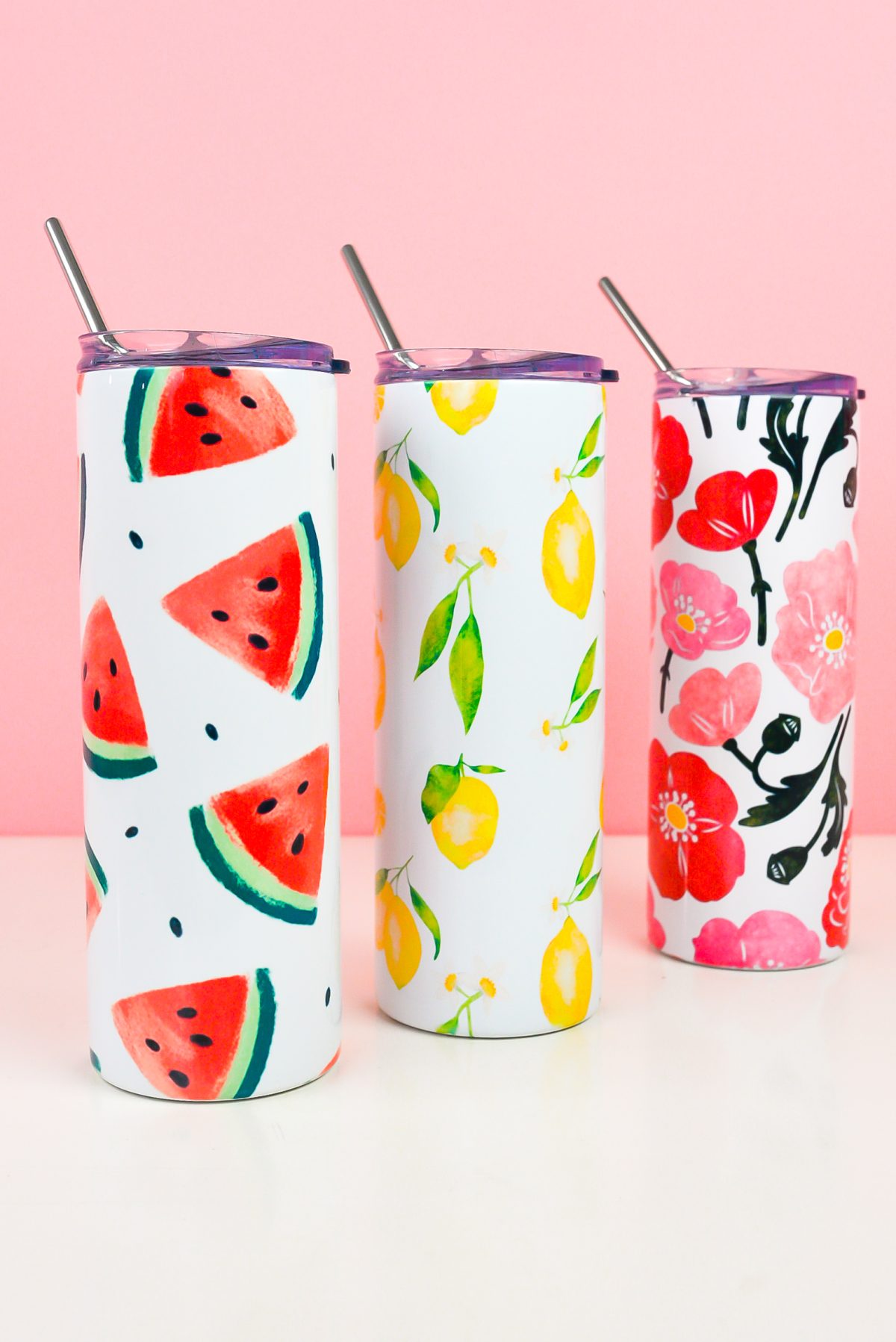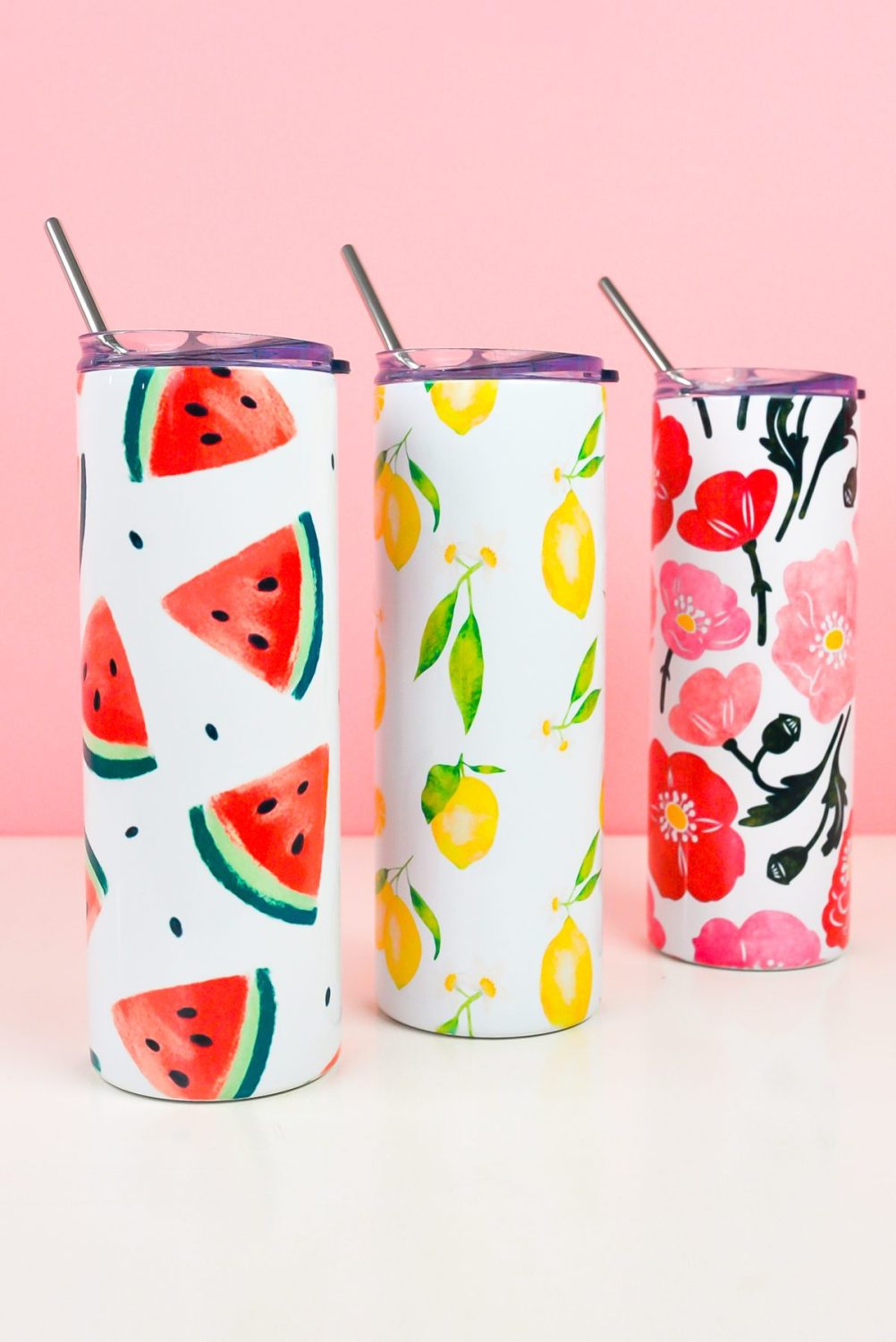 Hope you found this information about sublimation on skinny tumblers to be helpful! Stay tuned for more tutorials featuring other substrates and blanks. And, as always, if you have any questions, let me know in the comments and I'll be happy to answer them!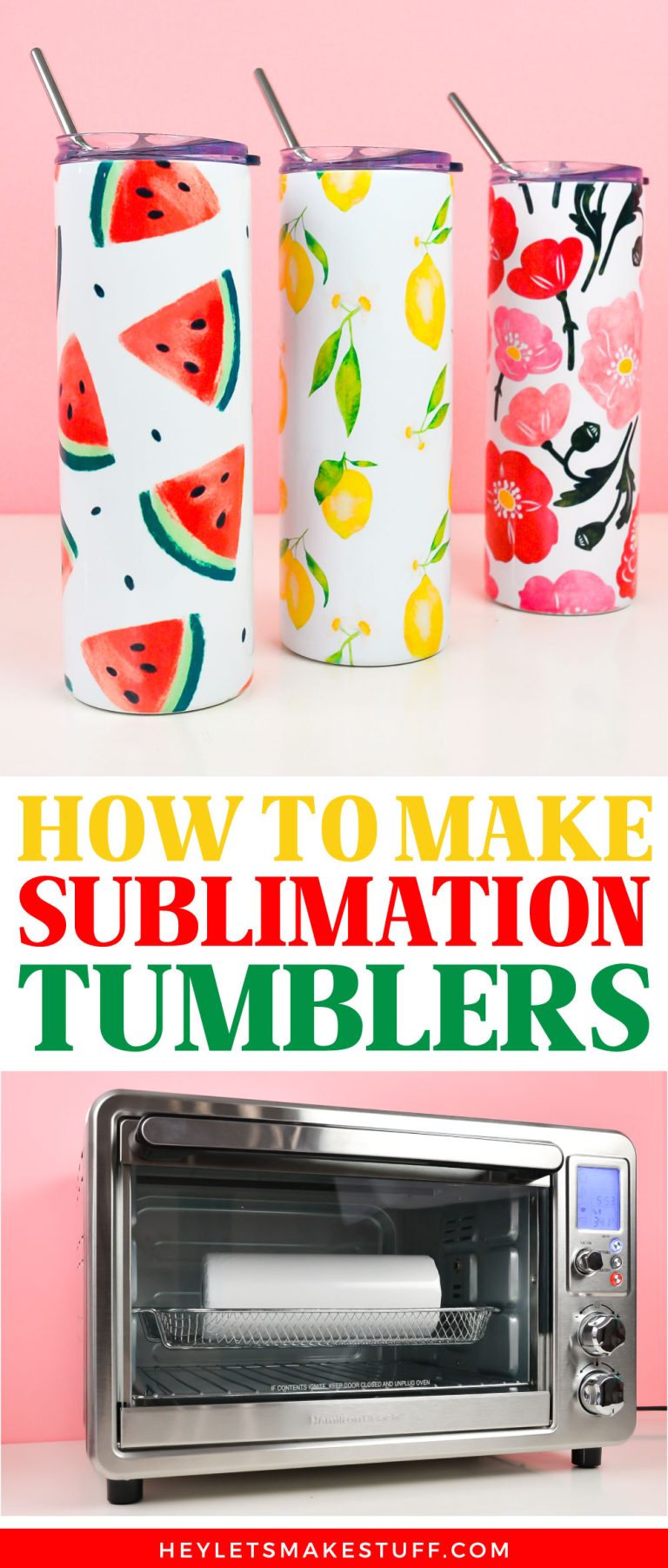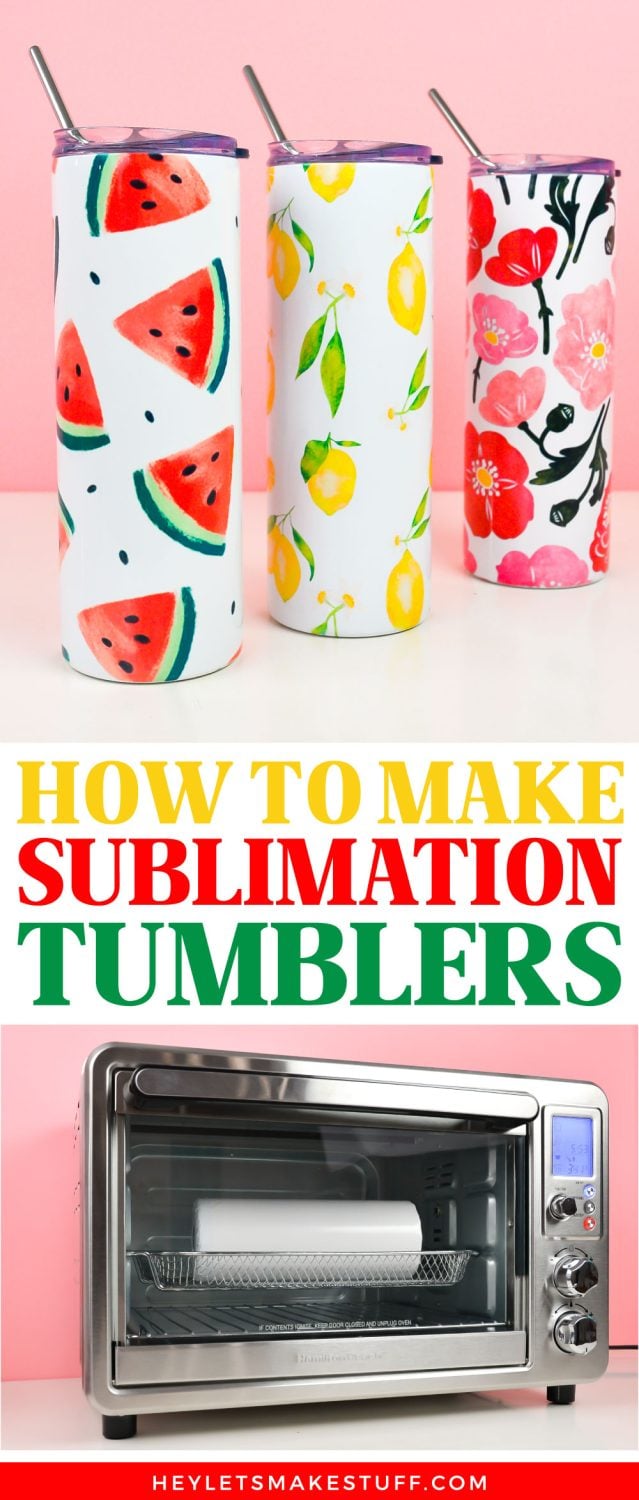 More Posts on Sublimation: