Figuring out what you need to work your new Cricut can be intimidating! Here are the supplies you'll need if you're a Cricut beginner—this Cricut gift guide will help you save money and get exactly what you need to start.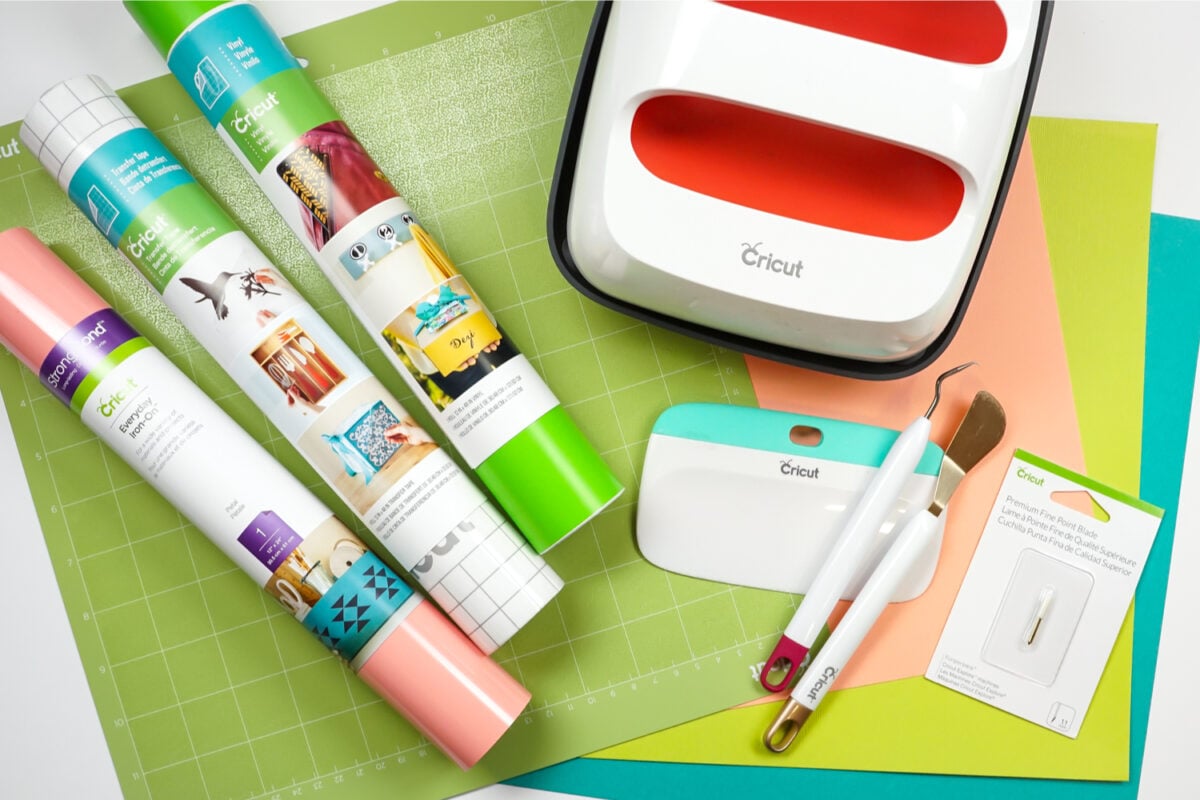 This is a sponsored conversation written by me on behalf of Cricut. The opinions and text are all mine.
When you get a new Cricut machine, you may be overwhelmed by all of the different supplies, tools, materials, mats, and blades. Trust me, I get it—it can be a lot! And you could spend a pretty penny on stuff you're not quite ready to use. This Cricut supply guide is geared toward brand new Cricut Explore and Cricut Maker users—everything you need to get started.
If you got a Cricut for Christmas, Black Friday, or another special occasion, you can use this supply list to buy for yourself or hand it over to a loved one with your picks circled! Make sure to bookmark my post Friday / Cyber Monday Cricut and Crafty Deals if you've got your eye on something crafty!
I've broken this guide into four sections. The first are the things that I think are most helpful to all new Cricut users. The other three sections focus on the top three materials you might cut with your Cricut as a beginner (don't worry, I have examples of the things you'd make with each of these below!).
What every Cricut beginner needs
Iron-on vinyl essentials
Adhesive vinyl essentials
Paper and card stock essentials
What Every Cricut Beginner Needs
Most likely, you already have your machine! But just in case you're getting started, I have a couple of machine comparisons to help you out:
Now to the supplies you'll need to use these machines (these all apply to both Explore and Maker). If you're just starting out, here are the things you'll need to get started making stuff with your Cricut:
Cricut Gift Guide: Iron-On Vinyl Essentials
Iron-on vinyl projects are staples for most Cricut crafters. The most obvious example is clothing transfers (like t-shirts, onesies, aprons, etc), but you can put iron-on vinyl (also sometimes called HTV) on so many things: tote bags, wood, cork, coasters, canvas, leather, metal, and more.
Here are a few key posts you'll want to read when you're starting out with iron on vinyl:
Here is what you'll need if you're going to make iron-on vinyl projects:
Cricut Gift Guide: Adhesive Vinyl Essentials
While you need a heating tool to apply iron-on vinyl, adhesive vinyl acts more like a sticker. Adhesive vinyl works best on smooth, non-porous surfaces like glass, plastic, ceramic. Here are some posts to read to get you ready to work with adhesive vinyl:
Here is what you'll need if you're going to make adhesive vinyl projects:
Cricut Gift Guide: Paper & Cardstock Essentials
Paper crafting is where Cricut began! Scrapbookers and cardmakers love the Cricut, but papercrafting has become so much more than that. You can use paper to make giant paper flowers, classroom decorations, holiday decor, and so much more. Paper is forgiving and inexpensive, so it's a great material to start with when you're working with your Cricut.
I hope you found this Cricut gift guide helpful in choosing just the basics you need to get started! You may also want to check out my guide to the Cricut Toolset for in-depth instructions on how to use the tools in this post (and so many others!).
If you have any questions about your new Cricut, feel free to ask them in the comments! I know learning your new Cricut can be both scary and frustrating—but I'm here to help.