Last updated on November 9th, 2018 at 10:18 am
Here are step by step instructions on how to use iron on vinyl (HTV) it to make these adorable pillow cases! Learn tips and tricks for getting your iron on vinyl to adhere using an iron or Cricut EasyPress.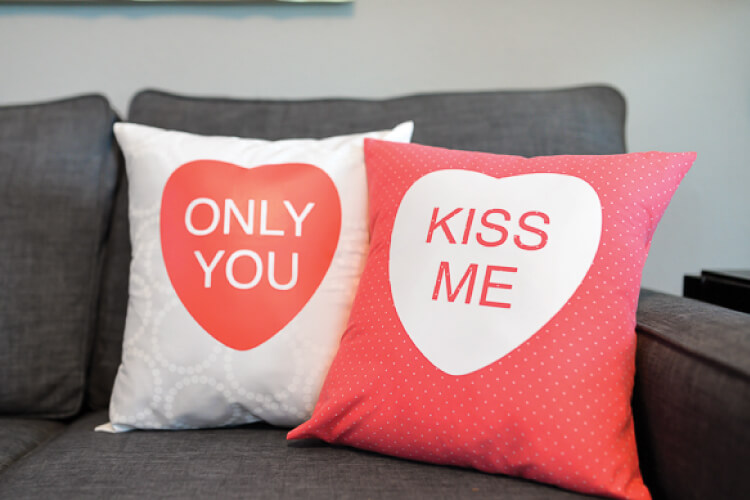 I think it's super helpful to learn the capabilities of your Cricut Explore and Cricut Maker, so you can make the most of your machine. When I first learned about the Cricut, I thought it was solely a scrapbooking tool. It's so much more! I use mine all the time to make all sorts of projects, none of which end up in a scrapbook.
Today I'm going to show how to use Cricut iron on vinyl to turn a simple pillowcase into a Valentine's Day treat—cute conversation hearts!
What is Iron On Vinyl?
There are two main types of Cricut vinyl, adhesive and iron on (sometimes called heat-transfer vinyl or HTV). This post is for regular iron on vinyl, sometimes called Everyday Iron On, Iron On Lite, or EasyWeed. The tips in this post, however, will work for most types of iron on vinyl, like glitter and holographic.
Iron on vinyl is a special type of vinyl material that can be ironed onto fabric and other materials (like wood, paper, or metal!). You can use an iron, the Cricut EasyPress, or a heat press to adhere iron on vinyl, which has a special adhesive on one side that is activated when heat is applied.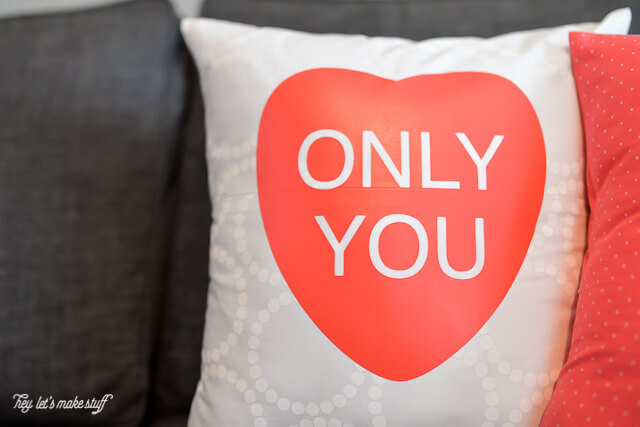 Cricut Iron-On Vinyl Project Supplies
You will also need:

How to Use Cricut Iron On Vinyl
Start by cutting out your hearts on your Cricut Explore. Download the file using the box above, and open the Cricut Design Space. Click Upload Files on the right and select the conversation heart SVG file you downloaded. Click SAVE. You can learn more about uploading SVGs here.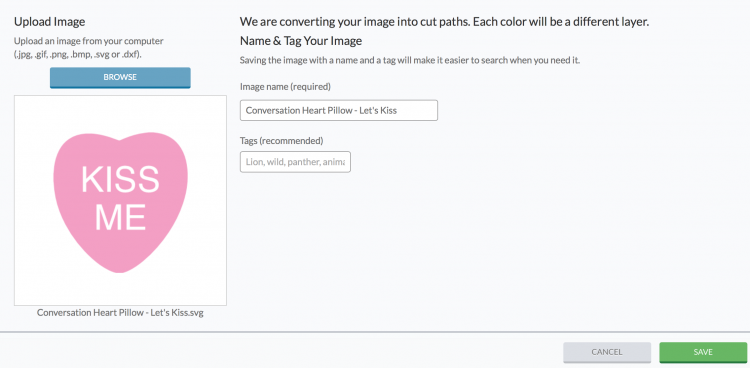 Then click on the file you just uploaded and click INSERT IMAGES.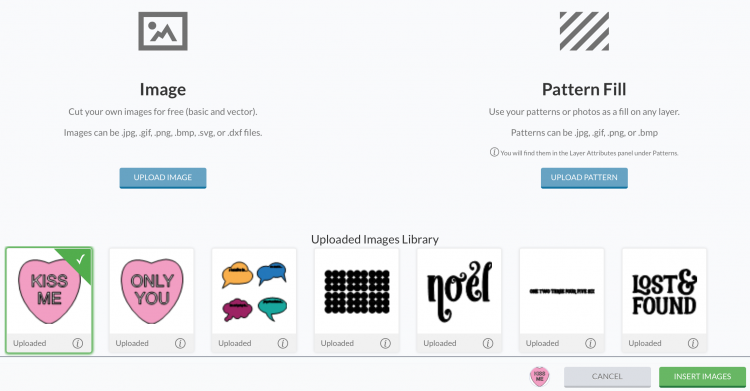 The size of the file is about 10″ wide. I did this just in case you want to make a larger pillow. To resize the heart so it fits better on a 14″ pillowcase, click "edit" and change the height to 8″.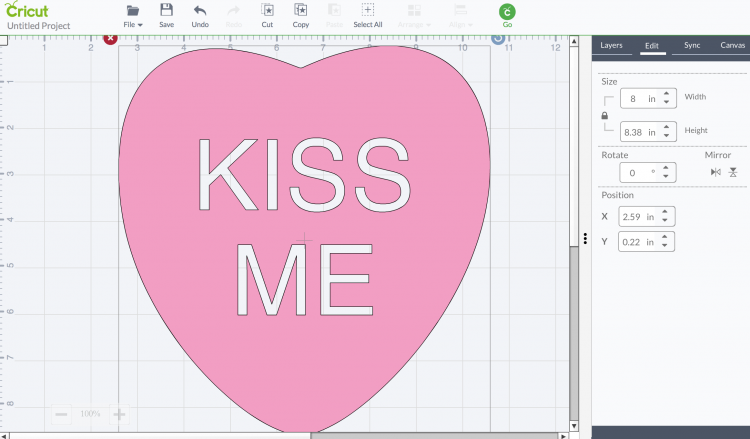 Then click the green Cricut GO at the top of the screen. The preview screen will open. Important: in this screen, click "Mirror Image (for iron-on)" so it flips your image. If you don't do this, your image will be backward when you go to iron it on! Don't ask me how much vinyl I've wasted because I forgot this step.
Then click GO.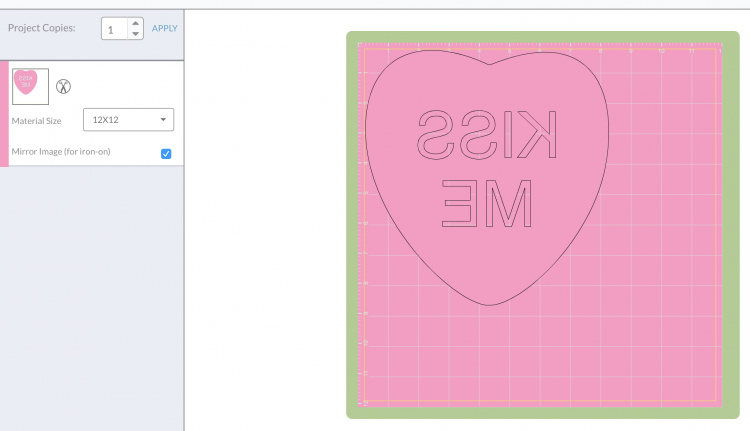 In the next screen, you can set the material you are using. You do this on the actual Cricut Explore machine, using the dial. If you are using a Cricut Maker, you will select iron-on using the menu on-screen.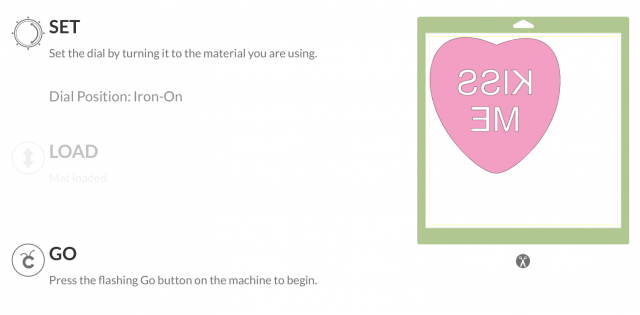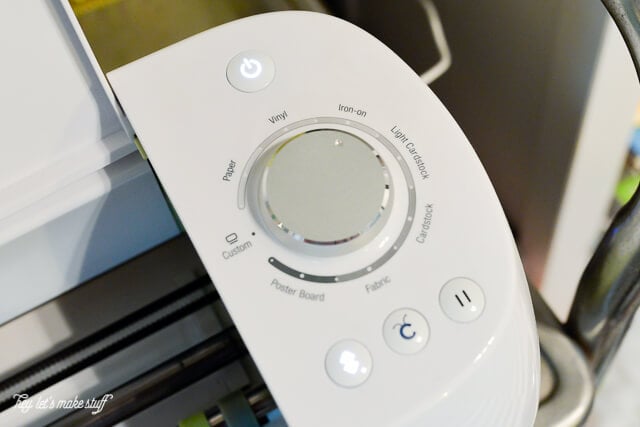 Place your iron on vinyl plastic-side DOWN on your cutting mat. Insert the mat into the Cricut and press the arrow button on your Cricut. It should grip your cutting mat.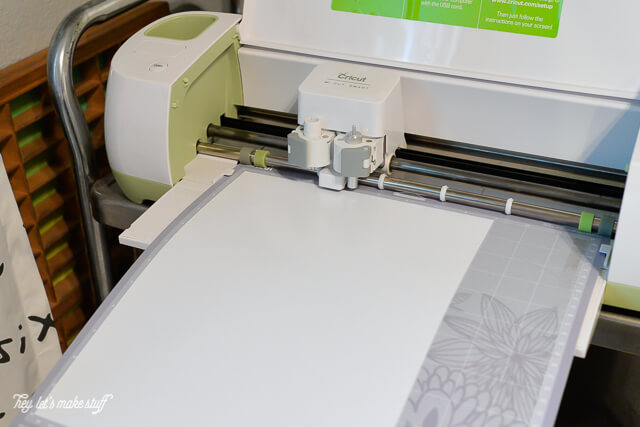 And press the blinking "C" button on your Cricut and it will cut your project for you!
Once it's finished, press the arrow button on your Cricut and it will release your mat.
Now peel off the "negative" vinyl — basically anything that's not part of your design. On the conversation heart, that's the area outside the heart and the letters themselves. I keep it attached to my cutting mat for this — I find it's easier. I also use the weeding tool, which makes it about a million percent faster.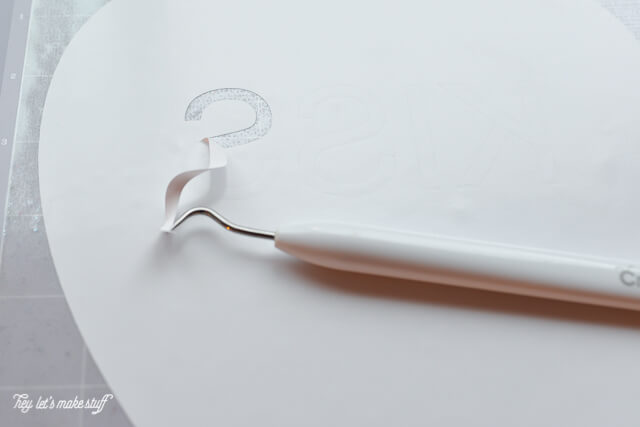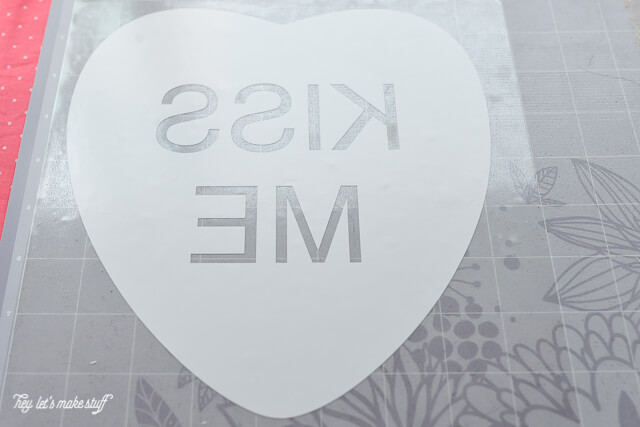 Peel the plastic and vinyl from your cutting mat. When you flip it over, you'll see that it's facing the correct direction. Center the heart on your pillowcase.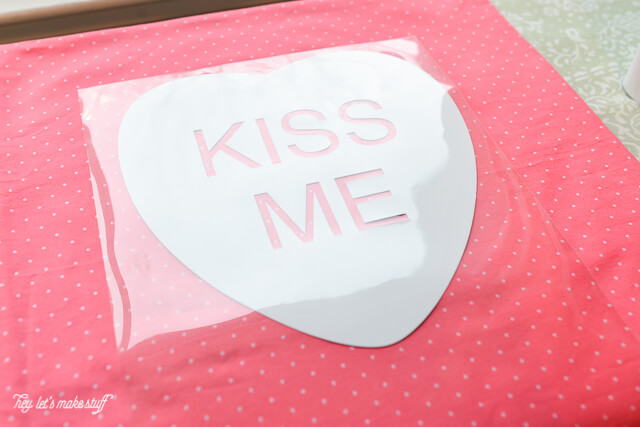 Then grab your Cricut EasyPress or iron. When I first wrote this post, I didn't have a Cricut EasyPress. Now it is, by far, my favorite way to adhere iron-on vinyl. You can learn all about using the EasyPress here. When I say that I love it, I mean I love it. But for this post, here's how to do it with a regular household iron.
The next step differs depending on who you talk to. Some people iron directly on the plastic, but I prefer to use a thin scrap of fabric on top of the plastic. I just don't feel comfortable ironing plastic!
Set your iron to hot, but not steam. Press down the iron, holding firmly for 10 to 15 seconds, and then picking it up and moving it. Do not slide the iron around. This process will all take longer than you'd expect! It takes a lot of heat to get the vinyl to adhere properly.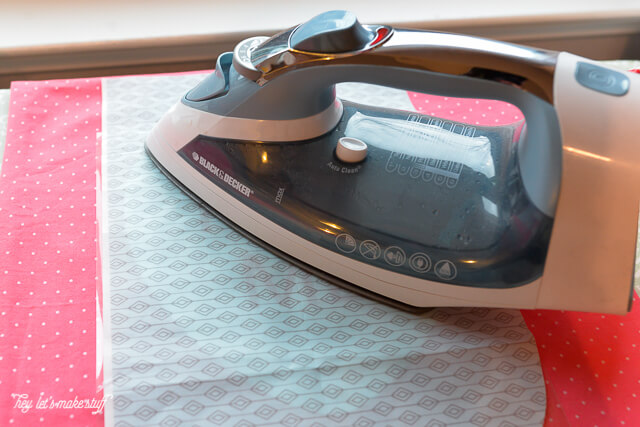 Peel back the plastic over your image. The vinyl should stick. If you find it starts to pull up, put the plastic back down and apply more heat.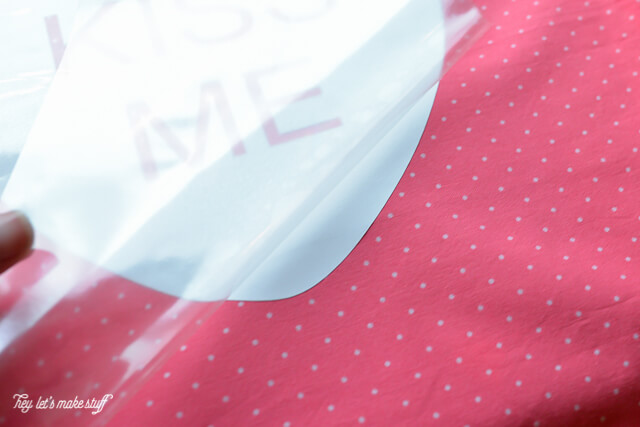 Once done, you can remove the plastic entirely. I often press again using a scrap of fabric between my iron and the vinyl, just for good measure. Allow it all to cool before moving your project so that the vinyl can set properly.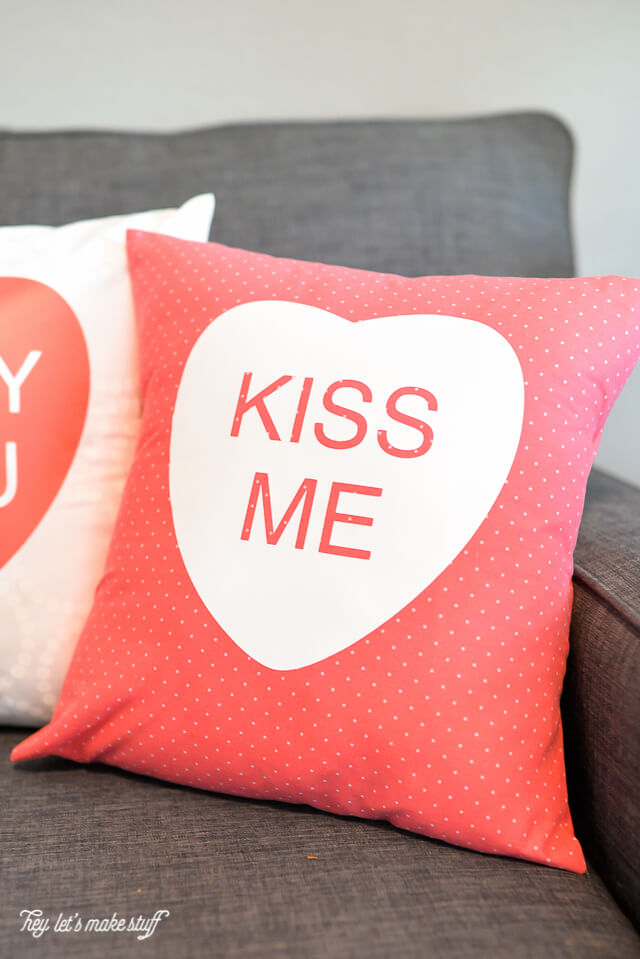 Tada! You've just mastered iron-on vinyl! Go make yourself some pillows, t-shirts, bags, or whatever else your mind can dream up!
Cricut Tips and Tricks: