The tools in the Cricut Tool Set have so much functionality, but what do the tools actually do? I mean, do you REALLY need a dental pick? (Answer: yes you do!)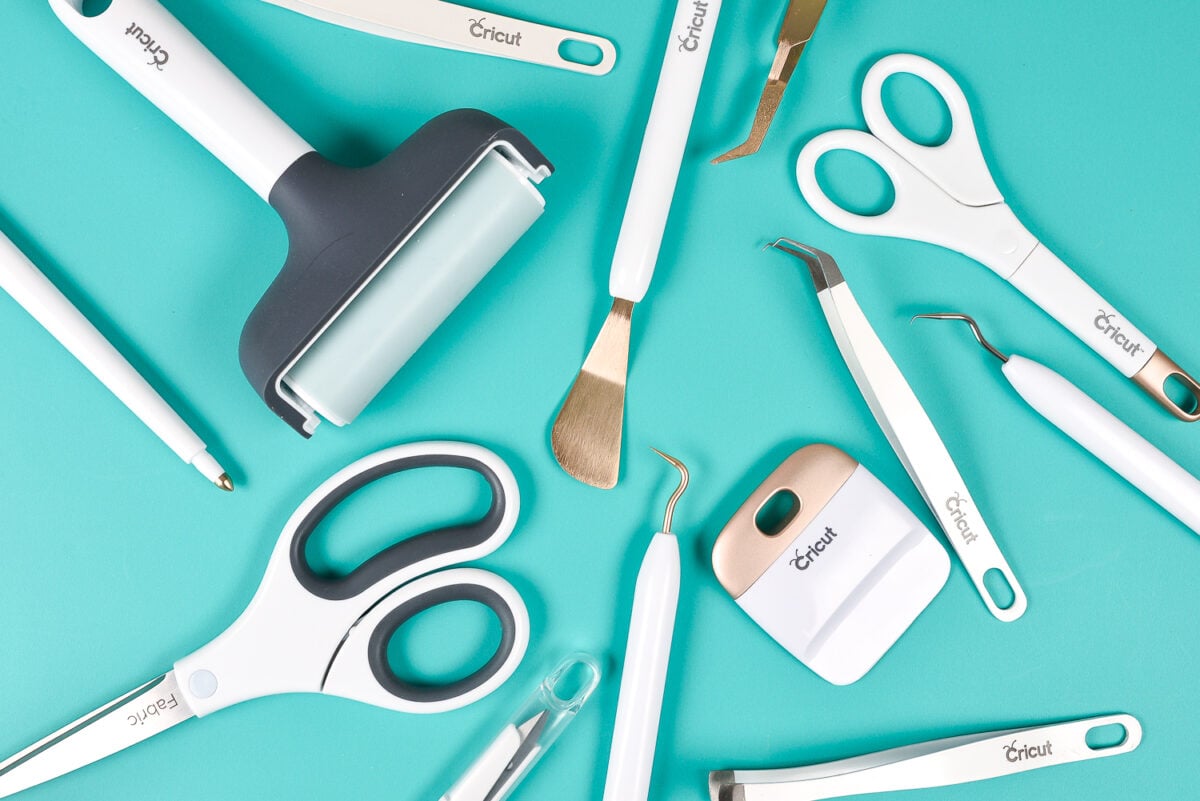 This post was originally published in 2016—Cricut has many more tools now than they did back then! I am updating this post with their new tools and expanding on the old tools in this 2019 update. If you have any questions about these Cricut tools and their uses, please let me know in the comments!
Before we begin, if you are looking for the following tools, check out my post All About the Cricut Hand Tools, and it's accompany post 10 Ways to Use Cricut Hand Tools:
True Control Knife
Rotary Cutter
Metal Cutting Ruler
Acrylic Ruler
Self-Healing Mat
Let's begin!
The Cricut Weeder Tools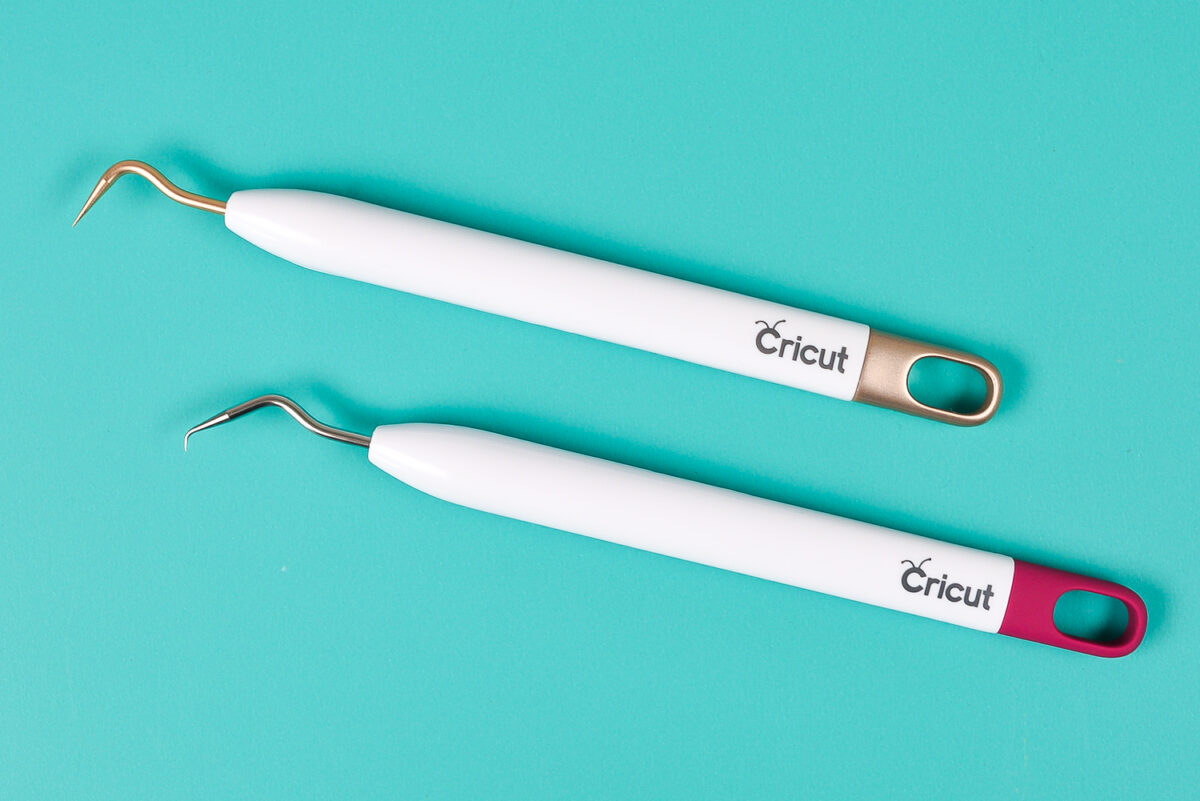 The weeder tools, which both look like a dental pick, are used for removing negative space vinyl from a project. A weeder is a MUST if you're working with vinyl at all—trying to get rid of that excess vinyl is practically impossible without it, especially with materials like the glitter iron-on.
Check out these helpful posts:
Cricut has two weeding tools: the regular weeder and the hooked weeder which is a part of the weeding toolset. I am still partial to the regular one, but lots of people like that hooked weeder—try both and see which works better for you!
I also use my weeder often when I'm using adhesives like glue dots. Instead of picking them up with my fingers, I use the weeder, and it keeps my fingers sticky-free.
And though I'm sure it's not supposed to be used for this, I used my Cricut weeder to clean the inside corners my kitchen cabinets before we painted them. It got all the gunk up like you wouldn't believe. In fact, I bought a second one which I keep in our toolbox in the garage for random jobs like this.
Alternatives: you can use a regular dental pick, a craft knife, or a large pin. I by far prefer a weeding tool over any of those options!
The Cricut Scraper & XL Scraper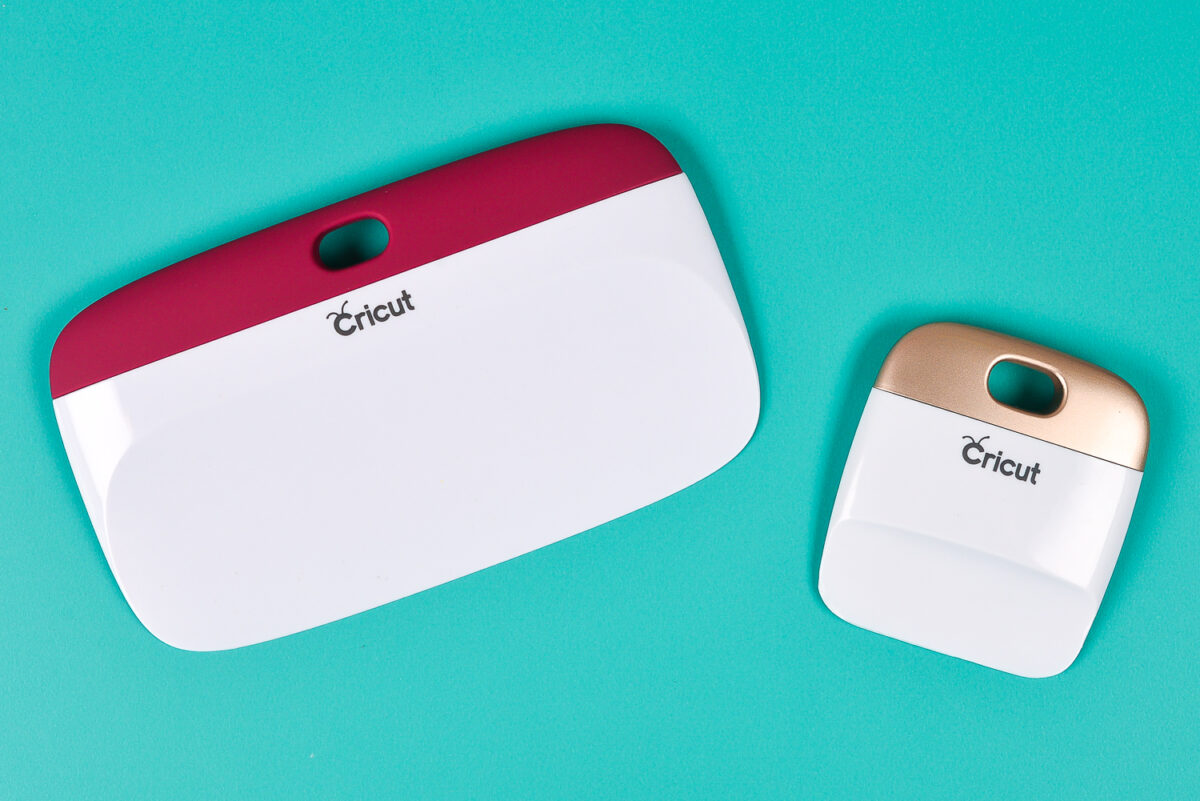 Cricut has two scraper tools—the standard scraper and the XL scraper. I like them both, but I find myself using my XL scraper more often just because it does the same job but faster. The edge of the scraper is very thin, allowing it to get under materials easily.
The scraper tool is a lifesaver when you need to clean your mat after cutting something with a lot of negative bits. I find it works best with paper, but other materials can be scraped up as well. I often put my mat over my thigh/knee and scrape the leftover paper directly into the trash can—I find that the mat is flexible over my knee, and it scrapes well without pulling up any of the adhesive on the mat. I also tend to use this with the Cricut logo facing down—I find that works better for me.
I also use my scraper as a bone folder, when folding on scoring lines to get a crisp edge. In fact, I haven't pulled out my old bone folder in months, since the scraper works just as well. And I use it as a burnishing tool when using Cricut's transfer tape—it works like a dream for that as well. I've even used it to curl ribbon, instead of a scissors blade (I like the smaller scraper for this).
Alternatives: Many people scrape their mats with a credit card or other similar rigid surface. But I really feel like Cricut's scraper and XL scraper do the job SO WELL that I'd recommend picking one up. They're not that expensive and they'll save you a ton of time.
The Cricut Spatula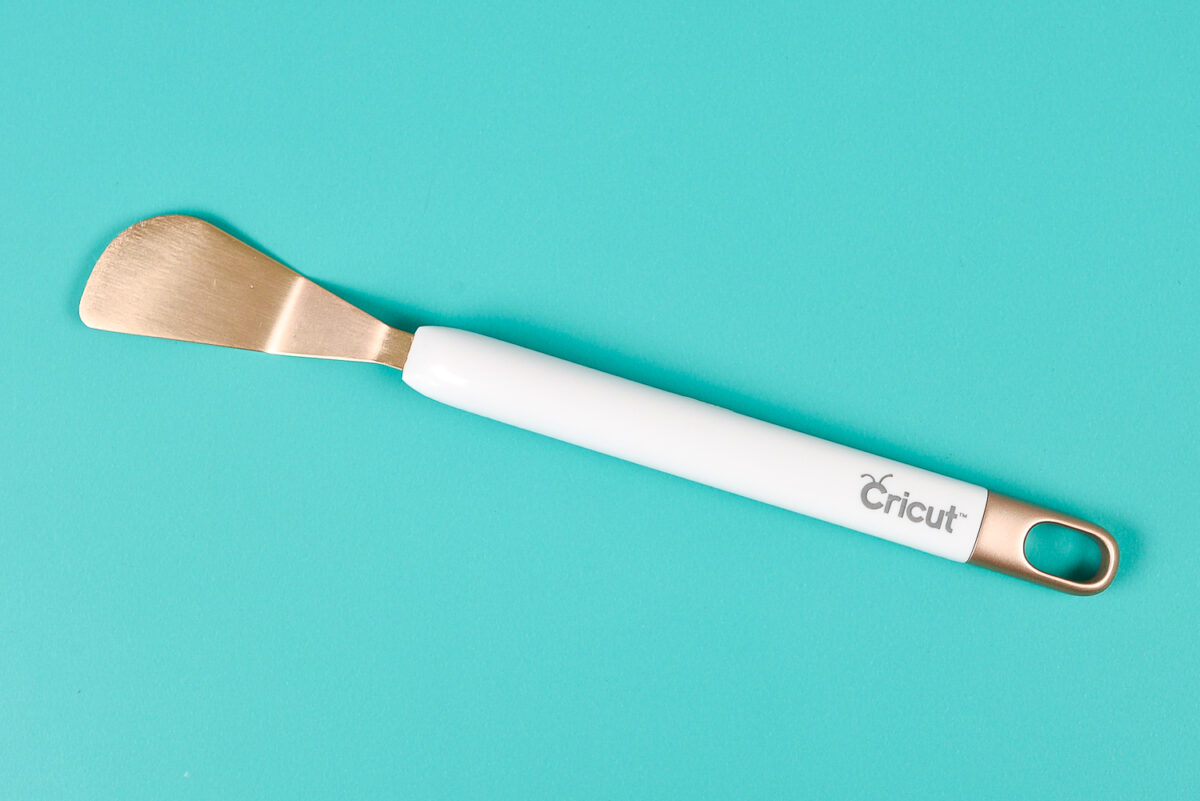 The spatula is a must-have if you work with paper. Pulling paper off a Cricut mat can often mean tears or curls if you're not careful. The spatula is SO thin so it slips easily under paper projects, allowing you to carefully ease them off the mat. I use this one all the time and clean it often, since it can get gunky after a while. Here's are my best tips and tricks for removing materials from your Cricut mat.
Before I had a scraper, I would use this to scrape scraps off my mat, but now I'm definitely #teamscraper.
Alternatives: Some people find that a credit card or even a metal kitchen spatula are good alternatives to the Cricut spatula. Silhouette also has their own spatula that has more of a wedge shape that some users prefer.
The Cricut Tweezers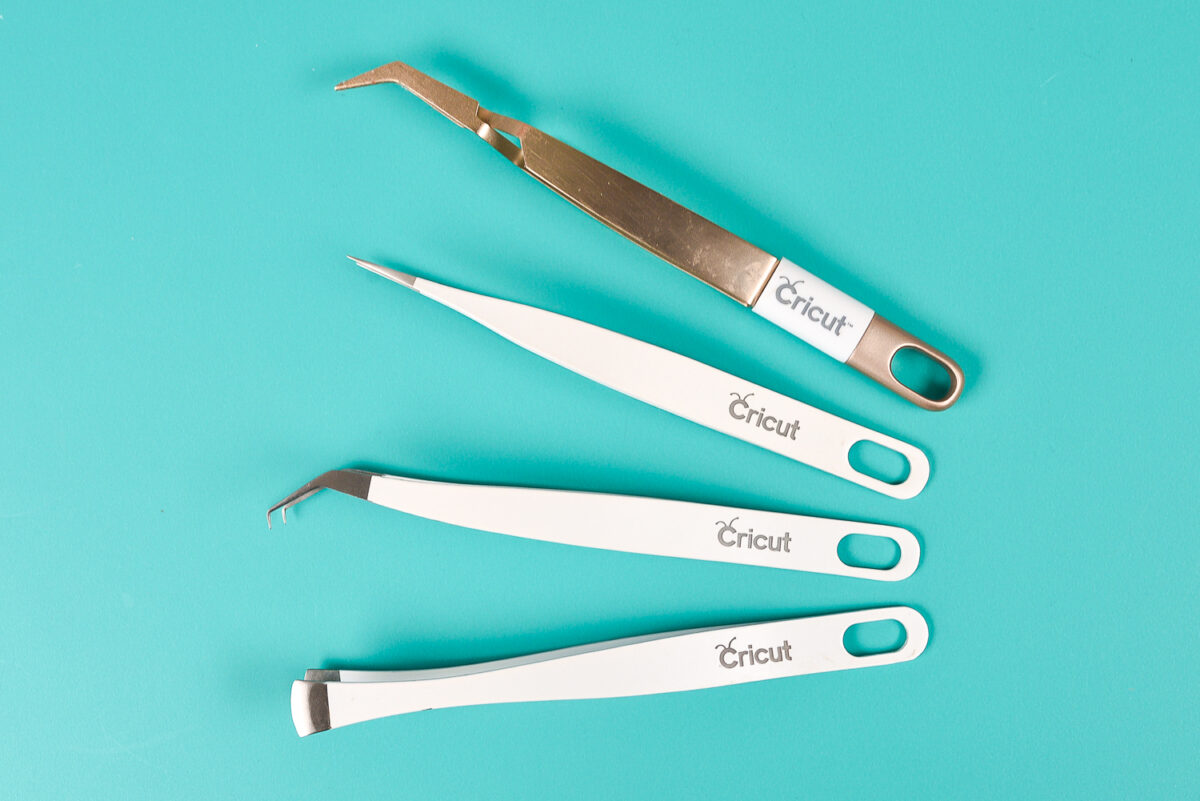 Tweezers are a super popular tool in the Cricut toolbox. There are several styles and angles so you can really pick what works best for you.
I'll be honest and say I don't use tweezers as often as many crafters—I have tendinitis in my hands and the pinching motion of tweezers is difficult for me, even with the reverse tweezers as you'll see below. That being said, here's what you'll find in the tweezer department at Cricut!
Fine Tweezers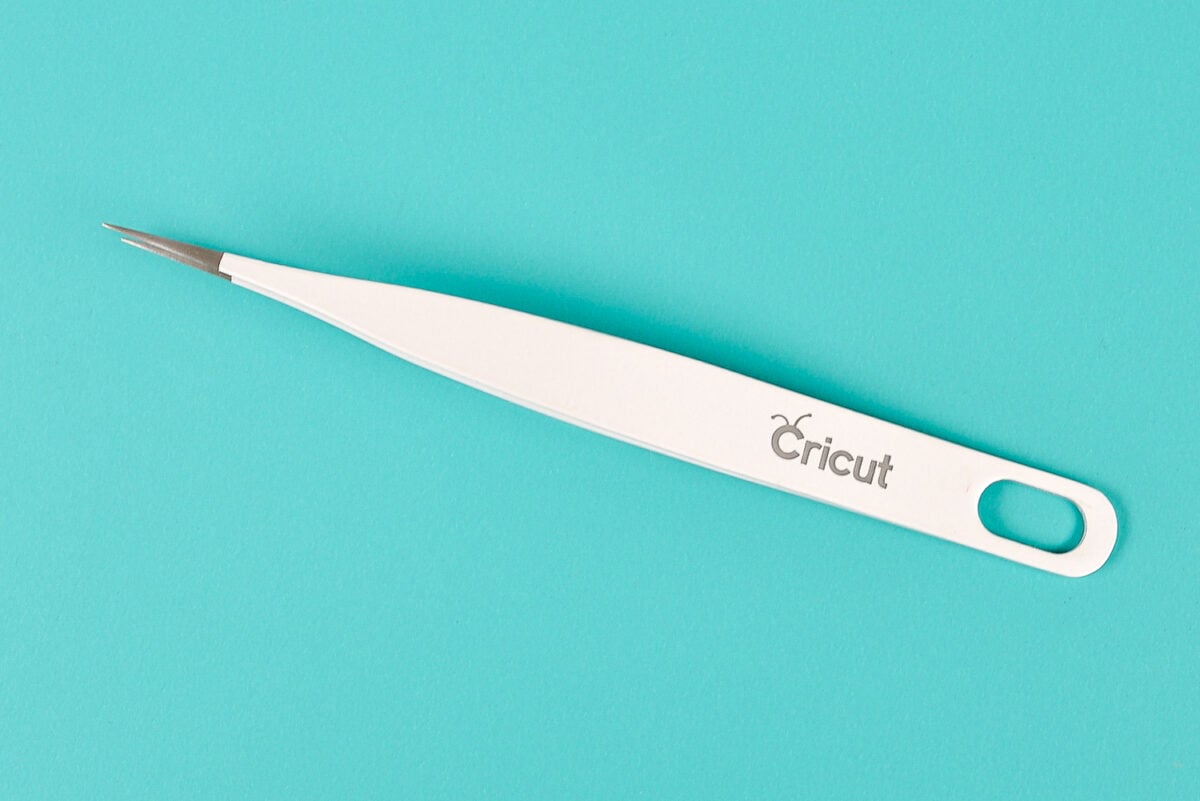 The fine tweezers are my favorite of the bunch. They function similarly to any other pair of tweezers you might own and are great for picking up small pieces to work with.
Reverse Tweezers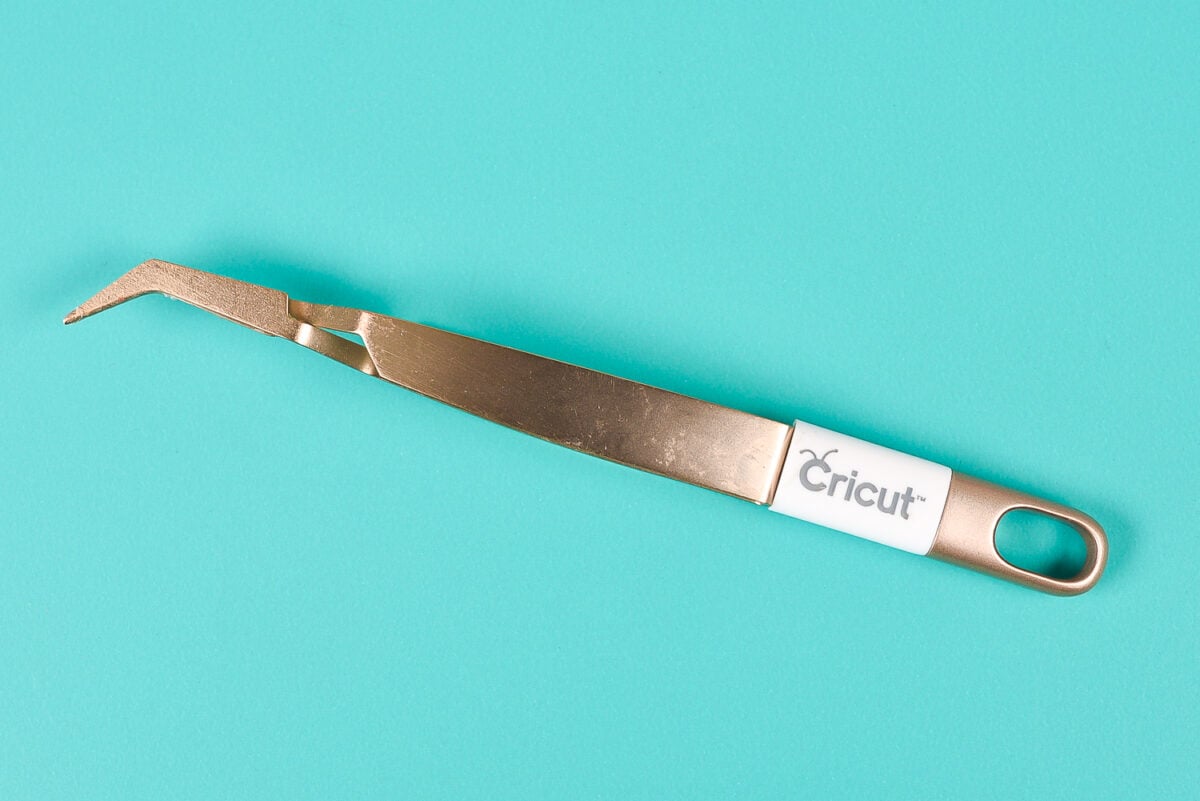 If you are doing projects with a lot of embellishments or small pieces, the reverse tweezers are a good option. At first, I found them to be a little awkward—they are backward from how normal tweezers work. You squeeze them and they open, instead of squeezing them shut. This is actually brilliant. It means you can pick something up and then let go of the pressure and the tweezers hold on tight to whatever it is. It'll save you from dropping small pieces time and time again and your hand doesn't cramp up as fast because you're not squeezing tight the whole time.
Hook Tweezers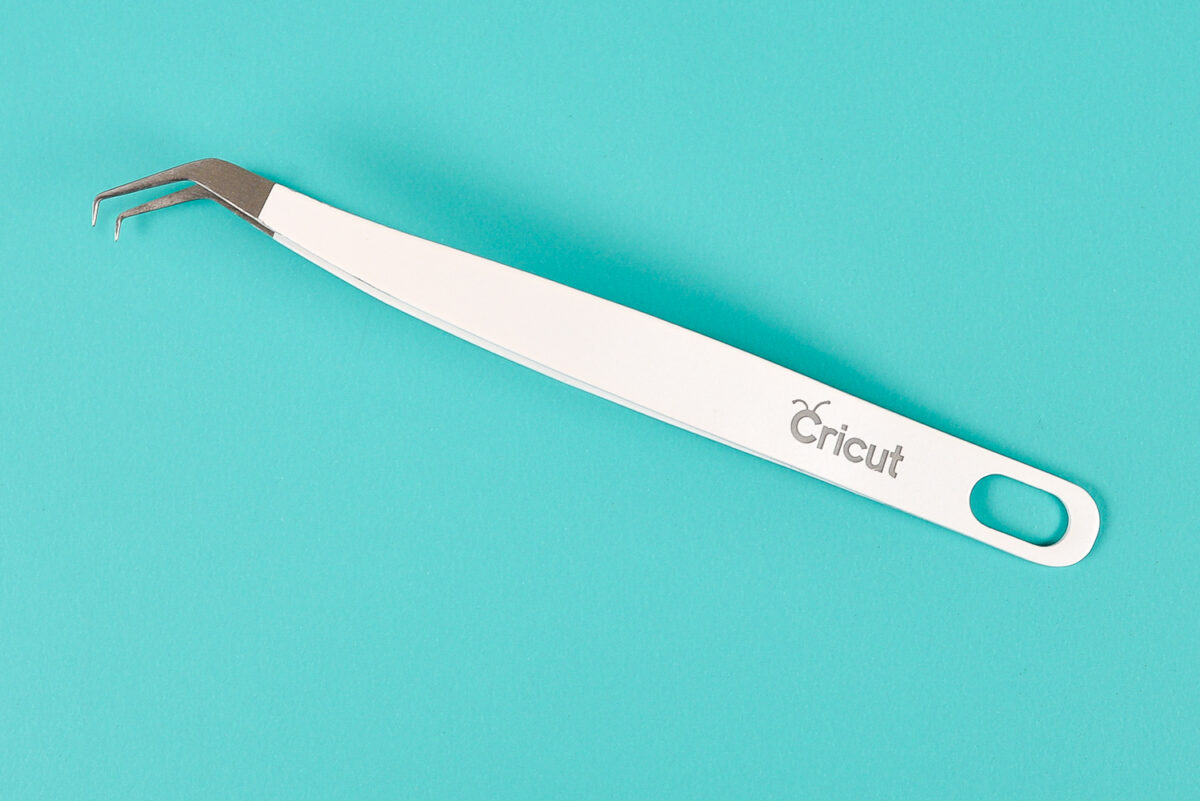 The hook tweezers are similar to the fine tweezers, but they have a tiny hook on the end. You might think this makes them better at grabbing smaller pieces, but it actually makes them better at grabbing larger pieces because there is more area of your tweezers on your piece.
Broad Tip Tweezers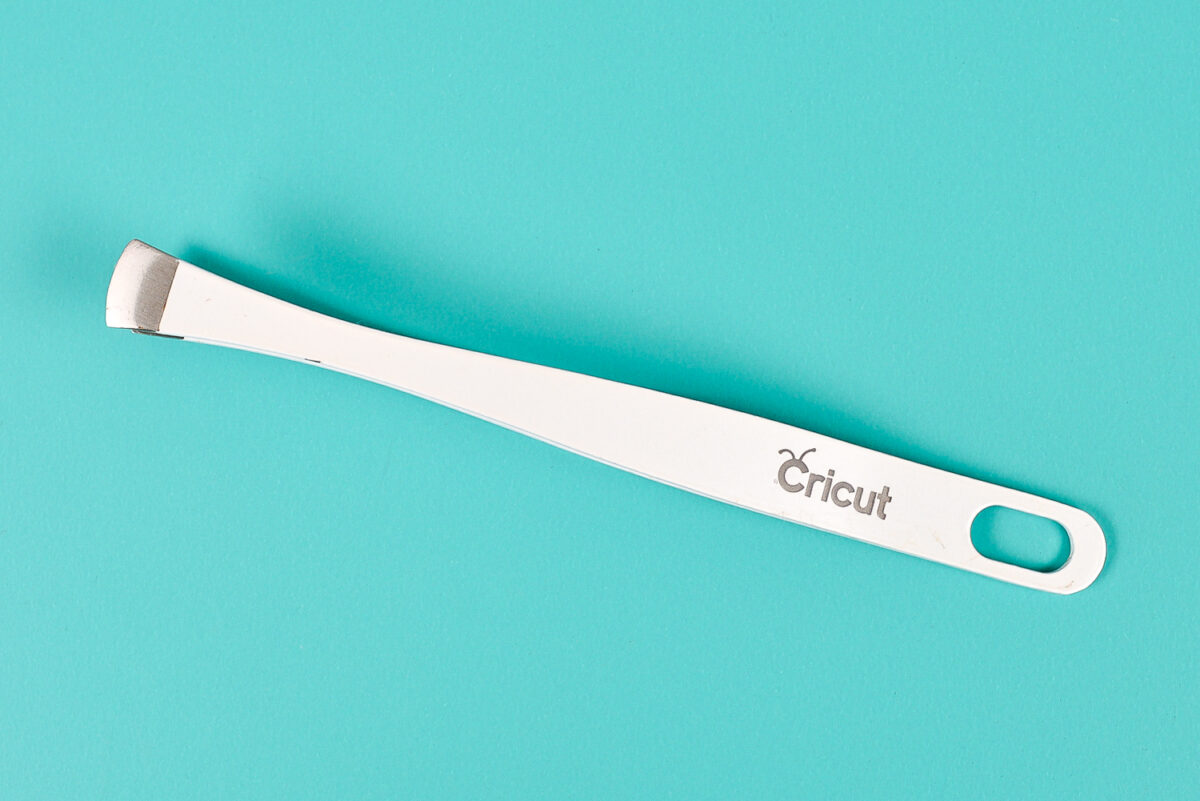 The broad tip tweezers are really great for picking up cut fabric pieces off your FabricGrip mat. The wider surface area helps keep delicate threads from coming apart and they also keep you from touching your mat, since the oils in your hands can break down the adhesives. They aren't necessary for day-to-day Cricut crafting, but if you do a lot of fabric cutting they come in handy. Learn more about cutting fabric with your Cricut Maker.
Alternatives: Honestly, any old tweezers will probably do for most crafting, unless you're looking for the functionality of the reverse tweezers or broad tip tweezers.
The Cricut Scissors, Shears, & Snips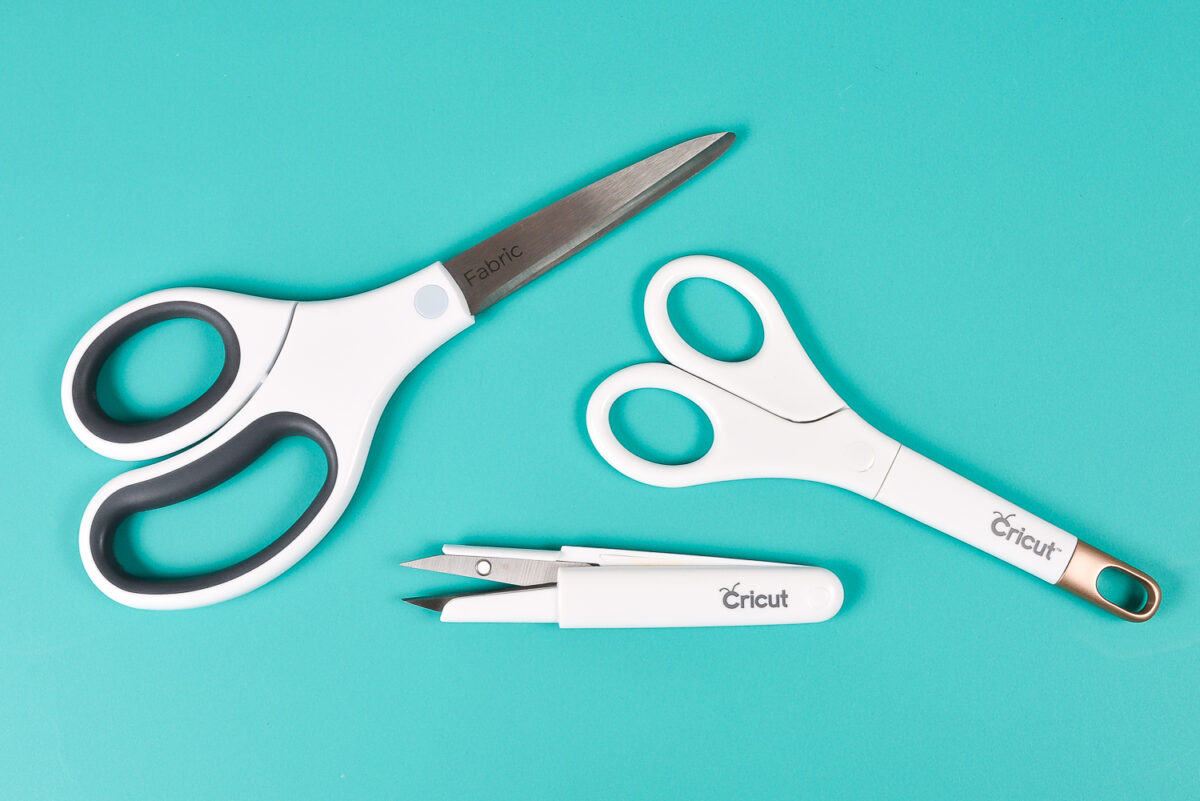 Cricut makes several pairs of branded scissors, shears and snips. Scissors are definitely a personal preference—you do not need Cricut branded scissors to do any of your Cricut crafting.
Do you know the difference between scissors and shears? Scissors have symmetrical, equally sized finger holes and are generally under 6″ in blade length, while shears have one smaller finger hole and one larger finger hole. So technically Cricut sells both scissors and shears!
Basic Scissors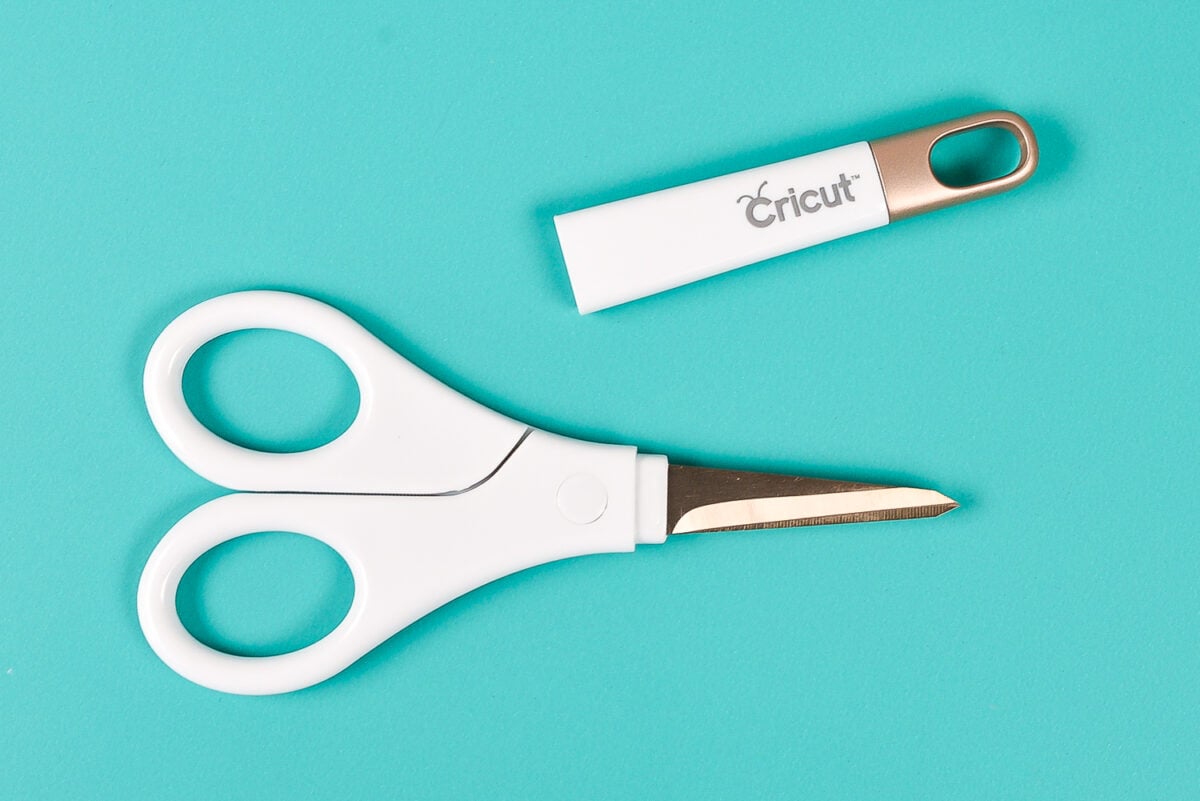 Cricut has a small pair of basic scissors that come with the Basic Toolset and the Essential Toolset. It's nice that these toolsets come with a pair of scissors but, honestly, I never use them. They are quite small and uncomfortable to use. I almost always default to a different pair of scissors.
5″ Fabric Scissors
With the release of the Maker, Cricut added fabric cutting tools to their repertoire. Their small 5″ fabric scissors are similar to the basic scissors. They are ultra-sharp for cutting through thick materials. I don't actually have a pair, but they are quite small—I'd much rather work with a larger pair of scissors.
The 5″ fabric scissors are sold as a standalone product, and as a part of the Scissor Combo Pack.
8″ Fabric Shears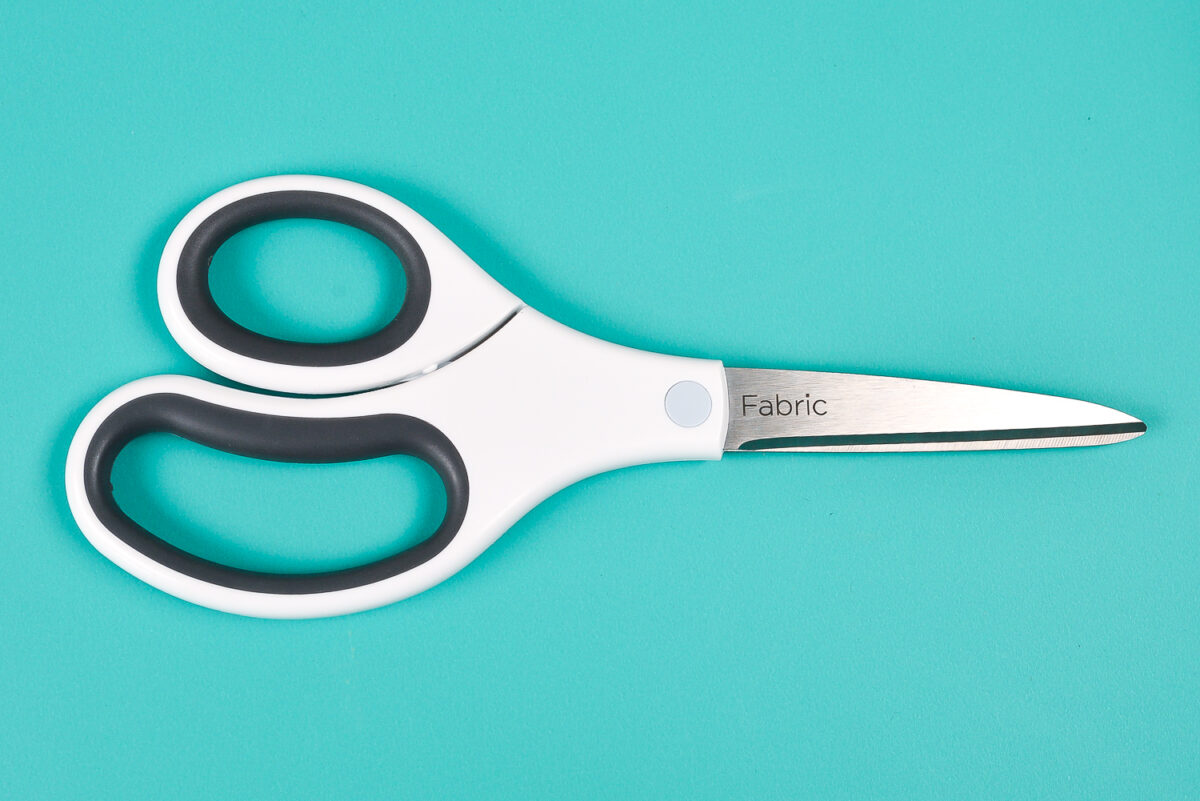 The 8″ fabric shears are my favorite of Cricut's scissor family. They are large and pretty comfortable to use. I like that the word "fabric" is engraved on the blade so that family members know to stay far away from paper with them.
The 8″ fabric shears are sold as a standalone product, and as a part of the Scissor Combo Pack and Sewing Kit.
Thread Snips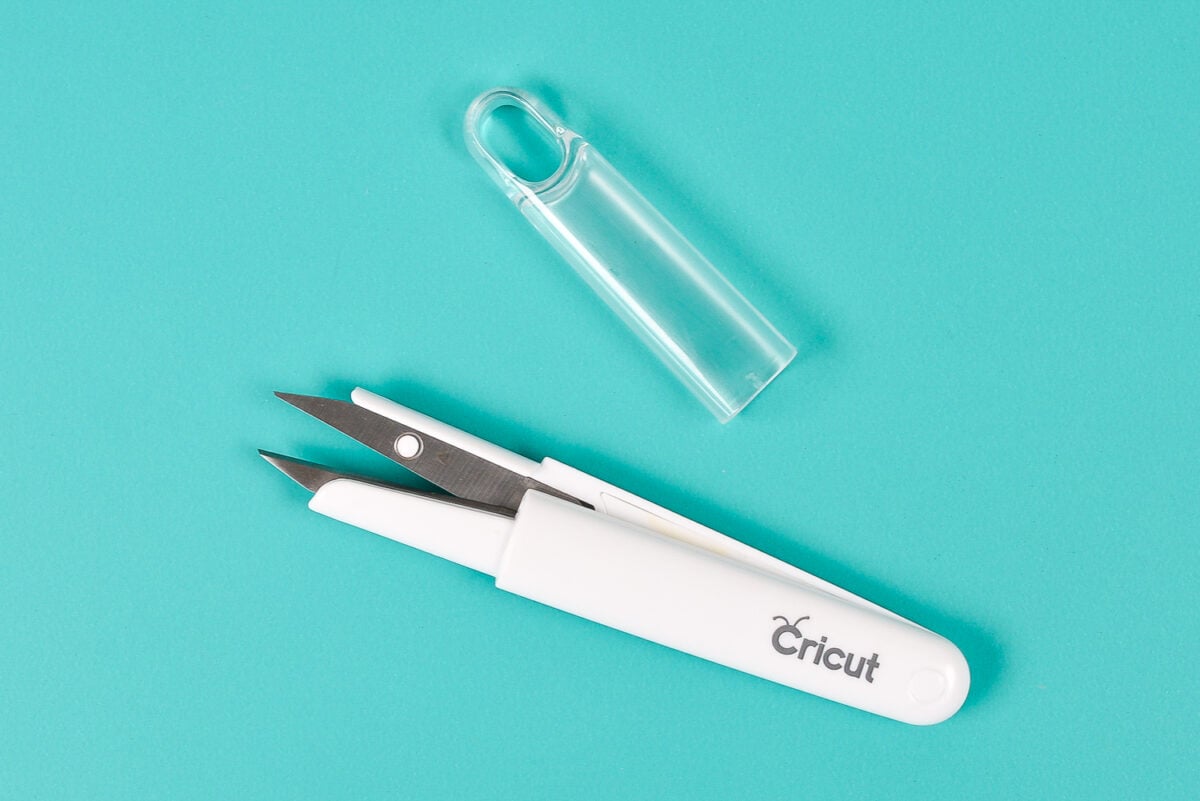 Cricut also has a pair of thread snips. They're basically like any other pair of thread snips, but I do like them more than any of my other snips so they're usually the first ones I grab when sewing.
The snips are sold as a standalone product, and as a part of the Sewing Kit.
The Cricut Scoring Tool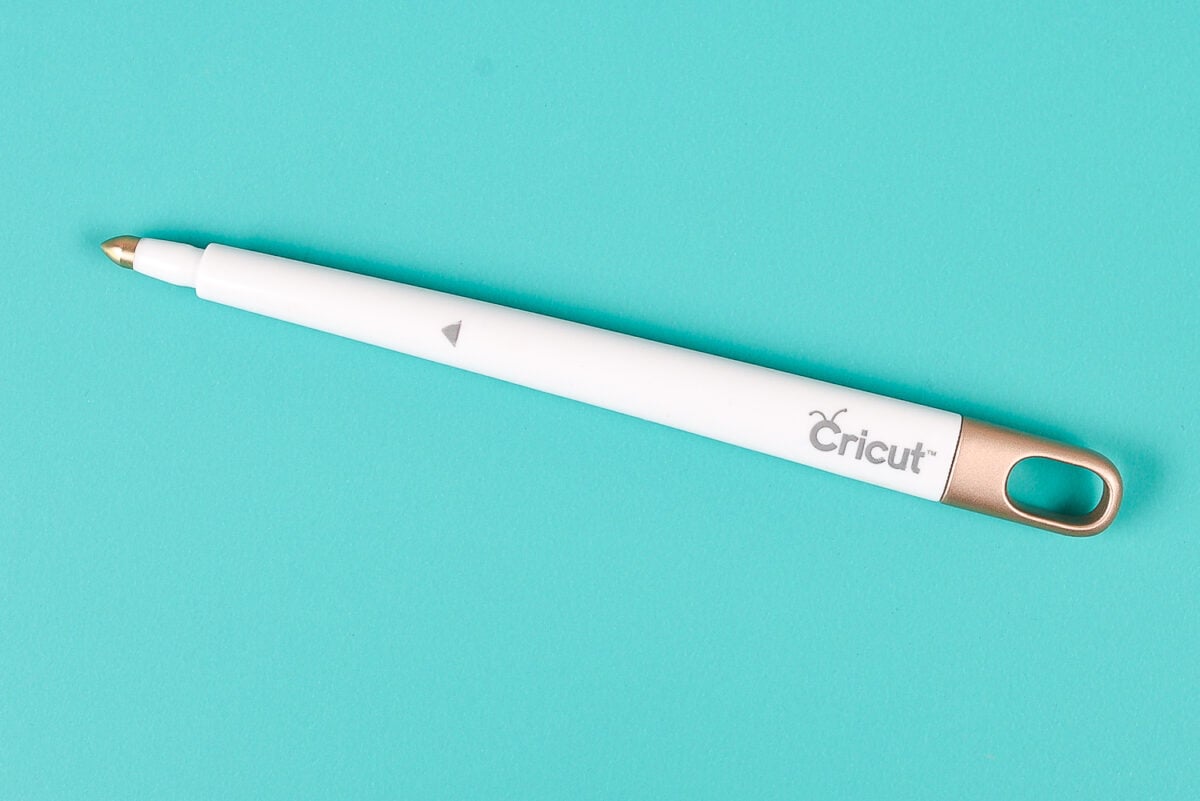 If you want to do any projects that involve score lines (like folding cards in half or making 3D projects like boxes), the scoring tool will make it happen. You can insert it into the secondary tool holder in the Cricut Explore or Maker itself and the Cricut will use it to make score lines wherever they are present in the Design Space file.
If you have a Cricut Maker, however, I vastly prefer the Scoring Wheel—see why here.
I have also used this as a scoring tool not with the Cricut — I needed to fold some paper in half for a non-Cricut project and used the scoring tool plus my acrylic ruler and it worked brilliantly.
Brayer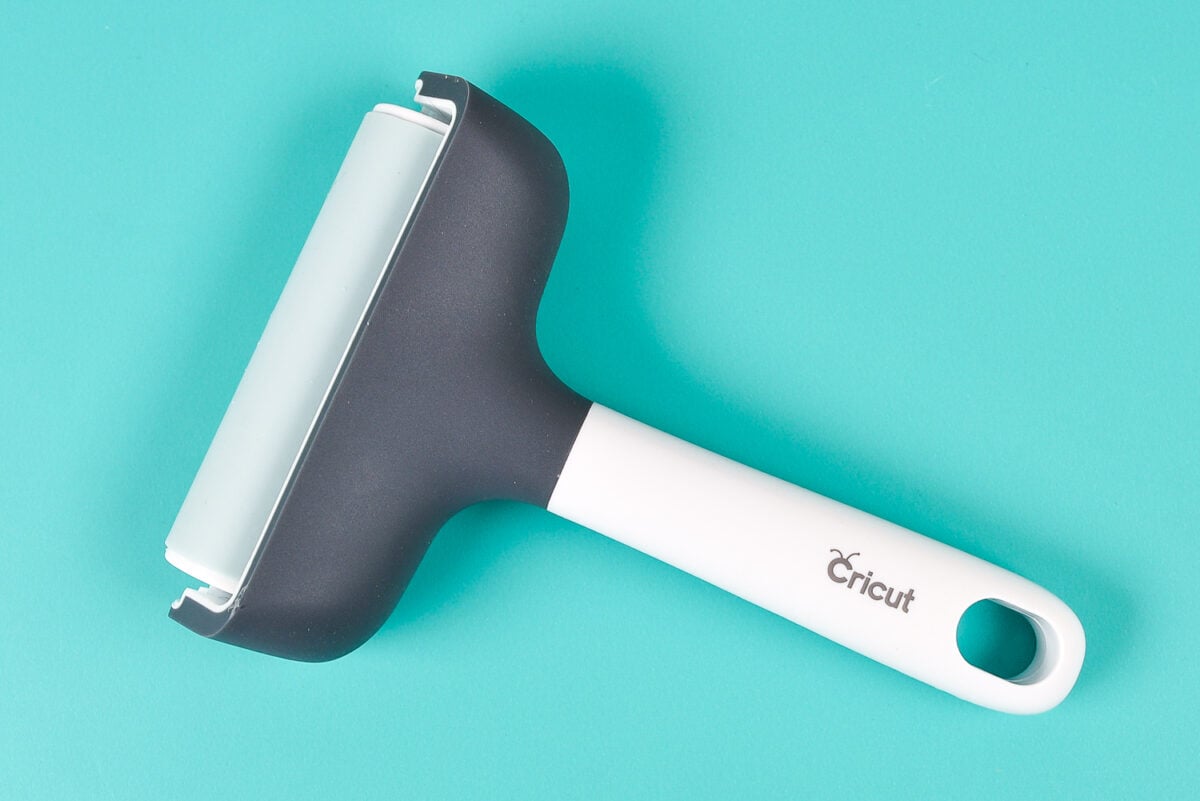 Cricut's brayer is one of their newer products that I really like and use often. A brayer is basically a small hand roller. It's not necessary but I've found it more useful than I ever expected.
Traditionally brayers are used in printmaking and stamping, but for the most part, Cricut's brayer is used for getting good adhesion between your material and your mat and for eliminating wrinkles and bubbles in materials.
If your mat is coming toward the end of its life, place your material down and run the brayer over it. This will help it stick more firmly and evenly to your mat!
It's also vital for getting good adhesion for your thicker projects you want to cut with your Knife Blade. And it's perfect for adhering fabric to your FabricGrip mat because it keeps your oily fingers away from the adhesive on the mat.
I really like the quality of Cricut's brayer. The rolling is very smooth and the large handle makes it comfortable to use. I've used other brayers in the past and the rollers were loose and jangly and they weren't designed in a way that made them comfortable to use. All of those brayers have been replaced by my Cricut brayer in my craft room!
The brayer is sold as a standalone product and as part of the Applicator & Remover Set.
The Cricut Trimmer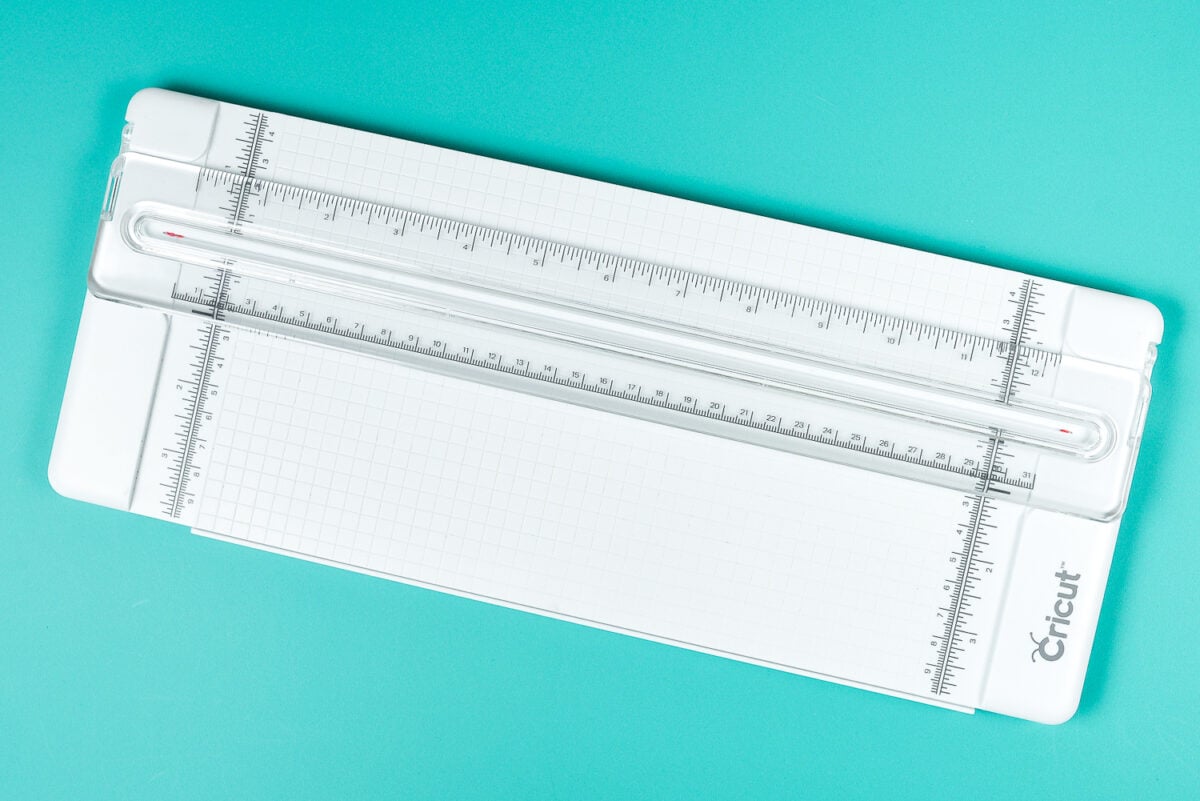 Cricut also has a trimmer in the Essential Toolset, which cuts materials quickly into the size you need. I used to use mine all the time, but now I more often use my acrylic ruler, rotary cutter, and self healing mat. It's just easier for me since I have those tools out all the time.
---
Hope you found this list helpful! Do you use your Cricut tools in an innovative ways?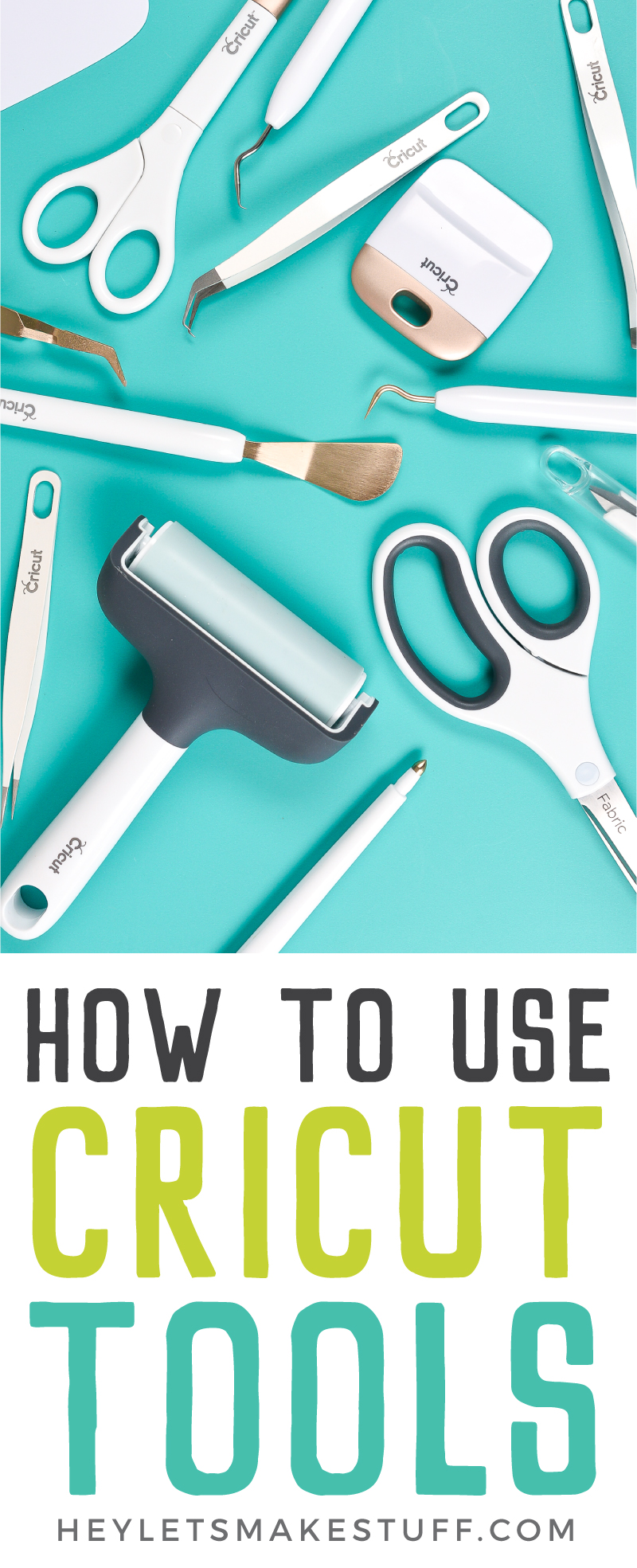 Buy Cricut Tools