Frustrated weeding adhesive vinyl for projects made using your Cricut or other cutting machine? Here are tips and tricks to make weeding vinyl easier!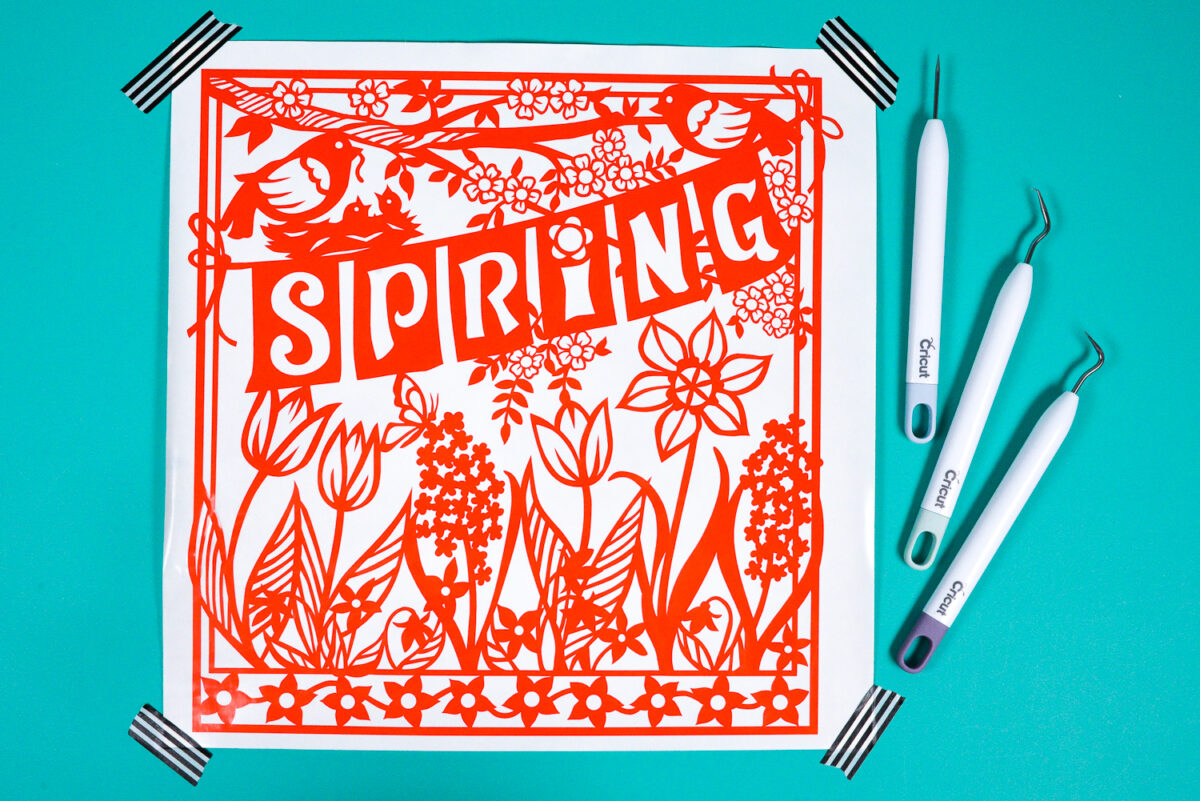 How to Weed Adhesive Vinyl
Weeding vinyl is the process of removing the excess material that you do not want on your project. I generally find it easier weeding adhesive vinyl than weeding iron-on vinyl, but you still need to be careful and go slowly.
[adthrive-in-post-video-player video-id="4Zv0ymXX" upload-date="2022-05-29T19:48:00.000Z" name="Adhesive Vinyl Projects to Make with a Cricut" description="Make all sorts of amazing adhesive vinyl projects using your Cricut, including tumblers, signs, mugs, ornaments, and more. " player-type="default" override-embed="default"]
I cut this project on my Cricut Explore. If you're looking to find more in-depth learning about your Cricut and Cricut Design Space, check out my Learn Your Cricut ebooks!
Let's weed this spring project!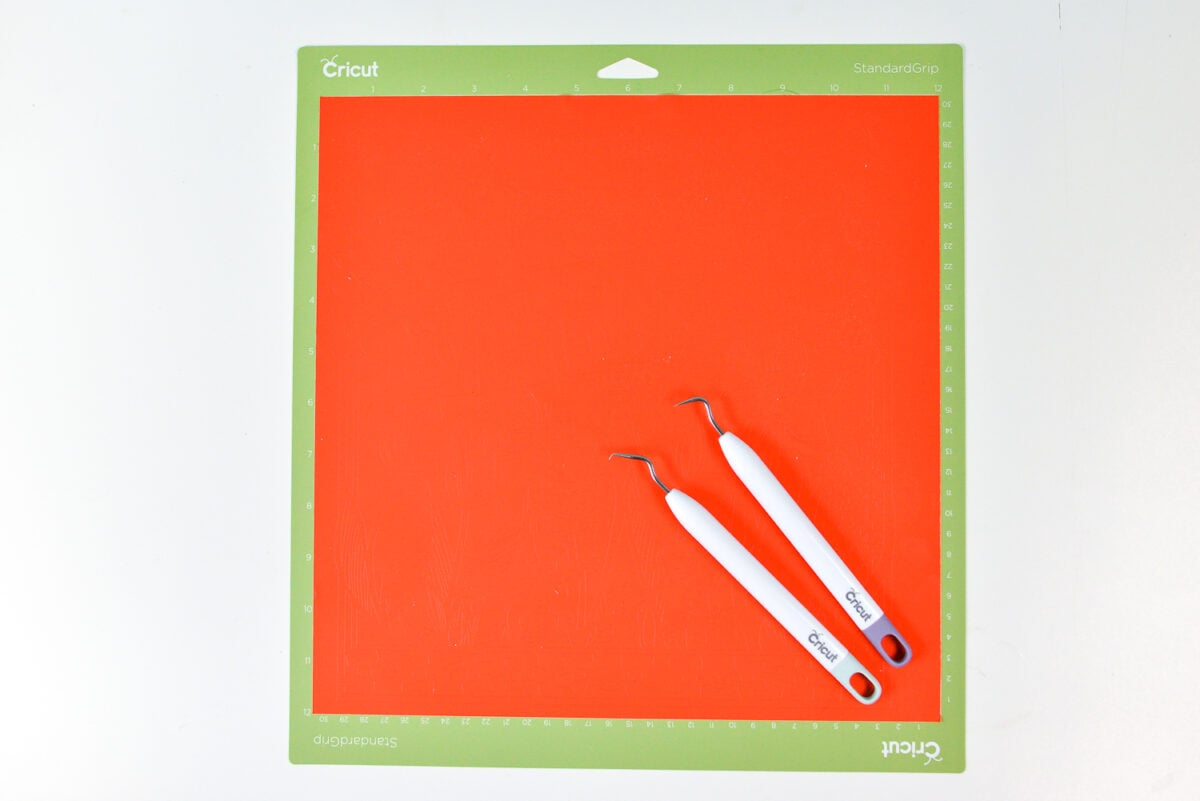 Clearly if I put this on my base material as-is, I'd just have a big rectangle on my project, which isn't what I want at all. Let's get rid of the negative space. You will use a special tool called a weeder to remove the excess vinyl. It sounds simple, but the more complex your design, the more care you need to take while weeding.
How to Weed Adhesive Vinyl
Cut Off Excess Vinyl
A lot of times, the piece of vinyl you use will be a lot larger than your actual cut. I like to use my rotary cutter and quilting ruler to cut a straight line across the bottom and side—this gives me a nice straight edge for my next project! You can also trim with scissors or a craft knife.
Find a Hook That Works For You
There are quite a few weeding hooks on the market. Cricut has a whole set of different weeding tools that include several hooks. After years of using the basic Cricut weeding hook, that's definitely my favorite. But there are other brands with different shapes—find one that works for you and stick with it. The more you use your hook, the more it will feel like an extension of your hand when you weed. Simply dig the point of the hook into the piece that you want to remove and lift it away.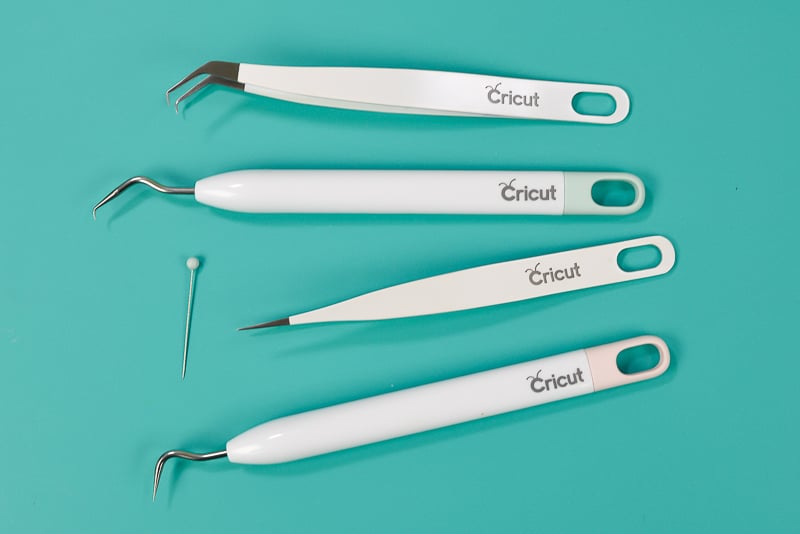 Use Other Tools
99% of the time, I use my weeding hook. I have just found it's the tool that works best for me. There are other tools, however, that you might want to have in your weeding arsenal—a good pair of tweezers, a straight pin or needle (for pulling up the tiniest pieces), and a craft knife.
Print Out Your Design
If you have a particularly intricate design, you may want to actually print a copy of what you're weeding. That way, you can see exactly what needs to be removed and what is actually part of the design. This was a fairly easy project so I didn't print it out, but it does help with complex images.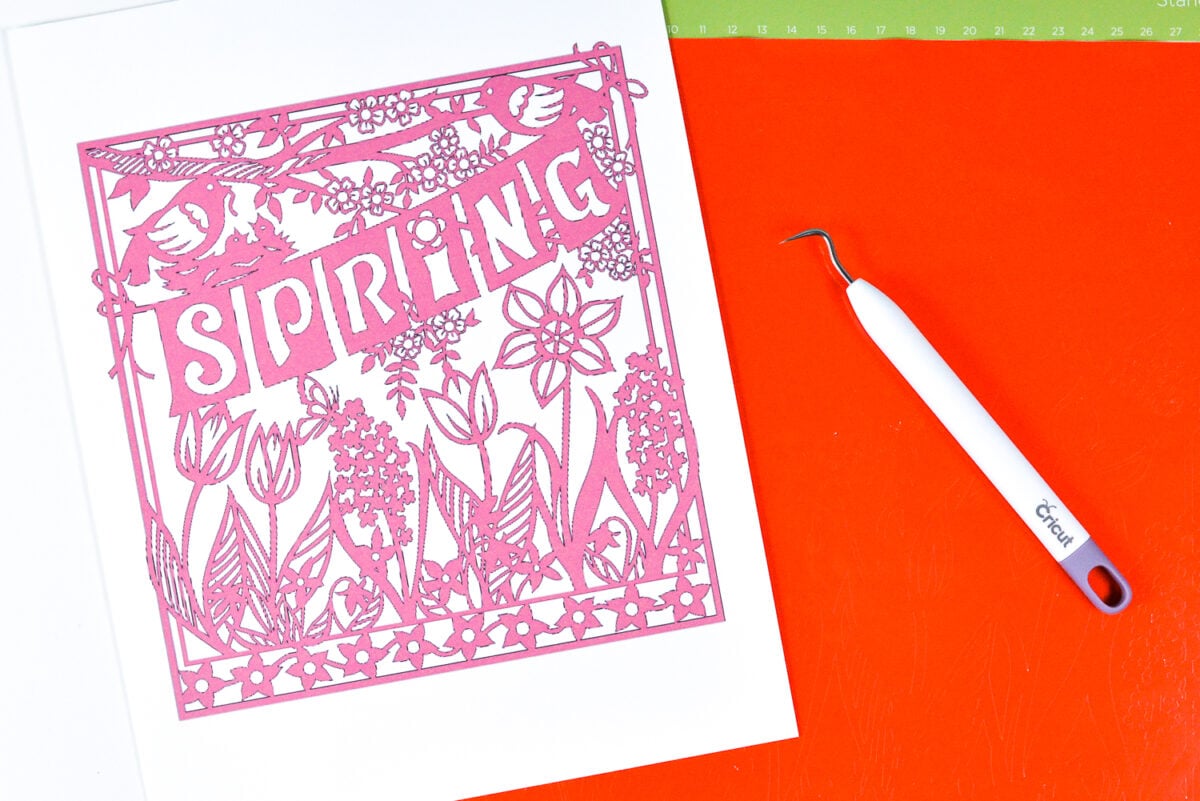 To print a Design Space image like this one, go to the menu dropdown in the upper left corner and click Settings. From there, hide your grid. Then take a screenshot of your grid and print that. It's not the prettiest print, but it works!
Keep the Material On Your Mat
I find it easiest to weed with my backing material still stuck to my Cricut mat. This keeps my project steady and helps hold down my backing material as I weed the vinyl.
Then again, you can always…
Use the Cricut BrightPad or Another Light Box
If you're having trouble seeing your weeding lines, give the Cricut BrightPad or another light box a shot. The light shines through the cuts to make them easier to see and weed. I don't use mine often since I prefer the mat method above, but if I'm struggling to see my cut lines, I will break mine out—it really does make things a lot easier!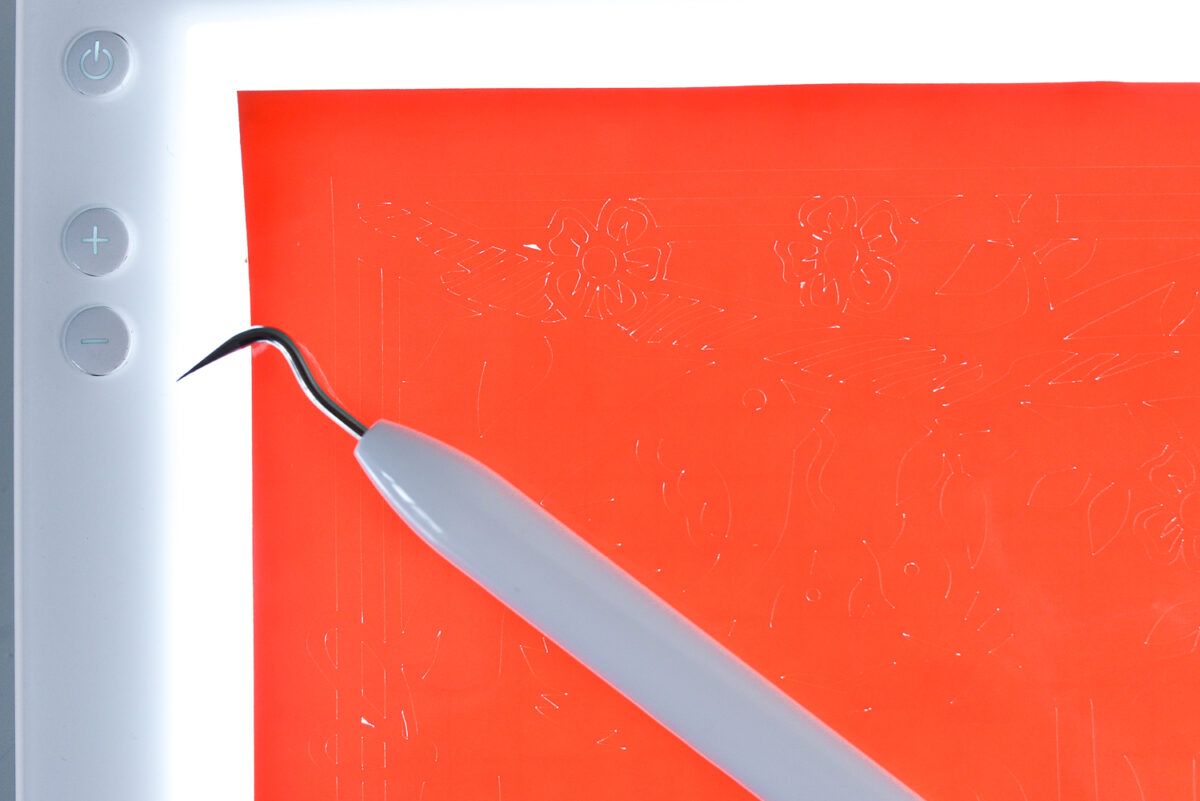 Use a Good Light
Speaking of lighting, find a good, bright light to weed under. I actually use my studio photography lights because they are quite bright, but others swear but the Ottlite and other similar task-oriented lights.
Start in the Upper Left
That…if you are right-handed. If you are left-handed, start in the upper right. I find that by starting in the upper left, I can weed down and across. If I start in the lower right, for instance, and weed up and across, you risk moving small pieces that you've already weeded.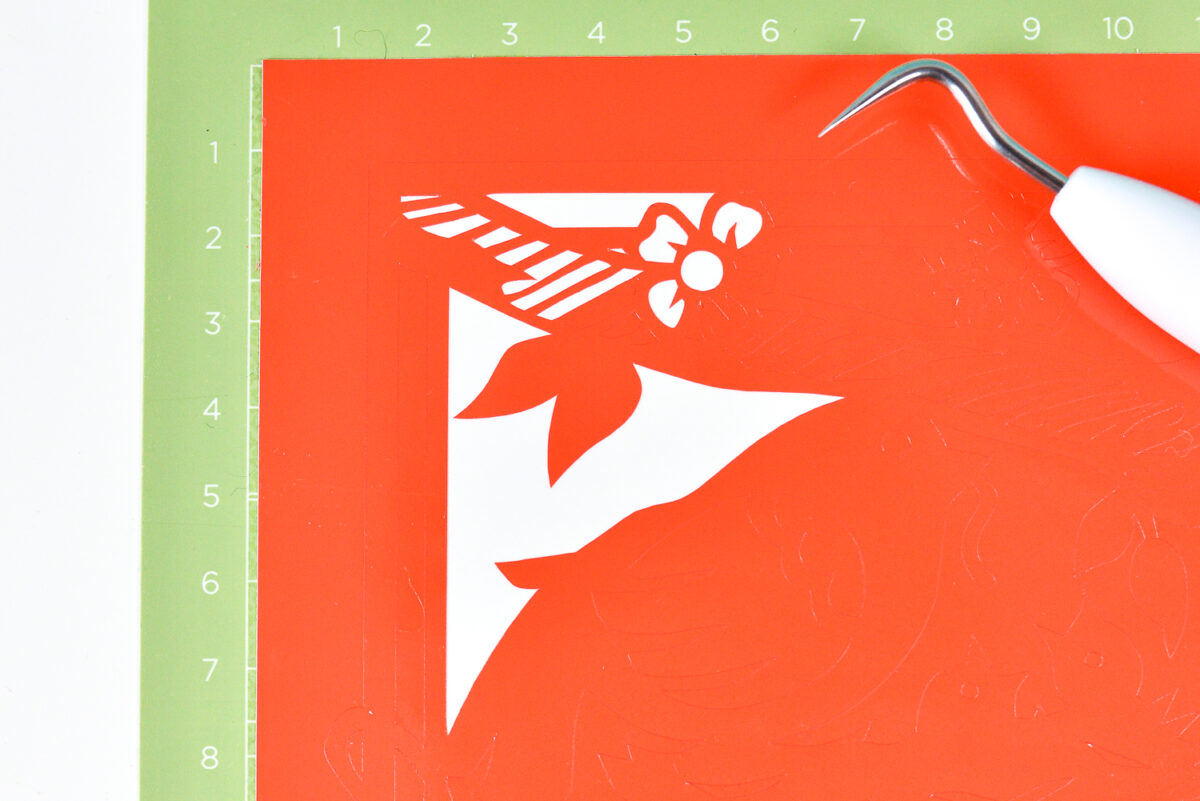 If you've weeded off quite a large chunk, just chop that weeded vinyl off with a pair of scissors—this helps keep it from getting in the way as you weed the rest of your project.
Use a Piece of Adhesive Vinyl for Scraps
I will often take a piece of adhesive vinyl or double sided tape and place it sticky-side up on or next to my Cricut mat. Then I can use it to collect the small weeded scrap pieces of my project, straight off my weeder—it's pretty handy!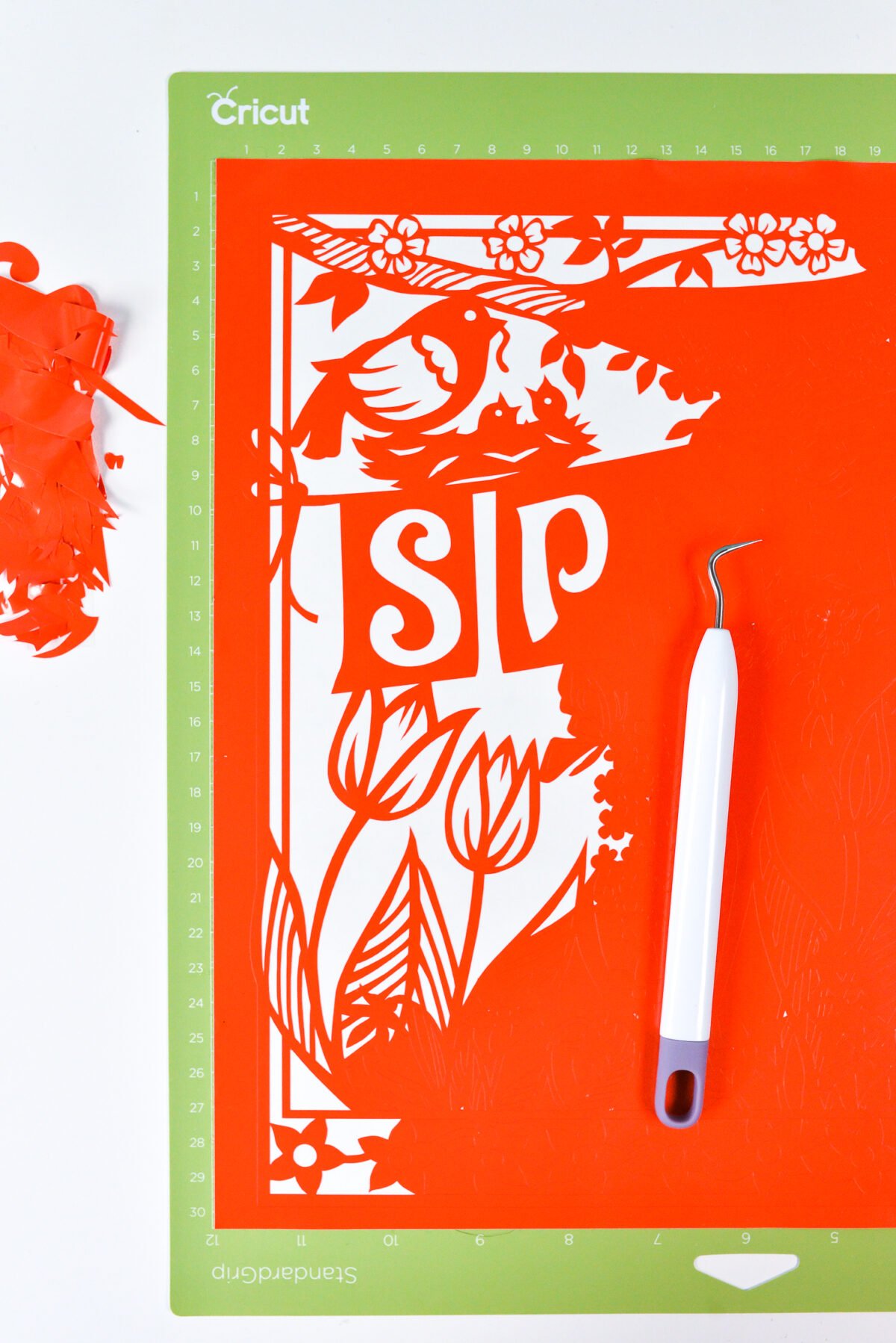 Go Slowly and Methodically
Some vinyl weeds more easily than others. No matter what you're using, though, I find my best tip is to go slowly and methodically as you weed. Your inclination might be to just pull everything up, as much as you can at one time. But that's a surefire way to lose the dots on your "i"s and other small pieces. Just take it slowly and carefully, making sure that what you want to remain on the backing material remains, and what needs to come up comes up.
Always Double Check
Once you're done, hold your project up to the light to make sure you haven't missed any pieces, like the pesky bits inside letters or, in this case the tiny flowers!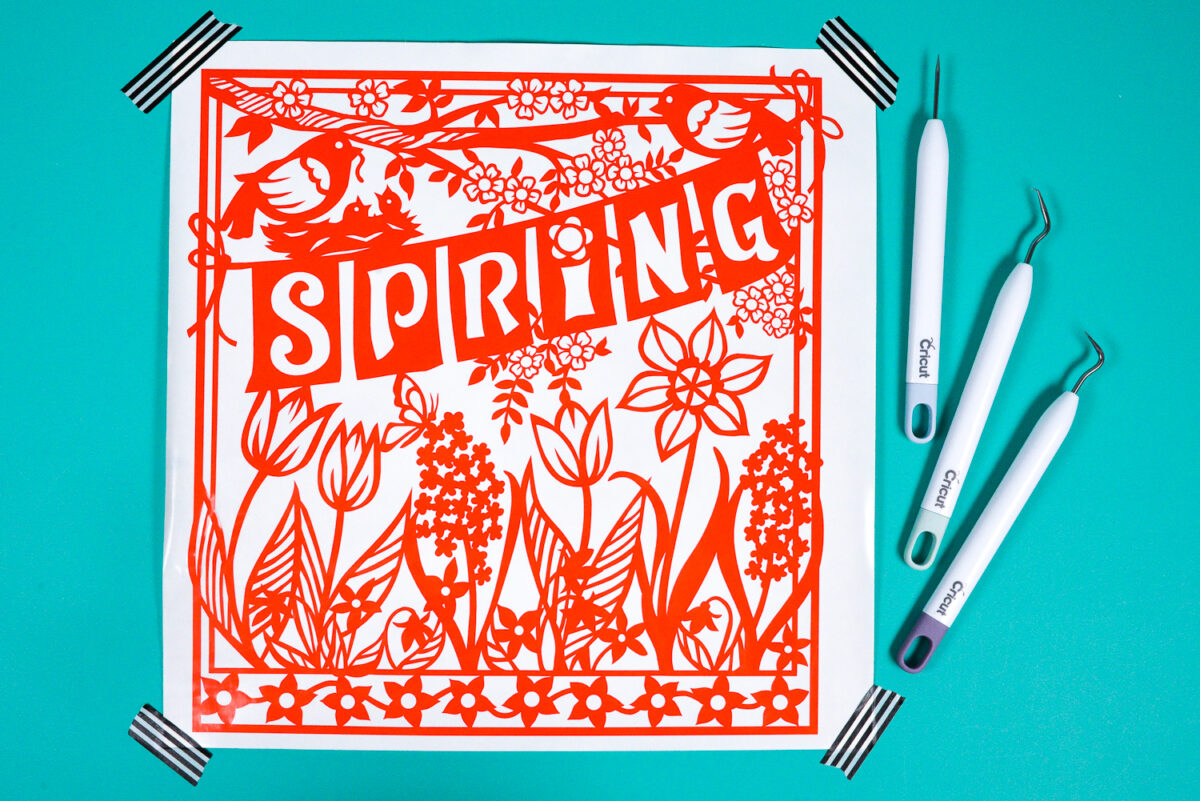 I hope these tips and tricks help take some of the frustration out of weeding vinyl! It can be a difficult process, but these tips should make it a bit easier. Have any tricks to share? Let me know in the comments!