Plastic can be one of the easiest surfaces for adhesive vinyl! This application is perfect for pantry labels and other organization around your home—get all my best tips and tricks for using vinyl on plastic.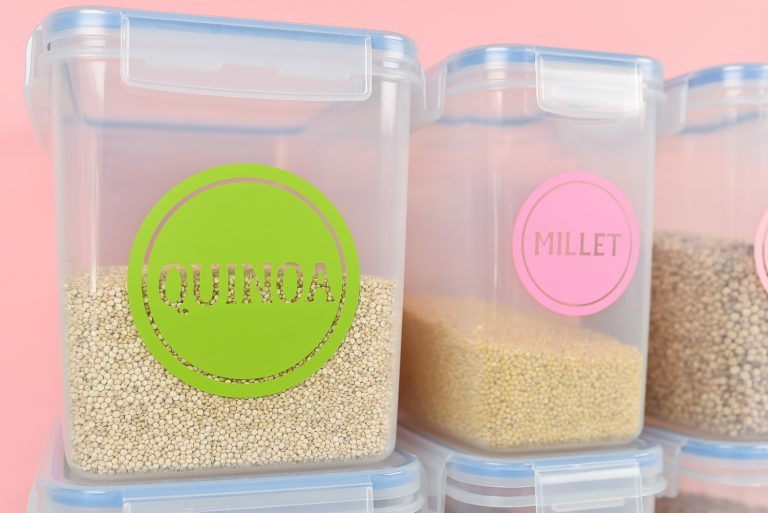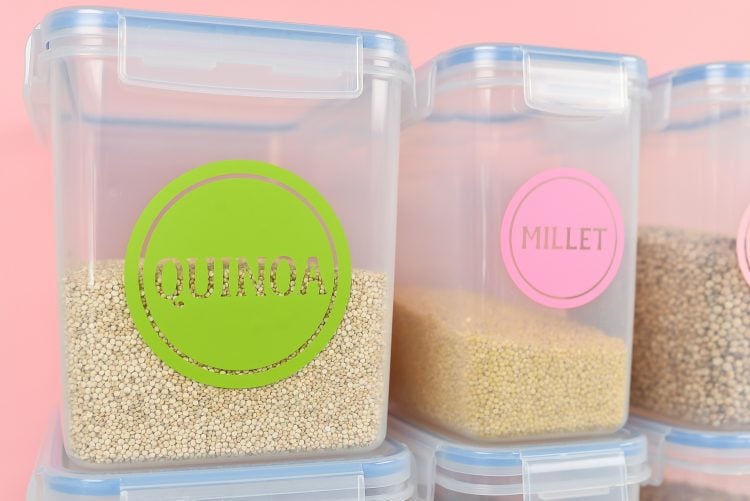 I just recently made over some of my pantry containers. I had been using glass jars, but found them heavy and cumbersome. One of my boys grabbed the quinoa out of the cabinet the other day—a big glass jar—and nearly dropped it.
I do NOT want to clean up a mess of broken glass and quinoa, thankyouverymuch.
[adthrive-in-post-video-player video-id="4Zv0ymXX" upload-date="2022-05-29T19:48:00.000Z" name="Adhesive Vinyl Projects to Make with a Cricut" description="Make all sorts of amazing adhesive vinyl projects using your Cricut, including tumblers, signs, mugs, ornaments, and more. " player-type="default" override-embed="default"]
So I moved to plastic, with airtight locking lids. I used my Ultimate Pantry Label Bundle to create these labels. In this post, I'm going to show you how easy it is to use vinyl on plastic. Because plastic is generally a very smooth and non-porous surface, it is perfect for adhesive vinyl.
Preparing Your Plastic for Vinyl
My plastic containers came straight out of the dishwasher after I washed them. If your plastic containers have been hanging out around your house, throw them in the dishwasher or wipe them down with some rubbing alcohol to make sure they are free from any dust or oils. This will help ensure your vinyl sticks well.
Using Vinyl on Plastic
Start by cutting and weeding your labels. I used several colors of adhesive vinyl from Expressions Vinyl, one of my favorite vinyl shops. Unlike iron on vinyl, you do NOT need to mirror adhesive vinyl when cutting it—what you see is exactly what goes on the plastic.
Need more tips and tricks for your Cricut? I have a HUGE membership community where you can learn to use your Cricut!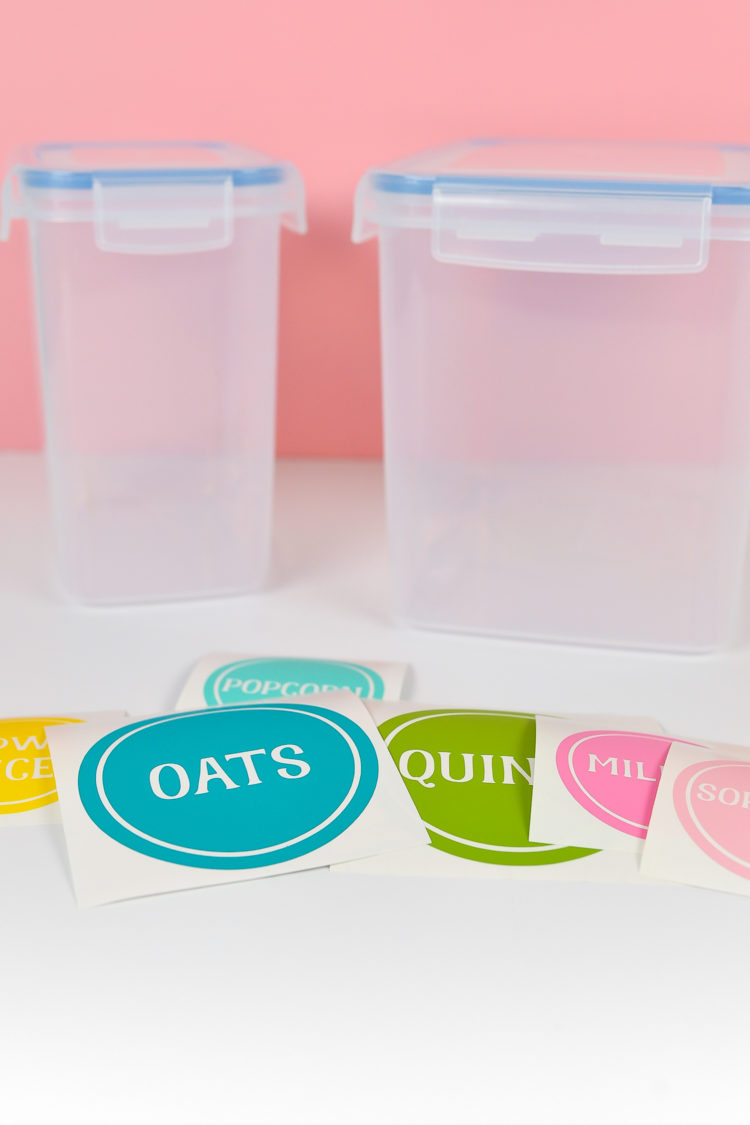 Now you have a choice. You can cut one large piece of transfer tape (my preference when working with single-layer vinyl adhesive labels) or you can cut small pieces of transfer tape the size of your labels.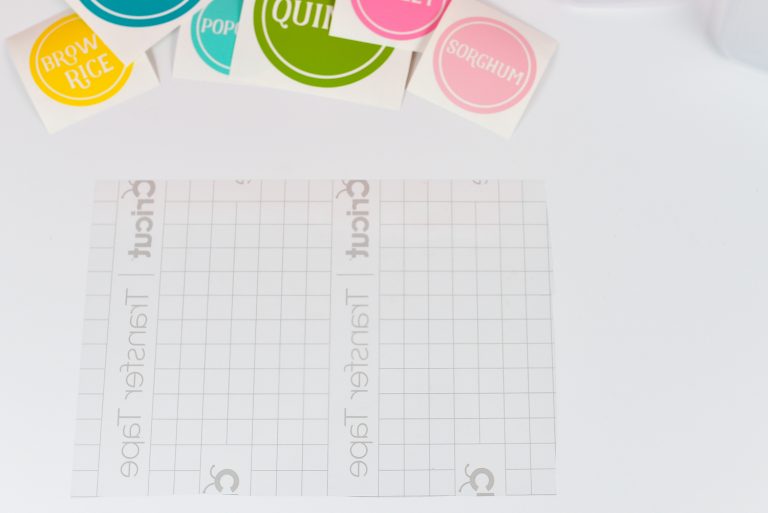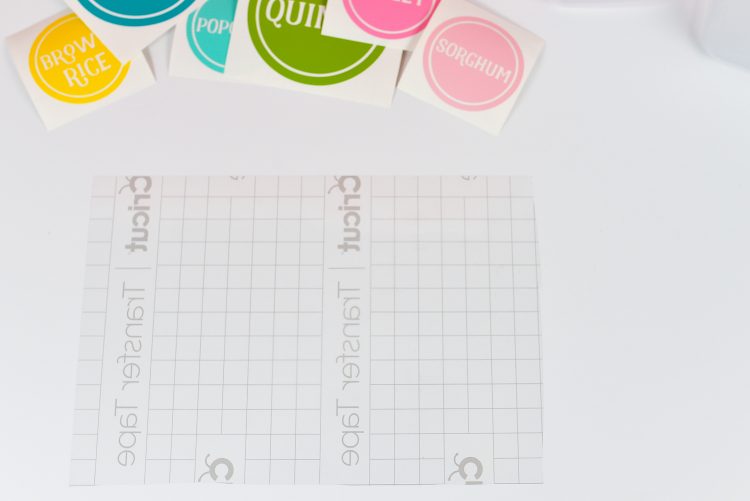 Place all of your labels face-down on the transfer tape and use a scraper (or credit card or even your fingers) to press the vinyl into the transfer tape.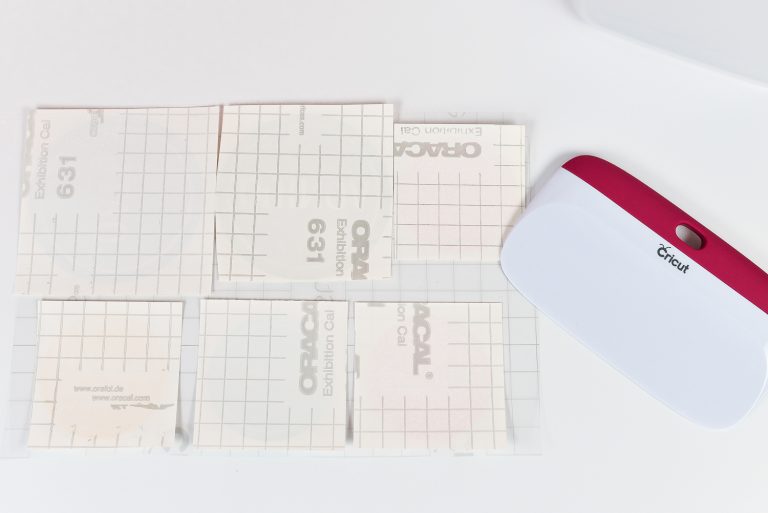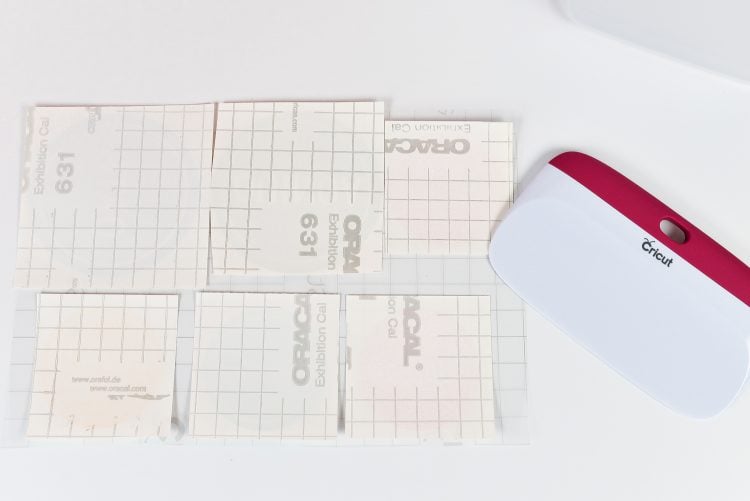 Next, flip over and cut apart each individual label.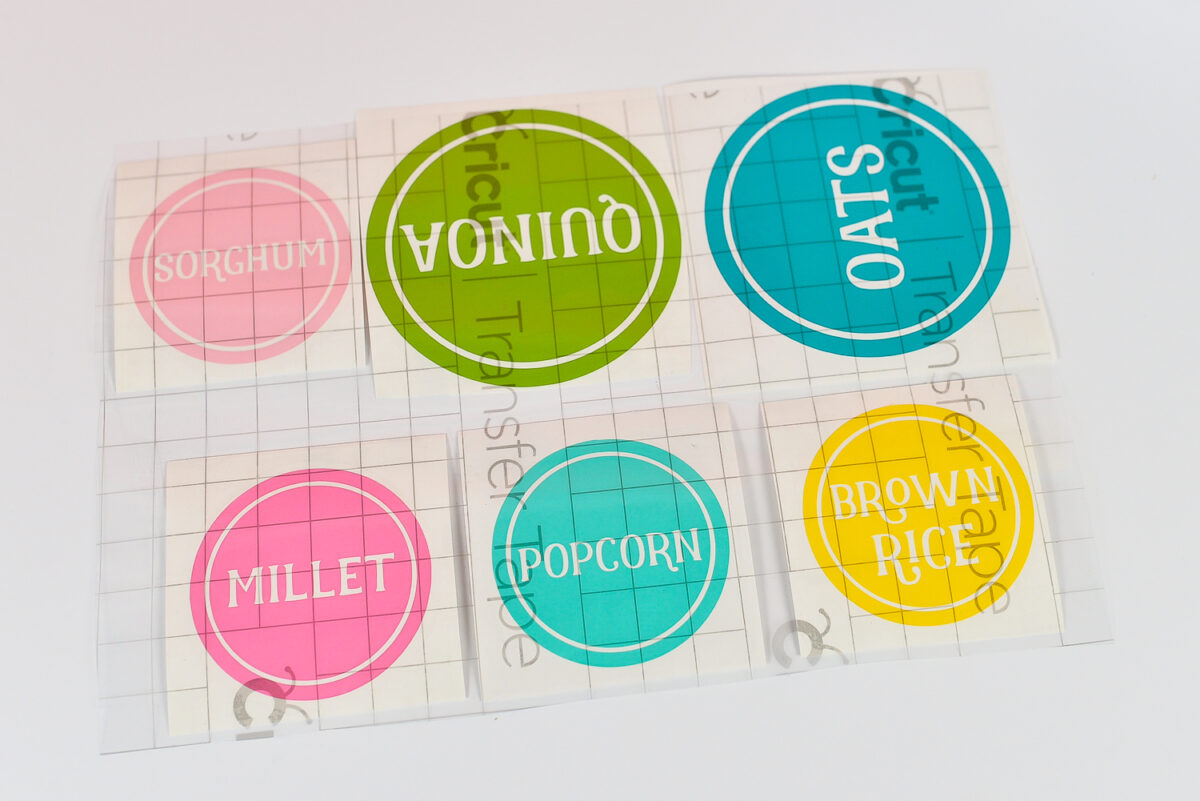 Then carefully peel off the white backing carrier sheet. Your vinyl should easily stick to the transfer tape. If it doesn't, burnish some more.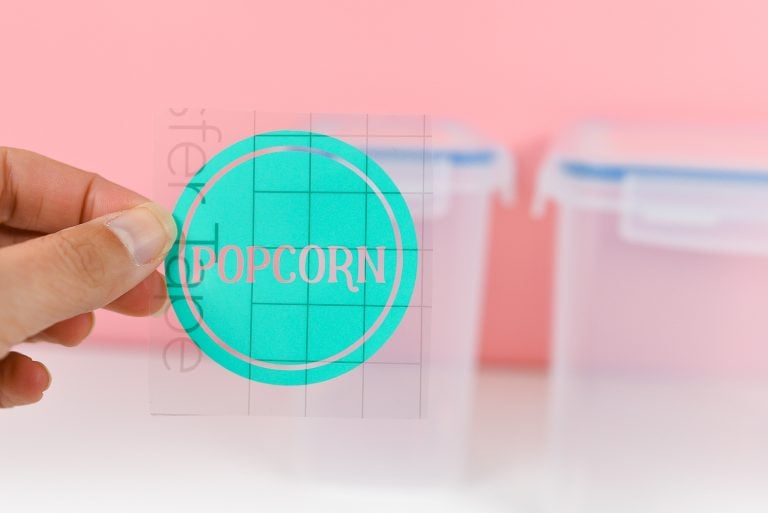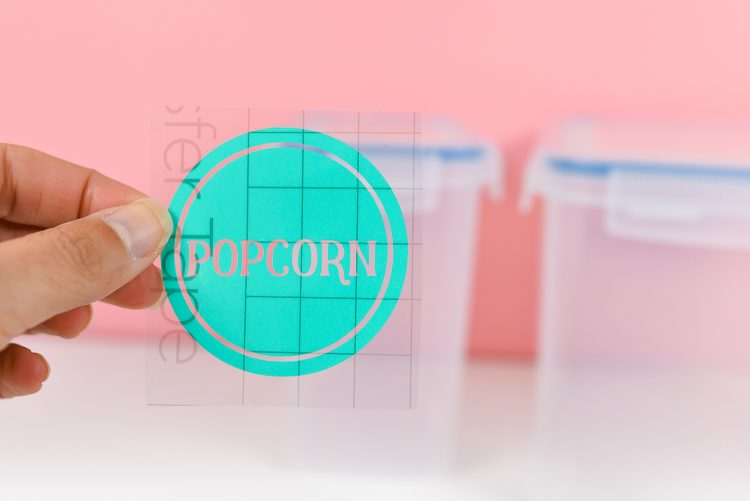 Then carefully align your label on your plastic and press the label on, burnishing with your fingertips (I didn't want to use the scraper on the plastic, just in case it left a mark).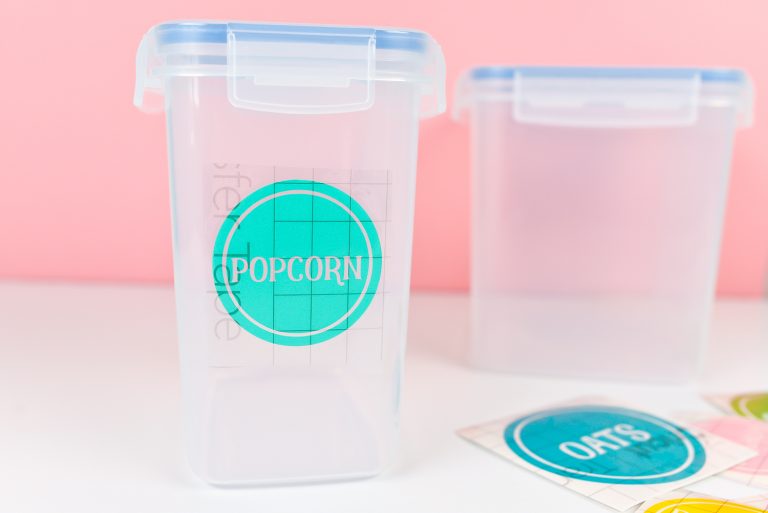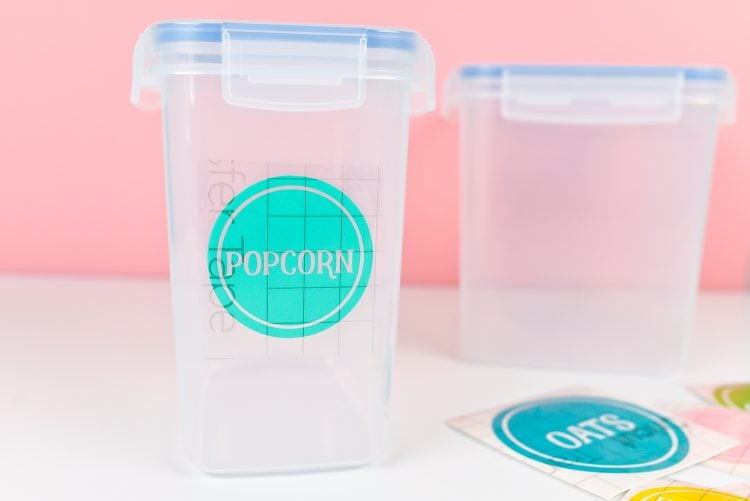 Then carefully peel back the transfer tape at a 45° angle or more. Since the plastic is smooth and nonporous, the vinyl should stick fairly easily. If you are having trouble, burnish again and peel even more slowly, using your fingernail to help "guide" the vinyl off the transfer tape. But really, it should work really nicely on plastic.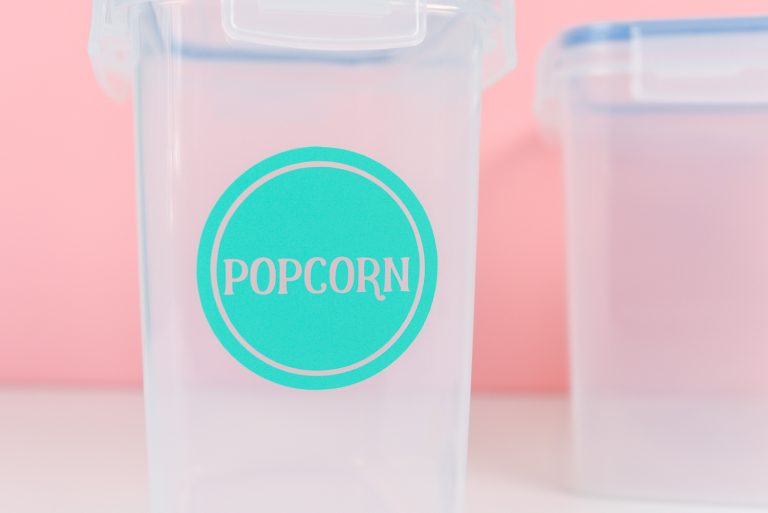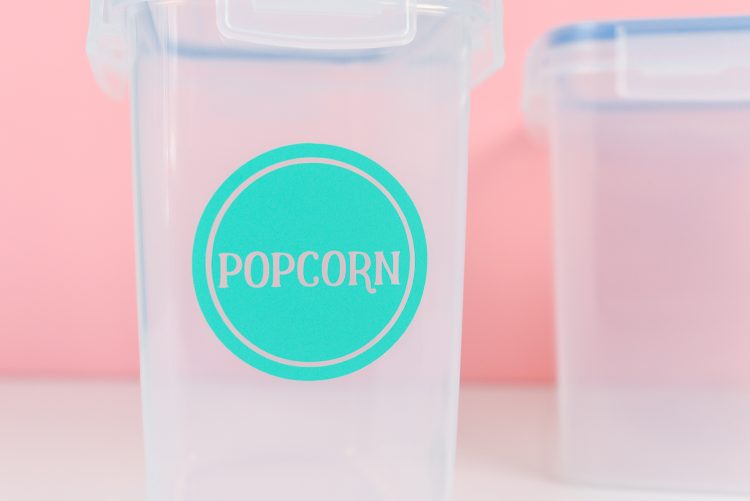 Tada! See how easy using vinyl on plastic is? I was able to re-label a ton of pantry containers in a short amount of time.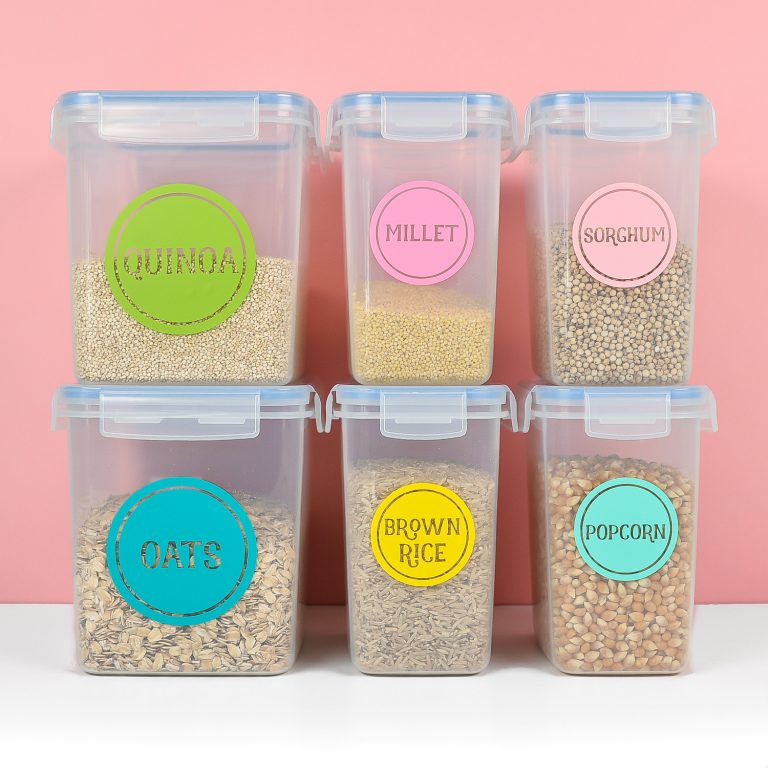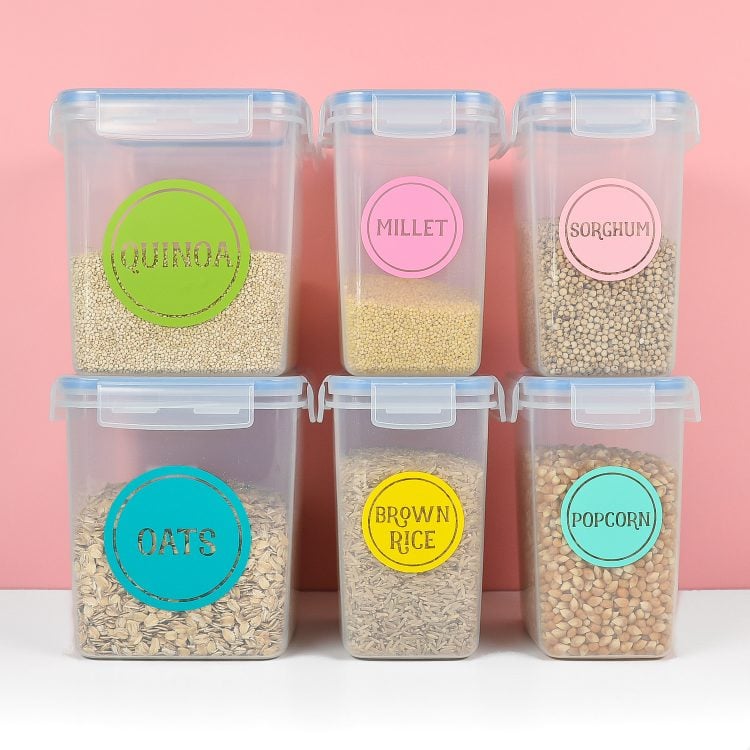 Don't forget to grab the Ultimate Pantry Label Bundle (with more than 125 labels!) for free!
Download the Free Pantry Label Bundle under SVGs C183
This file can be found in my Free Craft Resource Library. The file number is: C183.
Want access to this free file? Join my FREE resource library! All you need is the password to get in, which you can get by filling out the form below!
Have any questions about using vinyl on plastic? Leave me a comment and I'll help troubleshoot! Then check out my round up of 20+ Home Organization Ideas with the Cricut!