Pinch-proof yourself with these St. Patrick's Day sublimation files! They are designed specifically for sublimation printing, making them perfect for creating apparel and other items for St. Patrick's Day!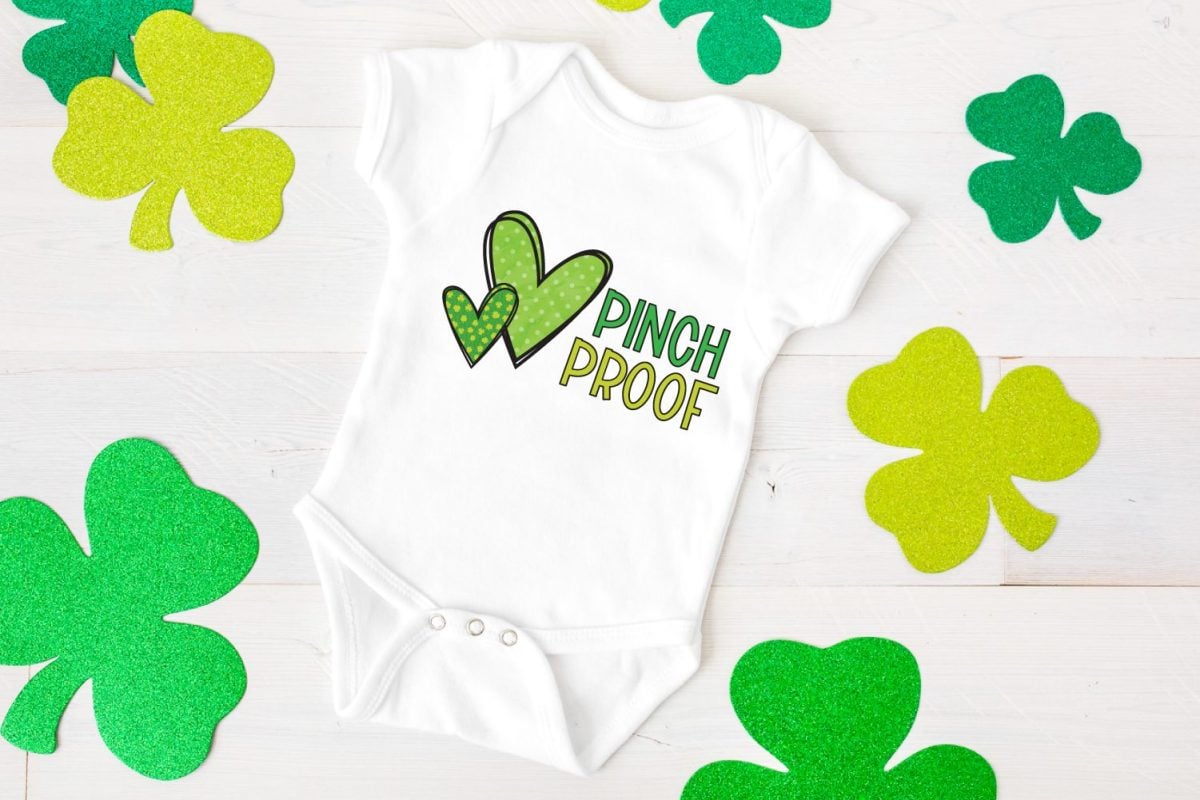 Want to save this post to reference in the future? Enter your email below and we'll send it right to your inbox!
Are you ready for St. Patrick's Day?
It'll be here before we know it! Somehow the end of February always sneaks up on me and I'm scrambling to make sure I've created something to pinch-proof myself and my boys!
As I worked on these St. Patrick's Day sublimation designs, one of my boys looked over my shoulder as asked if I was making something for "clover day." I kind of love that he called it that! I ensured him that I was in fact making something for "clover day"! I added just enough green to these St. Patrick's Day sublimation designs to make sure no one's getting pinched this year!
This cute Pinch Proof design is a simple way to create a festive shirt using sublimation printing. I love that sublimation process is able to capture four-color designs and patterns. The shamrocks inside the heart are such a fun detail! Grab a polyester shirt, bag, or even a ceramic mug for sublimation, and create your own St. Patrick's Day accessories!
While you're at it, you could create a matching set of shirts with the Lucky Mama and Lucky Mini designs. Use a polyester baby bodysuit and surprise a lucky mom-to-be with an adorable matching set for both her and her little!
I'm planning to use the Happy Go Lucky design to create a throw pillow. You can often find polyester pillow covers like these fun sequin flip pillow covers for sublimation. It's one of my favorite ways to easily add a bit of holiday decor to my home!
If you're wondering what sublimation printing is, check out my Beginner's Guide to Sublimation Crafting. It covers all the basics and walks you through just how to get started on your own sublimation crafting journey!
If sublimation isn't your thing, you can use Cricut's print then cut feature to create a t-shirt with printable iron-on. You could also make adorable stickers using printable waterproof vinyl. The possibilities really are endless!
Get the St. Patrick's Day Sublimation Image Here
Enter your email address below to get this free file! If you're having trouble, make sure your pop-up blocker is turned off. Still having problems? Check out our Downloads FAQ.
Buy the Lucky St. Patrick's Day Sublimation Bundle
New to Sublimation? Start Here:
Get pinch proof for St. Patrick's Day!