Get the free cut files to make these adorable Mommy and Daddy's Little Valentine onesies, plus learn some tips and tricks for layering different types of vinyl using the Cricut EasyPress!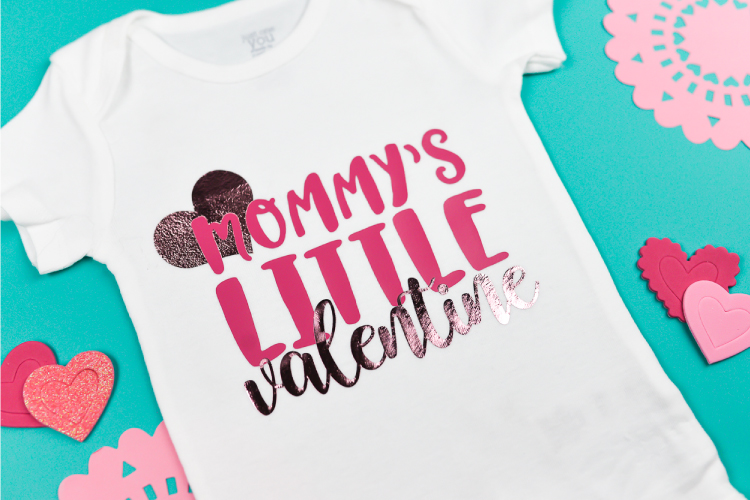 Have a little one in your life? You've got to make them one of these cute Valentine's Day onesies! These are a perfect last-minute Valentine's Day gift idea that any parent of a baby will love. Making onesies is one of my favorite Cricut projects!
I've made these adorable Valentine's Day onesies using pink iron-on vinyl and pink iron-on foil. These onesies are perfect for baby's first Valentine's Day but also work on a t-shirt for your favorite toddler. So cute!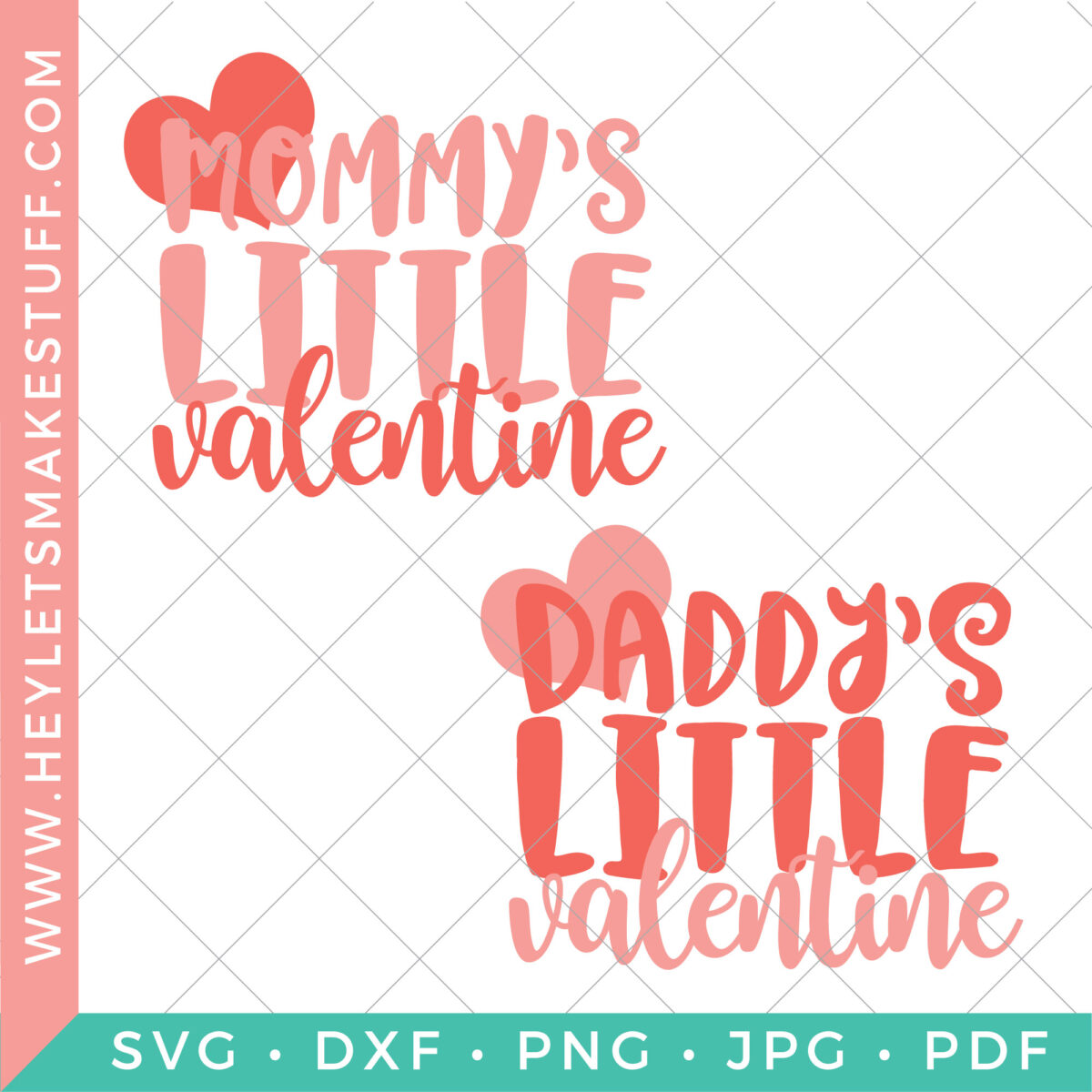 We'll also be taking a look at how to layer iron-on vinyl using the Cricut EasyPress. The EasyPress makes layering vinyl so easy, as you'll see.
Stop pulling your hair out and start creating confidently with your Cricut! Finally understand how to use your Cricut with my Learn Your Cricut eBooks!
Download the Free Little Valentine Files under SVGs C264
This file can be found in my Free Craft Resource Library. The file number is: C264.
Want access to this free file? Join my FREE resource library! All you need is the password to get in, which you can get by filling out the form below!
1: Size and Cut Your Image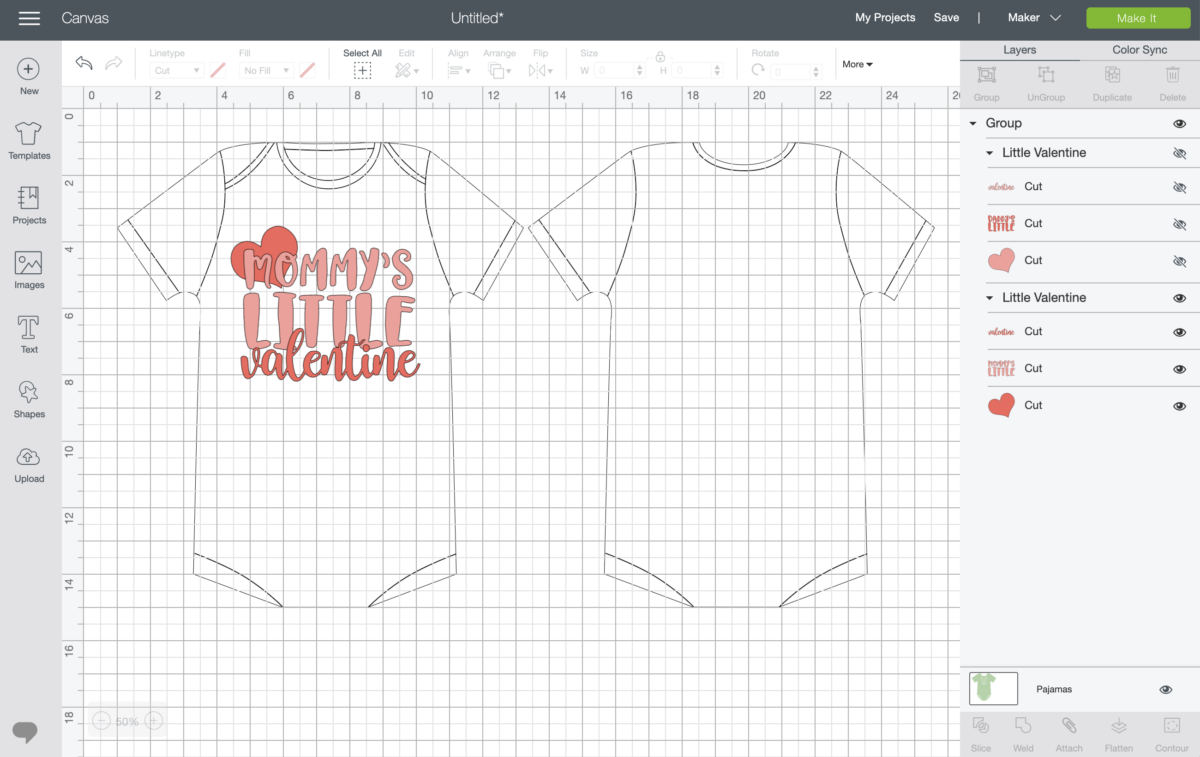 To cut this file in the correct size for your child's onesie or t-shirt, use Cricut templates, which I explained in detail in my post How to Use Cricut Templates. I am using the 6-month onesie template (found under "pajamas") to make sure my sizing is correct. Note that the template will not cut—it's just a guideline to help you size your image.
When you go to cut your iron-on vinyl and foil, make sure to mirror your image and place your material shiny side down on your cutting mat. Cut out your image. Weed the negative space, and then using scissors, cut between the heart and the word "valentine" so they are separate. Learn more about Cutting and Weeding Iron On Vinyl.
2: Apply to Onesie Using Layering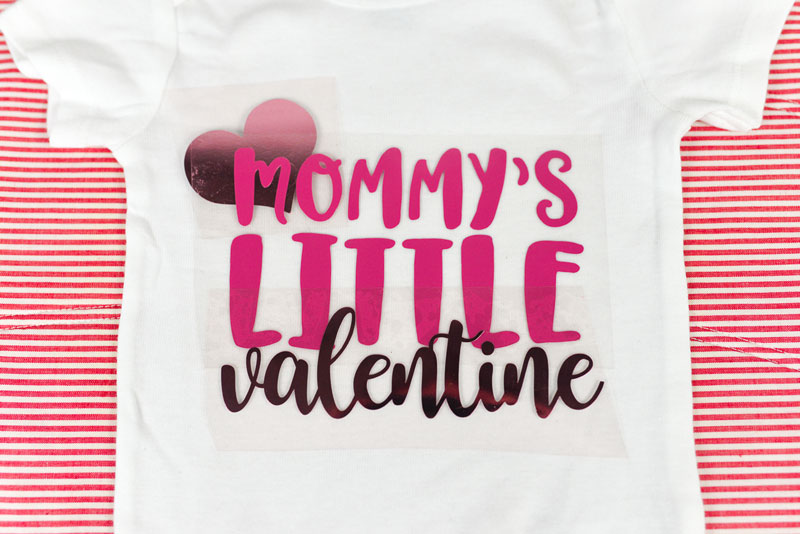 Layering vinyl using the EasyPress is much easier than using a traditional iron. The even heating of the EasyPress means you don't get hotspots—which I have found are a big pain when layering iron-on vinyl – melty, uneven vinyl is no fun for anyone!
Thankfully the EasyPress doesn't have hotspots, so you know that your iron-on vinyl will be heated evenly and your project will turn out perfectly.
Start by placing all three iron-on pieces on your onesie to make sure everything is placed right, with your heart on the bottom layer.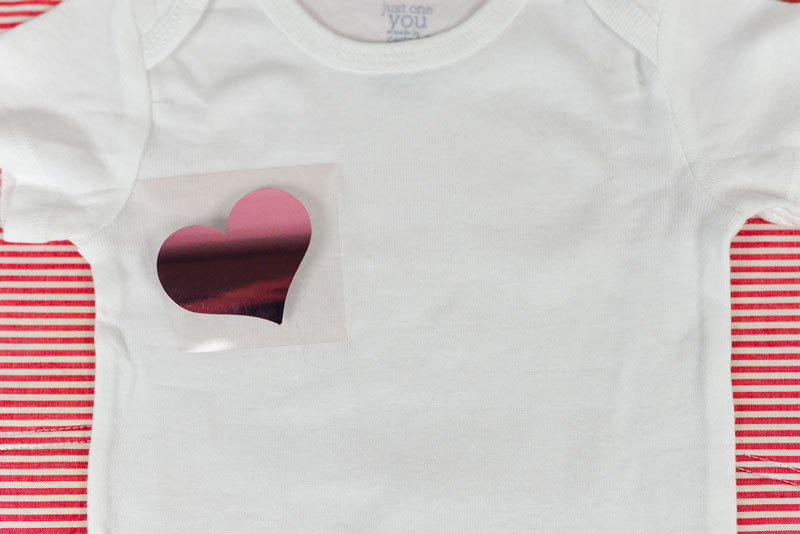 Then take away the two other sheets, leaving just the heart in the right place.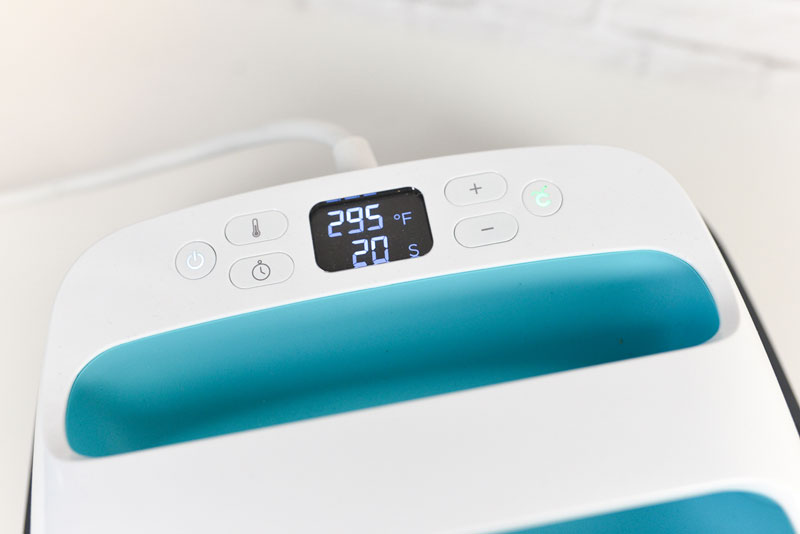 Heat up your EasyPress to the suggested temperature for your material. In my case, the onesie is cotton and I'm using iron-on foil, so my temperature is 295°.
Normally, I'd set my EasyPress for 35 seconds, but because we're doing several layers, I'm going to just set it to 20 seconds for the first two layers. You can put the EasyPress directly on the iron-on, but I prefer to use a pressing sheet or a piece of cotton fabric.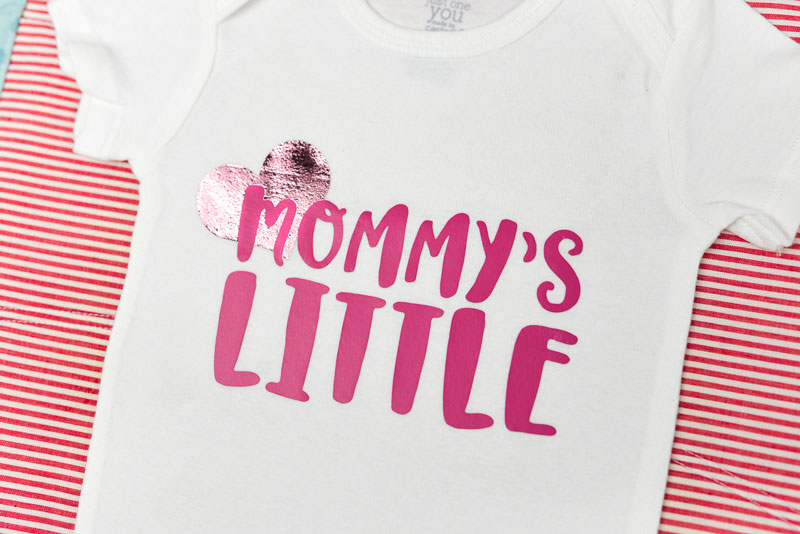 Place your EasyPress over the heart and apply even pressure and push the green button. When it beeps after 20 seconds, return the EasyPress to its base. Cricut iron-on foil is "cold peel" so you have to wait for the material to cool before peeling the backing piece off. See more about Warm Peel vs Cold Peel.
Then put your "Mommy's Little" or "Daddy's Little" piece next. I didn't increase my temperature to 305°, which would be the normal iron-on setting. I didn't want to damage my foil. 295° is enough to set the iron-on so we'll stick with that.
Repeat the 20-second press for this layer, and peel off the transfer sheet. Cricut iron-on vinyl is "hot peel" so you don't have to wait for this layer to cool before removing the backing piece, though you can wait for it to cool if you'd like.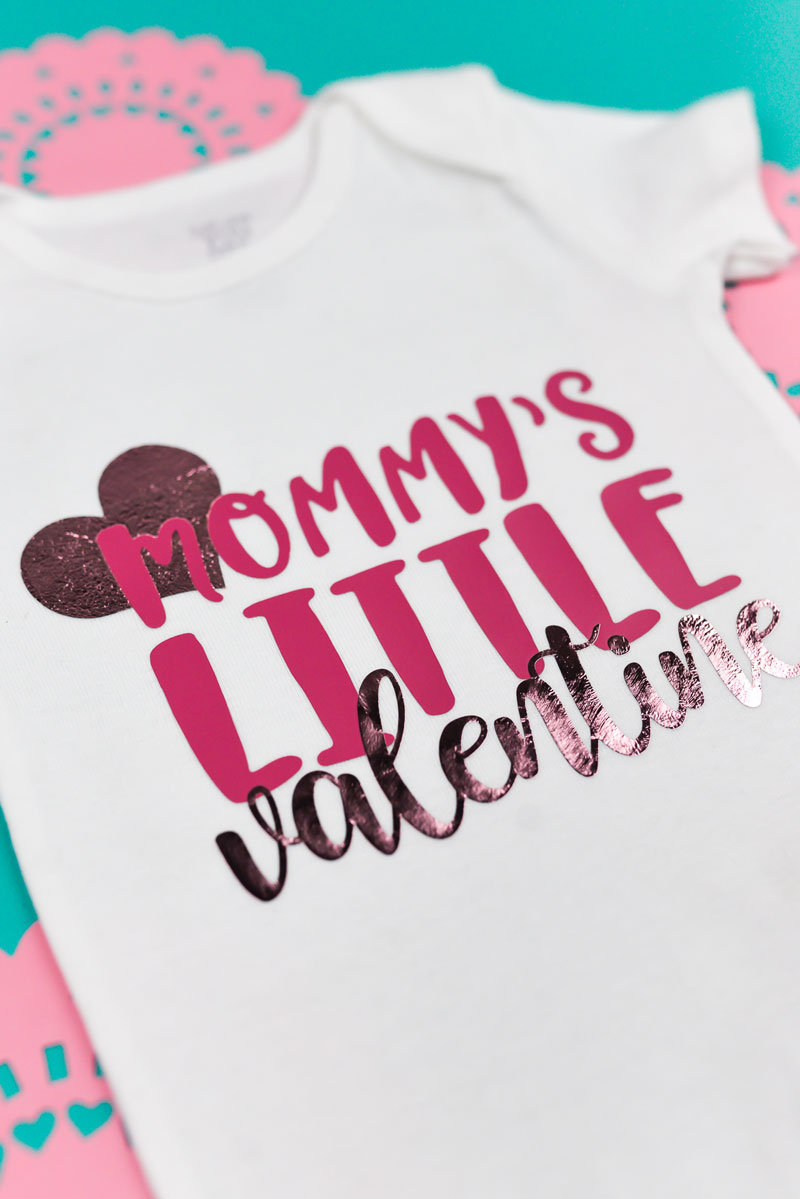 For the final layer, increase your time to 30 seconds. This will make sure that all three layers are completely set. After this press, turn your onesie inside out and press for 30 seconds from the back as well. This will help adhere the iron-on even better.
Note: If you're using glitter iron-on, it needs to be the top layer of your project. Because the glitter isn't flat, it doesn't work well as a base for other layers.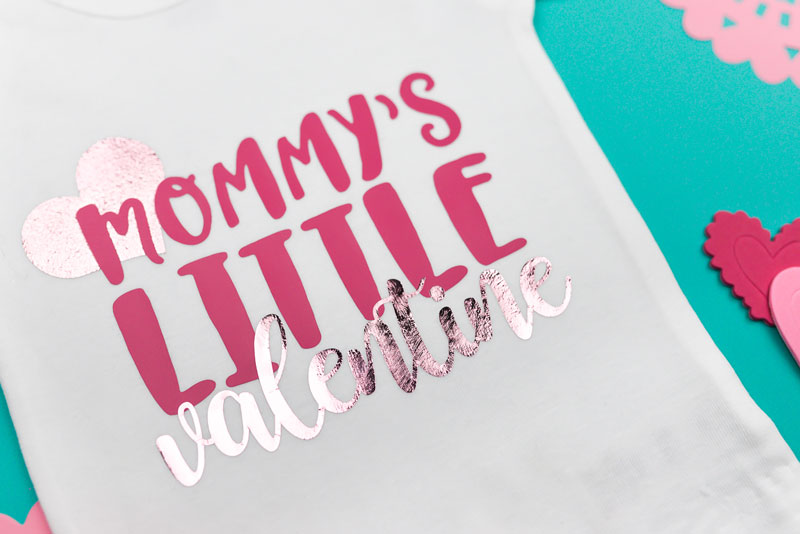 Layering iron-on doesn't have to be scary! Just make sure you're using the lowest heat setting for your materials and taking your time to place your layers exactly where you want them. It makes creating cute custom clothes, like this onesie, super easy!
Also check out more projects and SVGs for your little love bug: Adorable Baby Valentine's Day SVG Bundle, DIY Valentine's Day Pajamas with the Cricut, and Free Cuter than Cupid SVG!
Do you have any fun Valentine's Day projects you're working on this year? I'd love to hear about them in the comments!