Got a new heat press? I'm breaking down everything you need to know about using it, including all of the parts of a heat press, finding your time, temperature, and pressure settings, and making your first project.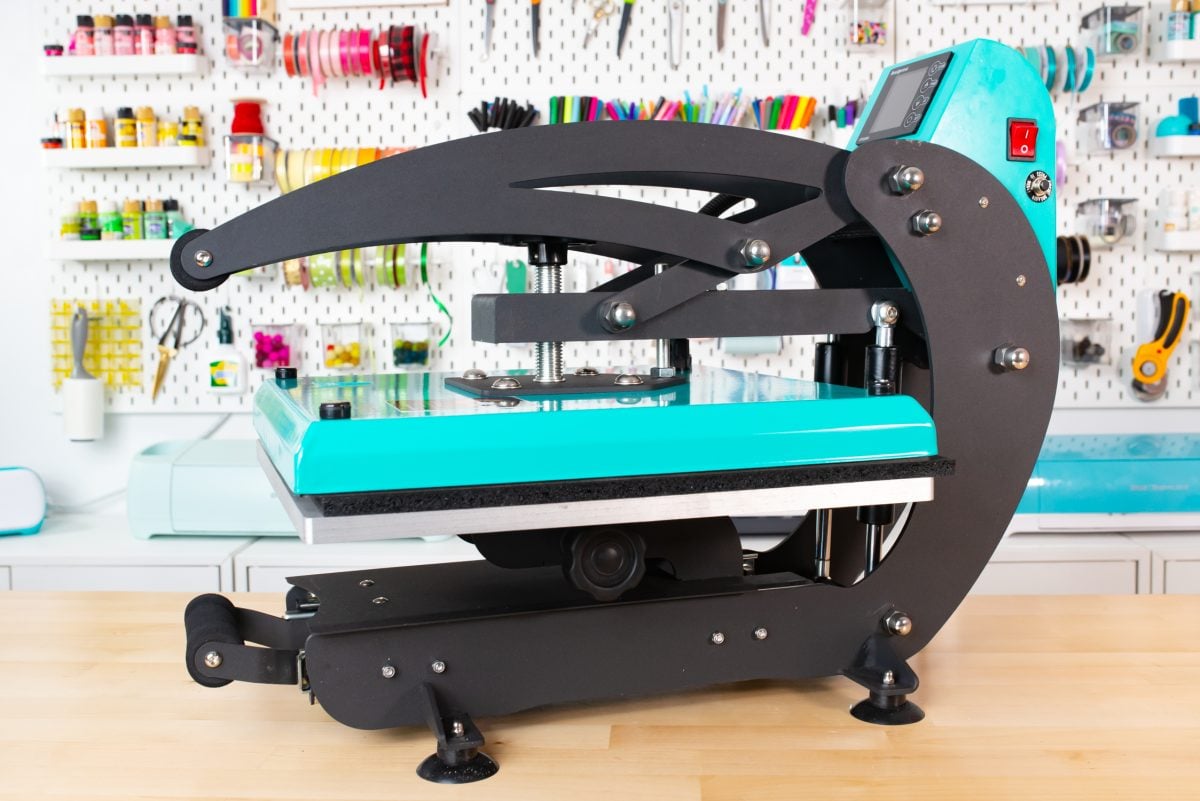 My craft room recently got an upgrade! My old Amazon 5-in-1 heat press bit the dust (it literally wouldn't turn on), so I replaced it with a WALApress from Heat Transfer Warehouse. This 15″ x 15″ clamshell press is a great upgrade to my first heat press.
I'll be using this new press to teach you how to use a heat press! Of course all heat presses are different, but they function very similarly, so even if you have a different brand, you should be able to start on the right foot after reading this post. The instructions that come with many heat presses can feel a bit…basic, but I've got you covered!
I'll also share a full review of this particular heat press later in this post, just in case you want to put a WALApress on your wishlist.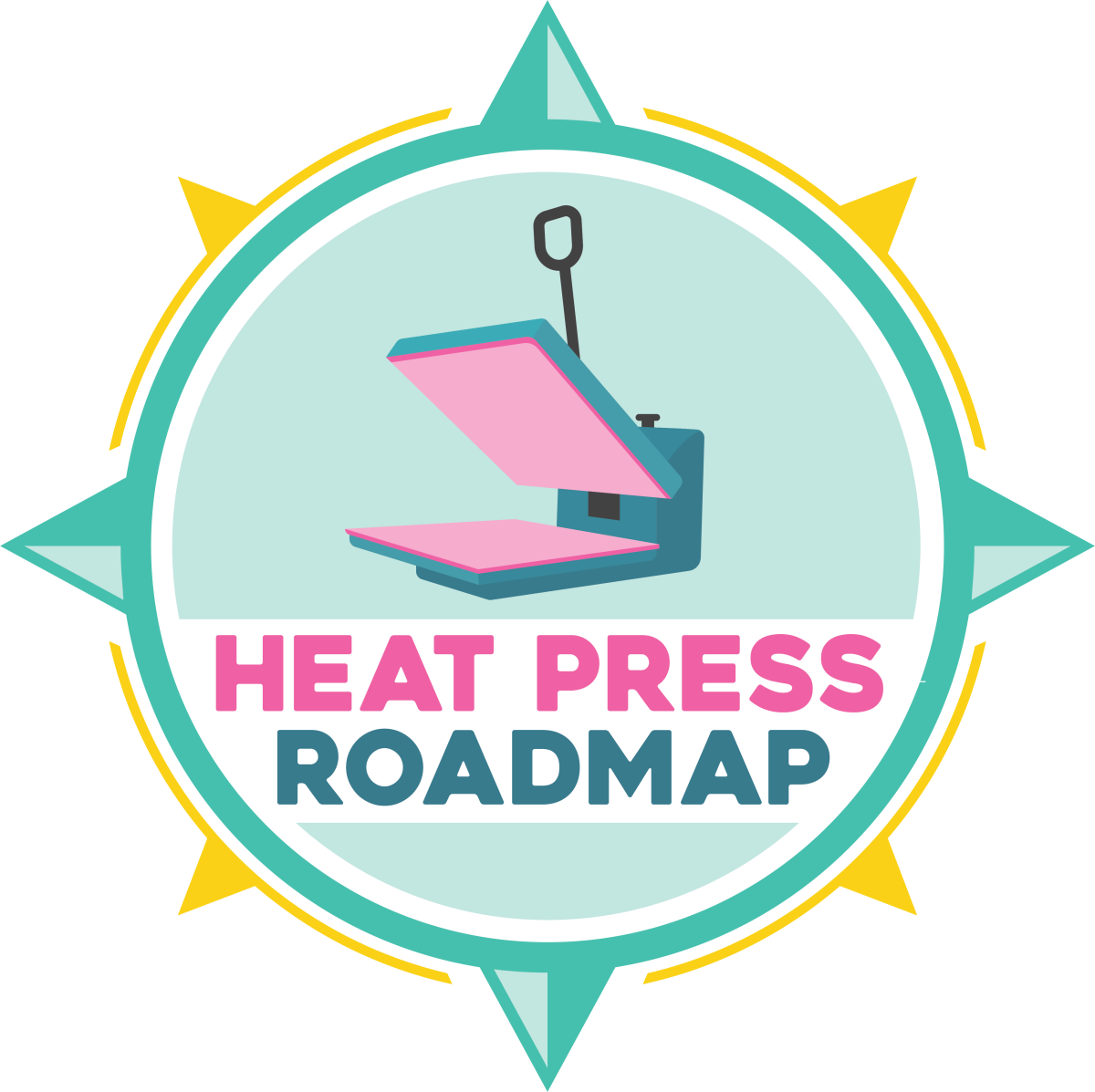 How to Use a Heat Press Video
Watch this video as I go through everything in this post!
What is a Heat Press?
A heat press is a machine that uses high heat to apply different materials to a variety of surfaces (fabric, wood, metal, etc.) for a wide range of results. For example, a heat press can be used to adhere heat transfer vinyl (HTV) cut on a cutting machine like a Cricut or Silhouette to a cotton t-shirt, or to put a sublimation transfer on a poly-coated substrate or polyester garment.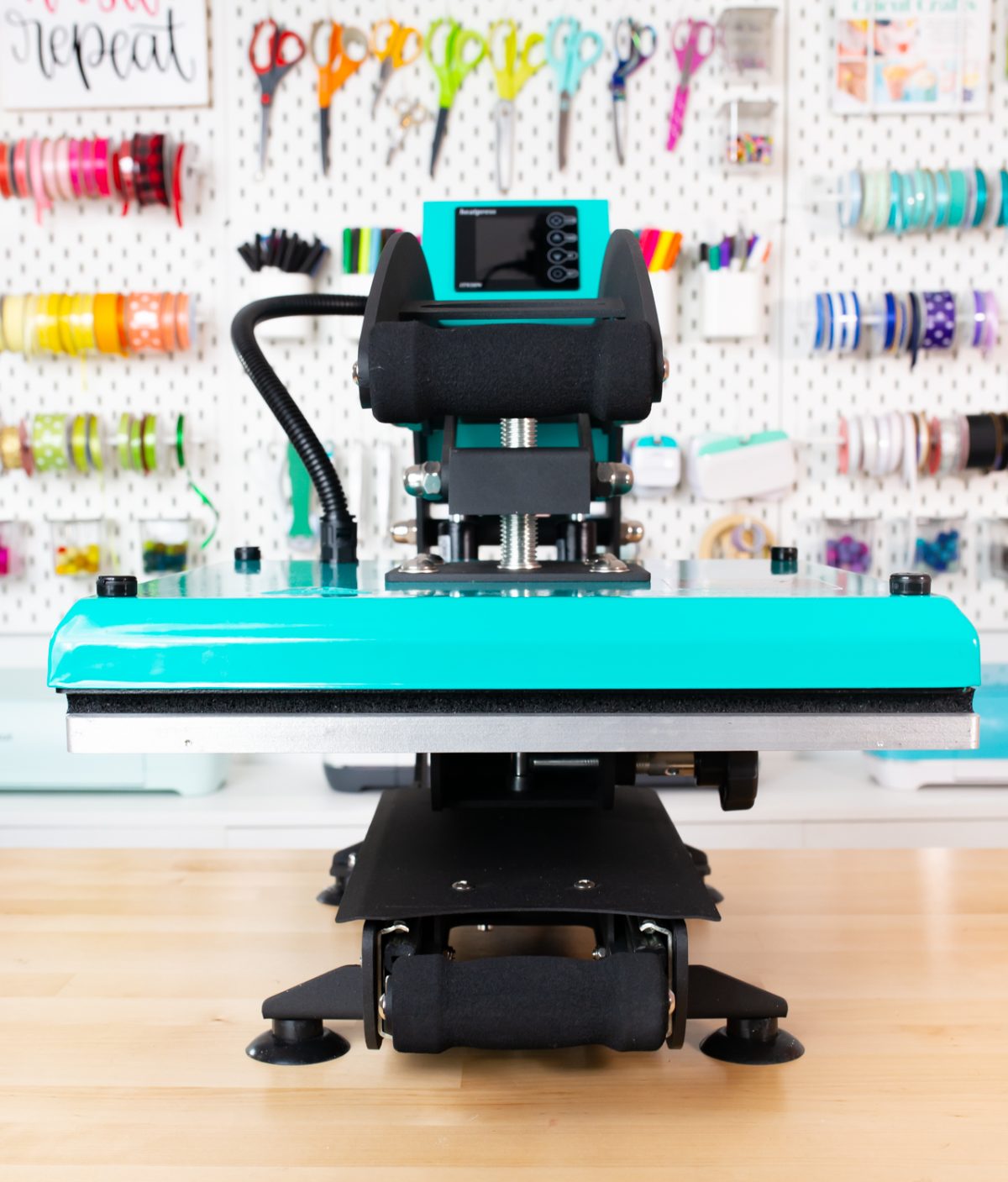 Heat presses come in all shapes and sizes depending on the project. In this post, we're talking about flat heat presses used for items such as clothing, tote bags, coasters, photo panels, and more. There is also the Cricut AutoPress, which is Cricut's flat heat press. You can read my full AutoPress review here.
There are also additional attachments or standalone heat presses you can purchase for mugs, tumblers, hats, and other oddly shaped items. You can check out a few of my other posts here:
Additionally, Cricut makes a handheld heat press called the Cricut EasyPress. You can read my comparison between the EasyPress and a traditional heat press to learn more about the differences between those two types of flat press.
Yes, there are a LOT of types of heat presses! And I have a lot of them.
Setting Up Your Space
First and foremost, you'll want to make sure you have plenty of space set aside for your heat press machine. Depending on the style of your heat press (see the next section), you may need space on either side of your press for swinging it open, or space above for opening that top platen. Heat presses are HEAVY, so be sure you have a solid table or work surface. The last thing you want is a 400° 50+lb press to come crashing to the floor.
I have mine sitting on an IKEA desk I made using two Alex drawer units and a table top.
Most heat presses come fully or near-fully assembled. Because a heat press is so heavy, it might be a good idea to have a second set of hands to get it out of the box.
Heat Press Features
Clamshell vs. Swing Away
There are two main types of heat press design: clamshell and swing-away. My old Amazon 5-in-1 press was a swing-away. On a swing-away press, the top platen stays flat and is swung to the right or left so you can put your project down on the bottom plate. It can actually swing all the way around so the hot platen is totally away from your project. This is great, but you do need significantly more room to swing that platen all the way around, so it's less than ideal for small spaces. Additionally, you can press thicker projects (like heat-transfer vinyl on a wood sign) with a swing away because the top plate comes down flat on top of your project.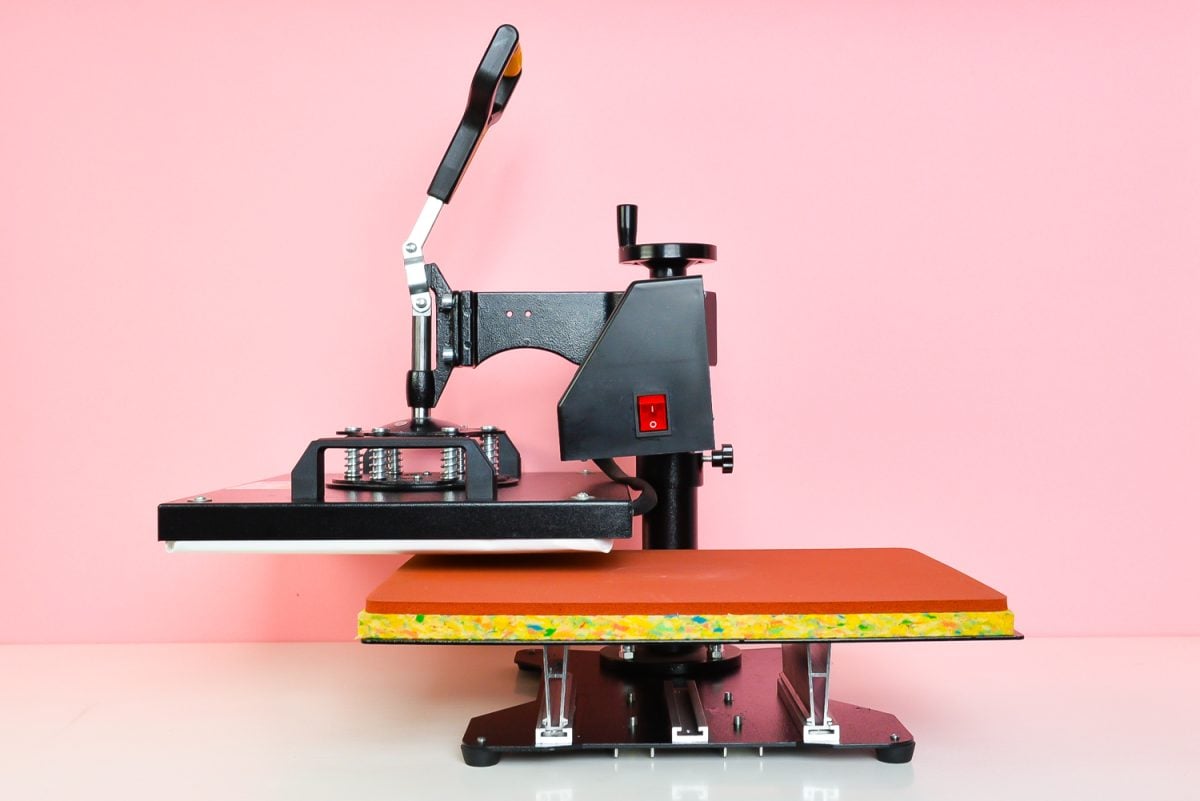 My new WALApress is a clamshell. This means it opens and closes, well, like a clamshell. The top platen opens at an angle and you place your project on the bottom plate. This takes up much less room than a swing-away, but you do need to be more cautious of the hot plate being near your project. My WALApress has a slide-out bottom plate, which makes it a lot easier to avoid that hot plate. Doing thicker projects can be a bit tricky because of the angle of the top platen when it presses down. This may or may not matter to you depending on what types of projects you do.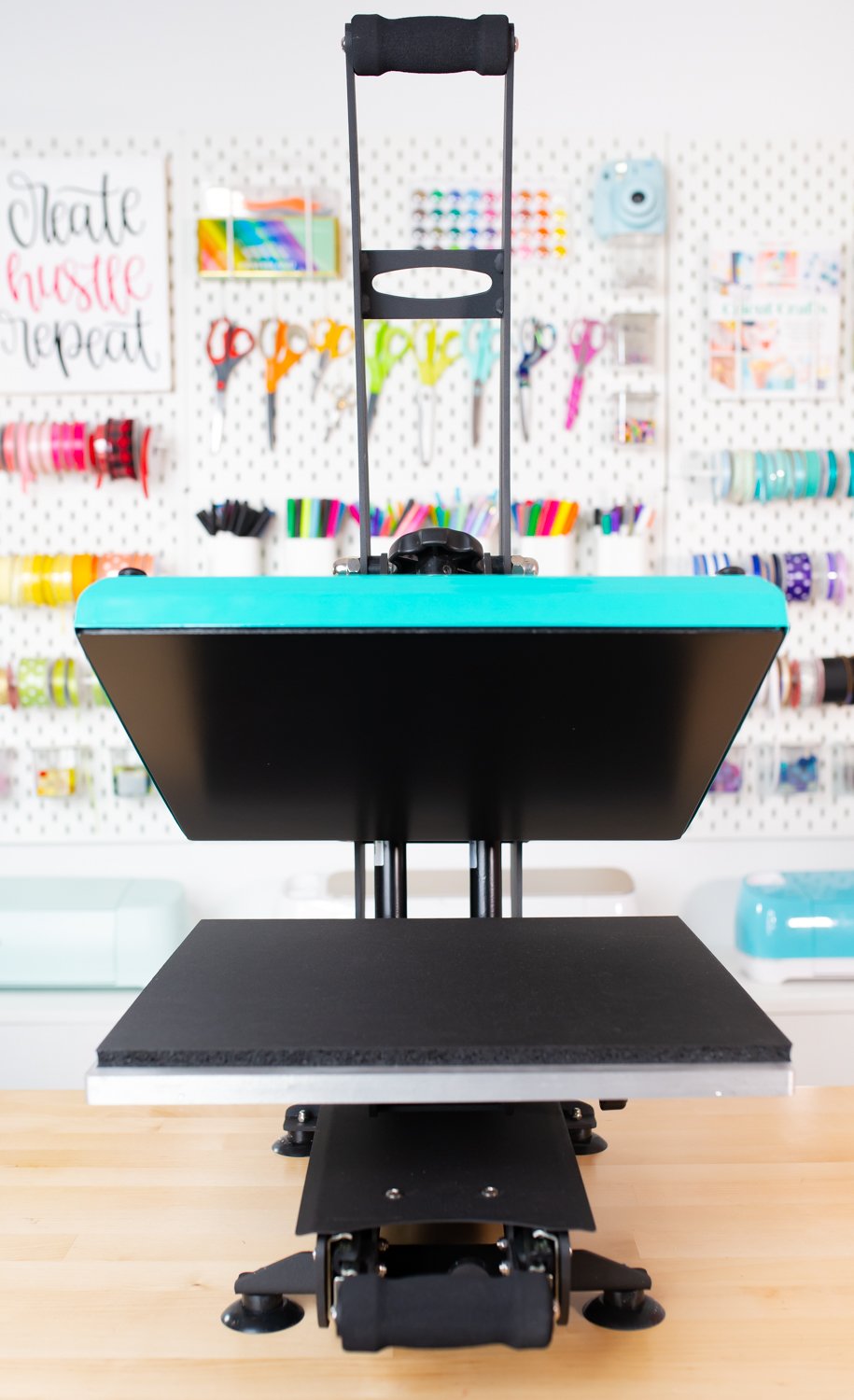 The Cricut AutoPress is sort of a hybrid of these two types of presses. It opens more like a clamshell but the hinge is designed so the top platen comes down flat like a swing-away press. It's pretty nifty (but, of course, nifty comes with a much heftier price tag).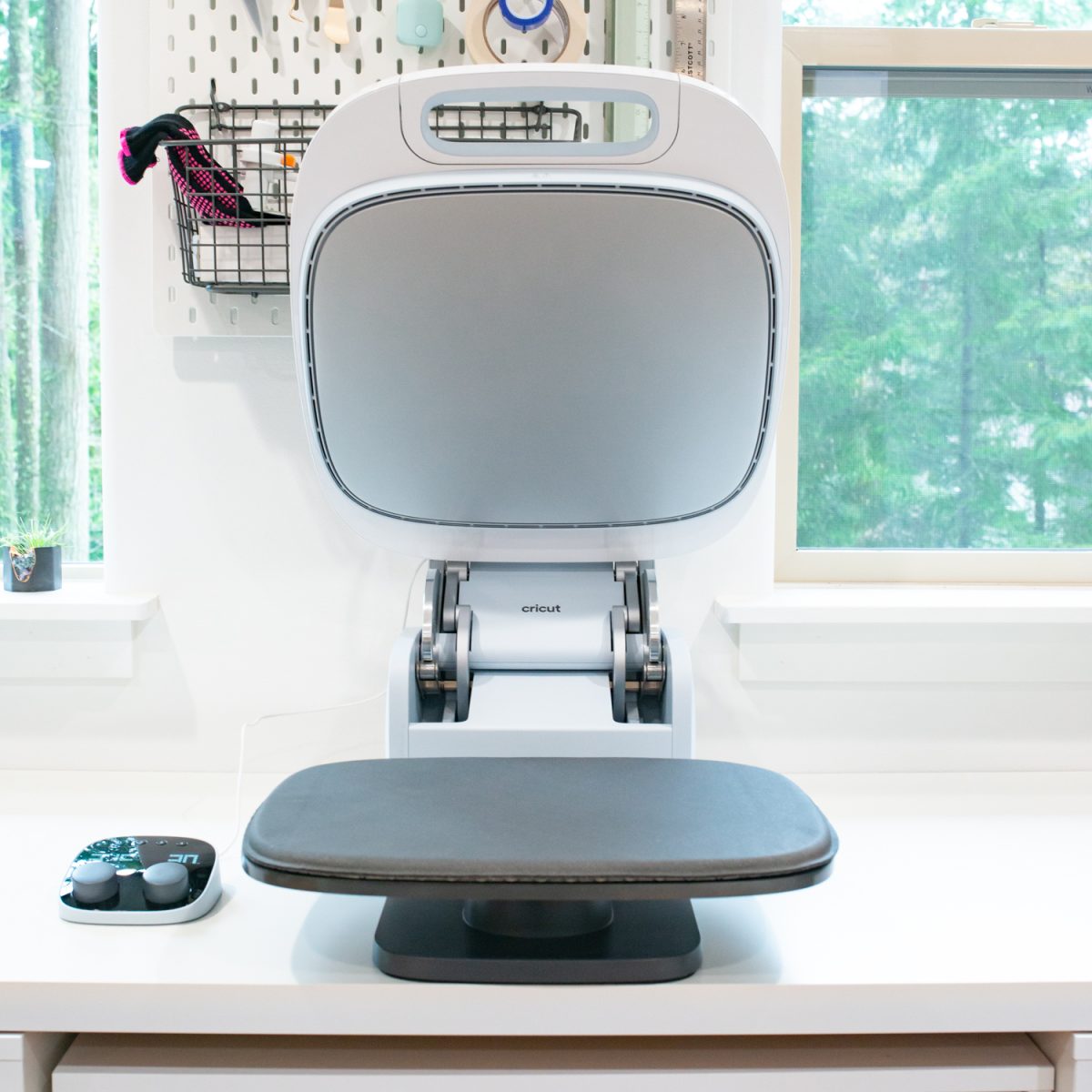 The Parts of a Heat Press
Most flat heat presses have all the same features. There is a top platen (sometimes called a plate) that is heated, and a bottom platen that is not heated. Depending on your press, that bottom platen may slide out for easy access. The bottom platen usually has a foam or rubber pad on it.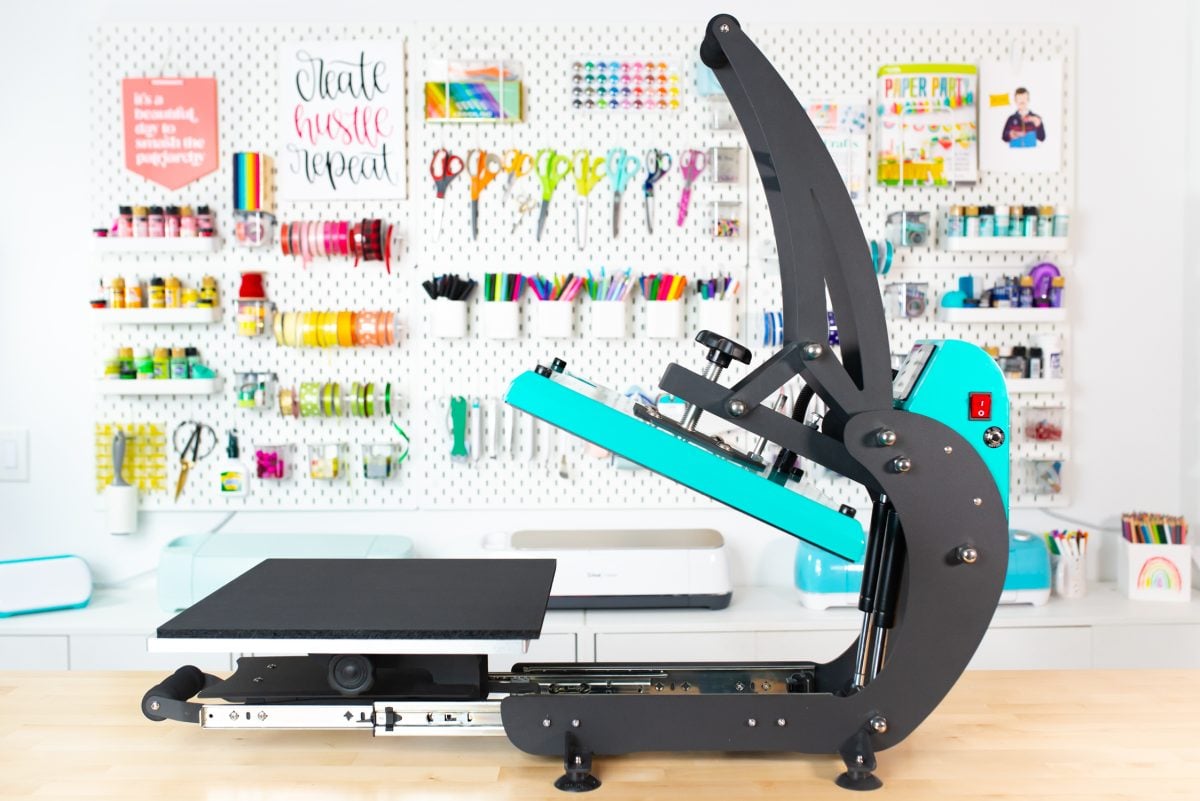 There is also a handle for closing the press, as well as a knob for adjusting the pressure (the AutoPress does not have this knob because it applies pressure automatically). There is control box for setting time and temperature, and a sturdy base that all of this sits on. And a power button for turning the whole thing on and off.
Most presses will have a safety auto-off feature that will turn the press off if you haven't interacted with it in a while.
Use Caution
Note that parts of the heat press will get very hot, including the outside casing around that top platen, and the bottom platen after you've pressed something. Most heat press projects start around 315° and go up to 400° and you do NOT want to be on the receiving end of that heat. This also includes children! Using a heat press can be dangerous for anyone who is not careful. A heat press also takes a long time to cool down, so be aware of that as well.
How to Use a Heat Press Step by Step
Once you've familiarized yourself with your heat press, you're probably ready to create a project!
Finding Recommended Time, Temperature, and Pressure Settings
To start your project, determine the heat time, temperature, and pressure recommendations.
If you are using a type of heat-transfer vinyl (HTV, DTV, printable iron on, etc.), your time, temperature, and pressure settings are based on your material. So keep your packaging! If you don't have packaging, you can usually look up the manufacturer of the material online and they should have recommended settings.
If you are using sublimation, your time, temperature, and pressure settings are based on the blank. So pressing a polyester shirt will be different than a sublimation photo panel which is different than a sequined pillow case. The manufacturer of these blanks should give you the recommended settings.
If you're using another process, like DTF or EcoSolvent, I'll have you refer to someone else for instructions since I am not very familiar with these other types of projects.
Setting Your Pressure
Before you press your blank, you will want to ensure the pressure is correct. Generally the pressure should be listed with the other recommended settings. On most presses, you just have to go by feel (the Cricut AutoPress, however, adjusts the pressure automatically). To add more pressure, turn your pressure knob to the right. To remove pressure, turn it to the left. You may need to adjust it a few times to get it just right.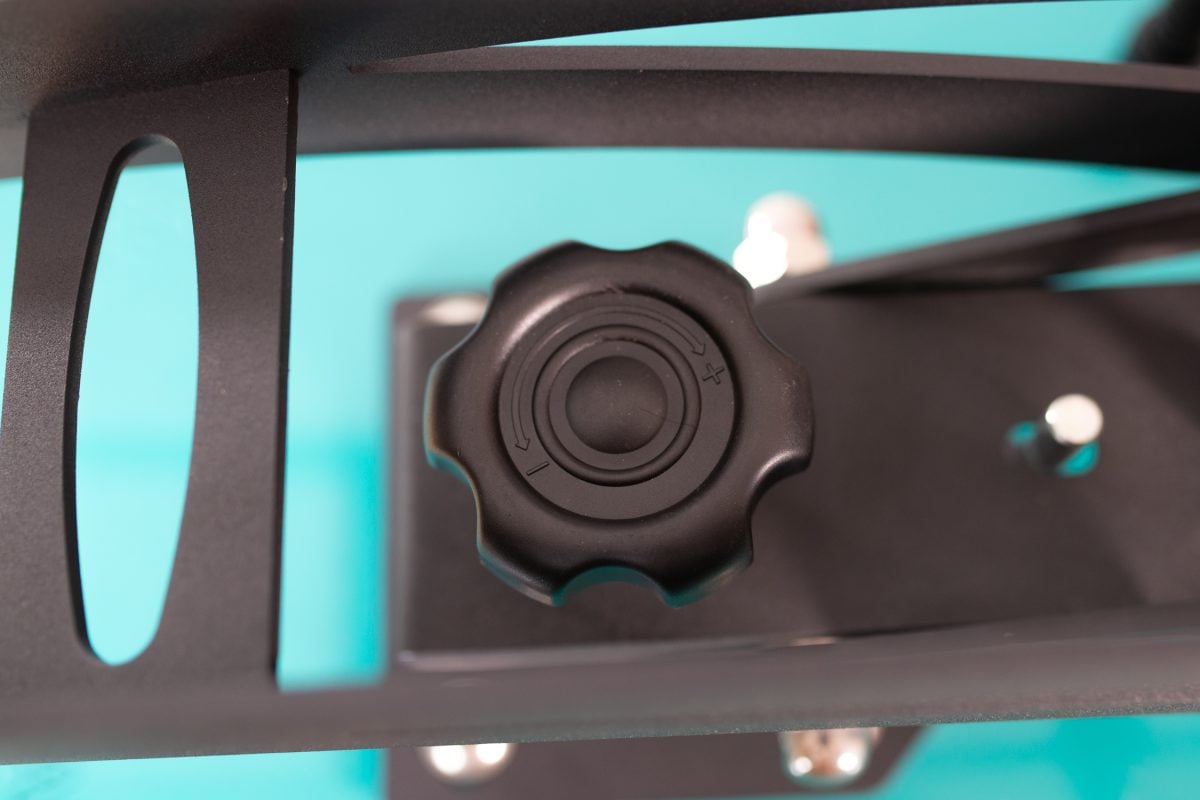 If your blank calls for heavy pressure, you'll want the handle to be a little tough to clamp down fully. If it calls for light pressure, it should be pretty easy to close. Medium pressure? Well, somewhere between the two. I like to open and close my heat press a few times to double check pressure before adding a blank.
Setting Your Time and Temperature
Now let's see how to actually adjust the settings. Turn on your heat press. Control boxes for each press will be a bit different, but there are usually three main settings:
Time
Temperature
Fahrenheit vs. Celsius
Generally there is a SET or MODE button to get you to the first setting. On my press, the first setting is labeled P-1 and it's the temperature. Use the arrow keys to set the temperature.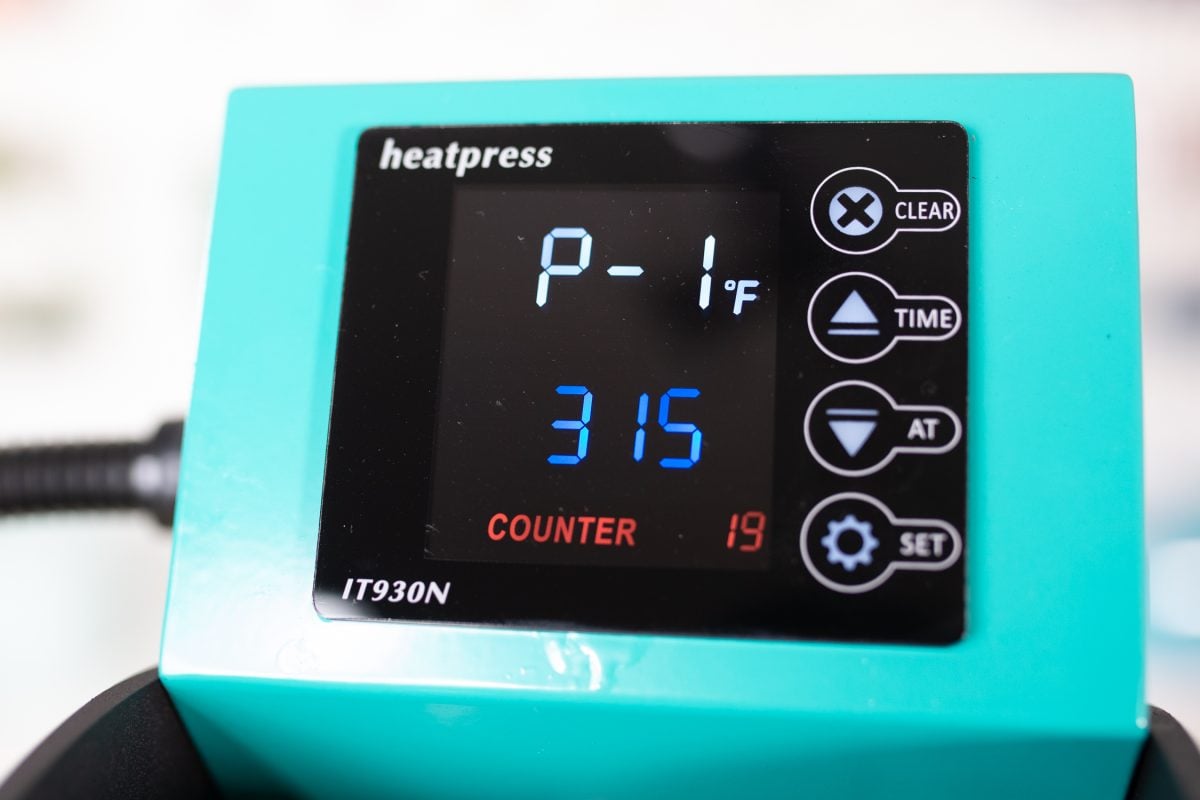 Then hit the SET or MODE button again to get to the next setting. Mine is labeled P-2 and it's the time. Use the arrow keys to set the time in seconds.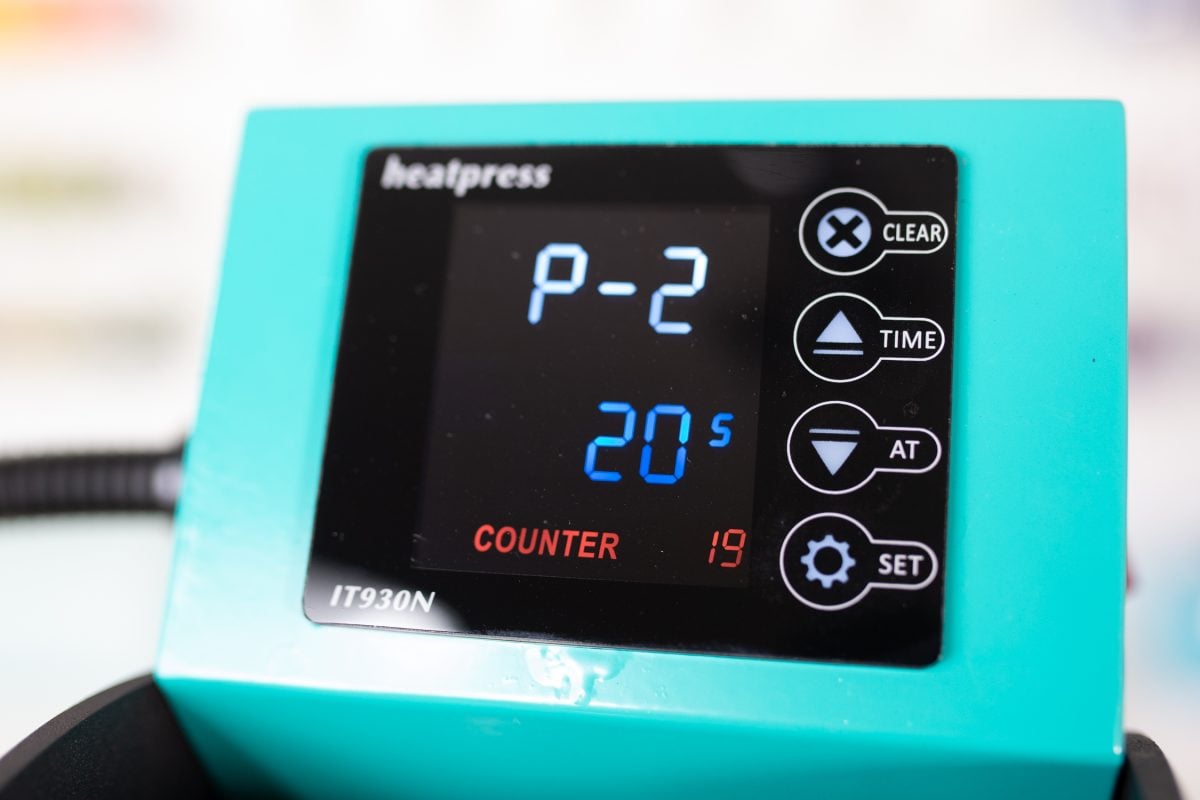 If that's all you need to set, you can hit the SET or MODE button until you get back to the main screen. On mine, there's also P-3 for changing between Fahrenheit and Celsius, and P-4, which helps you calibrate temperature difference by increasing or decreasing the readout. You would test this by putting aiming a thermometer gun at the hot platen in several places to see if the readout is what your temperature says it is. If not, you can add or subtract degrees to the temperature readout so it's more accurate.
Other heat presses may have a different process for changing the settings, so when in doubt, refer to the user manual.
Testing Your Settings
Note that recommended settings are just that—recommended. You may need to adjust the settings a bit to get a better press. This is where testing comes in. If possible, test your materials or prints before doing your final press on your blank. Start with the recommended settings and go from there. For example, if your HTV isn't sticking all the way, press for a bit longer. If your sublimation prints are coming out faded, try increasing your temperature. You can use a temperature gun to make sure the temperature shown in the controls is the same.
There are a lot of variables that go into your projects, including your material, your blank, the temperature and humidity in your space, and whether or not Mercury is in retrograde (okay, not really, but sometimes it feels that way!). Knowing that recommendations are just a starting place can help you find the best time, temperature, and pressure settings even faster.
Creating Your Project!
Now that your time, temperature, and pressure settings are all set, you can create a project! These photos are of a simple HTV baby bodysuit using my WALApress, but like I've mentioned, there are lots of things you can do! You can grab the free narwhal SVG we're using here:
Download the Free Narwhal File under SVGs C466
This file can be found in my Free Craft Resource Library. The file number is: C466.
Want access to this free file? Join my FREE resource library! All you need is the password to get in, which you can get by filling out the form below!
Open your heat press and lay your bodysuit flat on the lower platen.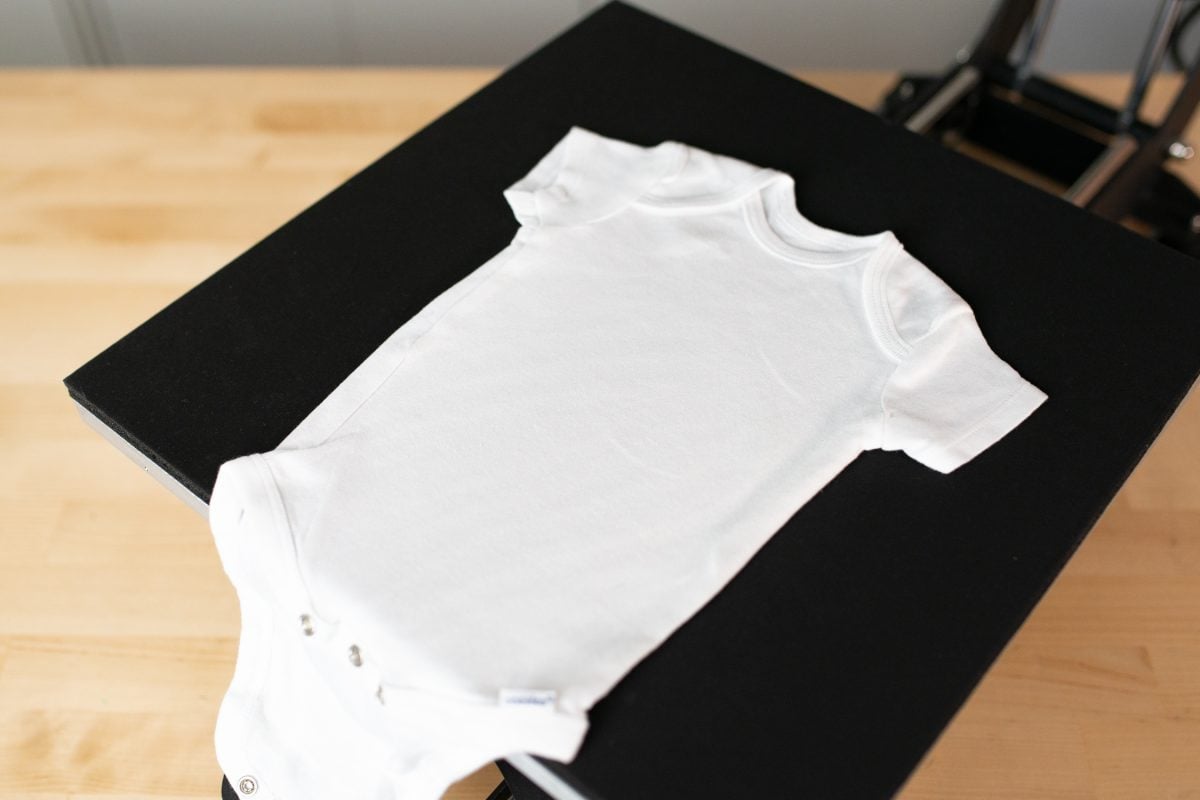 Use a lint roller to remove any dust, pet hair, or other debris from your garment.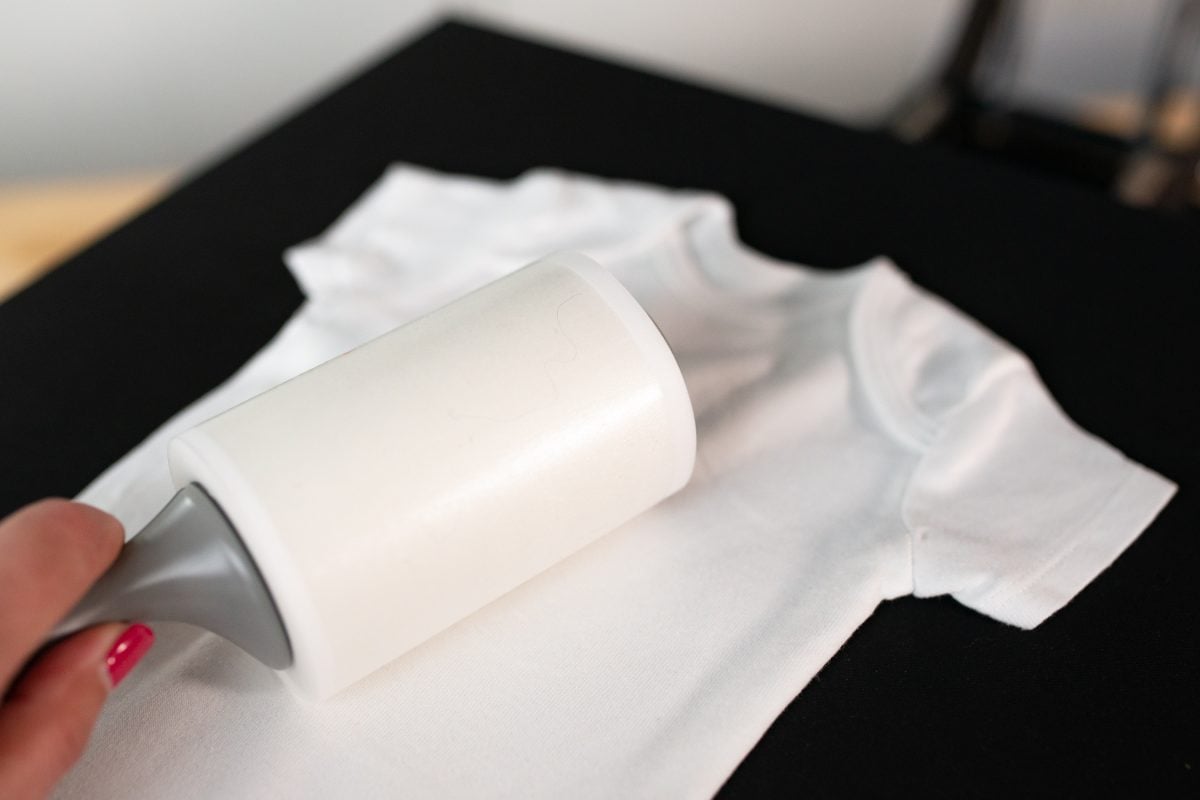 Pre-press your blank for 10 to 15 seconds to release moisture and/or wrinkles before adding your image decal on top.
Once ready, place your material (heat transfer vinyl, sublimation transfer paper, inkjet transfer, etc.) on top of the blank. In many cases, you may also want to use a teflon sheet or piece of butcher paper between the top heat plate and your blank.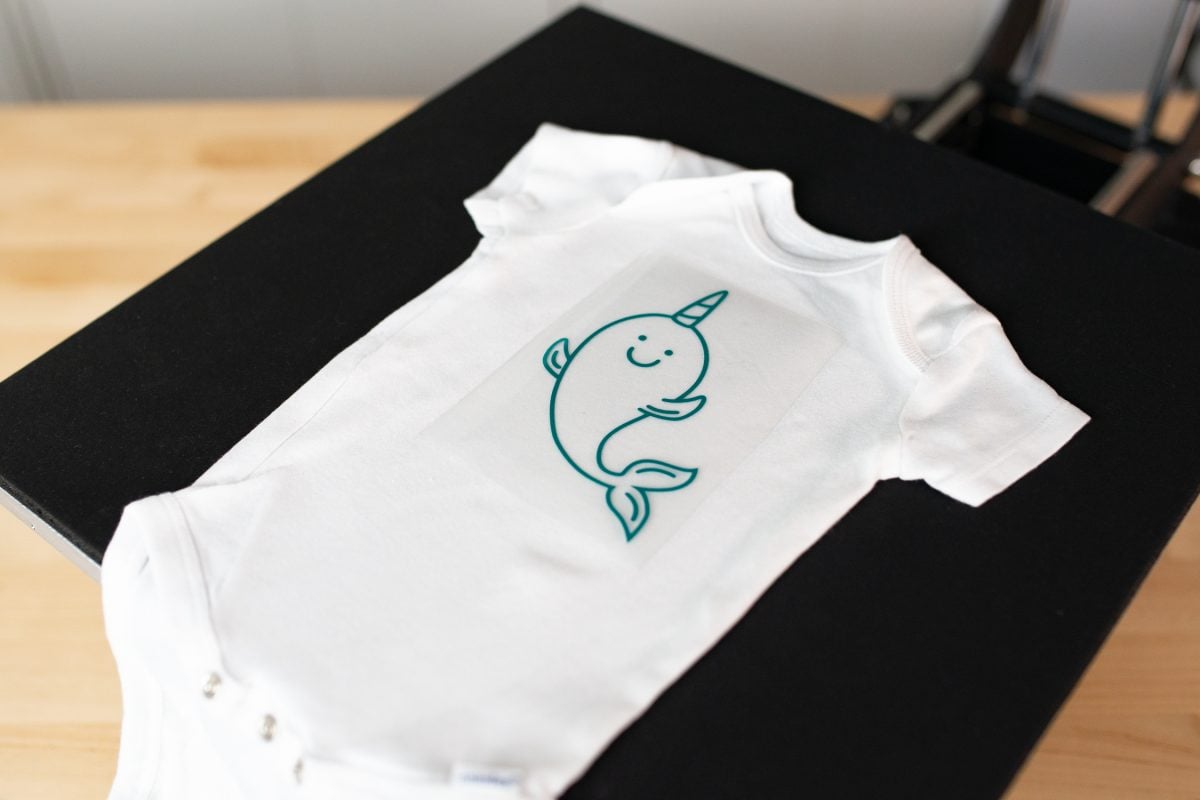 Then, using your handle, carefully close the upper platen and press the start button on your machine. Depending on your machine, the countdown will start automatically, or you may need to press a button to start it. Once the machine is closed, avoid re-opening your project until it's done.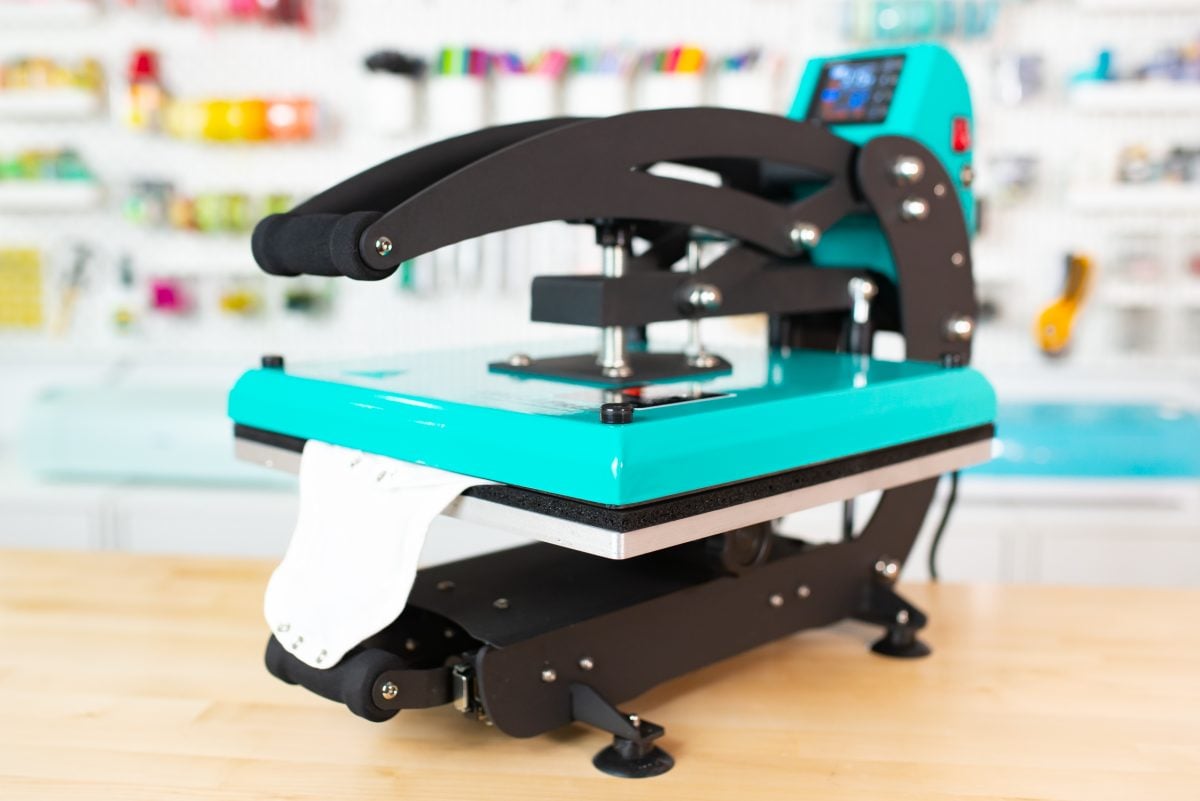 Once the timer beeps, use the handle to open your heat press. It will be hot, so be careful!
Depending on your material, you may need to wait for your project to cool a bit before peeling away the backing or carrier sheet. Read my post HTV: Hot Peel vs Cold Peel for more information.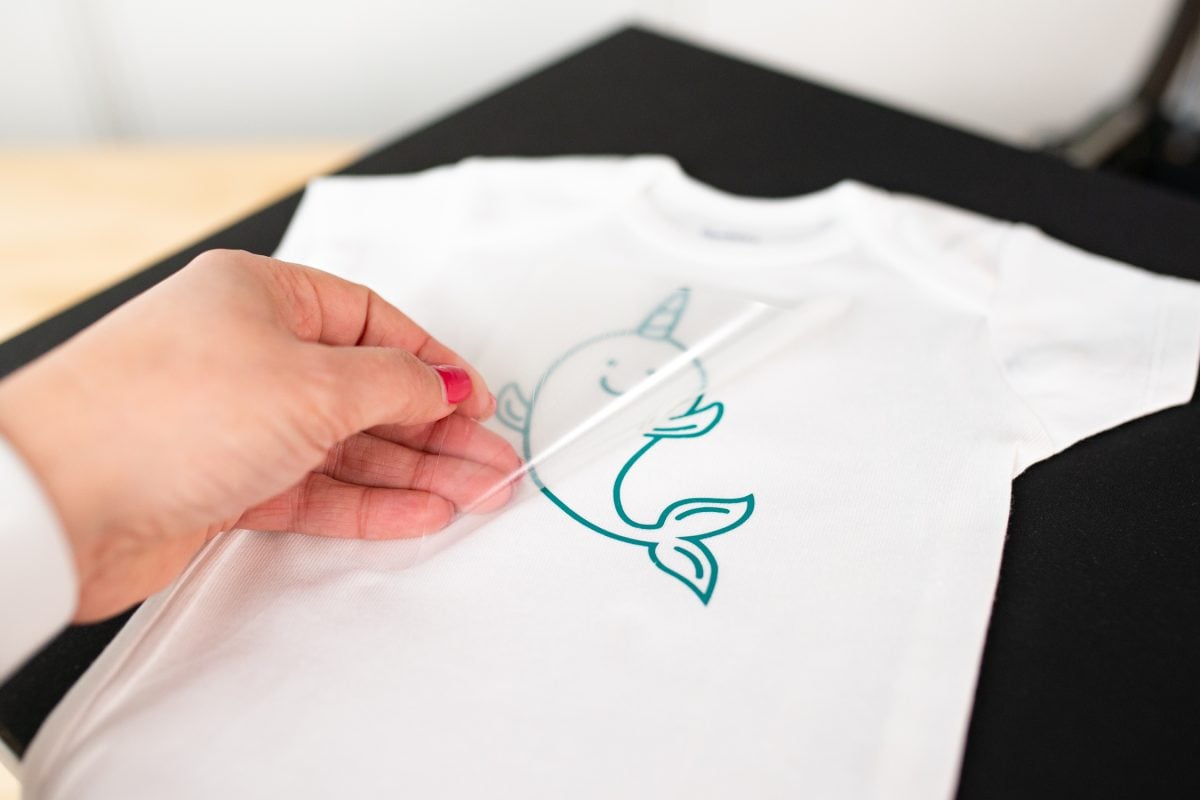 Depending on the recommended instructions for your project, you may also want to press from the back to make sure your material is really adhered to your blank properly.
Your project is done!
WALApress Review
Now let's talk about my specific WALApress heat press and whether or not I'd recommend it! Like I said at the beginning of this post, I upgraded to this press after my 5-in-1 heat press from Amazon died. My main reasons for upgrading were a larger pressing surface (15″ x 15″ vs. 12″ x 15″), a smaller footprint (clamshell vs. swing-away), and the customer service provided by Heat Transfer Warehouse just in case my press died at some point like my Amazon press did.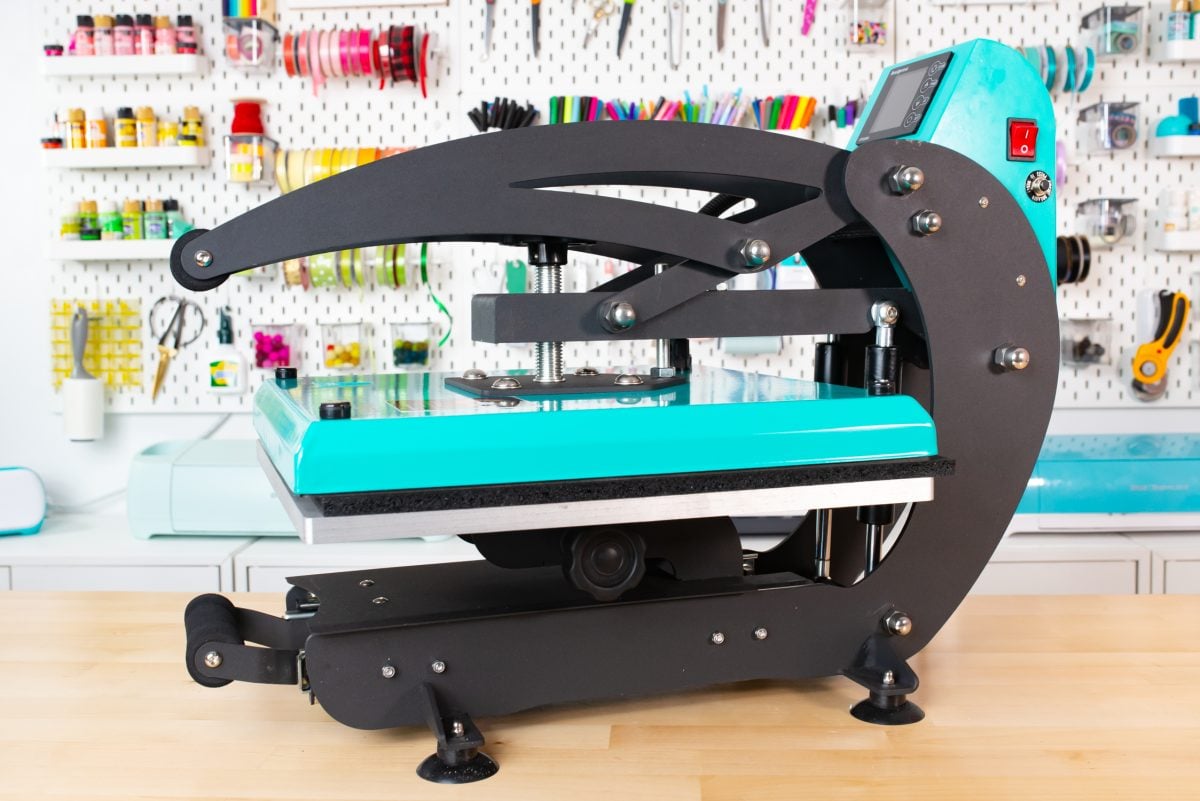 The price difference was significant, though, with the Amazon press being around $200 and the WALApress around $575.
I've been using the WALApress for more than a month now and I really love it. Yes, it's more expensive than my Amazon press but I do think the upgrade was worth it for me. I like how much more sturdy this press feels than than the 5-in-1 press. I really love the pull-out drawer for getting my projects set up, though I will be honest and say that twice now I've tried to close the press before sliding the drawer back in since I am not used to that part of the process. It made the press feel a bit off balance, which was a bit scary. But that's just my own user error—just be sure to push the drawer back in.
With the increased size for Cricut Print then Cut, I am looking forward to doing larger sublimation projects and the larger platen will allow me to do that. And even with that increased size, the amount of space I need to use my press is actually smaller than it was with my swing-away Amazon press.
Frequently Asked Questions about Heat Presses
What does a heat press do?
A heat press is used to adhere a heat-transfer material to a blank. For instance, heat-transfer vinyl to a t-shirt or a sublimation print to a tote bag.
What supplies do I need for a heat press?
In addition to the press itself, some other handy supplies include butcher paper or teflon sheets, heat-resistant gloves, heat-resistant tape, a temperature gun, t-shirt guides, and pressing pillows.
Why would you use a heat press instead of an iron?
While you can use an iron for some heat-transfer projects, the high, even heating of a heat press is a much better option. Irons can have hot and cold spots, leading to uneven transfers. And most irons don't get hot enough for sublimation projects.
What time and temperature should I use?
Time and temperature (and pressure!) are based on manufacturer's recommendation. Google the type of material or blank you are using to see the recommended pressing time, temperature, and pressure.
Is a heat press a good investment?
If you make a significant number of garments and other projects, a heat press is a great investment over an EasyPress or iron. Just know that you'll need a decent amount of space because heat presses are large and are not easy to store.
What is the difference between a regular heat press and a sublimation heat press?
Nothing! You can use the same heat press for both types of projects, provided that the heat press goes up to 400° for sublimation.
Can I use a heat press with adhesive vinyl?
No, adhesive vinyl is like a sticker and does not need heat to be activated. A heat press will more than likely melt adhesive vinyl. See my post How to Use Adhesive Vinyl for more information.