Want inexpensive blanks for crafting? Get a BELLA+CANVAS Maker's Account and you can buy blanks at wholesale pricing without having to provide a resale license! Here's how the program works and how to sign up!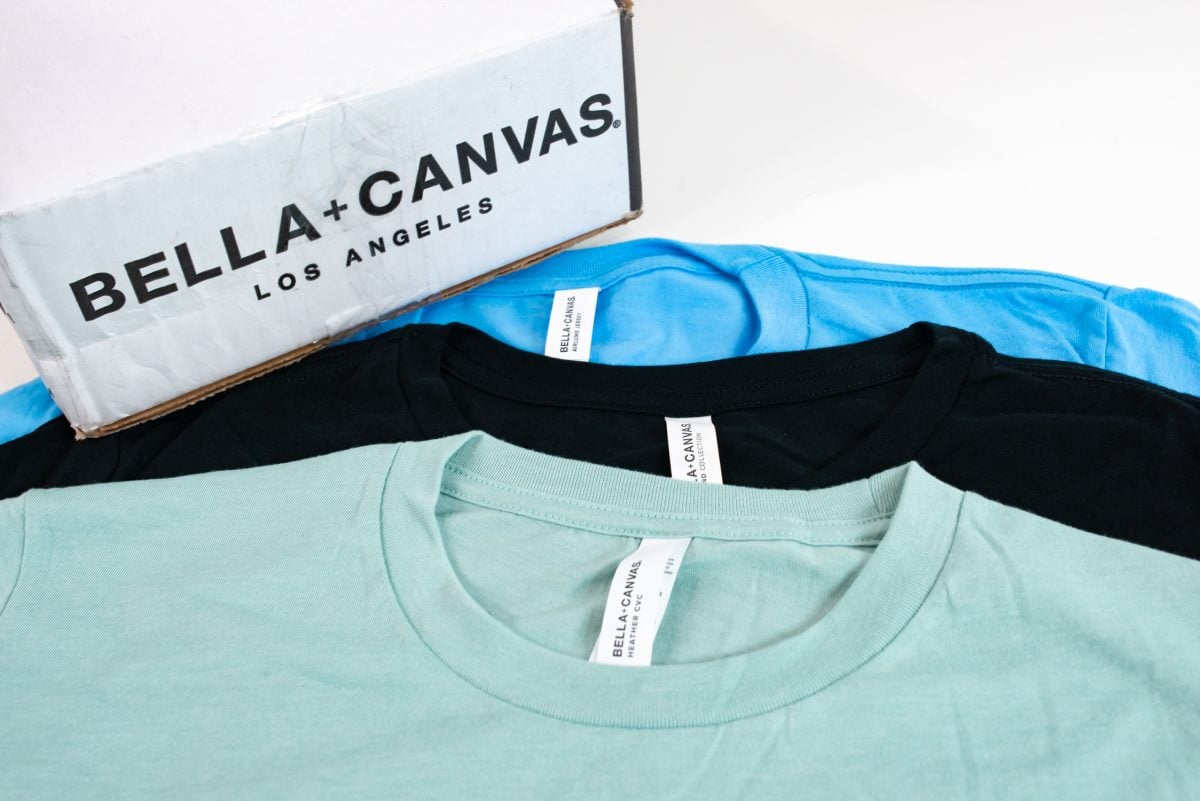 This post is sponsored by my absolute favorite garment brand, BELLA+CANVAS. As always, all opinions are my own.
If you're running your own craft business (or even if you just craft a lot for yourself and gifts!), blanks are often a big part of your crafting budget. Where and how you buy your blanks can make a significant difference in your profit margins.
Let's look at the different ways you might buy blanks for your small crafting business, including one way that you may not have heard of before: the BELLA+CANVAS Maker's Account!
Buying Retail
The first option is to buy your blanks retail. This means you are buying from a company that sees you as the final customer. This includes buying blanks and garments from big box retailers both in person and online (you know, rhymes with Barget and Gal-mart). There is generally no bulk discounts at retail stores—you could buy one black shirt for $9.99 each or 100 black shirts for $9.99 each. Buying at a retail store means that you are almost sure to pay the highest price for a garment or blank.
Plus many garments from stores like this are "fast fashion" and are not ethically or sustainably made.
If you are running a crafting business, buying your blanks at retail pricing is one of the worst ways to spend your money. Read on for better ways to shop!
Buying from Distributors
The second way you might buy blanks is much better, and that's buying through a distributor. A distributor will buy huge quantities of products from a manufacturer and sell them to you as the consumer. They often have bulk discounts, so for example, you could buy one black shirt for $7.99 each or 100 black shirts for $5.99 each. They are able to pass savings onto you while still maintaining a profit.
My personal favorite distributor is Heat Transfer Warehouse, but there are lots of options out there!
Buying Wholesale with a Resale License
Another option is to buy your blanks wholesale from the manufacturer. This means that you are buying from a company that assumes you are NOT the final customer. They assume you will be re-selling the item to someone else after you've decorated it in some way (using HTV, screen printing, sublimation, etc.). Often wholesalers will have minimum order requirements, like 25 t-shirts.
Wholesale pricing is the lowest you'll find, with the added benefit that you do not pay any sales tax on the items you order. Hooray! Instead, you'll collect tax on the final items you sell, and that's how your state will collect their sales tax.
To buy wholesale, however, you will need a resale license or permit (sometimes called a reseller license or wholesale license, depending on your state). You will need to look up the necessary qualifications in your state to apply for a wholesale license. Here's the Reseller Permit page from my home state of Washington, to give you an idea of what it might take to apply for that reseller permit.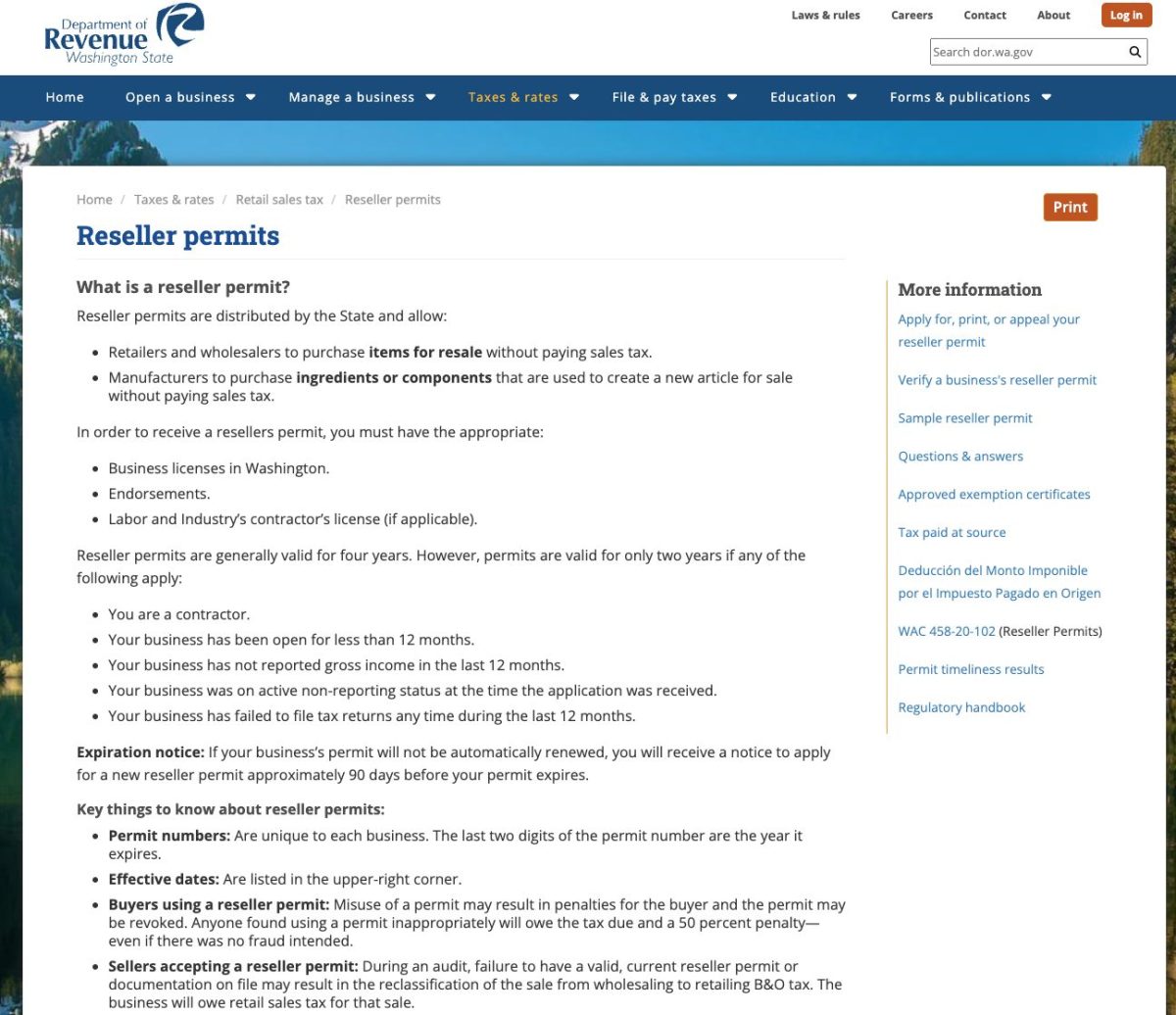 Once you have your license, you'll be issued a permit number and you'll be able to use that number when ordering from wholesale websites to get the best pricing and not have to pay that sales tax.
Note that a wholesale license cannot generally be used for buying items for personal use or to make gifts or other items to give away. You must re-sell the blanks you buy with a resale license. Again, this is how the states collect the sales tax on these items.
Getting a resale license can be really intimidating and a lot of crafters don't want to go through the hassle. Many folks end up buying from distributors, paying a bit more but saving themselves the trouble of applying for a resale license. You can decide if the savings in your own business is worth it to you to apply for that resale license.
OR…there's now a new option!
Buying Wholesale without a Resale License
And that's to buy your blanks at wholesale pricing without a resale license through the BELLA+CANVAS Maker's Account program. This is a new program that allows you to get that wholesale pricing on garments without having to use a resale license!
The biggest difference between this account and a regular wholesale account is that you DO still have to pay the sales tax. But that also means you can use the garments you buy from the Maker's Account both to sell and for personal use, since the state is getting its sales tax. There are also no quantity minimums nor quantity discounts.
Signing Up
You can sign up by going to the third link on this page that says "Are you looking to buy wholesale blanks without a resale license?"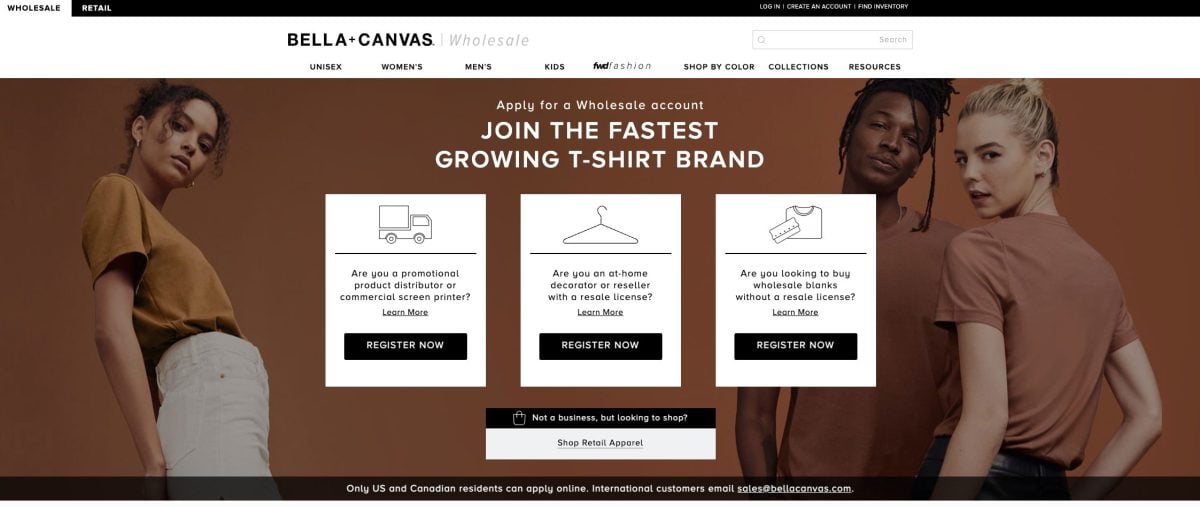 Once you're signed up, you'll have access to an enormous stock of wholesale blanks!
How the Bella Canvas Maker's Account Works
When you go to a product under the Maker's Account, you'll see the product details and all of the colors the product comes in. This is one of the most popular styles—the 3001 unisex t-shirt, which is made of soft 100% Airlume cotton. You can see other details here as well, like the features and where to download the item specs.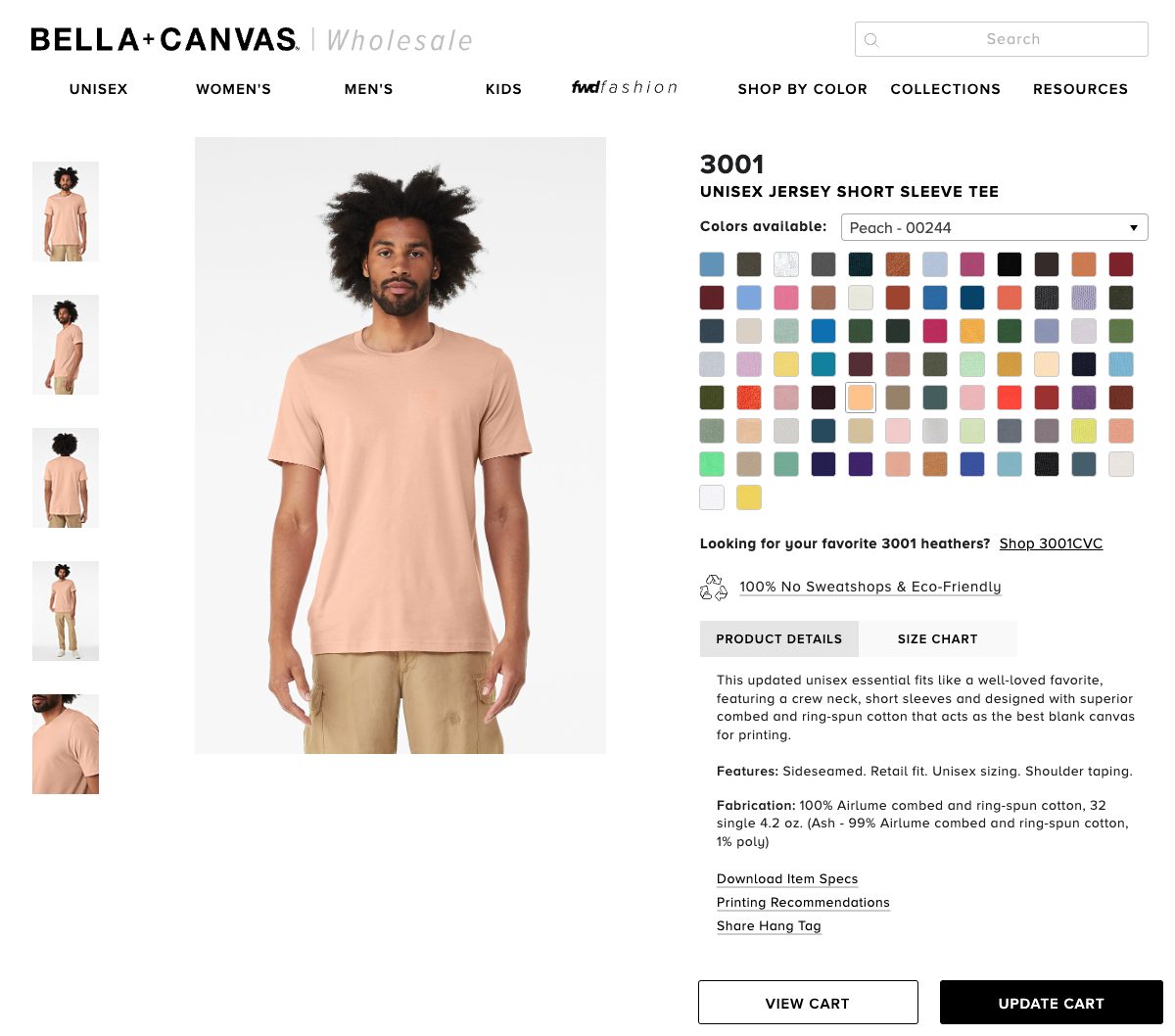 If you scroll down, you'll see each individual color, like this Navy. There's a lot going on here so let's look at each part in detail.

First, there are two warehouses—one in NV and one in MD. When you're ordering, you'll want to pick the warehouse that is closest to you, unless it's out of stock. If you order from more than one warehouse, you will end up with two different shipping charges, so it's best to try and order from the same warehouse if possible.
Then there are all the sizes that this particular style comes in, from XS to 5XL and the pricing. In the box, input how many of each size you would like. When you've done that, go back to the top and click the black Update Cart button and you'll see that both your cart and the individual color listing is updated.

In this section you may also see a dash, which means the BELLA+CANVAS is out of stock of that item, like many of the sizes above. In some cases, they may be out of stock and expecting some soon, and if so there will be a yellow date, like the XL in NV.
Finding Distributors
And if for some reason BELLA+CANVAS doesn't have the product you're looking for in stock, you can click the little map pin icon next to the item you're looking for to search for distributors who have it in stock. In the above example you can see that you can find those 3XL shirts at a number of retailers across the US.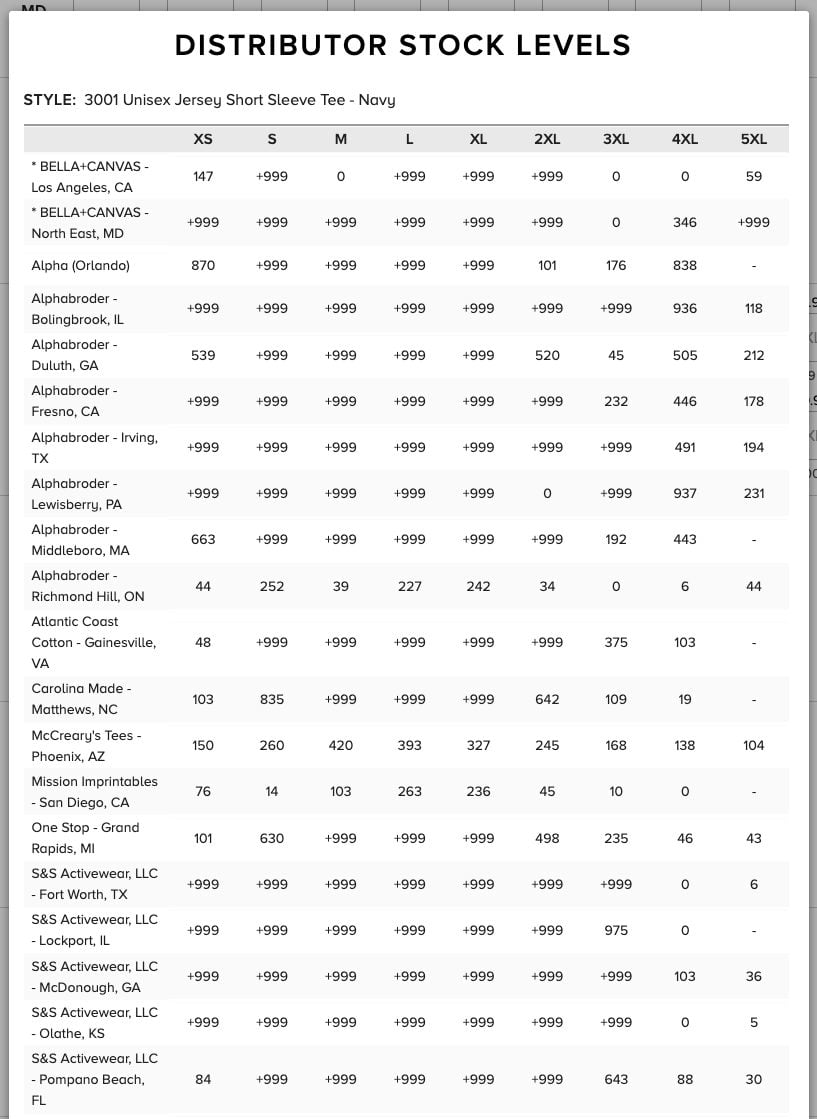 Why Shop BELLA+CANVAS?
If you've been around here a while, you know that I love BELLA+CANVAS. They offer an absolutely enormous selection of colors (more than 300!!) and styles of blanks and garments in a wide variety of sizes up to 5XL in some styles. They have a FWD Fashion line that has current retail trends out now—usually it takes years for trends to make it to the wholesale world. All those 90s styles that are popular right now? Yep, BELLA+CANVAS has them. Get your crop top on!
I've been crafting a long time and I can feel the quality difference between BELLA+CANVAS garments and those from other manufacturers. They just fit better and feel softer. I also love that they are eco-conscious. They recycle all of their scraps and their dyeing process uses no toxic chemicals and is a safe process for the environment and employees. You can't get much better than that.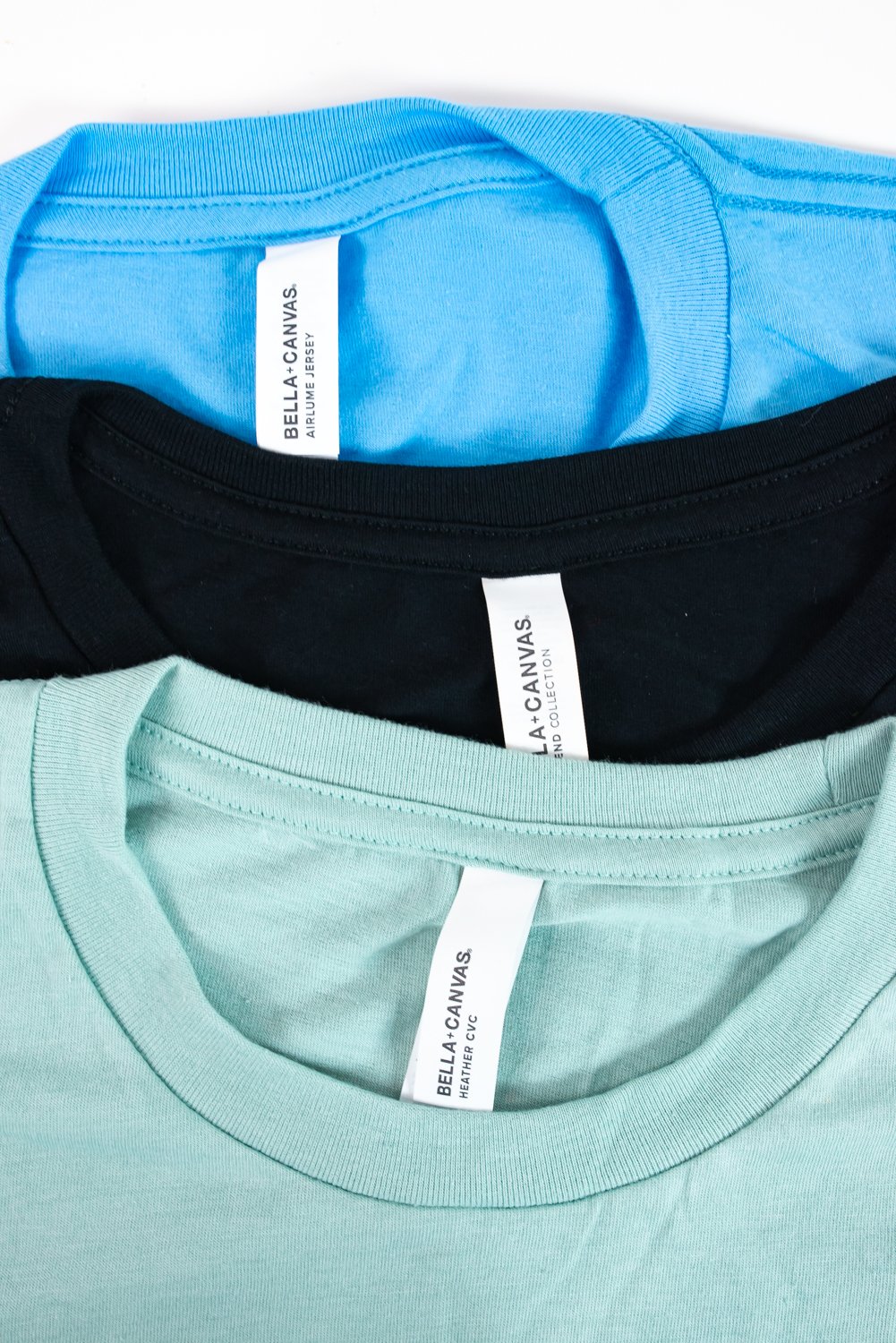 ---
I hope you found this break down of how to buy blanks, and maybe the BELLA+CANVAS Maker's Account sounds like it's a good fit for your business! Have questions? Happy to answer them in the comments!