Cricut users have been asking for years for a larger Print then Cut size and it's finally here! Here are the new Print then Cut maximum size measurements, plus tips and tricks for getting the largest Print then Cut sizes available.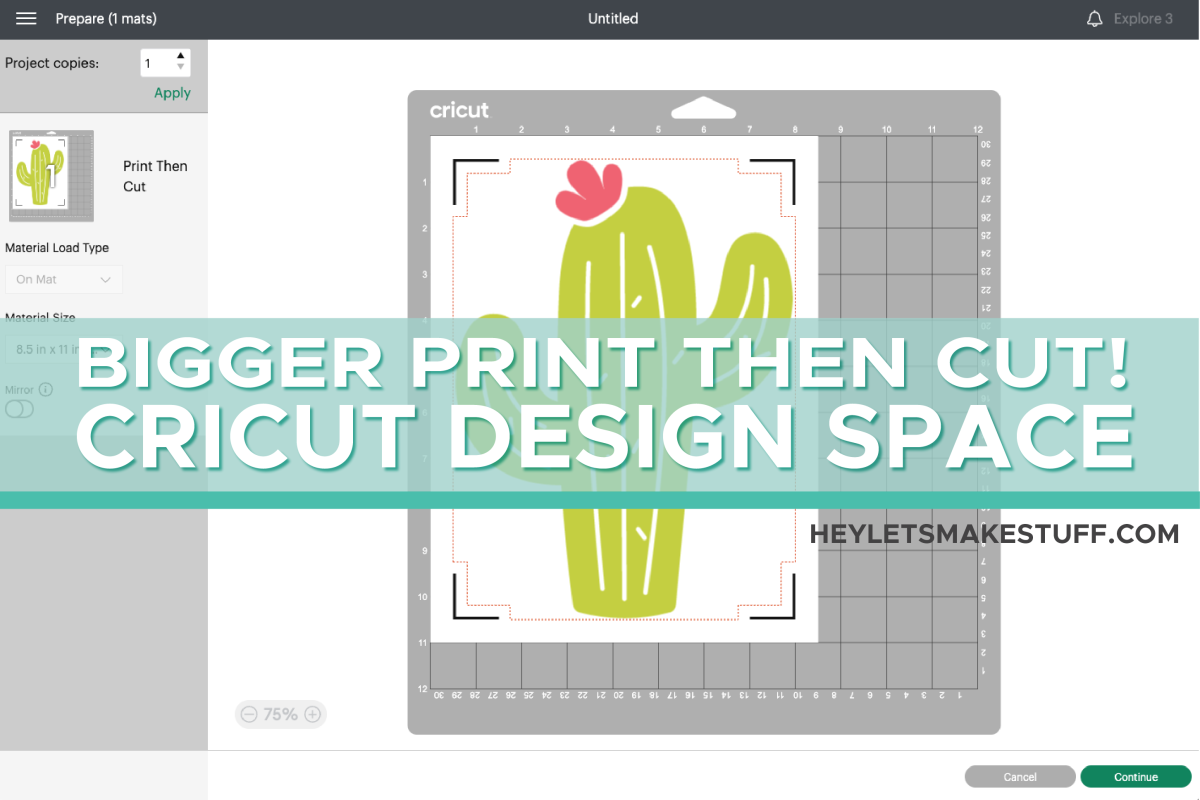 If you're not familiar with Cricut Print then Cut, it's basically a feature of the Cricut Maker and Cricut Explore machines that allows you to print out an image on your home inkjet printer and then your Cricut will use its sensors and cut around the edges of your project. You can use it to make all sorts of projects like labels, stickers, magnets, and even sublimation projects.
You can read my full tutorial for Cricut Print then Cut here if this is your first time learning about this feature! Note that Cricut Joy does not support Print then Cut.
Print then Cut has always been a bit of a sore spot with some Cricut users. Compared to competitors, the print area size was the big issue. Over the years, they've increased it in small increments, but up until recently it was still smaller than most other Print then Cut competitors. Crafters have tried to find ways to hack the Print then Cut size, but a lot of them are fussy and often they don't work well.
But I've got good news! The Cricut Print then Cut feature has gotten a redesign and they've increased the size of Print then Cut, including the ability to cut on larger page sizes. This post will go over all the new sizing details and how to maximize cut space, but refer to my full Cricut Print then Cut post for the nitty gritty on using Print then Cut in a variety of ways.
Visit my Amazon shopping list for everything you need to get started using your Cricut!
Watch the Print then Cut Video
Want to skip the blog post and get all the information in a video instead? Watch it here!
Print then Cut Images
As always, you'll need a printable image for Print then Cut. You can upload a JPG or PNG, use a printable image from the Cricut Image Library, or you can flatten the layers of an SVG file or Cricut cut image.
Download the Free Cactus File under SVGs C462
For this project I designed a cute cactus file. The shape of this cactus makes it really easy to demonstrate the way Print then Cut now works!
This file can be found in my Free Craft Resource Library. The file number is: C462.
Want access to this free file? Join my FREE resource library! All you need is the password to get in, which you can get by filling out the form below!
How to Access the New Larger Cricut Print then Cut
The increased Print then Cut size is currently in the Beta version of Cricut Design Space, but anyone can access it. Just go to the hamburger menu in the top left and in the dropdown, click Settings. From there, you can change from Live to Beta. Note that it WILL restart Cricut Design Space, so make sure you have all your work saved.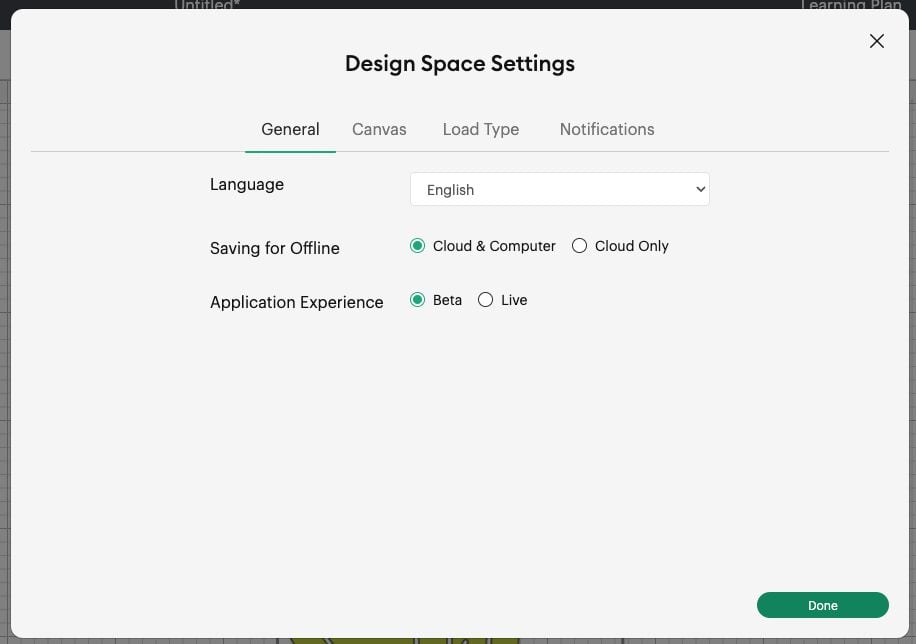 Calibrating Print then Cut
To use the new feature, you will be prompted to recalibrate Print then Cut. If you're not prompted, I would manually recalibrate. To do so, you'll go to the hamburger menu in the top left and click Calibration. Then follow the on-screen steps to calibrate Print then Cut. You'll print out a test sheet, place it on a mat, and then your Cricut will make a series of cuts. You can follow the instructions until your Cricut is calibrated and your Cricut machine is perfectly cutting around the edge of your project. See my full tutorial for Print then Cut Calibration.
Cricut Print then Cut New Registration Marks
With this new release, the way that Cricut uses registration marks has changed. Before, they got in the way of the size of the image. But now they've changed things a bit so that the registration marks are only in the way a small bit. There's more room at the top and bottom between the registration marks for your image, allowing the images to be a bit larger.
You can see these as red dotted lines in the Prepare Screen on the image preview. There are basically "tolerances" around the registration marks. So if your image fits within those tolerances, you're good to go. If you have something like a square image with corners, it will have to be slightly smaller because the corners will get too close to the registration marks.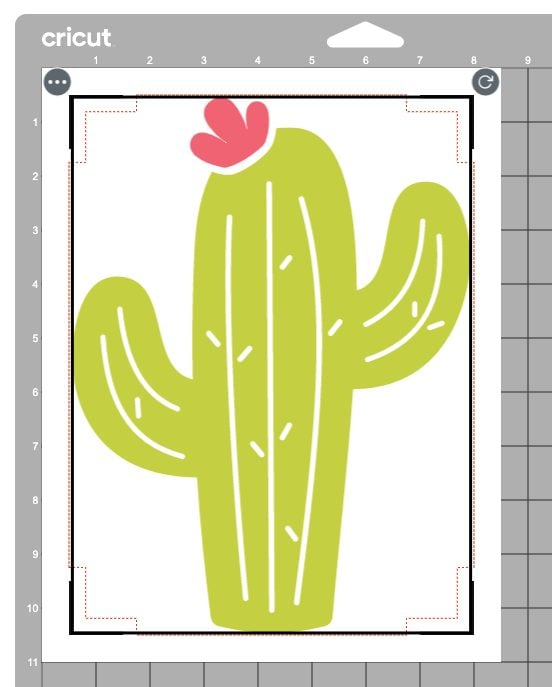 But an image like this cactus easily shows how much more space at the top and bottom we have to work with. In these two images, the one on the left has the previous cut size of 6.75″ x 9.25″, but on the right you can see the new print area is significantly bigger!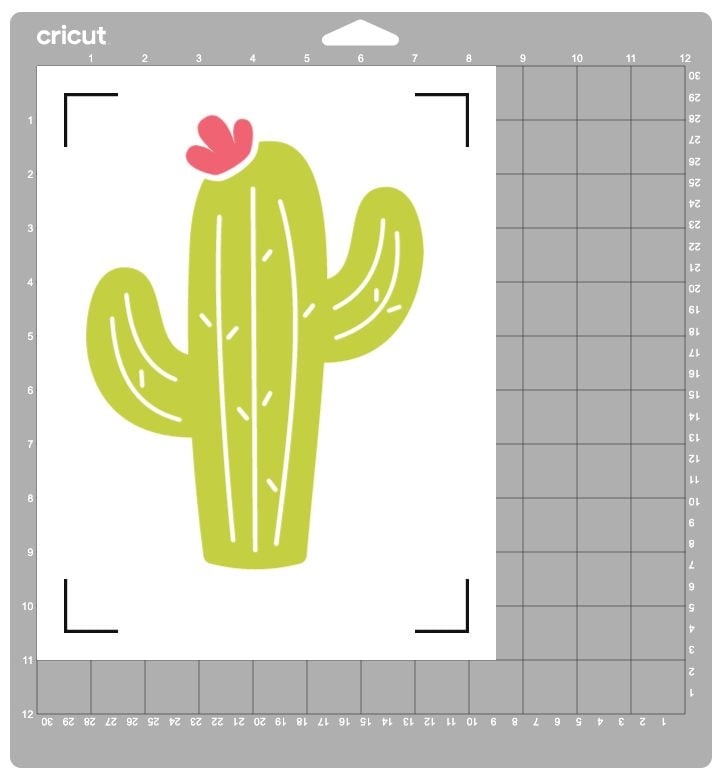 Cricut Print then Cut New Paper Sizes
Until now, I believe there was only one size of paper supported for Print then Cut: 8.5″ x 11″. This is the standard paper size in the US, but not everywhere. With this update, there are FIVE different paper sizes supported:
A4: 8.3″ x 11.7″
Letter: 8.5″ x 11″
Legal: 8.5″ x 14″
Tabloid: 11″ x 17″
A3: 11.7″ x 16.5″
You can change the paper size in the Settings. Go to the hamburger menu in the upper left, then Settings, and then Load Type. There you will see all the options.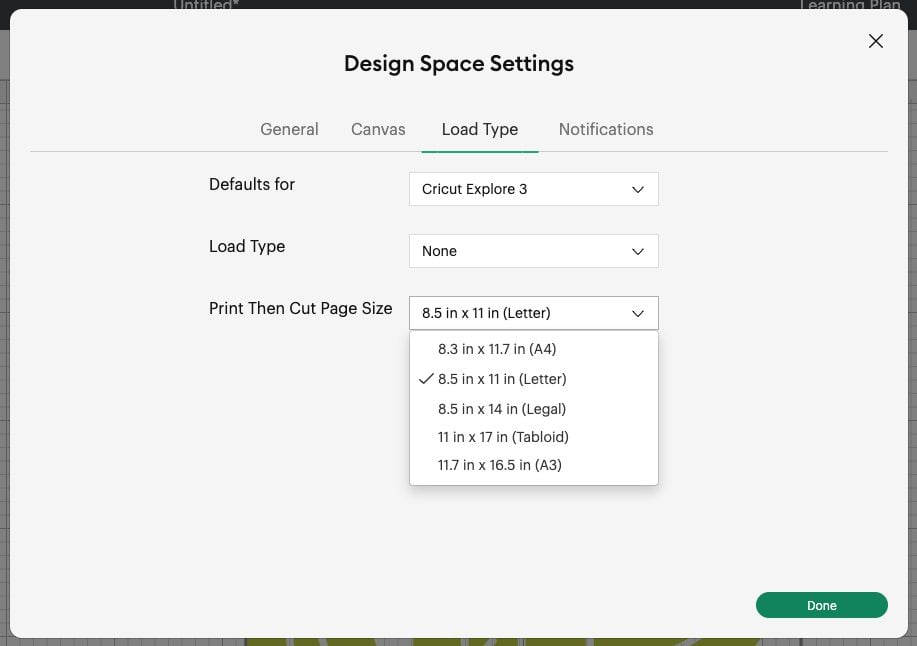 Note that you WILL need a home printer that can print these bigger sizes! Many printers in the US can also do legal paper, but you'll need a specialty printer to use the large tabloid size. I currently do not have a large format printer, so unfortunately I can't actually test these larger sizes.
Additionally, I hope Cricut will add a 12″ x 12″ size, since I do have a Canon TS9521C 12×12 Printer, which prints that large scrapbook paper size. Fingers crossed!
Cricut Print then Cut New File Sizes
Now let's talk about the Print then Cut print area for these different paper sizes. Cricut hasn't published the exact sizes for each paper size yet, but after some testing, I think these measurements are pretty close:
A4: 7.19″ x 10.06″
Letter: 7.44″ x 9.94″
Legal: 7.44″ x 12.93″
Tabloid: 9.94″ x 15.94″
A3: 10.63″ x 15.49″
Hopefully Cricut will release the maximum print sizes so we can be more precise, but in the meantime these numbers should get you close.
Auto-Resize in Cricut Print then Cut
Because each image is different and those tolerances are now rendered differently, it may be hard to know just how big an image can be. This is where the Auto-Resize feature comes in. I find this a bit tricky to work with (I think it could be more easily accessible, if you're listening Cricut engineers), but it's not too bad. First, you need to resize your image LARGER than your final project. That is the only way you'll be able to access the Auto-Resize.
When you go to make it, you'll get a warning that says your image is too big and you need to resolve the issue: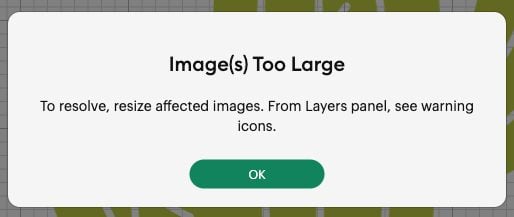 In the Layers Panel on the left, you'll see a warning symbol on that layer—a little red exclamation point in a circle. Click on it and you'll see options!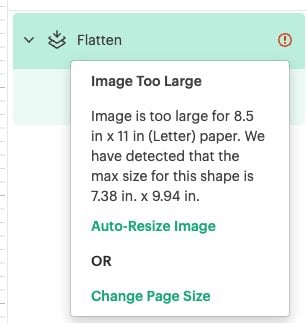 From here, you'll see that Cricut Design Space has detected a maximum size for your project. You can go and plug in those numbers into the Edit toolbar at the top, OR you can use the Auto-Resize feature! This will make your image the maximum size allowed within the Print then Cut boundaries. Easy!
You can also change your paper size here—it will just take you to that Load Type settings screen mentioned earlier in this post.
You can use the Auto-Resize with any paper size, meaning you can make HUGE print then cut crafts on that larger paper with a large-format printer and a large Cricut mat. I think this is fantastic in particular for larger sublimation Print then Cut projects (yes you can get tabloid sized sublimation paper on places like Amazon!), since many things like sticker paper or printable vinyl don't easily come in these larger formats.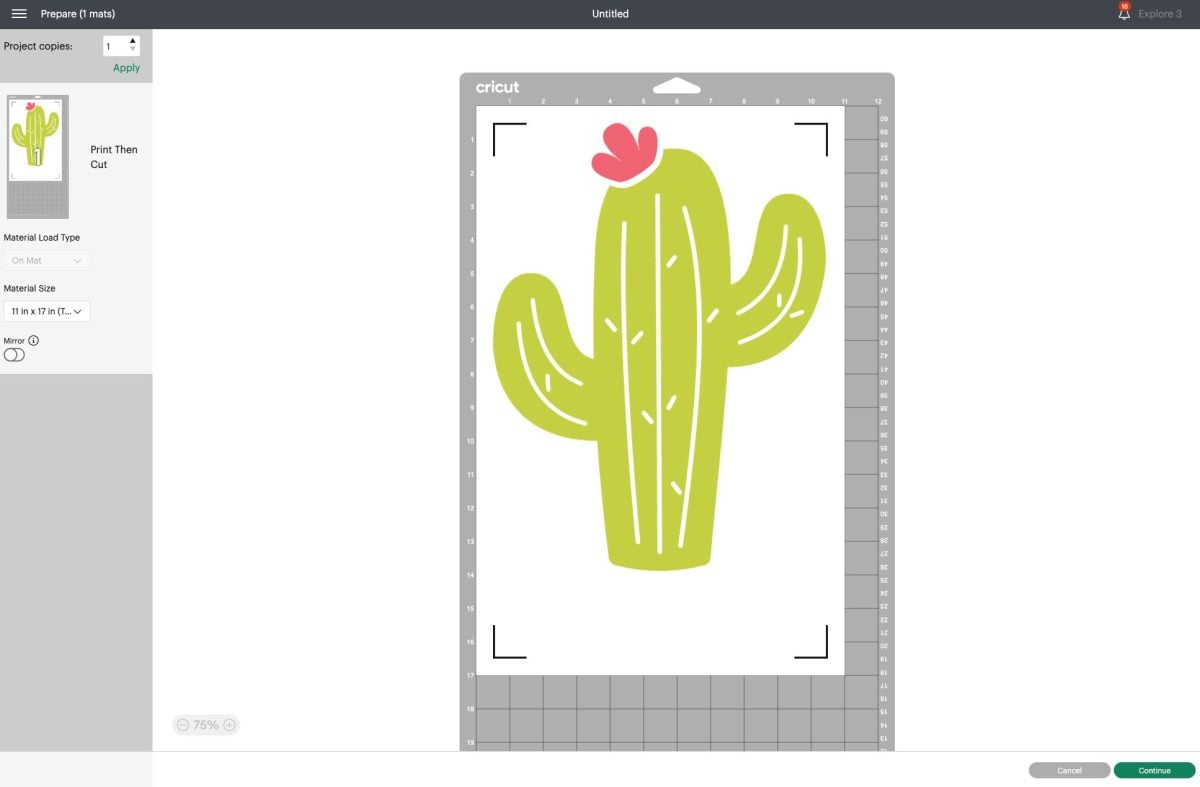 Frequently Asked Questions about Larger Cricut Print then Cut
What is the largest size for Print then Cut on Cricut?
With the newest update, you can print and cut up to 9.94″ x 15.94″ on a Tabloid sheet of paper.
Why is Cricut Design Space saying my image is too large?
If your image is larger than the maximum print then cut area, you'll get this warning. You can resize your image to fit within the bounds of Print then Cut by clicking the warning symbol and choosing "Auto-Resize."
How can I make an even bigger Print then Cut image?
If you don't mind piecing your project together after it's printed, you can use the Slice tool to separate your image into different pieces to be printed separately.
Can a Cricut print?
No, to use Print then Cut, you'll need a home printer in addition to your Cricut cutting machine.
Which Cricut Machines support Print then Cut?
You can use any of the Explore or Maker machines for Print then Cut. Cricut Joy does not support Print then Cut.