Cricut Explore 3 vs Cricut Maker 3: how are they different from each other and from previous generations? I'm comparing these two Cricut cutting machines, so you can make an informed decision about upgrading or buying one as your first machine!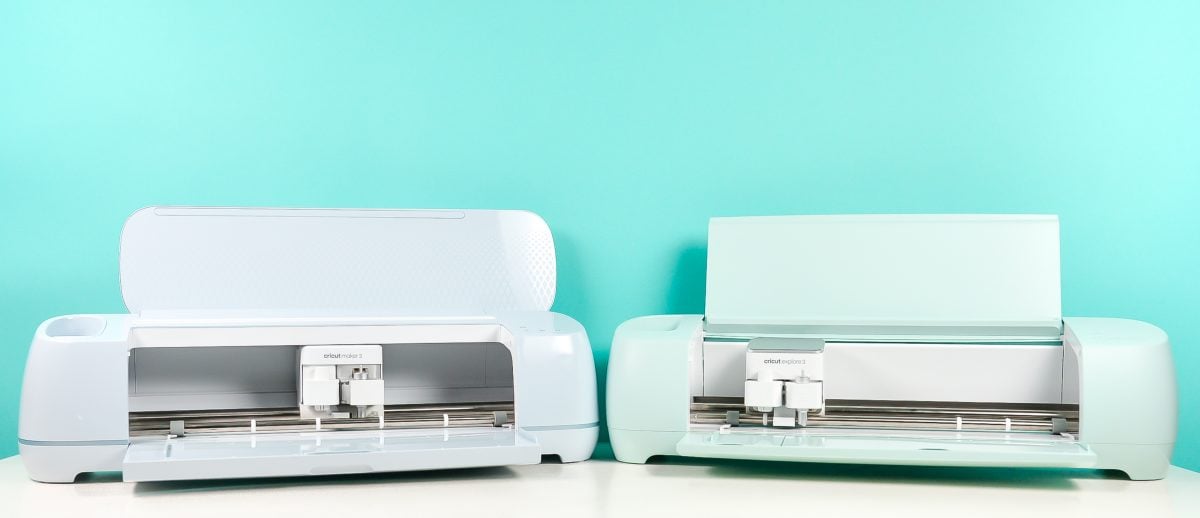 Are you trying to decide whether or not to buy a Cricut Explore 3 vs Cricut Maker 3? In this post, I'm going to compare these two machines, including what makes them different from each other, as well has how they are upgraded from previous generation machines. That way, you can make an informed decision before you decide to purchase!
If you want an even closer look at each machine, check out these posts:
You can also check out my post What are the Cricut Machine Differences? which covers the entire Cricut machine lineup.
In This Post:
What are Cricut Explore 3 and Cricut Maker 3?
Cricut Explore 3 and Cricut Maker 3 are electronic cutting machines and were released in 2021. These reengineered machines give you even more ways to create with your Cricut, as you'll see below.
While these machines have new features over the previous generations, this is a somewhat modest update and I don't want anyone to think their current machine is no longer good. If you have a current Cricut Explore Air 2 or Cricut Maker, your machine is awesome! This post will help you decide if you really want to make that upgrade.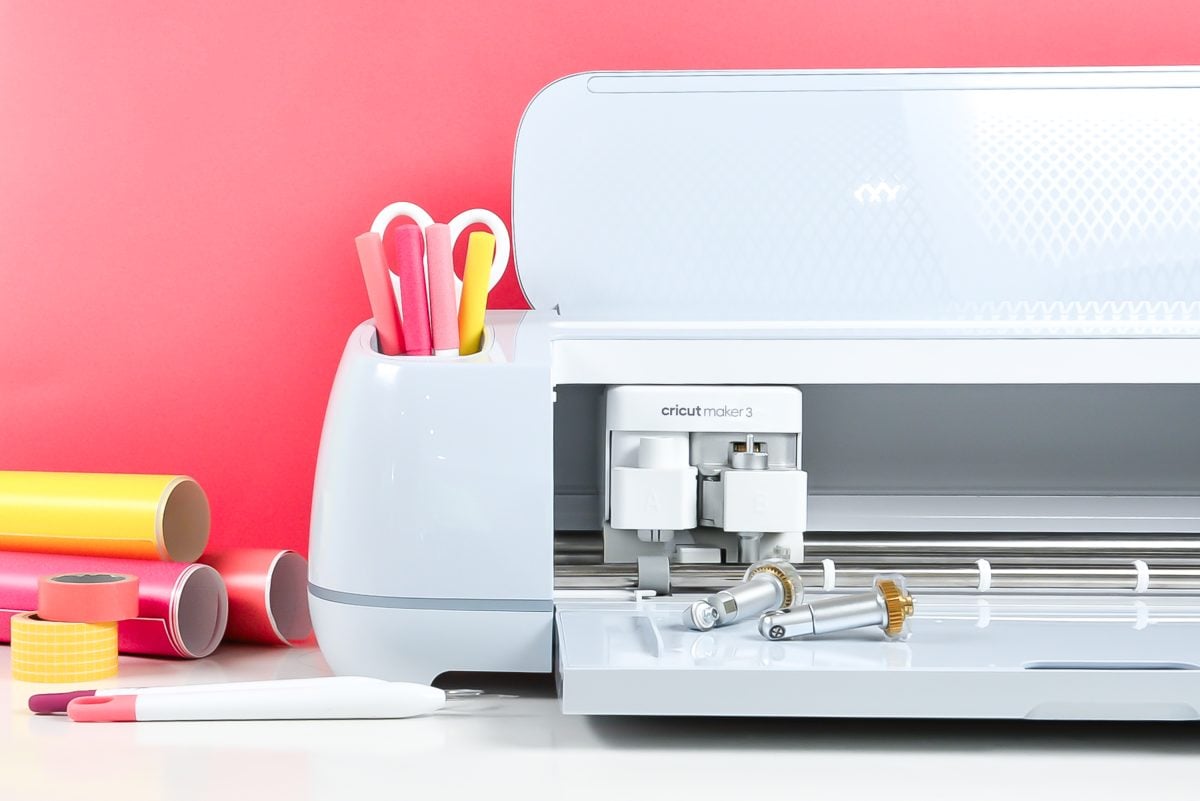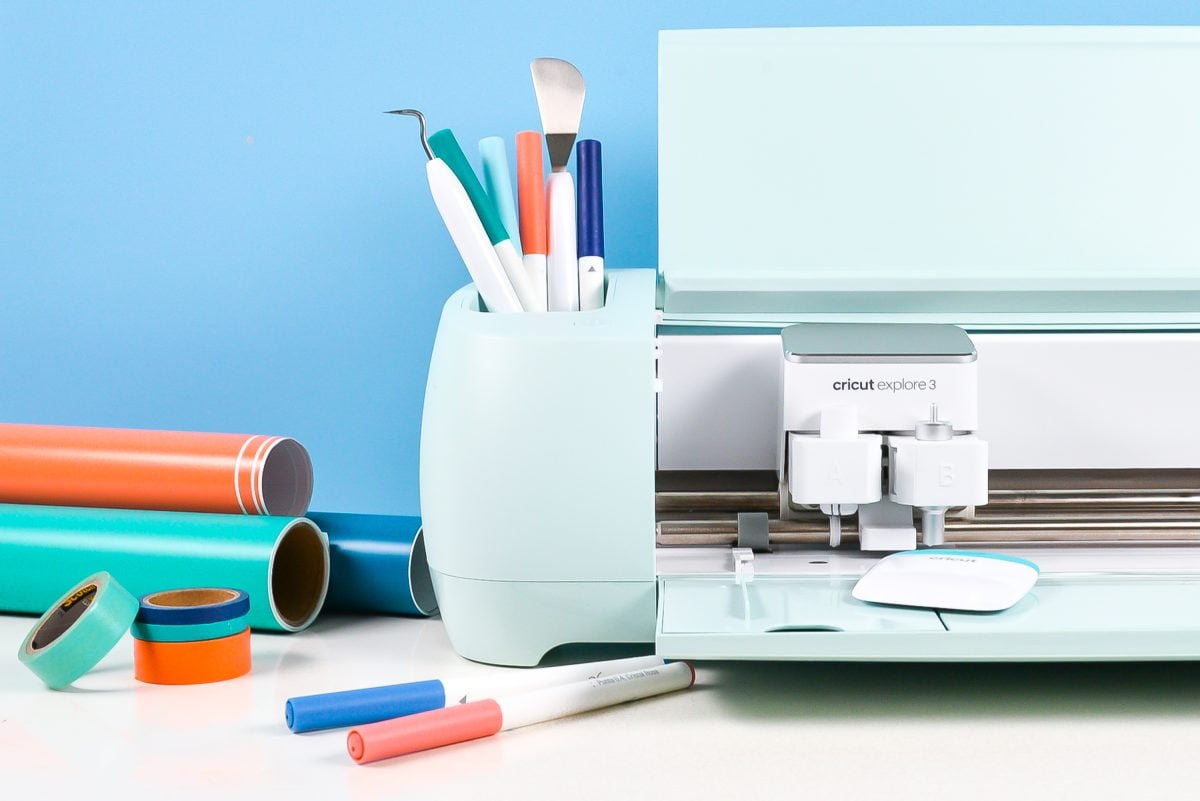 Was There A Cricut Maker 2?
To start, all of this "3" talk may have you wondering if there was a Cricut Maker 2. No, you didn't miss anything! To keep things consistent, Cricut decided to go with "3" for this Cricut Maker machine to line up with the new Cricut Explore 3 (which is an upgrade over the Cricut Explore Air 2).
Where Did The "Air" Go?
You also may have noticed that the "Air" was removed between the Cricut Explore Air 2 and the Cricut Explore 3. The word "Air" was originally added because it showed that the machine had Bluetooth (wireless) capability. This feature allows it to connect with your Mac, PC, or mobile device, which wasn't a feature of the original Cricut Explore. But because all machines are Bluetooth now, they dropped the word "Air."
Don't worry—this machine cuts wirelessly even if it doesn't specifically say so in the machine's name!
In The Cricut Explore 3 and Cricut Maker 3 Boxes
The Cricut Explore 3 and Cricut Maker 3 boxes are similar. They both contain the machine, a USB cord, a power cord, a Fine Point Blade and housing (installed in the machine), a welcome book, and some practice materials.
Note that the original Cricut Explore machines included a mat and a pen, and the original Cricut Maker machines included a Rotary Blade and two mats. But because these machines are promoting matless cutting (which we'll talk about in a minute), you'll have to buy those things separately if you want to use them with Cricut Explore 3 or Cricut Maker 3.
Connect the power cord to the back of your machine and plug the other end into an outlet. Click the power button to turn it on. It'll make some noises—you're ready to begin!
Setting Up Your Cricut Explore 3 or Cricut Maker 3
To connect your Cricut Explore 3 or your Cricut Maker 3, sign into Cricut Design Space (create an account if you don't have one already) and then click on the top left menu and select New Product Setup.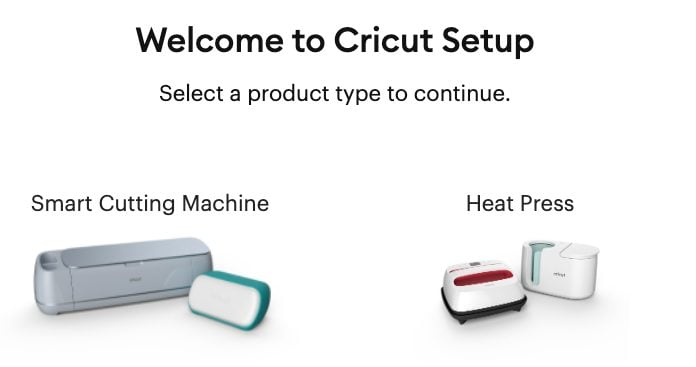 From there, select Smart Cutting Machine and follow the on-screen instructions to get it connected to your computer.
How Are Cricut Explore 3 and Cricut Maker 3 Different From Previous Generations?
I'm going to go into all the details below, but here are the two primary ways these third generation machines differ from the other older Cricut Explore machines (including Cricut Explore, Cricut Explore One, Cricut Explore Air, and Cricut Explore Air 2) and the original Cricut Maker.
Faster Cutting Speed
Matless Cutting with Cricut Smart Materials
We'll talk about both of these more in detail in a moment.
There are also other smaller updates to the design and overall look of Cricut Explore 3 and Cricut Maker 3.
To start, for Explore 3, Cricut got rid of the material selection dial on the top of the machine. Instead, materials are now selected in Cricut Design Space when you make your project. The Maker and Joy machines do not have dials, so this brings Explore in line with those machines.
On Cricut Maker 3, the machine case color has been updated to a light silvery blue with a gloss finish and a silver lid, and the carriage and interior are white.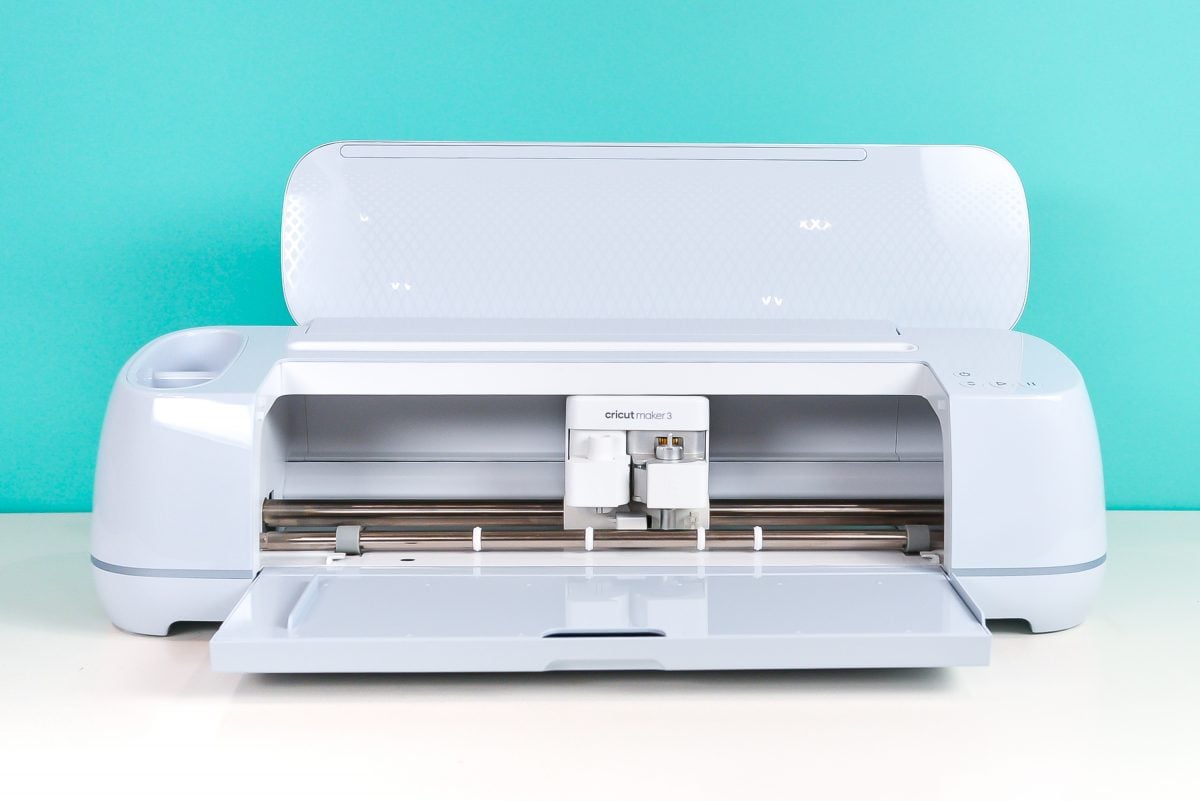 The case color for Cricut Explore 3 is a matte mint color with a white interior, and the tool cup is bigger.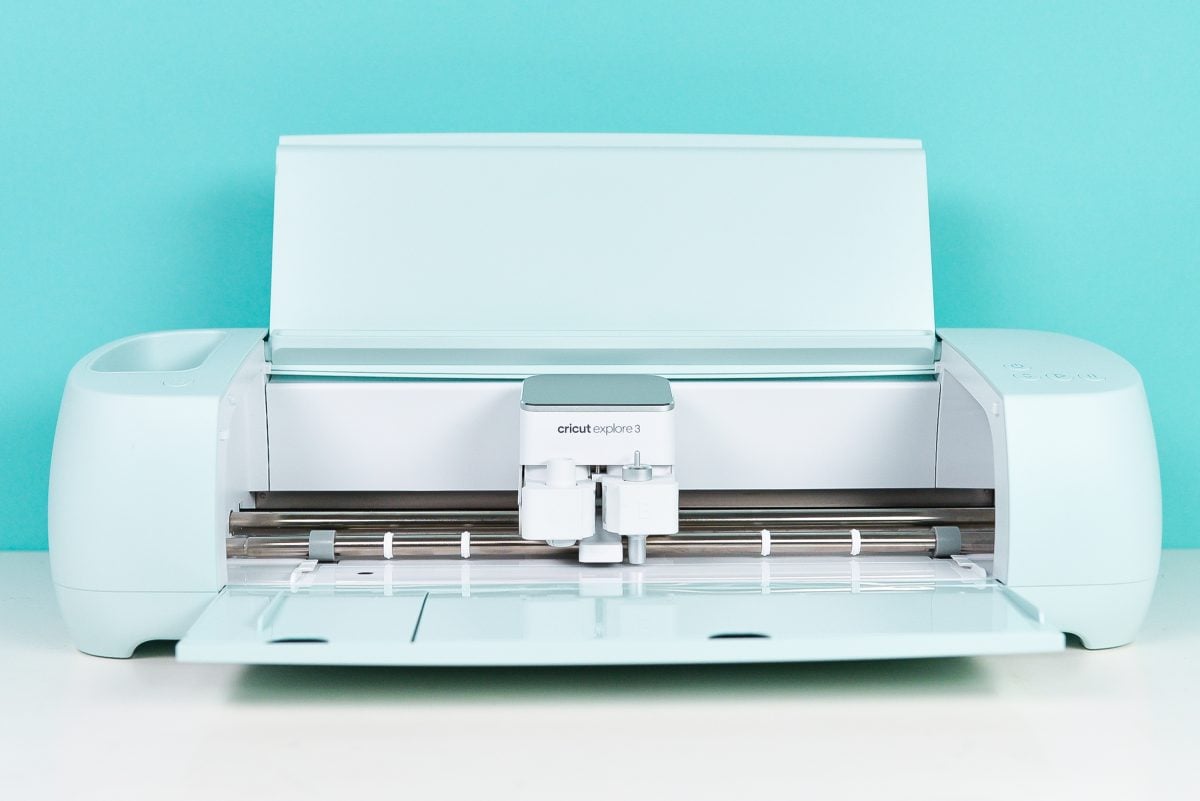 Both machines have a holder for your mobile device, which was already a feature in the previous Maker, but is new to Explore 3. This is helpful if you work in the mobile apps—it just gives you a place to set your device.
On both machines, the machine button design has also been slightly updated, with a "play" triangle button replacing the Cricut "C" button on the other Cricut Explore and Maker machines.
Other than that, these machines are very similar to the last generation, so everything you can do with your Cricut Explore Air 2 or your Cricut Maker you can also do with these new machines. All of the same tools, mats, blades, and accessories work, so you don't have to worry about also upgrading everything if you decide you want a third-generation machine.
Now let's go into more detail on the two bit things that make these new machines different from previous versions.
Cricut Explore 3 and Cricut Maker 3 Speed Improvements
First up is speed! Cricut Explore 3 and Cricut Maker 3 cut up to twice as fast as Cricut Explore Air 2 and Cricut Maker, when using Smart Materials without a mat.
If you are not using Smart Materials and are cutting your project using a Cricut mat, then the cutting speed is the same as Cricut Explore Air 2 and Cricut Maker, which is still twice the speed of the original Cricut Explore and Cricut Maker machines.
Cricut Smart Materials And Matless Cutting
Now let's talk more about Cricut Smart Materials. Cricut Smart Materials are specifically designed to be cut without a Cricut mat. Matless cutting was introduced with Cricut Joy in 2020, but it's now expanded to Cricut Explore 3 and Cricut Maker 3.
Before now, there were unofficial hacks to cut vinyl without a cutting mat, but Cricut Design Space still limited crafters to a maximum material size of 12″ x 24."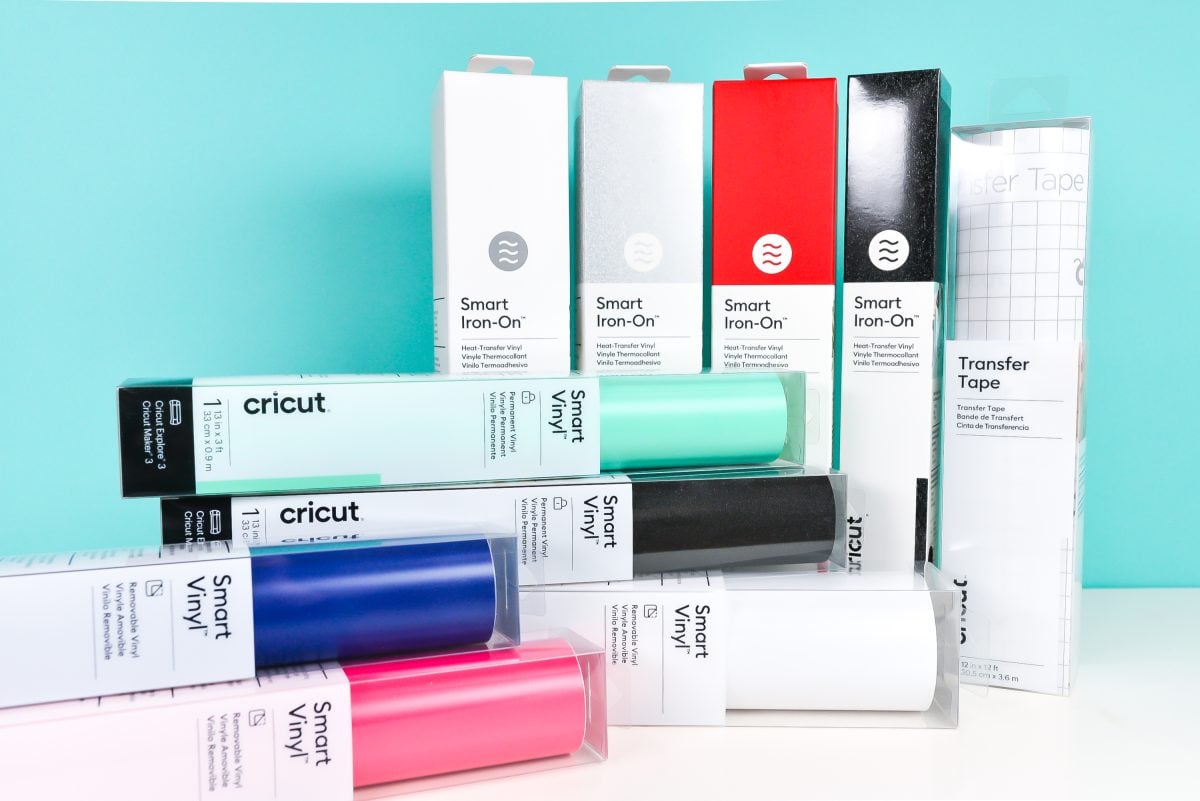 The new machines, however, throw those limits out the window. That means you can create larger than life projects without having to do a ton of piecing together. Plus you'll save time because you don't have to prepare your mats. Just insert the material and go!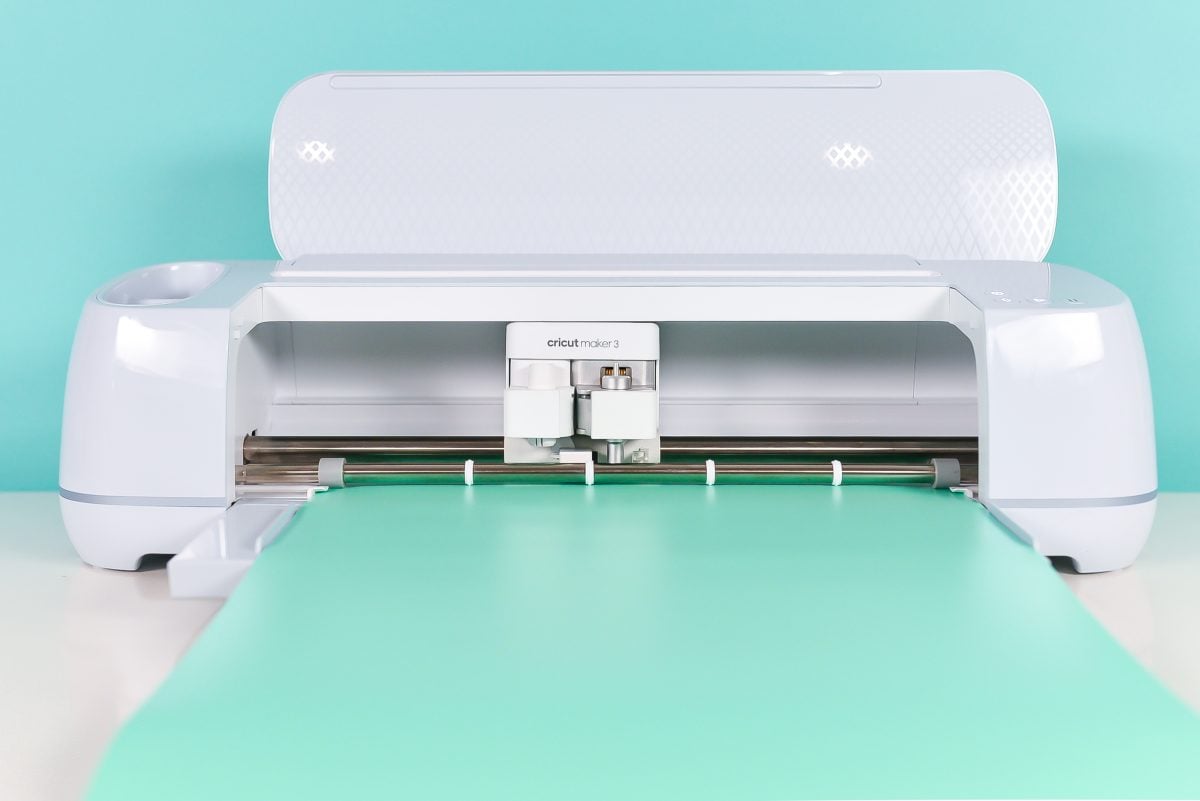 Let's go over some of the details and size limits of these materials and answer some questions you might have about them.
Types of Cricut Smart Materials
There are three types of Cricut Smart Materials launching with these new Cricut machines. These materials cut at that faster speed demonstrated above!
Smart Vinyl
Smart Vinyl comes in a range of lengths (up to 75′! Yes, FEET!) in permanent, removable, and specialty finishes like glitter and shimmer. The maximum cut width is 11.7″. Smart Vinyl can be cut up to 12′ at a time, saving you a ton of time and material if you're making things like borders, pantry or other organization labels, big signs, or wall decals.
Transfer tape is available in a wider variety of lengths to help you get your backing project off your carrier sheet and onto your base material. I have a few projects that will explain how to use transfer tape on these larger cuts coming soon!
Smart Iron-On
Smart Iron-On comes in a range of sizes up to 9′ in regular and specialty finishes, like holographic and glitter. The maximum cut width is 11.7″. Smart Iron-On can be cut up to 4′ at a time, which is perfect for making things like vacation t-shirts for your whole family, or a ton of tote bags to add to your online shop.
Smart Paper
Smart Paper is an adhesive-backed paper that is great for scrapbooking, party decor, and card making. No more trying to figure out which glue is best. Just cut, peel, and stick. The maximum cut area for Smart Paper is 11.7″ wide by 11.2″ wide.
Other Materials
And don't worry. The third-generation machines will cut everything the original Explore and Maker can cut, and more! You can still cut using a mat for any other materials you'd like, including regular vinyl, iron on, and cardstock.
Can I Cut Smart Materials On A Mat?
Yes! You can use smart materials on a mat like you would regular vinyl, iron on, or paper. This is particularly helpful if you have offcuts of Smart Materials that are no longer wide enough to be cut matless. Don't worry—that extra material doesn't have to go to waste!
Can I Use Smart Materials With Other Cricut Machines?
Cricut Smart Materials were specifically designed for Cricut Explore 3 and Cricut Maker 3, and the machines were also designed for the material as well (including the guides and sensors on the tray). While you can't cut them matless in the older machines, you can put them on a mat and cut them that way.
What Is The Cricut Smart Materials Roll Holder?
In addition to the machines, Cricut launched the Cricut Roll Holder, which makes using the long materials even easier. It holds up to a 75′ roll of Smart Vinyl, has a built-in material trimmer, and works with both Cricut Explore 3 and Cricut Maker 3. It is not compatible with older machines.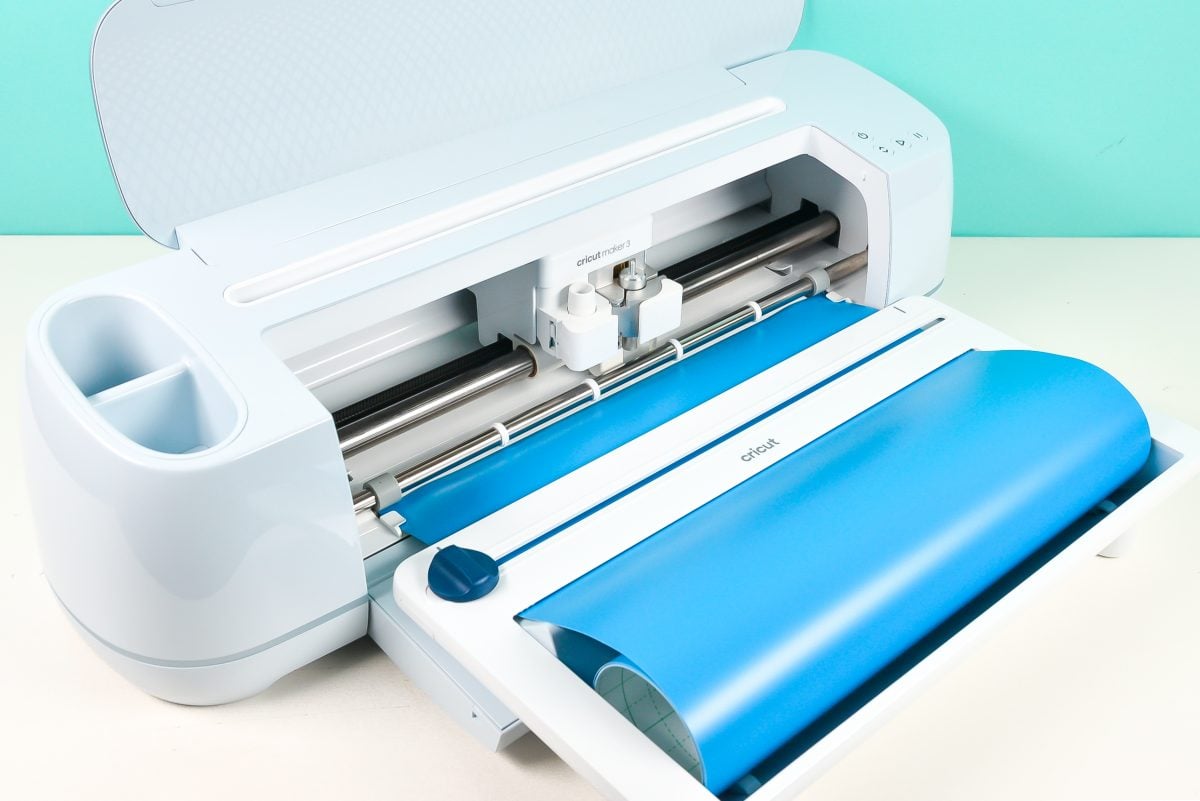 You do not need the Cricut Roll Holder to use Smart Materials, but it does make corralling and trimming materials easier.
If you prefer not to use the Roll Holder, Cricut also released a 13″ trimmer, which makes cutting these larger rolls of materials easier. You can see my post on How to Use the Cricut Roll Holder.
What is the Difference Between Cricut Explore 3 vs Cricut Maker 3?
If you're starting to understand how the new generation of both of these machines is different from the original, but you still aren't sure how they're different from each other, look no further. These are the two main differences between Cricut Explore 3 vs Cricut Maker 3:
Price
Adaptive Tool System
Price
The biggest difference you'll notice right off the bat when comparing these two machines is that they are at different price points.
Cricut Maker 3 is a more advanced machine than Cricut Explore 3, and you're going to see that difference reflected in the cost. The standard price for Cricut Explore 3 is $299, while the standard price for Cricut Maker 3 is $399. You can usually find both for a bit lower than this, however.
Adaptive Tool System
This price difference leads into the next point: the Adaptive Tool System. This is a fancy name for the upgraded carriage and other internal features in the Maker 3, meaning you can use a wider variety of tools. You can see the gold gear in the carriage—the Maker-specific tools have a gold gear at the top as well.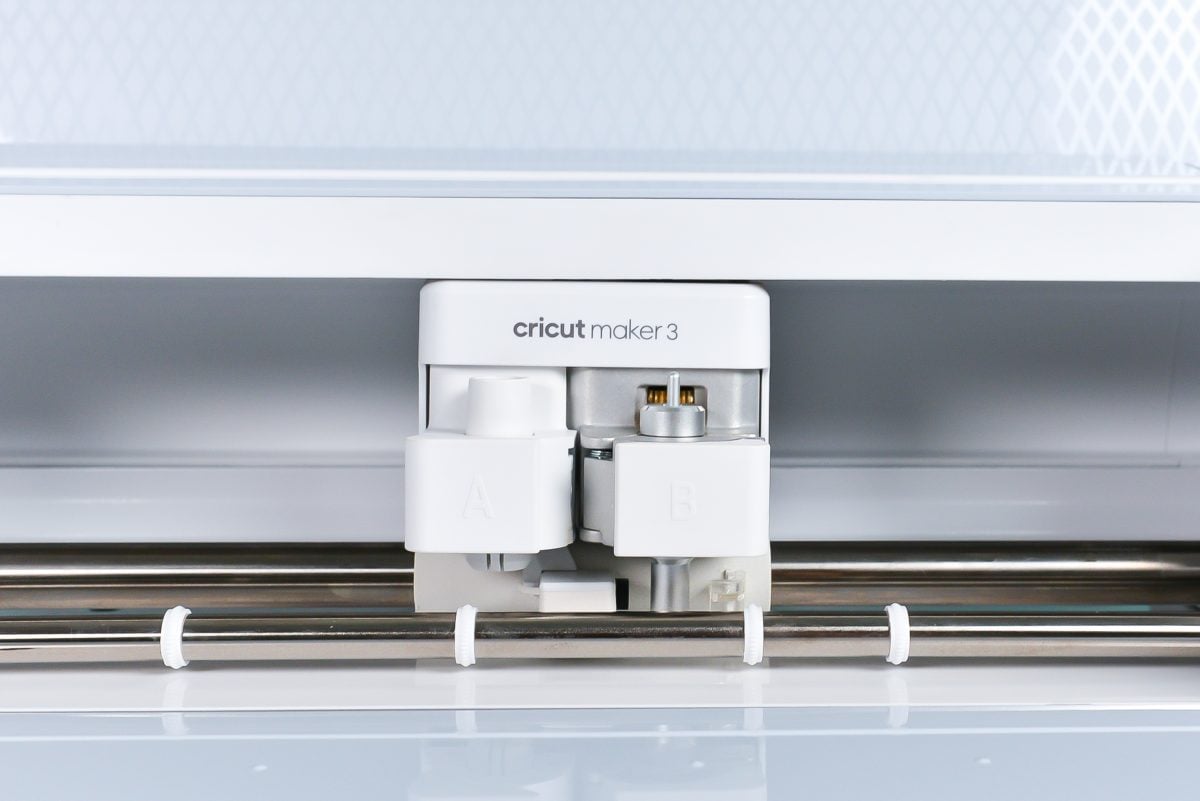 Cricut Explore 3 Tools
The primary blades and tools for Cricut Explore 3 include (click links for longer tutorials):
Fine Point Blade
Deep Cut Blade
Bonded Fabric Blade
Explore 3 cuts all sorts of paper, cardstock, iron-on, vinyl, Infusible Ink, and more—but the material list isn't as extensive as the Cricut Maker 3.
Cricut Maker 3 Tools
If you are an avid crafter who really wants to have the best machine, Cricut Maker 3 is for you. You'll get all the same tools as Cricut Explore 3, plus many others:
Fine Point Blade
Deep Cut Blade
Bonded Fabric Blade
Because you can use these other tools in the Adaptive Tool System, you can cut a much wider variety of materials, including fabric, leather, felt, basswood, matboard, and more. You can also do things like engrave and perforate, which aren't available on Explore 3.
These advanced materials often have a steeper learning curve, so if you are a beginner who's more interested in crafts like scrapbooking with cardstock or creating vinyl stickers and t-shirt iron-on decals, the Cricut Maker 3 might not be worth the price difference.
Should I Upgrade To Cricut Explore 3 or Cricut Maker 3?
So the big question is—should you upgrade to the third generation of each machine?
I like to look at this machine sort of like you would the next generation of your phone. If you currently own a previous generation of Cricut Explore or Cricut Maker machine and want all the latest and greatest updates (in this case, if you want long matless cuts or want to cut faster), then you probably want to get Cricut Explore 3 or Cricut Maker 3. I've been wanting the larger matless Smart Materials ever since they were released with Cricut Joy, so this is definitely an upgrade I am excited about!
If you are happy with your current machine, you don't necessarily need to upgrade at this time. Like you would with a phone or other device, you sort of know when it's time to upgrade. And when you do, I definitely recommend one of the two new machines, depending on your needs. You can see my Cricut Machine Comparison that is now updated with all of these new machines, in case you need help deciding which machine is for you.
If this is your first Cricut, I also recommend getting one of the newer machines. They have all of the same features as the older machines, but you also get the upgraded features of faster cutting and matless Smart Materials.
I hope you found this post helpful as an overview of Cricut Explore 3 vs Cricut Maker 3, or if you have any questions about the differences between these two machines!