Using the quilt-as-you-go (QAYG) technique, you can make this easy Seaside Boardwalk quilt block! A fun sewing project that makes a great pillow or bag.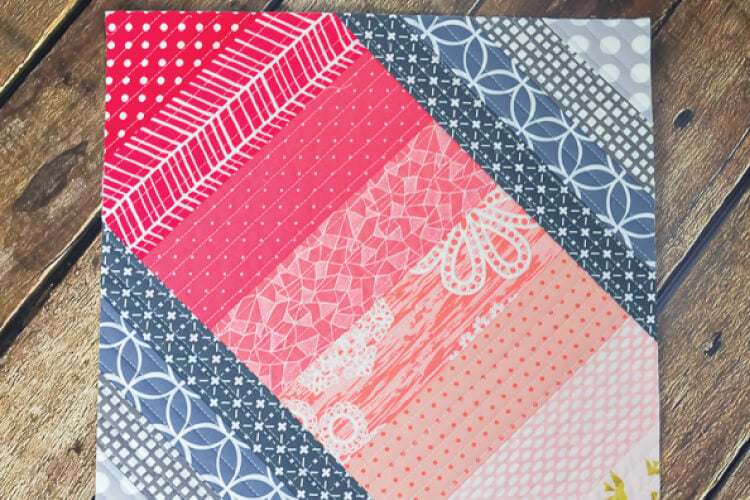 Today I'm happy to be sharing another quilting project! It's been a while since I shared a quilt block tutorial, but if my stats are to be believed — you all LOVE them. This year, I'm hoping to share a new quilt-as-you-go (QAYG) block each month, though with twins on the way, I'm not holding onto anything too tightly.
If you're unfamiliar with QAYG, it's a foundation piecing technique that quilters often use to make a log cabin block (here's a great tutorial from Oh Fransson!). A while back I decided this technique was much more versatile than it's given credit for. If you're completely unfamiliar with the technique, I created a SUPER easy Big Stripes block that can help teach you the method.
This block is actually fairly simple to make if you understand the QAYG concept. I've decided to call it Seaside Boardwalk because it reminds me of a planked boardwalk spanning over the gray water of the sea (thanks to Brittney and Siobhan for helping me name the block!). Of course, you can make it in whatever color combination you choose!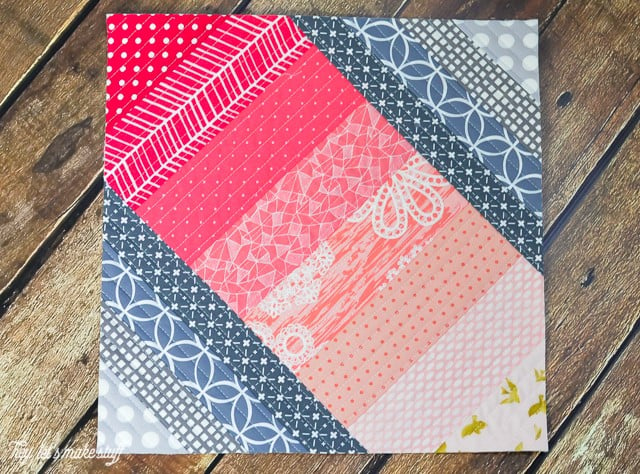 Start by laying out your fabrics. You will need a selection of fabric for the center, and a different selection for the sides. I always love a good gradient, so that's generally what I choose. You'll notice in my final block that I didn't end up using all the fabrics I chose — I just picked exactly what I wanted as I went along.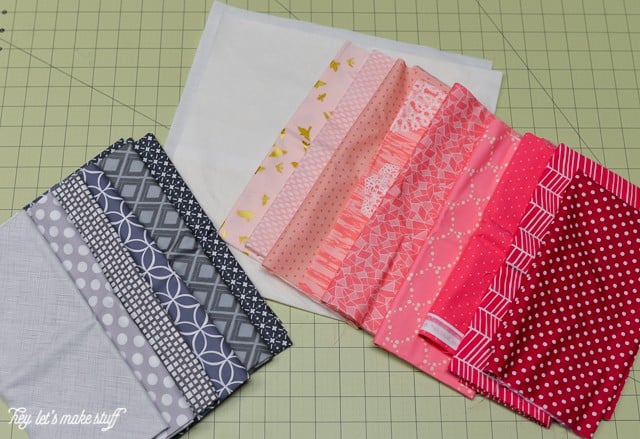 You are also going to need a 13″ square of batting, and a 13″ square of backing fabric. I use cheap white fabric from JoAnn for the back (I think it's $1.99 a yard). The final block size will be 12.5″ square, but I like a little extra for trimming.
IMPORTANT: Like I've said before, the back of QAYG is ugly (I mean ugly) — and I haven't found a way to connect the blocks in a pleasing way. So I usually use the technique to make pillows and bags — things with a lining. Perhaps this is the year I'll figure out how to connect them, and make a pretty backing.
Using the 45° line on my cutting mat, I drew two lines on my batting to help guide my center stripe. My lines are 7.5″ apart, but again, you could make the stripe as wide or narrow as you'd like.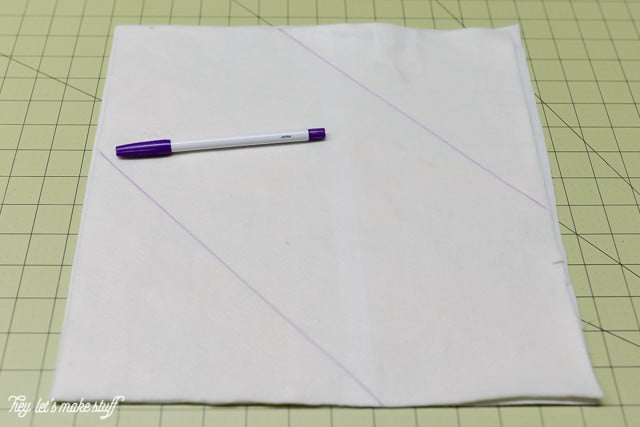 My pink strips in the middle of my block are cut to 2.5″ wide, and the gray strips are 1.5″ wide. You can use whatever width you choose, though. Start by placing the first fabric, right-side up, in the corner of your batting. I used my clear ruler to help make sure I was placing my strips perpendicular to the lines I drew (in the photo below, you can see my purple line underneath the ruler toward the bottom).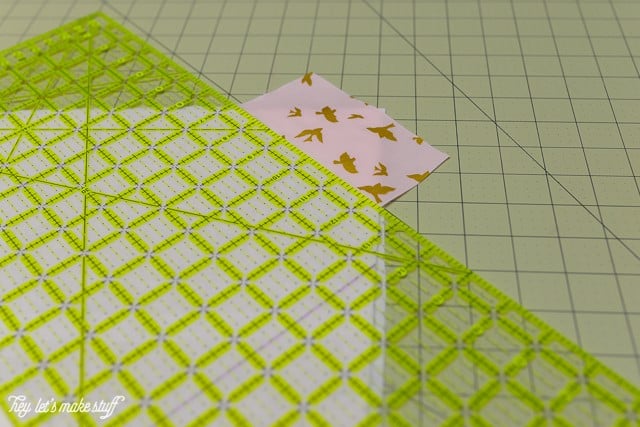 Quilt the fabric directly to the batting and backing fabric, using straight lines. I lengthen my stitch a little — my machine doesn't have numbers, but it's a little longer than a standard stitch, but not quite as long as a basting stitch.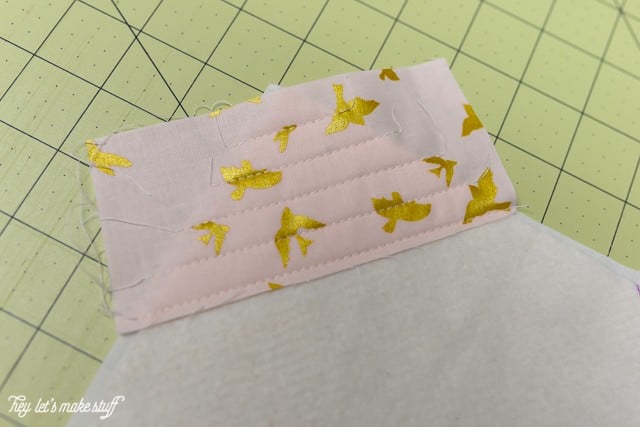 You can trim off the excess fabric as you go if you'd like. (I just LOVE the gold birds in the Brambleberry Ridge line — I can't get enough of them!)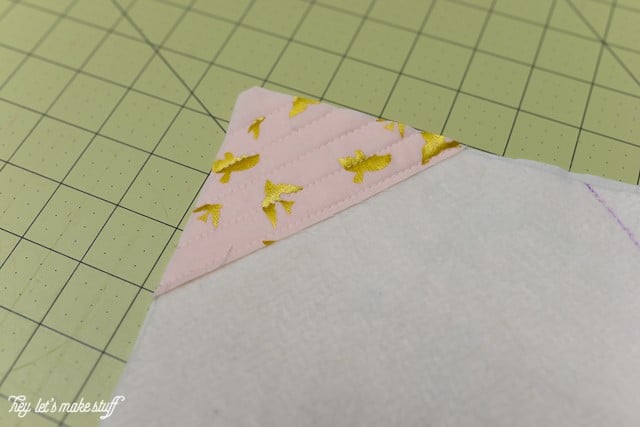 Add your second piece of fabric, right-side down on top of the first piece.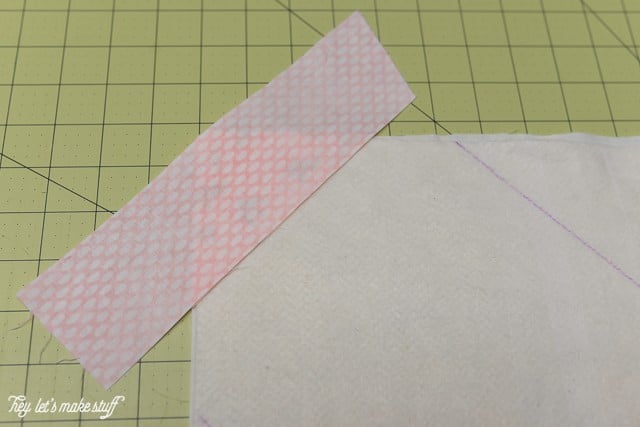 You are going to stitch very close along the edge of the two fabrics, 1/8″ away from the edge. If you look closely at the below photo, you can see my line of white stitching (sorry, it's a bit hard to see).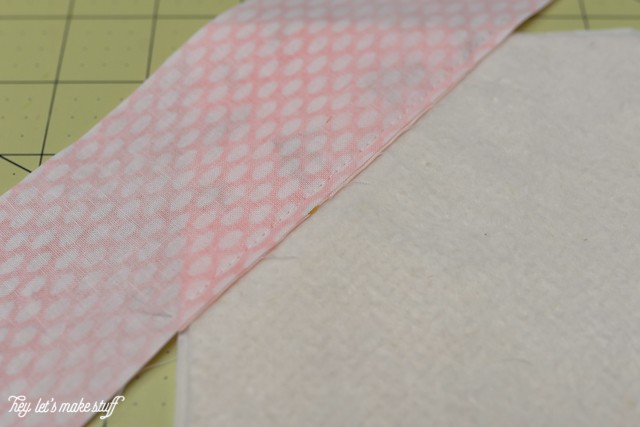 Open that piece and press in the opposite direction.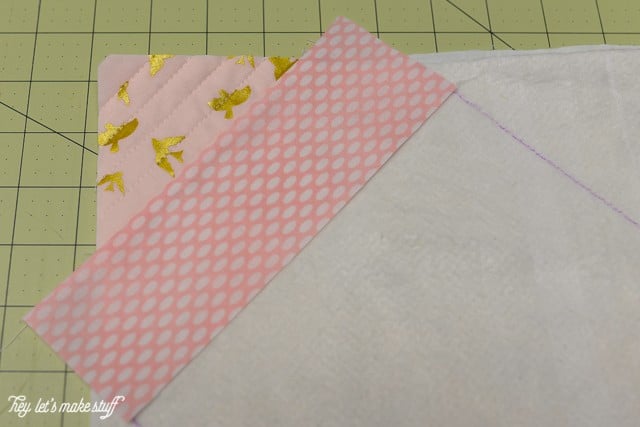 Quilt to the backing fabric, using straight lines, and trim as needed.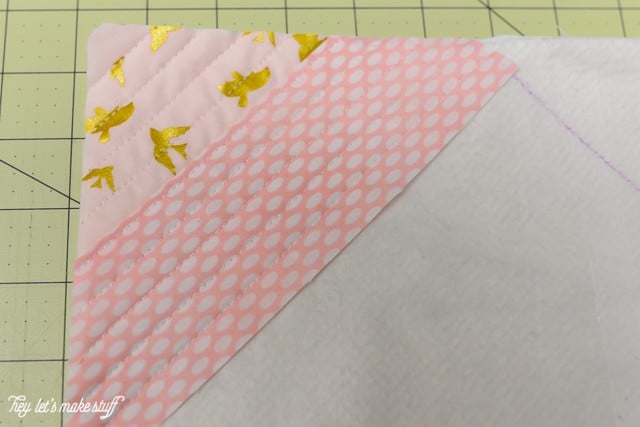 Continue adding strips of fabric down the middle, using your clear ruler to make sure they are perpendicular to your drawn lines.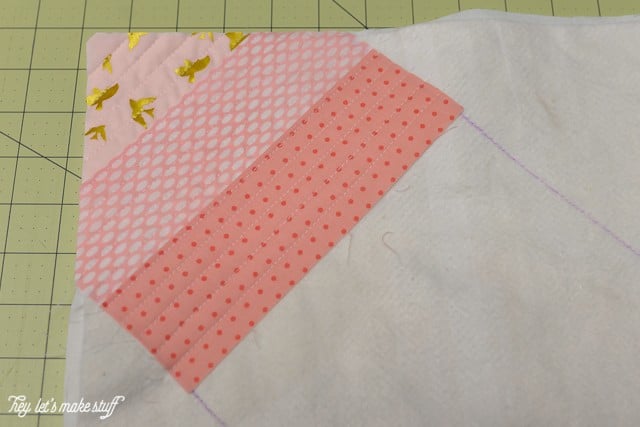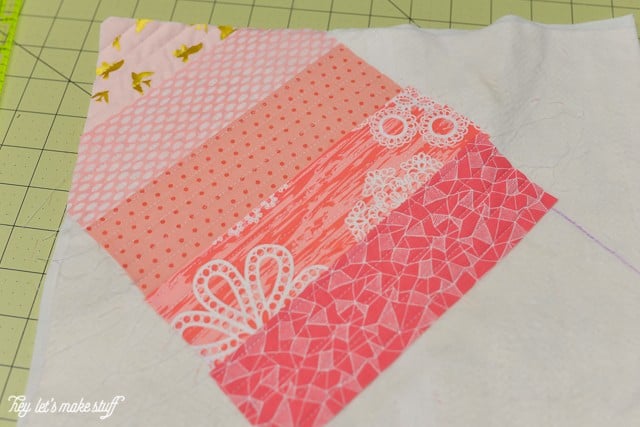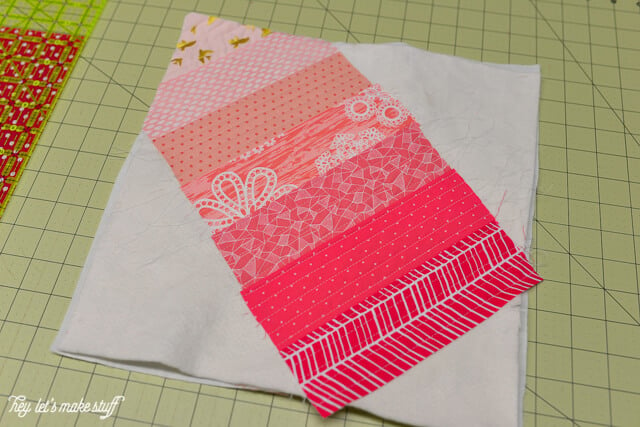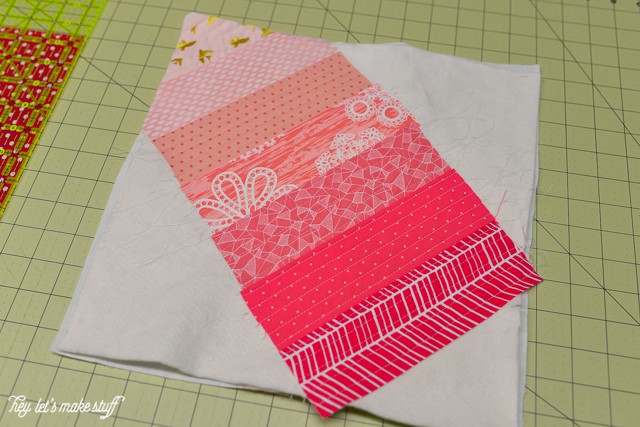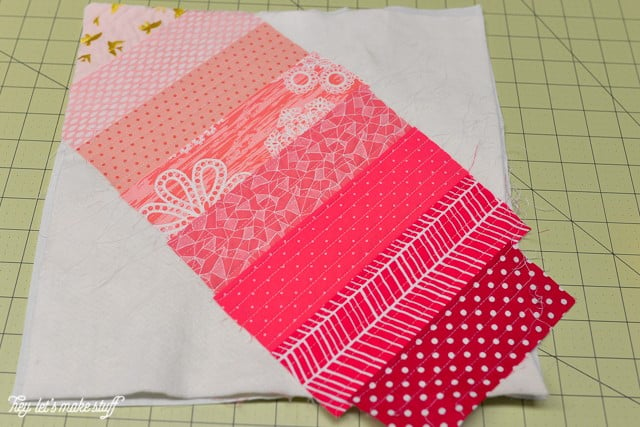 Once you get to the last piece, you can square up your block and trim off the excess. You'll see that I have extra batting and fabric in the lower right corner — I just squared up my block from that corner.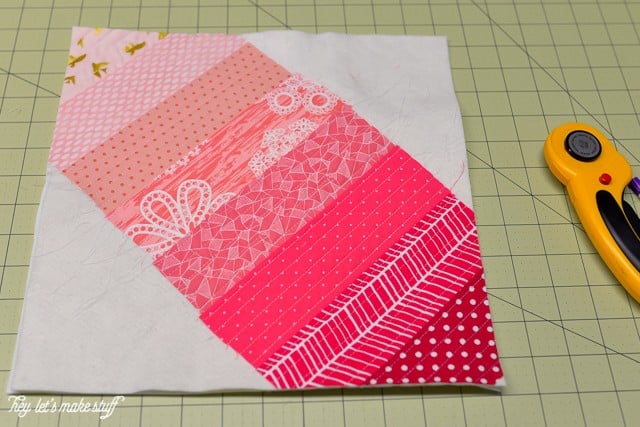 Now it's time to add your side strips. My drawn lines were covered at this point, but I lined up my first gray pieces perpendicular to the pink pieces using my clear ruler, and sewed them down along the outside edge like I did with the pink pieces.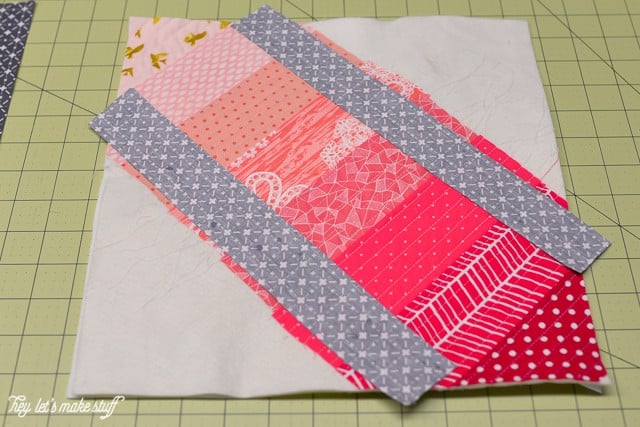 Then I opened them, pressed, and quilted them down.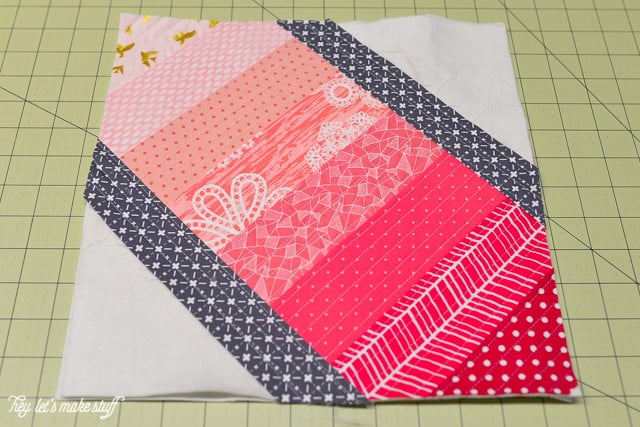 Then add the gray pieces until you reach the end. I made my final pieces just a hair thicker so they'd reach all the way to the corners.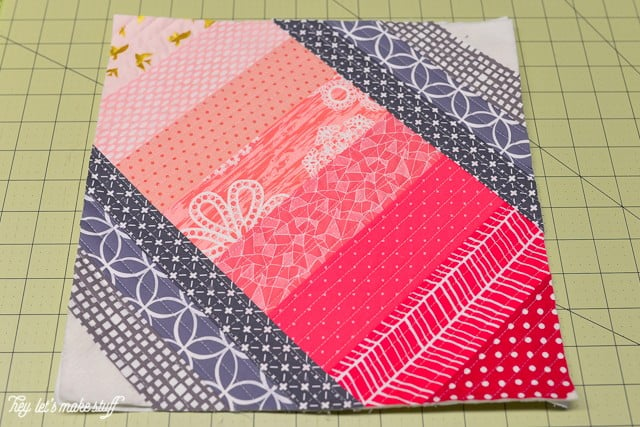 Square it up one more time if you need to, and then you're done!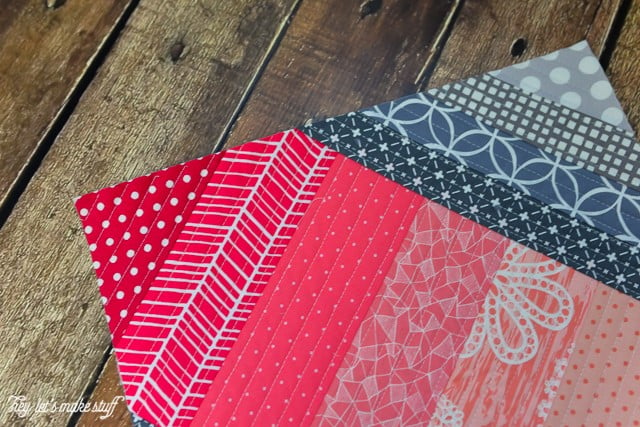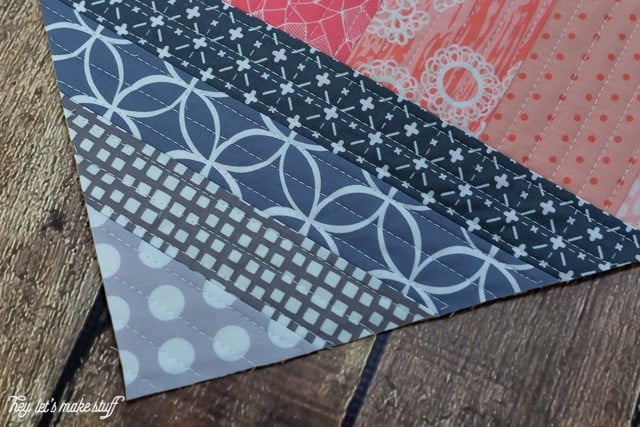 As always, if you have any questions about this (or any of my tutorials), feel free to ask in the comments!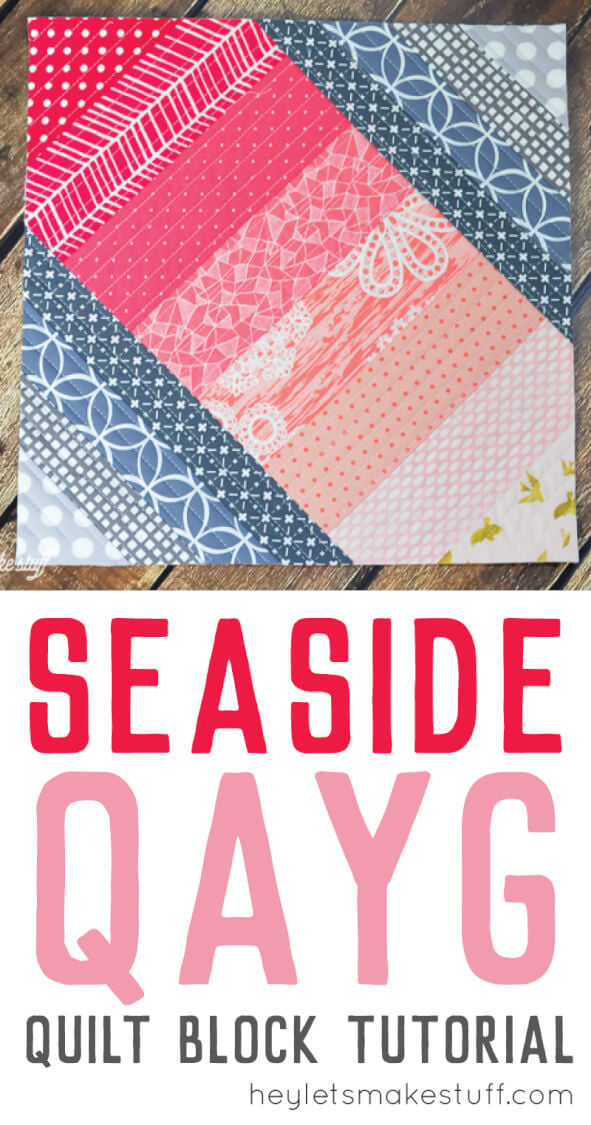 More Quilt as You Go Tutorials: