This mountain-inspired quilt-as-you-go tutorial is a fun quilt block perfect for a mountain nursery or any woodland decor!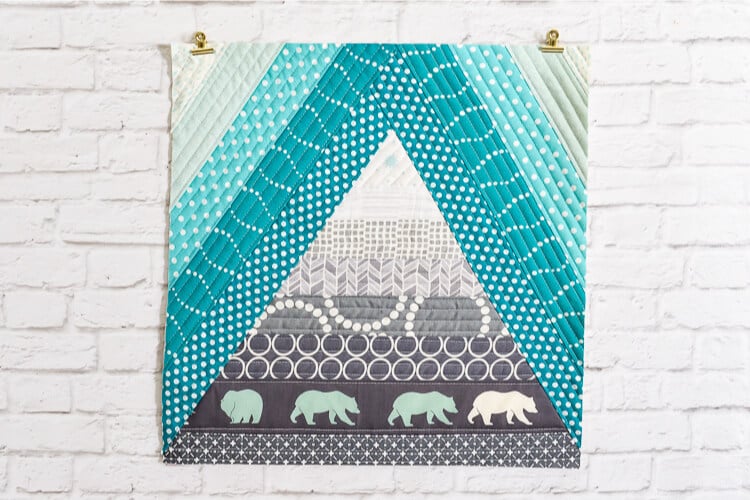 It's been a long time since I've done a quilt-as-you-go tutorial, but I had a fun idea the other night and I decided to actually get out my sewing machine and make it. I plan on turning it into a pillow for my boys' nursery, which is mountain/adventure themed.
Quilt-As-You-Go Tutorial Supplies
Note: I think the Birch Organic bear fabric is not in production anymore, but Spoonflower has tons of amazing bear options!

Quilt-As-You-Go Tutorial Directions
I have a lot of QAYG tutorials on my blog, so if you want a much more in-depth tutorial for how this technique works, start with my Easy Big Stripes block. It really makes the process of quilting directly to the batting make sense.
Start by cutting a triangle of your lightest gray-scale fabric. I had white with some very light-blue stars that worked really well as "snow." My triangle was about 4″ on each side, but you can really start with whatever size you want. Place it right-side up on your stacked batting and backing fabric.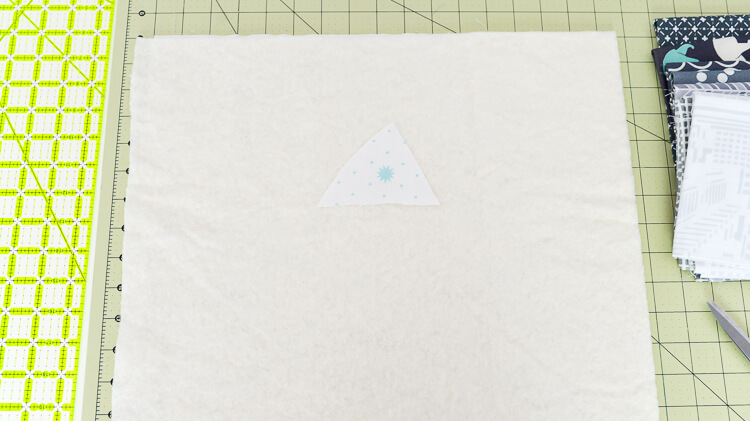 Then quilt it directly to the batting/backing. My lines are about 1/2″ apart, but again, you can do any free-motion quilting style you'd like.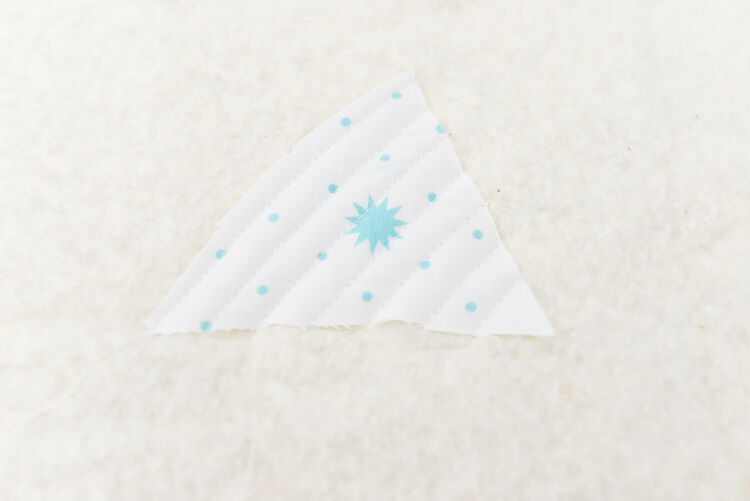 I used 2.5″ strips for my block and cut them as I went so I wouldn't waste fabric. Place your next strip of slightly-darker gray directly on top of your triangle, right-side down, with the bottom edges matching up.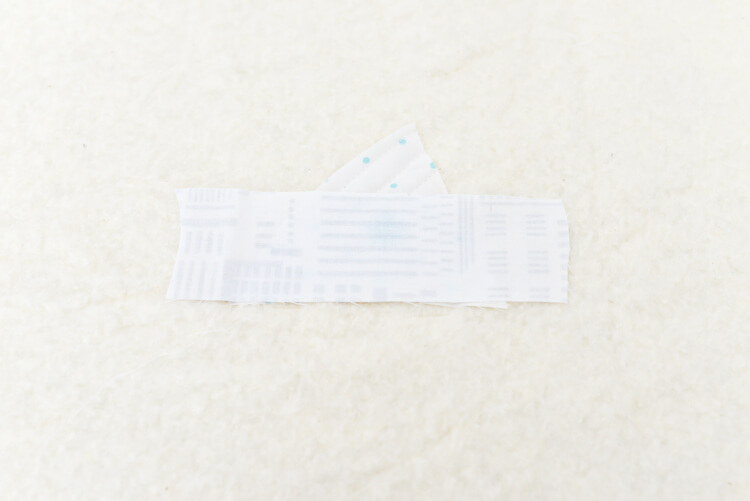 Stitch 1/8″ along the bottom of the two pieces of fabric. Then open up and iron the bottom piece away from the triangle. Quilt it to the batting/backing like you did with the first piece.
At this point, I drew some mountain-shaped lines with a disappearing ink marker so I would know how long to cut my pieces.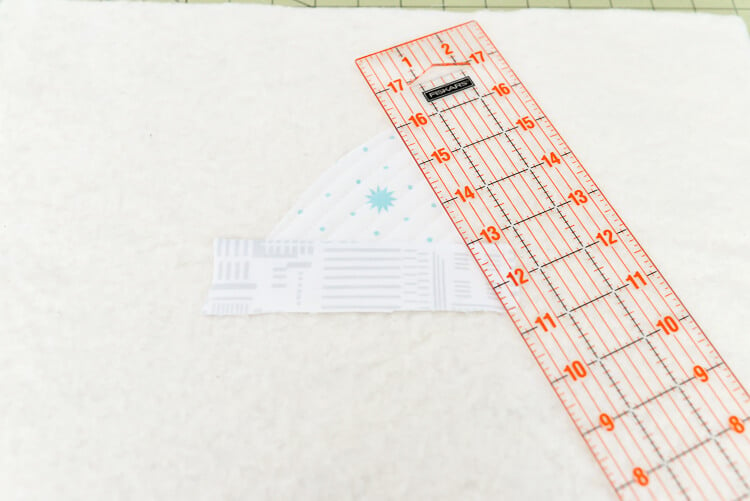 Then continue to work your way down the "mountain" with wider and wider pieces being sewn to the batting/backing.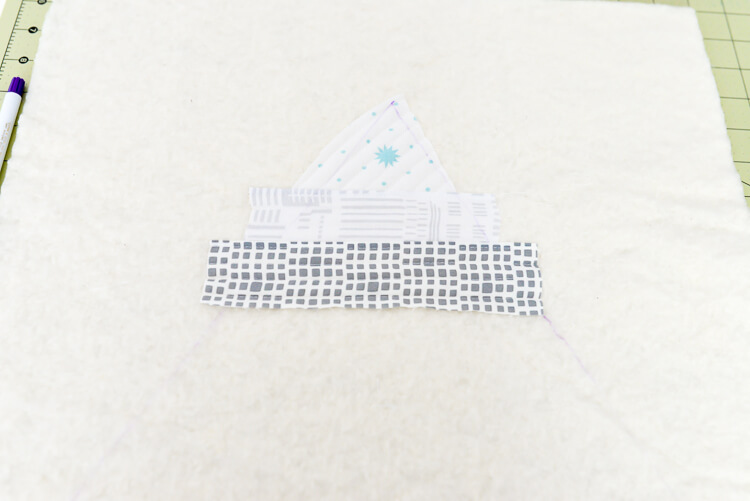 Instead of stitching over my bears, I just did two lines of quilting above and below them.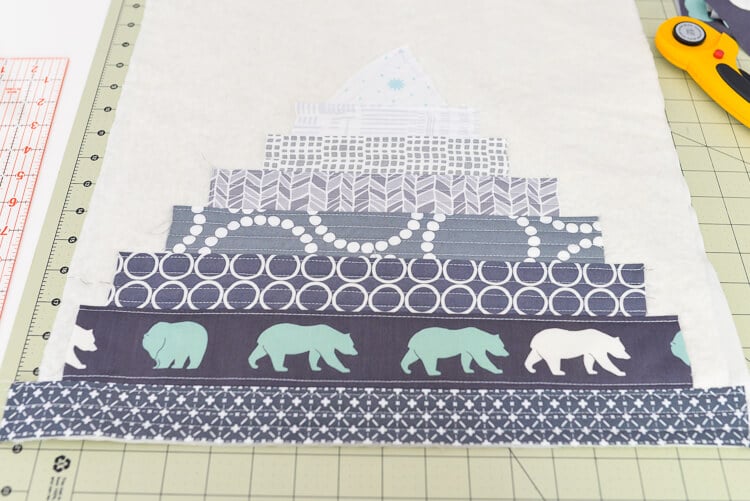 Then it's time to do the "sky." You'll use the same method you used to make the mountain, starting with the darkest blue fabrics and working toward the edges.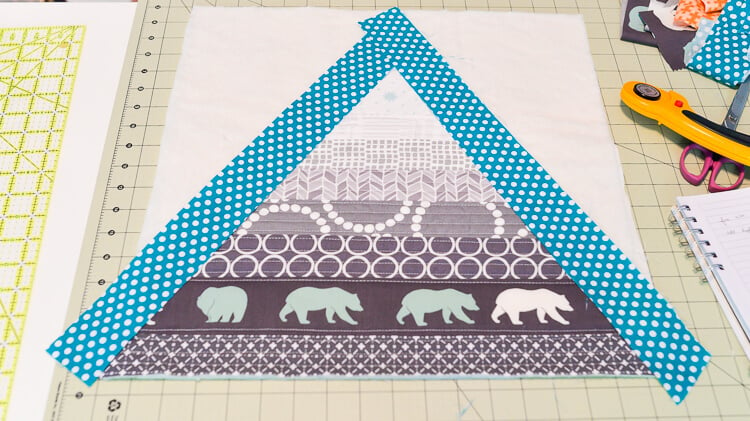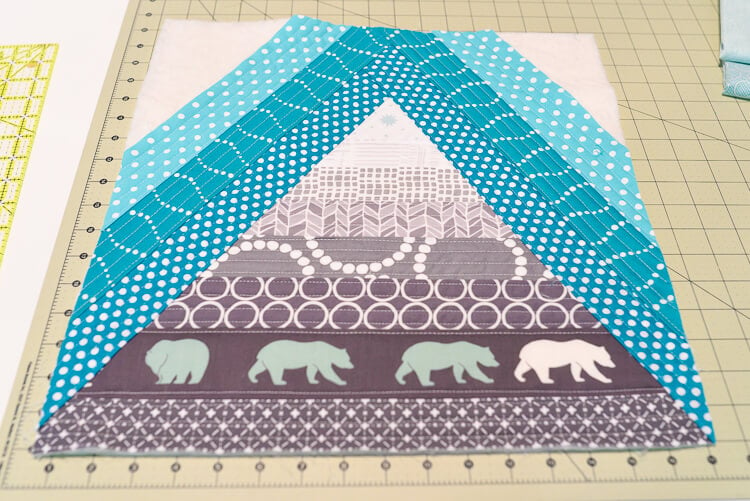 Then keep going until you are done! Square up your block to be 16.5″ x 16.5″ and you're done! Because it's not a particularly precise method of quilting, you might find your block is a little wonky. And that's OK!