Chunky floating shelves are a great way to bring more storage to any space. Stylish and sturdy, the work well in farmhouse, industrial, and modern decor styles.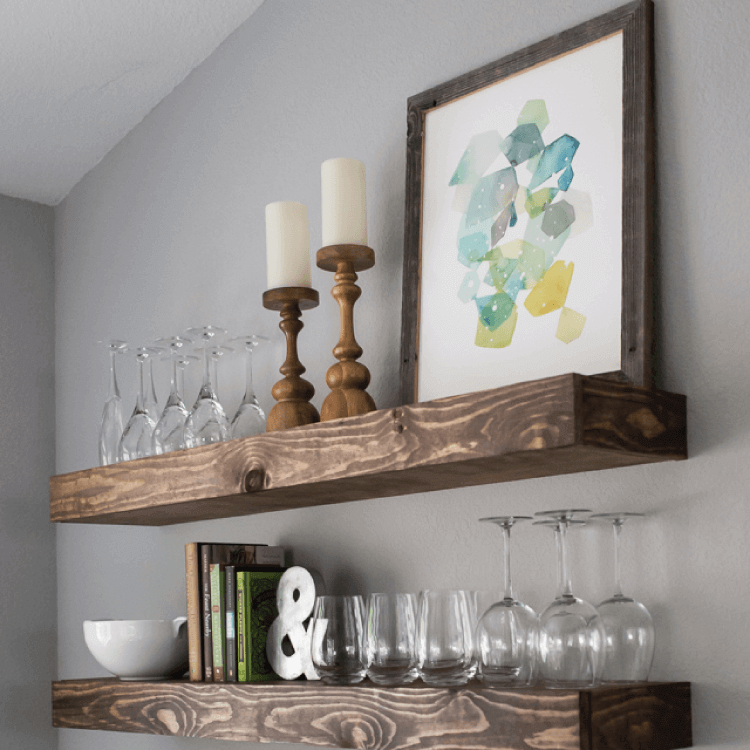 While we're very happy in our new home, our kitchen lacks storage space. A kitchen remodel isn't in the budget (update: we ended up doing a bright and happy kitchen remodel a few years later!), so in the meantime I'm working on several solutions for more storage. Can't have all my delicate glassware sitting on the floor when the babies come this summer!
To help with the storage issue, we have a solid dresser in our dining room that I picked up for $50 at an estate sale. We have so little storage in our kitchen that our silverware has to live in the dresser! It also holds all of our bakingware, mixing bowls, candles, barware, and other miscellaneous kitchen stuff. It's huge, sturdy, and working well for us right now.
While the dresser has been a great storage solution, the empty wall above it has been asking for a makeover (we painted the yellowy beige walls a soft gray when we first moved in). Originally I thought of hanging a big mirror above it, but I quickly realized that I needed more storage instead. So I made plans to build some floating shelves that would give me more space to store glassware, platters, and some of the other things that have been sitting in boxes next to the dresser since we moved in.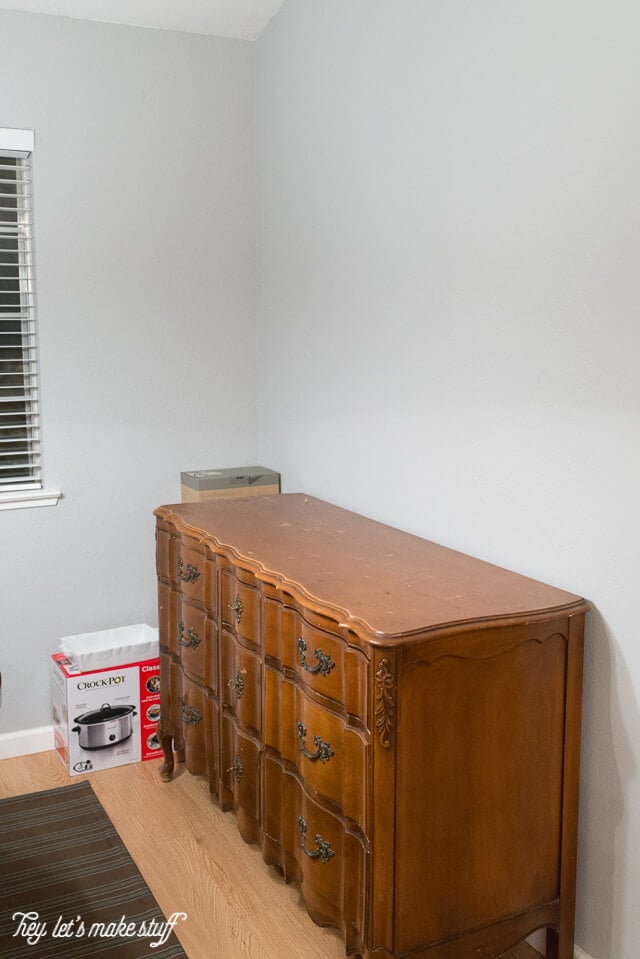 One of my next projects is to strip down and paint the dresser the same deep teal as our guest bathroom cabinets and to update the hardware — I think it's going to be gorgeous with the shelves!
I'd like to thank Sears for providing me with the Kreg Pocket Hole Jig, which made this project a snap!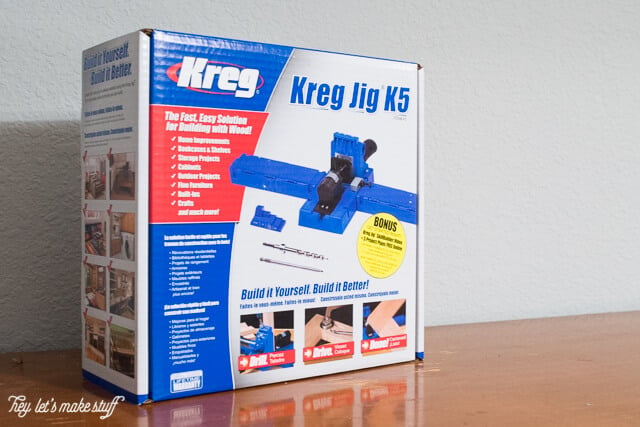 Materials
To build these shelves, we modified this tutorial from Shanty 2 Chic. You can go to her site for the actual building instructions (which are super clear and easy to follow), but here are the measurements we used to create our longer shelves:
The total cost of our wood was about $48 — which makes each of these shelves about $24 each. Not too shabby!
You can cut down these boards yourself, or you can have your lumber department do it for you. We have a chop saw
at home, so we had them cut them down to the sizes that would fit in our car — and then did some precise finishing cuts on our own at home. The lumber department's cuts were a little wonky, so we found ourselves making more precise cuts as we went. (I let Ryan work the chop saw since no one wants a clumsy pregnant lady near that thing.)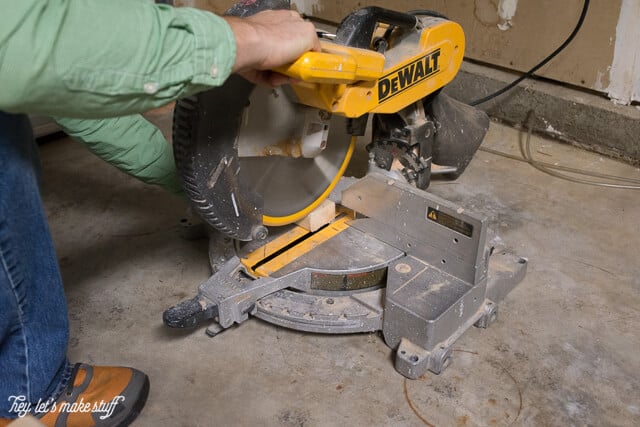 We only made a few variations when building our shelves from Shanty 2 Chic's original plans, other than the size. We stained the boards before hanging them, instead of after. And we used four inner support pieces instead of three since the shelves are longer. And we didn't sand them down at the end, so they are a little less rustic and a little more industrial.
I also wanted to give a shout out to this Kreg Jig. This tool was so easy to use I could barely believe it. Setting it up was a breeze, as was figuring out where to drill the holes. It took me maybe 5 minutes to drill 16 pocket holes in our interior support pieces. So fast and easy!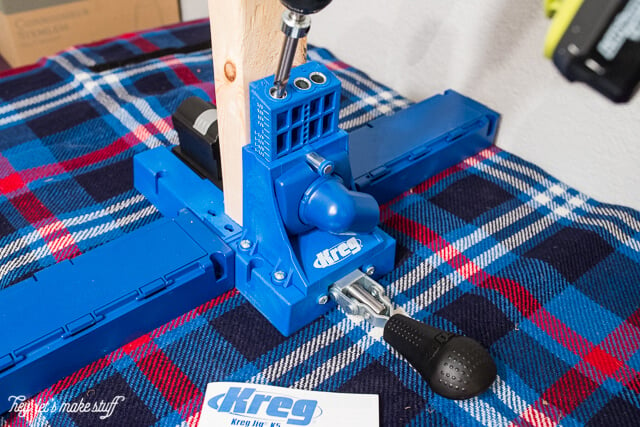 The jig created such precise pocket holes! The strength created by the angled screws means that our shelves will hold quite a bit of weight, and will be nice and sturdy for a long time to come.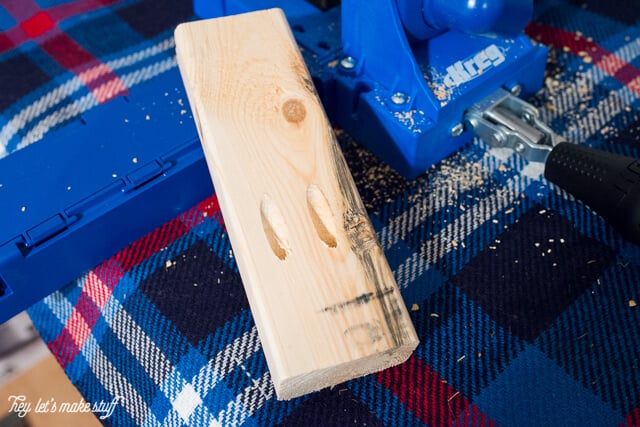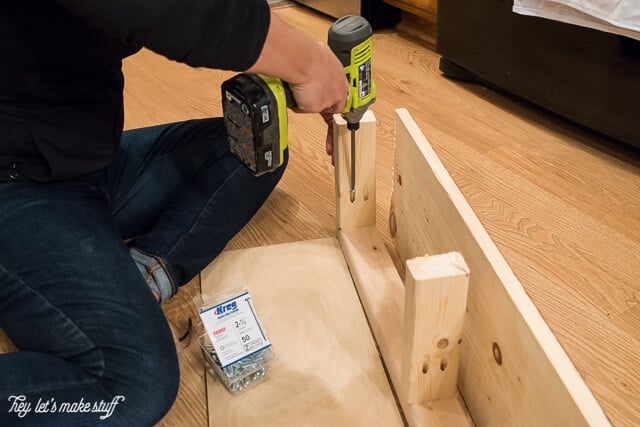 Other than the staining, we put the shelves together in just a few hours one evening. I can't believe what a difference they make in the room — it actually feels finished! And I was able to unpack all of my glassware for the first time since we moved in.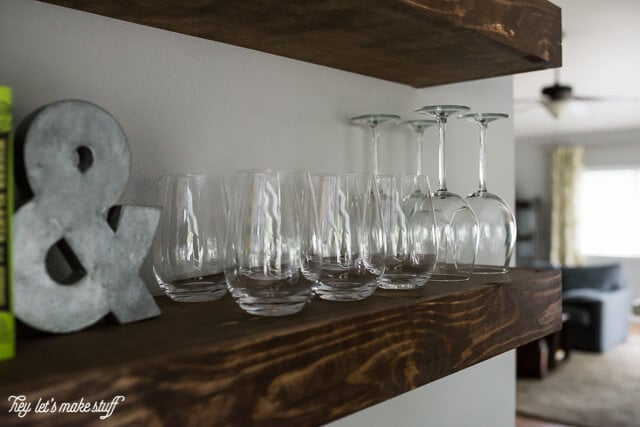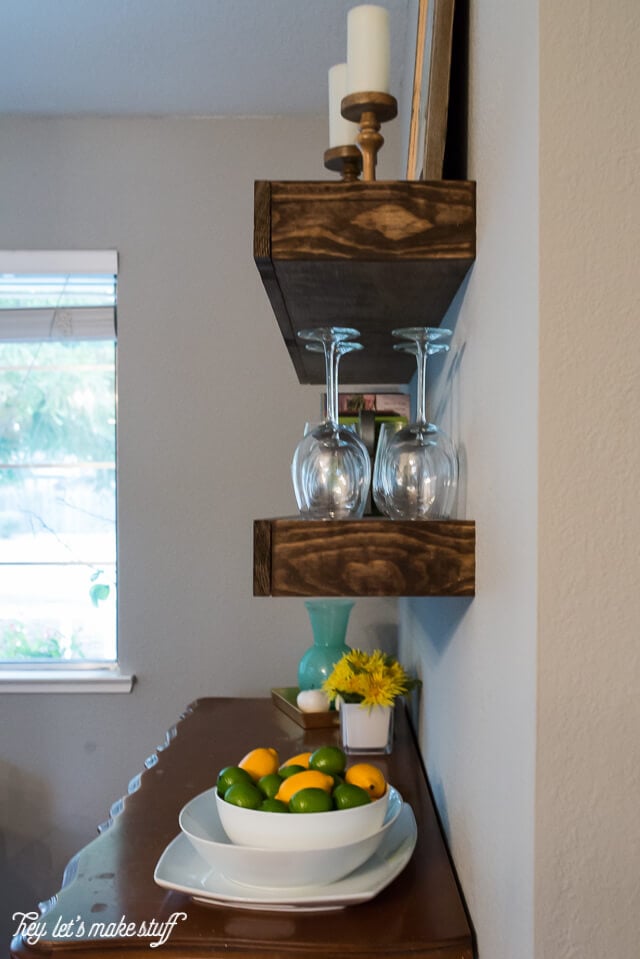 On the top shelf, I moved one of the art pieces from my living room to create some height (I ended up moving around some furniture in the living room so I needed to relocate the piece anyway). Wood candlesticks
and my Waterford crystal wine glasses and flutes
complete the shelf. I like having my most precious glasses up nice and high and out of the way — no one's going to bump them up there.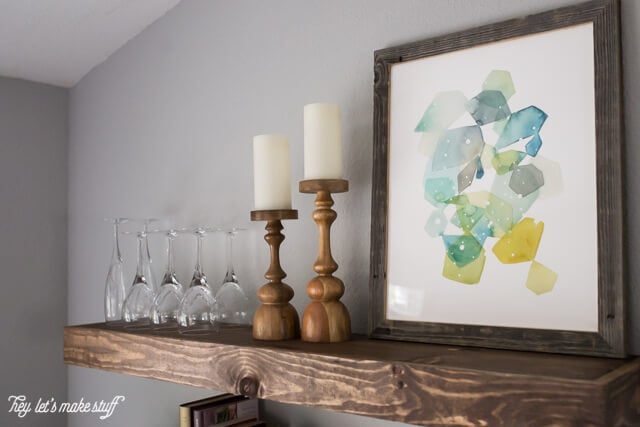 The lower shelf has the additional everyday glassware, as well as a few of my favorite food-related books
and a white ceramic bowl
that I use all the time. I can store fruit or other goodies in there when I'm not using it elsewhere.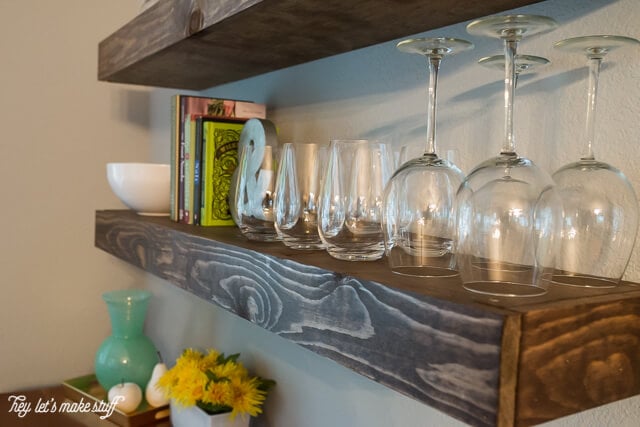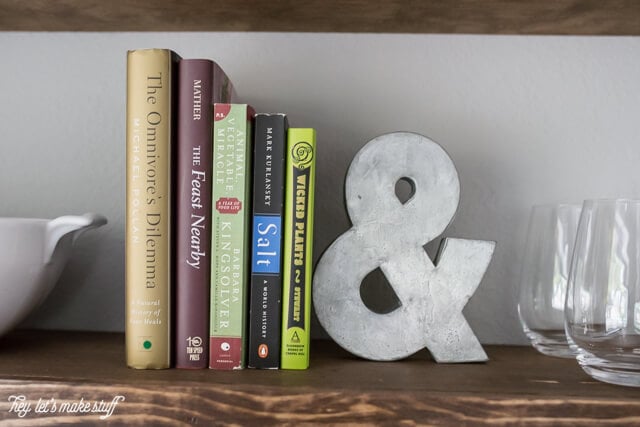 Clearing off the dresser also gave me a great place to store some of my platters and trays that I use for parties and blogging.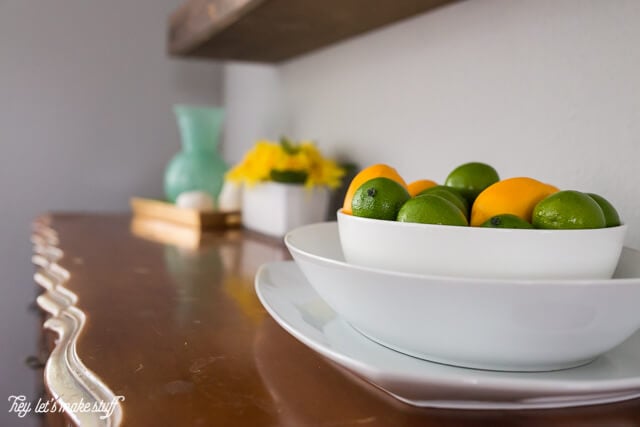 I couldn't be more happy with how these shelves have transformed our dining room! Such a huge difference for a small price!
Also check out my Modern Entryway Makeover, which is right on the other side of the wall from these shelves!