This Go Fly a Kite QAYG quilt block is perfect for a spring quilt! Includes the instructions to make this adorable quilt block.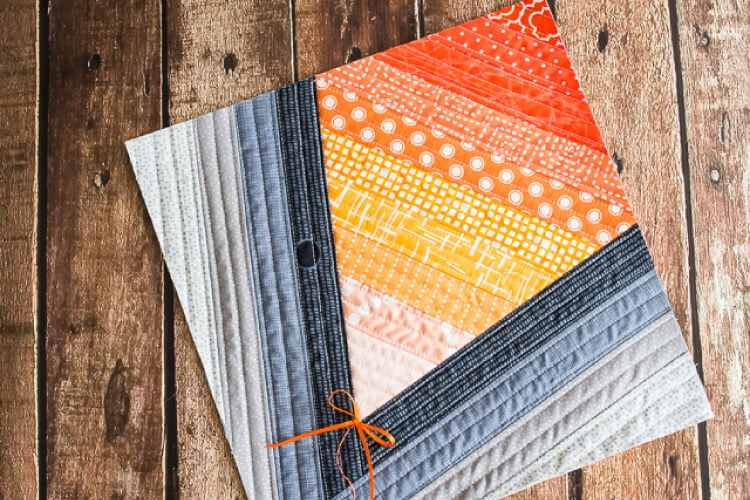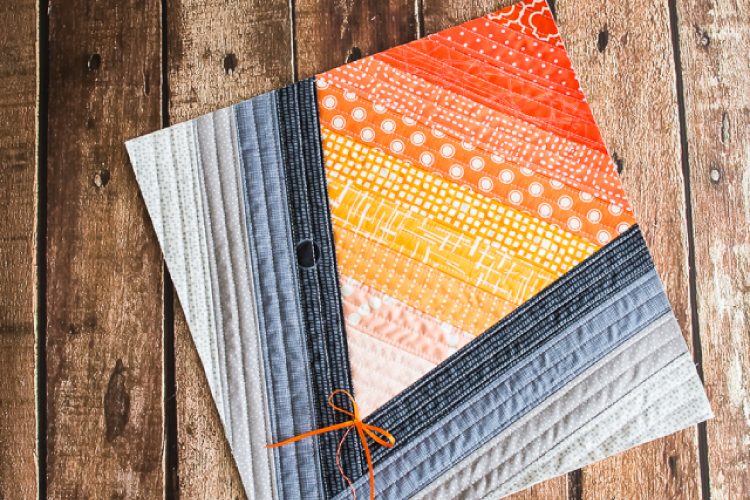 I love happy accidents! I had envisioned this sort of shooting star block when I started to design it, but as it came together, it was clear to me that it was actually a kite! I added a bit of hand-embroidery at the bottom for the kite's string and a bow for it's tail and I'm absolutely tickled with how it turned out.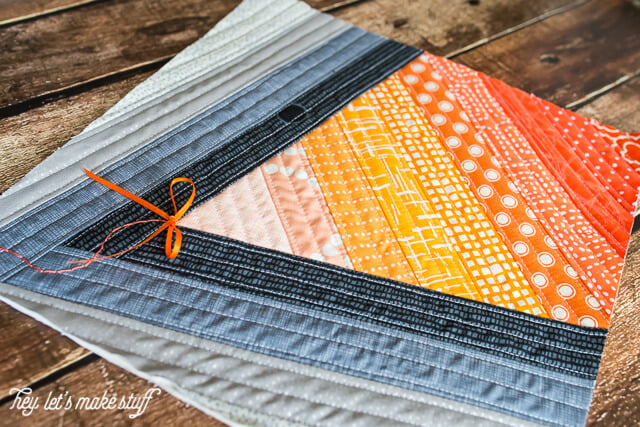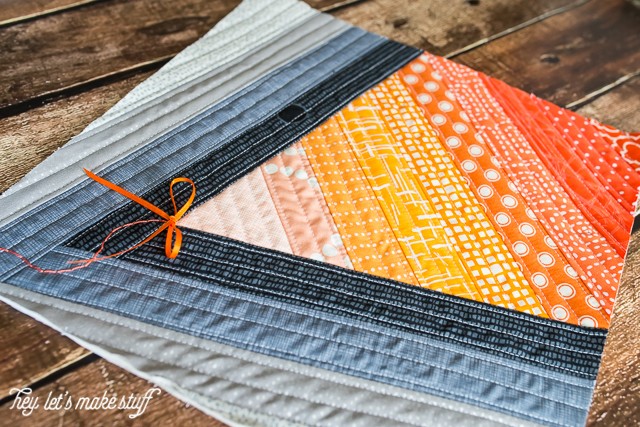 Let's Go Fly a Kite Quilt Block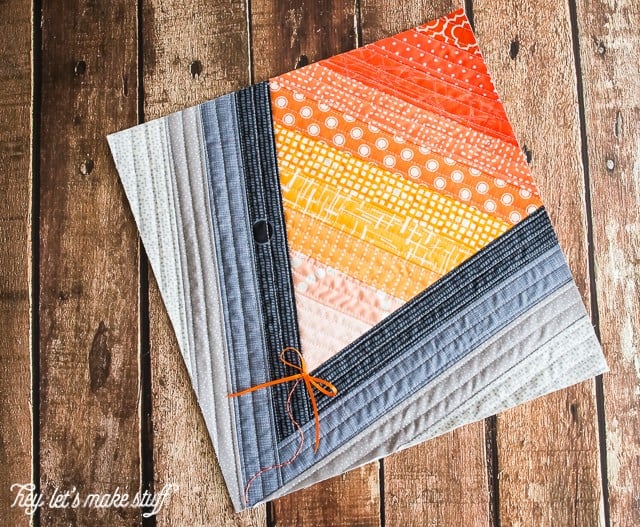 If you haven't done quilt-as-you-go before, here's a great starter tutorial I created to help you understand how this foundation piecing technique works: Big Stripes Block.
In this block, there are three layers to your quilt sandwich, which you will quilt as you go (thus the name!). You'll need a 13″ x 13″ backing piece of fabric (I use cheap white cotton that's $1.99 a yard), a 13″ x 13″ piece of batting, plus various colors of fabric. Your final block will be 12.5″ x 12.5″.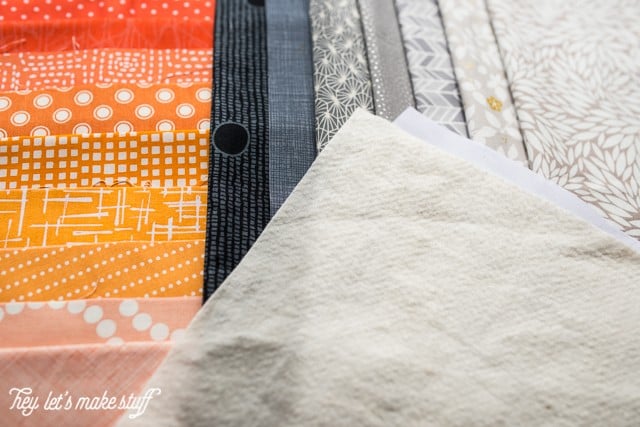 For this series of blocks this year, I'm using a color-based gradient and a black-and-white-based gradient. This month I chose orange!
This block is more of a technique than an actual pattern, so you can make the strips of fabric any size you'd like, and you could make this block as large or small as you want.
I started with a triangle. My triangle is a little taller than it is wide, this really helped me get the kite shape. I placed it so the bottom corner of the triangle was pointing at the bottom left corner of my quilt block.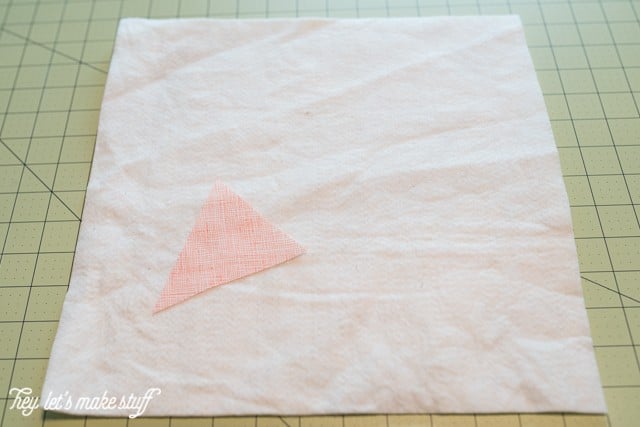 Quilt the triangle directly to the fabric, right-side up. I do this by quilting across, turning my fabric, quilting four stitches up, turning my fabric, quilting back across, etc., in a sort of squared zig-zag pattern. It makes it easier than cutting thread after each pass.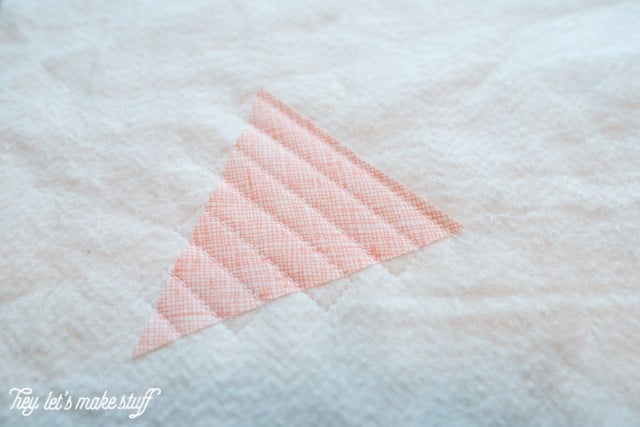 To make sure my orange fabric covered the entire "kite" area, I drew two lines emanating out of the triangle at the bottom. As I quilted on the strips, I made sure they were wide enough to cover this area.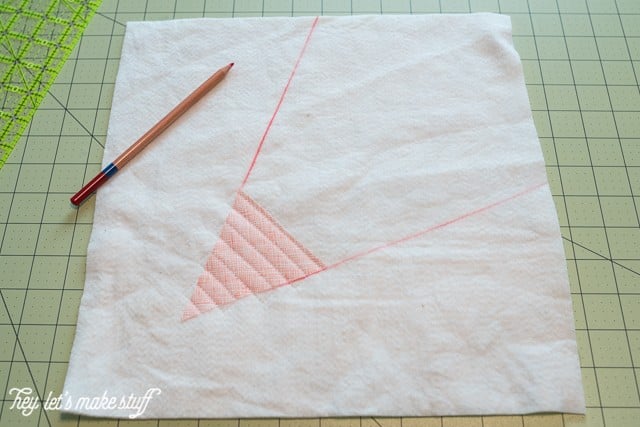 All of my remaining strips are cut to 1.5″ wide. To place the next strip of fabric, lay it face down on top of the first piece, the edges lining up. Then stitch with a small seam (1/8″).
Flip that piece up and press. Then quilt that piece to the batting and backing fabric in the same manner you did for the triangle.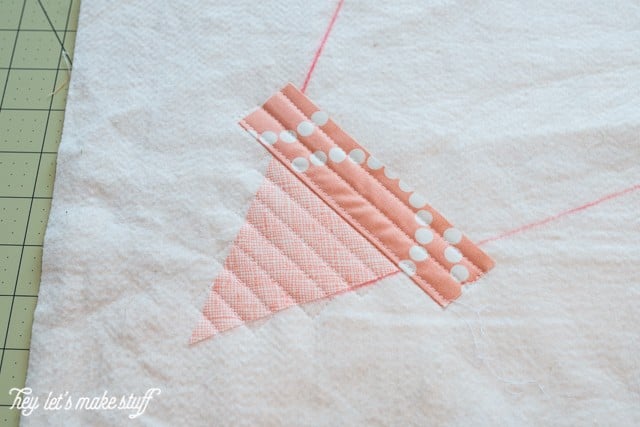 Continue with this method until you have placed all of your orange strips. Trim the edges so your block is square.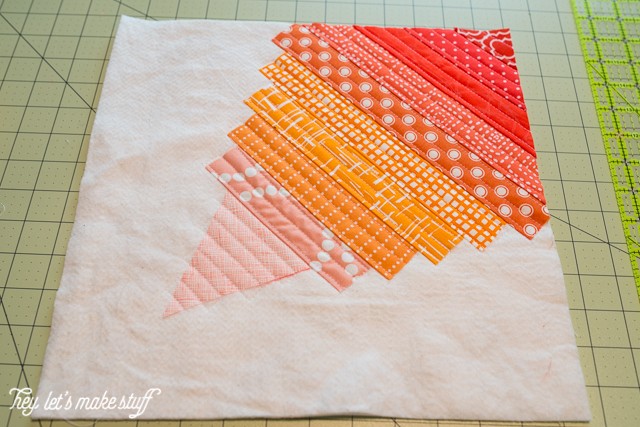 Next you're going to start placing your black-and-white gradient. I put the black strips down to see how it would look, and that's when I realized how much this looks like a kite! I might end up making this block again in the future using a blue gradient for sky, but I wanted it to match the rest of the blocks in the series so I went grayscale.
You'll notice I didn't use all of the fabrics in my original selection — I never do. I use it as a guide and figure out what looks best as I go.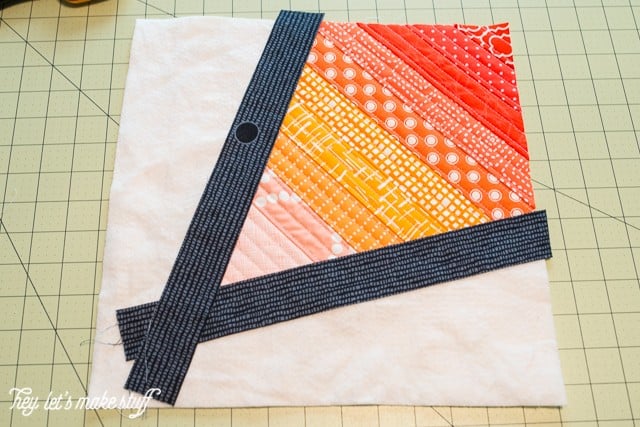 Sew this pieces face down like you did with your other strips, then press open and quilt to the backing fabric. You want to make sure to cover all of your orange fabric raw edges when you do this.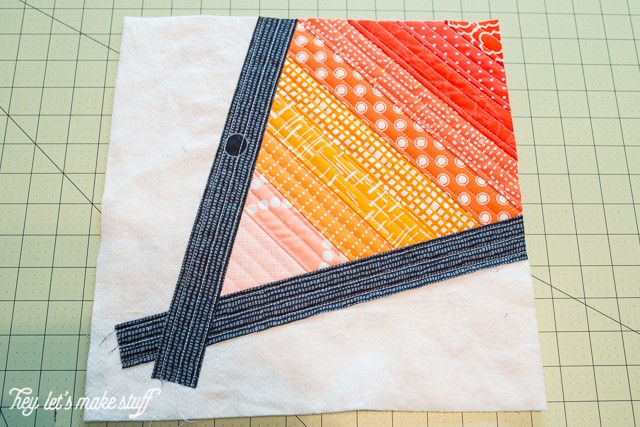 Continue adding your gray pieces until you reach the end of your block. Square it up and trim it down to 12.5″ x 12.5″ and you're almost done!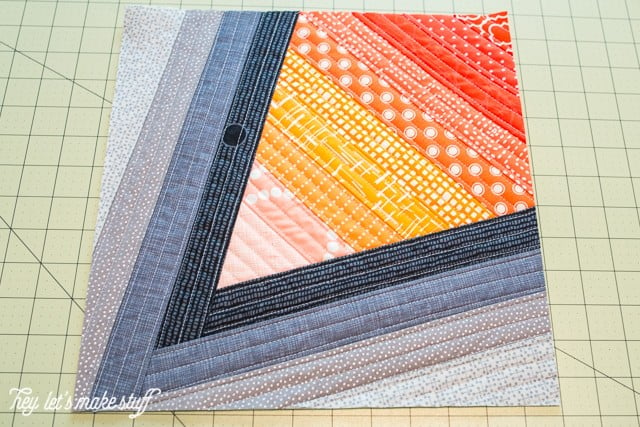 You could leave this block as is, or you could do what I did and try a little hand-stitching to make a kite string. Add a bow (sewn on) and it's ready to fly!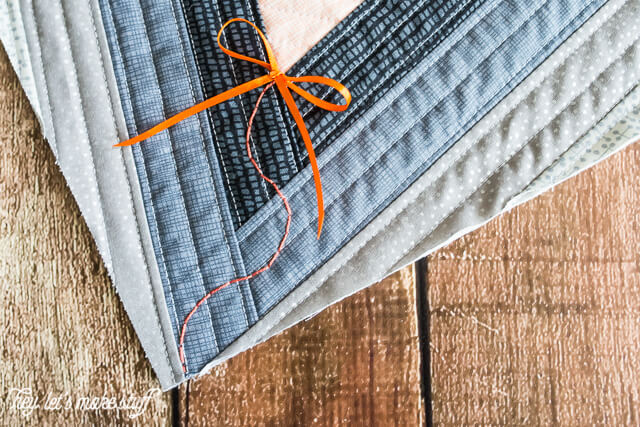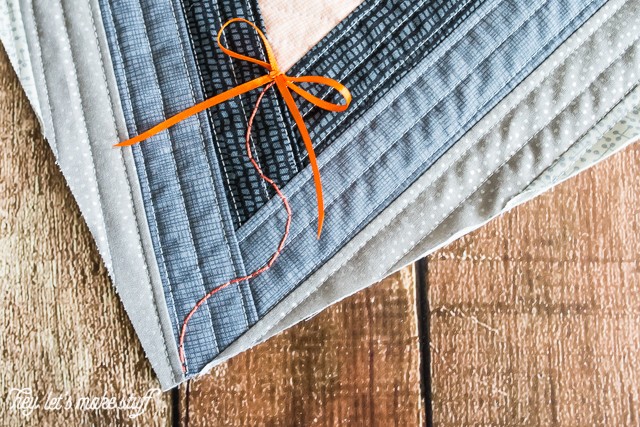 If you want to know how to connect these blocks (the back is ugly, so you definitely need to add another backing fabric), there are tutorials all over the internet about combining these types of blocks. I haven't used any of them myself (I usually turn my QAYG blocks into pillows or bags), so I can't recommend any tutorials personally.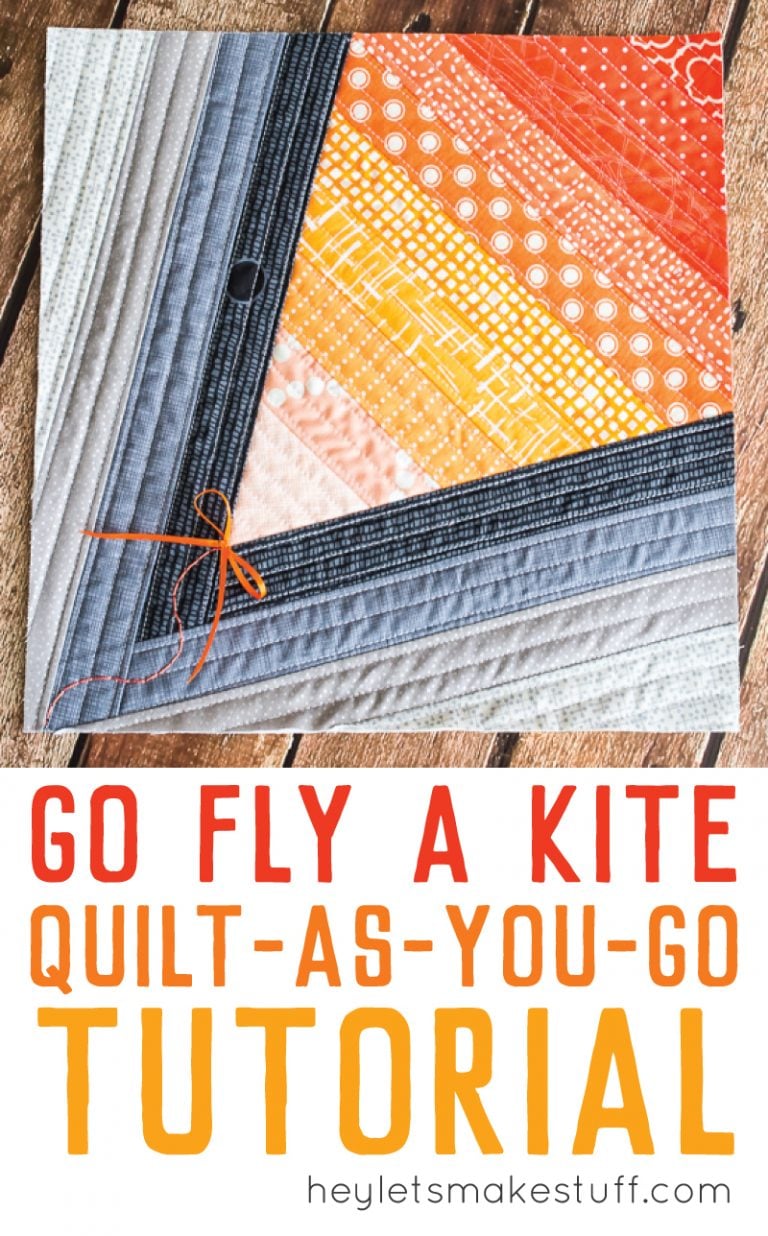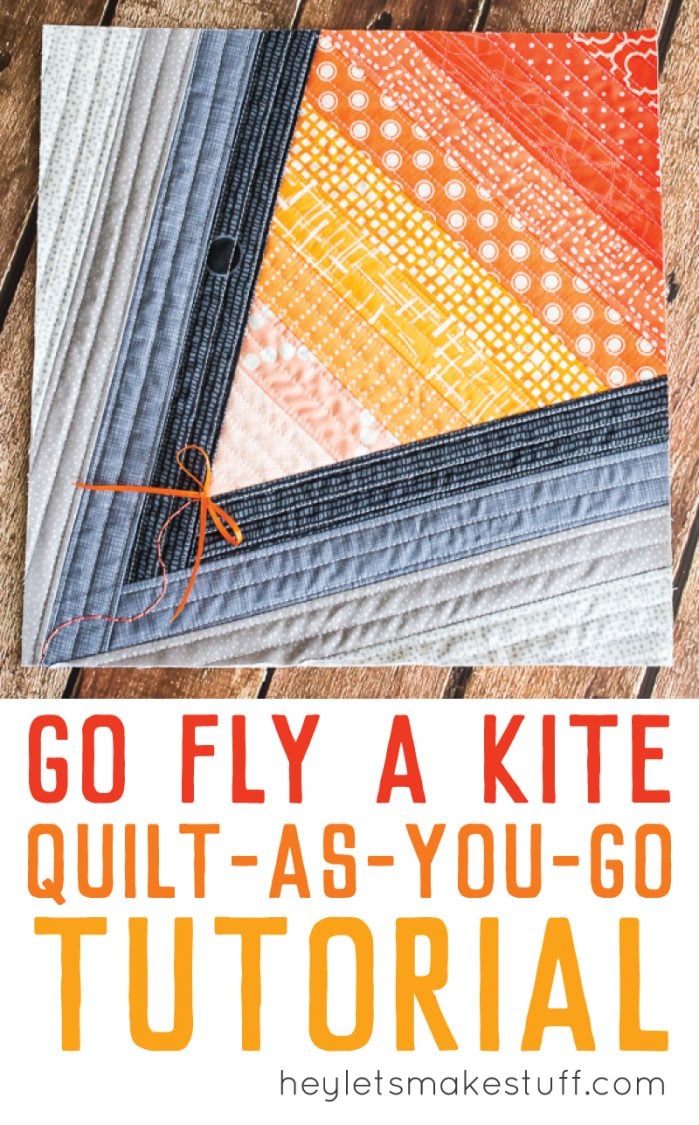 More Quilt-As-You-Go Inspiration: