Painting cabinets might be a daunting process, but you can learn to do it right the first time by avoiding these five mistakes!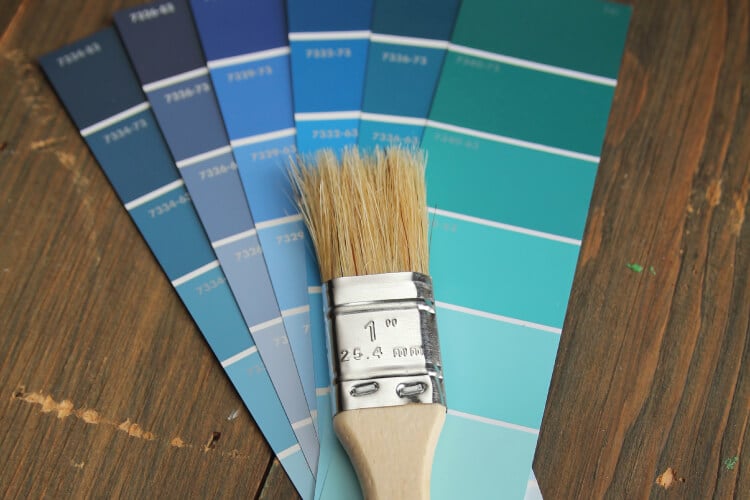 We recently renovated our guest bathroom. The biggest DIY project was painting the cabinets a deep teal. The cabinets were old oak and in rough cosmetic shape (though underneath they weren't so bad). Clearly 25 years of use had taken their toll.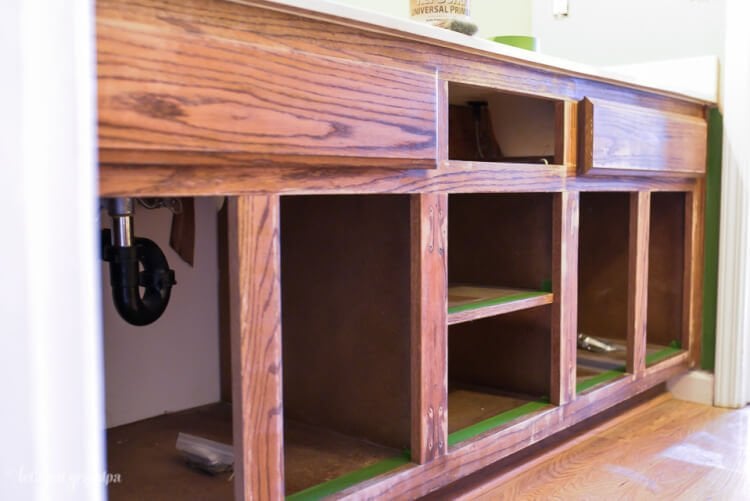 I read a few blogs on the best way to go about painting cabinets, so I thought it would be pretty easy. But it wasn't. And I made a handful of mistakes that I'll share here so you don't have to make them yourself!
I started by sanding the cabinets, which led me to my first mistake.
Not Sanding Completely
I borrowed my cousin's palm sander, which actually worked great for the most part. Of course our cabinet doors had some places the sander couldn't get, and that's where things got a little hairy. I gave them a rough hand sanding, but I should have spent more time on those nooks and crannies. The paint, even with primer, had a harder time sticking, leaving me with uneven spots, and requiring more paint.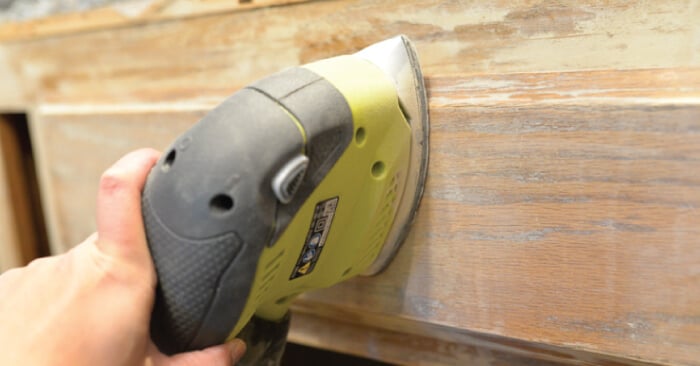 Solution: spend a little more time manually sanding those tight spaces. It'll save you paint and time in the long run.
Not Tinting Your Primer
This isn't something I thought to do, but Ryan's friend (who's a painter by trade) mentioned it when he stopped by…after I'd primed the cabinets. He said to add a bit of your paint color to the primer to tint it — and you can get away with fewer coats. White is one of the hardest colors to cover, so having your primer tinted will save you time and money!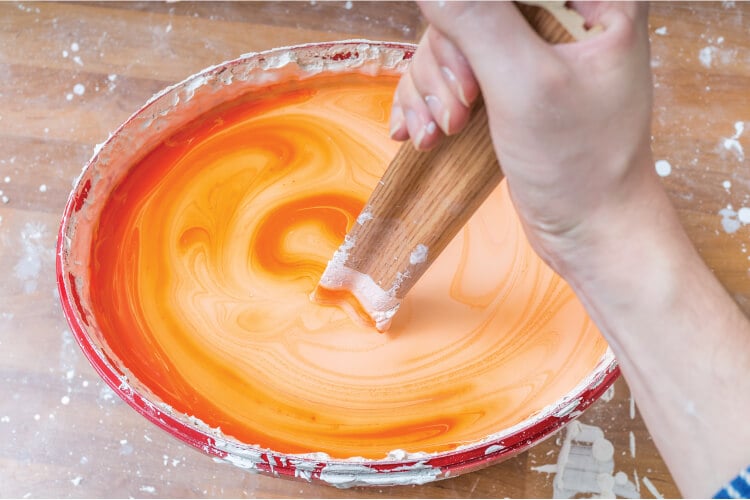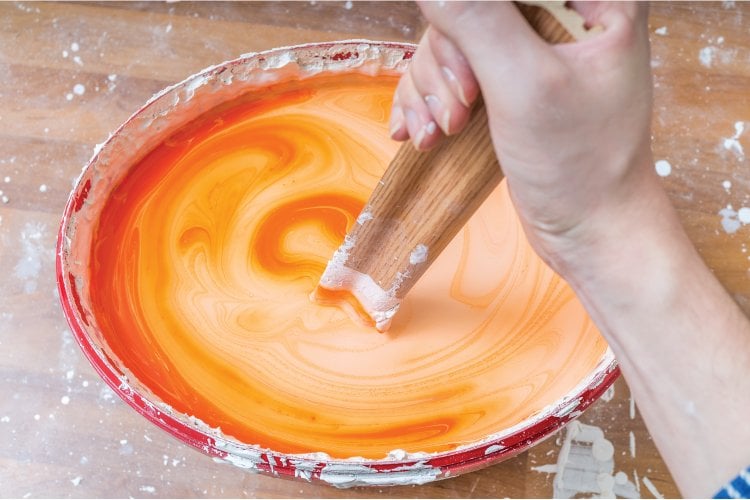 Solution: add a little paint color to your primer
Not Using the Right Paint
I made one other mistake that you're not likely to make — my brother came over to help paint and I gave him the entirely wrong color. It was a darker teal that I had bought as a sample. Going on, it only looked a little off, so I didn't really question it. But by the time it dried, it was clear it was a different color.
This wouldn't have been that bad, except that the sample paint was a much lower quality than the final paint I had chosen, which was specifically formulated for cabinets. That meant that the brush and roller marks were much more visible in that layer. I ended up sanding down some of that layer to help get rid of the painting marks.
Solution: buy a high-quality paint meant for cabinets (and hide everything else!)
Getting the Hinges Mixed Up
I should have labeled. I read a dozen blogs that said to label my hinges so that they would all go back in the same places. But I figured all the hinges were the same, so why spend the time?
Huge mistake. The hinges had worn in specific ways in the last two decades and a half, so that after they were painted and I was putting the bathroom back together, none of the hinges worked quite right. I ended up sort of forcing everything into place, and while the doors work, they don't work as well as they would have if I'd labeled them.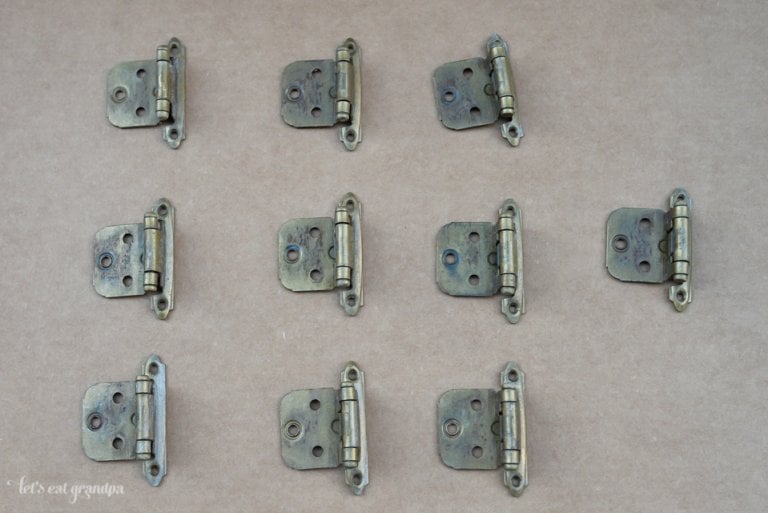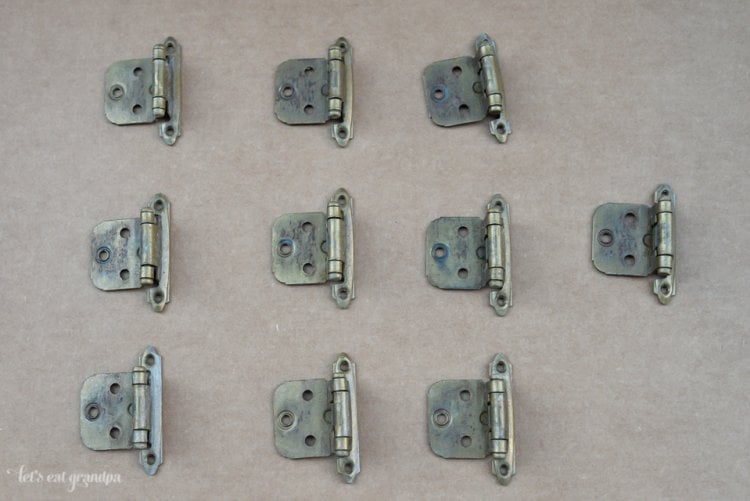 Solution: label the darn hinges!
Getting Your Doors Mixed Up
While you're labeling your hinges, also label your doors. I thought I was doing a good job of keeping the doors in the right order when I was painting them, but nope. I went to re-install the doors, and they didn't fit properly. Figured out later that two of them were switched—I have no idea how that happened during the process, but it wasn't good to have a door that sat half an inch higher than the others, and wouldn't shut all the way.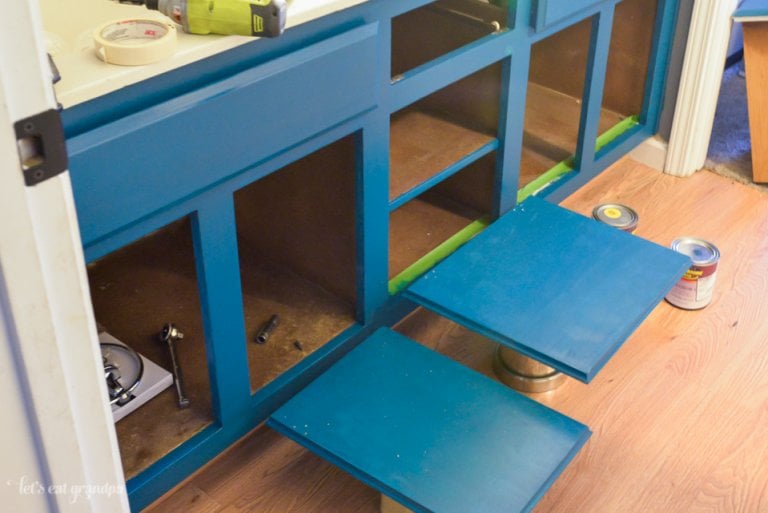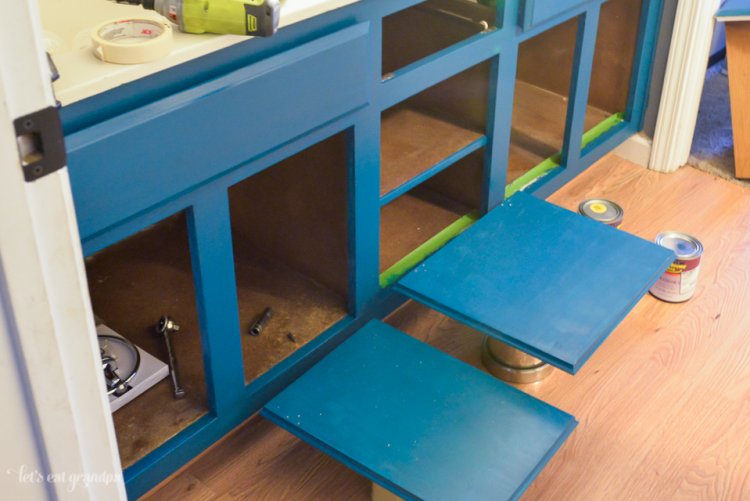 Solution: label the darn doors!
My Biggest Takeaway
While making these mistakes was frustrating, I tried not to let them get me down. I know that these are not our "forever"—someday we'll pull these out and put in better cabinets with higher quality hardware. Knowing that made it much easier not to be totally frustrated with the process—I kept reminding myself it's all a learning process!
And when all was said and done, I loved how they turned out. I'm so glad I took a risk on the teal and even though they aren't perfect, they are definitely very "me."
Get more teal inspiration: Teal Cabinet Paint Colors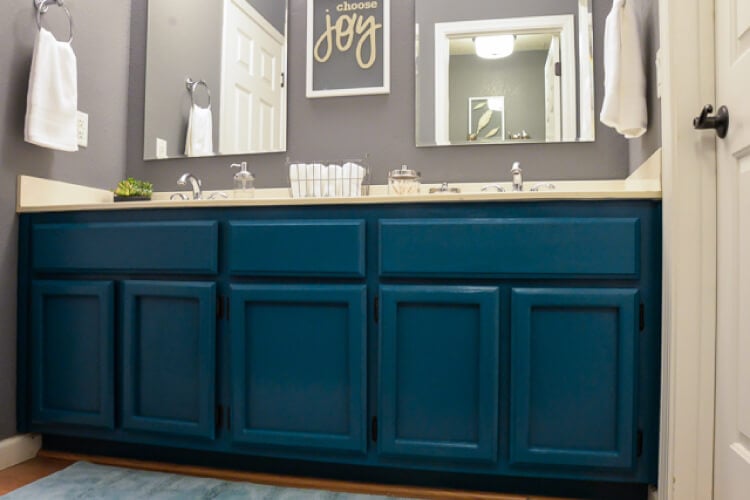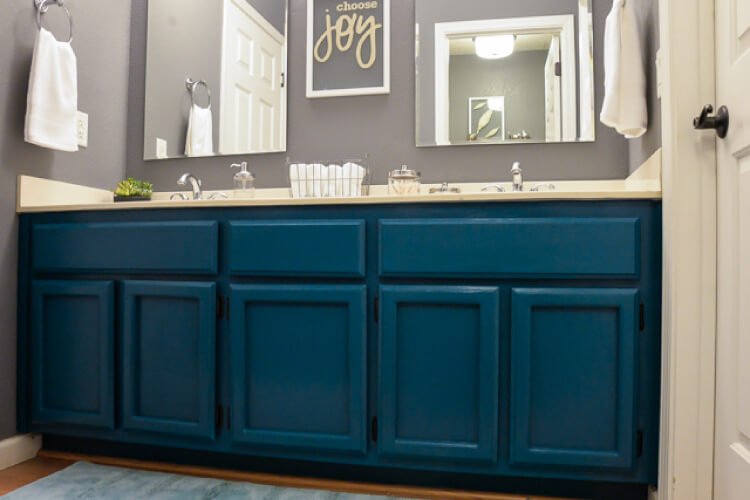 You can also check out the full bathroom reveal, and learn how to make the DIY floating artwork and a shower curtain out of a flat sheet!