This fun bucket list can help you keep track of all of your must-dos through the year! Make the DIY bucket list sign with your Cricut and removable vinyl, and swap out each season with new ideas!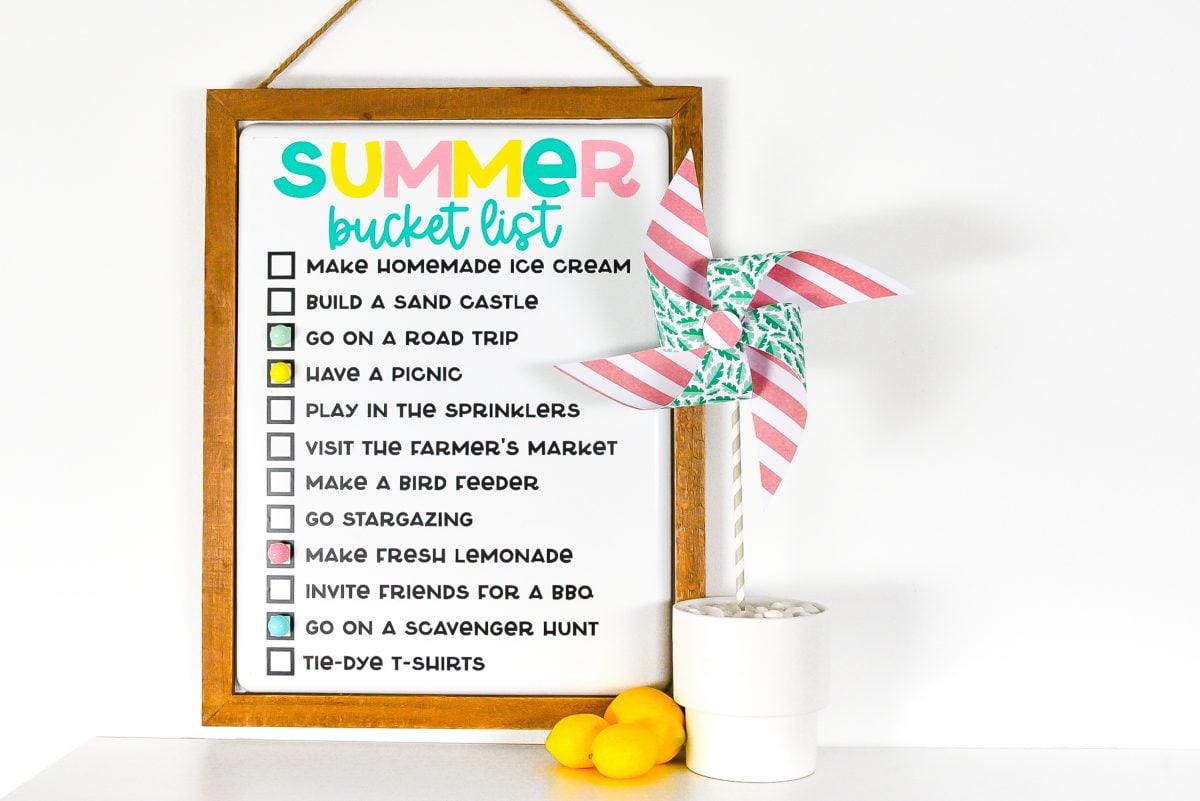 Welcome to Day 1 of the 15 Days of Cricut Summer Fun!
This year, we're celebrating summer with 15 bright and happy summer crafts you can make with your Cricut! From beach ideas to barbecues, summer drinks to festive parties, this series of posts is here to give you a ton of ideas for crafting this summer. Take a break from the heat and get crafty with your Cricut!
If you'd like to get this series in an ebook format PLUS all of the SVGs needed to make all 15 projects check out the 15 Days of Cricut Summer Fun eBook Bundle!
We're kicking off this Cricut Summer Fun series with a summer bucket list sign! 12 ideas that fun for all ages, from building a sand castle to making homemade ice cream. Check off each bucket list item using a simple magnet or dry erase marker.
[adthrive-in-post-video-player video-id="4Zv0ymXX" upload-date="2022-05-29T19:48:00.000Z" name="Adhesive Vinyl Projects to Make with a Cricut" description="Make all sorts of amazing adhesive vinyl projects using your Cricut, including tumblers, signs, mugs, ornaments, and more. " player-type="default" override-embed="default"]
If you want to add your own items to the bucket list, you can edit the SVG file in Cricut Design Space using the font Poolside. You could also use a chalkboard, like in this Christmas Countdown Calendar.
This bucket list is made using removable vinyl, meaning you can update it each season using the Yearly Bucket List SVG linked in the supply list. At the end of the season, just use your scraper to remove the vinyl and adhere the next bucket list! This makes it much more sturdy than a simple printed bucket list—one you can hang and your whole family can see!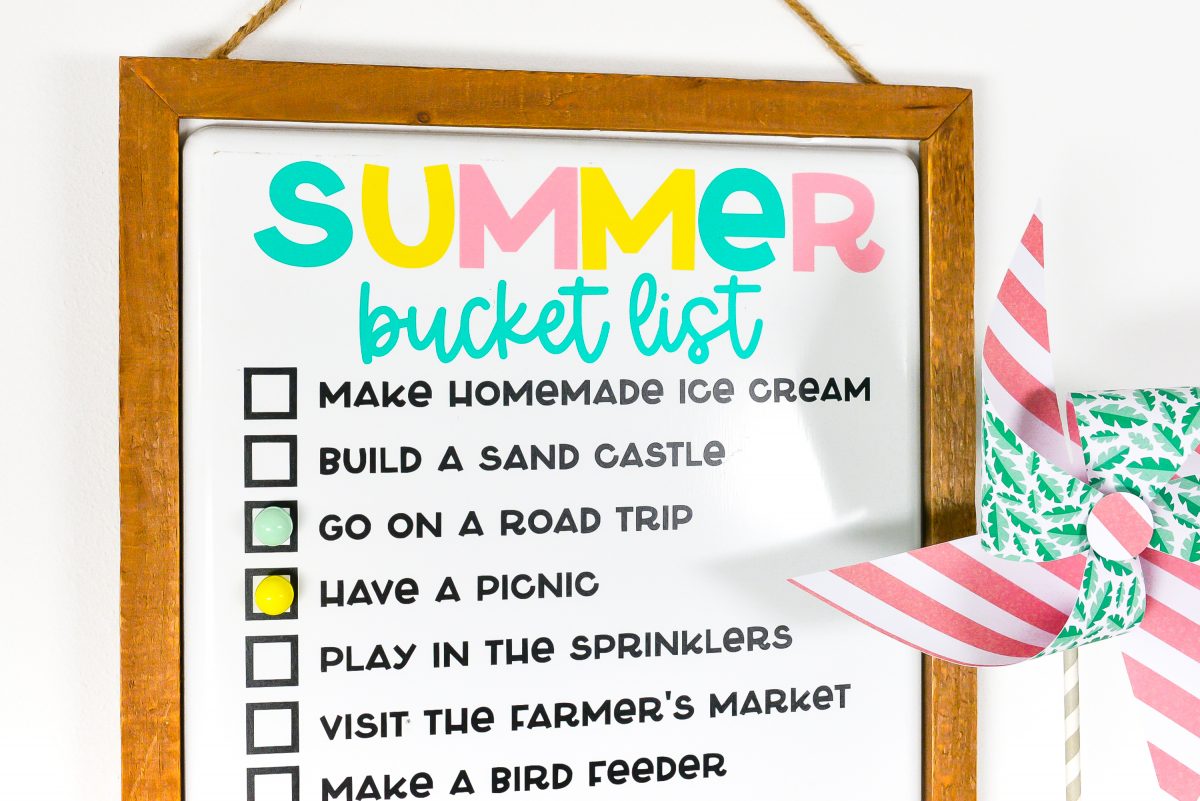 This project is best cut on the Cricut Maker 3, Cricut Explore 3, Cricut Maker, Cricut Explore Air 2, or other Cricut Explore machine because the bucket list is quite a bit larger than the Cricut Joy can cut. Need help using your Cricut? Check out my Cricut Basics eBook!
Bucket List Sign Supplies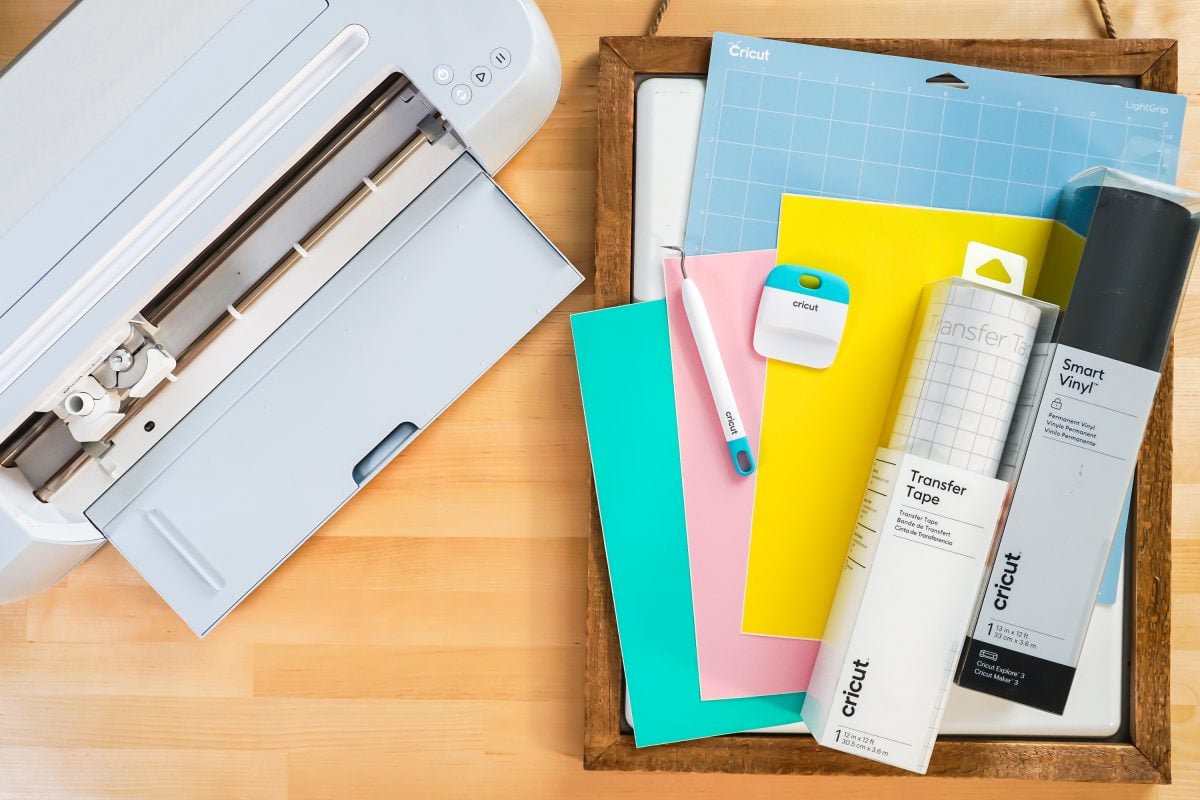 Material Note: You can cut this on your Cricut Maker 3 or Explore 3 using Permanent Smart Vinyl. I'm actually using both on this project—Smart Vinyl for the black, but regular adhesive vinyl for different colors used in the header.
Whiteboard Note: This file is designed to be used on a 12″ x 18″ white board, but can be reworked for other sizes as well, like this cute 9″ x 12″ hanging whiteboard.
Grab the Bucket List SVG for this Project
Get the bucket list SVGs here. If you're interested in making more projects in this summer series, our Cricut Summer Fun eBook and SVG Bundle is a great deal!
Bucket List Sign Instructions
Upload the Bucket List File to Cricut Design Space
I created two versions for you in the file—one regular version, and one with weeding boxes. Weeding boxes basically make it a lot easier to weed large or complex projects. I've built them into this file, but if you want to make your own, check out How to Make Weeding Vinyl Easier with a Weeding Box.
For this project, let's use the weeding box version. Upload it to Cricut Design Space (see Uploading SVG Files to Cricut Design Space if you need help).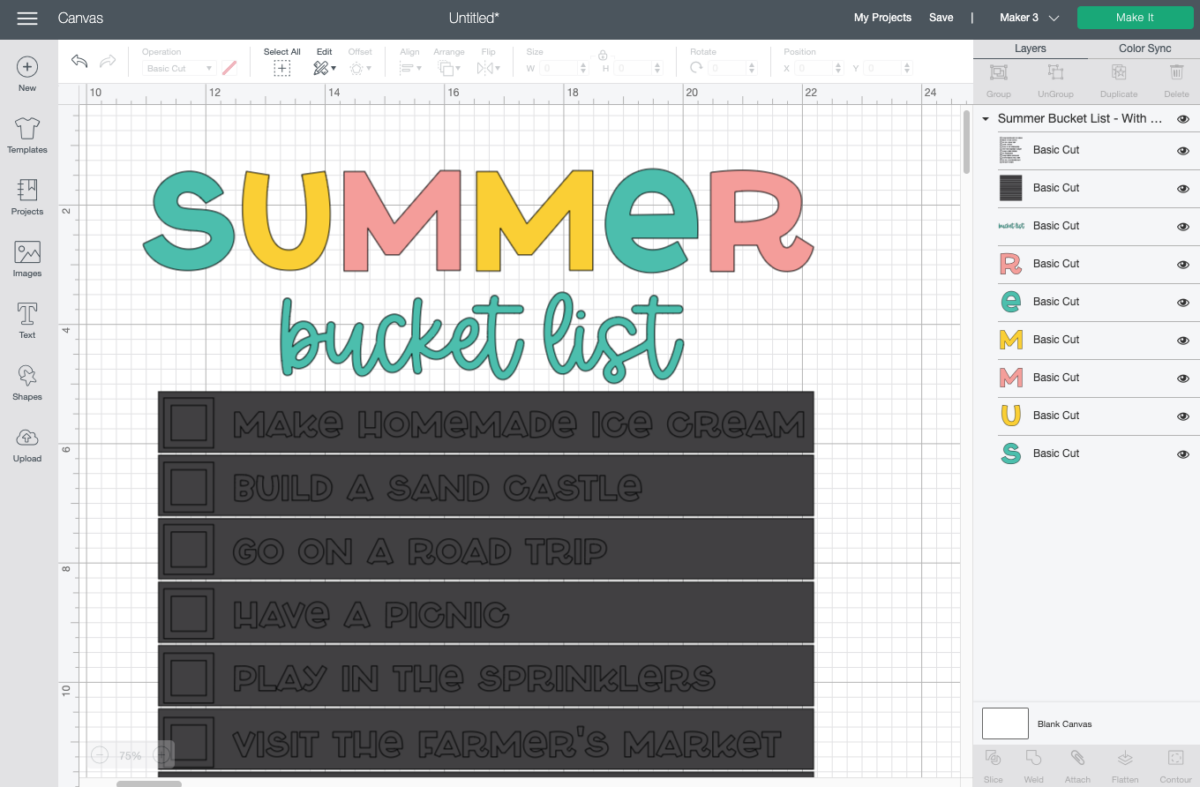 Like I mentioned above, if you want to add your own bucket list items, hide the weeding box layer, and Contour out the items you don't want (Using Contour in Cricut Design Space). Then add your own using the font Poolside. Then, select all of your bucket list items and click Weld at the bottom of the Layers Panel so they cut together.
To get the weeding boxes to attach and cut properly, select the image and click Ungroup at the top of the Layers Panel.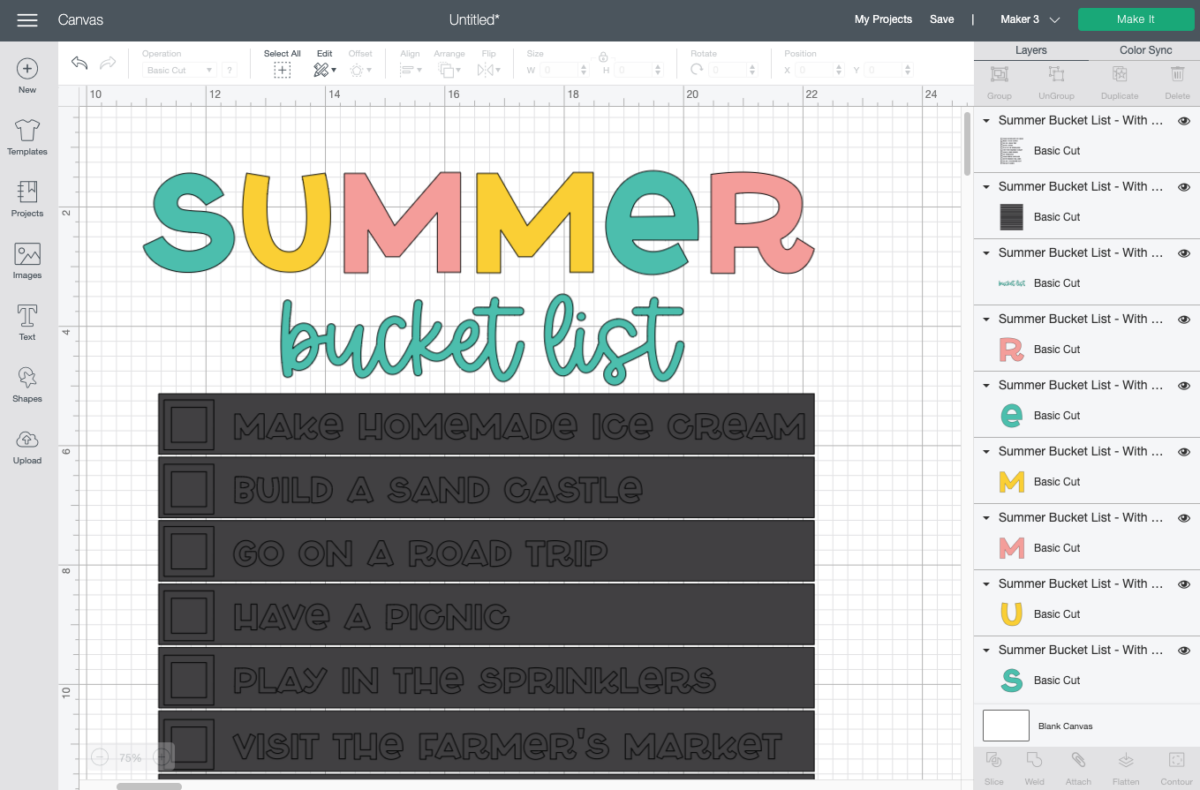 Now select just the black bucket list text and the weeding box layers and click Attach at the bottom of the Layers Panel. You'll see those two layers nested under an Attach heading in the Layers Panel.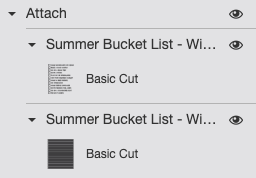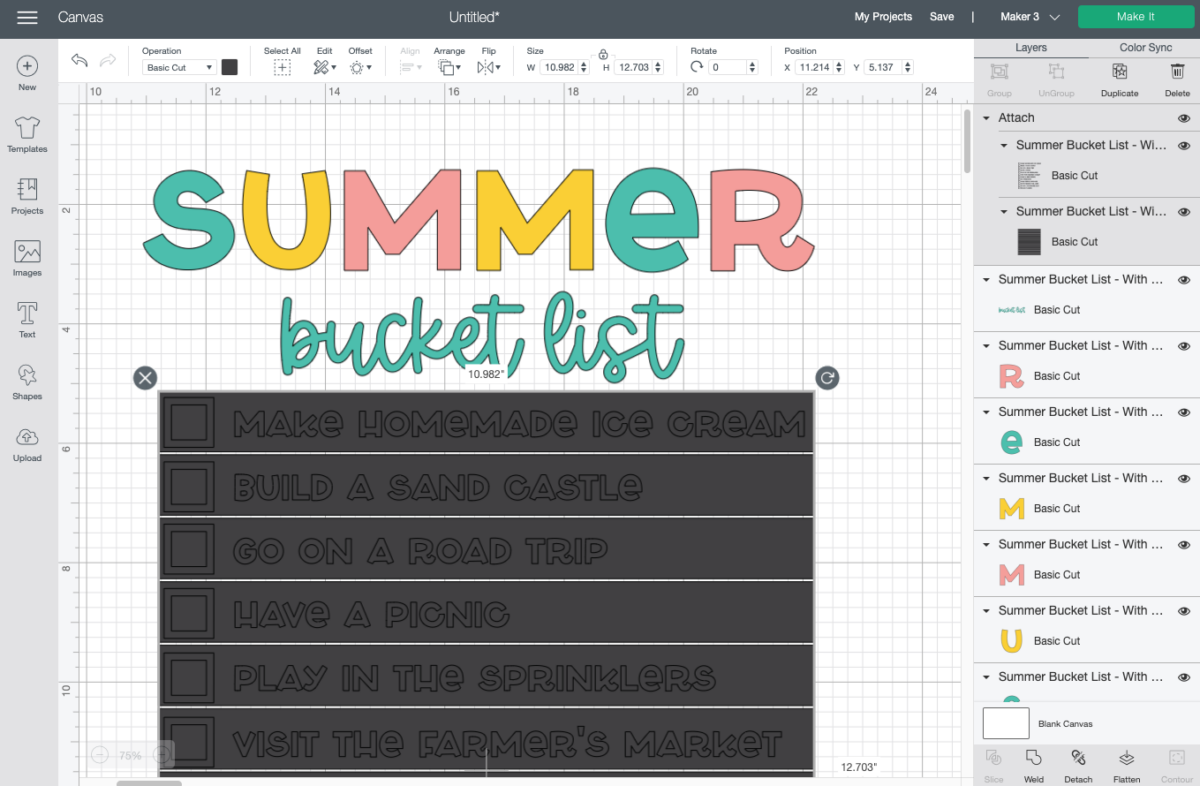 If needed, resize your bucket list to fit on your board. That's it! You're ready to make your bucket list. Click Make It in the upper right.
Cut Your Vinyl for Your Bucket List
If you have a Cricut Maker 3 or Cricut Explore 3, you'll see a Mat Selection window. I chose Multiple Ways because I'm using Smart Vinyl for the black layer and regular adhesive vinyl for the header at the top. You can choose On Mat if you're cutting using a mat. If you do not have one of these newer machines, you won't see this screen.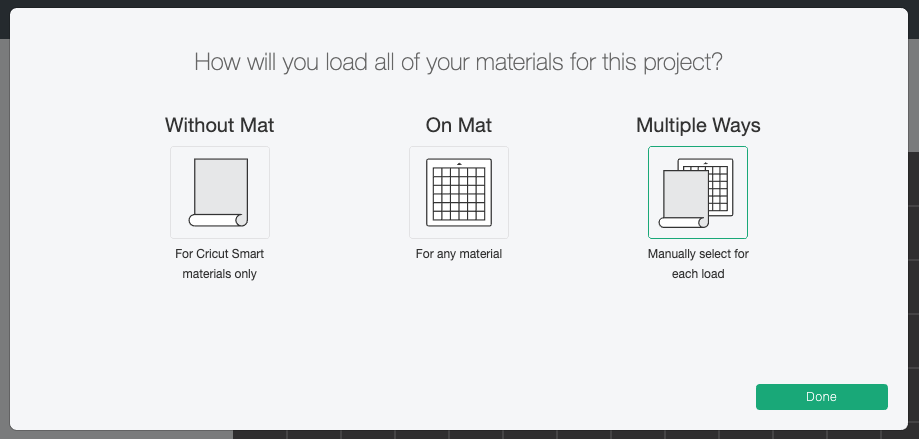 On the next Prepare Screen, you'll see all of your images laid out on their respective mats (or just on the material if using Smart Vinyl). The weeding boxes should be on the same material/mat. If they are not, go back to the Canvas and try attaching again.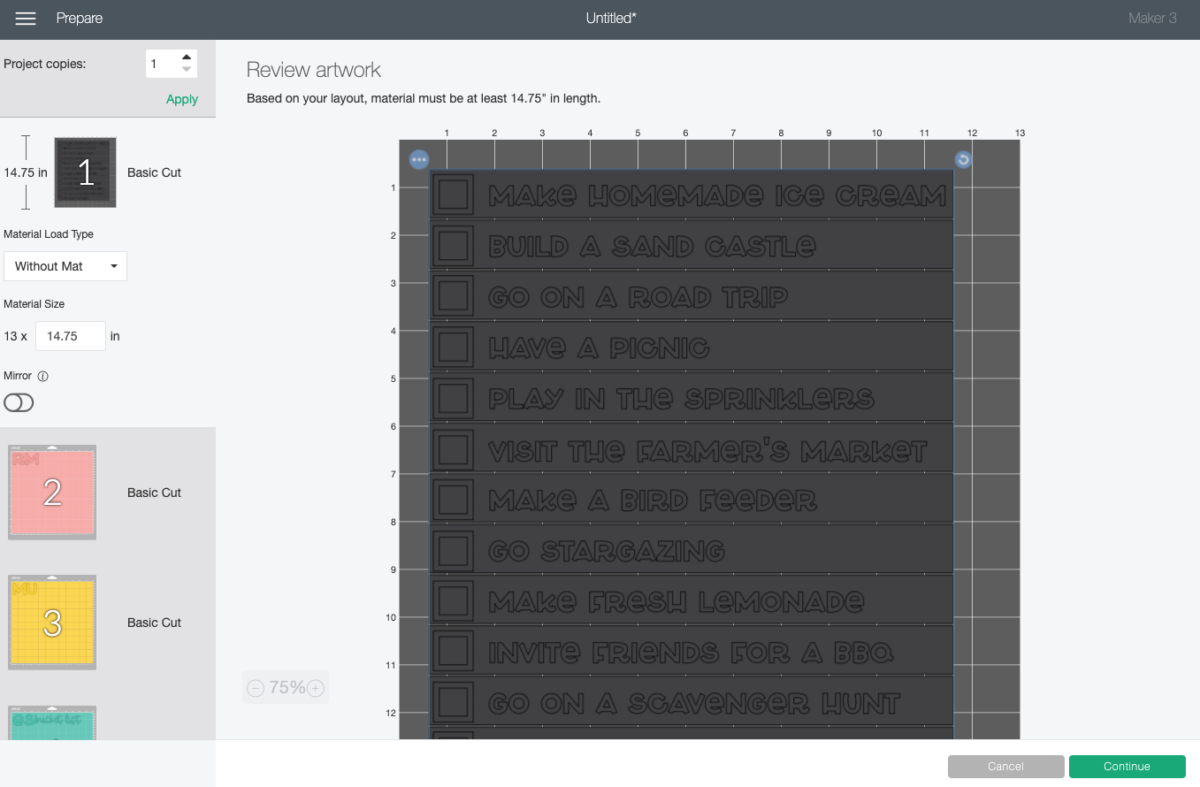 On the Make Screen, you'll set your material to Smart Vinyl or permanent vinyl. Make sure you have your fine point blade in your machine and place your vinyl colored side up. Insert your mat or material and your Cricut will cut your project! I used Cricut Smart Vinyl and my Cricut Roll Holder for the black layer. Learn more in my post How to Use the Cricut Roll Holder. This is only available for the Cricut Maker 3 and Cricut Explore 3 machines.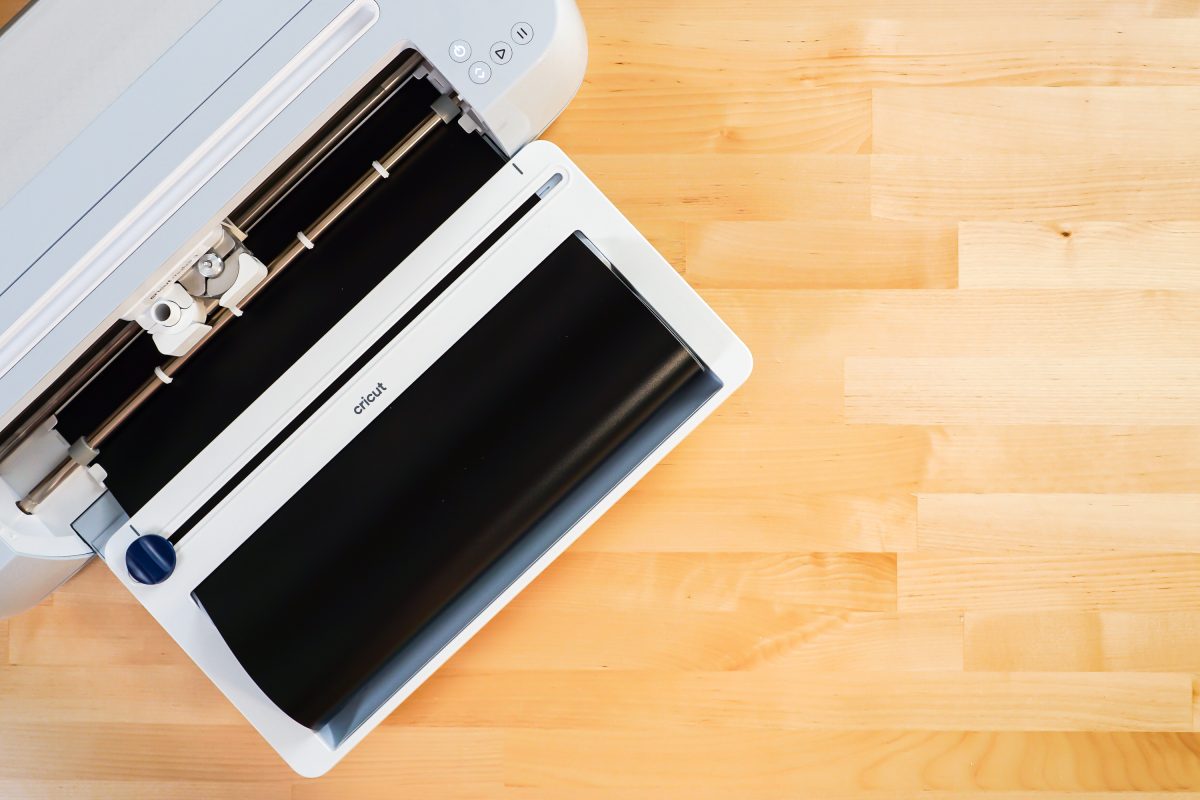 For the other layers, I simply cut on a mat like any other project.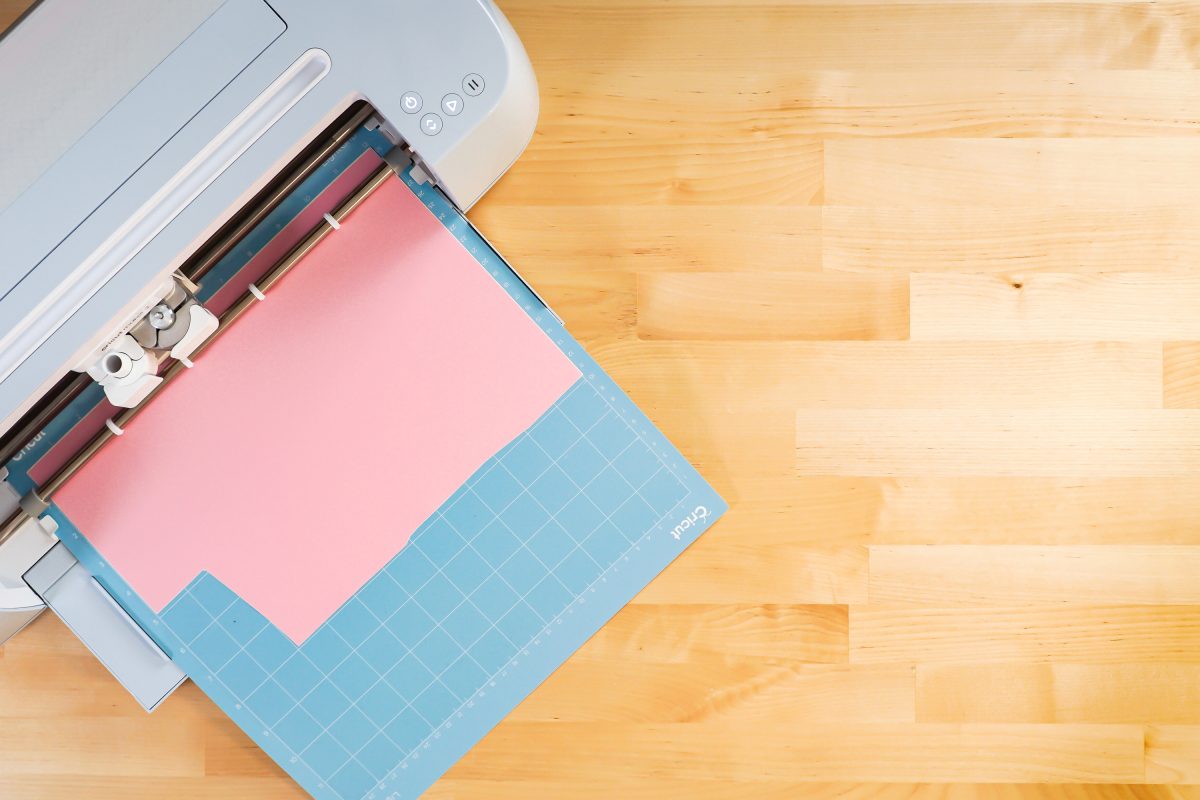 Weed Your Bucket List Decal
Next we're going to "weed" the negative space from around each image. You'll see how the weeding boxes make weeding this large piece easier. Weed the edge first.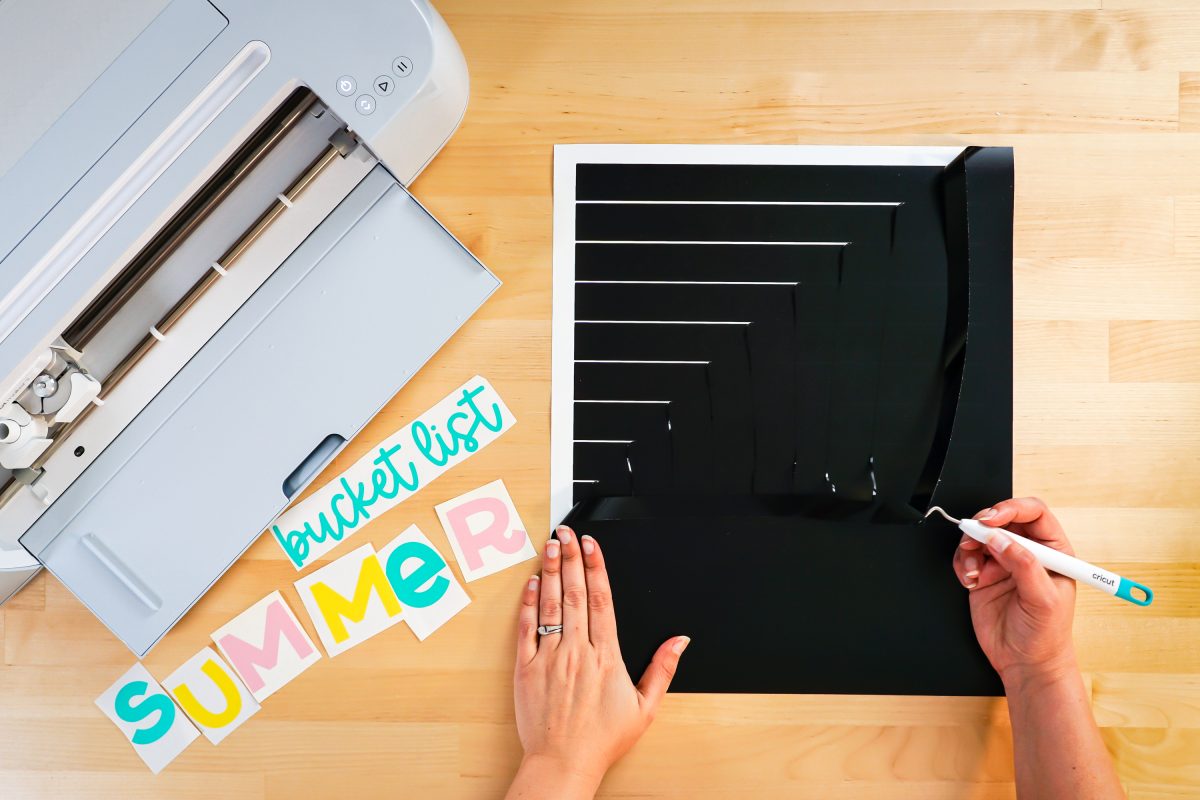 Then you can weed each individual list item. This is so much easier than trying to remove that negative material all in one go. I also love using my weeding scrap collector on projects like this with a lot of tiny pieces.
Adhere Your Bucket List to Your White Board
Start by placing all of your pieces on your white board to see how it's all going to fit. Trim as close as you can to the edge to make it easier to lay out.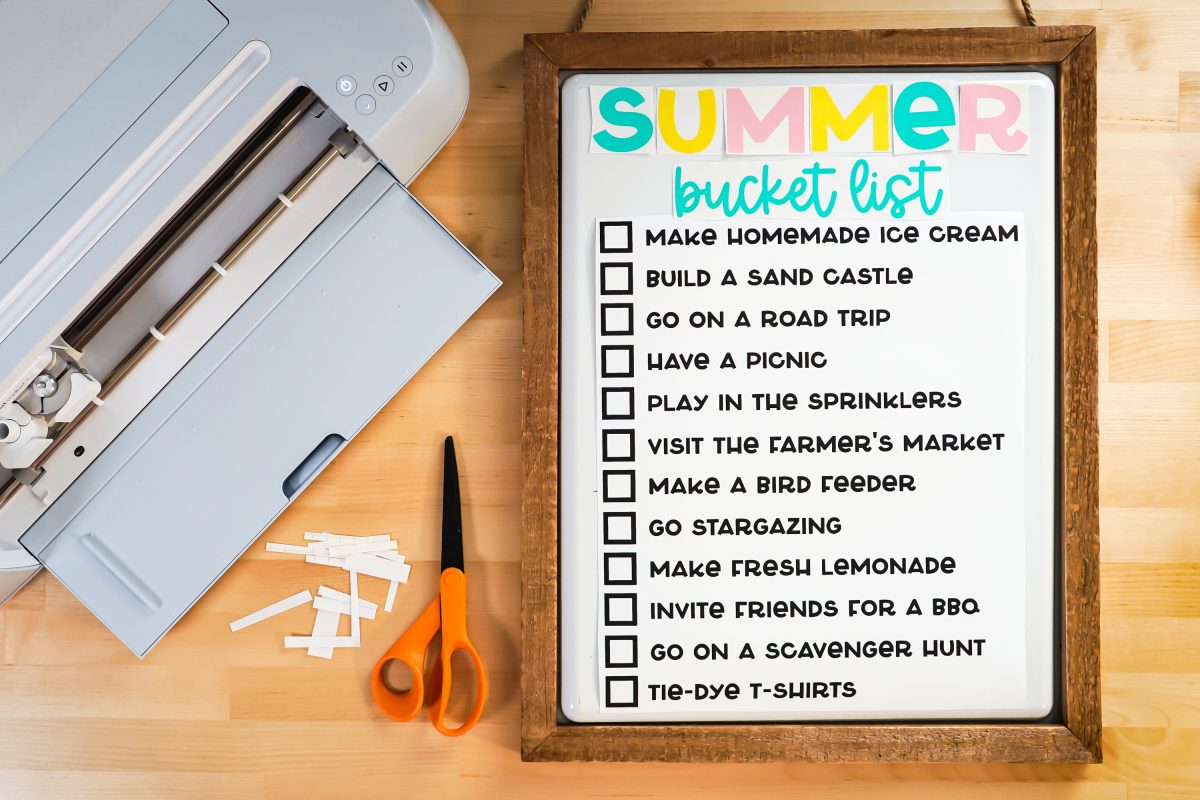 I started at the top. For the word SUMMER, I placed those by hand instead of using transfer tape—it's easy with simple shapes like big letters! I used a piece of masking tape to help make sure my letters were straight.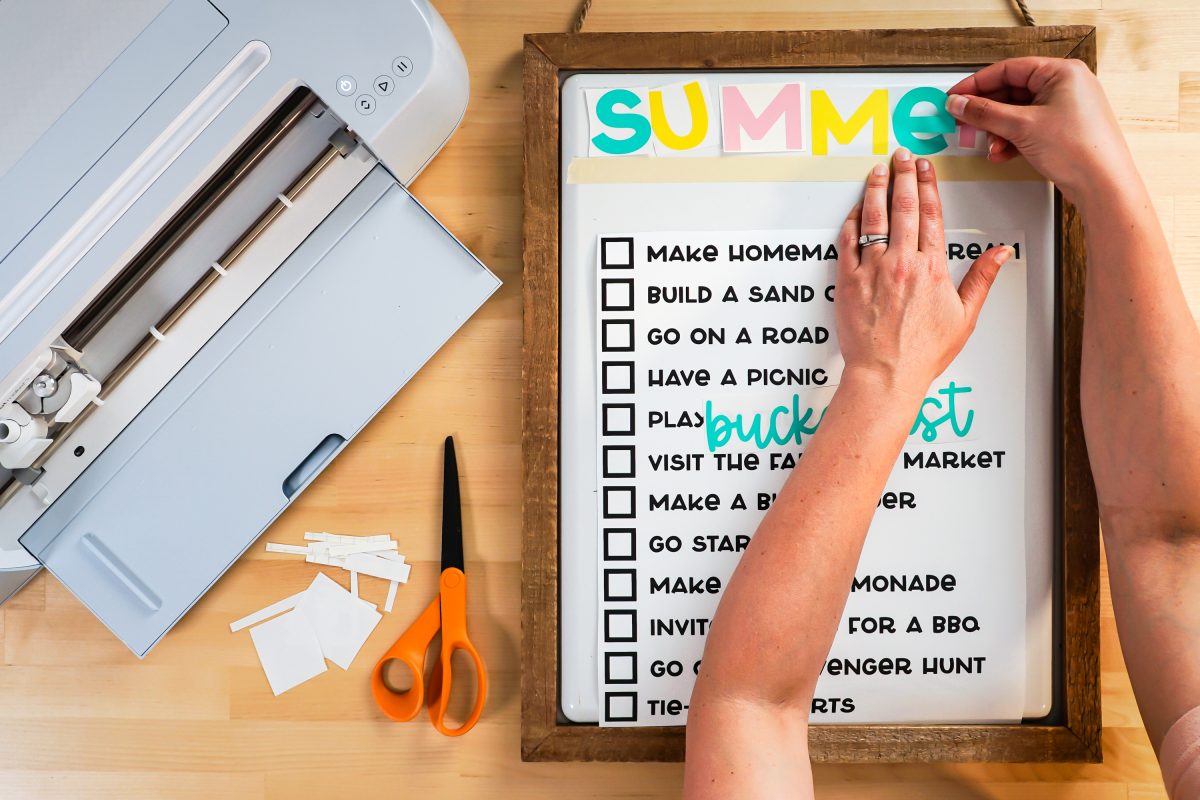 For the words "bucket list," I used transfer tape. You can see an in-depth tutorial about Using Transfer Tape if you need it (plus troubleshooting tips if you're struggling!). I started by cutting a piece of transfer tape the same size as the words. Peel off the backing on the transfer and place the sticky side down on the decal.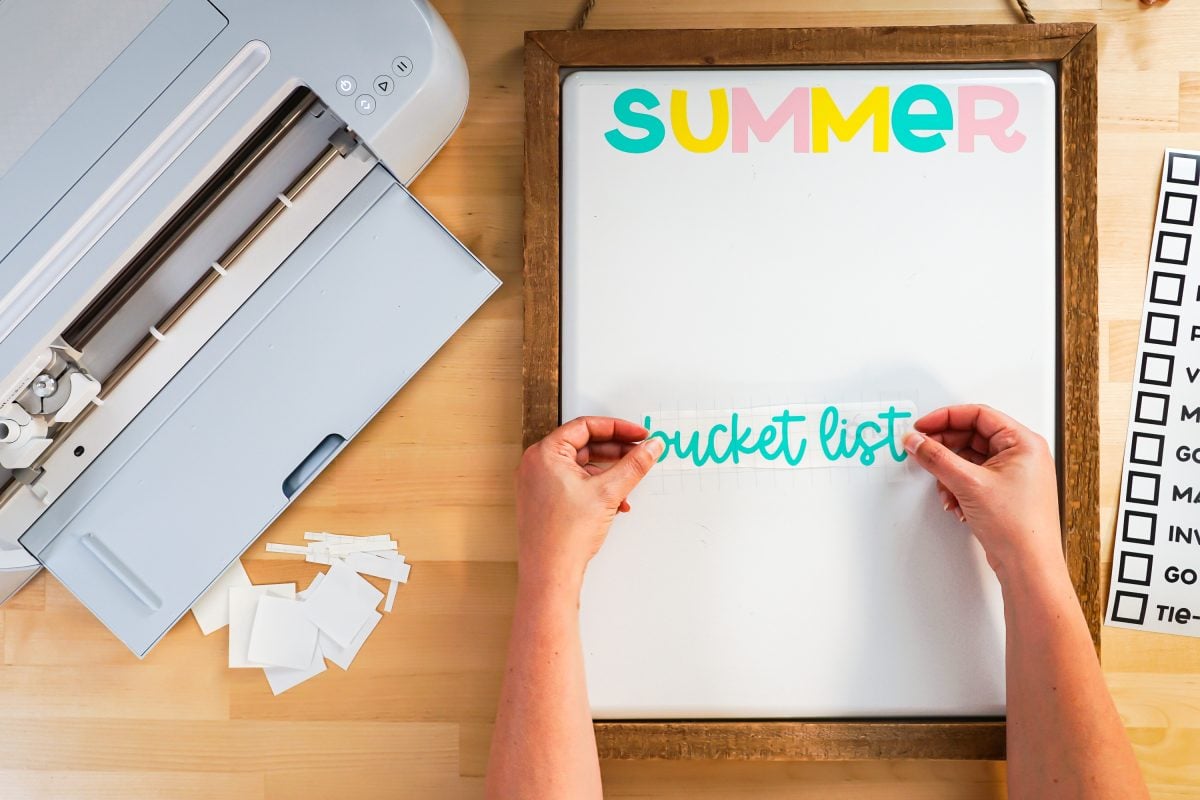 Use a scraper to burnish the transfer tape onto the decal.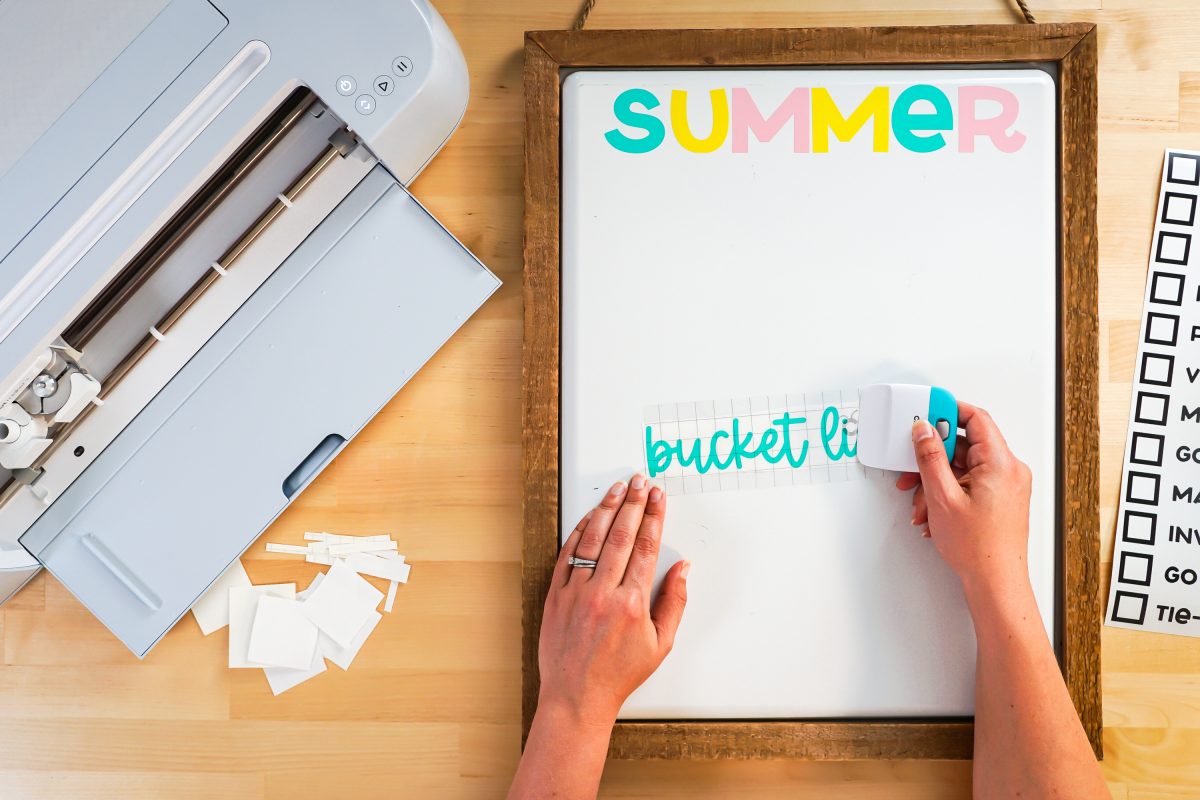 Then flip it over and peel back the carrier sheet from the decal. The vinyl should stick to the transfer tape.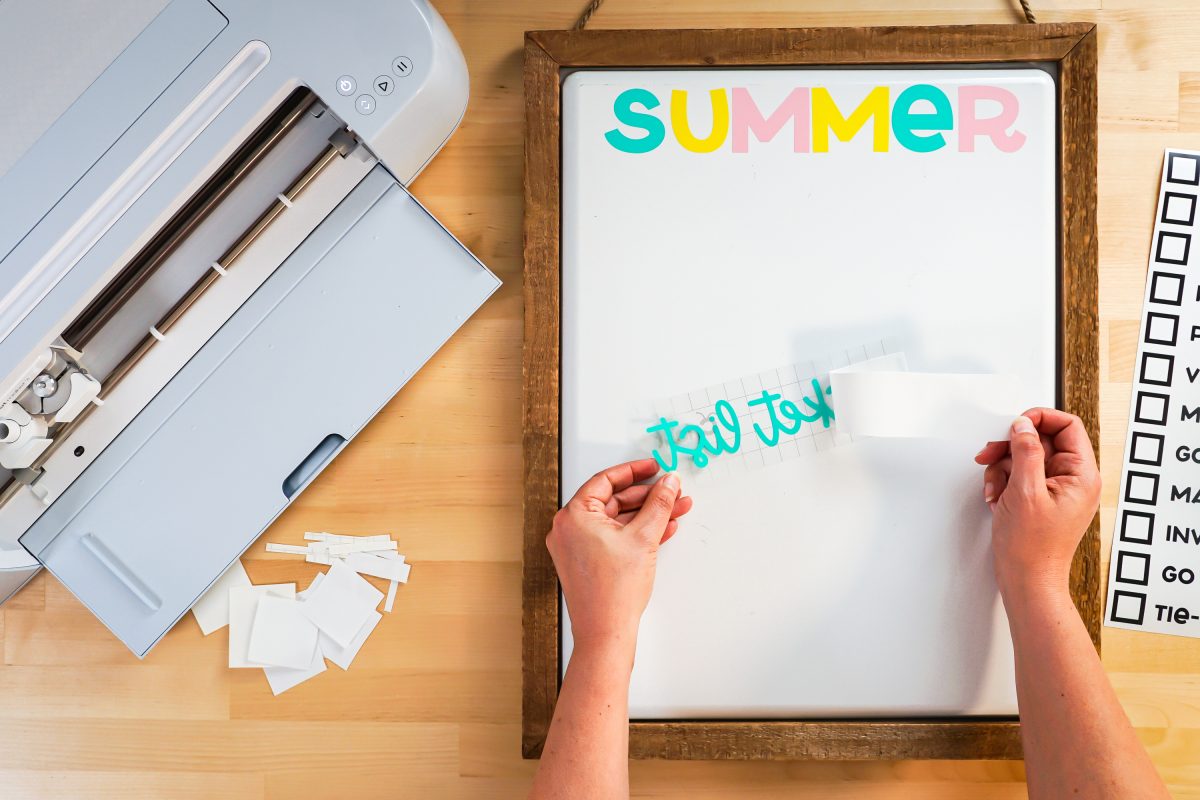 Then place it on your white board and burnish again with the scraper. Peel back the transfer tape and the decal should stick to your white board.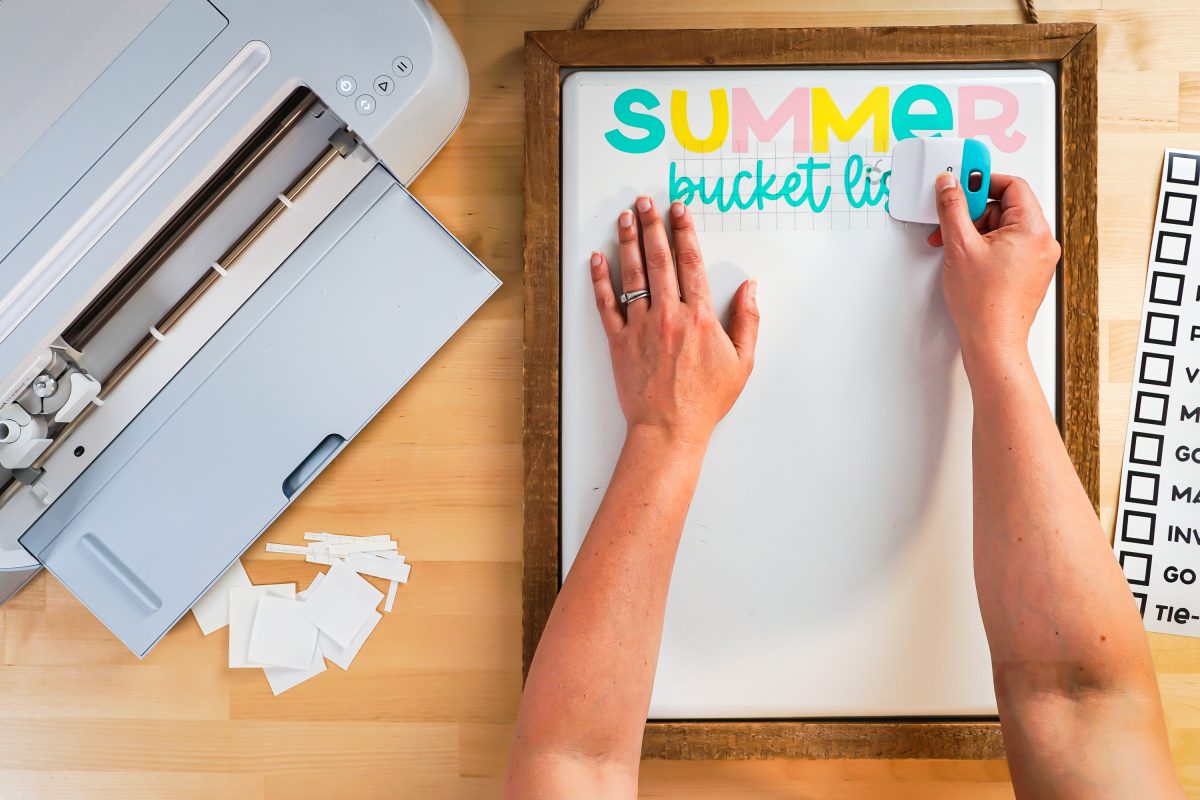 For the larger black decal, we're going to work in sections. Start by cutting a piece of transfer tape the same size as your decal. Then curve it in half and place it on your decal, so the middle of the transfer tape hits first, then work your way to each edge.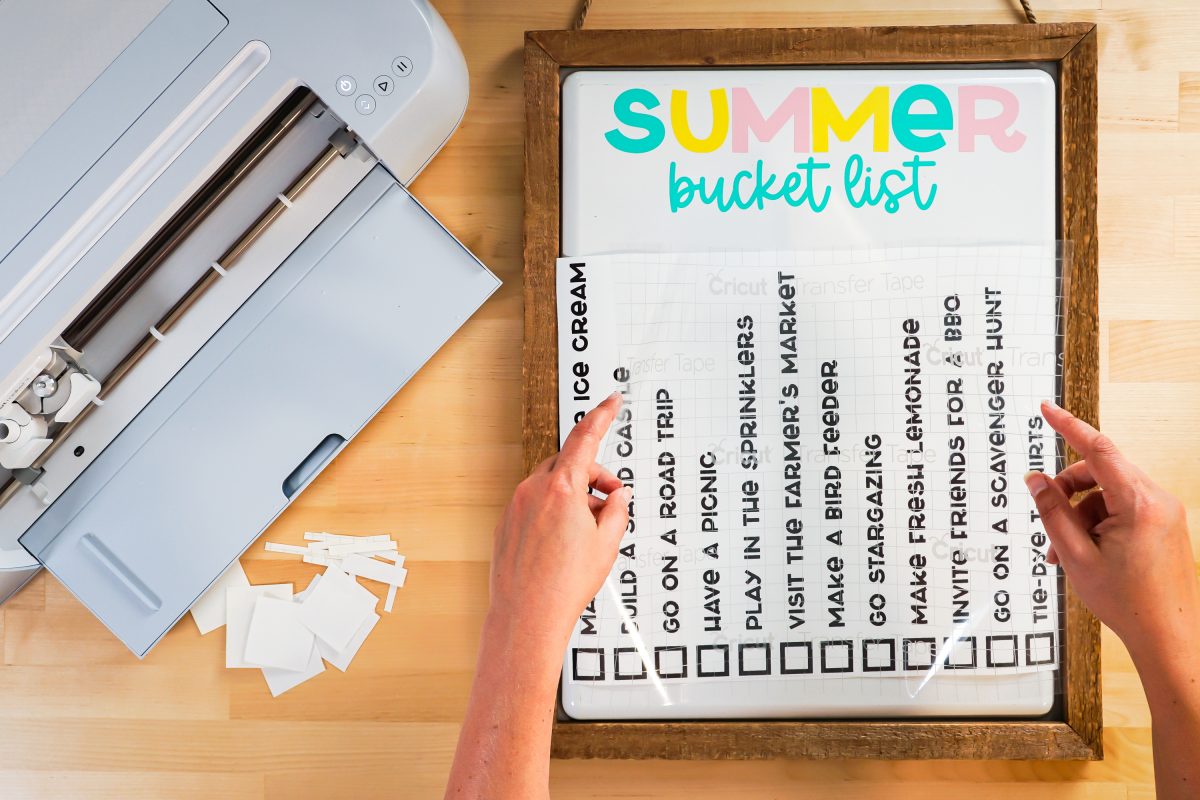 Then use the scraper to burnish the transfer tape to the decal.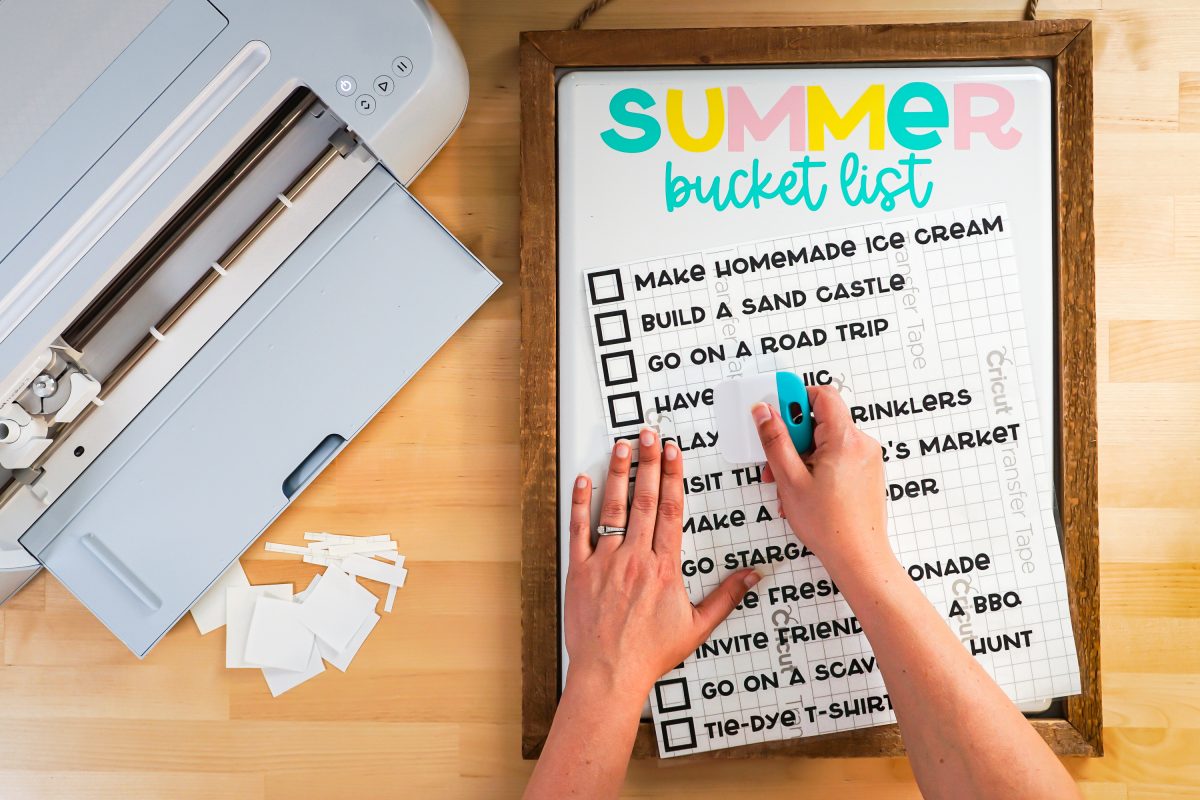 Instead of peeling back the entire carrier sheet, peel it back from the top two lines of the decal and use scissors to cut off that backing. Then you can place the decal on your white board without worrying about the entire thing sticking in one go.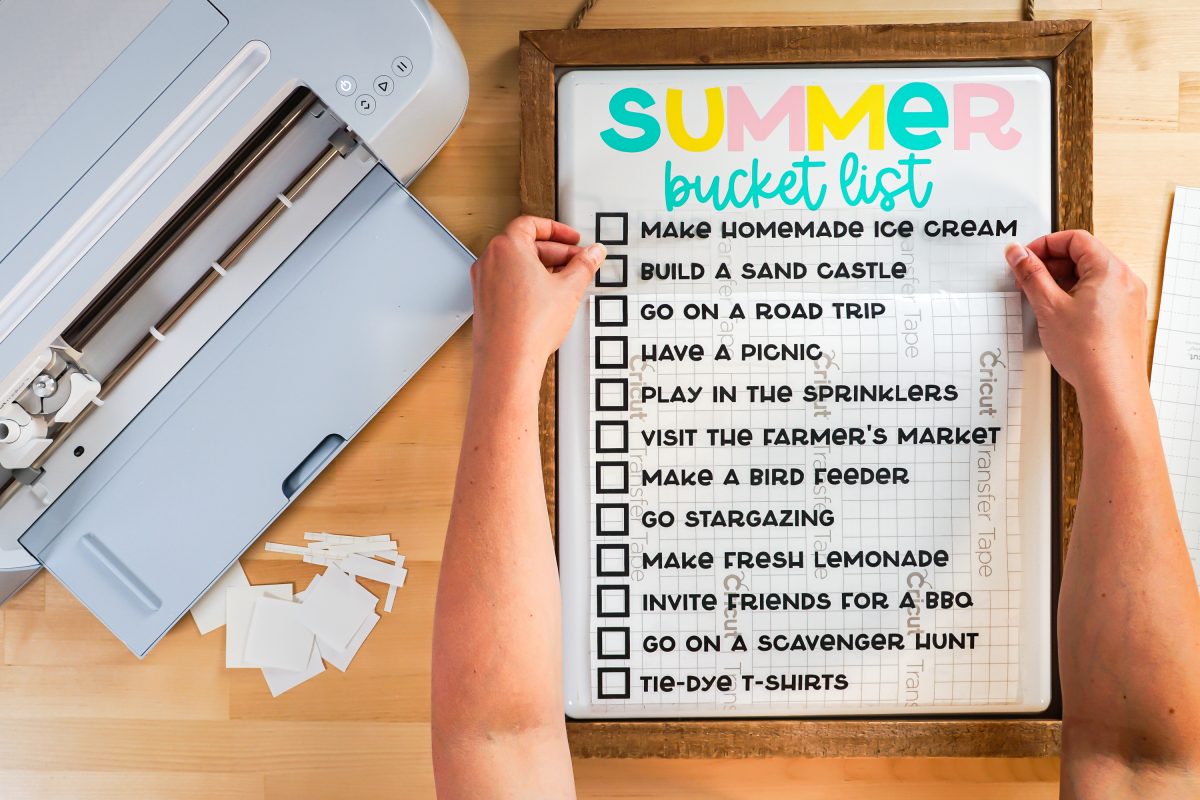 Then peel the carrier sheet off the back of the vinyl as you press the vinyl to the white board. Go slowly so you don't miss any of the letters.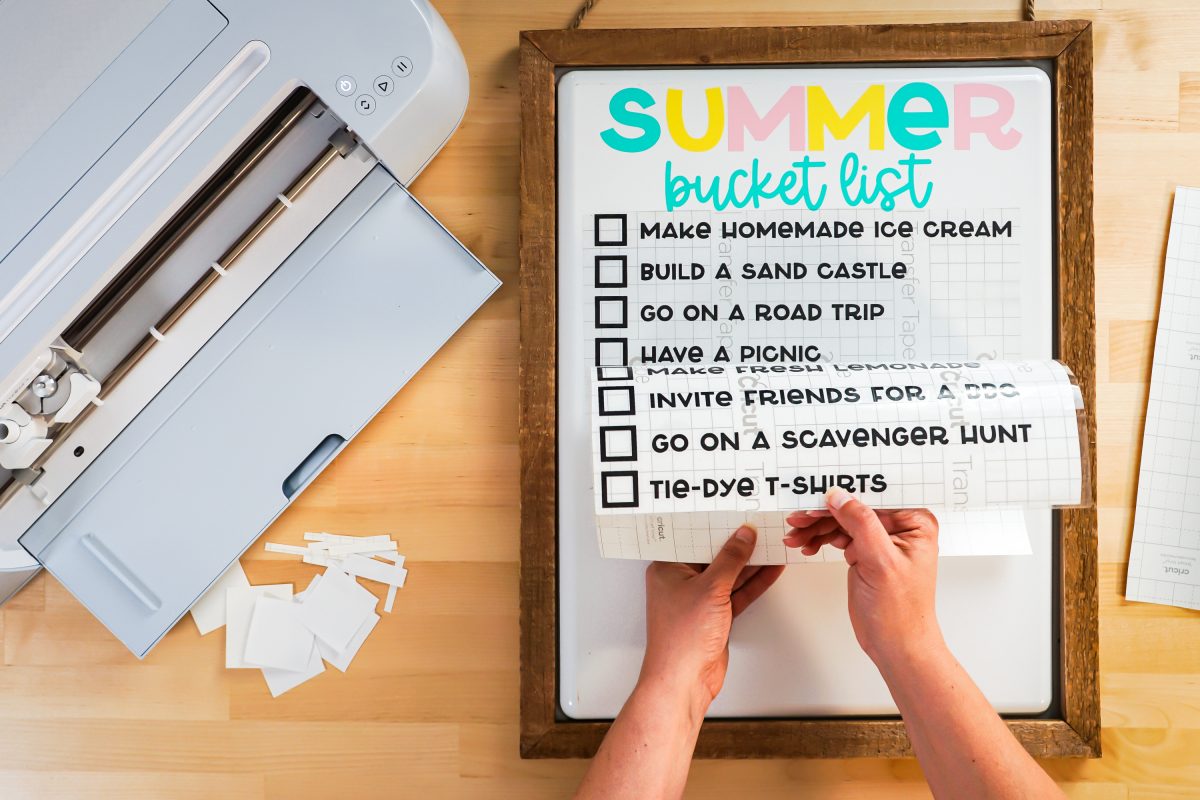 Once you have your decal on your white board, use the scraper to burnish the vinyl to the white board.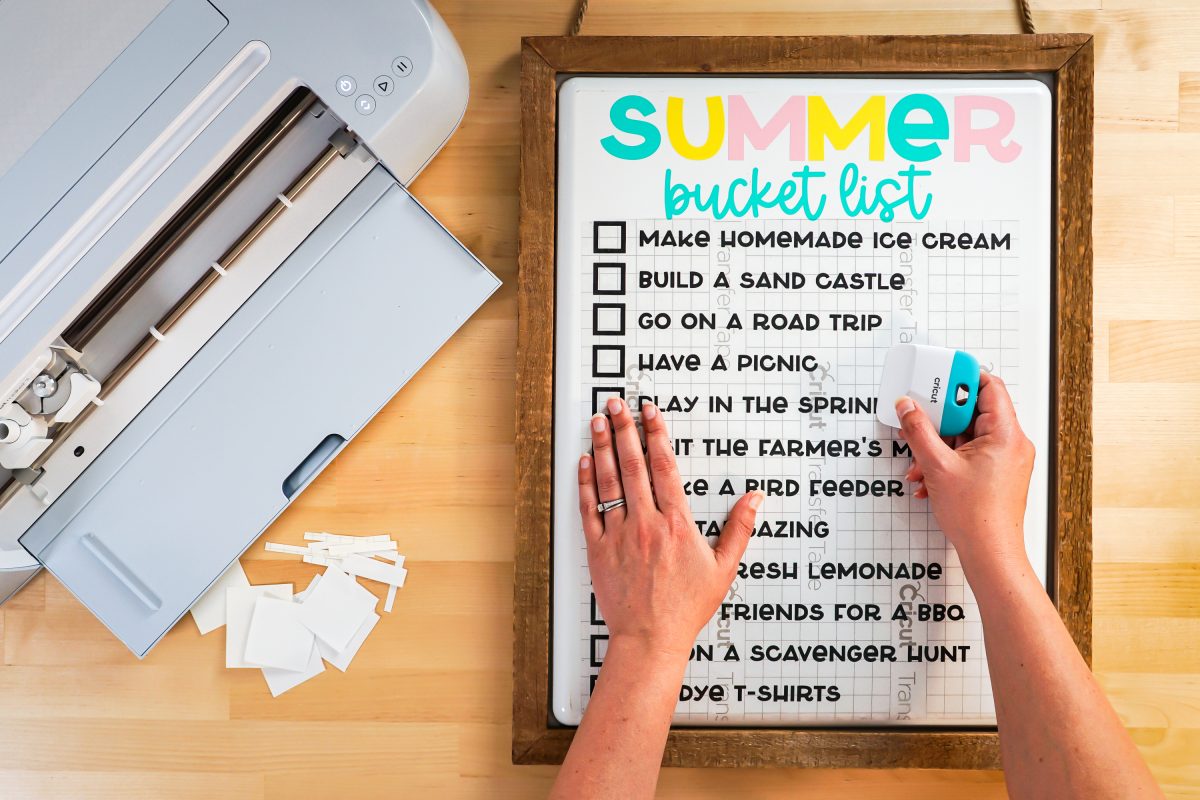 Then peel back the transfer tape and your decal should stick! I like using non-porous bases like white boards—vinyl tends to stick really well and make things easy!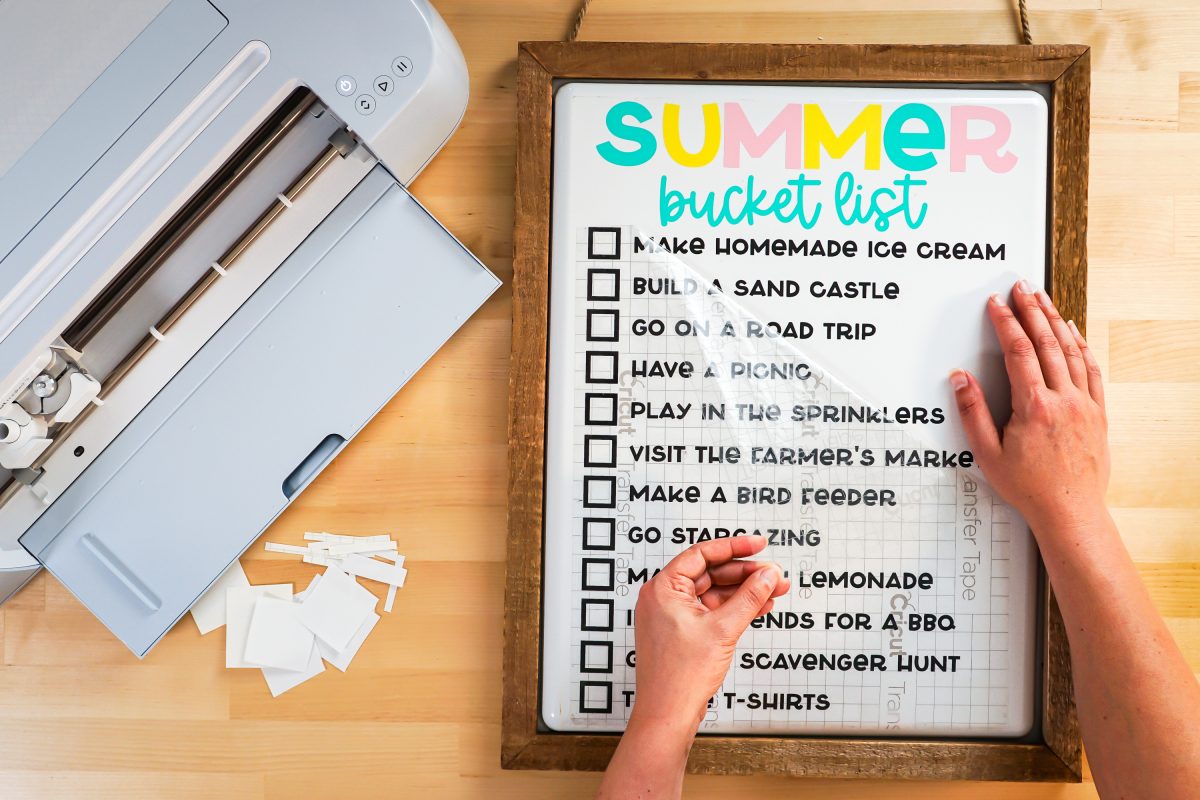 Then use magnets or a white board marker to check off things as you do them! We're already well underway with our list this summer!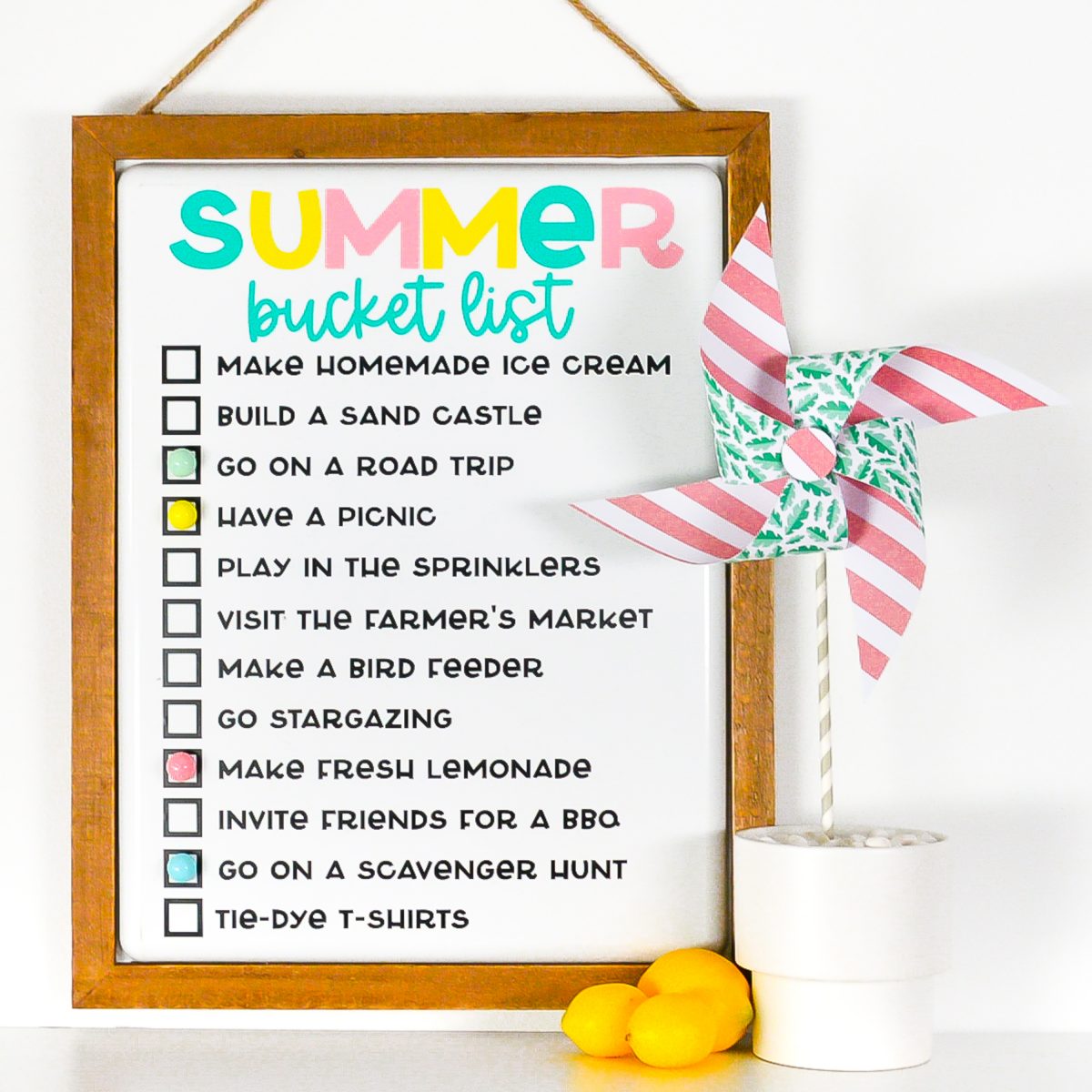 Make All the 15 Days of Cricut Summer Fun Projects!
We'll be adding links as each day goes live! Grab the full bundle with all of the projects and SVGs in our 15 Days of Cricut Summer Fun eBook Bundle!