Need a place to set down that ice cold summer drink? Make these fun summer Cricut Infusible Ink coasters! Get the full tutorial plus tips and tricks for getting your coasters right the first time.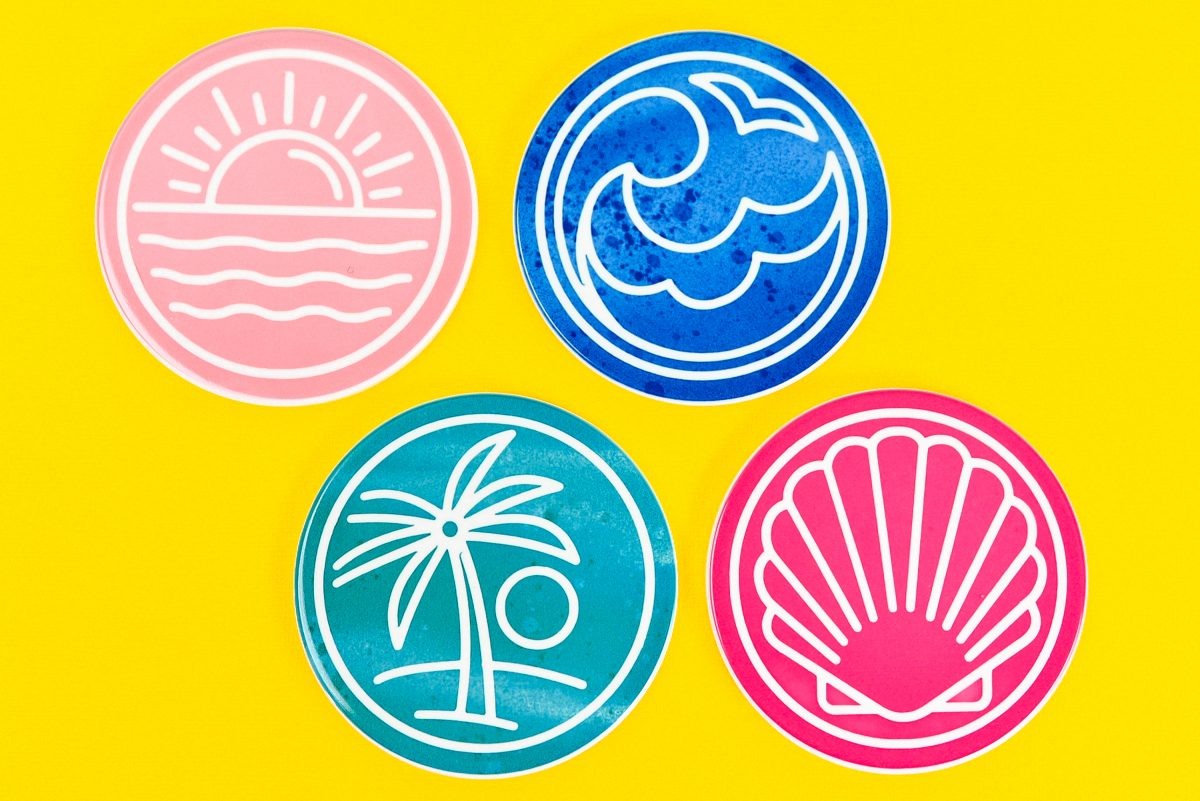 Welcome to Day 7 of the 15 Days of Cricut Summer Fun!
We're just about halfway through this Cricut Summer Fun series! I've loved crafting these summer projects so far, and I hope you have too. Today we're making coasters using your Cricut! These are the perfect place to set down an ice cold summer drink without worrying about rings on your table.
If you'd like to get this series in an ebook format PLUS all of the SVGs needed to make all 15 projects check out the 15 Days of Cricut Summer Fun eBook Bundle!
These cute summer coasters use Cricut Infusible Ink. Infusible Ink is a permanent transfer product that actually infuses the color into the coaster. The result is bright and vivid color that won't peel or wash off. These summer coasters also make great gifts—think summer birthday or housewarming.
[adthrive-in-post-video-player video-id="YtG7kOht" upload-date="2022-06-11T23:02:18.000Z" name="Summer Cricut Projects" description="More than a dozen fun projects to make for summer with your Cricut using adhesive vinyl, cardstock, HTV, and more!" player-type="static"]
This project is small enough to cut on your Cricut Joy, though of course you can also cut these coasters with your Cricut Maker 3, Cricut Explore 3, Cricut Maker, Cricut Explore Air 2, or other Cricut Explore machine. Need help using your Cricut? Check out my Cricut Basics eBook!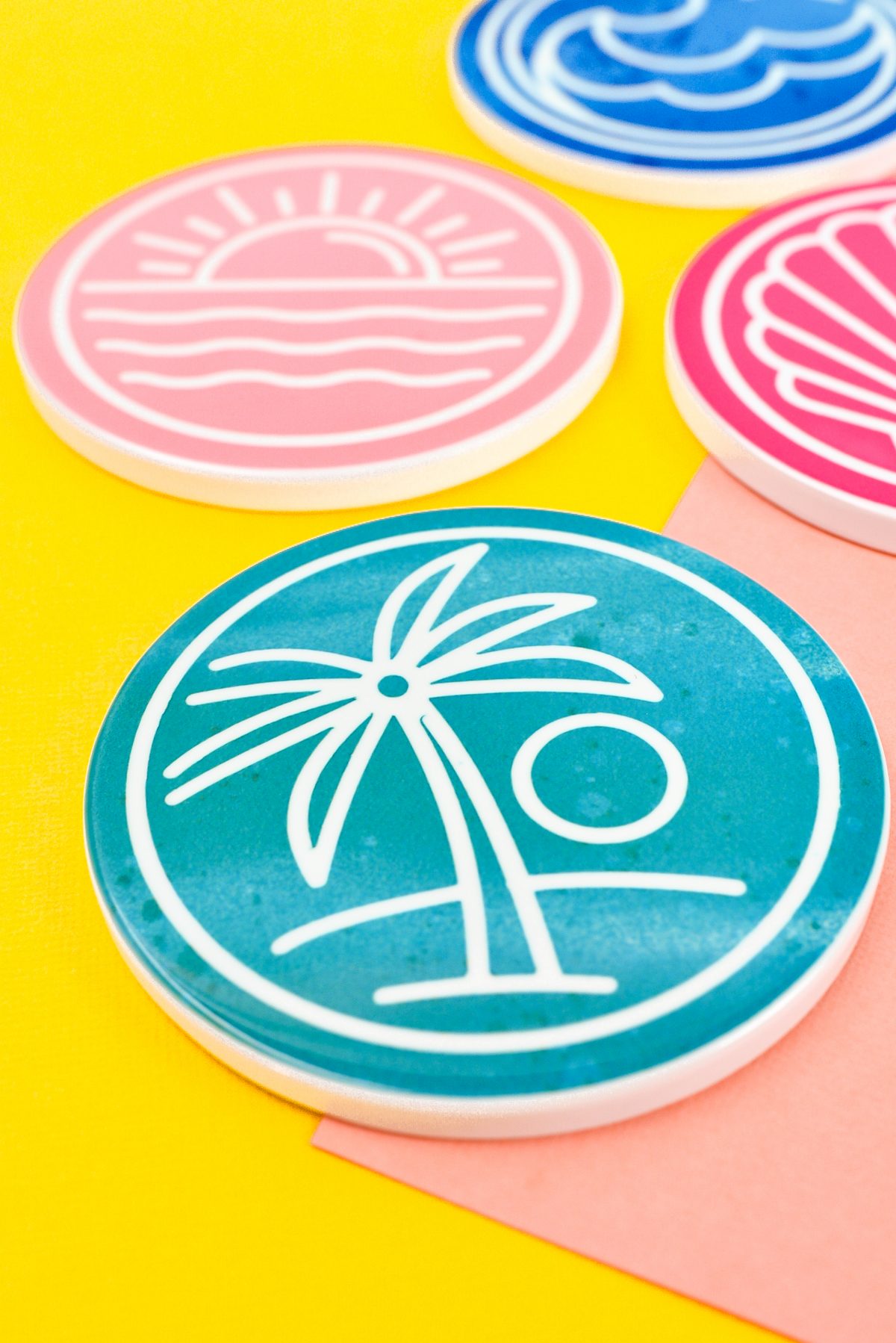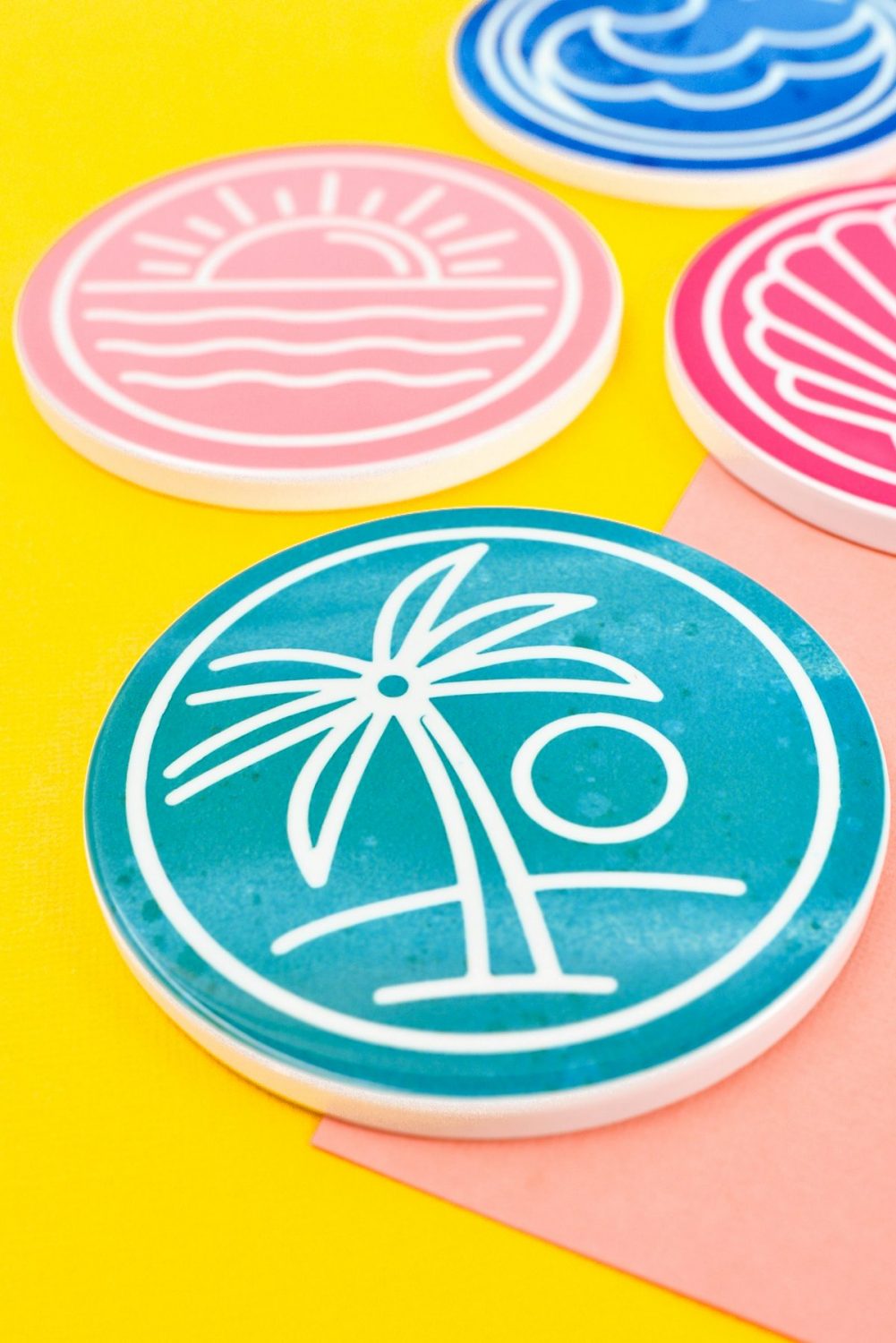 Summer Coasters Supplies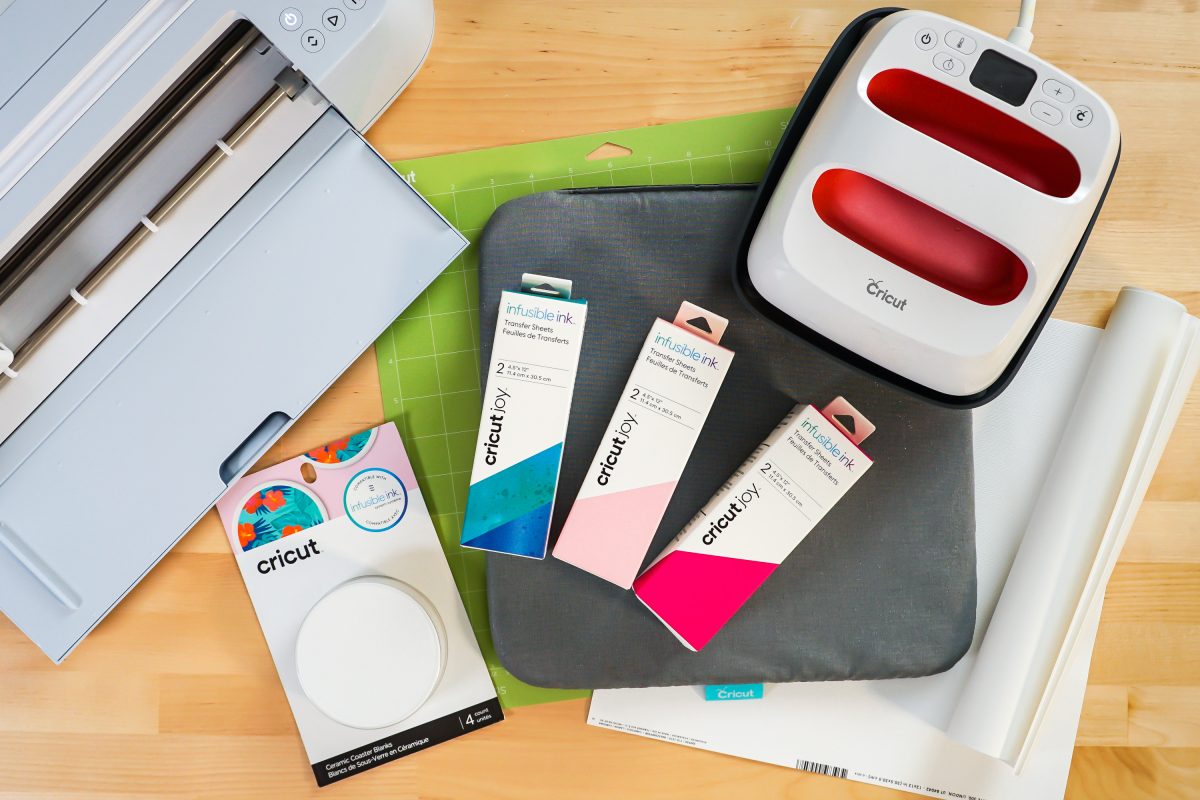 IMPORTANT: Cricut has two types of coasters—round coasters that are poly-coated ceramic, and square coasters that have a cork backing. I'm using the ceramic coasters for this project. If you are using the square coasters for a project, make sure to check Cricut's Heat Guide for the proper settings. The time is MUCH shorter for the cork-backed coasters than the ceramic coasters.
Grab the Summer Coaster SVG for this Project
Get the summer coaster SVG here. If you're interested in making more projects in this summer series, our Cricut Summer Fun eBook and SVG Bundle is a great deal!
Summer Coaster Instructions
Make sure to read these instructions carefully. Infusible Ink is different than other Cricut materials and has its own special process to get the best result!
Upload the Summer Coaster File to Cricut Design Space
We will start by uploading the SVG file to Cricut Design Space (see Uploading SVG Files to Cricut Design Space if you need help).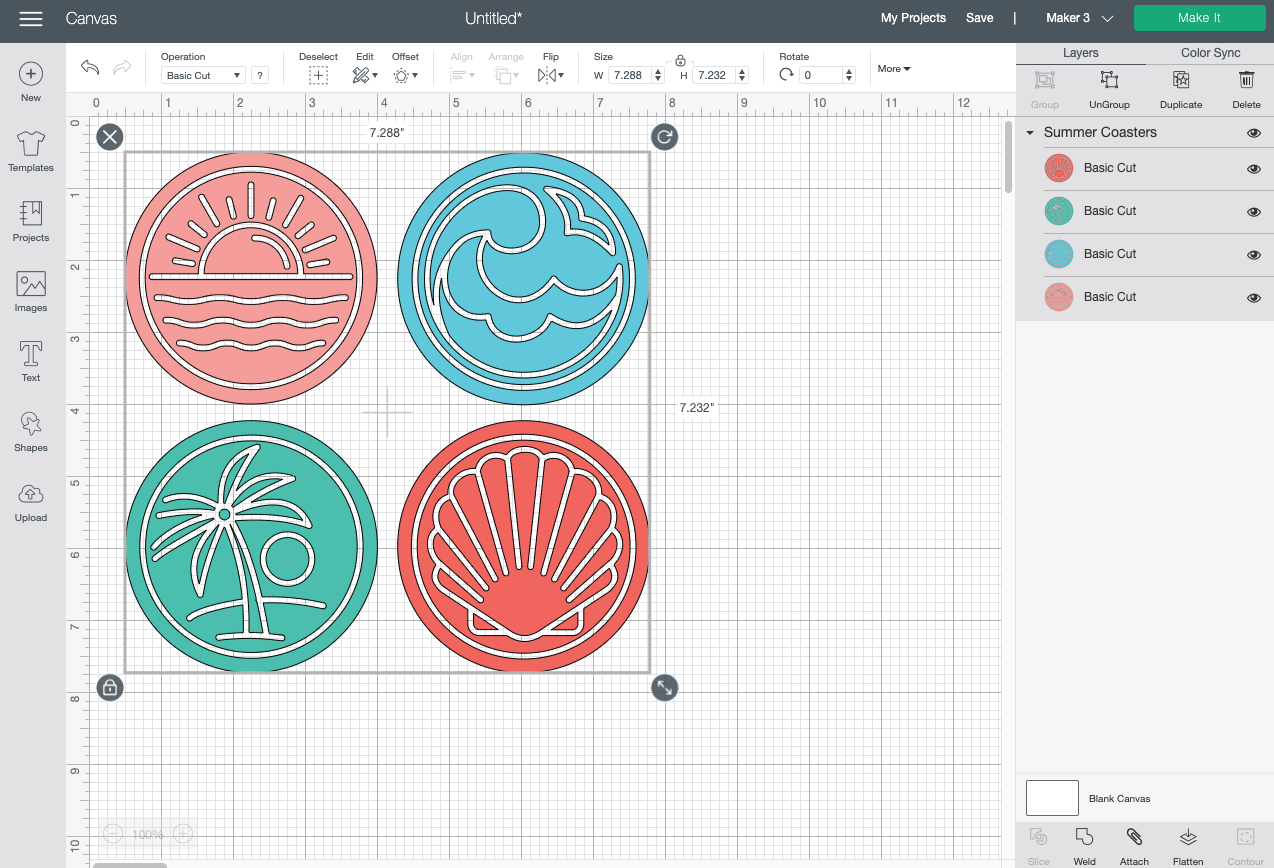 I have designed this project specifically for the Cricut Infusible Ink coasters, so there's no additional modifying of the file that you will need to do. Click Make It in the upper right to cut the file.
If you have a Cricut Maker 3 or Cricut Explore 3, you'll see a Mat Selection window. Because we are cutting Infusible Ink, choose On Mat. If you do not have one of these newer machines, you won't see this screen.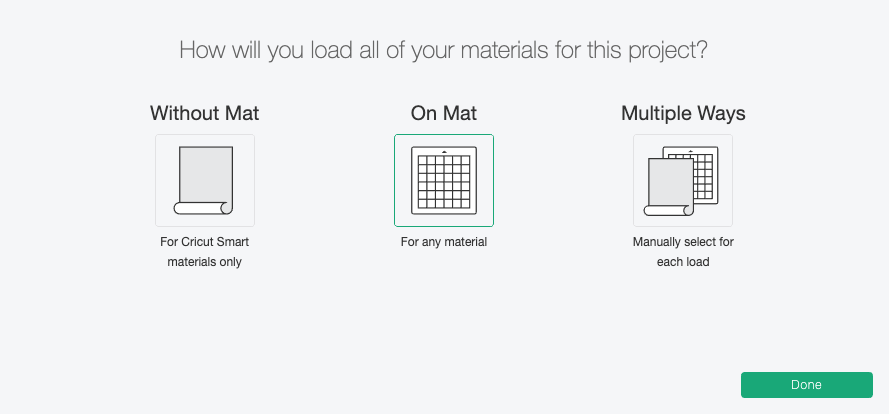 In the Prepare Screen, you'll see the four coasters on four different mats. Click the Mirror slider on each mat so that your image will be correct. It's not super important on this file (the palm tree works facing either way, for instance), but DO NOT skip this step if you are using a different file with text or another image that only makes sense one way.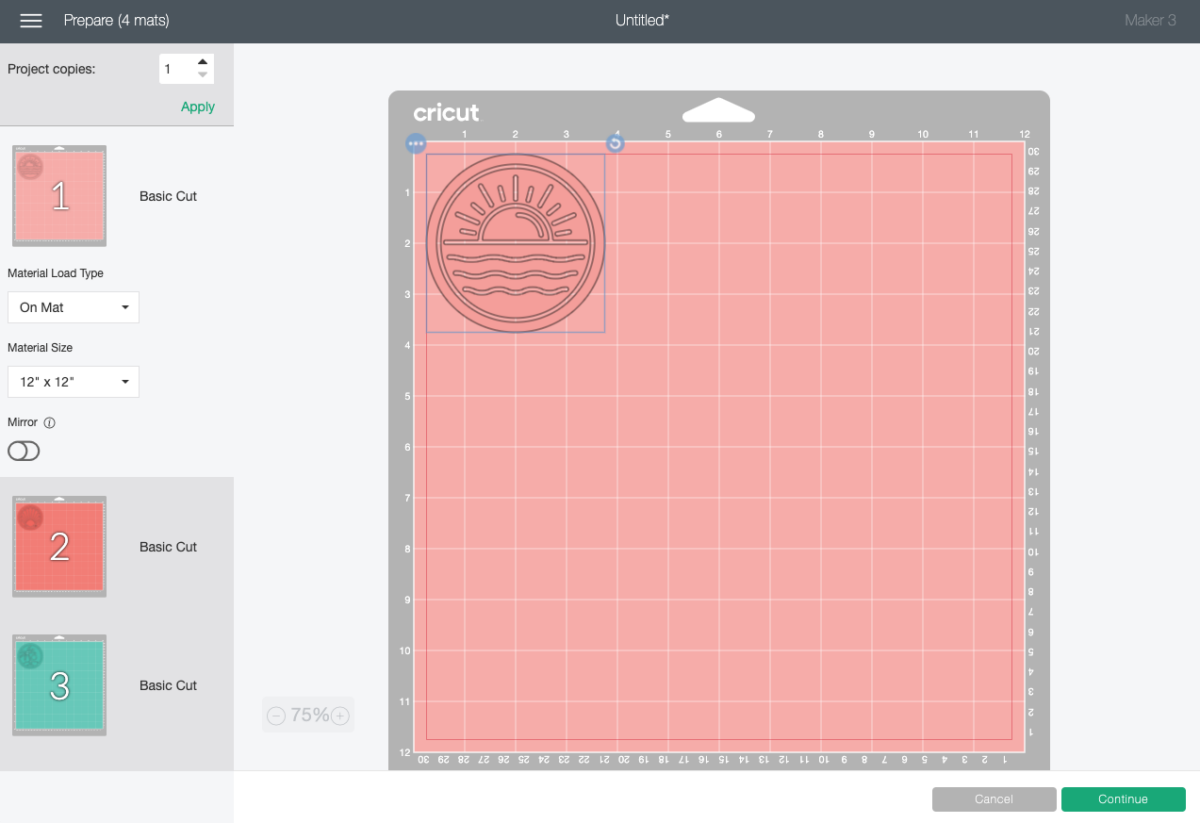 Cut Your Infusible Ink for Your Coasters
On the Make Screen, you'll set your material to Infusible Ink Transfer Sheets. Place your Infusible Ink transfer sheet liner side down on a green cutting mat (color side up). I found mine to curl pretty badly, so I used my Cricut brayer to help smooth it out on the mat. You'll notice that it is MUCH lighter than the final transferred color—this is normal.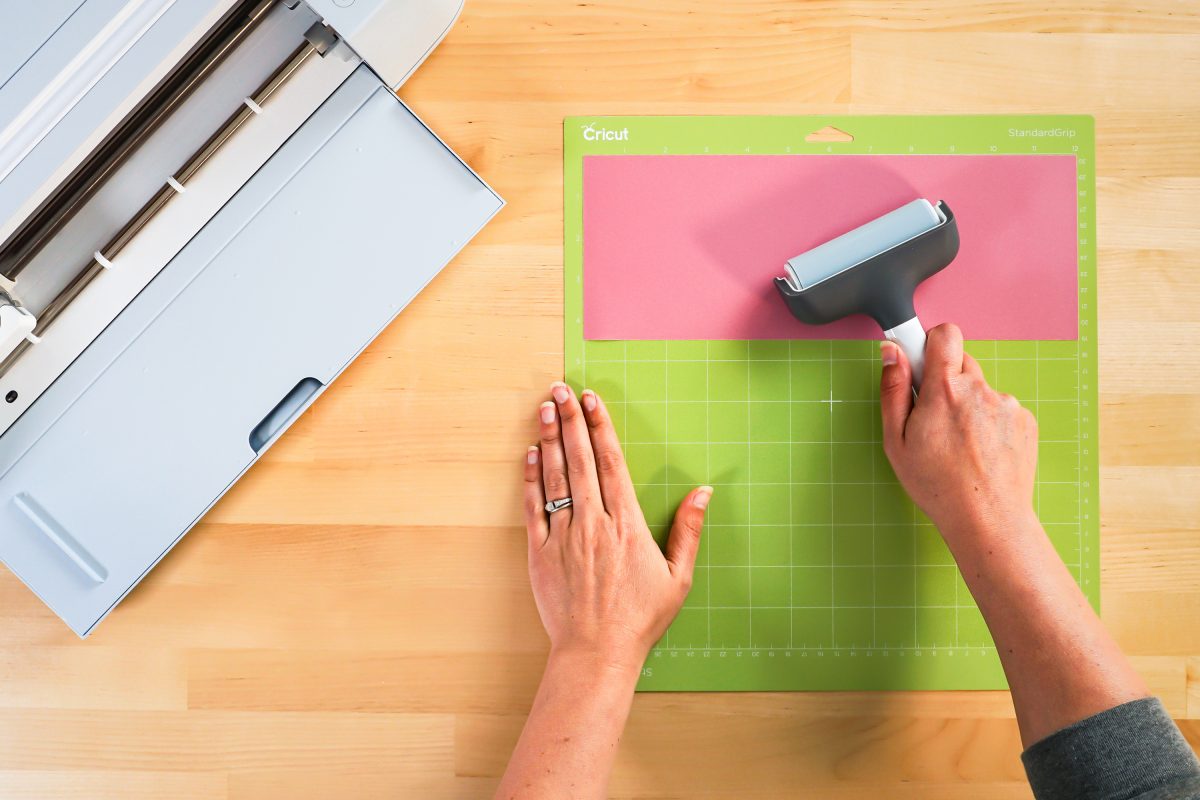 Make sure you have your fine point blade in your machine, insert your mat, and your Cricut will cut your project!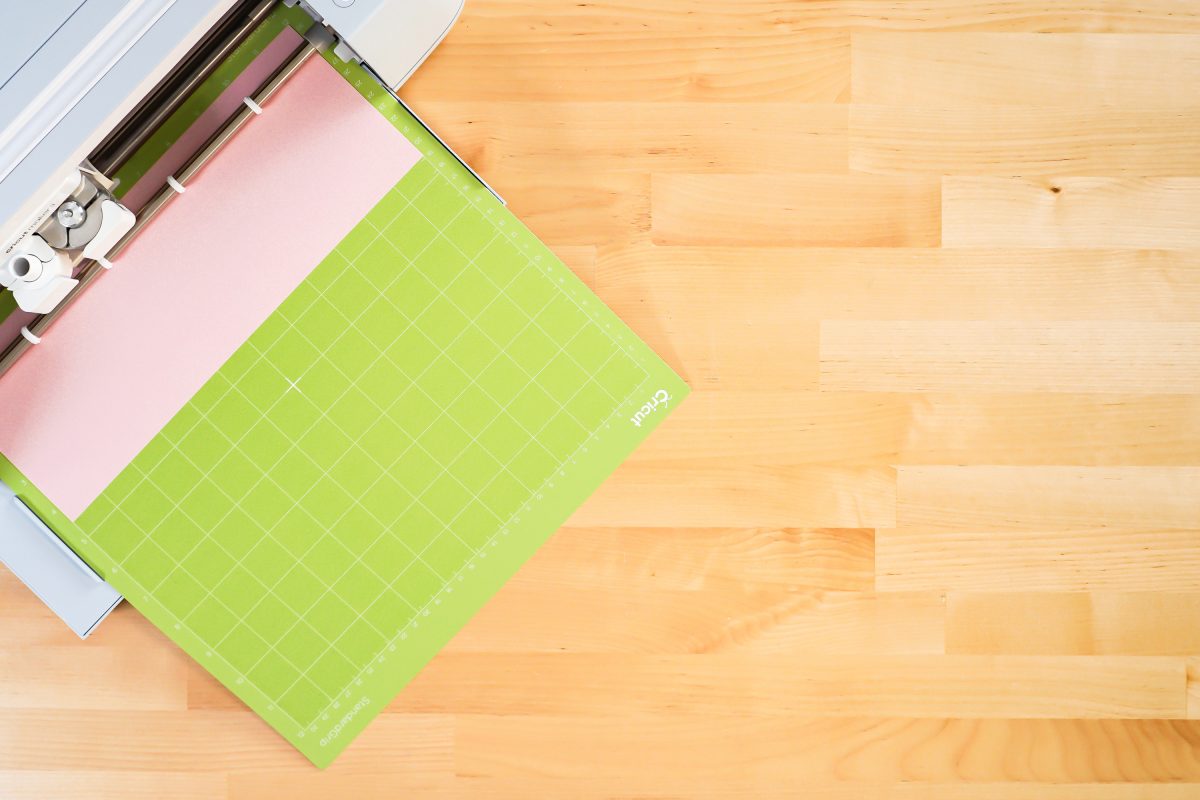 Weed Your Infusible Ink
To weed Infusible Ink, you aren't going to use a weeding tool like you would with iron on or adhesive vinyl. Instead, you're going to gently bend the project and use your fingers to pull up the negative material. In this case, that is actually the image itself—you'll want to keep the outline of the summery scenes.
Wash your hands right before weeding or wear gloves—the oils in your fingers can leave marks on the transfer sheet that you'll see in your final project.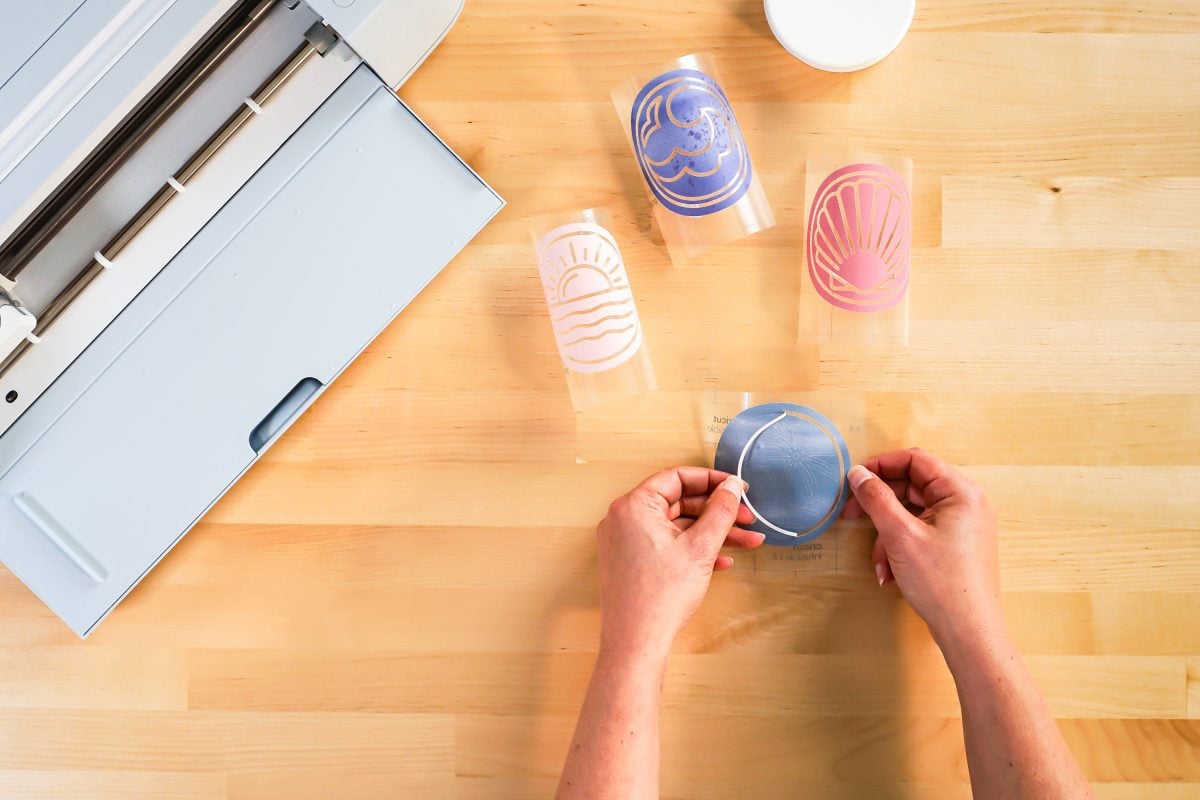 Optional: If you'd like, you can use heat-resistant tape to attach the transfer image (color-side up) to your coaster. This will help keep it from shifting. I've had some bad luck with this, however, leaving faint tape marks on my coasters. So I prefer to stack everything (see below) without the tape and pray for the best—a transfer that's slightly off center is better, to me, than one with ghosted outlines of tape.
Build Your Infusible Ink Stack
Again, read this section carefully! You are going to make a stack. Bottom to top it goes:
EasyPress Mat
White cardstock (this protects your mat)
Weeded transfer image, colored-side UP
Coaster, shiny side DOWN, centered on the transfer image
Butcher paper
EasyPress 2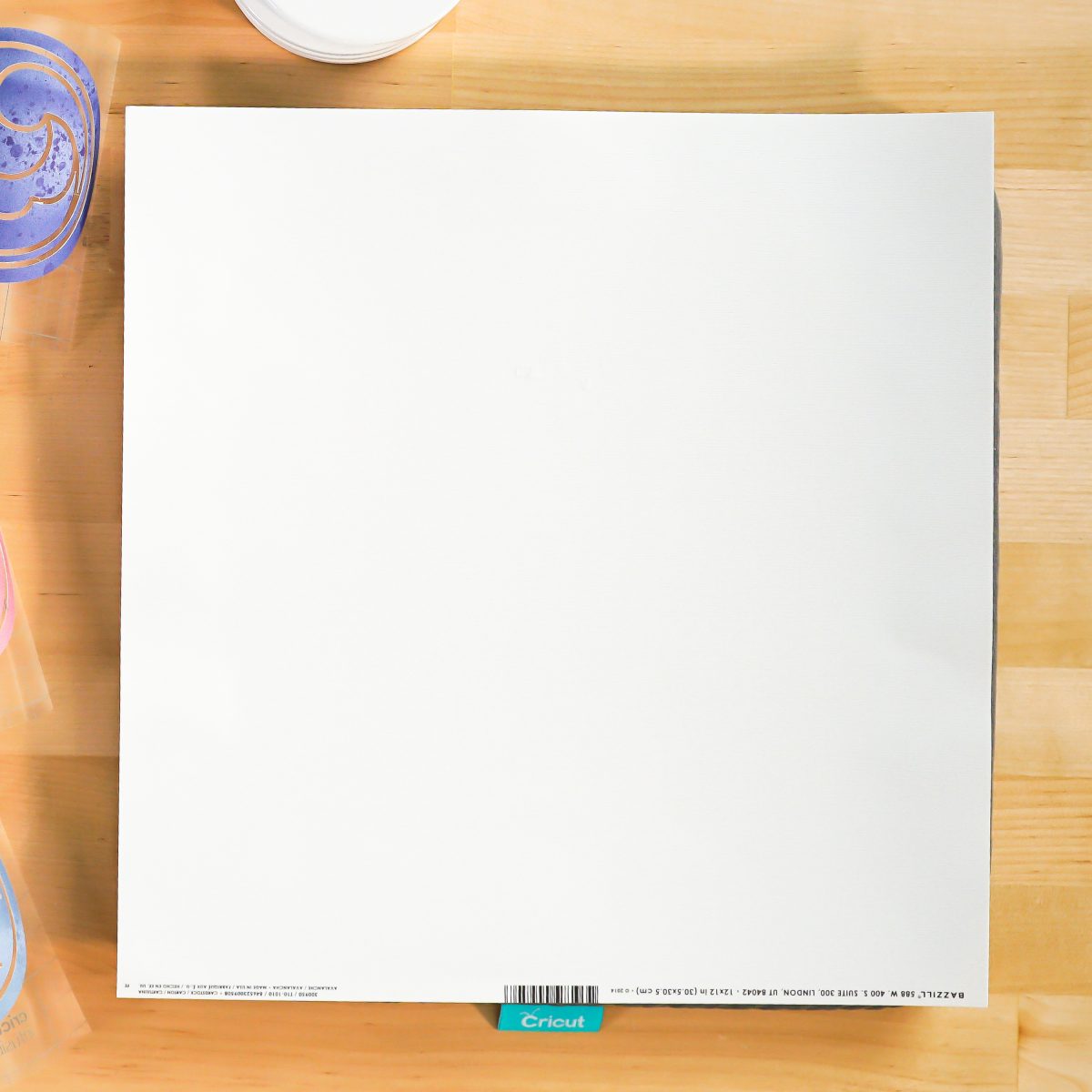 The EasyPress 2 will heat your image THROUGH the coaster.
Heat Time & Temperature Settings
According to Cricut's Heat Settings Guide, the time and temperature for Infusible Ink on ceramic coasters is 400° for 240 seconds. <– THAT IS NOT A TYPO. It's a full four minutes of time on your EasyPress 2. This allows the heat to penetrate through the coaster and into the transfer sheet, sublimating it onto the coaster.
Use The EasyPress To Transfer The Cricut Infusible Ink To The Coaster
Once your EasyPress 2 is to temperature, place it carefully on top of the stack you made. Try not to let it move the coaster, or your image might shift. Then let the EasyPress just sit there for 240 seconds—do not press with your hands. Once the countdown is done, return the EasyPress to its base.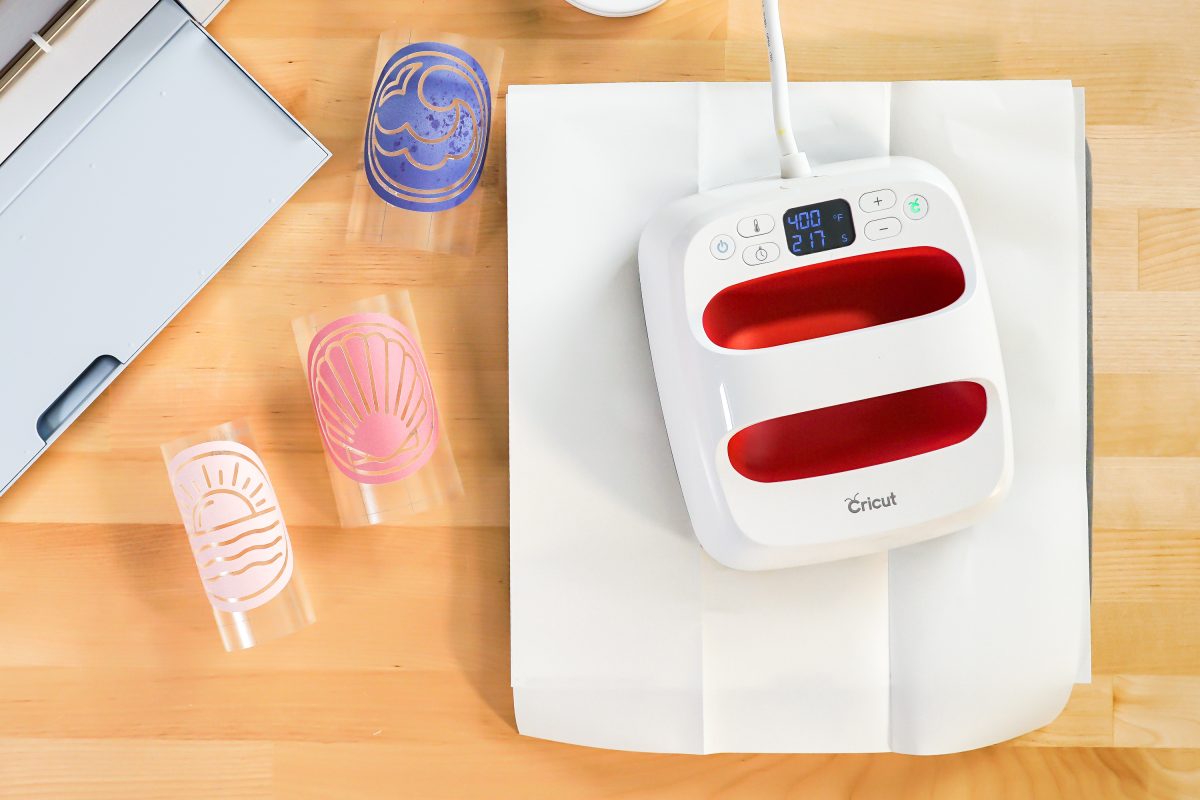 Then WAIT. The coaster is INSANELY HOT. Not only is it hot, it stays hot for a lot longer than you would expect. If you want to keep your fingerprints, don't touch it for a bit. If you do need to move your coaster to do another one on your mat, use an oven mitt or something similar.
Repeat this process with the other three coasters and you have the cutest set of summer coasters!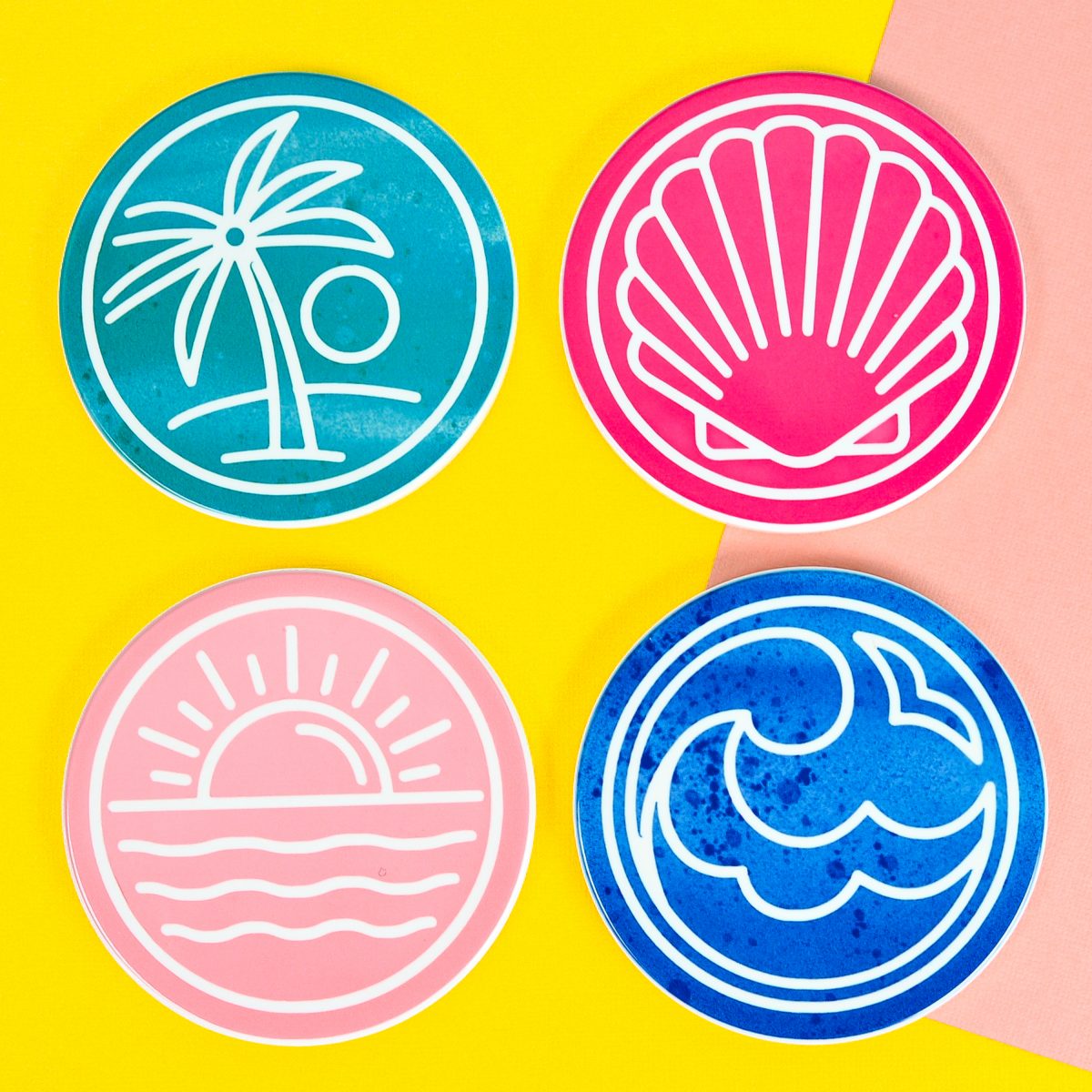 Make All the 15 Days of Cricut Summer Fun Projects!
We'll be adding links as each day goes live! Grab the full bundle with all of the projects and SVGs in our 15 Days of Cricut Summer Fun eBook Bundle!