Cricut Mystery Boxes are full of heavily discounted Cricut materials, tools, and supplies! Here's everything you need to know about Cricut Mystery Boxes, including how to get them and what's inside!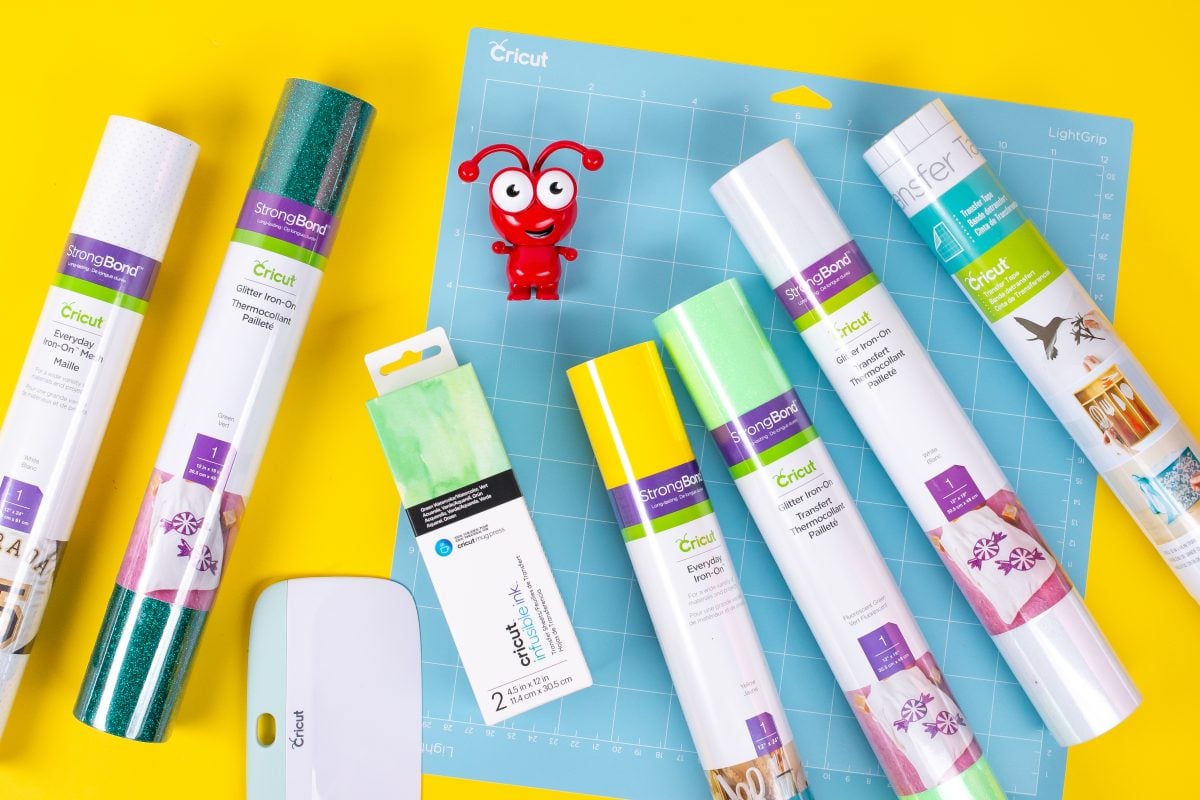 >>> GET THE CURRENT CRICUT MYSTERY BOX HERE!
If you're looking at building up your Cricut material stash, one great way to do that is with a Cricut Mystery Box!
Cricut Mystery Boxes are a product that has been around for a few years now. New heavily discounted boxes are released about once a month. And as you might guess—it's a mystery what's inside the box! Each box contains a variety of materials, tools, mats, and often even a coveted Cricut Cutie! New Cricut Mystery Boxes are released once or twice a month.
Whether you've already heard of Cricut Mystery Boxes before or this is your first time learning about them, I'm going to break down everything you need to decide whether you want to add them to you cart!
In This Post:
What is a Cricut Mystery Box?
A Cricut Mystery Box is an assortment of highly-discounted items that will help you get your creative juices flowing. You can consider it kind of like a sampler of different materials and other tools and supplies that you can use with your Cricut. Sales are final for Mystery Boxes—you can't return it if you don't like what's inside.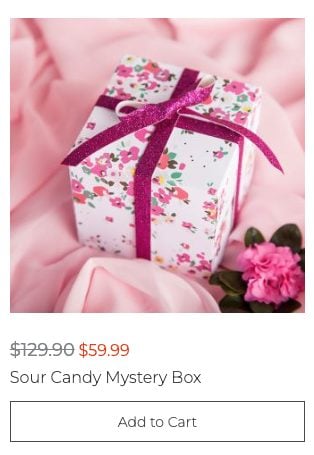 Most boxes are available to anyone who wants to buy one in the US or Canada, but sometimes they are only available for Cricut Access members.
Not only are there physical boxes, there is also a Cricut Digital Mystery Box that comes with digital files you can use as you create whatever you make with your Cricut machine! We'll talk more about those in a bit!
What comes in a Cricut Mystery Box?
This is the big mystery! When you choose a physical Cricut Mystery Box, you only know what the specific theme is. Some examples of these themed boxes are a Star Wars box, a summer fun box, a Disney box, or a monochrome madness box. The items you receive inside will be "on theme."
Although it is a mystery what is in each specific box, each themed box has the same items inside. For example, if two different people buy Cricut mystery boxes that are Valentine's Day themed in February, they would get the same items.
In each box, you may find permanent vinyl; removable vinyl; specialty materials like foil iron-on, glitter vinyl, mesh iron on, or window cling; party foil; Cricut Infusible Ink; transfer tape; cardstock or paper; pens or markers; mats; and tools.
These collections of Cricut materials are highly discounted, and they can be used to stretch your creativity and give you experience with materials and accessories you might not otherwise choose!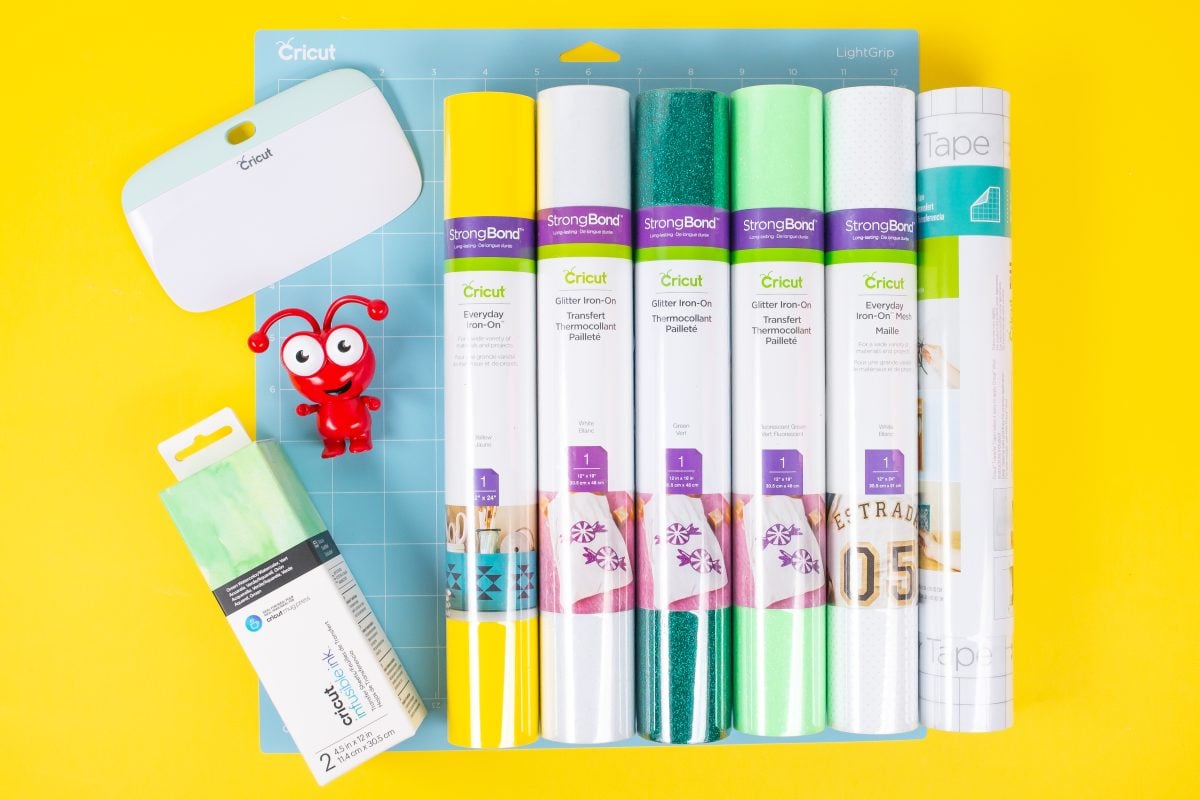 So for example, I ordered a recent Sour Candy mystery box. I expected a lot of green and yellow to represent tart, citrusy candy and here's what I got inside:
Yellow Everyday iron on
White glitter iron on
Green glitter iron on
Fluorescent green glitter iron on
White mesh iron on
Green watercolor Infusible Ink
Transfer tape
LightGrip cutting mat
XL scraper
Red Cricut Cutie!
From this box, I'll definitely use most of the materials, though I'm not sure about the mesh iron on or that fluorescent green glitter iron on (though, let's be real, my boys will love it). We'll see! I do wish the Cricut Cutie was more "on theme" in this bundle—I would've preferred a little yellow or green cutie, but you get what you get when it's a mystery box!
For me, I don't buy every Cricut Mystery Box, but some crafters do! If you'd like to see what's in each mystery box, check out an unboxing video on YouTube or check out the influencer's Facebook page.
Not sure how to use some of the materials? Check out my Ultimate Guide to Cricut Materials!
What is the Digital Cricut Mystery Box?
The Cricut Digital Mystery Boxes are a bit different, but are found on the same page in the Cricut shop. When a Cricut Mystery Box is digital, it will be marked so on the shop page for Mystery Boxes.
Digital Mystery Boxes include digital images (cut, draw, foil, etc.), fonts, and Print then Cut images that you can access right away. Most often, these are full of licensed content—think Disney, Marvel, Anna Griffin, etc.
Cricut seems to be doing fewer digital boxes lately, but I haven't read anything that says they are gone for good.
Again, the theme will give away what you'll find in the mystery box. If it's a Hello Kitty themed digital mystery box, it'll have a ton of Hello Kitty images and fonts for you to craft with, usually broken into sets. This is generally a lot cheaper than buying these files individually in the Cricut Image Library, and often files will be in the Mystery box before they ever hit the regular library to purchase a la carte.
To access your digital mystery box files, open Cricut Design Space and click Images, and then at the top click All Images.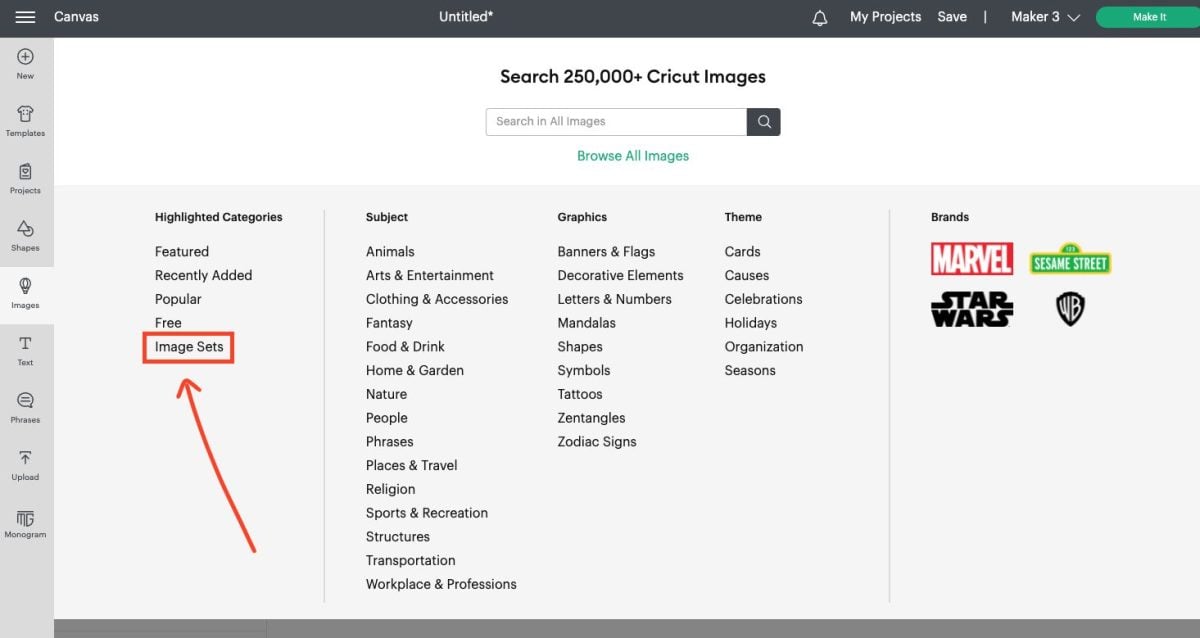 From there, click Ownership and tick the box for purchases. There you'll see all of your mystery box sets!
How much do Cricut Mystery Boxes cost?
As we've discussed earlier in the article, the point of Cricut Mystery Boxes (besides getting a fun assortment of mystery items) is to save a bunch of money! If you're someone like me who loves a good deal, these boxes are for you!
Cricut Mystery Boxes contain craft supplies that hold a Manufacturer's Suggested Retail Price (MSRP) of $130-$190. You get all of that amazing value for generally around $29-$59, depending on the box. The lower price point is generally for digital mystery boxes. You can even get discounts on the regular price if you have a Cricut Access membership!
Of course, the actual value of these products depends on how much you actually use the items from the box. For example, if you pay $59 for $190 worth of product, but you only use $25 worth of the products you got, that isn't really a good value.
If you are a really picky person who wouldn't realistically use a variety of random craft items, or you're looking for specific tools and supplies, you'd probably be better off just buying them individually somewhere like Cricut.com, JOANN, or Michaels.
But, if you are a maker who loves a surprise and is flexible in your creativity, mystery boxes can be a lot of fun! A lot of makers I know love the challenge of a mystery box! It's like being on a cooking challenge with mystery ingredients.
What are Cricut Cuties, and do they come in every Mystery Box?
One of the biggest appeals for many people are cute little figurines called Cricut Cuties. They are cute little plastic statues of the Cricut mascot. And Cricut Mystery Boxes are pretty much the only place you can get them unless you want to buy Cricut Cuties from of eBay or another reseller.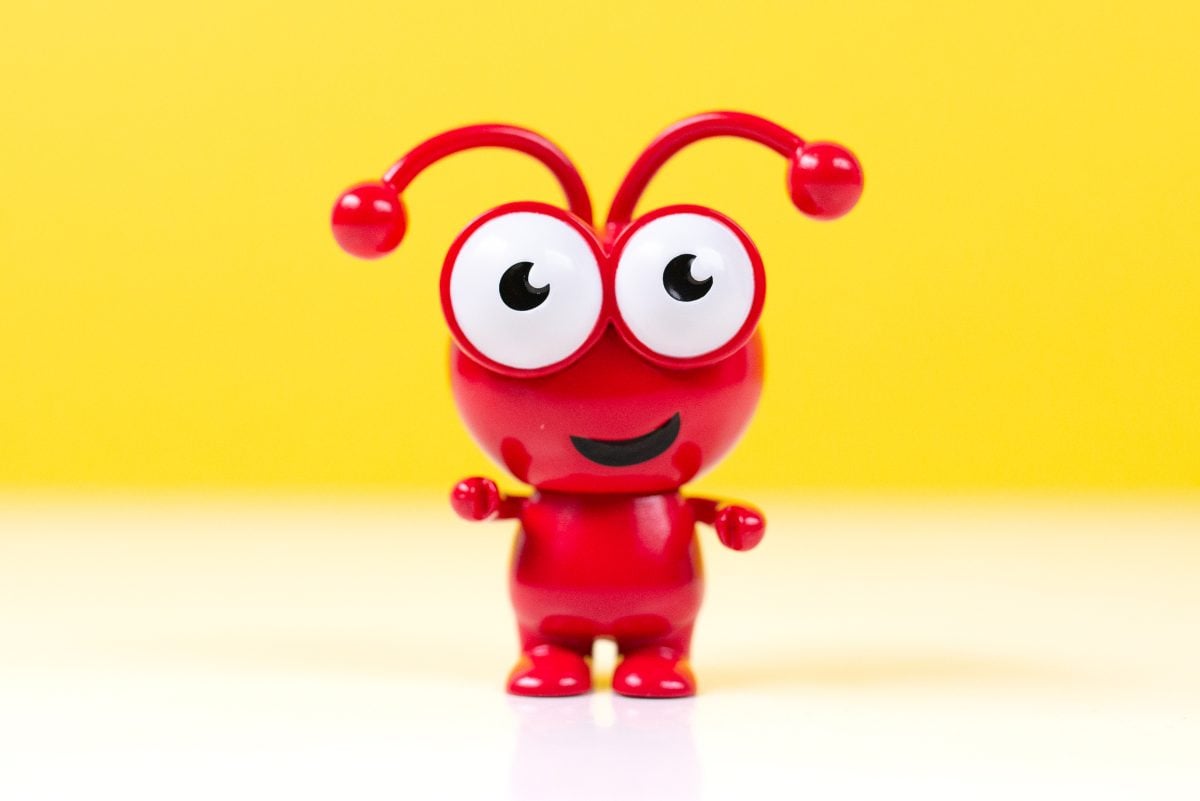 It's important to remember that Cricut Cuties are not in every box, though lately they have been in most of the boxes.
Each release has a different color Cutie. For example, there might be a lipstick red Cutie in the June box, a bright yellow Cutie in the July box, a forest green Cutie in the September box, and a party pink Cutie in the October box. (These are hypothetical examples, not real-life ones.) Cricut connoisseurs love collecting all the different colors and displaying them in their craft room!
How do you get a Cricut Mystery Box?
You can only get an official Cricut Mystery Box on the Cricut website on their Mystery Box page. Bookmark this page so it's easy to get to! Cricut releases a box or two once per month. They come in limited quantities, so you have to keep an eye out for when they go live!
Each box is only available for a limited time, and they sell out fast! Some have even sold out in 3 hours, although that isn't always the case. There is a different levels of demand for each box. Boxes with licensed products will often sell out faster than more generic boxes.
Cricut Mystery Boxes are available in the US and Canada. The Cricut UK Shop has started making Cricut Mystery Boxes for the UK, although if you are in the UK, the items in your box will be different, since they are separate from the ones in the United States.
Are Cricut Mystery Boxes subscription boxes?
This is a common question, so it's really important we clear this up: Cricut Mystery Boxes are NOT a subscription service. You can only purchase them individually, and you have to keep an eye out for when new bundles are released.
How do I know when Cricut Mystery Boxes will be released?
Unfortunately, the release dates and times for each Cricut Mystery Box change every time, and there is no foolproof way to make sure you don't miss each drop, but there are some general principles you can keep in mind if you want to keep up with the releases.
They are released about once a month, usually mid-week. There are not usually any releases on the weekends. The times are usually fairly random times in the middle of the day, and sometimes they will sell out before you even get a chance to look at the box for yourself. As I previously stated, some of the boxes have sold out in less than three hours.
Lots of Cricut Facebook groups and other influencers send announcements when new boxes go live! I don't have this set up yet, but sign up for my email list if you're interested in future announcements!
How do I use the materials inside a Cricut Mystery Box?
I've got a ton of tutorials here on my blog for using the materials that come in a Cricut Mystery Box with your Cricut Maker 3, Cricut Maker, Cricut Explore 3, Cricut Explore Air 2, or Cricut Joy!
Iron On Vinyl (also called Heat-Transfer Vinyl or HTV)
Adhesive Vinyl
Cardstock
Other
Should I Buy a Cricut Mystery Box?
Now that you know all the details, it's time for you to form your own opinion about whether you'll be a participant in the Cricut Mystery Box craze. There are a few main factors that you should consider in your decision.
First of all, your preferences for craft supplies can really affect your decision. Mystery Boxes are good for new Cricut owners who want samples and might be excited to try out a whole bunch of different new materials, and they can also be great for experienced Cricut owners who are in a bit of a slump and could use a challenge. As mentioned before, they're worth the money if you're flexible in your creativity and will use the supplies.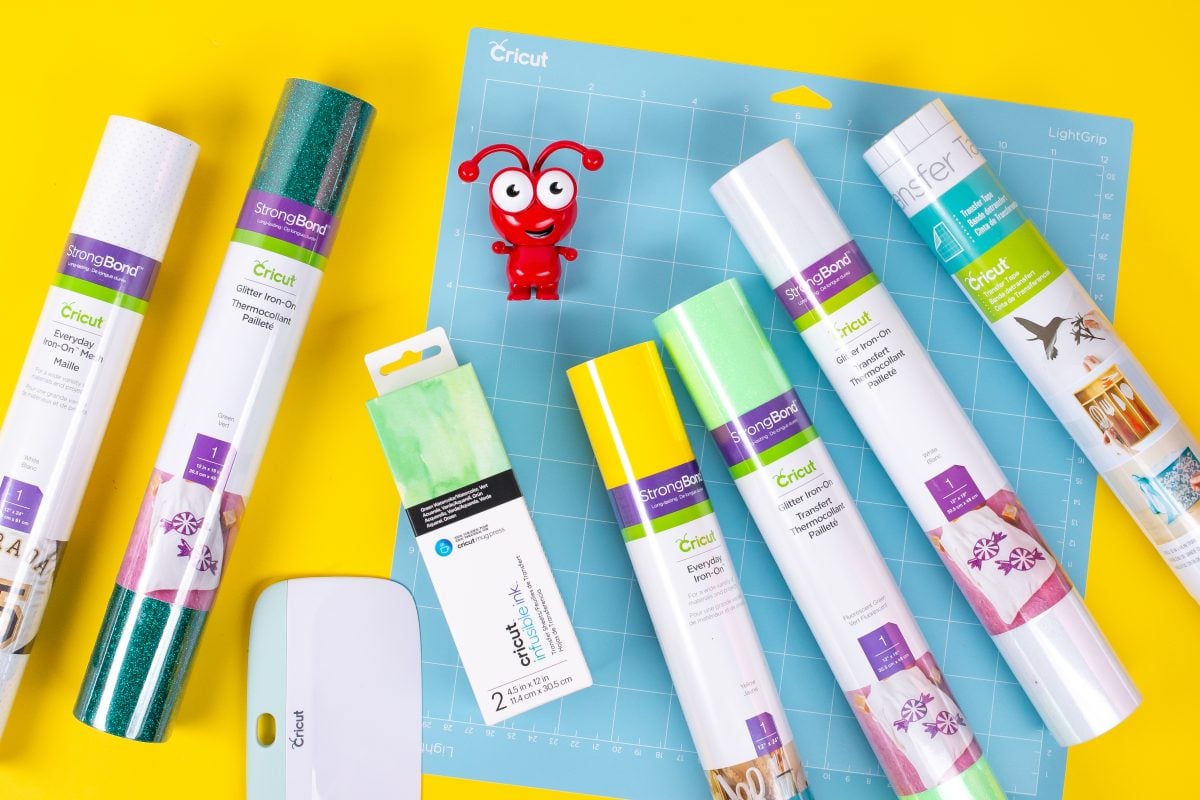 If you're a Cricut owner who loves collectibles, you might love the Cricut Cuties! They're an added bonus if you're on the fence, especially since they're exclusive items. However, they don't come in every box, so that shouldn't be the main reason you get the box.
It might be important to think through whether you're a bit of a supplies hoarder as well, and be honest with yourself about whether the tools will get used or chucked in your graveyard of Cricut supplies. (Let's be honest, we all do it to an extent!)
Quick Answers to Frequently Asked Questions about Cricut Mystery Boxes
What is a Cricut Mystery Box?
A box of deeply discounted Cricut supplies, materials, and tools. It's a mystery what's inside!
What is in the Cricut Mystery Box?
An array of different materials, as well as mats, tools, and other supplies.
How often does Cricut do Mystery Boxes?
At least once per month, often two and sometimes three times.
What day does the Cricut Mystery Box come out?
It's random! Generally it's in the middle of the week, in the middle of the day.
Do you get a Cutie with every Mystery Box?
No, though lately they have been including them in more boxes than in the past.
How do I get the Mystery Box from Cricut?
You can only purchase them at Cricut.com.
Are Cricut Mystery Boxes worth it?
If you like the challenge of working with new materials or want to build your Cricut materials stash, they are totally worth it. If it's just going to collect dust along with all of your other Cricut materials, skip it!
---
Hopefully this article helped answer all of your questions about Cricut Mystery Boxes, and given you everything you need to know to make a decision! If you have any more questions, comment below and I can clear them up!