Cricut SportFlex is designed to move with your fabric, making it perfect for performance materials like nylon, polyester, and more—think swimsuits, jerseys, and activewear. Here's how it differs from regular iron on vinyl, as well as tips and tricks to make it work the first time!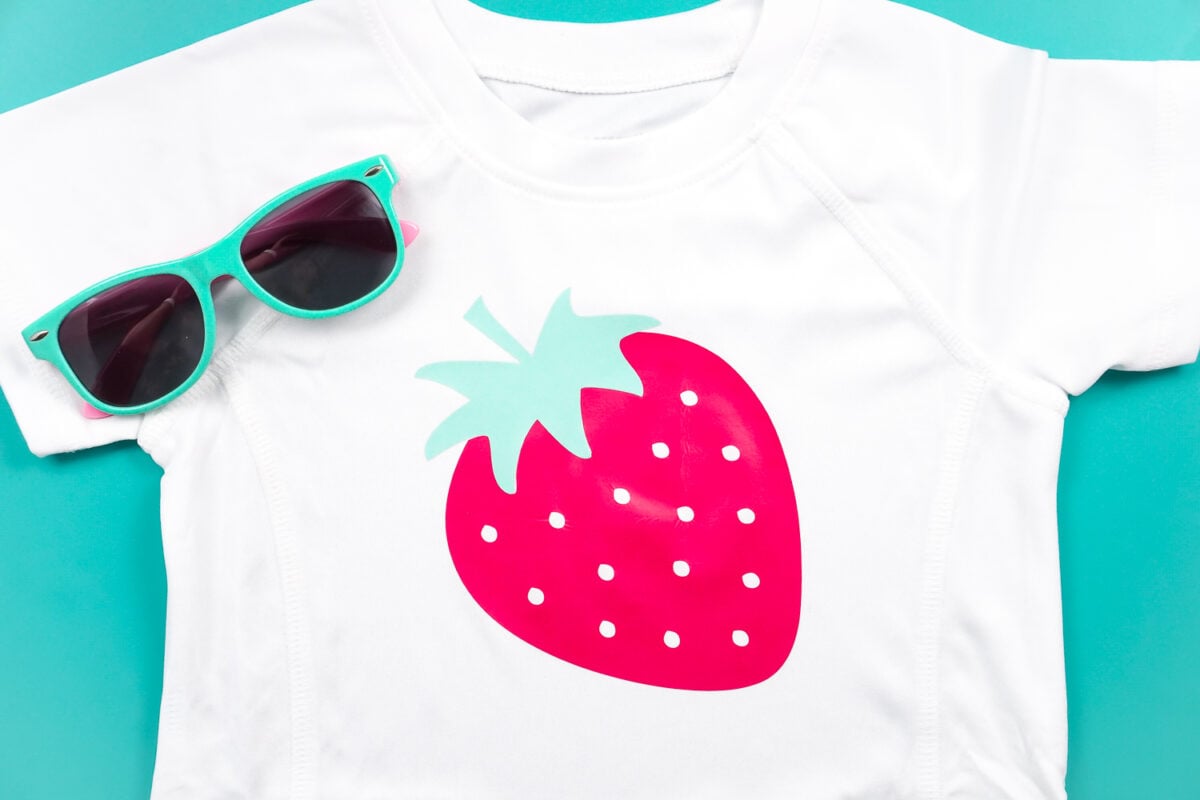 Want to save this post to reference in the future? Enter your email below and we'll send it right to your inbox!
This post is in partnership with JOANN. Thank you for supporting the brands that support Hey, Let's Make Stuff!
I've written a lot about Cricut Iron On (also called heat-transfer vinyl or HTV) over the last few years, but this is the first time I'm covering Cricut SportFlex. Today I'm tackling this specialty iron on material is perfect for stretchy materials, all thanks to my favorite craft store, JOANN!
Before we begin, if you're looking for information on working with iron on vinyl, check out these posts:
What is Cricut SportFlex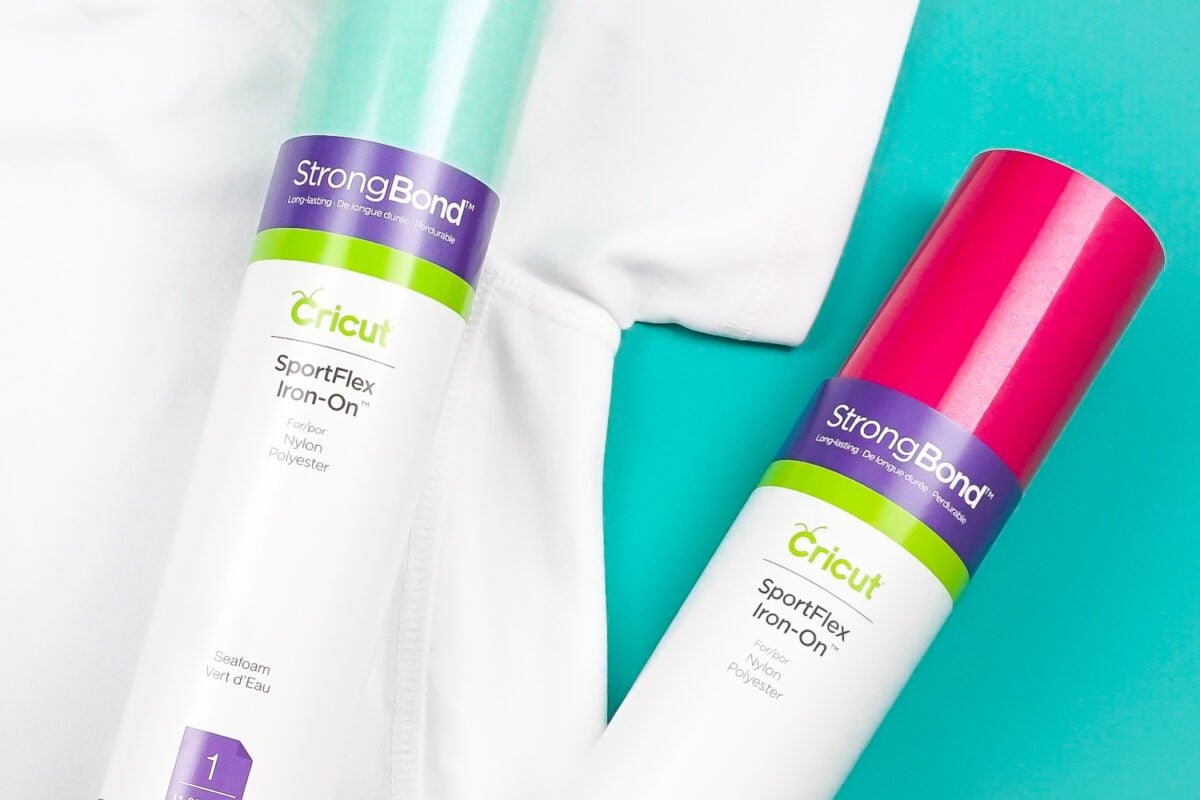 Cricut SportFlex is a type of iron on vinyl that is thin and lightweight and is made to stretch and move with the base material. It's great for applications like swimsuits, activewear, jerseys, and on other polyester and nylon materials.
Types of Cricut SportFlex
Cricut has two types of SportFlex available:
Can I Use SportFlex on Cotton & Other Materials?
I hear this question a lot—can you use SportFlex on materials that are not "activewear"? Cricut doesn't seem to recommend it, but I've done it many times now and it works great! I actually love it for all apparel applications.
Using Cricut SportFlex
To demonstrate how to use Cricut Sportflex, let's make a swim shirt! This is a great application for this stretchy iron on.
DIY Swim Shirt Supplies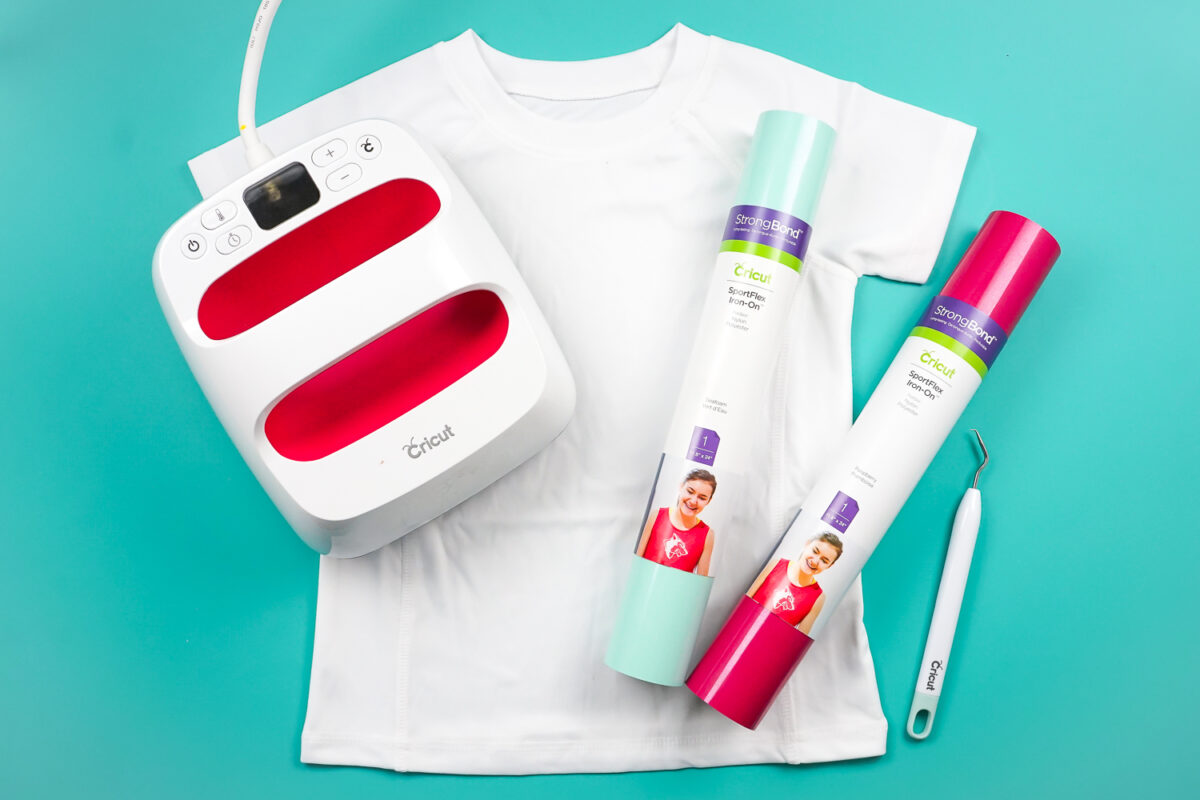 Head to your local JOANN store or shop online to get all the supplies you need to make this project!
Washi or Masking Tape
Strawberry SVG File
Enter your email address below to get this free file! If you're having trouble, make sure your pop-up blocker is turned off. Still having problems? Check out our Downloads FAQ.
DIY Swim Shirt Instructions
Uploading to Cricut Design Space
Let's start by uploading the strawberry file to Cricut Design Space. If you need help uploading an SVG, check out this post.
Once you have your strawberry in Design Space, resize it so that it will fit on your shirt. Mine is 6″ tall, but your size may change based on the size and fit of your swim shirt.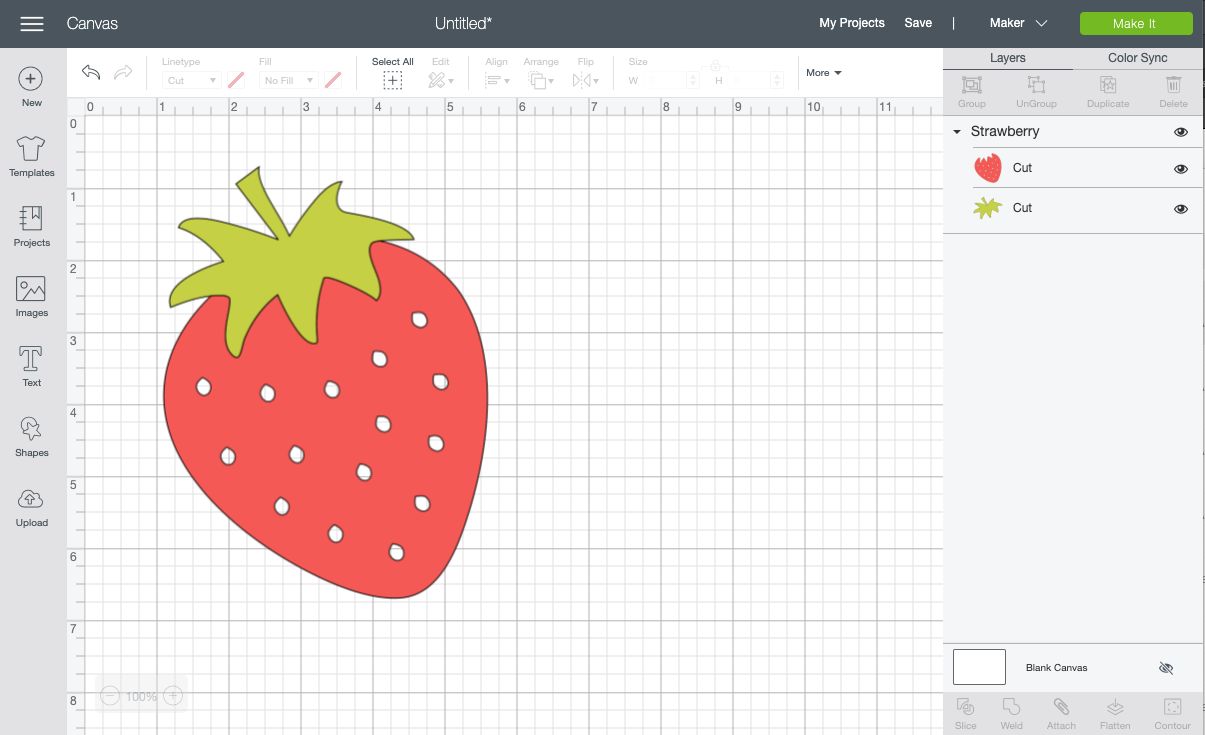 Click Make It in the upper left corner. In the Prepare Screen, make sure to mirror both your mats. This isn't quite as important on an image like a strawberry, but you'll definitely notice if you don't mirror words—they'll be backward!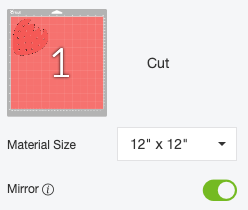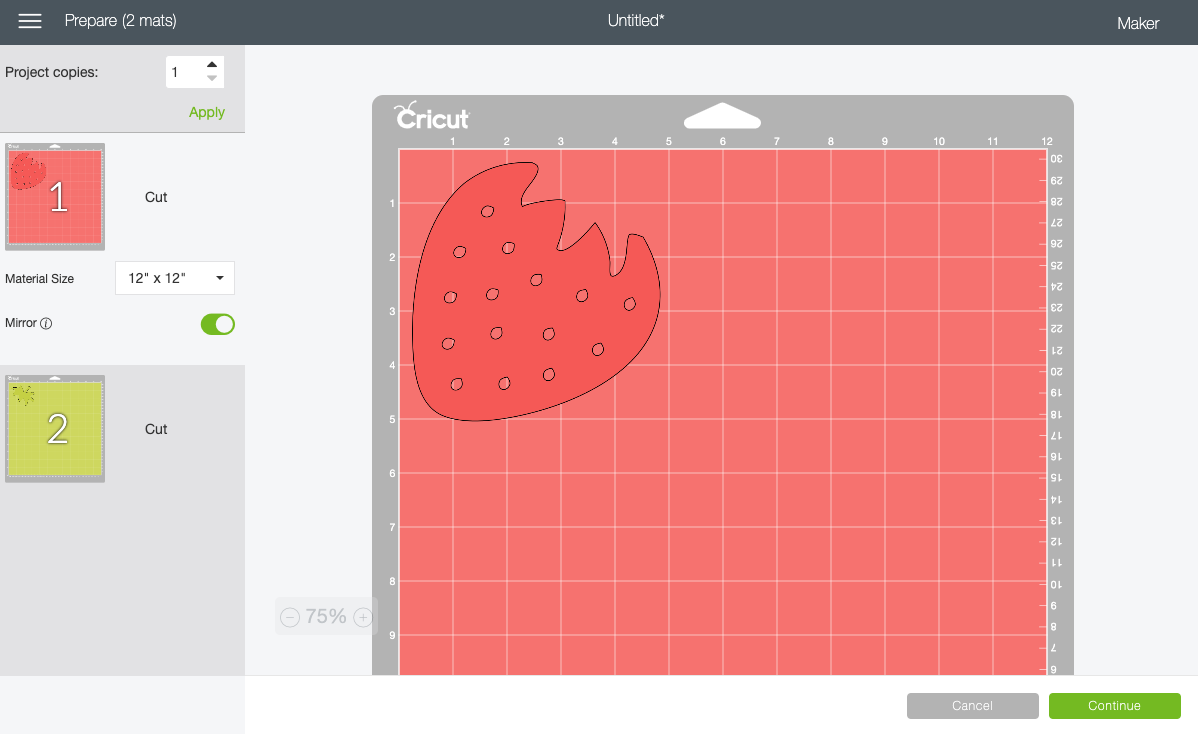 Then click continue. In the Make Screen, search for and select Cricut SportFlex as your material.

Cutting Cricut SportFlex with an Explore or Maker
Place your SportFlex color-side down on the mat.
SportFlex is the same as any other iron on material with one difference—the stuff does NOT stick to the mat. To combat it shifting around your mat, use a little tape along the edges—this will help make sure your project cuts correctly.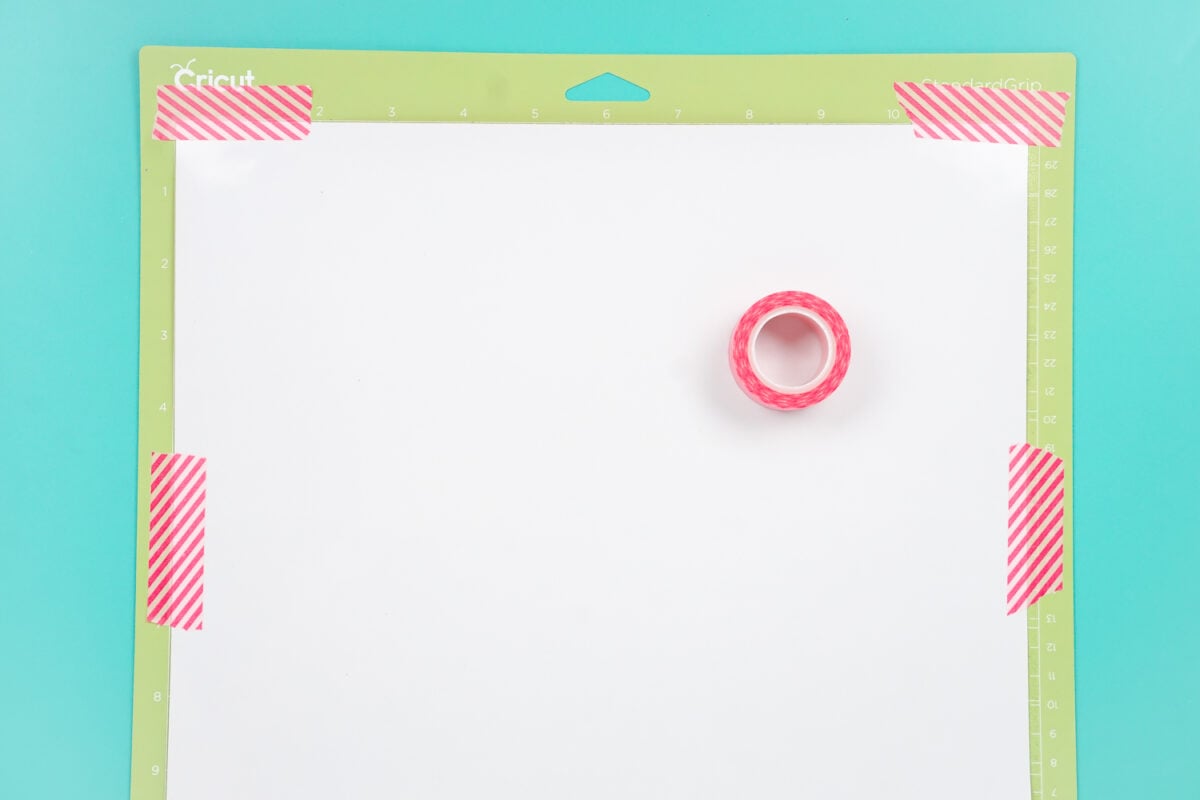 Cut out both layers of your strawberry. Then weed off the negative material. Need weeding tips? Check out my tips and tricks post!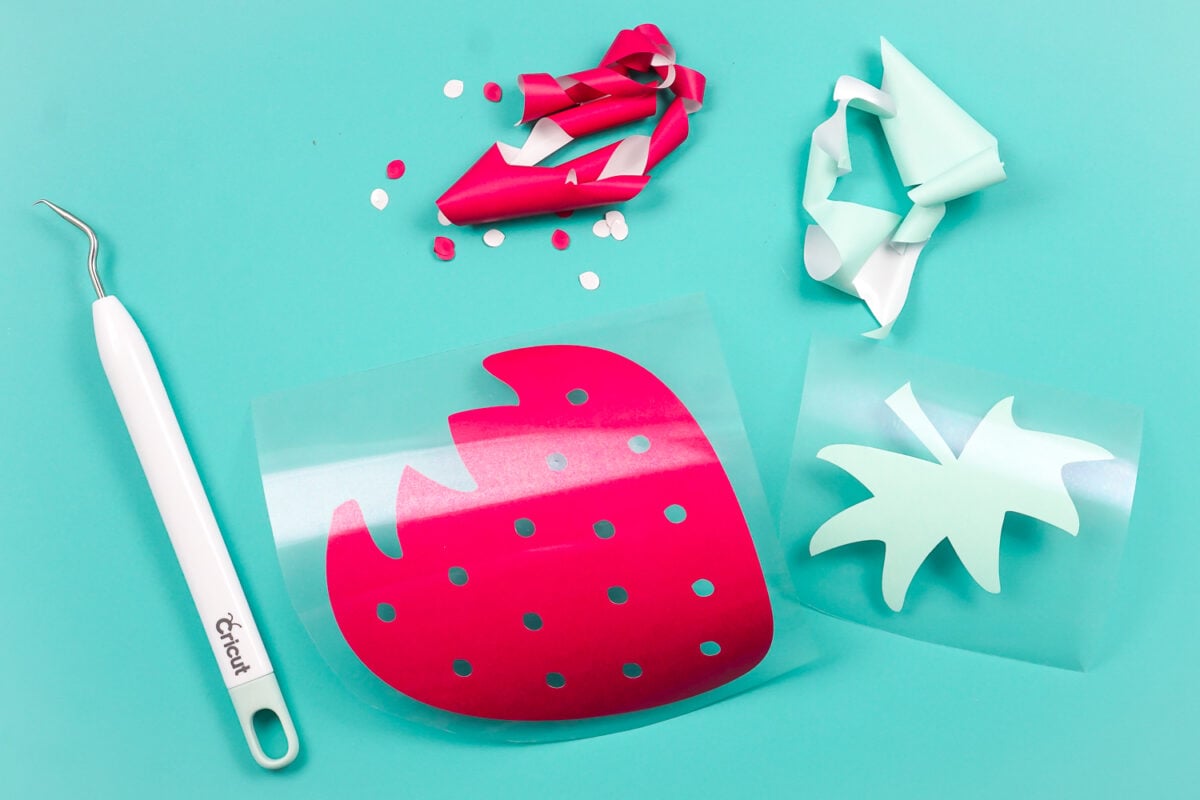 Applying Cricut SportFlex to Your Swim Shirt
Now you're ready to apply your iron on to your shirt! Get your space prepped—put down your EasyPress Mat or a folded towel. Then smooth out your swim shirt on the mat and heat your EasyPress to the proper settings. Using SportFlex on polyester is 305° for 30 seconds, but you can check Cricut's Heat Settings Guide to find the correct temperature if you're using a different base material.
Start by preheating your shirt for 5 seconds.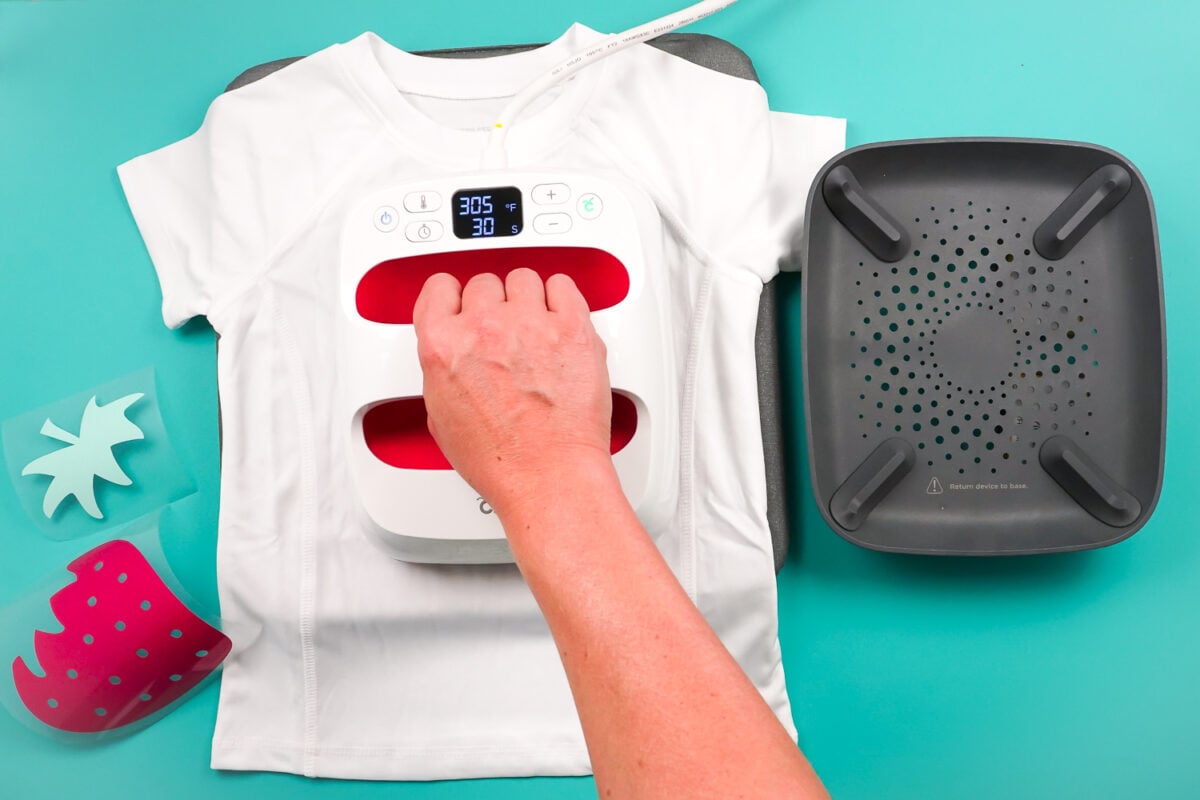 Then place your first strawberry piece down on your shirt.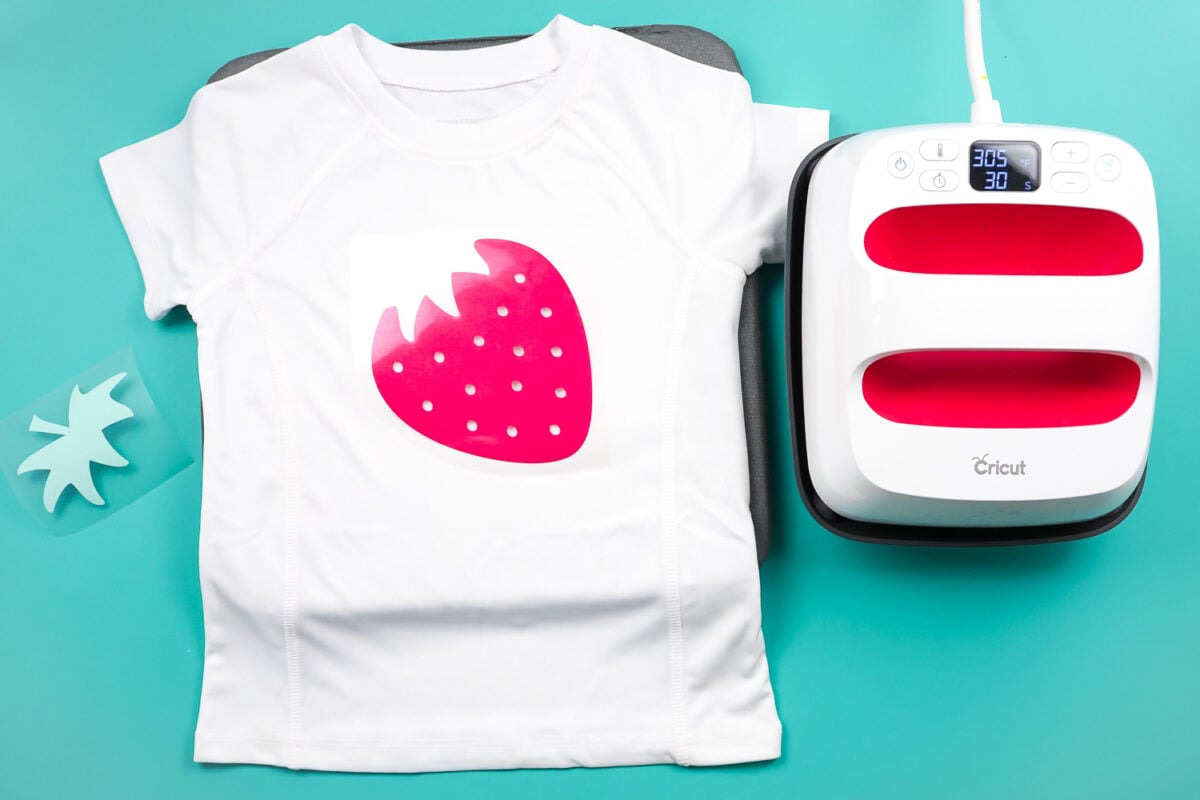 I like to use a piece of cotton as a pressing cloth when I'm working with any type of iron on (though Cricut says it's not necessary). Press for 30 seconds.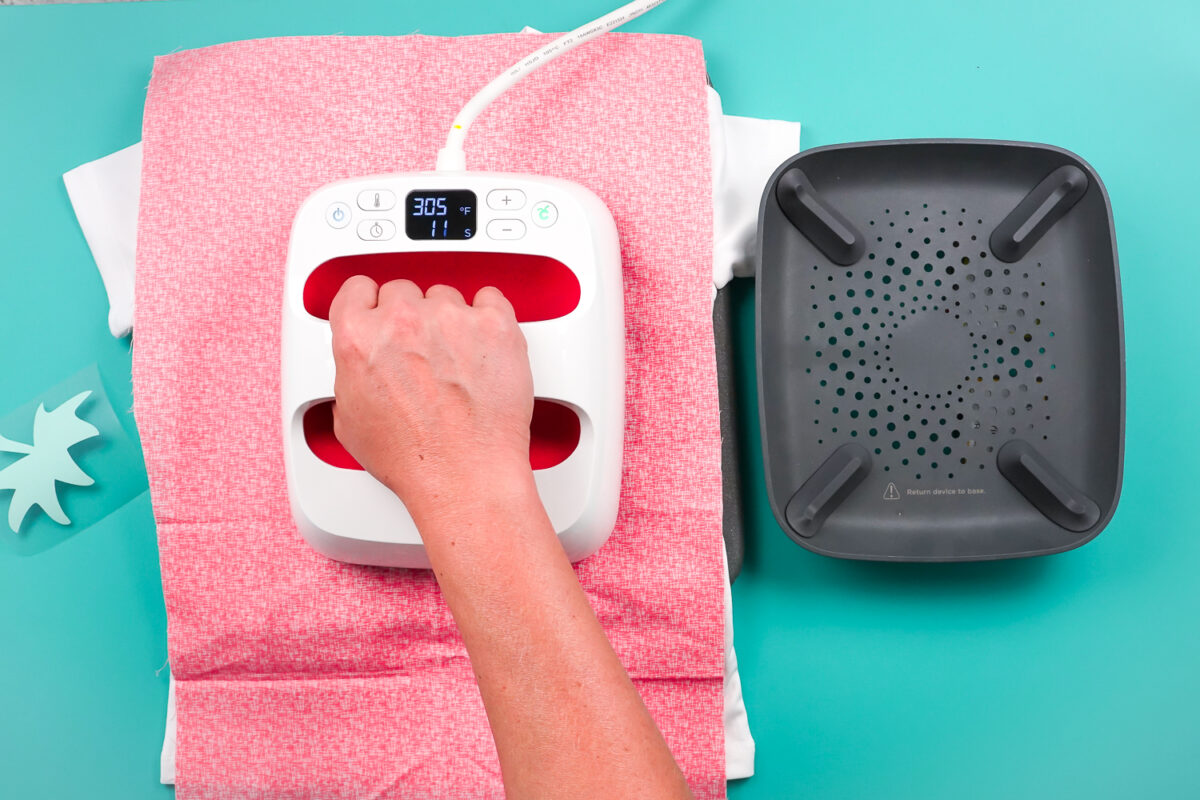 Then let the SportFlex cool for 30 seconds before peeling. I use the timer feature on the EasyPress to count down for me—makes it super easy.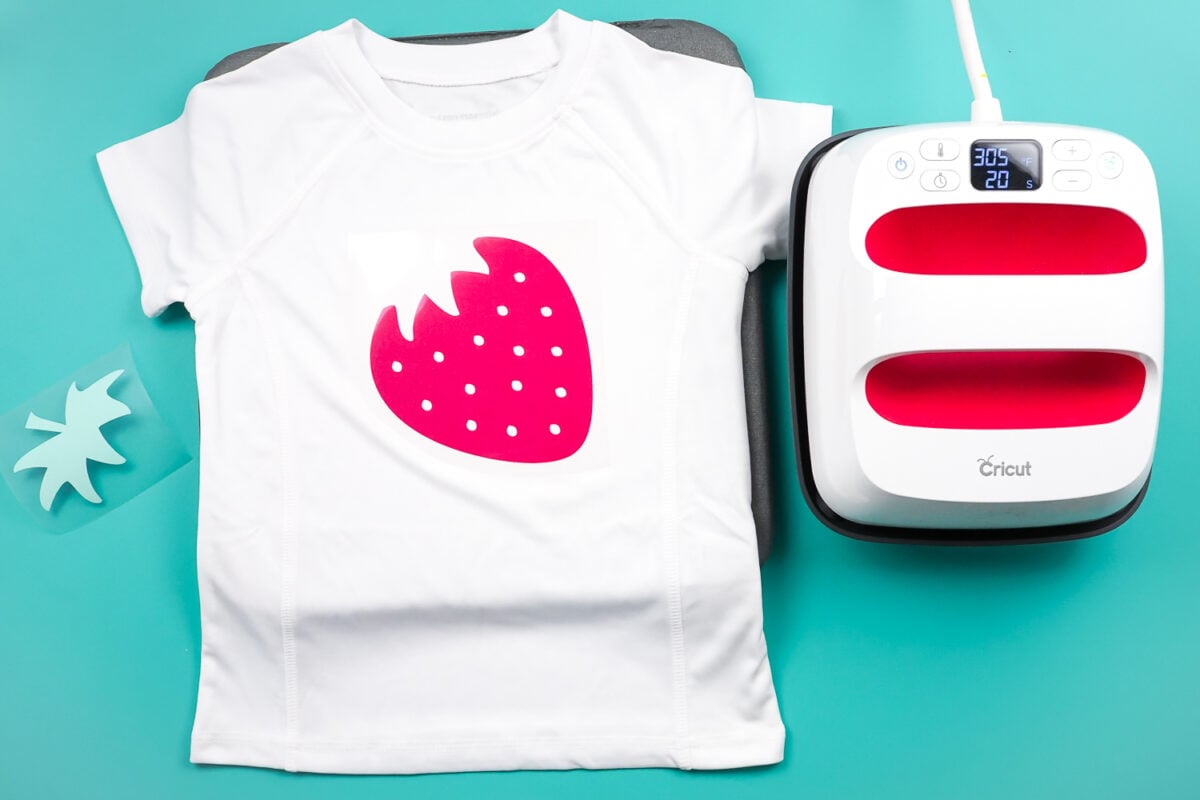 Then carefully peel back the plastic liner piece.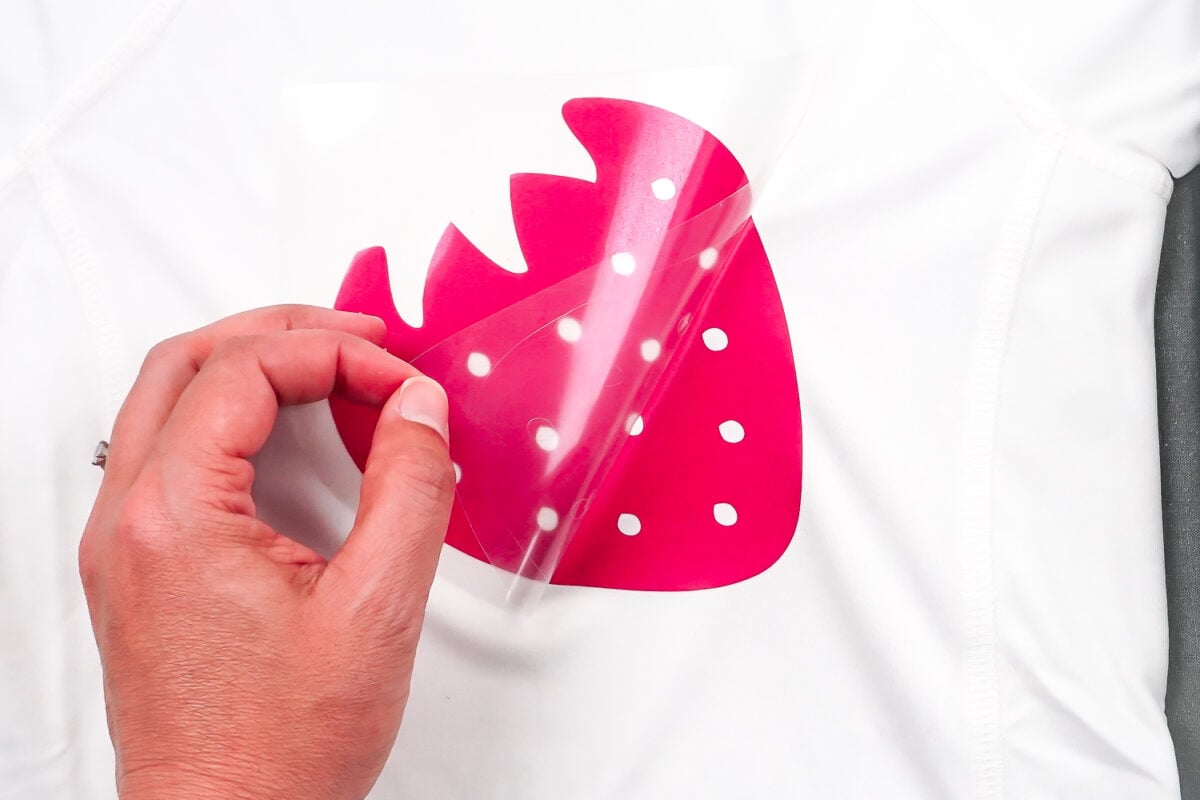 Then repeat the process with the other piece of the strawberry, carefully lining it up with the first piece.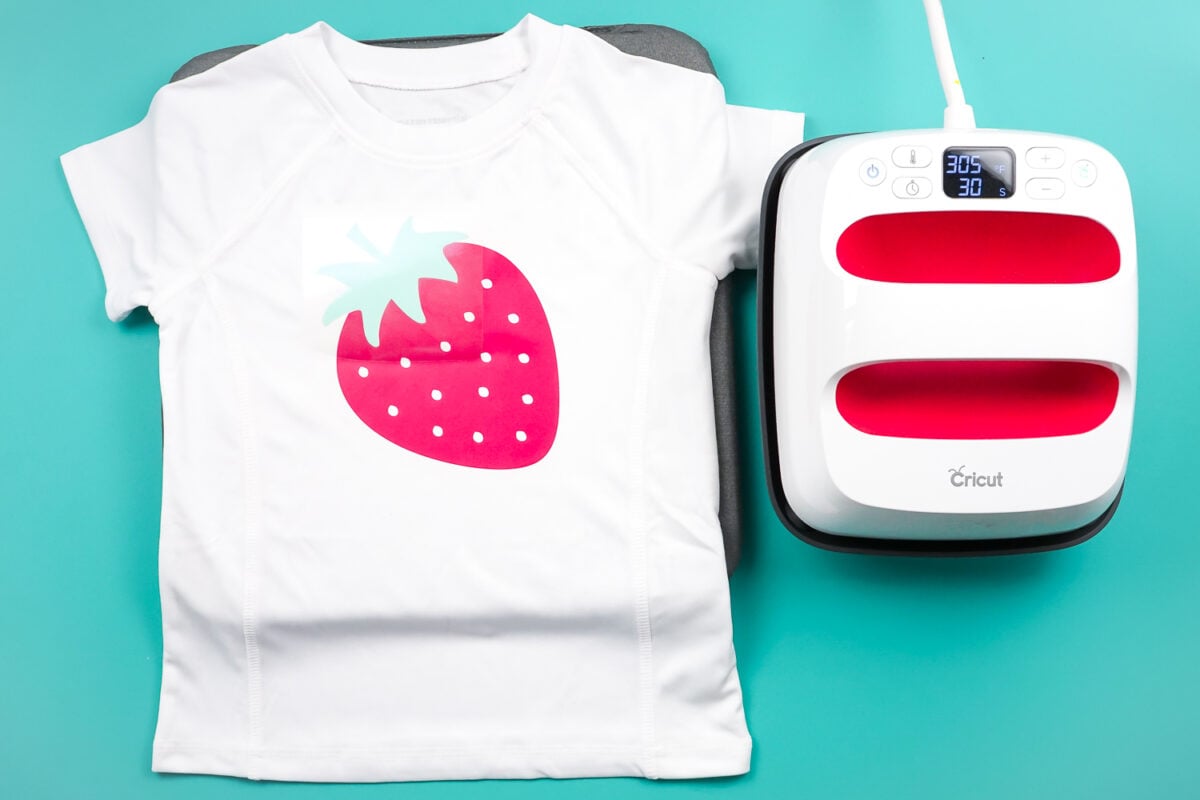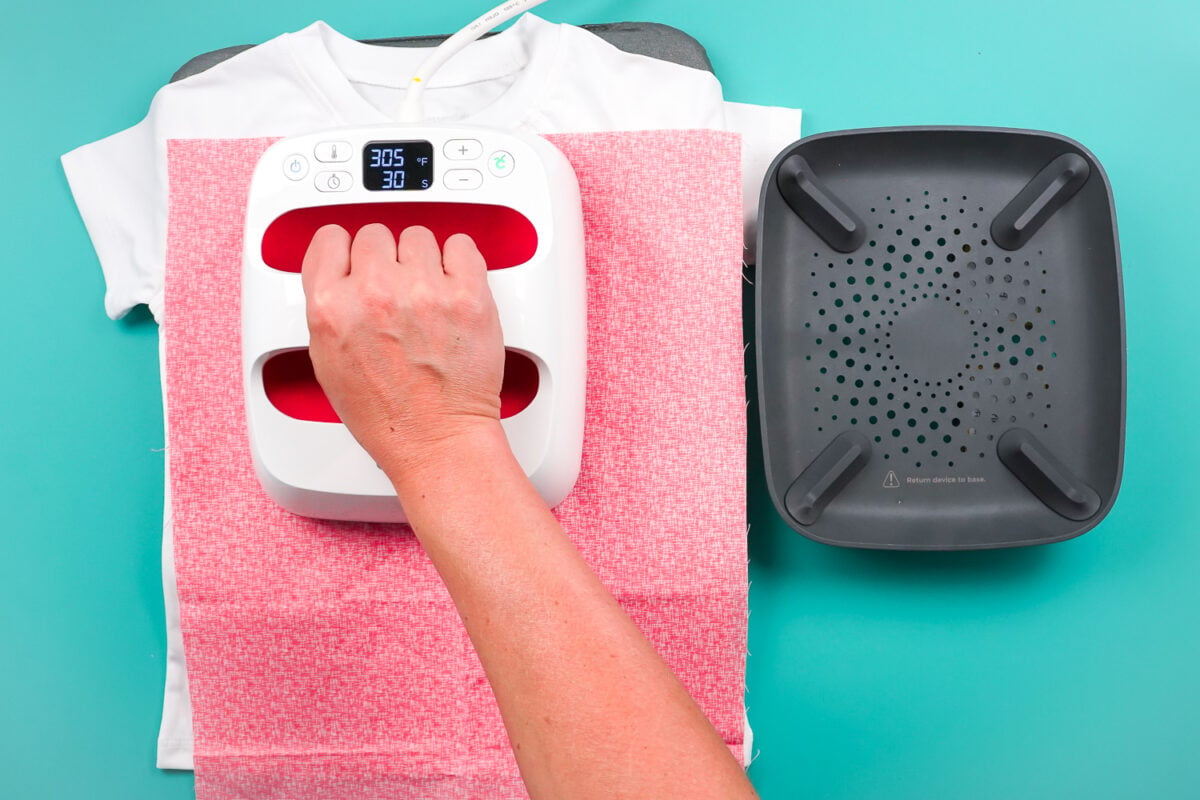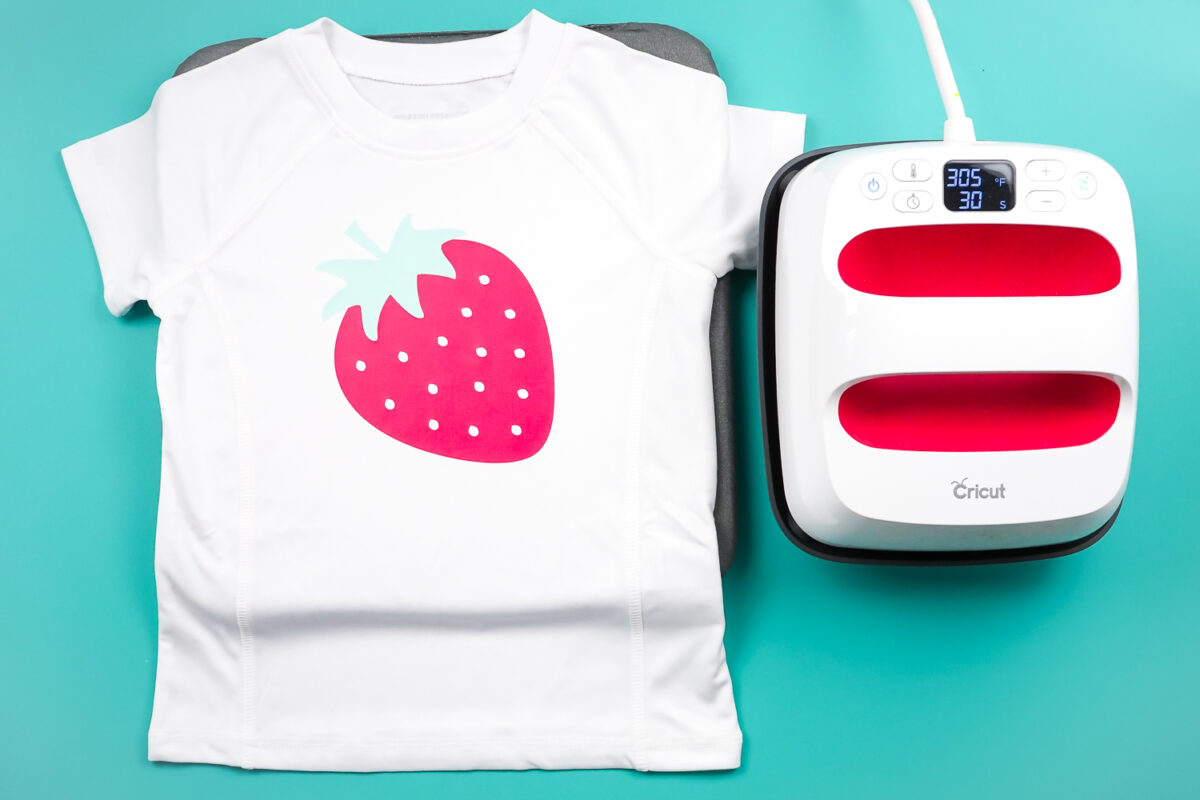 And there you have it! I actually really love working with this material—it's super lightweight and doesn't crack or peel.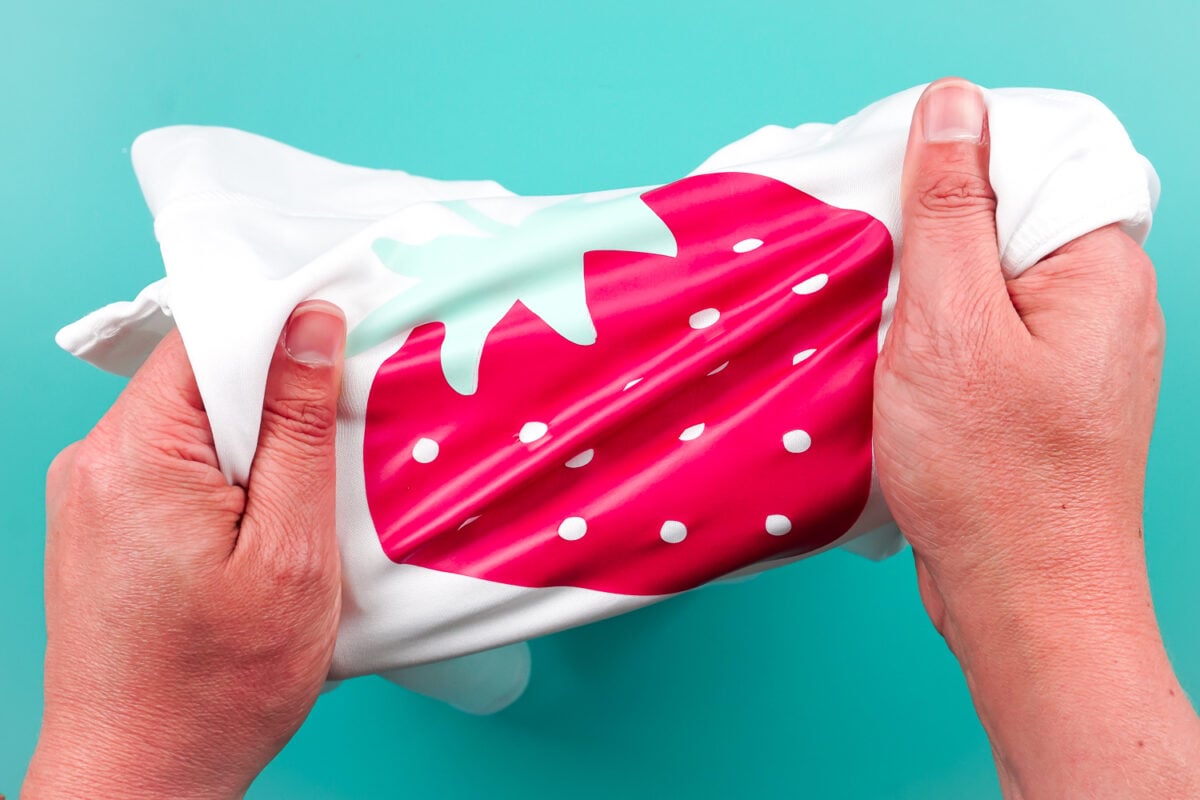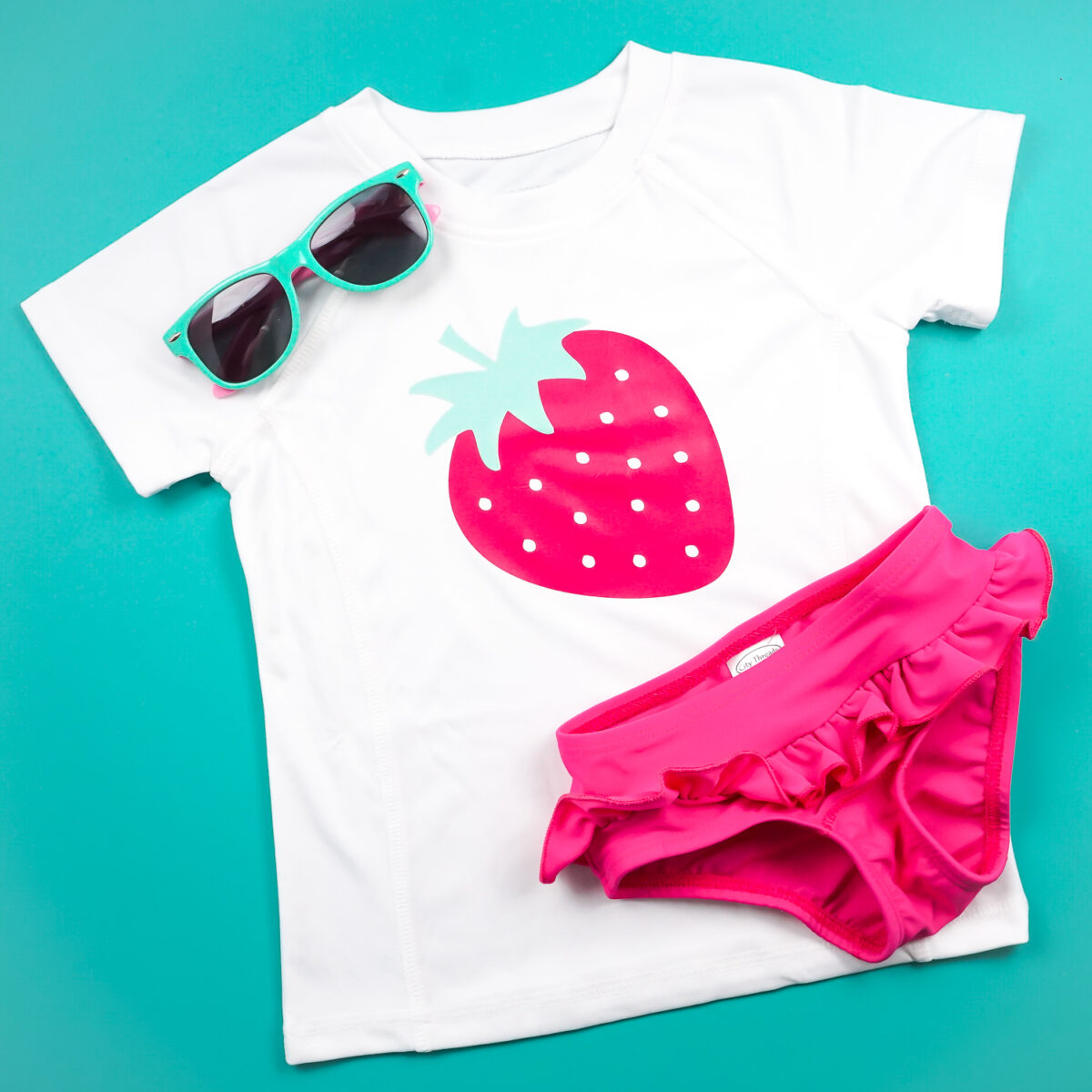 I hope you found this tutorial helpful! If you're ever wondering how to do something with your Cricut, I'm happy to help—just leave a comment!
And make sure you head to your local JOANN to pick up everything you need to make for this project (and, let's be real, about a dozen things you don't actually need because there is SO MUCH to love at JOANN!).