If you're far apart this holiday season, you can still come together for a virtual Secret Santa party! From planning to gift ideas to the party itself, get all the details you need for hosting the perfect Christmas gift exchange this year.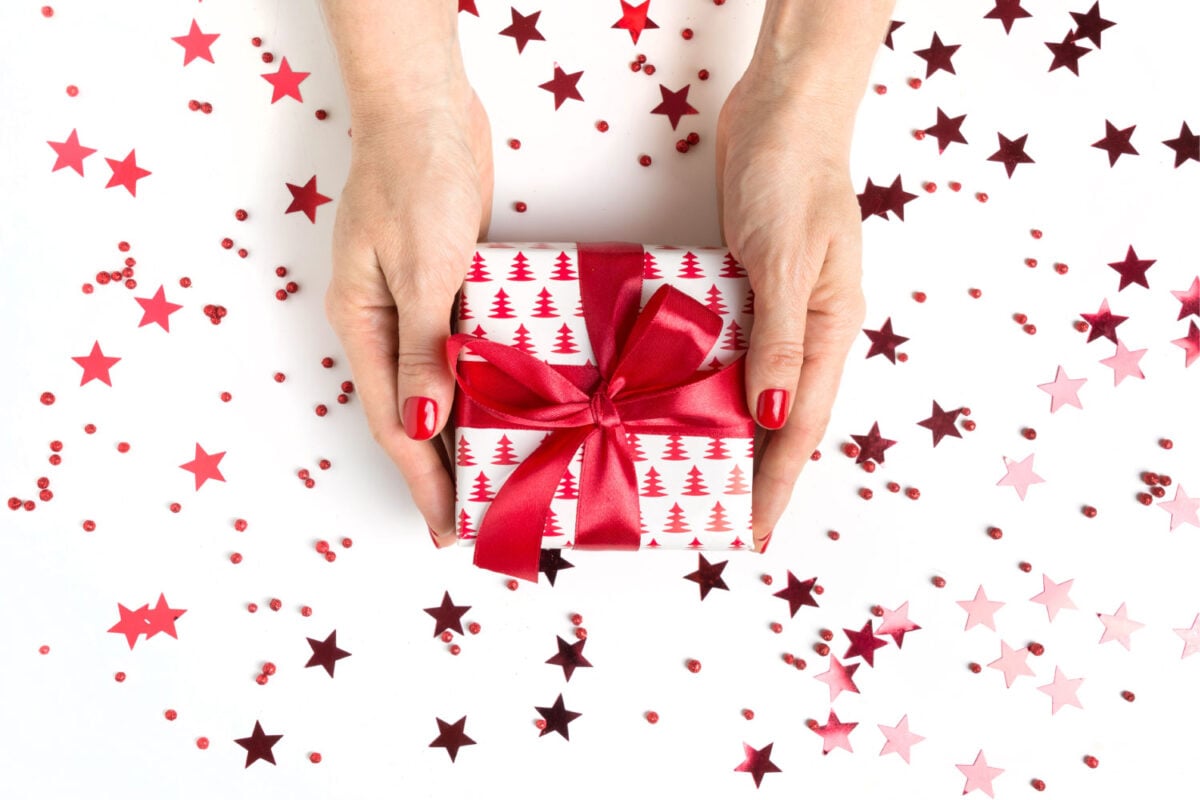 This post is sponsored by my favorite craft store, JOANN!
Gathering with friends and family this holiday season is going to look different for most of us! We usually go from house to house, visiting all of our relatives, eating delicious food, and opening gifts.
But, oh, 2020! You are making things difficult.
Between our move to another state and a pandemic, Christmas is going to look wildly different this year—I'm sure yours will as well!
Whether you're far from home or want to keep everyone around you healthy this holiday season, today I've partnered with my favorite craft store JOANN to share all of my best tips and tricks for hosting a virtual Secret Santa gift exchange party!
I'll also share some of my favorite Secret Santa themes gift ideas, including a quick and easy gift that is easy to ship—a personalized no-sew fleece blanket!
Let's create some Christmas cheer, with loved ones far and loved ones near!
How to Host a Virtual Secret Santa
There are so many variations on how you want to host your virtual Secret Santa party. Let's go through the basics and some of the different ways you might switch things up so they best fit your party!
Gather Your Participants
Start by figuring out who is going to be attending your virtual party. This is a great time to include people who wouldn't have been able to make the normal in-person family party, like your fun cousin in Milwaukee or your military fam overseas. It's easy to include kids as well!
You'll want to gather everyone's mailing address in one place (so that people don't have to ask recipients for their address!), as well as email addresses for organizing the gift exchange, as seen below.
Set a Party Date and Time
Set a date and time when most people can make the virtual party. You don't have to actually be able to attend the virtual party to participate in the gift exchange, but it's more fun to open presents together. So pick a date and time that works for most of the people in your group.
Make sure there is enough lead time for people to shop for gifts and send them through the mail, taking special consideration that shipping times are longer this year than they have been in the past.
If a participant can't make it at the designated time, if they'd like they can record a short video of them opening their gift and thanking the sender. The video can be shared by someone else during the larger party. You can even screen record the party itself and send that back to the person who missed out on attending!
Create a Zoom Room ahead of time, so that you don't have to worry about getting everyone the link at the last minute. You can even customize the URL of the link!
Make it Optional
Because this is 2020 and things are HARD, people may not have the emotional or financial bandwidth to participate in a gift exchange. Make attending optional and don't pressure anyone into participating in something that may be an extra burden!
Set a Spending Limit
Depending on the group you get together, set a spending limit for the gifts. Consider the people attending and their resources this year—again, you don't want to overburden someone right now. Somewhere between $10 and $30 is generally good.
Also make sure to check out below for some inexpensive Secret Santa gift options that are perfect when your bank account is running on empty!
Set a Secret Santa Theme
For years, my husband's family has done a gift exchange. For most years, it was just general gifts. But one year we did a "kitchen and barbecue" theme and it was SO fun! There were so many great gifts, from kitchen utensils and small appliances to barbecue sauce and drinks. It was fun to see everyone's creativity flourish under the constraints of a theme.
Here are some more Secret Santa theme ideas. I've starred ones that are particularly good for budget-conscious groups!
Practical presents
Gag gifts
Experiences (tickets and admission to local activities)
Mugs or tumblers
Starts with ____ (choose a letter and see people's creativity!)
Locally made (each gift is from where the sender lives)
Games (card games, board games, puzzles)
Cookbooks
Fandom (think LOTR, Harry Potter, Marvel, etc.)
Charitable donations
Of course, you can also have no theme and have everyone shop for things their particular recipient might want!
Use a Secret Santa Generator
Now it's time to organize all of the names, so that everyone is matched with a recipient. You can do this by drawing names out of a hat, but there are a lot of free Secret Santa generators out there—definitely take advantage and let it do the hard work for you!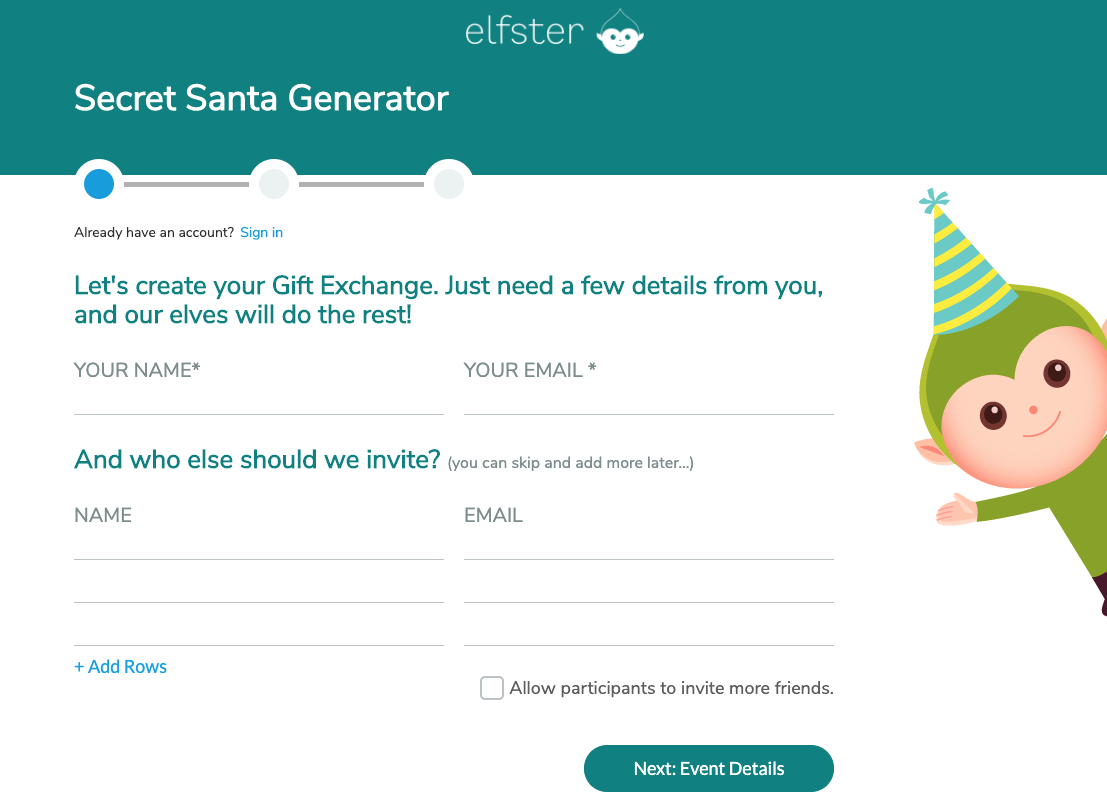 You can put parameters around the sorting so that you don't end up picking yourself or your spouse, for instance. And you can create exclusions, so that those bickering siblings (you know the ones I'm talking about!) aren't matched. And it'll even email all the participants with their recipient—no one will know who everyone has!
Shipping Considerations
Before you go shopping or start making your gift, think about shipping.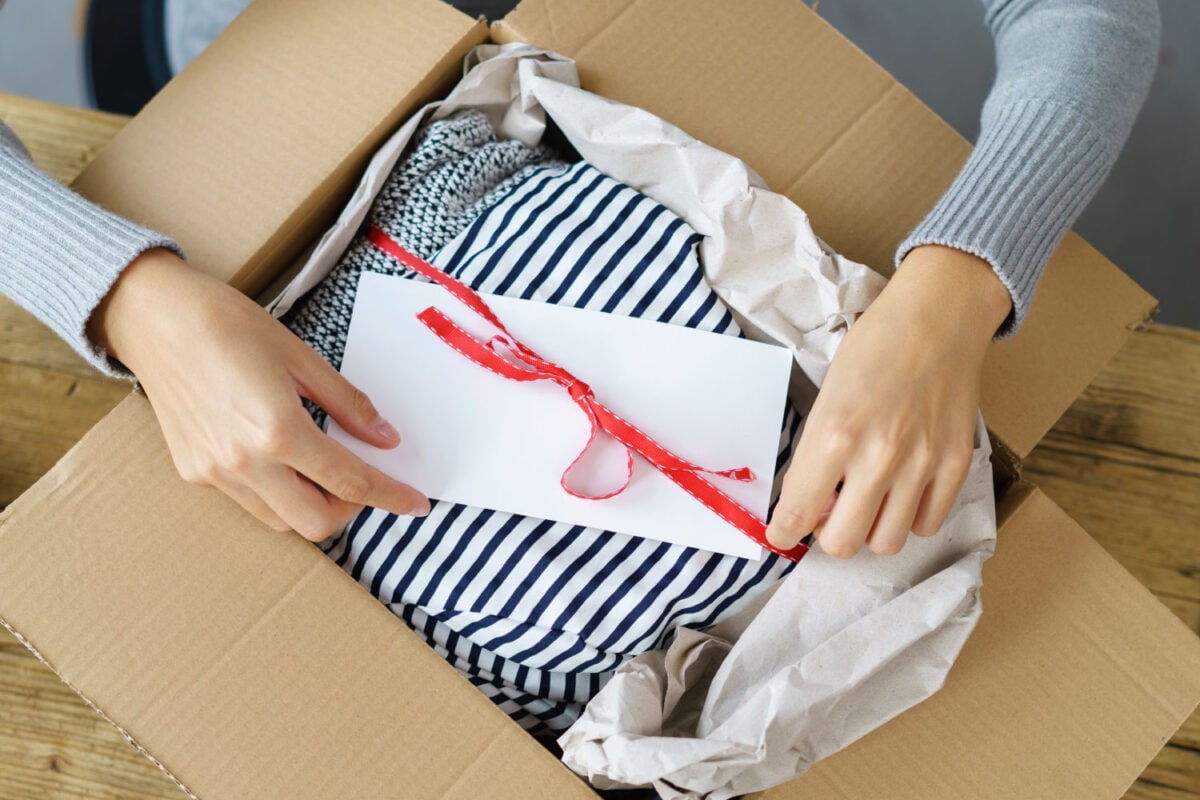 Sending your gift through the mail is definitely something that is unique to a virtual Secret Santa party, so make sure to think consider the following:
Have everyone use the organizer's address as the return address for shipping, so no one knows who sent each gift.
Ship directly from the store to your recipient (be on the lookout for free or reduced shipping coupons!).
Select "gift option" if you are sending directly, so that your personal information is not included on the packing materials.
Alternatively, you can ship to your house so you can wrap your gift and include a card, and then send to your recipient.
Think about the size and weight of your gift and how much it might be to ship. The smaller and lighter the gift, the better.
Also consider how far your recipient is from you—are you shipping your gift across the country or can you drop it on the porch down the street?
Make the most of the USPS flat-rate shipping boxes. You can stuff quite a bit in those!
Be wary of sending breakable items through the mail—the last thing you want is for your recipient to open up your gift and find that it's shattered.
If shipping costs are prohibitive, gift cards are a great option.
Choosing Your Secret Santa Gifts
Now it's time for my favorite part—shopping and making! A few things to think about when picking a gift for a virtual Secret Santa:
Consider the year your recipient has had. 2020 has been hard for a lot of people! Choose something that will bring your recipient joy or relief this holiday season.
Will your recipient be comfortable opening the gift on camera with everyone watching? Some people love gag gifts…other people, not so much!
If you have a spending limit, stick to it. We all remember how awkward it was when Michael Scott gave Pam an iPod during the Office Christmas Party!
Check out the shipping considerations above—there's more to think about when you're sending your gifts through the mail this year!
If you've been around my blog at all, you'll know that one of my absolute favorite stores is JOANN and it's such a great place for gifts for a Secret Santa party. Whether you're a DIYer or are just looking for something quick, they have you covered!
Perfect Secret Santa Gift: Customized Fleece Blanket
Let's make an easy project that I think is perfect for a Secret Santa gift exchange. No sewing skills are needed for this fleece blanket and JOANN carries countless different patterns—there's something everyone on your list will love!
This fleece blanket doesn't weight a lot, fits in a big USPS box, and there is just no way it's going to break in transit! Plus, who doesn't want a cozy customized blanket for the holidays?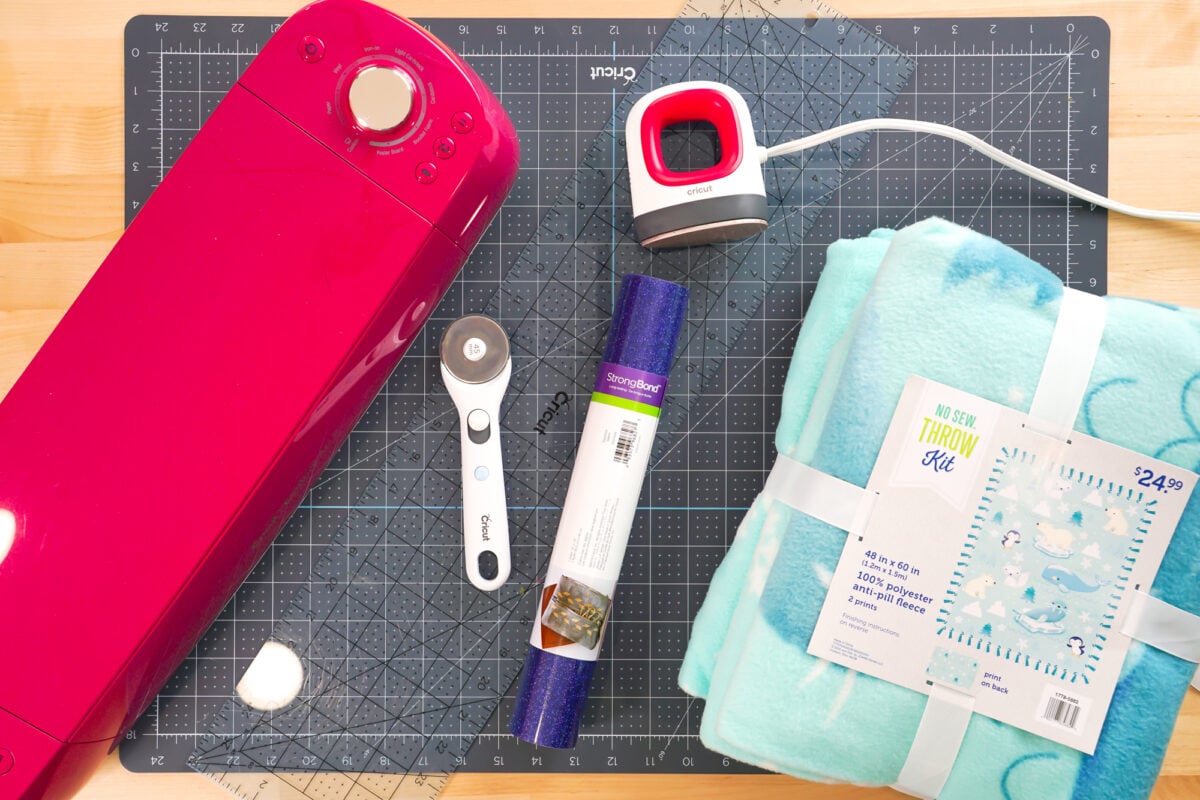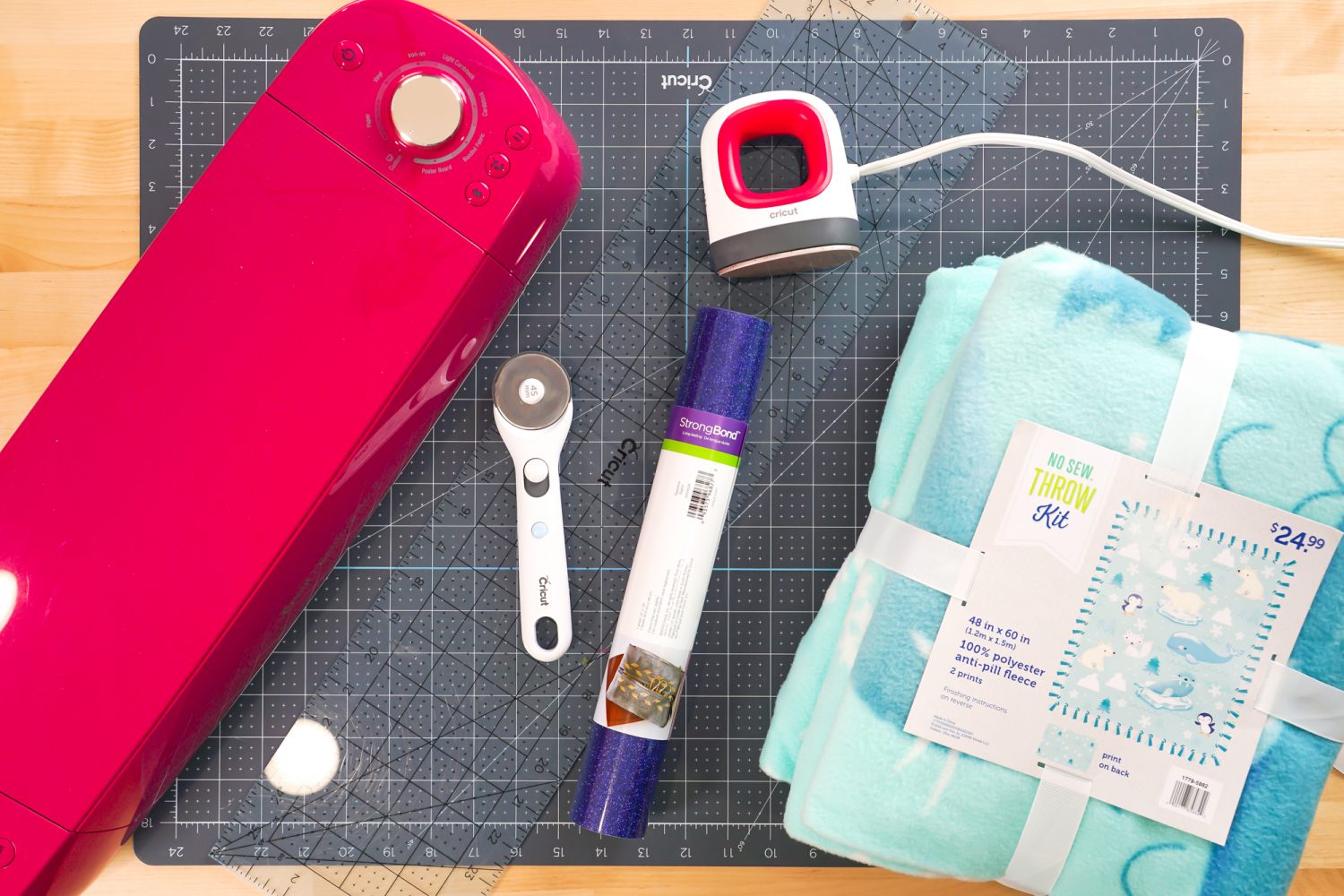 The no-sew fleece blanket kit comes with the instructions on the tag and it's really easy to put together. I prefer using a rotary cutter, ruler, and mat—I think it's quicker and easier than scissors. But if you don't have those things, scissors will do the trick!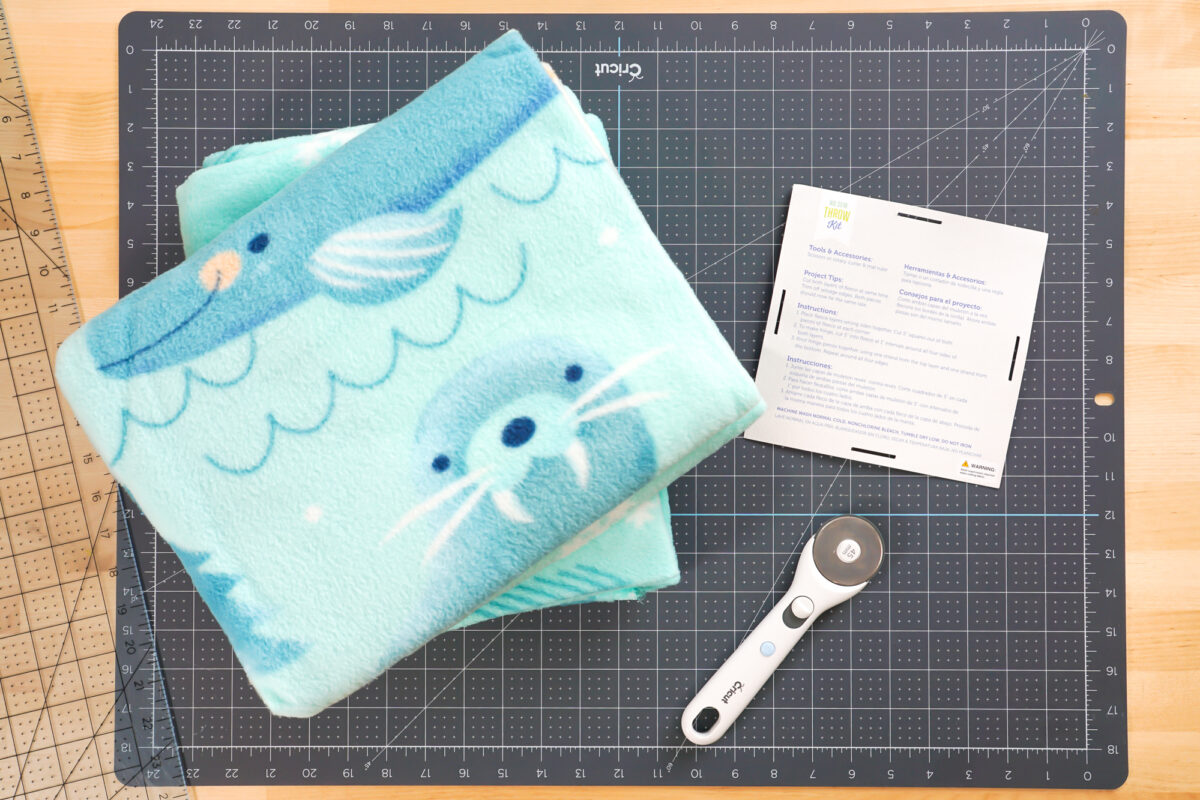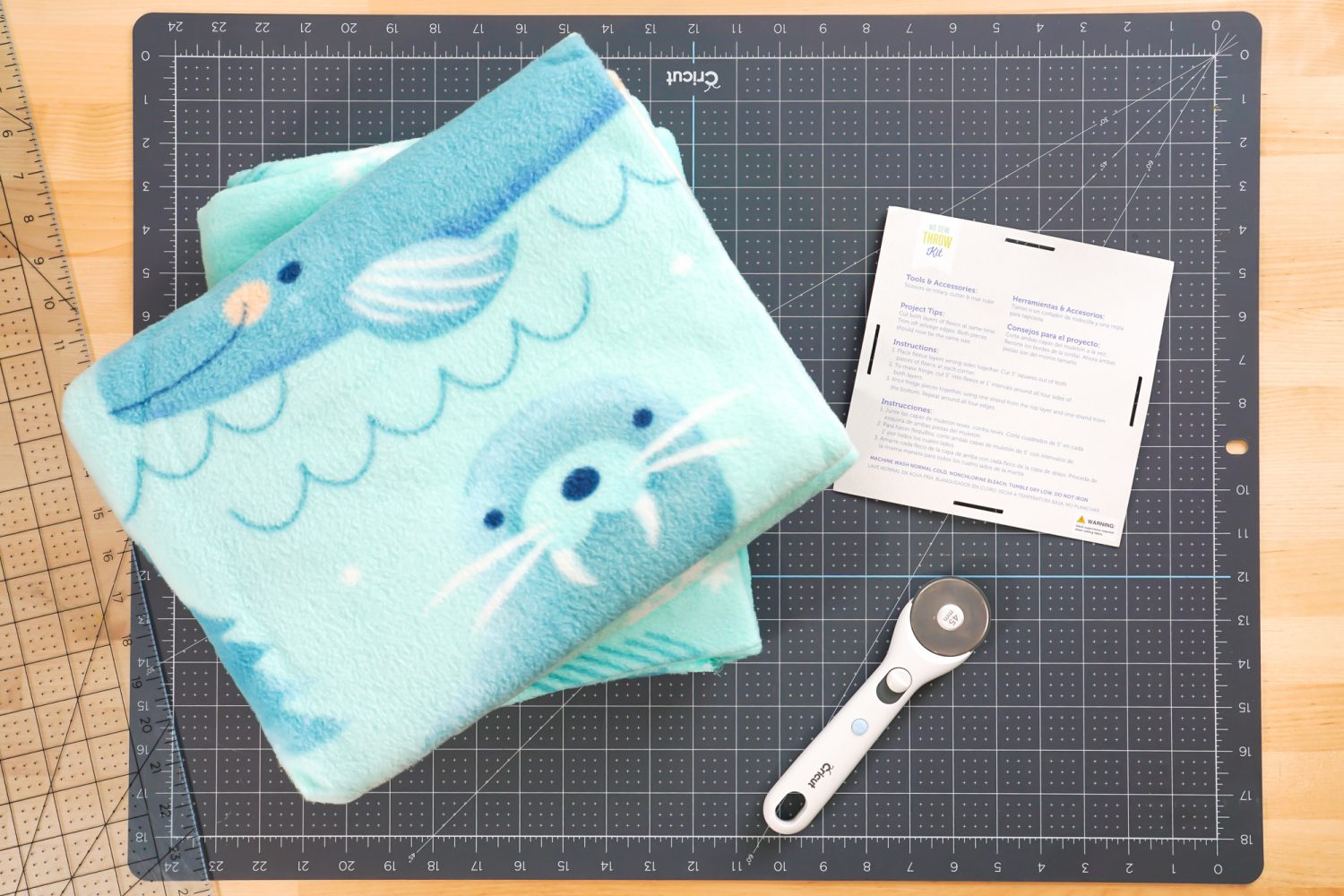 Follow the directions to square up the fabric, cut the corners, create the slits, and tie the bows.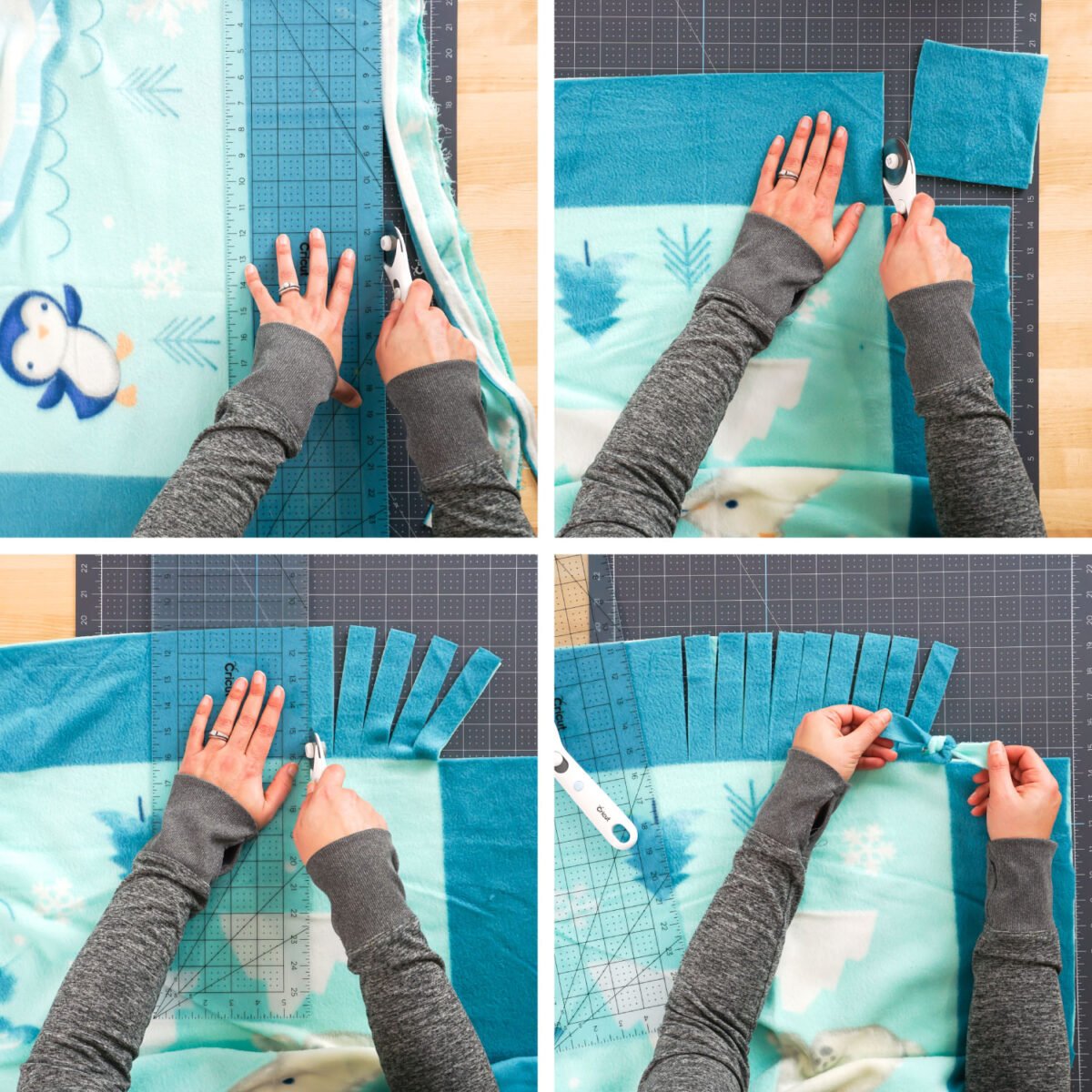 Then if you'd like, personalize the blanket with iron on vinyl! I used a glittery dark blue that matched some of the characters on the front of the blanket.
Create your design in Cricut Design Space. I just simply typed the name, changed the font, and resized it. Learn more about Using Fonts in Cricut Design Space.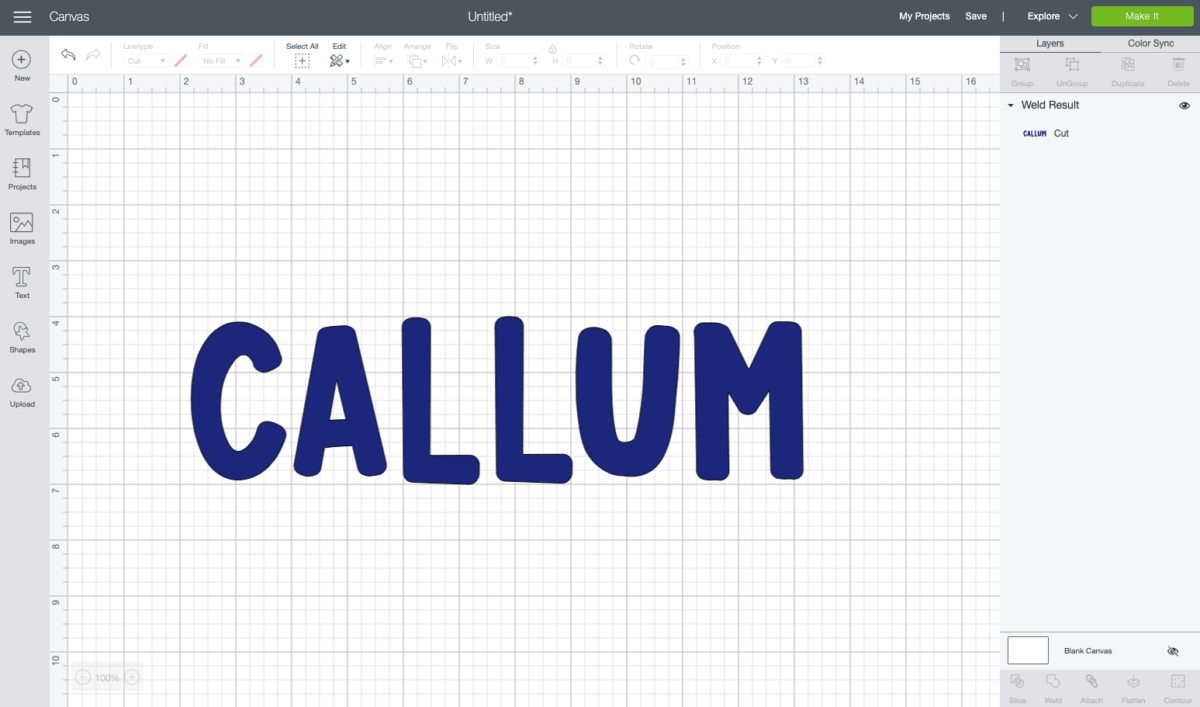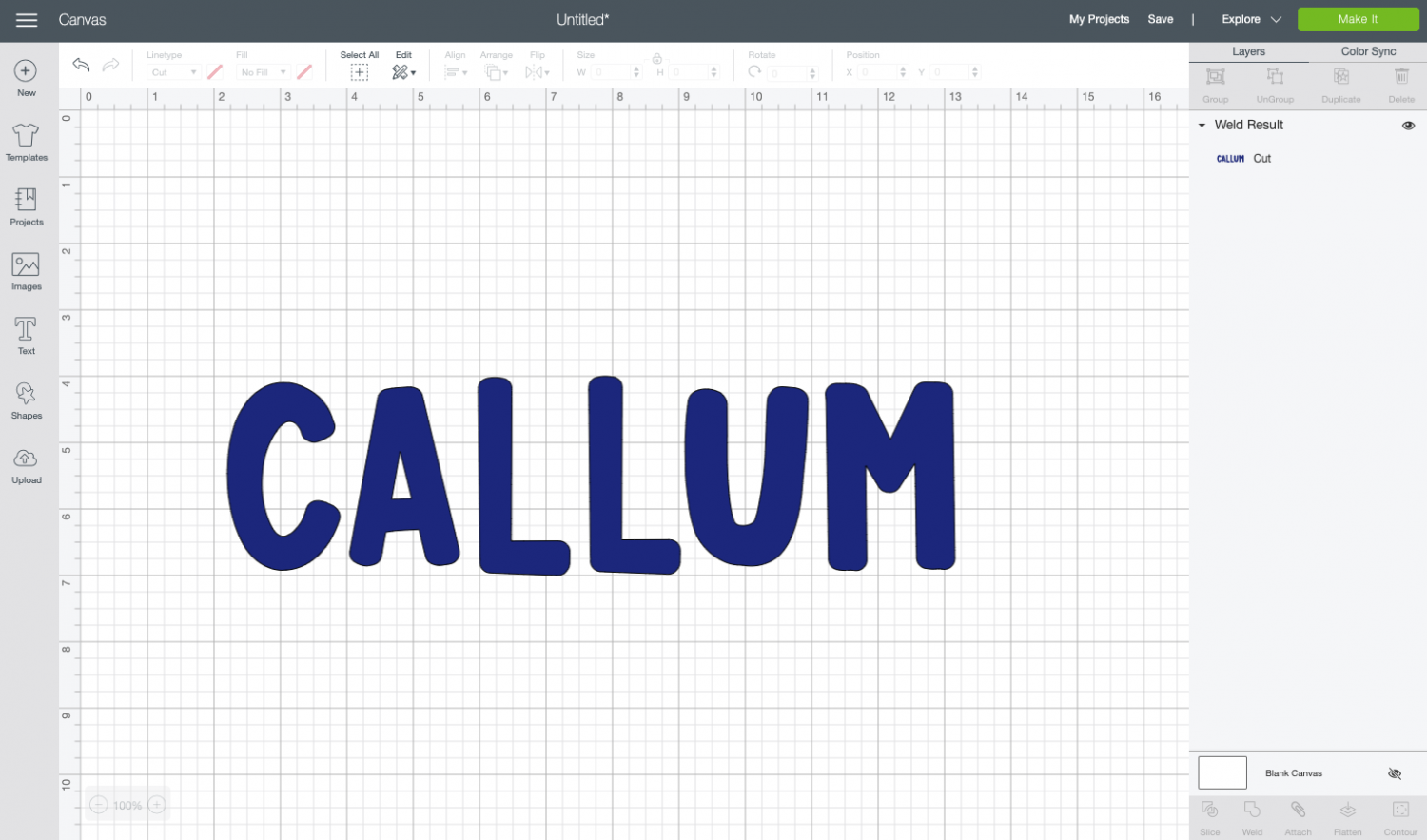 Then cut your name in iron on vinyl, making sure to mirror your project. Then weed your vinyl using the weeding tool. Learn more about Weeding Iron On Vinyl.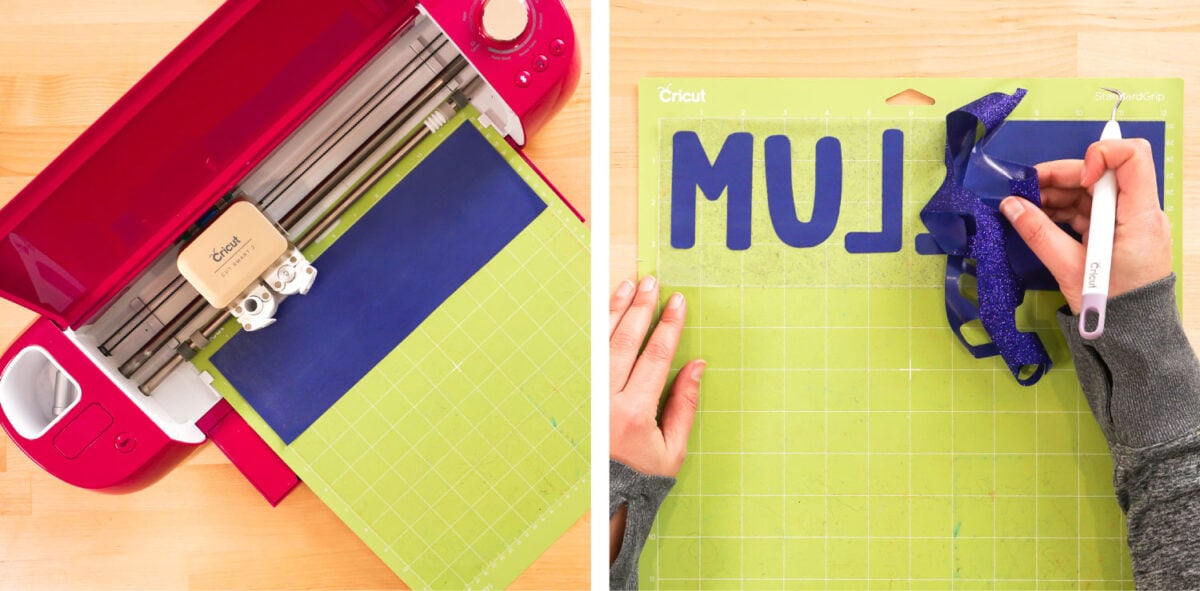 Then use your Cricut EasyPress Mini or other heat source to adhere the iron on vinyl to the blanket!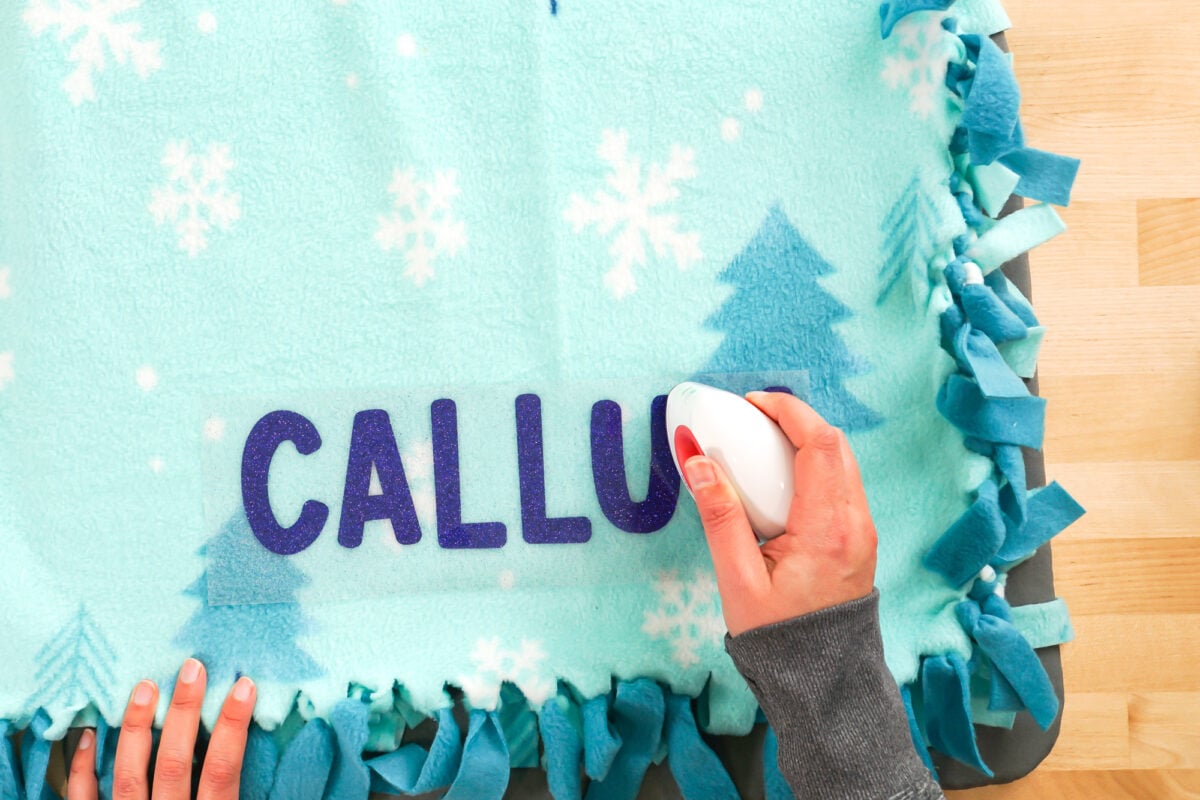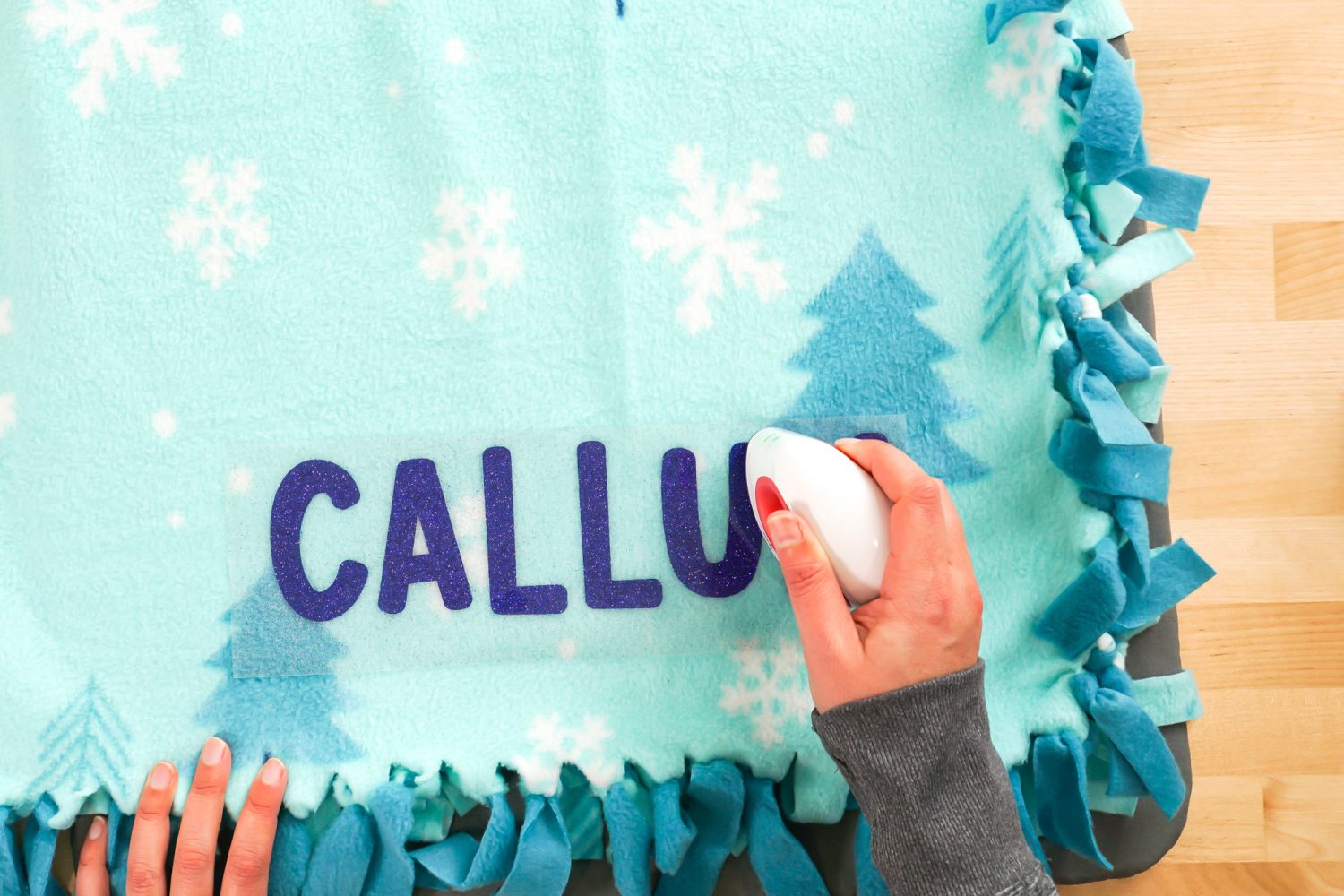 That's it! You can fold it up and stuff it in a box and mail to your recipient!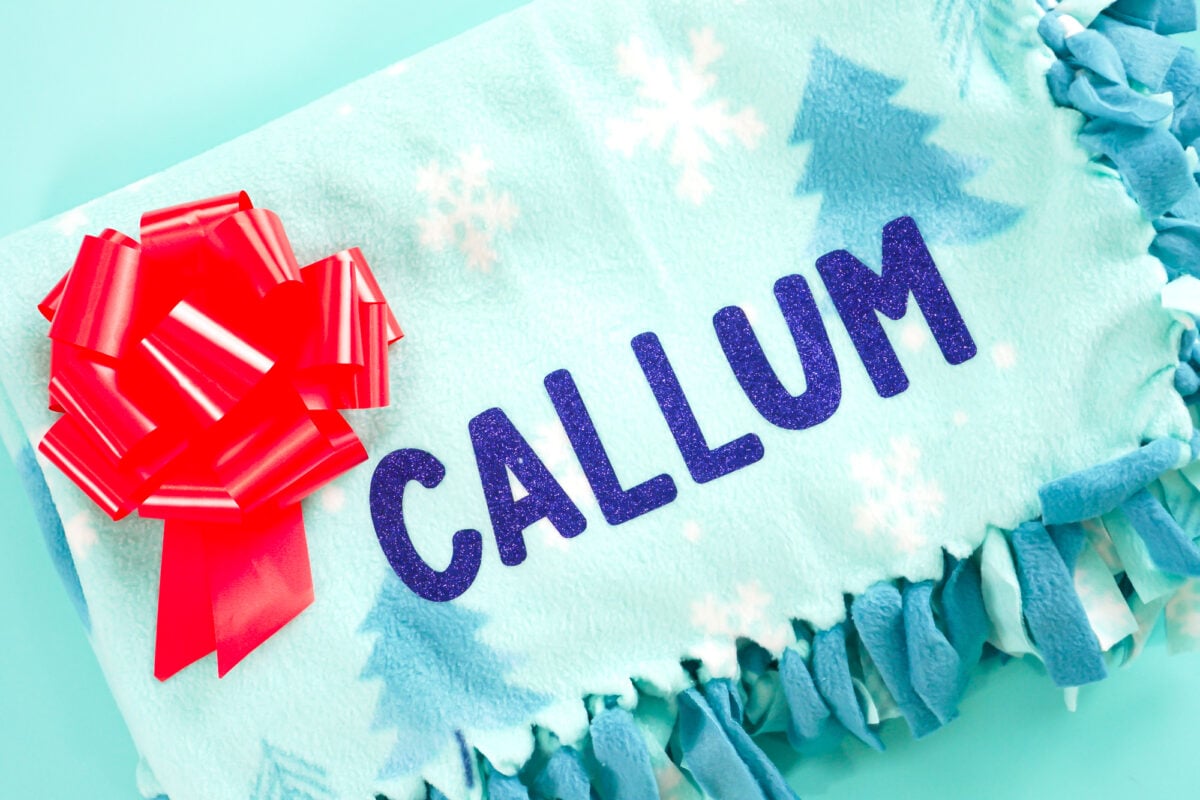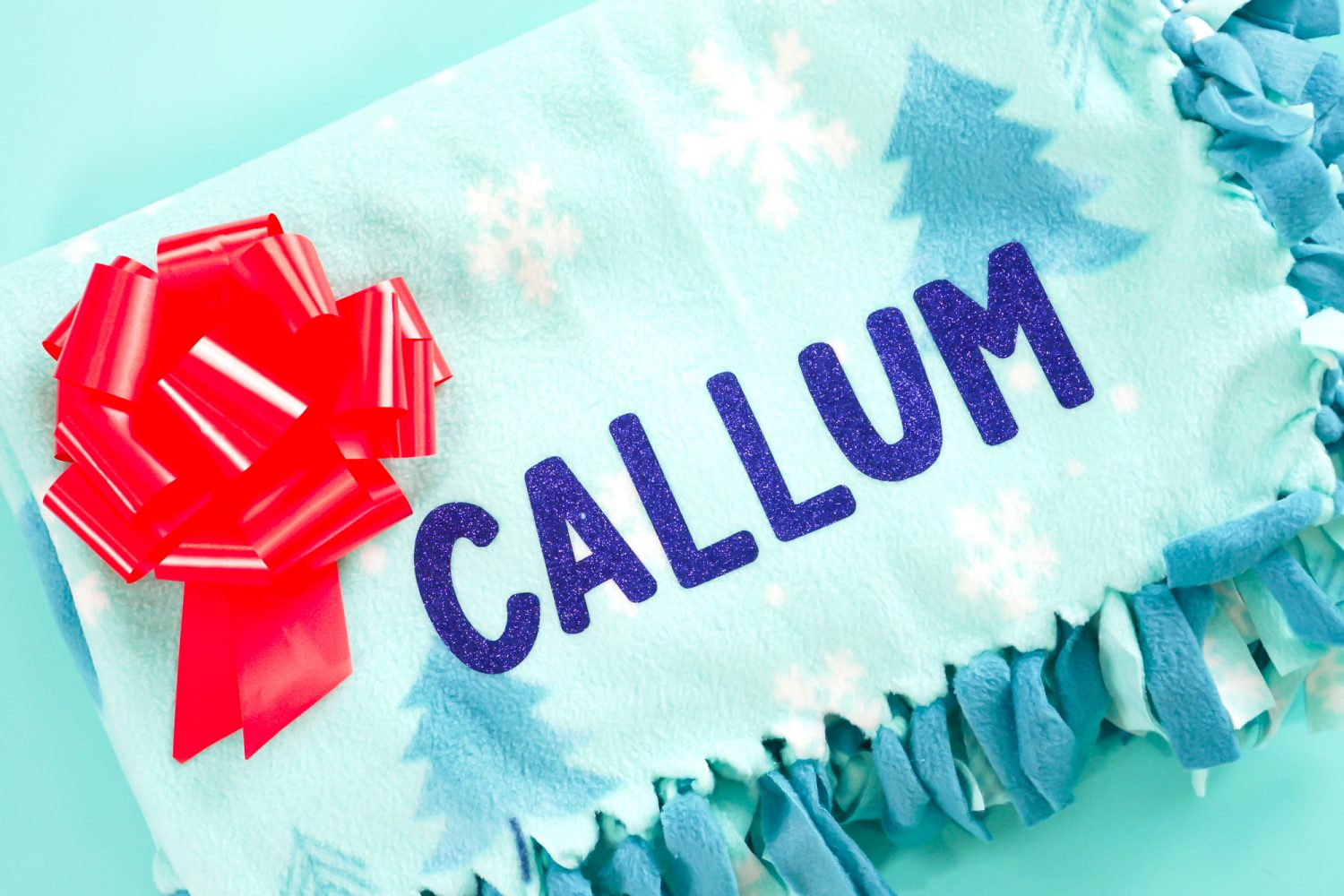 Now it's time to get ready for the party!
Create a Party Atmosphere!
When you're planning your party, come up with a few ideas to create consistency for everyone joining in (optional, of course!). Even though you can't all be in the same place, each person can create a similar atmosphere!
Create a cookie or drink recipe (both alcoholic and non-alcoholic versions) that everyone can make and enjoy together.
Have everyone hang Christmas lights behind them or sit in front of the Christmas tree.
Suggest everyone wear a Christmas sweater or funny hat—you could even host a contest for best or silliest Christmas fashion!
Have everyone choose a holiday Zoom background.
Have the organizer send everyone a "campfire kit" with a tea light candle, toothpicks, and mini marshmallows so everyone can roast marshmallows together.
You can start off the night with some fun icebreaker games, like Christmas trivia! Something to loosen everyone up and get them talking.
Unwrap Your Secret Santa Gifts
Finally, have everyone gather their gifts and get ready for the Secret Santa magic! Have each person open their gift and share it with the entire group. Each recipient can guess which other guest sent the present.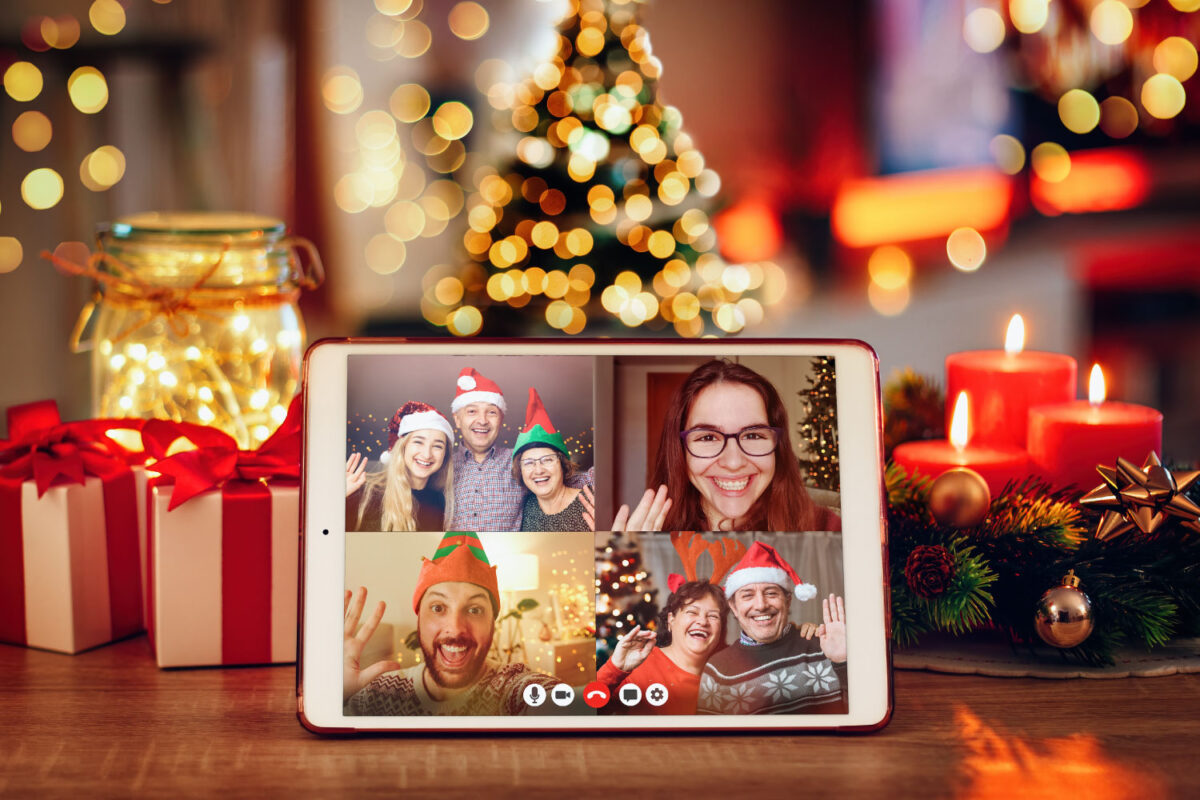 Once everyone has opened their gifts, have everyone hold them up and smile for a group screenshot!
A lot of times, conversation will happen as long is natural, and friends and family will start to sign off as it makes sense. If people feel like sticking around, you can do a Christmas Movie Watch Party on your favorite streaming service—it's a fun way to spend time with family and friends, even if they aren't in the same room with you.
Have other ideas for a Secret Santa party? I'd love to hear them in the comments!