Let's start with the basics! Here's how to create a simple, two-sided design on a mug using Infusible Ink and the Cricut Mug Press, including tips getting your transfers straight!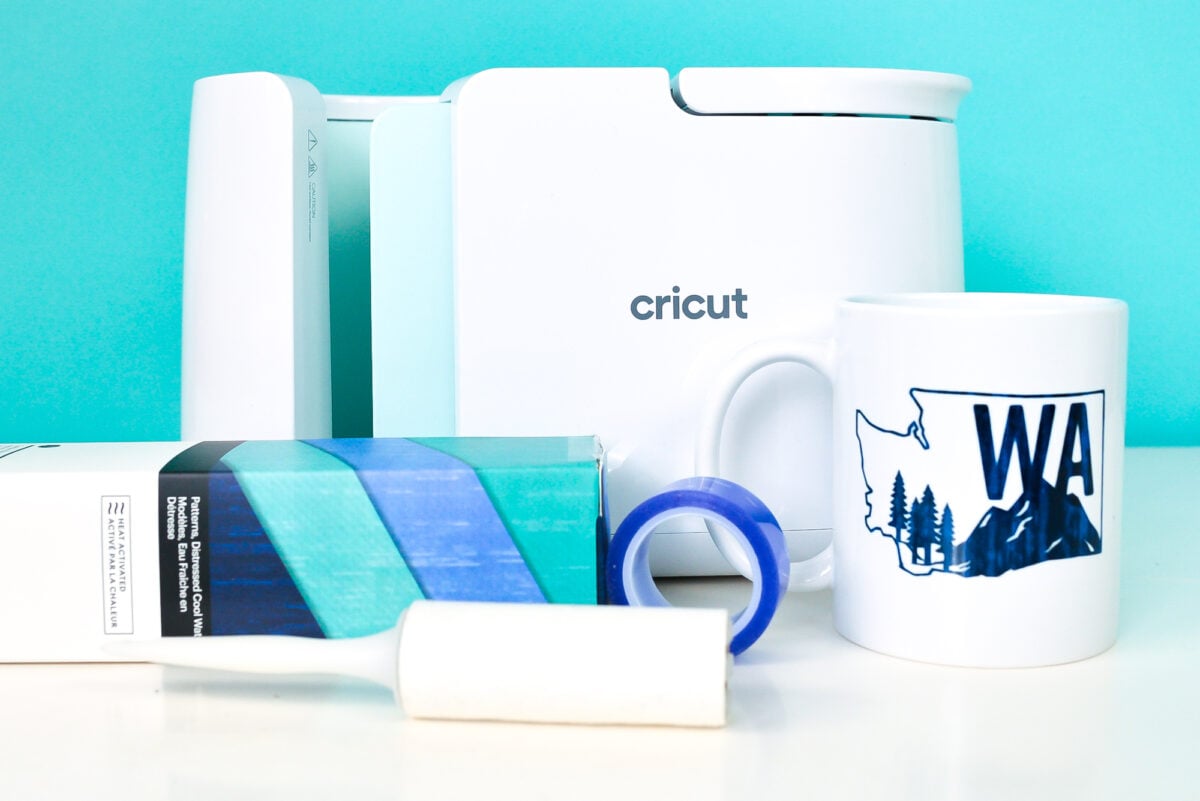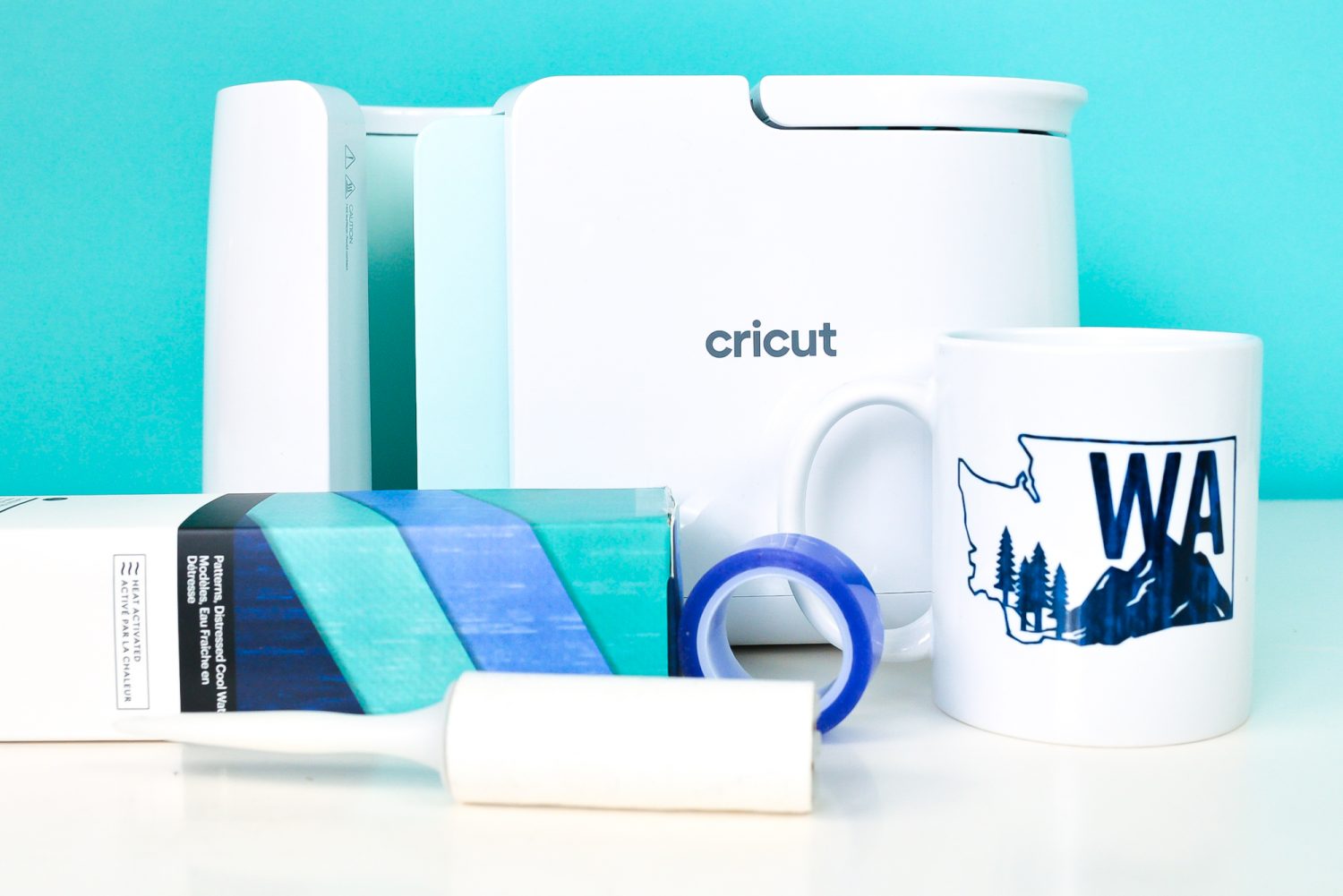 This post is sponsored by JOANN.
Yesterday I shared all about the new Cricut Mug Press—it's Cricut's newest heat press machine and after making a ton of mugs, I'm pretty stoked about it. It's really easy to use and I have yet to mess up a mug. Which is saying something, since I've struggled a bit with Infusible Ink and sublimation in the past!
Today I'm starting a series about using the Cricut Mug Press to make mugs using a variety of techniques. This first post is going to show you how to make a simple two-sided mug, using a single color Infusible Ink transfer sheet and the Cricut Mug Press. This is a great place to get started if you're making a mug for the first time.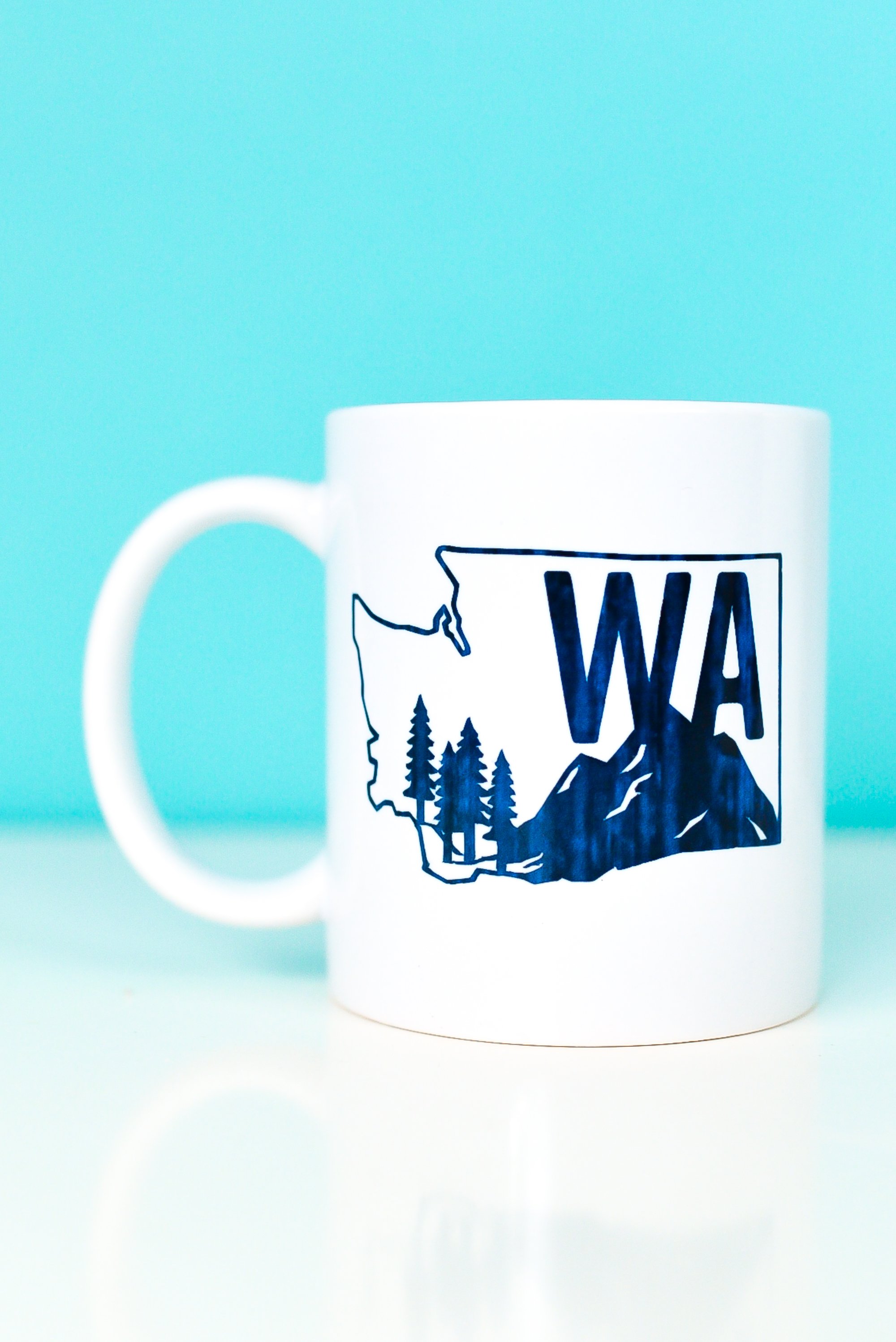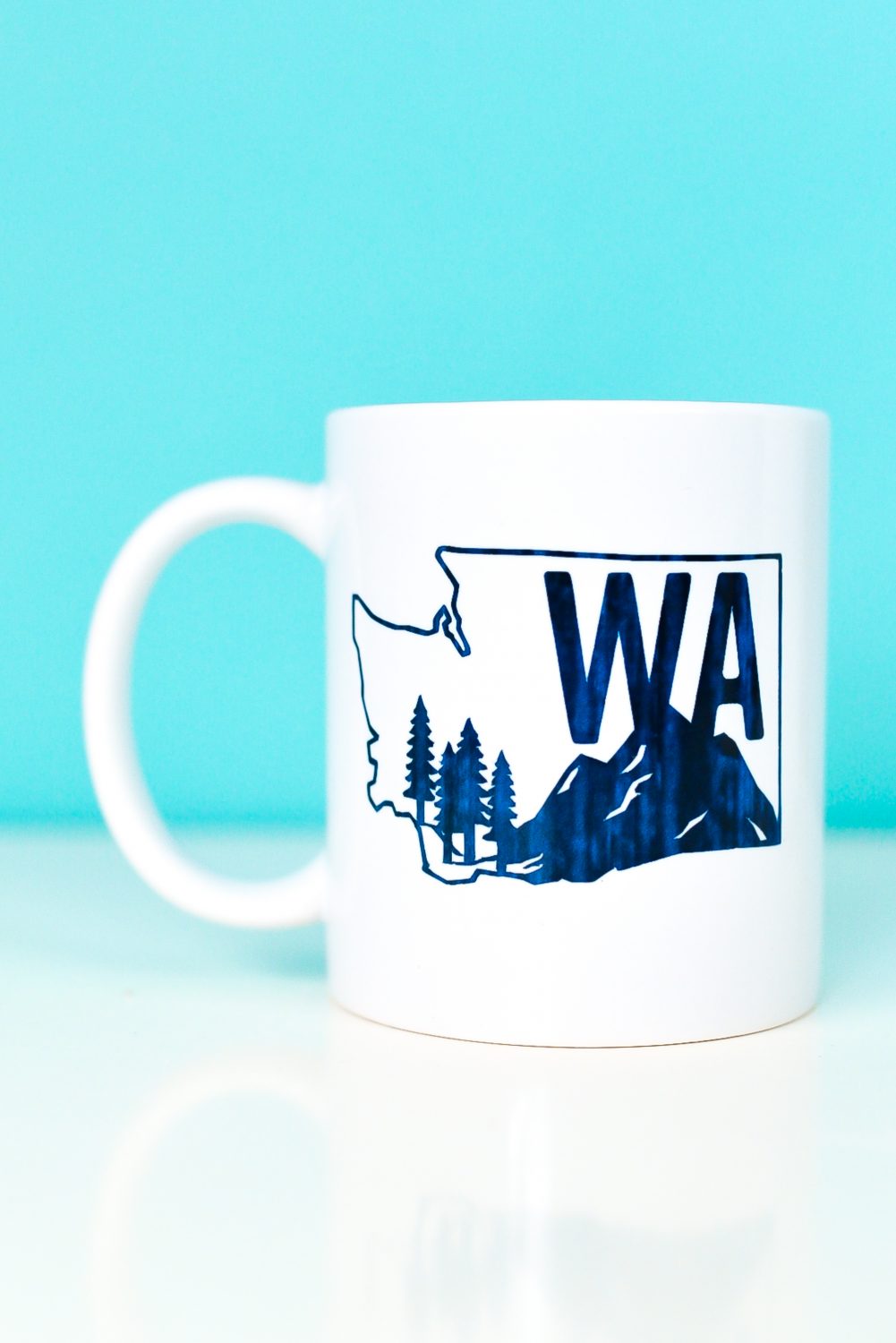 Note that the pattern on the blue on the mug is the Infusible Ink pattern—it's not a solid blue.
A big thank you to my favorite craft store, JOANN, for partnering with me for this post!
[adthrive-in-post-video-player video-id="c48Niilj" upload-date="2022-06-19T23:07:28.000Z" name="Cricut Infusible Ink Projects" description="Make all sorts of fun projects using Cricut Infusible Ink! From coasters to apparel to more, Infusible Ink is an easy way to make washable, wearable items with your Cricut!" player-type="static"]
You can check out all of the posts in my Cricut Mug series here (this list is updated as more posts are added):
Stop pulling your hair out and start creating confidently with your Cricut! Finally understand how to use your Cricut with my Learn Your Cricut eBooks!
Infusible Ink Mug Supplies
Infusible Ink Mug Directions
Before you start, press the button on your Cricut Mug Press so it starts heating up (you'll see the orange light). If you haven't connected your press yet, grab all the instructions in my The Ultimate Guide to the Cricut Mug Press!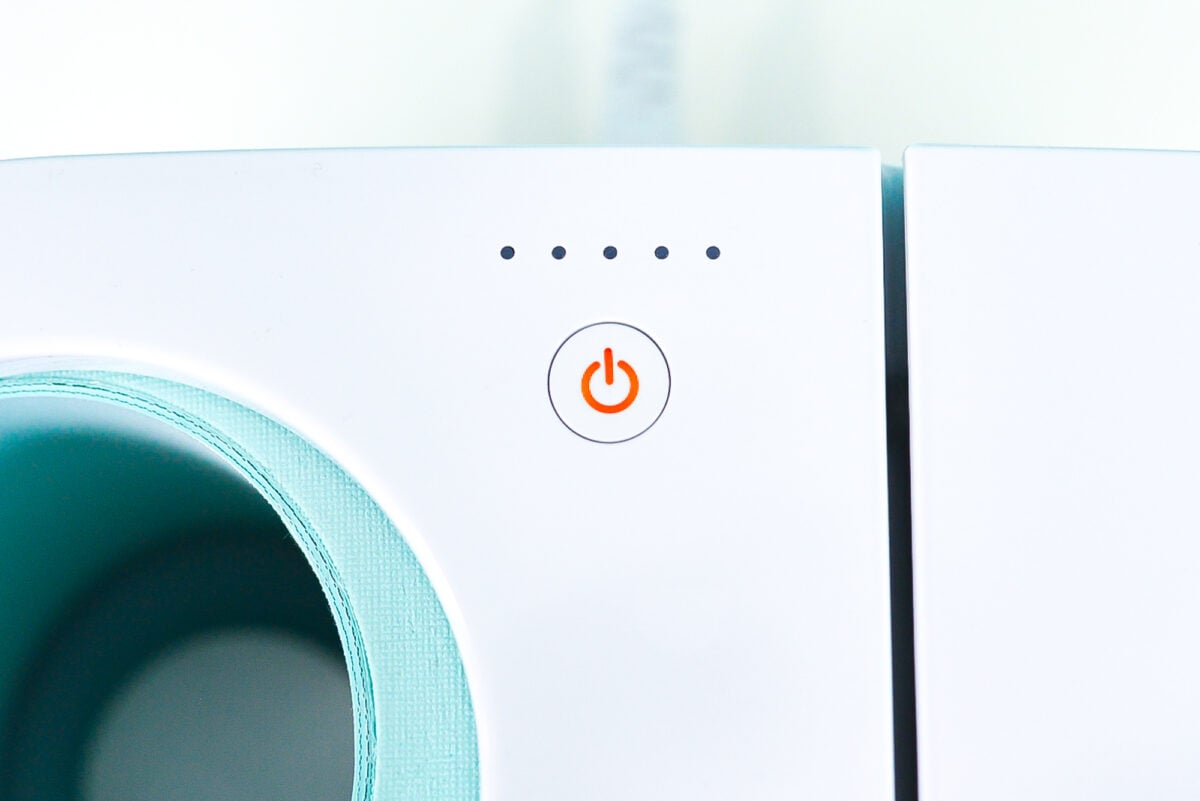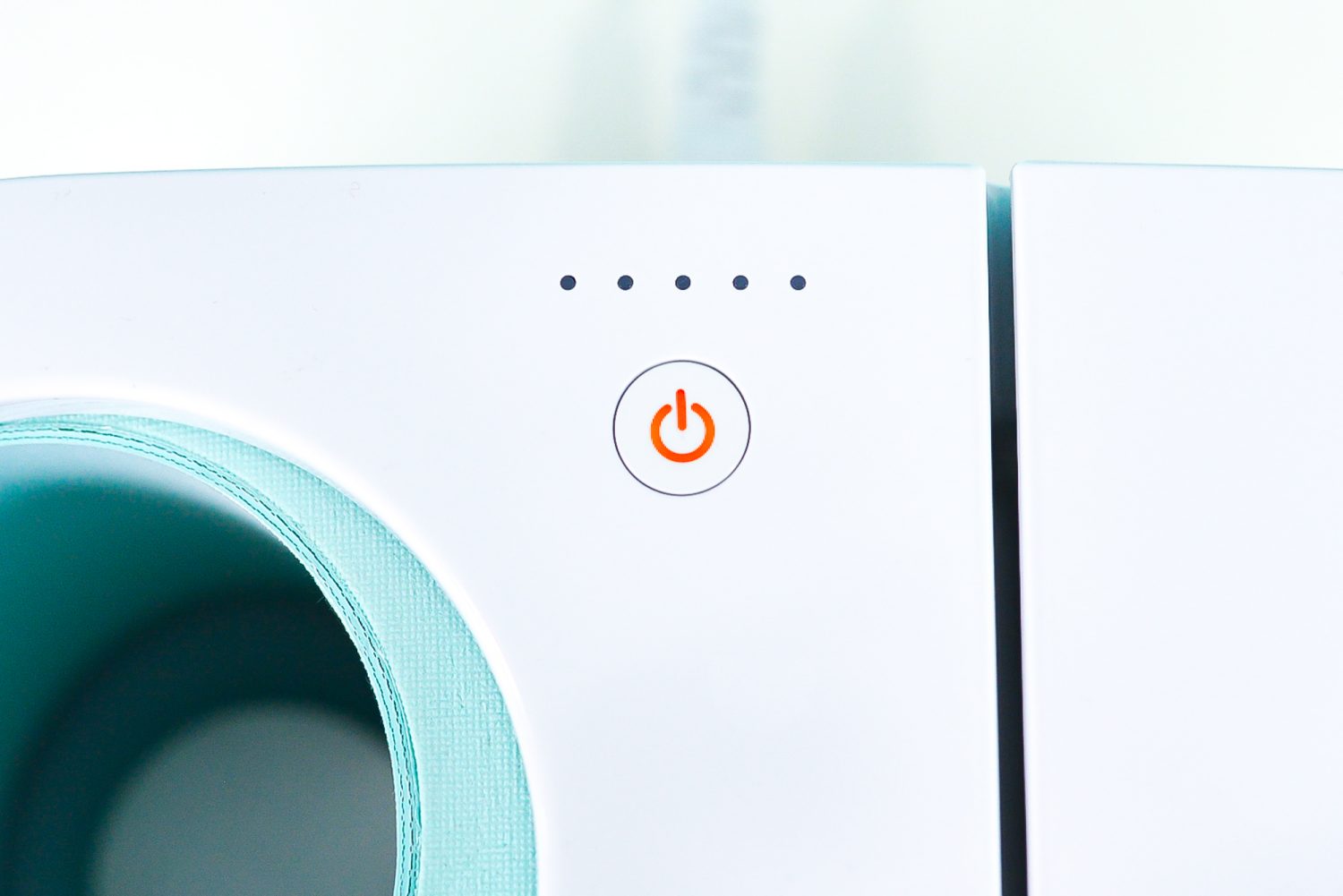 Set up the file in Cricut Design Space
Create your design in Cricut Design Space. I've been embracing our new life here in the Pacific Northwest, so I am making a Washington mug from an image in Cricut Design Space. You, of course, can pick whatever image in Cricut Design Space you'd like, as long as it's a single-layer cut image.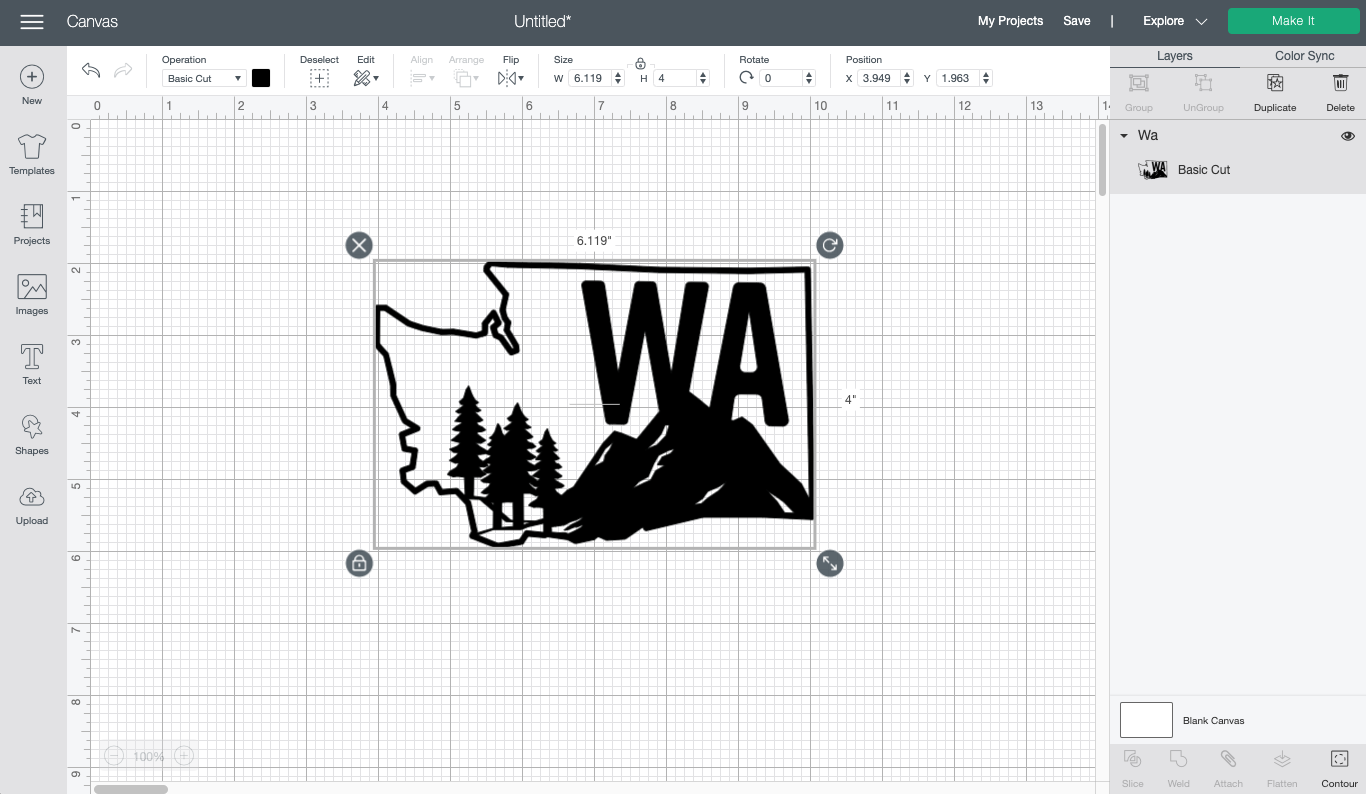 Then resize your image to fit on the mug. I am making the smaller 12oz mug, so I resized it to be 2″ tall and about 3″ wide. I also duplicated it because I want to put the image on both sides of my mug.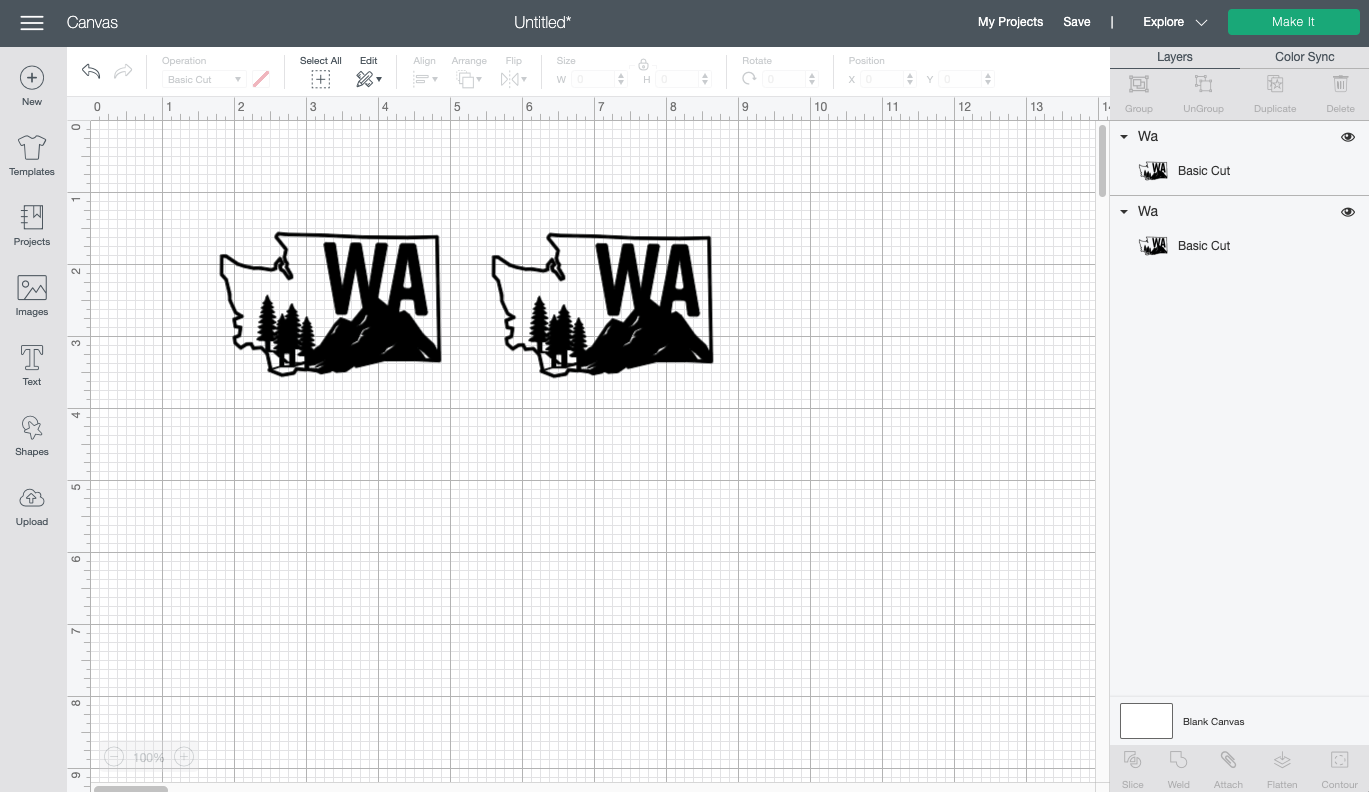 You can then recolor the image if you'd like to get an idea of the final image. I went with a darker blue, similar to the Infusible Ink I chose for this mug.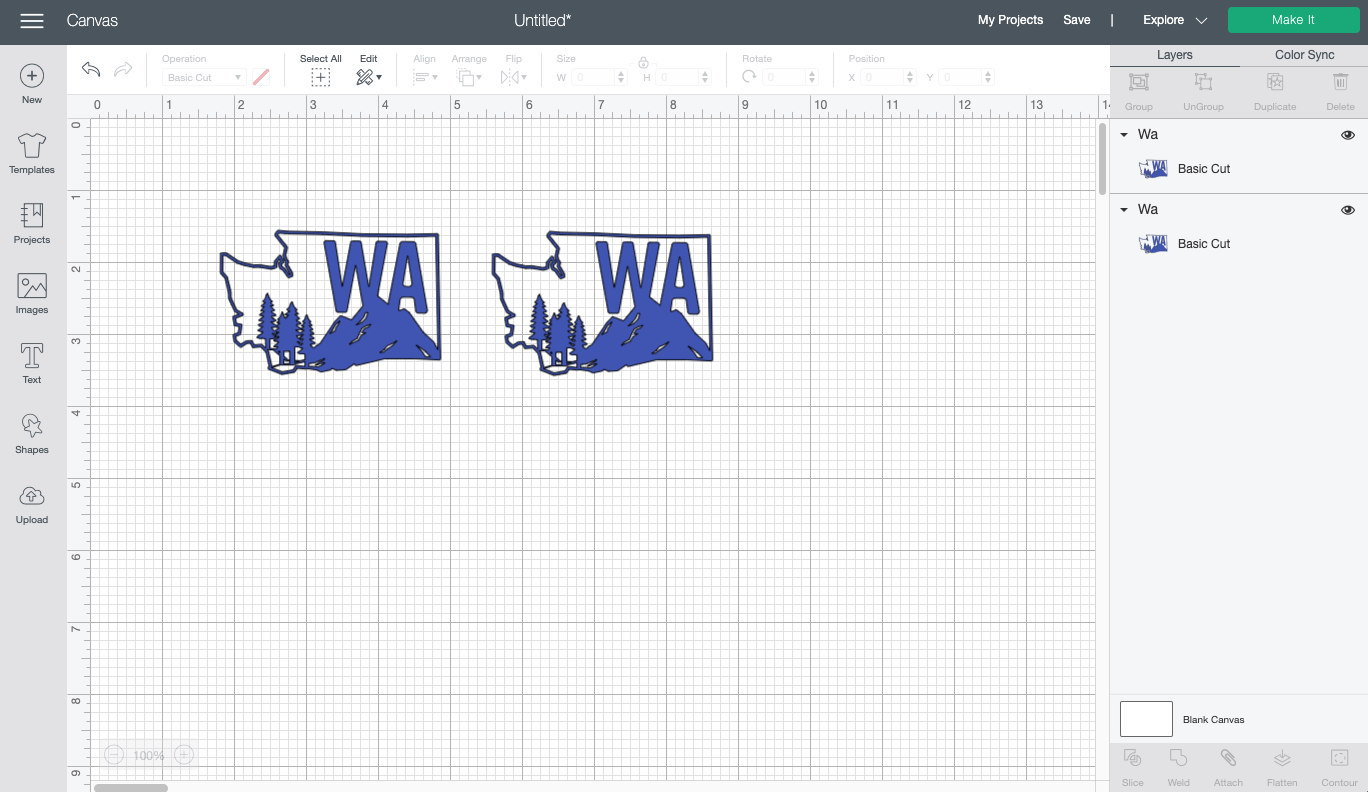 Once you have your file how you'd like it, click Make It in the upper right. On the Prepare Screen, click Mirror to reverse your image. You MUST do this or your image will be backward on your mug!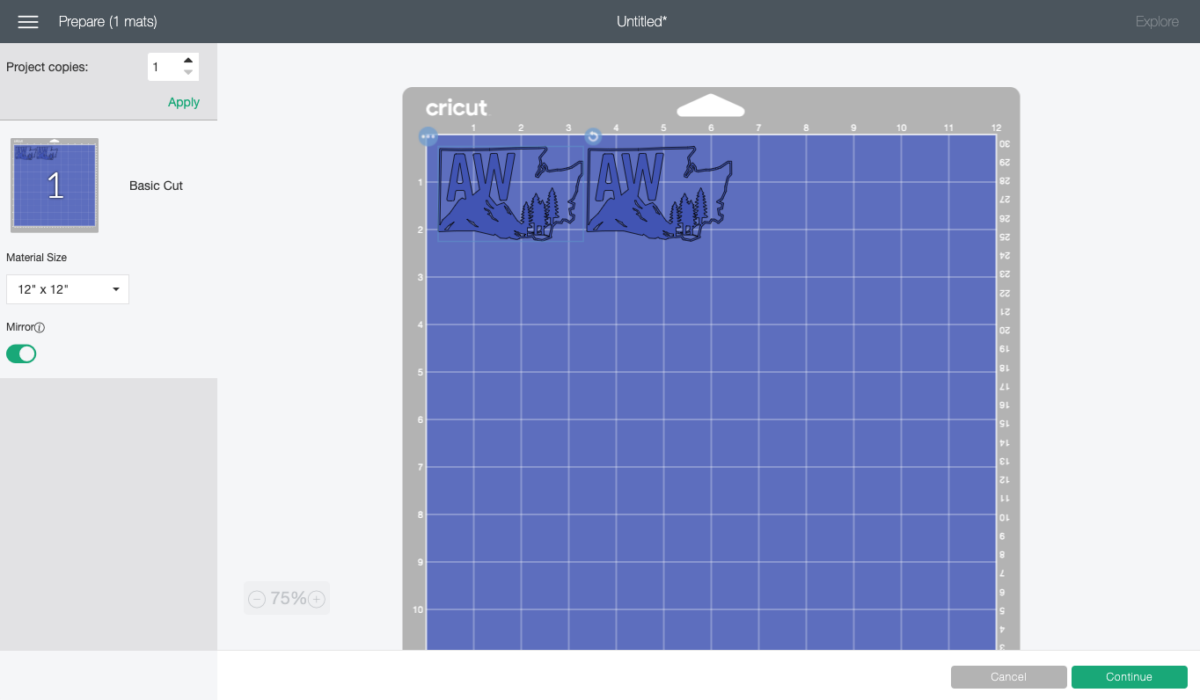 Then click Continue. In the Make Screen, set your material to Infusible Ink Transfer Sheets and you're ready to cut your project.
Cut and weed the Infusible Ink
Place your Infusible Ink transfer sheet on a Cricut mat, with the ink/color side up. The transfer sheet is never as bright or vibrant as it looks on the finished project, so don't worry! I find a brayer works well for getting the transfer sheet flat on the mat.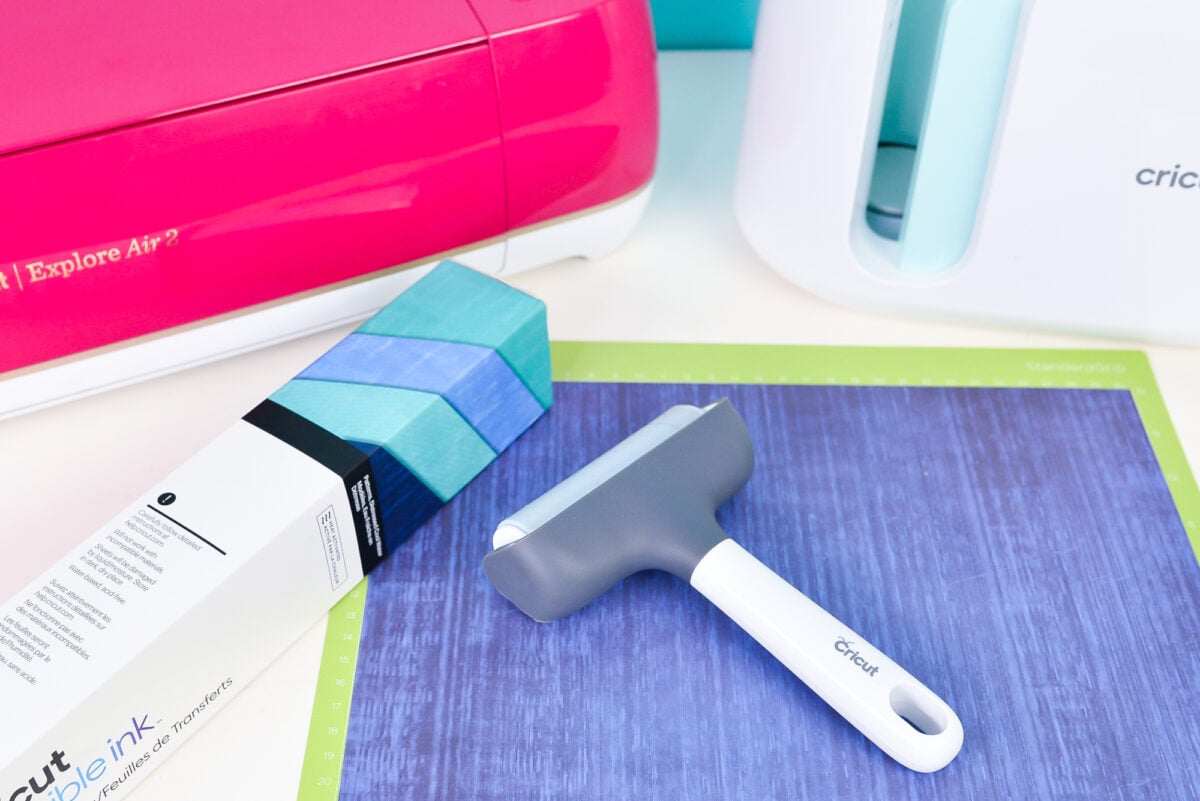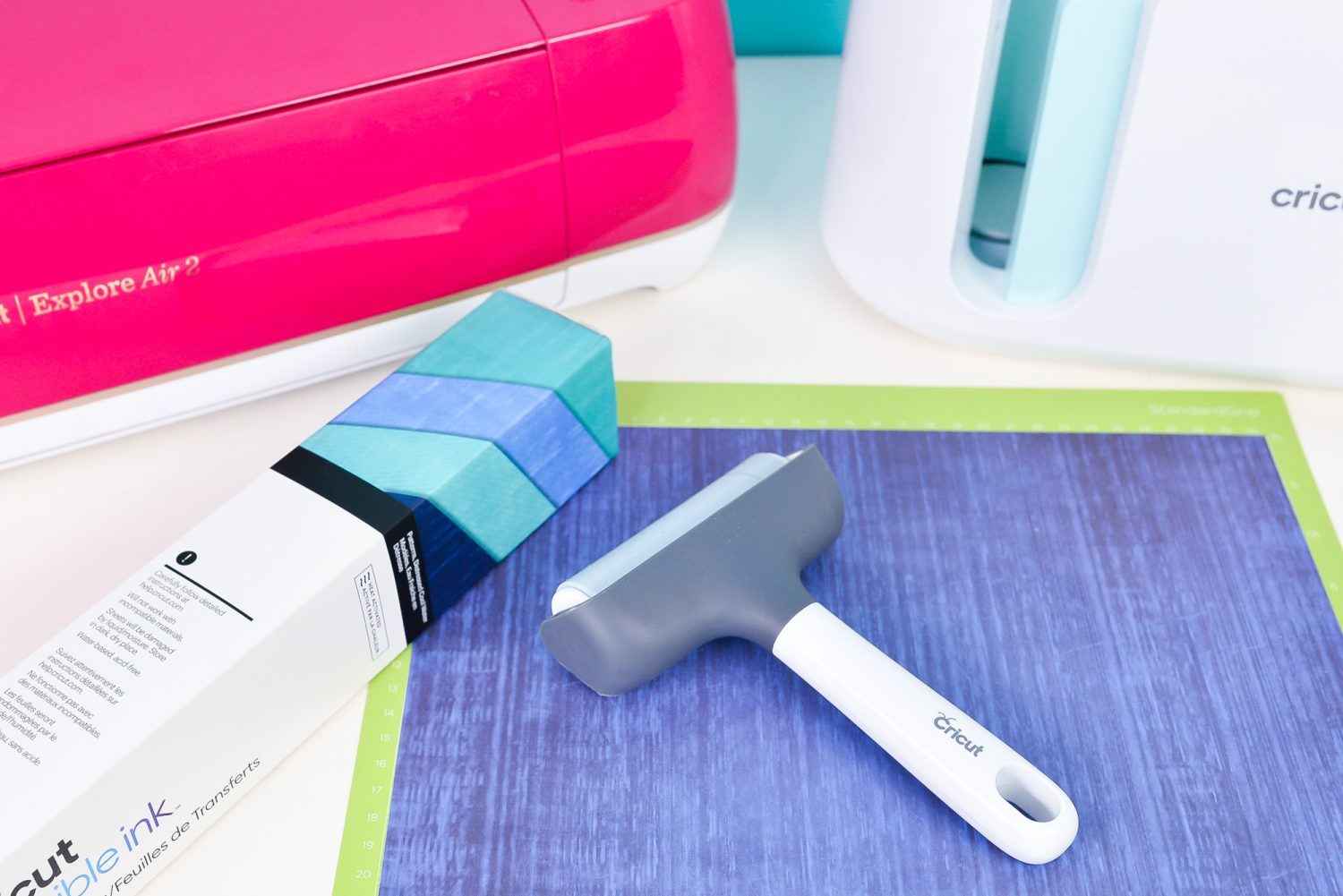 Then insert your mat into your Cricut and it will cut your design!
Next you're going to weed your Infusible Ink. To do this, you don't need a weeding hook—just use your hands (wash and dry your hands before you do this to remove any oils that can get in the way of a perfect press). Bend the backing sheet and just pull off the negative material you don't want to transfer on your mug.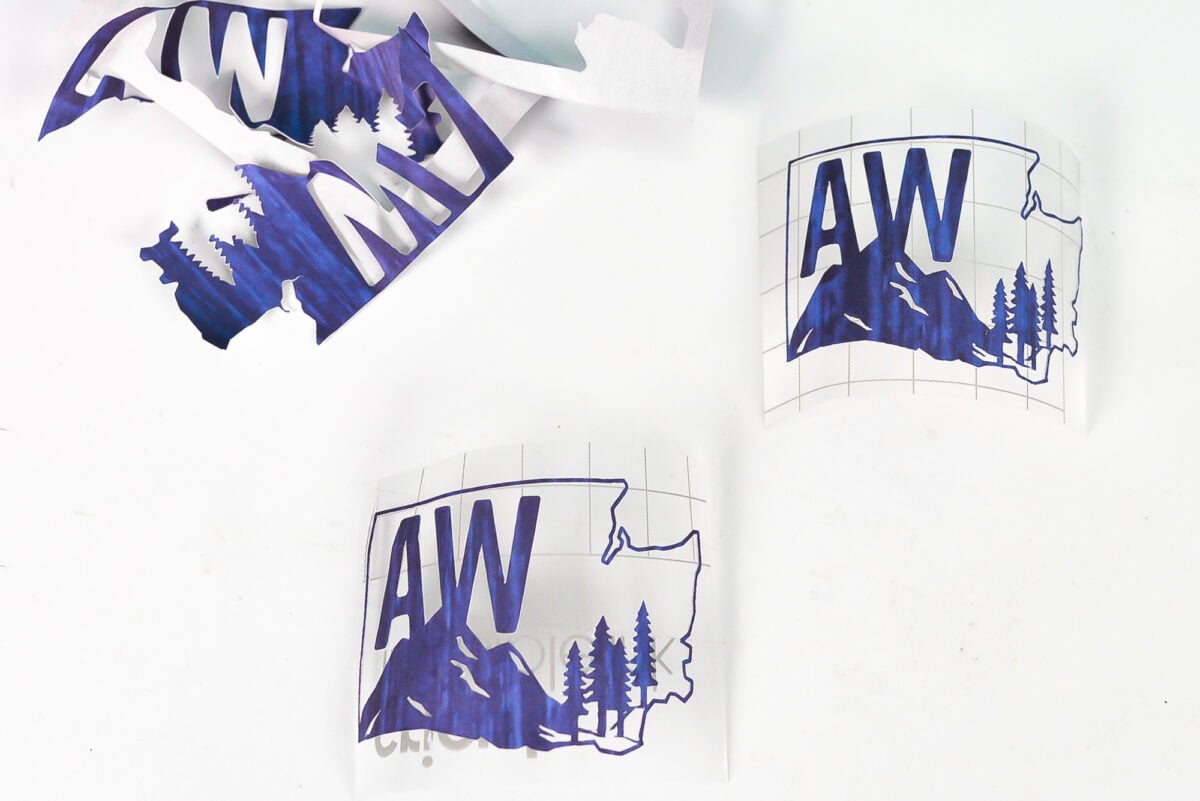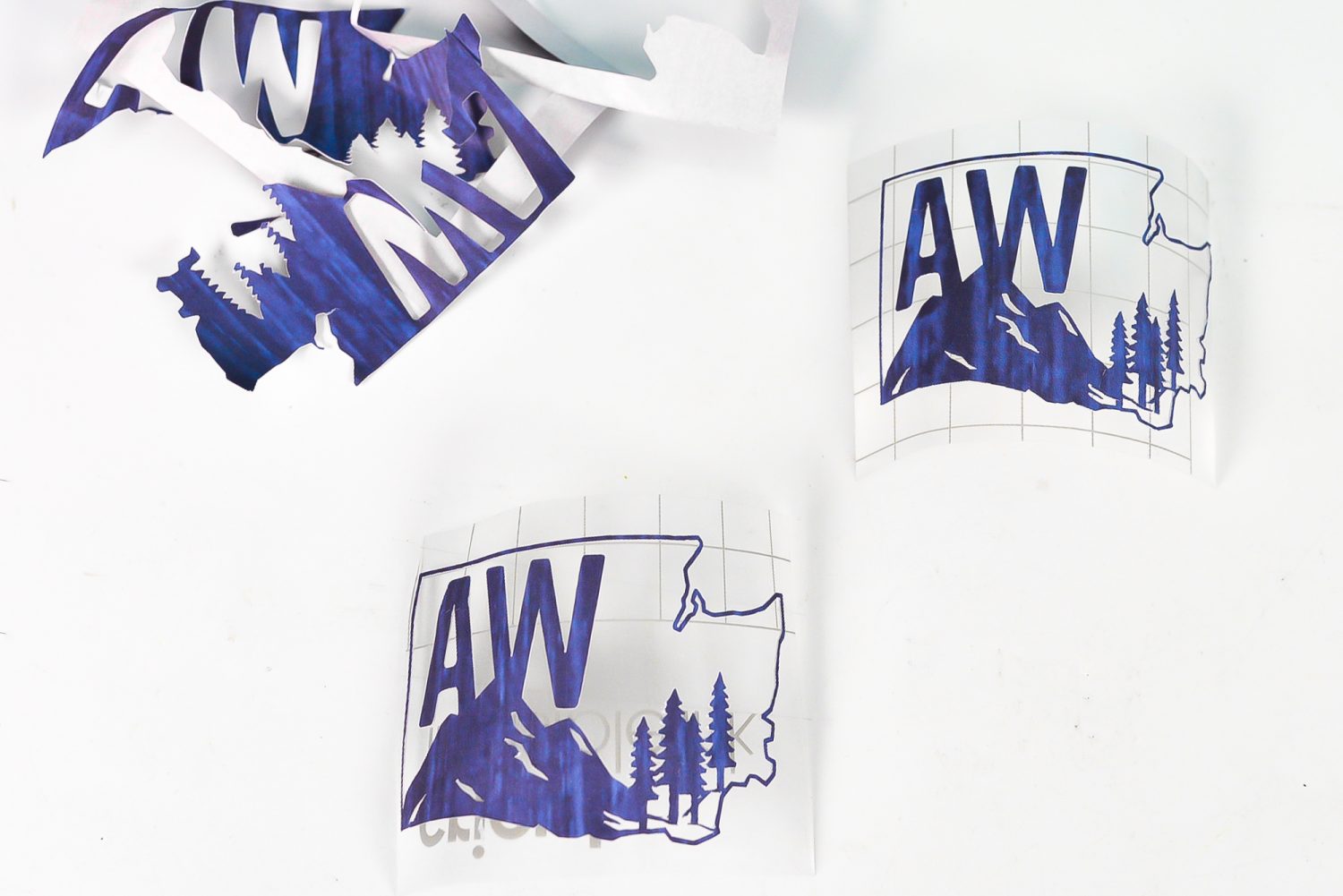 Place the Infusible Ink transfers on the mug
Once you're done, you need to clean your mug. Cricut recommends a lint roller. I actually found my lint roller paper stuck to the mug (not always, but enough that I grumbled about it), so I tried wiping the mug down with alcohol instead and that worked fine too.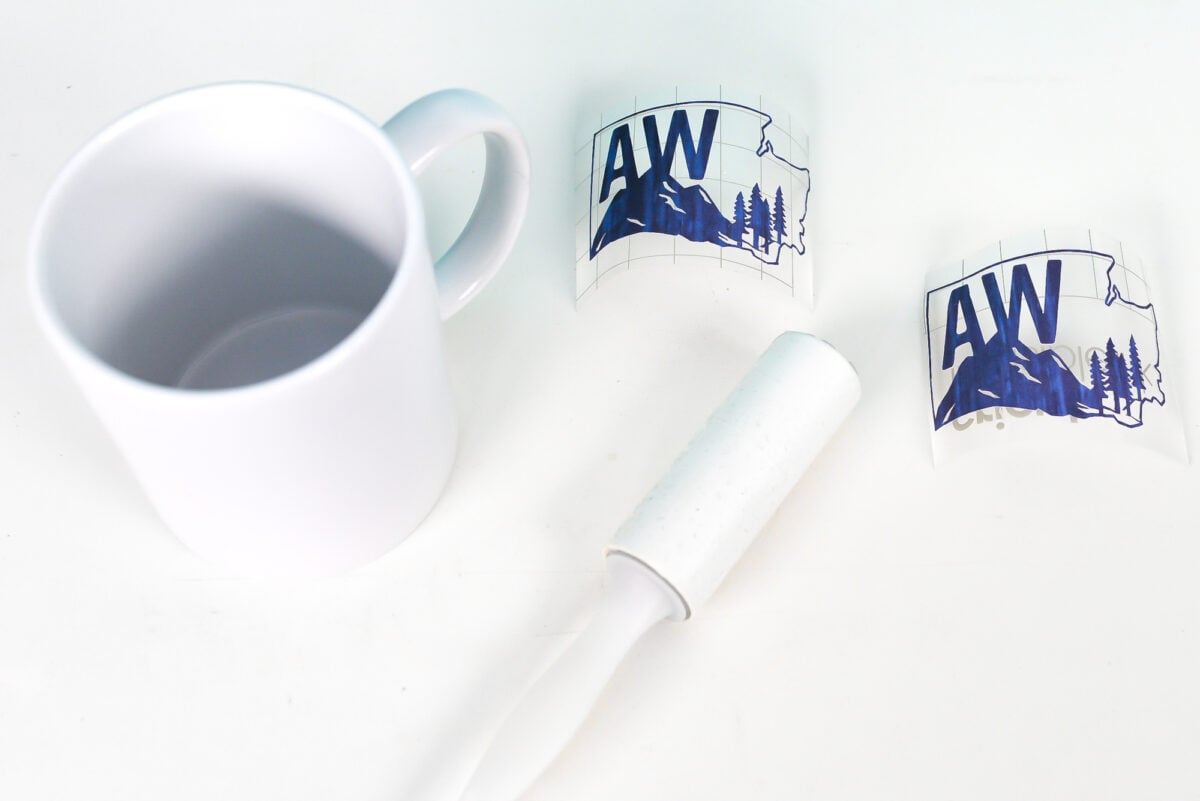 Now you want to place your image on each side of the mug. But how do you get it straight? My friend Angie suggests using a piece of tape across the top of the mug. If you're looking straight down, you can place the tape perpendicular to the handle.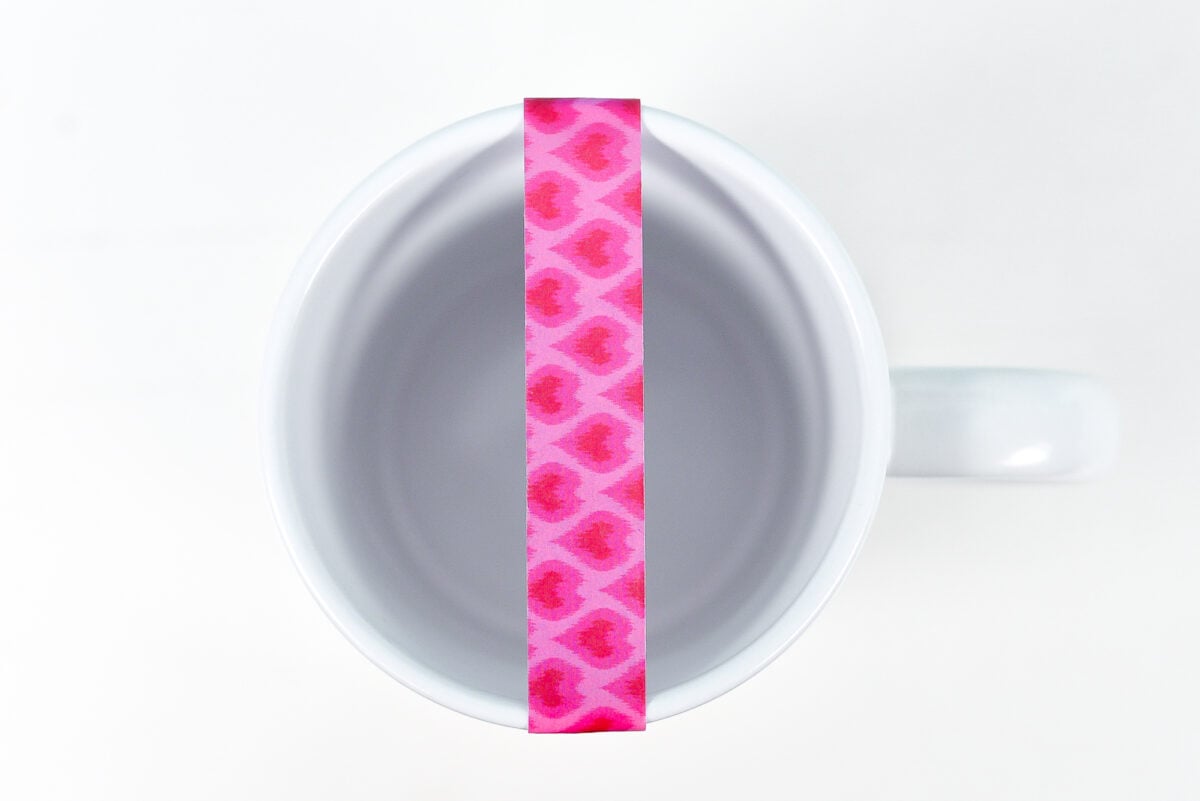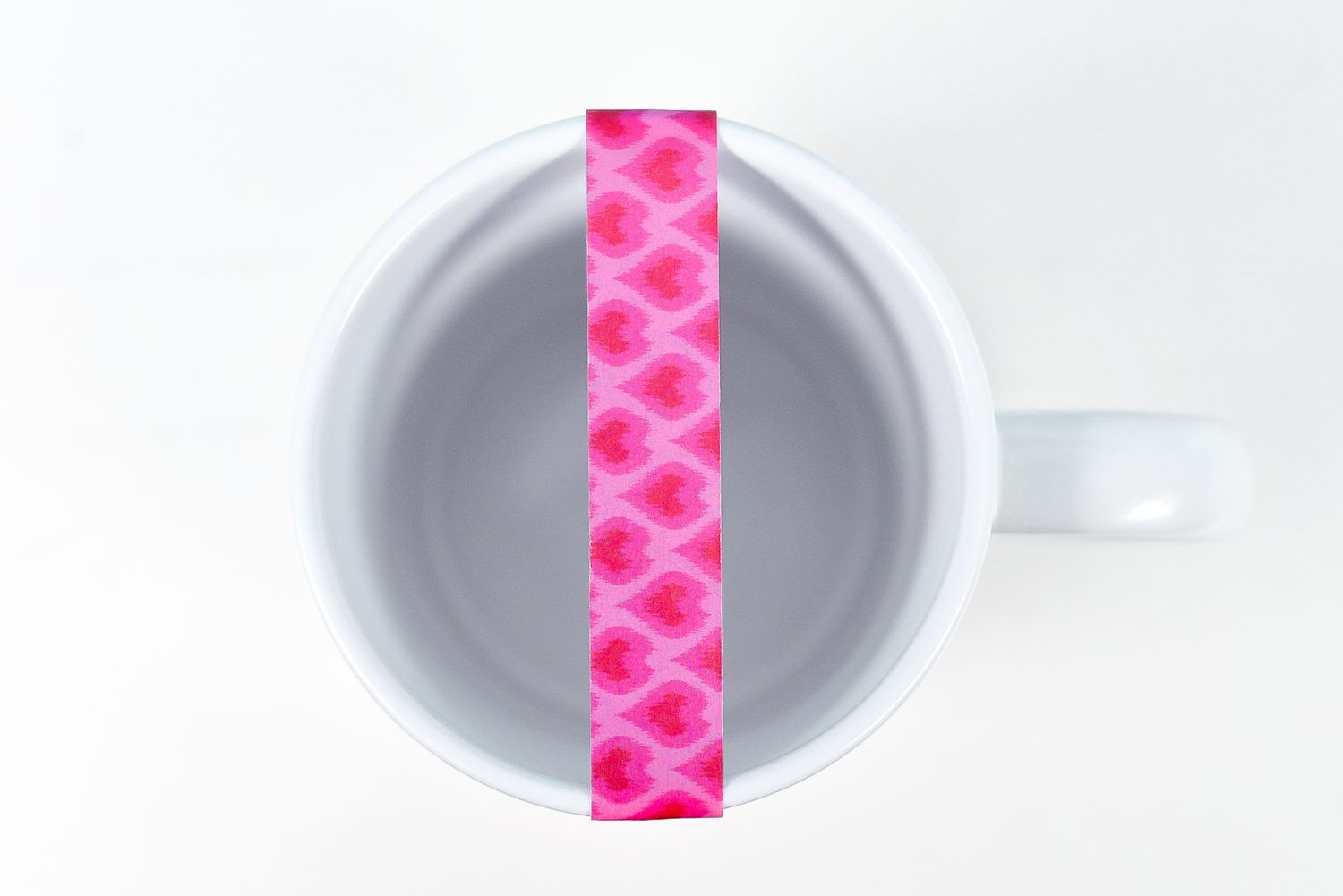 That way, when you go to place your decals on each side, you can use the tape to center them. You can also use a ruler to make sure the decal is the same distance from the bottom of the mug on both sides.
Then remove the tape. Next you'll want to add heat resistant tape on all four sides of your image, to make sure it doesn't shift in the press.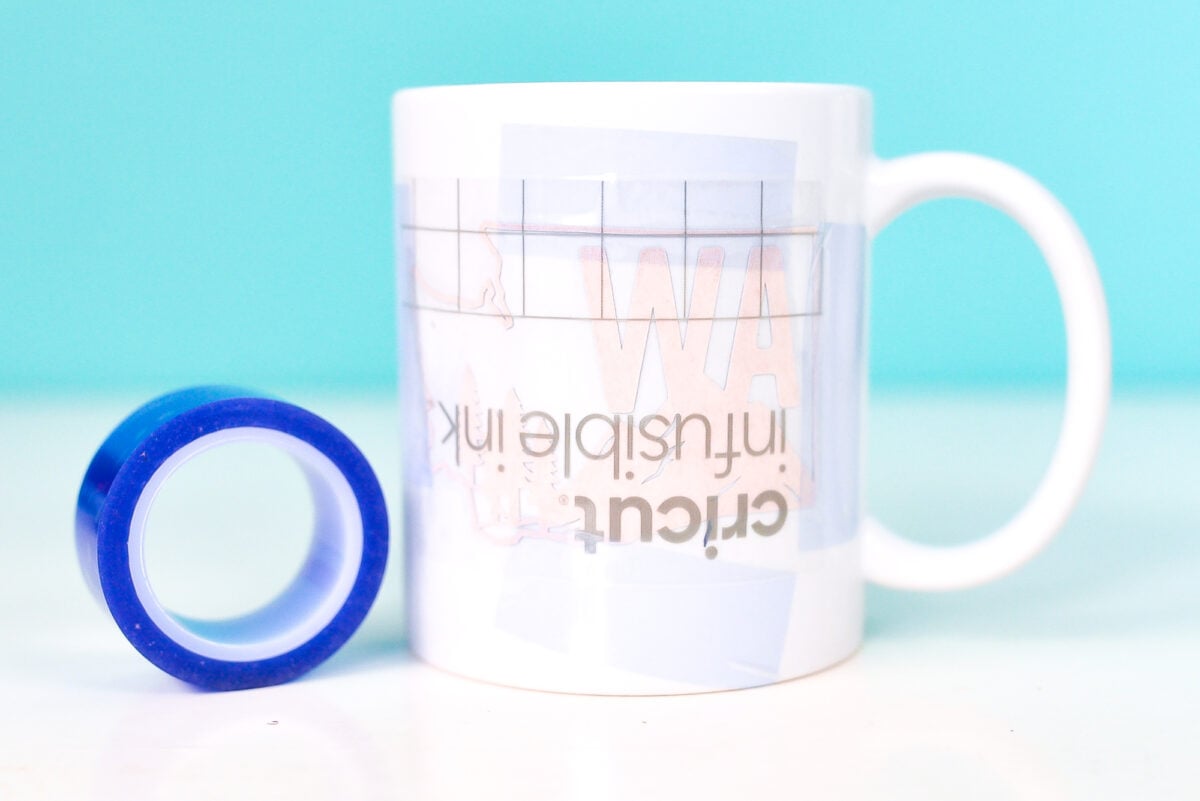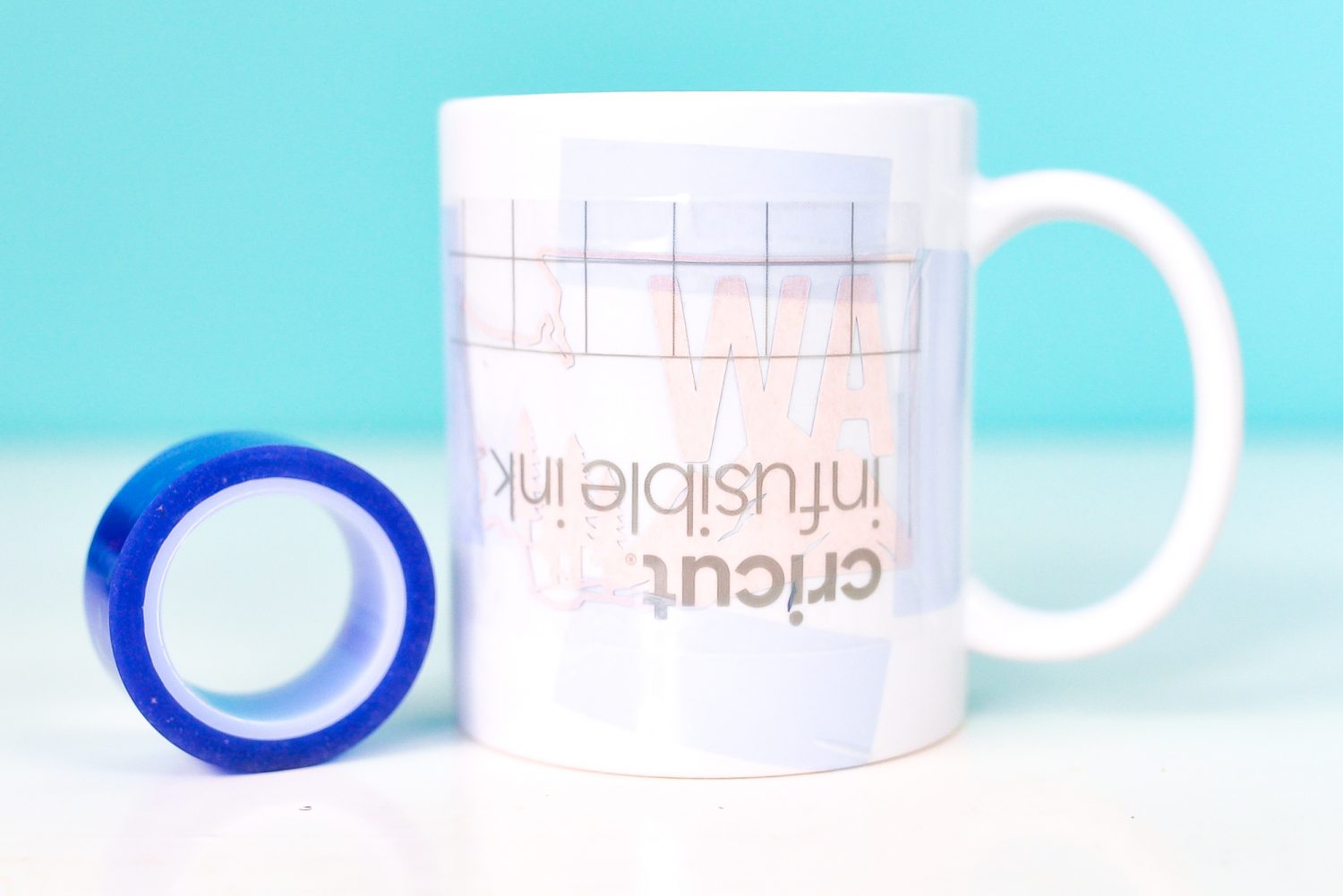 Press your mug
By now, your Cricut Mug Press should be hot. Carefully insert the mug into the cylinder (you can wear heat resistant gloves if you'd like), and press the lever closed. That's it! The press will sublimate your image onto the mug.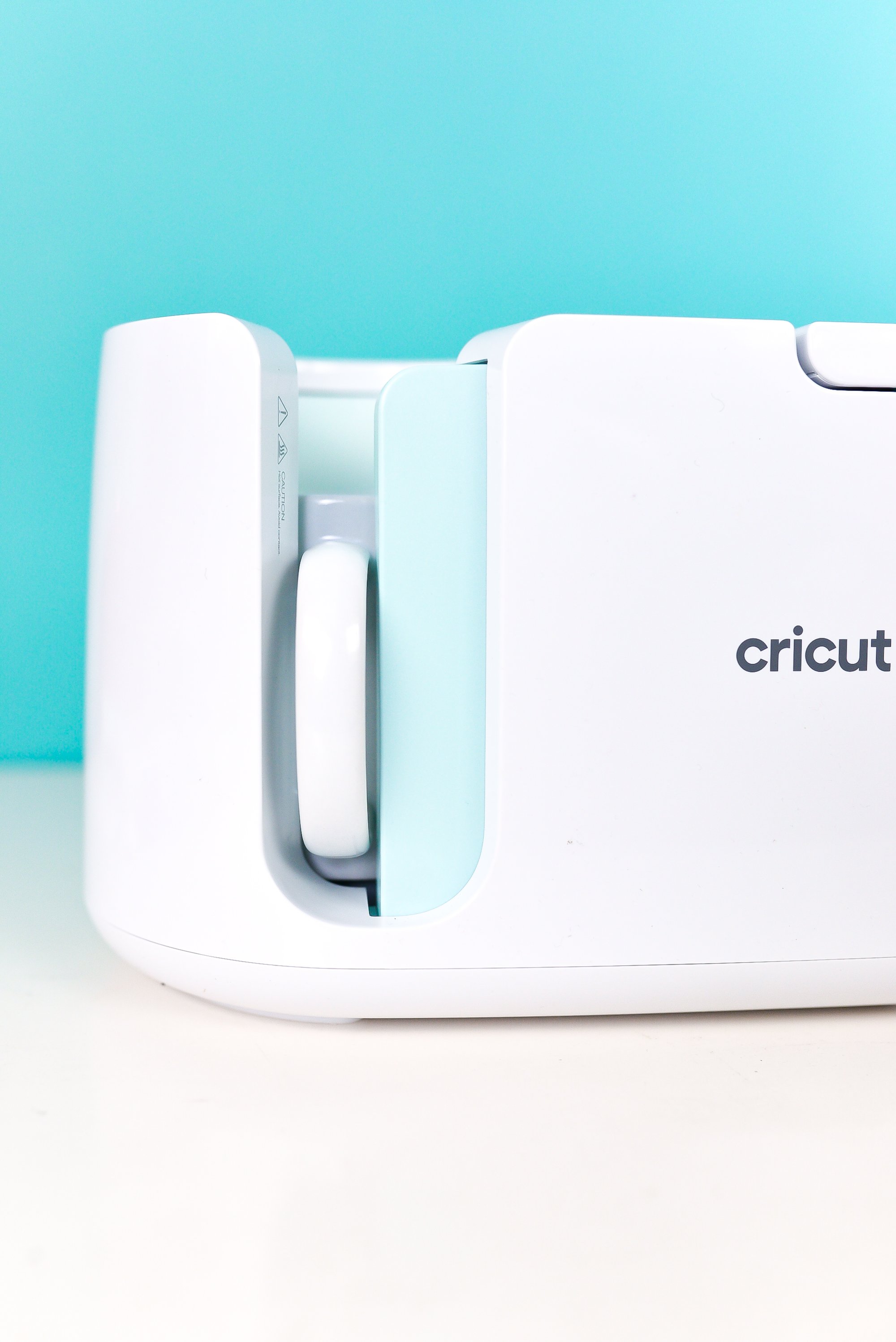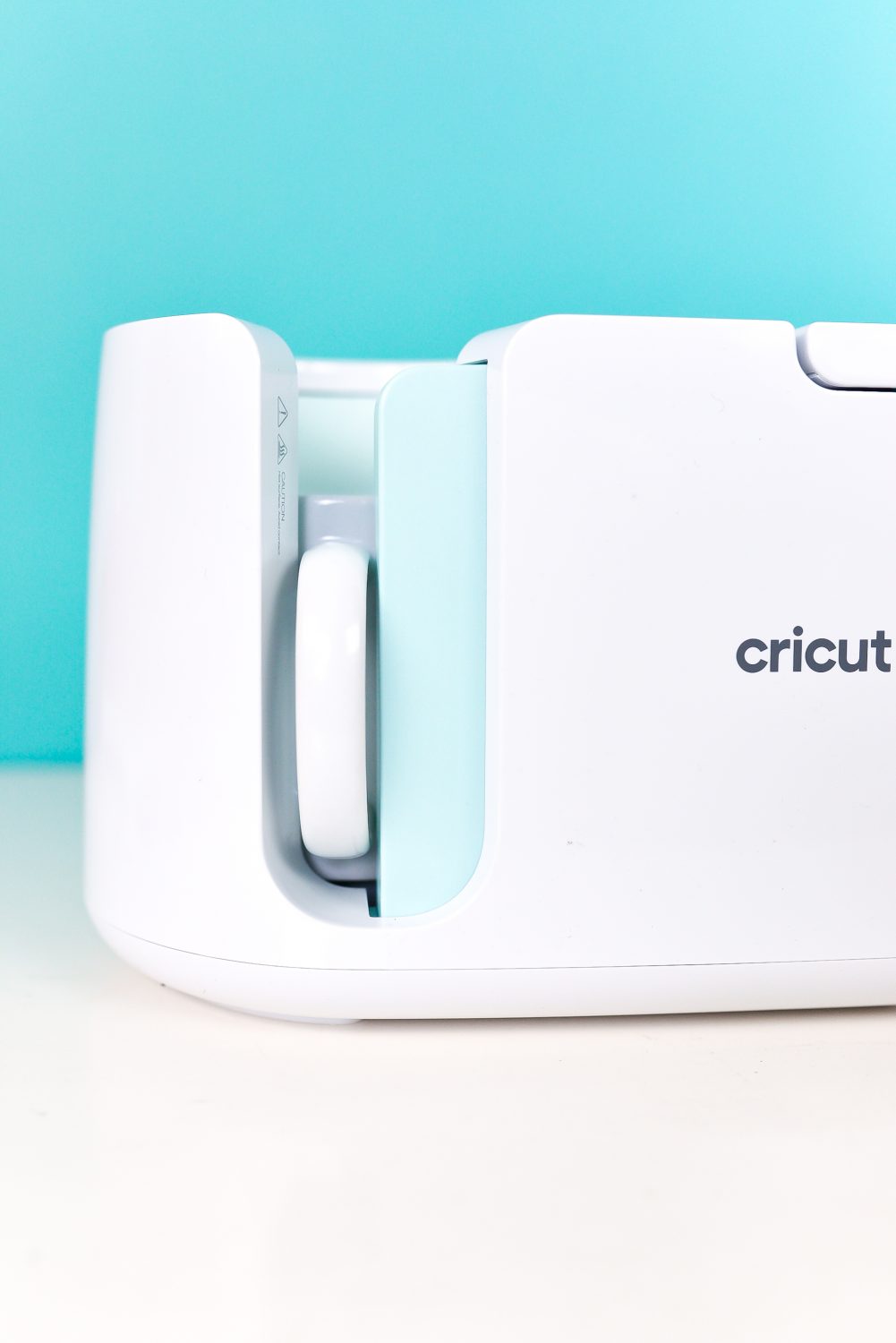 Pressing time varies, so keep an eye on the progress light on the top of the machine, it will beep when it's all done.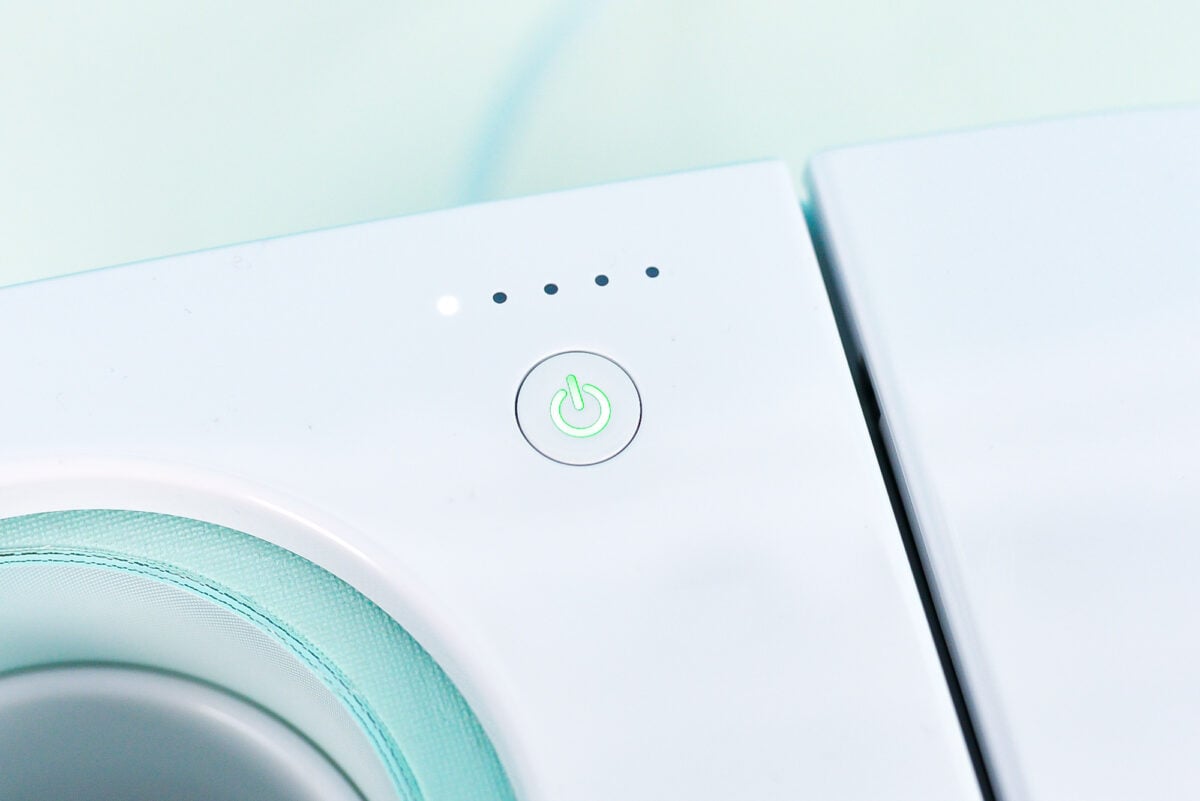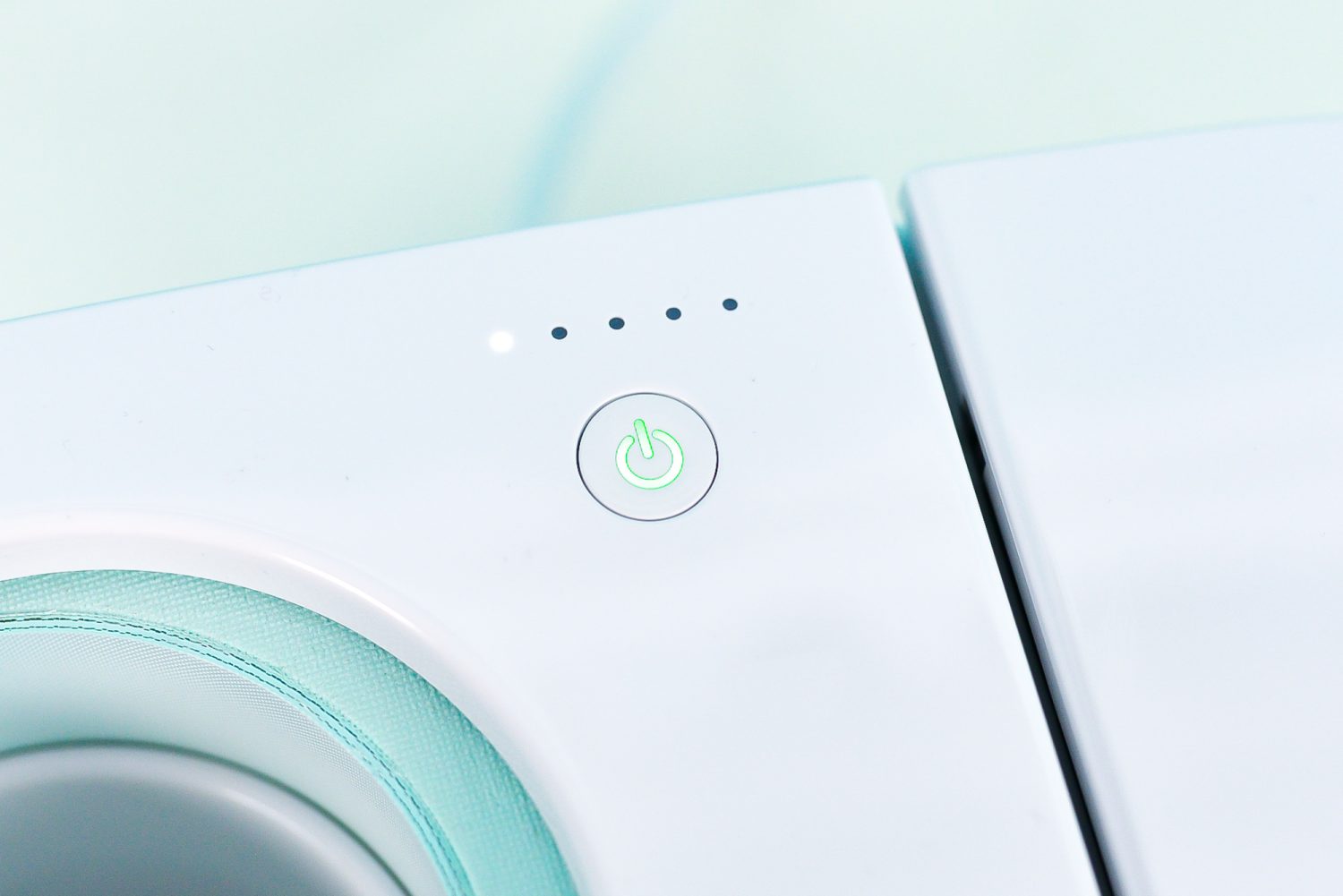 Just lift the lever and pull out your mug. Set it on a heat-resistant surface (the EasyPress mat works well for this) and let it cool. It takes a long while to cool—15 to 20 minutes, and even then it will still probably be a bit warm.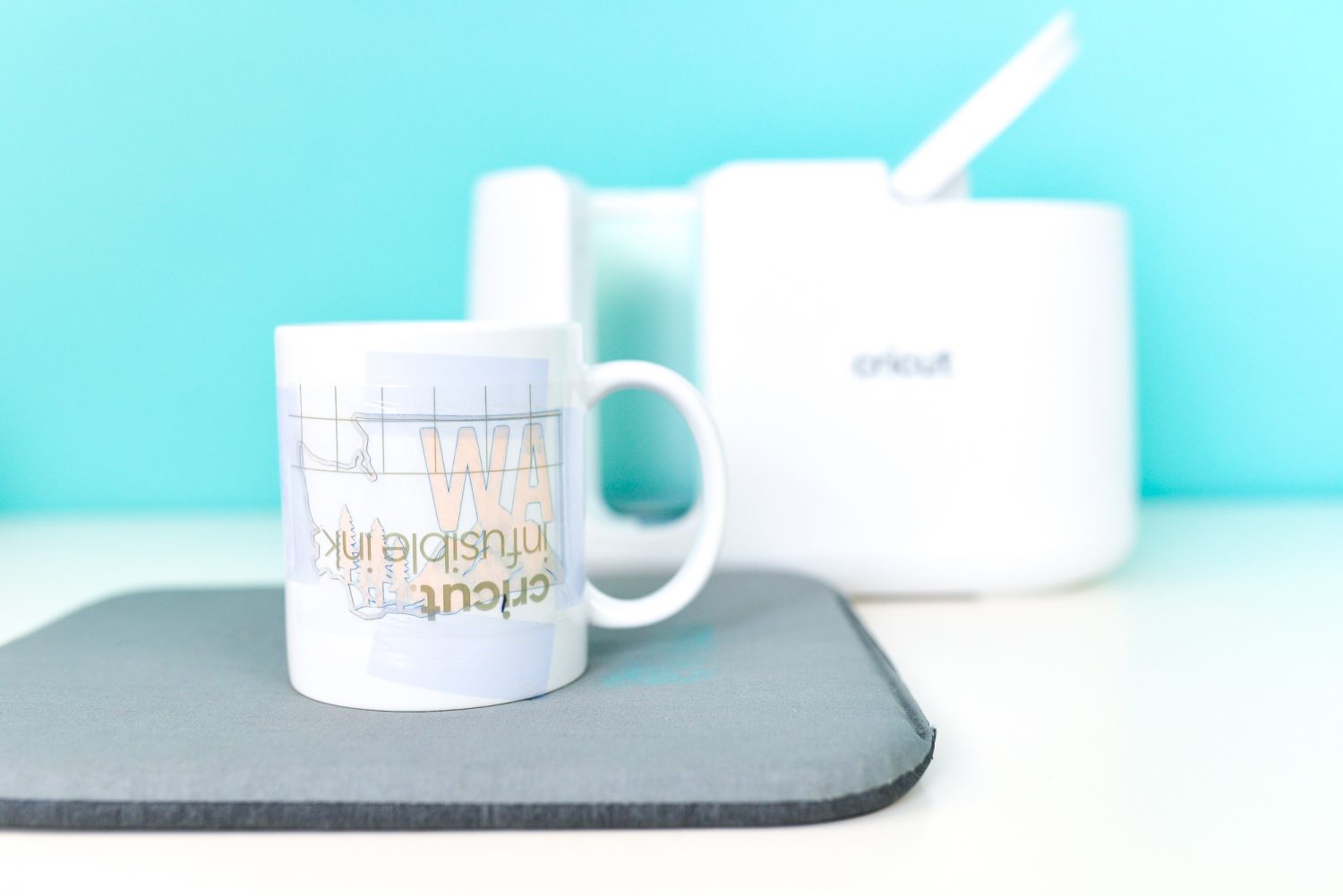 Once it's cool, peel off the tape and the Infusible Ink layer to reveal a perfectly sublimated image!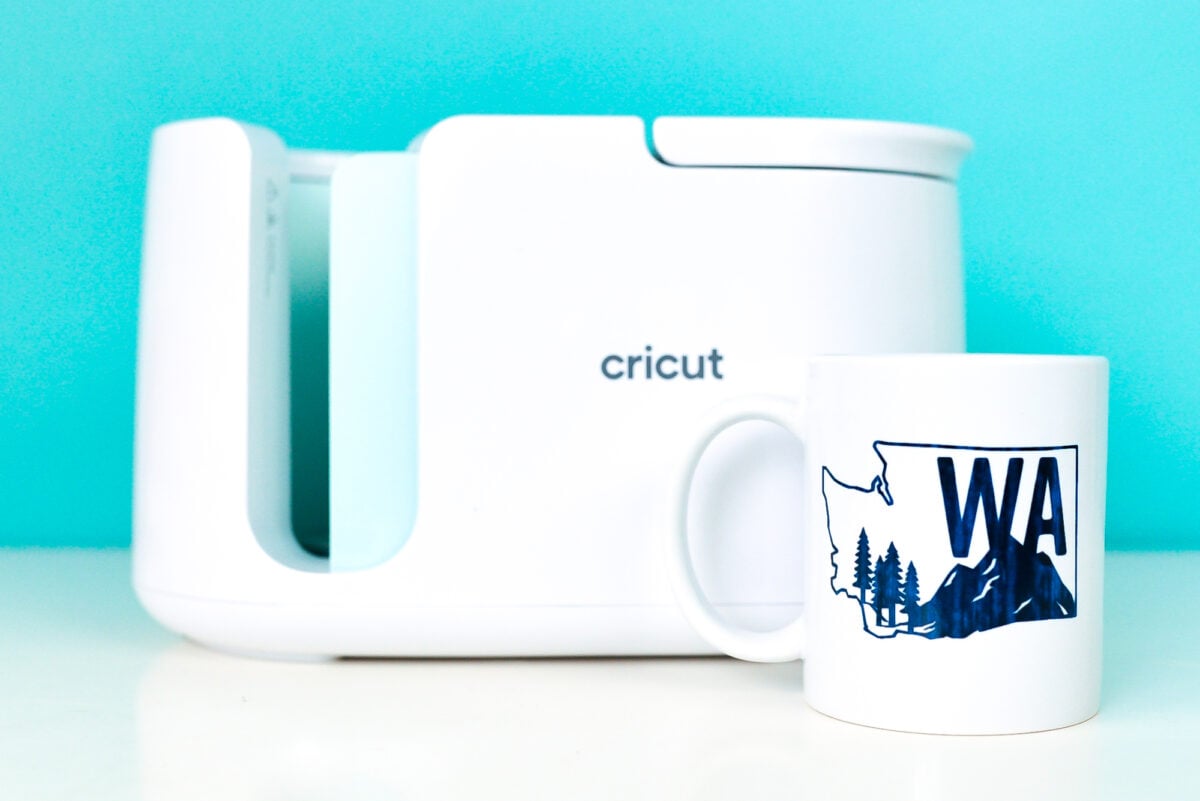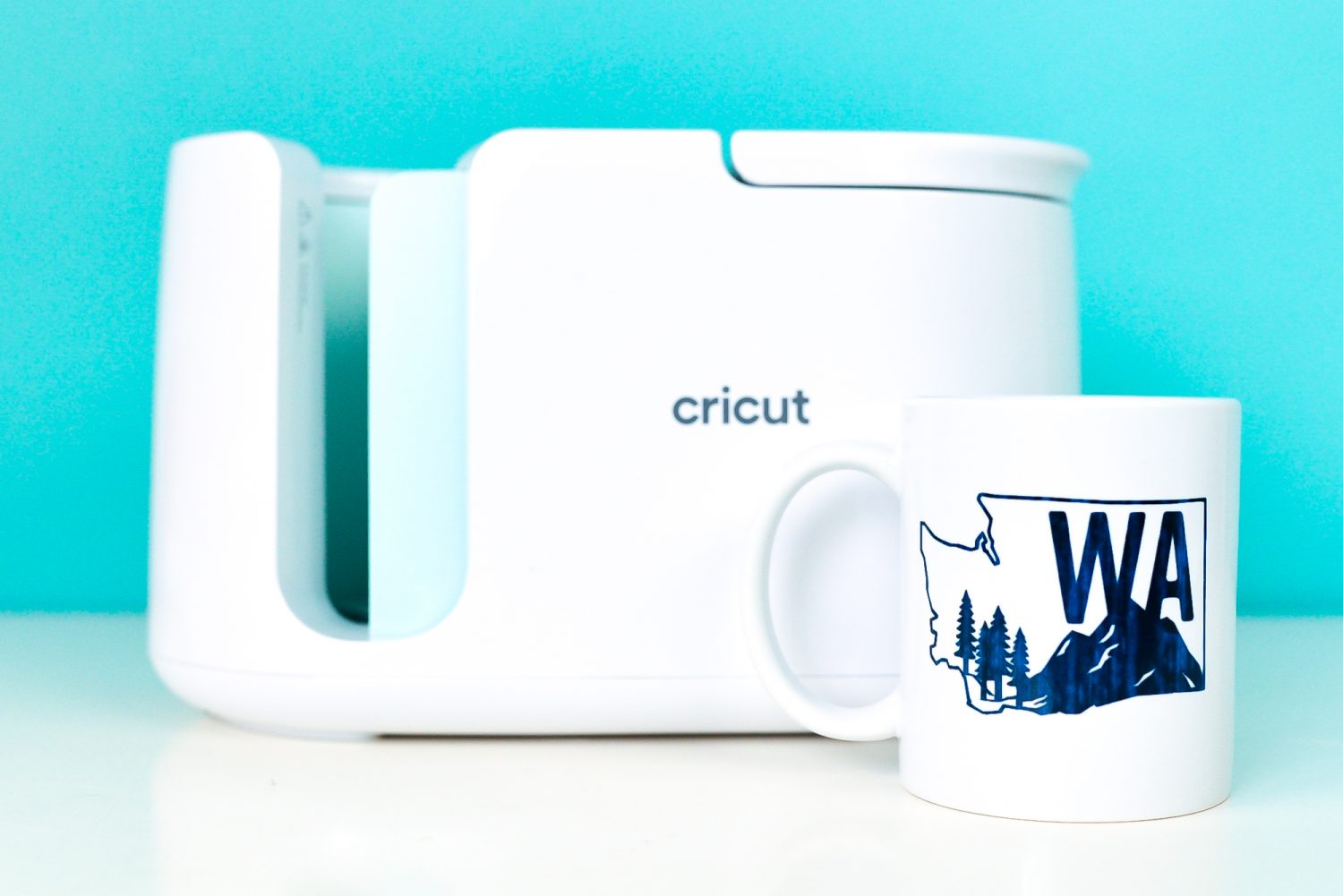 If you have any questions about the Cricut Mug Press, Infusible Ink, or anything else in this post, I'd be happy to answer them in the comments!