Test your knowledge of all things New Year's Eve with this free printable New Year's Eve Trivia! The perfect New Year's Eve game to play as the hours tick away until midnight. Show off your NYE smarts or learn something new!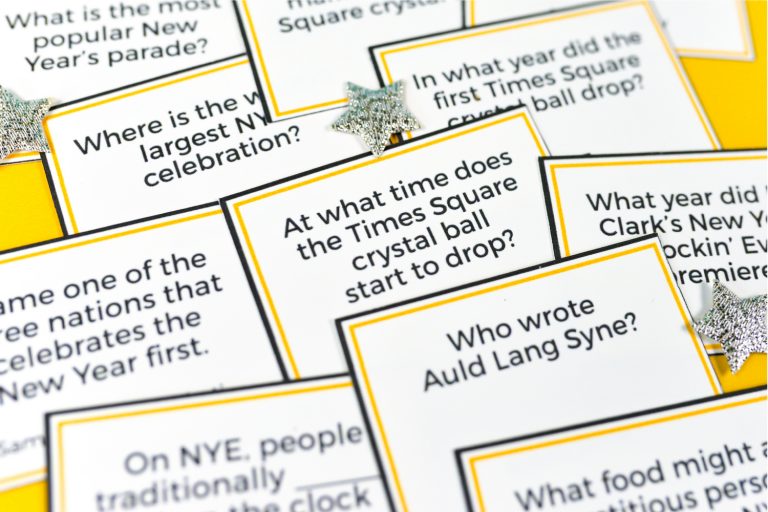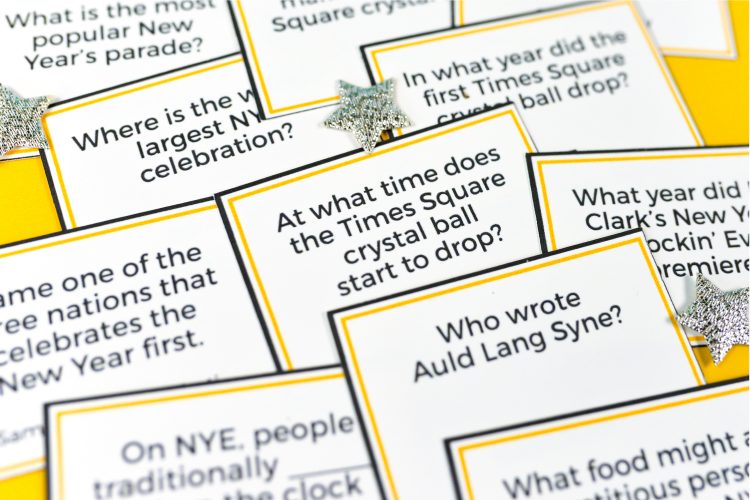 What do you know about New Year's Eve celebrations? This free printable New Year's Eve trivia game gives you 20 fun NYE facts! Some things you might know (where in New York City does the crystal ball drop?) and some are much harder (who wrote Auld Lang Syne?).
You're sure to have a ton of fun and learn something new answering these New Year's trivia questions with your significant other, coworkers, family members, and friends as you count down to January 1st! It's also a fun game to play on New Year's Day when you're enjoying your lucky black eyed peas!
Print out a set for a New Year's Eve party and turn them into a drinking game—with champagne of course! The perfect way to pass the time until the ball drops in Times Square!
These trivia questions are great for adults and some teens, but are probably too tricky for kids (unless they are really good at time zones and geography, ha!). Have the host hold the cards in their hands and read the quiz questions for the partygoers to answer.
Don't worry—all of the below answers are visible in the PDF download! Just wanted you to be able to see the questions without giving away all the answers! Good luck!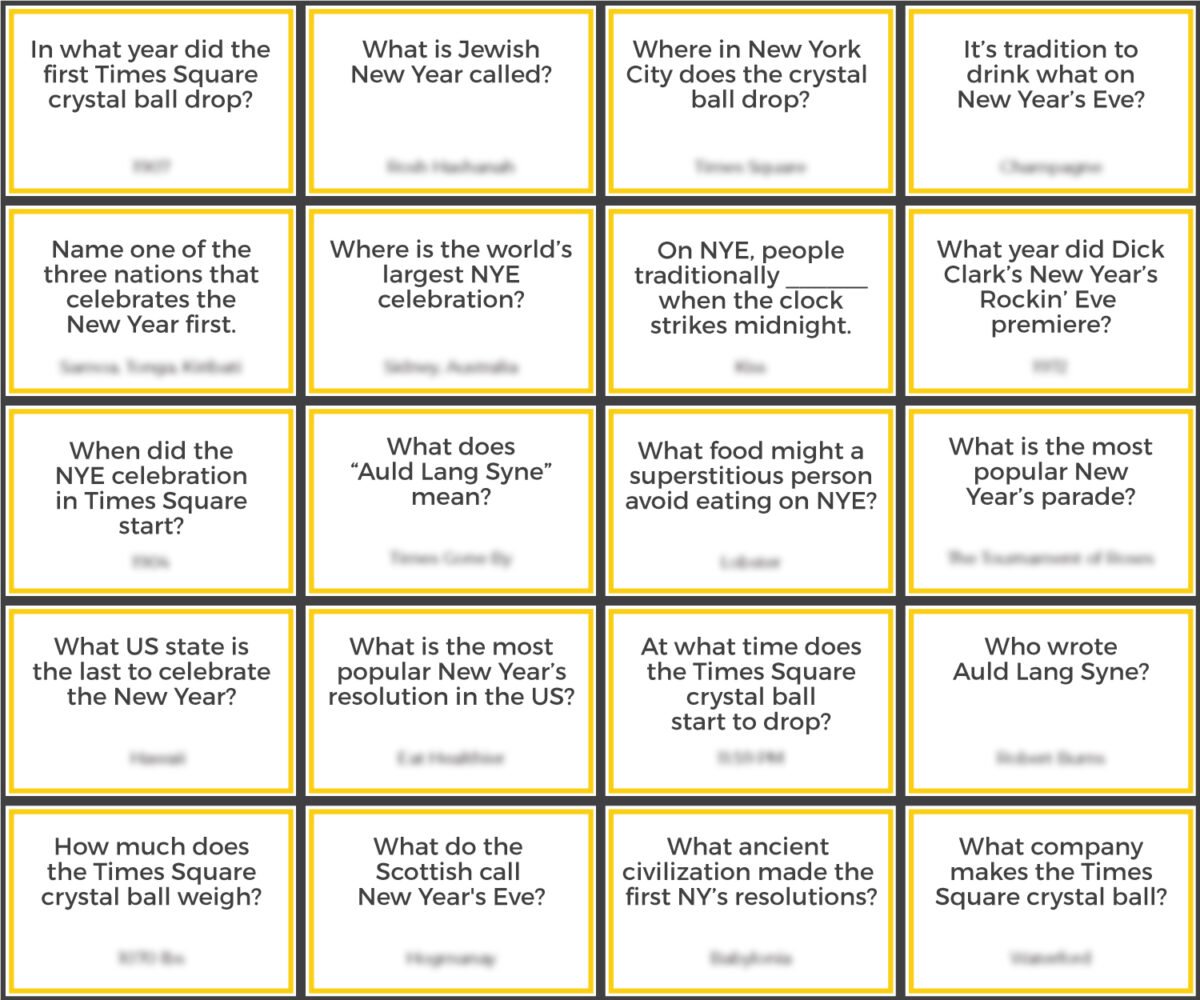 To download this New Year's Eve trivia, just enter your name in the box below! You'll receive an email to confirm your subscription and the download should start automatically when you click the button.
Download the Free New Year's Eve Trivia under PRINTABLES P103
This file can be found in my Free Craft Resource Library. The file number is: P103.
Want access to this free file? Join my FREE resource library! All you need is the password to get in, which you can get by filling out the form below!
Grab Our Printable New Year's Eve Games Bundle
Our printable new year's eve party games has six additional games that kids can play to ring in the start of the new year! It's a big hit during a New Year's Eve celebration for all ages.
Make sure to print these on a slightly heavier paper stock—you don't want people to read the answers through the paper! If you print on regular paper, make sure you hold each card in your hand to keep your partner from cheating. Want to know all the questions beforehand? Here you go:
Where in New York City does the crystal ball drop?
Times Square
It's tradition to drink what on New Year's Eve?
Champagne
On New Year's Eve, people traditionally ___ when the click strikes midnight?
Kiss
What year did Dick Clark's New Year's Rockin' Eve premiere?
1972
What food might a superstitious person avoid on New Year's Eve?
Lobster
What is the most popular New Year's parade?
The Tournament of Roses
At what time does the Times Square crystal ball start to drop?
11:59pm
Who wrote Auld Lang Syne?
Robert Burns
What ancient civilization made the first New Year's resolutions?
Babylonia
What company makes the Times Square crystal ball?
Waterford
What was the first year the Times Square crystal ball dropped?
1907
What is the Jewish New Year called?
Rosh Hashanah
Name one of the three nations that celebrates the New Year first
Samoa, Tonga, Kiribati
Where is the world's largest New Year's Eve celebration?
Sydney, Australia
When did the New Year's Eve celebration in Times Square start?
1904
What does "auld lang syne" mean?
Times gone by
What is the last US state to celebrate the new year?
Hawaii
What is the most popular new year's resolution?
Eat healthier
How much does the New Year's Eve ball weigh?
1070 lbs
What do the Scottish call New Years Eve?
Hogmanay
If you love these New Year's Eve printable games, check out these new year's eve mad libs, word search, coloring page, conversation starters, drinking game, and pop culture matching game! Have the best new year's eve available to you!