If you have a Cricut Maker, what sort of accessories do you want to buy to go with it? Which are important, and which are more of a splurge? Here's my ultimate list of must-have Cricut Maker Accessories!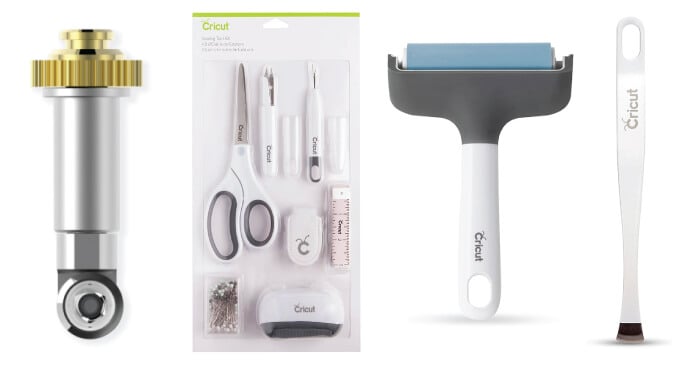 A while back, I wrote a popular post called Must Have Cricut Accessories (and How to Use Them!). All of these accessories apply to the Cricut Maker, but I thought I'd write a separate post about the accessories that are particularly important to the Cricut Maker since it's one of the questions I'm asked most often!
Blades
As with the Cricut Explore, you will want the super sharp Fine Point blade and silver housing (your Maker comes with both!).
You may want the Deep Cut Blade and black housing, which you'll need for cutting thicker materials, like thin wood and leather as well as the knife blade, which is designed to cut much thicker materials, like wood and metal. You can make model airplanes and puzzles and all sorts of cool stuff with the knife blade.
The Cricut Maker comes with one additional blade—the AMAZING rotary blade for cutting all sorts of fabrics. You learn more here: How to Cut Fabric on the Cricut Maker. The blade lasts much longer than a typical handheld rotary blade because it doesn't get nicked like a regular rotary blade that's tossed around a sewing table. You can also buy extra blades, but I have a friend who has cut out five quilts and several dozen smaller projects and she's still on her first blade.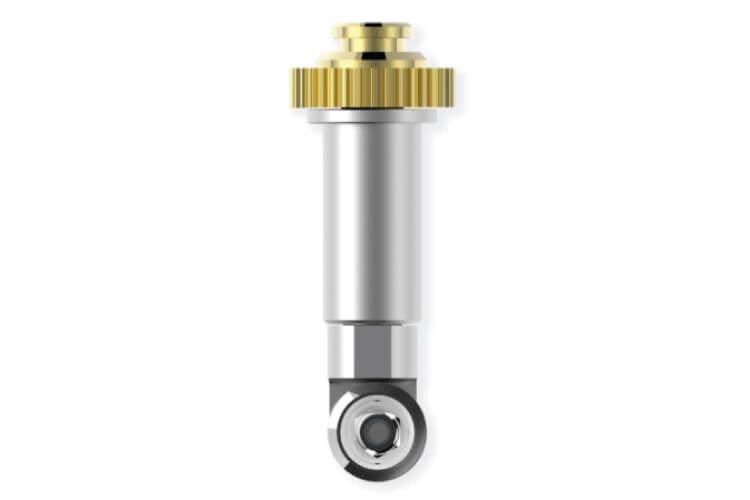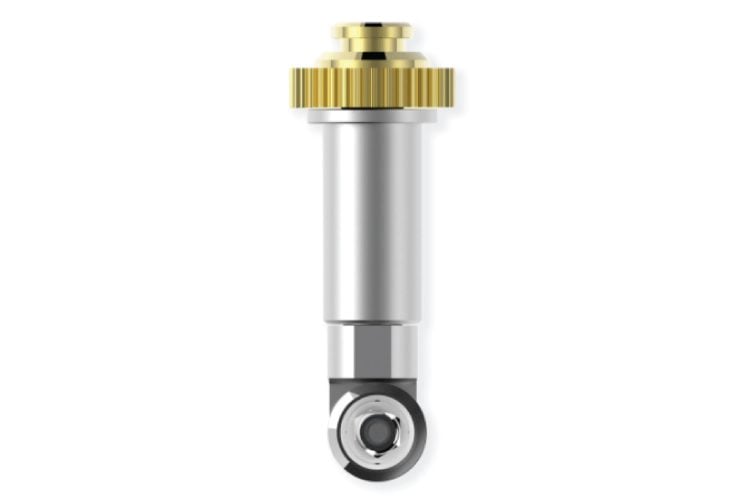 There is also the bonded fabric blade, which is basically the fine point blade but pink, which is limited to cutting fabric with a stabilizer on it. I would suggest this more as an add-on to the Explore, which doesn't have the rotary blade. The rotary blade in the Maker will cut bonded fabric like buttah.
Cutting Mats
These are also similar to the Cricut Explore. You'll get a green 12″x12″ StandardGrip cutting mat in your Cricut Maker box. This can be used for most of your crafting needs — card stock, vinyl, etc. If you're using more delicate materials, like vellum or light paper, you might want to get yourself a blue LightGrip cutting mat. And if you're cutting heavier materials that have a tendency to shift, try a purple StrongGrip cutting mat.
Then there's the Fabric Mat, something that is a must if you're going to cut any fabric on the Cricut Maker. You can learn more about the pink fabric mat. As your fabric mat gets used more and more, getting yourself the Brayer and Broad-Tipped Tweezers will help you get more life out of your mat. You can work the fabric into the mat using the brayer and pick up your pieces using the tweezers — keeping your finger oils off the mat. The tweezers are also good for picking up stray threads on your mat.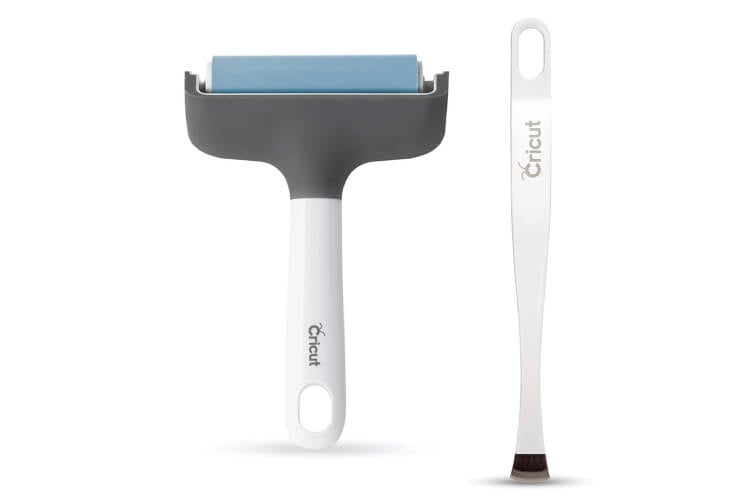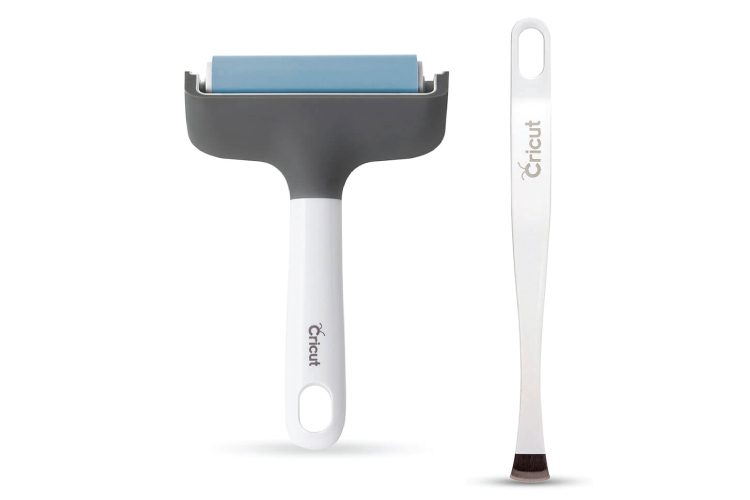 Cricut Tools
A while back I wrote an in-depth post about the Cricut Tool Set. I won't go into much detail here about the weeder, scraper, spatula, tweezers, scissors, and trimmer, except to say that all of these tools are so useful and if you're going to get any accessories for your machine, I'd pick up an Essential Tool Set. I also love my XL scraper! You'll also most likely want a scoring stylus — you can read more about how to use the scoring stylus here.
If you like to sew and want to use your Cricut Maker for sewing projects, Cricut makes a Sewing Kit. It comes with 8" fabric shears, thread snips, a seam ripper, measuring tape, leather thimble, pins, and a cute pincushion that looks like a Cricut Maker. It's a nice little set (my favorite part is that the shears have "fabric" engraved on the blades), but if you sew you may already have most of these items. If you are new to sewing, though, it's a good starter kit. You can also see my favorite sewing tools here and here.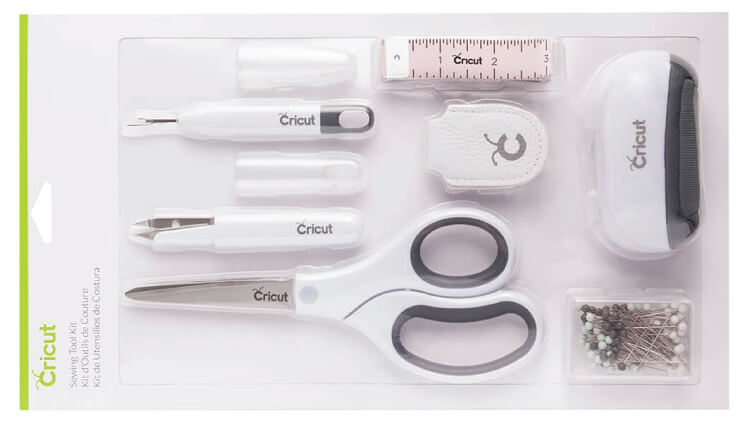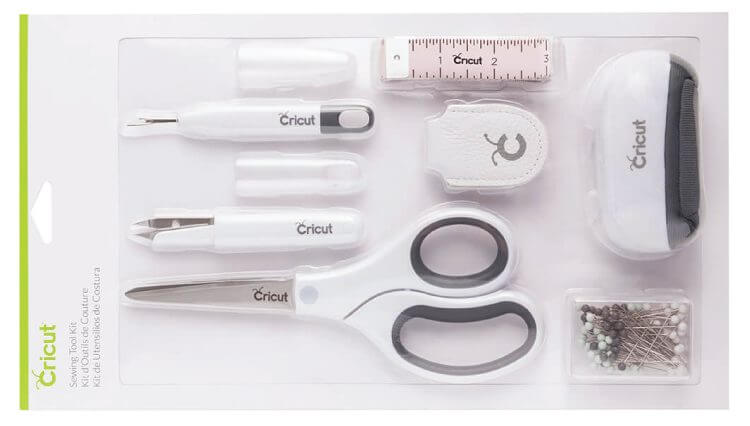 There are additional tool sets, like the Wedding Tool Set (great if you work with vinyl a lot) and the Paper Crafting Set (good for quilling and other paper crafting). Neither are necessary for the Maker, but might be something you want to look at.
Cricut Pens
If you plan on taking advantage of the Cricut Maker's ability to write, you will want a set of Cricut pens. But specifically, if you are cutting out fabric patterns, you'll want one of Cricut's washable Fabric Pens.


Buying a Cricut Maker isn't an inexpensive thing to do! If you are on a budget, the things I recommend are the Essential Toolkit, the fabric mat, and the fabric pen (the latter two only if you plan to cut fabric). There are so many awesome products that Cricut makes, but you don't need them all at once. The Maker is an amazing machine on it's own — you're going to love using it!