The Cricut Explore is amazing on its own, but there are so many Cricut accessories to take your crafting to the next level! Here are my favorite Cricut supplies and how to use them.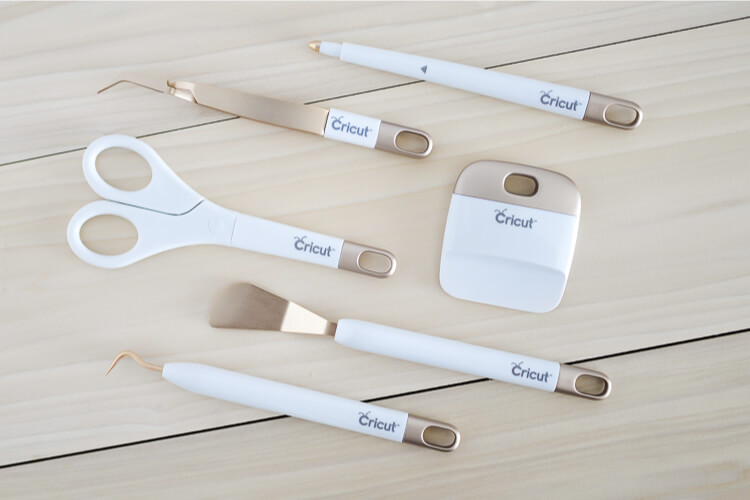 This post covers Cricut Explore accessories. I also have a Must Have Cricut Maker Accessories post that you might want to check out if you have the Cricut Maker!
There are very few supplies you need to get started using your Cricut Explore, and they come in the package when you buy even the most basic Cricut Explore package—so you don't have to buy anything extra!
These two included Cricut accessories are a cutting mat and a carbide blade. Everything else is optional, but allow you to do even more with this amazing Cricut machine! Let's view the options!
Stop pulling your hair out and start creating confidently with your Cricut! Finally understand how to use your Cricut with my Learn Your Cricut eBooks!
Must-Have Cricut Explore Accessories
Cricut Explore Blades
The Cricut Explore comes with a super sharp German carbide fine-point blade so you can get cutting right away. It is housed within the Cricut and can easily be changed if it dulls.
I use the fine-point blade for almost all of my cutting and it always lasts longer than I expect it to. If you are cutting rough materials, you may find you have to change it more often. The housing for this blade is silver (older machines) or gold (newer machines).
There is also a Deep Cut Blade, which you'll need for cutting thicker materials, like thin wood and leather. You'll need to get the separate housing for it and swap it out in the machine. The housing for the deep cut blade is black. You can also buy the blades individually once you own the housing.
Finally, there is a Bonded Fabric Blade, which you'll use to cut fabric that has been stabilized with Heat N Bond or some other stabilizer.
Note that the Cricut Maker has a knife blade, a rotary blade, a scoring wheel, a perforation blade, an engraving tip, a debossing tip, and a wavy tool—and none of these tools are compatible with the Cricut Explore machines. Check out my Cricut Maker Accessories post for more information.
Cutting Mats
You'll also get a green 12″x12″ StandardGrip cutting mat in most Cricut Explore boxes. A few of the newer machines have the blue LightGrip cutting mat.
Either of these mats can be used for most of your crafting needs—cardstock, vinyl, etc. If you're using more delicate materials, like vellum or light paper, you might want to stick with the LightGrip mat. If you're cutting heavier materials that have a tendency to shift, try a purple StrongGrip cutting mat.
I use my heavier cutting mat for chipboard and stabilized fabric. But most of the time I stick with the green StandardGrip one.
If you're cutting larger projects, Cricut also has 12 x 24 mats. I love them for larger vinyl projects—I recently cut iron-on vinyl for 15 bags on one sheet of vinyl using this larger size and it went even faster.
No matter what cutting mat you use, I suggest breaking it in a little bit before you use it for the first time. Take off the clear mat protector and stick the mat to the front of your shirt a few times. It'll pick up some of the lint and, believe it or not, this will help dramatically when removing your project from the mat after it's been cut.
It's nearly impossible to remove a project cleanly from a brand-spanking new mat.
Cricut Tool Set
A while back I wrote an in-depth post about the Cricut Tool Set. I won't go into much detail here about the weeder, scraper, spatula, tweezers, scissors, trimmer, and other Cricut basic tools except to say that all of these tools are so useful and if you're going to get any accessories for your machine, I'd pick up a tool set. Make sure to read that post on how to use all the tools!
I also love (like LOVE) my XL scraper. I basically don't use my small one anymore—the XL scraper is so much faster and more effective.
Cricut Scoring Stylus
If you want to make cards, boxes, or anything else that requires precise folding, I suggest getting yourself a Scoring Stylus.
This tool fits easily into the Cricut's carriage. The Cricut can hold a blade and scoring stylus at the same time so you don't have to swap them out—you can cut and score at the same time! Scoring really makes it easy to fold your projects. If you use projects from the Cricut Image Library, the scoring layer is built into any file that needs to be folded. Learn more about the scoring stylus.
Cricut Pens
One of my absolute favorite accessories are Cricut pens. When I got my Cricut Explore, I didn't realize it could, in addition to cutting and scoring, also write! My absolute favorite is to use the pens to address cards and letters. Last year I used my Cricut Explore for addressing Christmas Cards and it worked out great!
Where to Buy Cricut Supplies Cheap
One of the questions I get most often is, "where can I buy Cricut supplies cheap?"
The best thing to do is to sign up to receive emails from the Cricut Store. They have sales going on all the time. Vinyl might be 25% off for a week—stock up!
Of course we all want to save money, but a lot of times store coupons don't work on Cricut items online or at your local craft store. But make sure to check the clearance section—you can also often find discontinued Cricut supplies on clearance.
Amazon is always a good place to check for Cricut supplies if you have Prime shipping (get a free trial!)—at least it'll get to your house for free! Also check eBay—people often sell their supplies there.
If you are interested in learning more about the Cricut Design Space, or techniques using adhesive vinyl, Cricut Infusible Ink, other ink transfer sheets, the Cricut Foil Transfer system, transfer tape, Cricut Joy or Cricut EasyPress take a look at all my other Cricut posts! I have extensive information on all things Cricut.


Get Supplies on Amazon