Put your Cricut Explore to work—have it address Christmas cards! Using the pen tool, the Cricut Explore can beautifully "hand letter" your Christmas cards for you.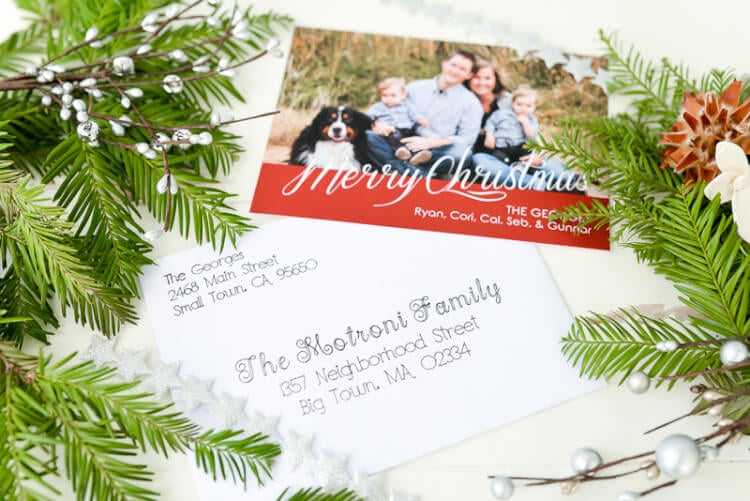 So, I'm a bit late getting my Christmas cards out this year. Life just happened and then all of a sudden, I was like, "how is it the middle of December already?!" And I still have a to-do list a mile long before Christmas this weekend, so I've handed over one of my tasks to my Cricut Explore: addressing my Christmas cards using the Pen Tool. While you may have already sent out your cards this year, pin this idea for next year!
If you haven't used a pen in your Cricut Explore yet, you're missing out. You probably already know how amazing the Cricut is with intricate cuts on paper and vinyl, but that intricacy also translates to using the pen tool. You can draw and write all sorts of things using your Cricut Explore—Christmas cards are just one example.
Stop pulling your hair out and start creating confidently with your Cricut! Finally understand how to use your Cricut with my Learn Your Cricut eBooks!
While it's not the fastest process out there (each card takes about 4 minutes, depending on the fonts you use), it is one of those things you can just set moving while you're working on other things — I'm addressing my cards in between working and wrangling the twins.
Also, can we talk about how cute our Christmas cards turned out this year? Our photographer, Jessica, got all five of us looking at the camera, even the dog! I think she deserves an award for that. Sebastian is doing his best Blue Steel, and Callum really just wants to be petting Gunnar.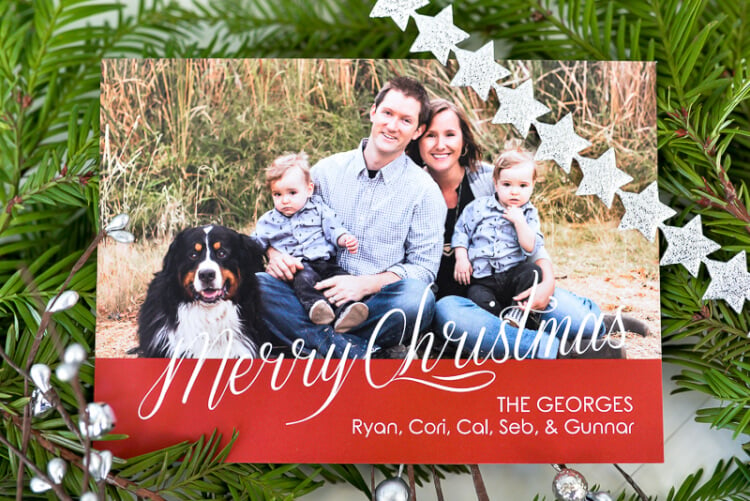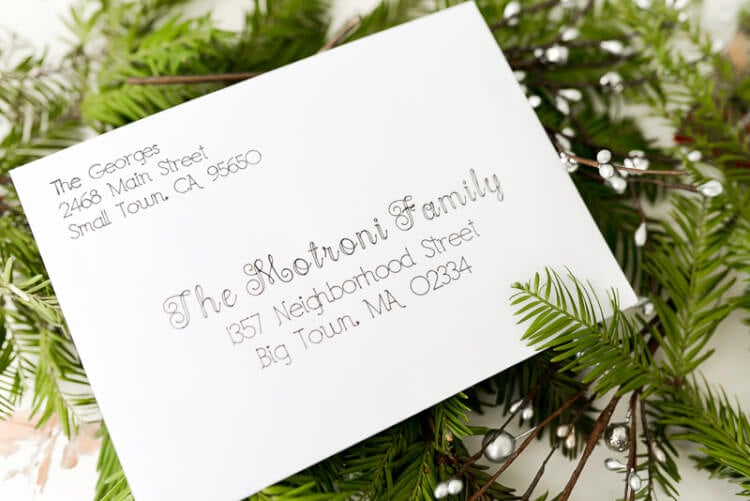 Address Christmas Cards using the Cricut Explore
This post has been updated for the January 2019 Design Space changes!
Open the Cricut Design Space. You can use the Type Tool to create your addresses. I have three text boxes—a simple font (Rob and Bob Seaside) for our return address that doesn't change from envelope to envelope, one for the family name in a fancier font (Elizabeth), and the same simple font for the family name address. I just copy and paste from a Google spreadsheet of addresses I use every year.
My envelopes are 5×7, so I used the grid in the Cricut Design Space to approximate the envelope.
You will notice that ALL your fonts load into the Cricut Design Space, but you'll want to select "Has a Writing Style" from the dropdown menu in the Text Edit toolbar at the top (make sure you have your text selected—the Text Edit toolbar only appears if you have text selected).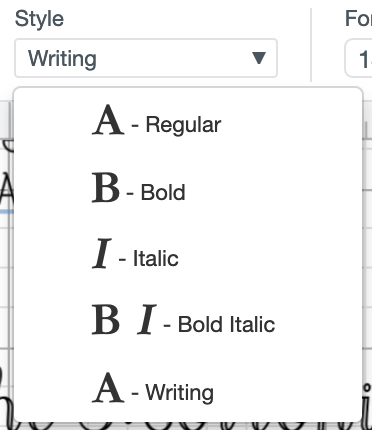 This will limit the fonts to ones that the Cricut Explore can write easily. It can write any font, but it will outline any that doesn't have a designated writing style, which isn't as neat as the single-line writing of fonts that have a writing style.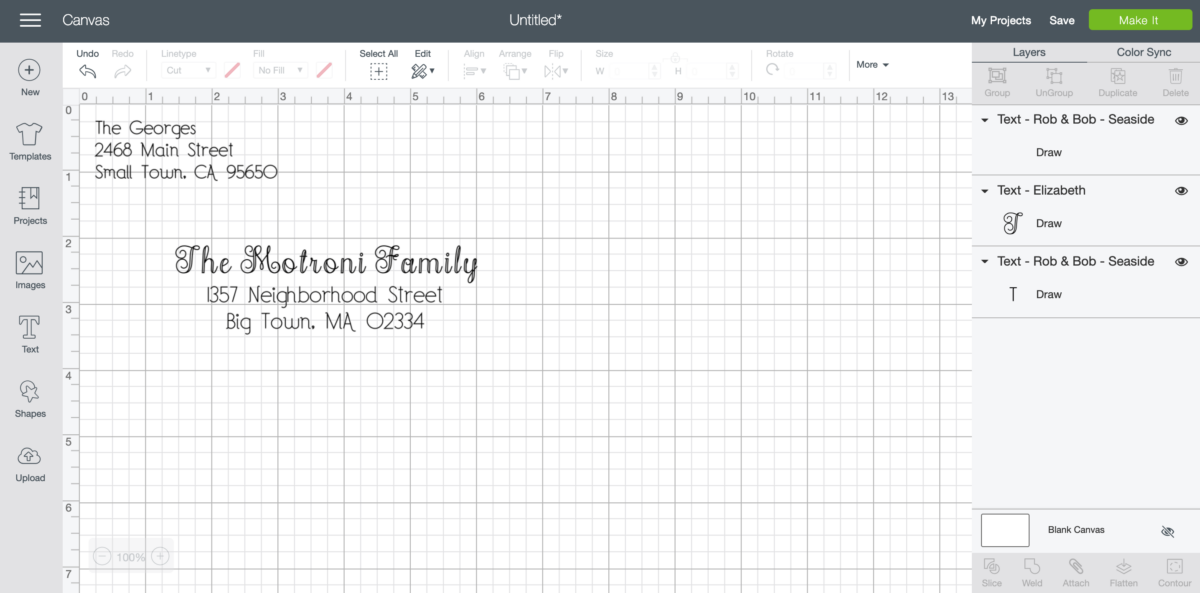 Once you have all of your text boxes ready to go, you'll want to "Attach" everything (in the bottom of the Layers Panel on the right) so that it appears as you've laid it out when the Cricut goes to write it. Then click Make It!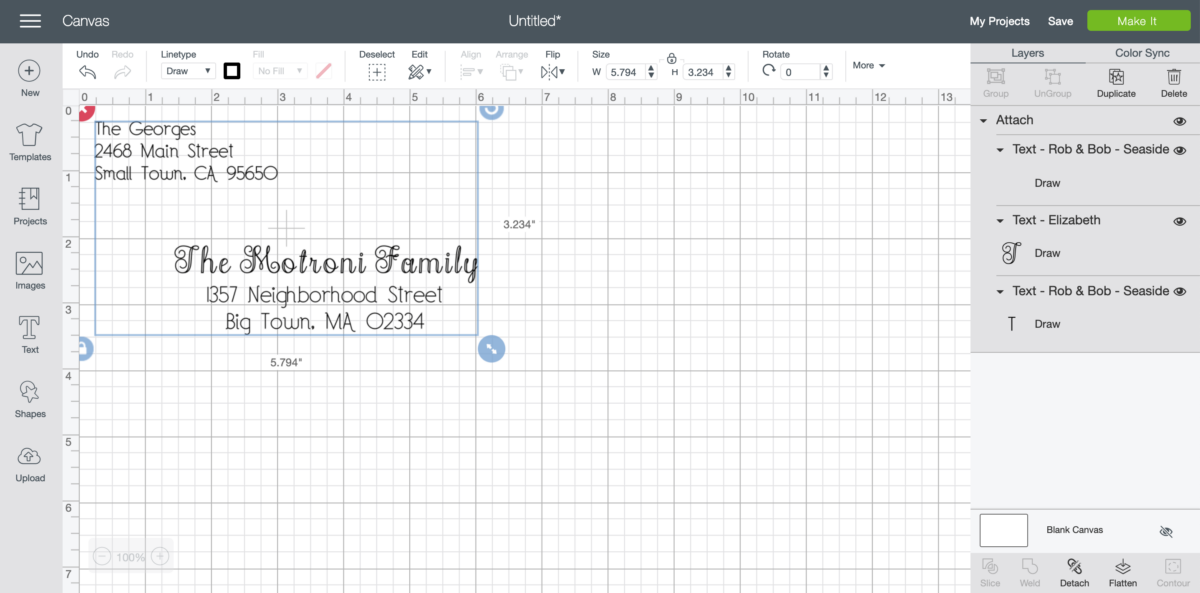 Once you are in the layout screen, nudge your whole project in 1/4″ so that it doesn't write the return address right at the edge of your envelope.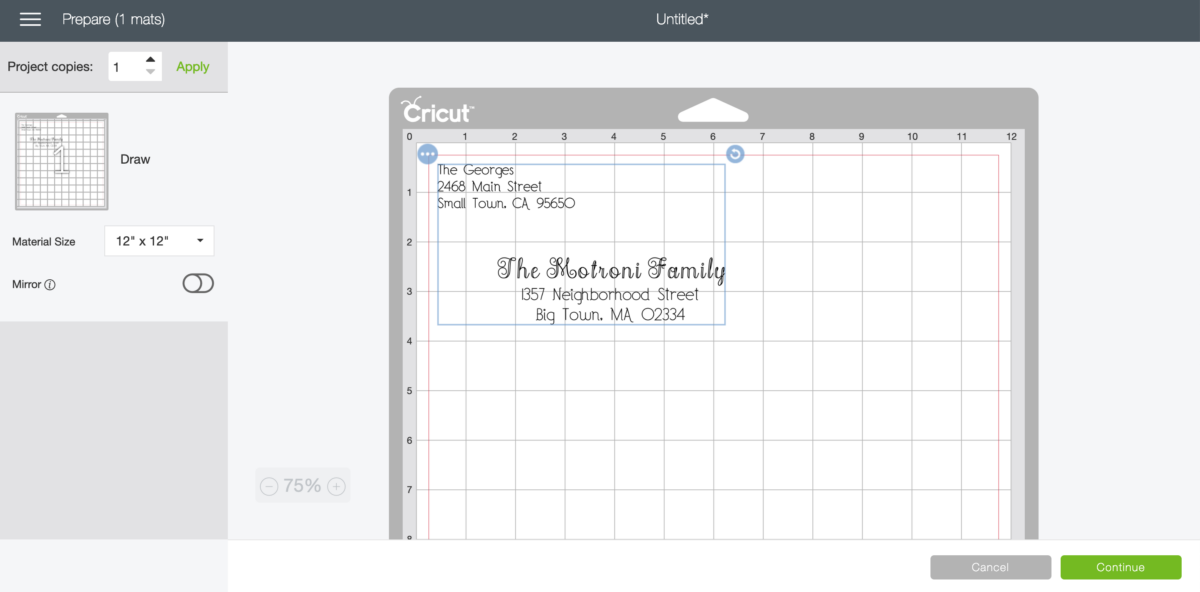 Put the pen in the auxiliary holder, making sure to press it in all the way, place your envelope in the upper left corner of your cutting mat. I like using the finest .03 tip black pen for the most legible writing.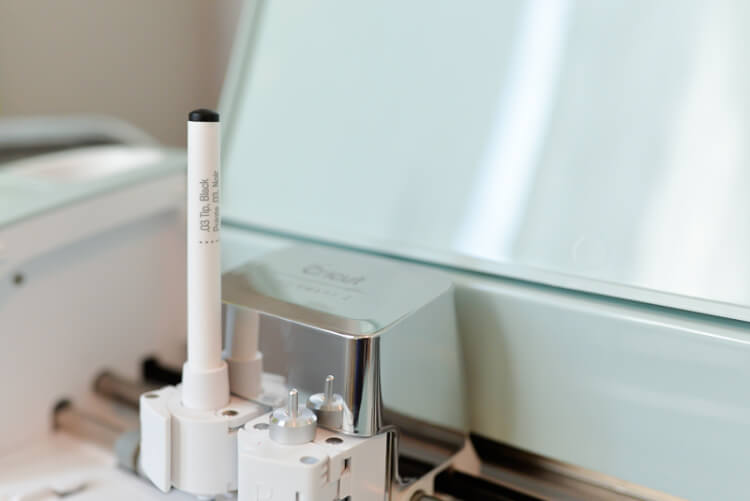 The Cricut will address your Christmas cards for you. Win!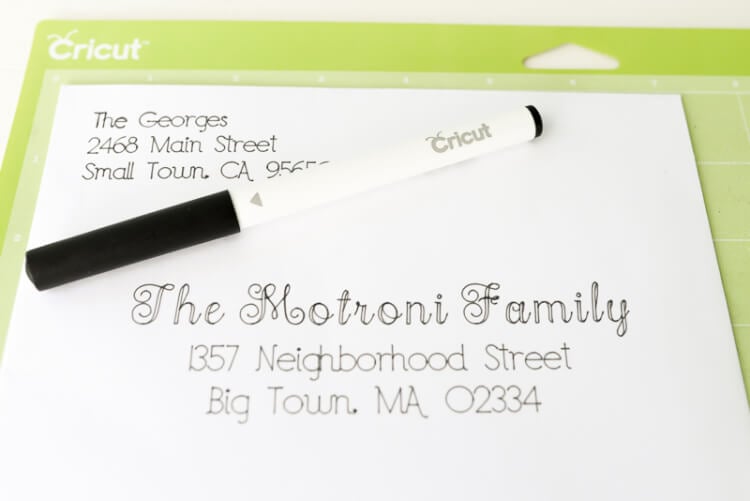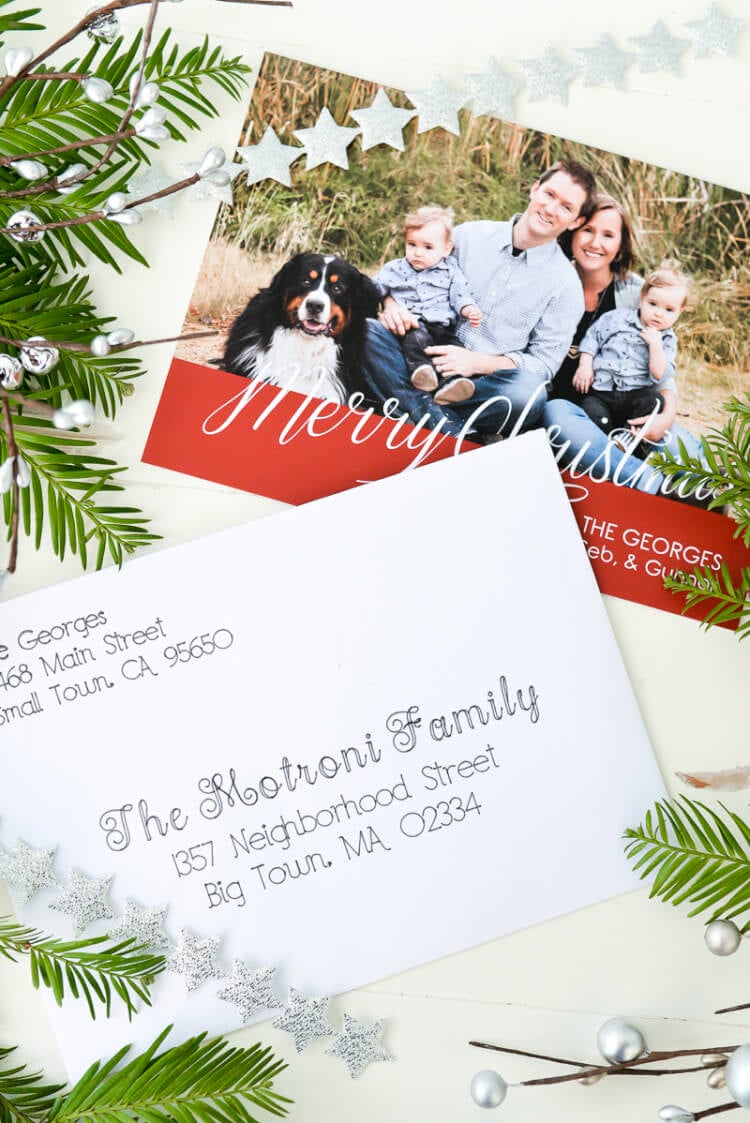 Fabulous, eh? This would also be awesome for addressing wedding or party invitations. Let me know what you think of this idea in the comments!