What is the Cricut Maker and what does it do differently than the Cricut Explore? Learn all of the features of Cricut's newest cutting machine so you can make an informed decision about buying one!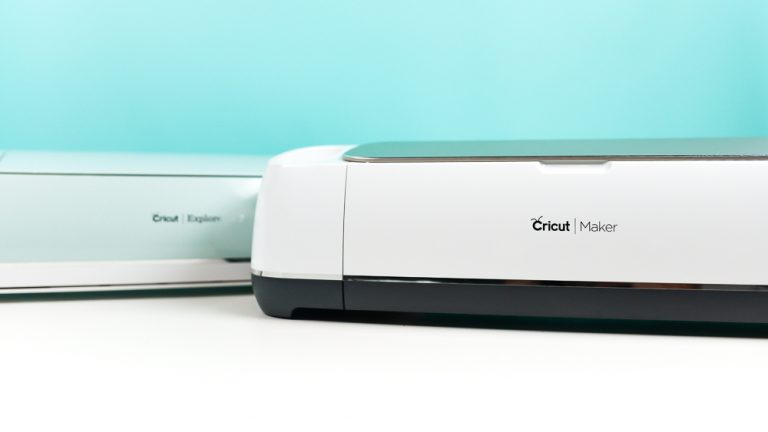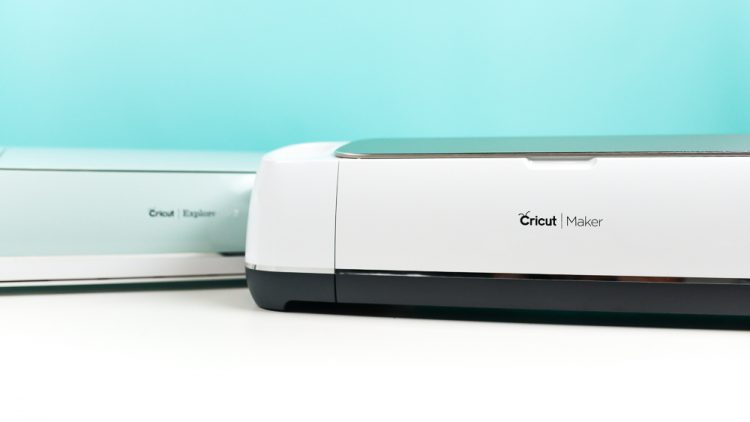 This Cricut Maker post was originally written in 2017 when the machine was first launched. Now I've updated it to include new tools that have been added since its release!
Need help with your Cricut Maker or Cricut Explore? Check out my expansive Cricut Membership Community!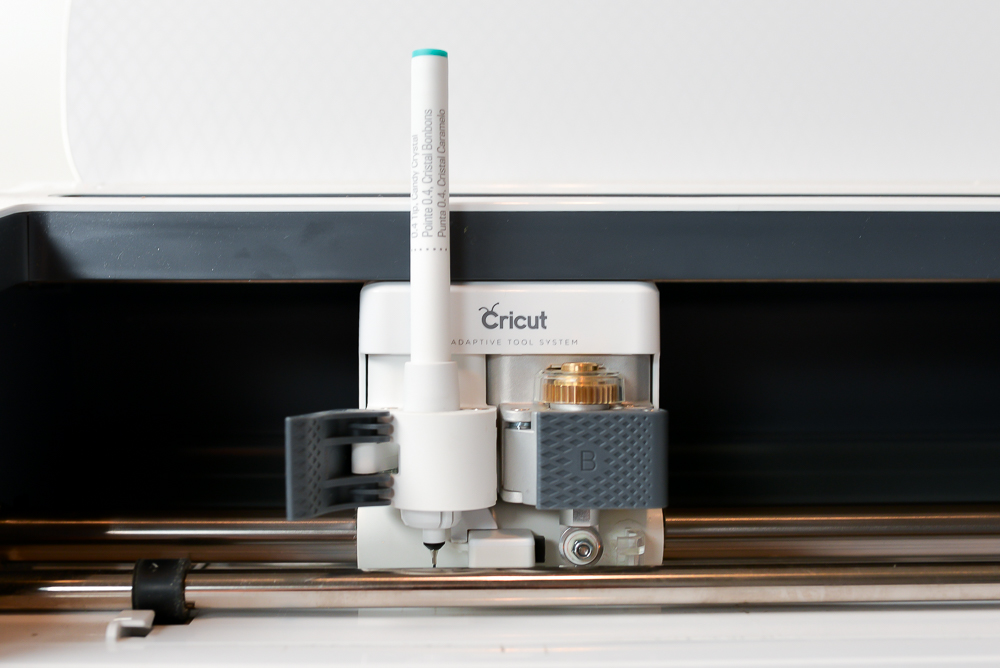 In 2017, I took a whirlwind trip to Salt Lake City to the Cricut Mountain Make-a-Thon! I joined hundreds of other influencers and consumers for two and a half days of Cricut fun!
At the main session, Cricut revealed three new products: the Cricut Brightpad, the Cricut EasyPress and, the pièce de résistance, the all-new Cricut Maker!
(Make sure to check out my posts for the Brightpad and EasyPress.)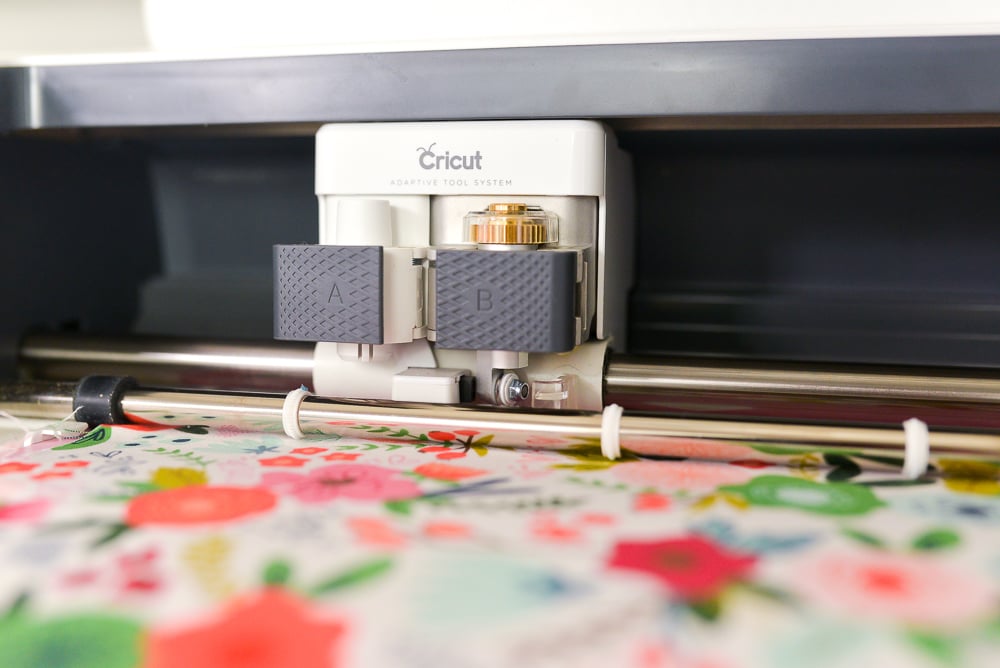 The Cricut Maker looks similar to the Cricut Explore line of machines, but it was completely reengineered. I'll give you an overview of some of my favorite features, and then talk a little bit about why you might want to upgrade. Or, conversely, why you might be just fine sticking with your Explore machine.
Cricut Maker—Overall Redesign
The first big improvement for the Cricut Maker is that it has up to 10x the cutting pressure of the Cricut Explore—4kg. This is more than a lot of commercial cutting machines!
What does that mean for the average consumer? You can now cut thicker and denser materials more easily, including leather, chipboard, and wood up to 3/32″ thick.
It can also cut the most delicate of materials, like crepe paper. Plus it can cut fabric! All of this, and it continues to beautifully cut all of the paper, vinyl, and other materials your Cricut Explore has always cut. Here are my posts about cutting Maker-only materials:
The second improvement is the Adaptive Tool System. The Cricut Maker has even more control over the tools, using advanced mathematical algorithms and a system of intricate brass gears designed to improve cutting precision.
The Adaptive Tool System allows Cricut to design new tools that can be added as they are invented. For instance, the Knife Blade and the Scoring Wheel are two new tools that have been added since the launch, in addition to the Rotary Blade that comes with the Maker.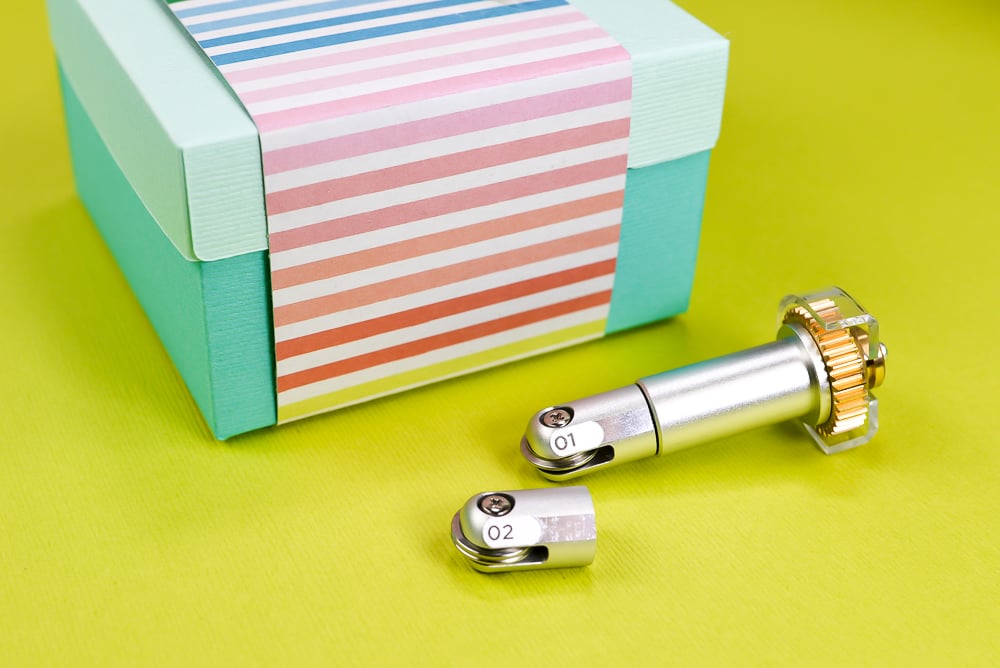 Some smaller improvements include a docking station for your phone or iPad while working on your projects as well as a USB plug for charging those devices (I'm guessing this USB port will also power tools at some point—just a theory!). Tool storage has been improved with two tool cups and a larger storage bin.
It's also darn sexy, with a champagne gold lid and diamond etching throughout. It feels like an Apple product, with design and user experience at the top of the list of Cricut's priorities.
Cricut Maker Rotary Blade + Sewing Features
My absolute favorite feature of the Cricut Maker is the Rotary Blade, which comes with the machine! The Cricut Explore can cut bonded fabric (fabric with a stabilizer attached), though it wasn't one of its strong suits—the fine point blade is just not purpose-designed for cutting fabric. Check out my post on cutting fabric.
The Cricut Maker, on the other hand, was designed with fabric in mind. Cricut wanted to address one of the most time consuming and often hated parts of sewing patterns—cutting and marking your fabric.
This is a big one for me. I have tendonitis in my hands and using scissors or even a standard rotary cutter can leave me with achy hands for days. It's one of the reasons I haven't sewn a lot in the last few years.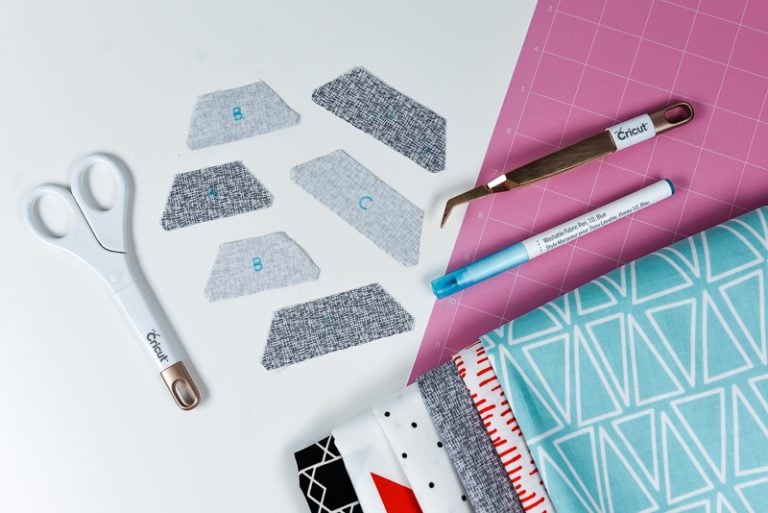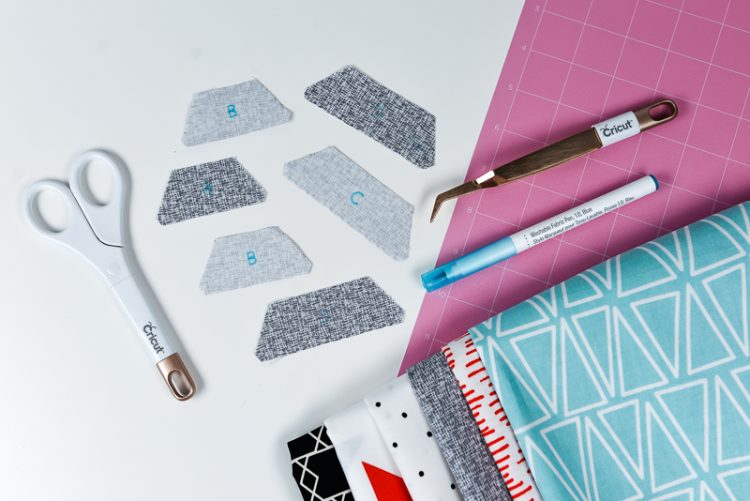 Thankfully, Cricut created the incredible 12mm rotary blade, designed specifically to cut straight fabric—no backing or stabilizer required! They have also created a new pink fabric mat, with a completely different adhesive. Watching the Cricut Maker cut fabric is incredible.
So intricate, so precise, no drag—and then to peel the fabric off the mat with no fray is a thing of beauty!
Additionally, they have a washable fabric pen, which will—sewing enthusiasts, are you listening?—mark your fabrics for you. I hate marking patterns so this is a huge deal for me!
They have quite few digital sewing patterns in the Design Space library, and have partnered with brands like Simplicity and Riley Blake to add even more.
Most of the projects are on the smaller side since the Cricut Maker is still just a 12″ x 24″ max. But it also helps you create larger projects that have smaller pieces, like quilts! Pick a project, and the machine cuts all the pieces you need and marks them accordingly. (You can also turn off the marking feature if you like to fly by the seat of your pants.)
Some projects will be included in Cricut Access and some will be between $2.99 and $9.99 for a pattern.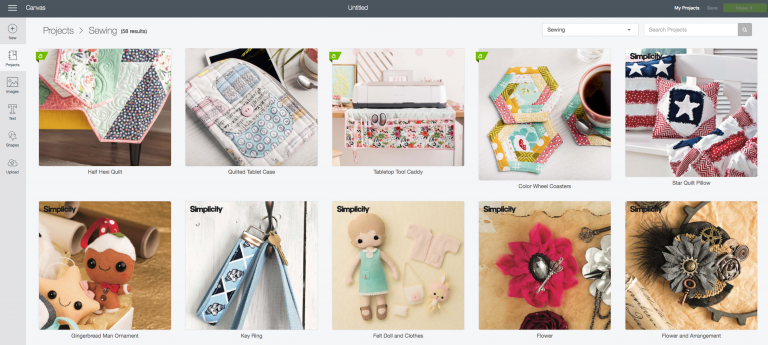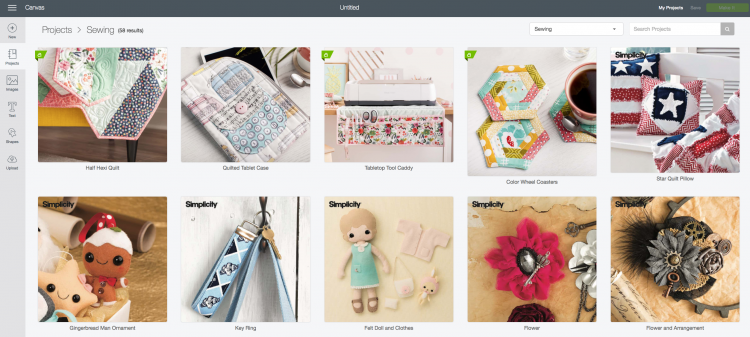 Cricut Maker Knife Blade
To enable cutting those thicker materials, Cricut designed the Knife Blade. Used like you would use an x-acto knife, the knife blade is intelligently designed to cut using several passes—a lighter scoring line, then more force cutting through the core of the material, and ending with a lighter pass to get a clean cut. I have written extensively about the Knife Blade.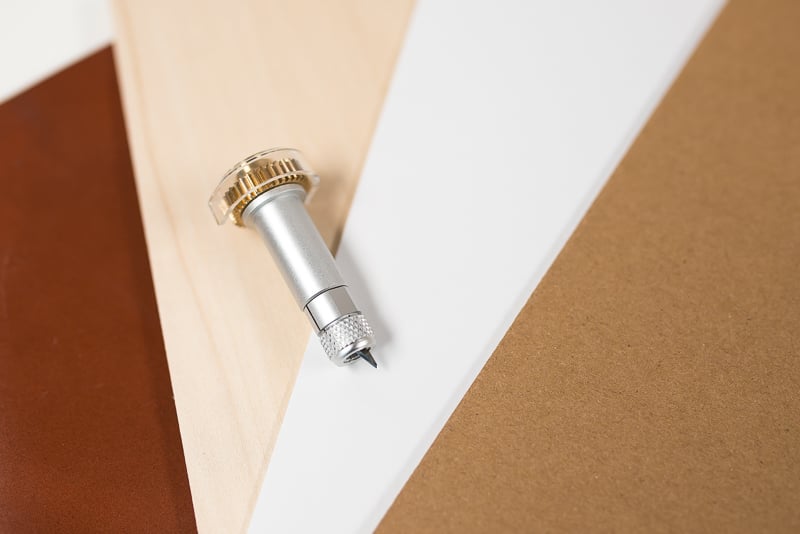 Scoring Wheel
In 2018, Cricut released the Scoring Wheel, as an update to the Scoring Stylus. As a paper crafter, I really do love the scoring wheel—it cures all of your scoring woes! If you're tired of faint score lines or cracking materials, the Cricut Scoring Wheel is a definitely improvement.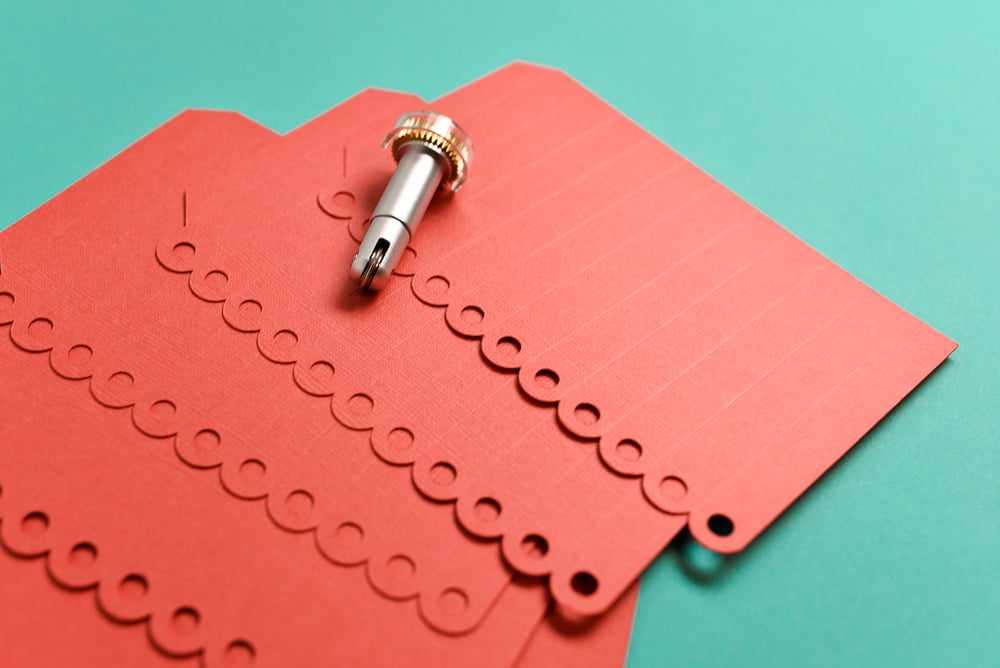 Print then Cut Improvements
I've been using the Print Then Cut feature more and more for quick projects on my Cricut Explore. The biggest limitation to the Explore, however, was that the sensor could only read registration marks on white paper.
The new sensor in the Cricut Maker has been reengineered and can now be used with colored paper (not really dark paper—but who prints on really dark paper anyway?). As an added bonus, it also works on many printed papers—it wasn't really what Cricut intended, but it's a great bonus!
They've also reworked the registration marks within Design Space so that you can use more of the printable area on a sheet of paper (this is for all machines, not just the Cricut Maker).
Do I Need a Cricut Maker?
So the big question is—do you really need to upgrade? There were some disappointed people on social media who had just purchased an Explore and were sad to find out that this new machine was just launched (trust me, I get it—I literally bought a commercial heat press two weeks before the Cricut EasyPress was announced!).
The good thing is the line of Cricut Explore machines is not going away. There is still support available for these machines and they will still come out with new projects and designs that can be cut on the Explore. For my readers specifically, most of my future projects and cut files will be able to be cut on the Explore as well as the Maker. But I am excited to tackle some of these new materials, too!
So let's get down to basics: if you don't care about cutting fabric or thicker materials, your Cricut Explore will continue to serve you really well—I've had one for five years and still plan on using mine! If you are really interested in cutting fabric and sewing projects, or if you want to try it for woodworking or leather-working, you may think about upgrading. No matter what choice you make, you'll have a great machine designed by an innovative company!
Have questions about the Cricut Maker? I'd be happy to answer them in the comments!