Get your decorating on with this massive collection of Home Decor Ideas with the Cricut! With 50 amazing Cricut-inspired projects to choose from, you'll definitely find some looks you'll love.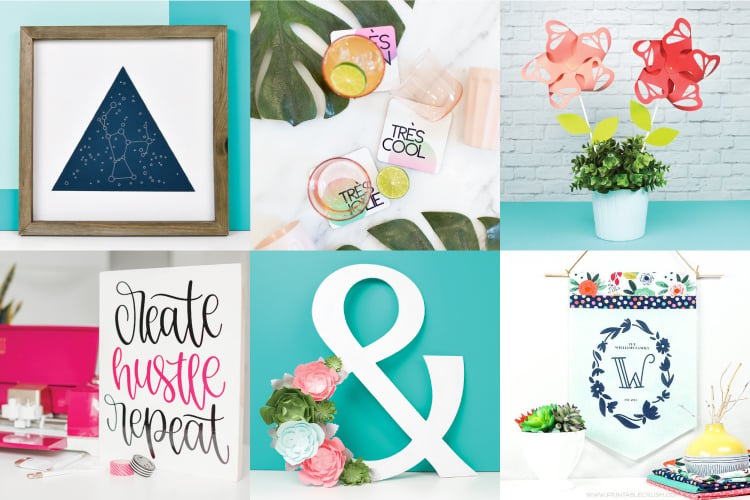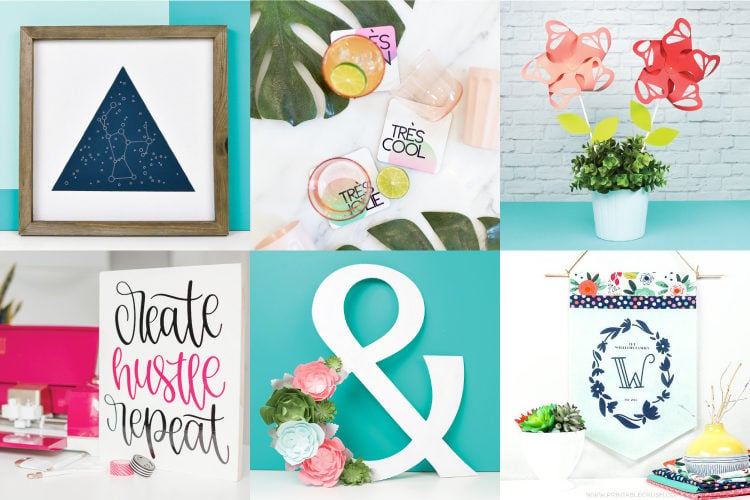 Are you looking for inspiration to add a little style to your home? Well, this is the place to be! I'm sharing 50 (!!) home decor ideas you can make using your Cricut. Some of my favorite crafty, trendy, colorful, and fun bloggers are featured in this round up. I know you will find something (or a few things…or many things) you'll want to make ASAP! There is something for every style in this amazing collection of projects.
Spruce up your space with these Home Decor Ideas with the Cricut.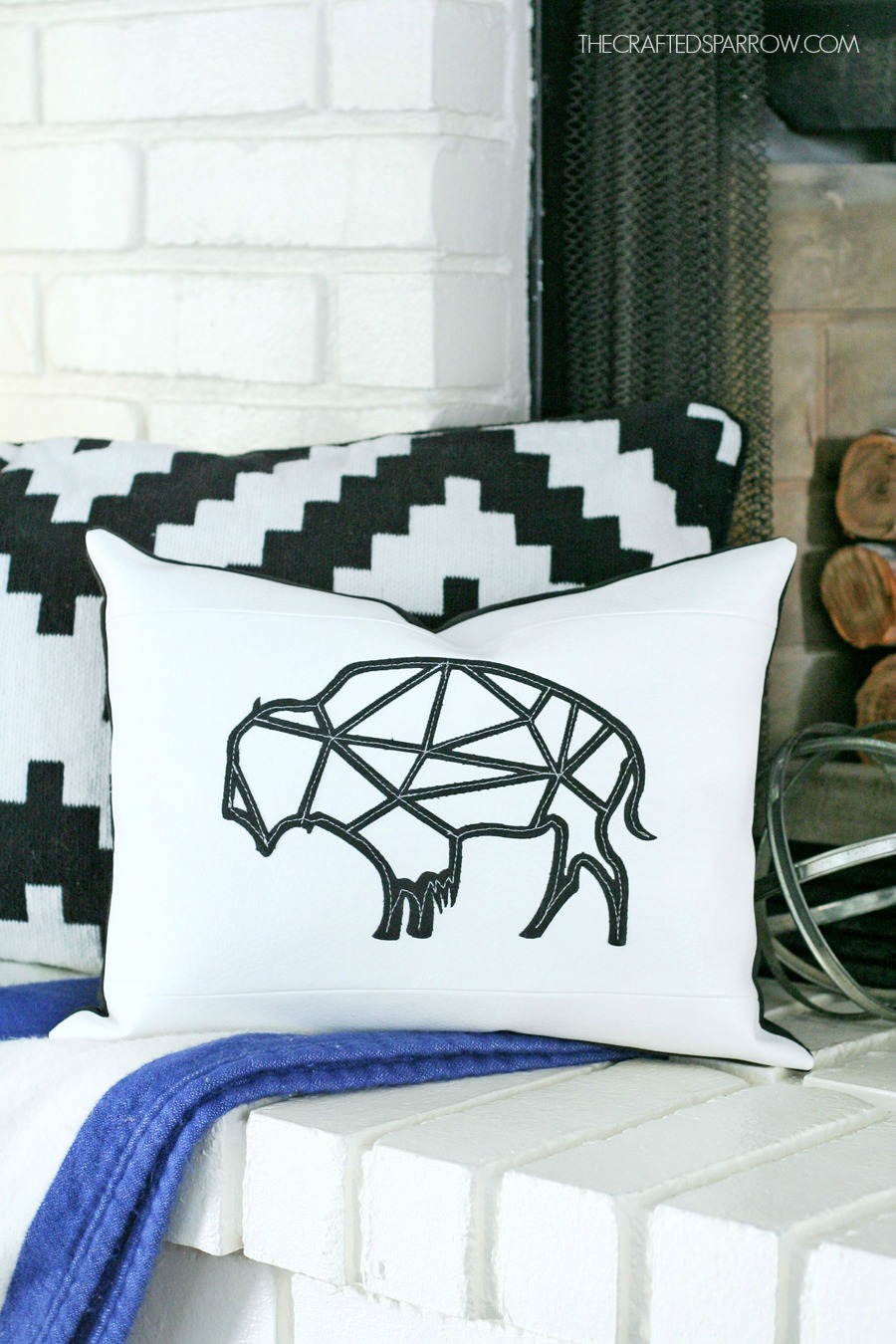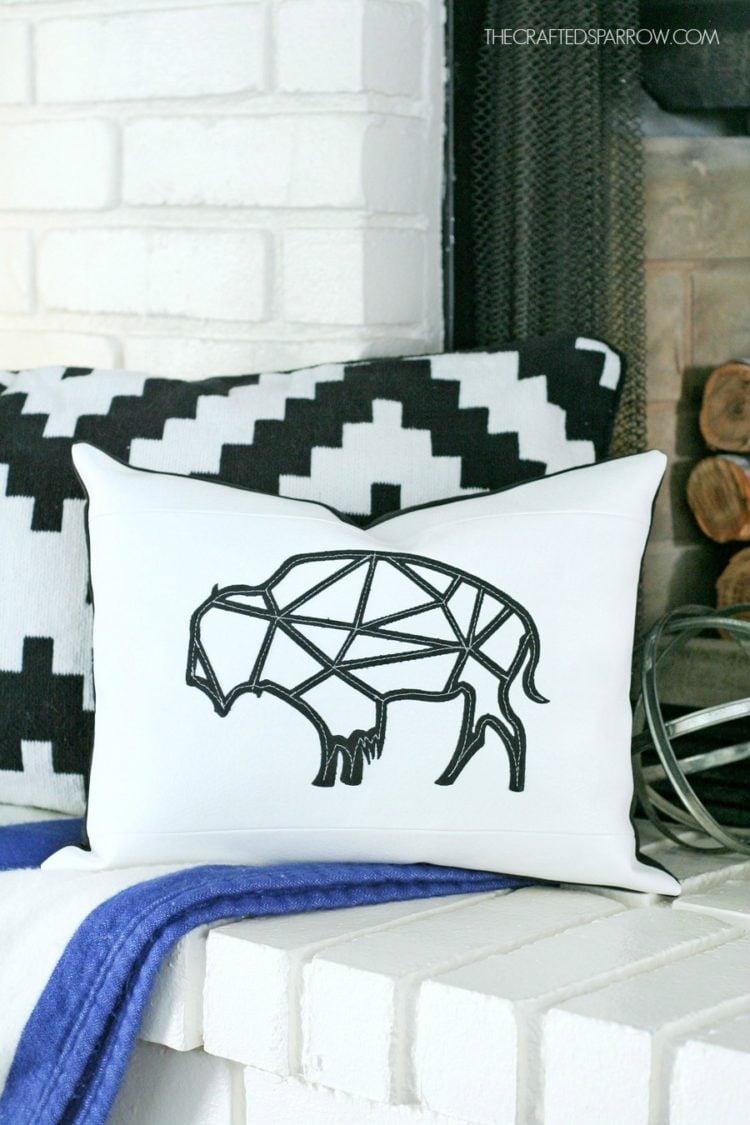 Find the perfect spot for this happy little geometric buffalo pillow from thecraftedsparrow.com.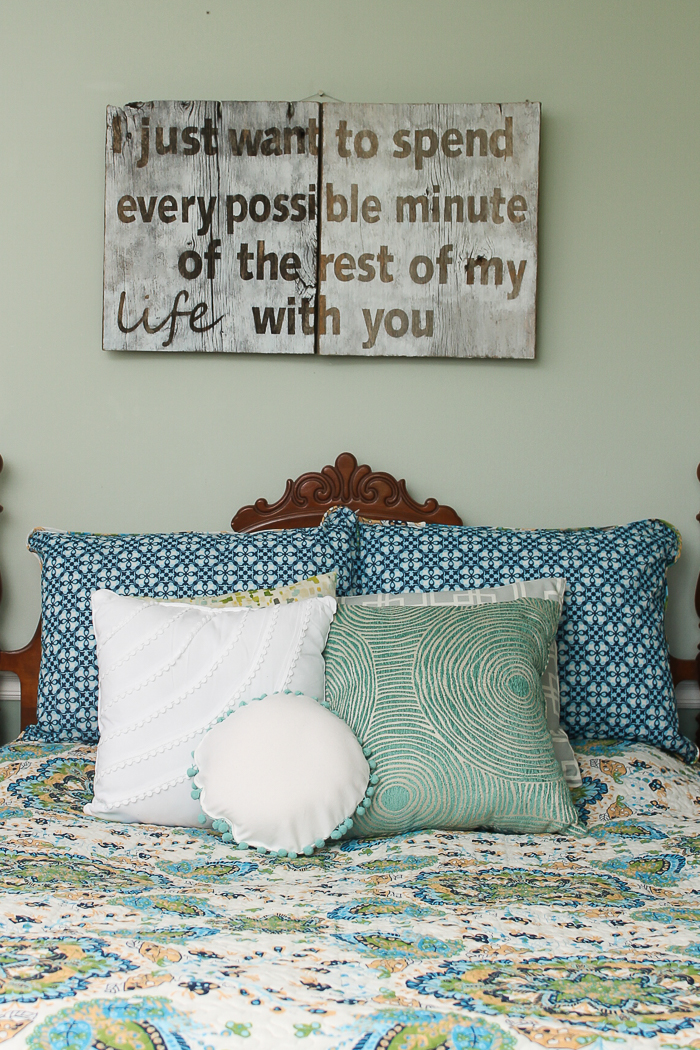 Fall asleep under this sweet hunger games love quote sign. Thecountrychiccottage.com shows us how to make our very own using our Cricut.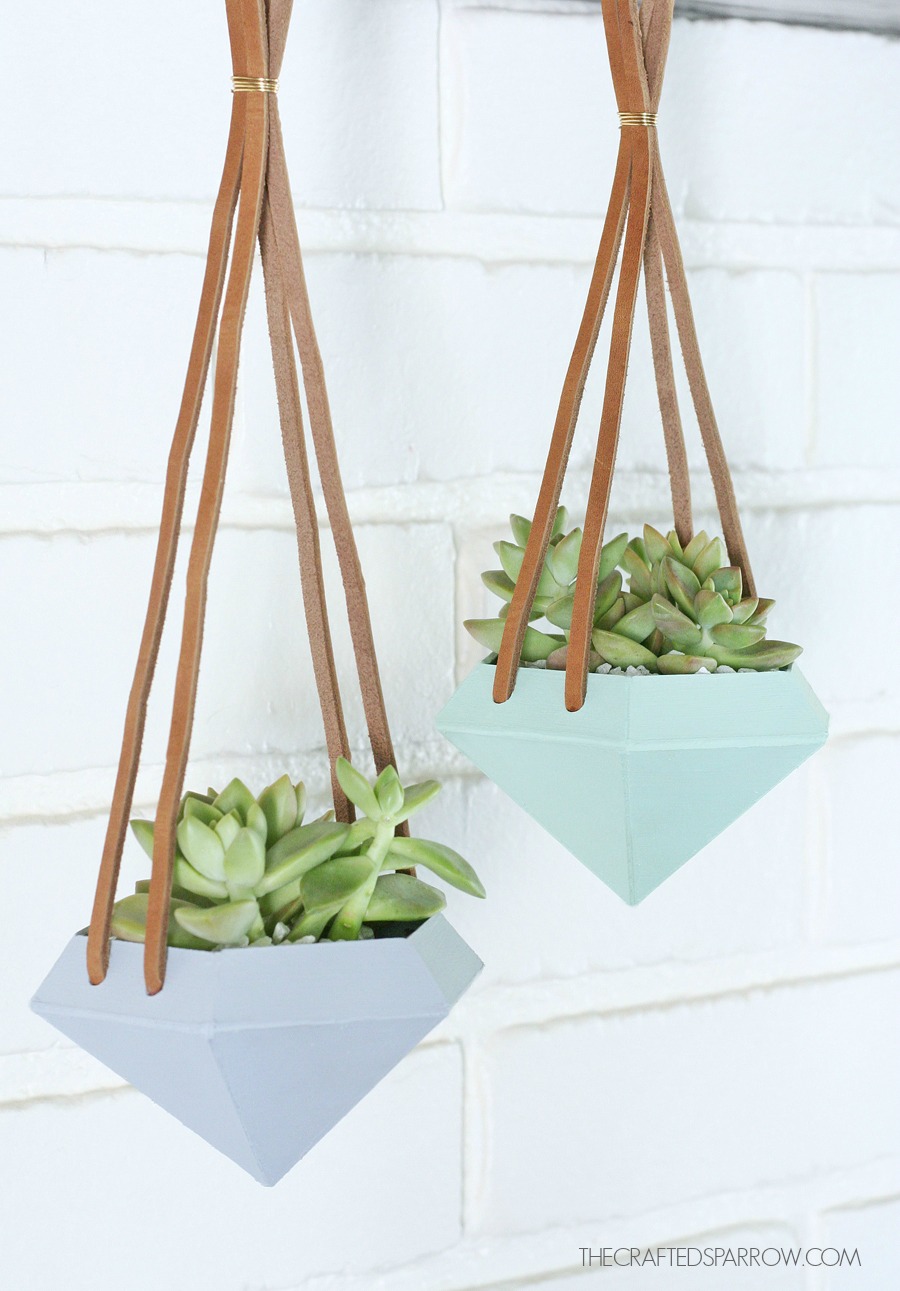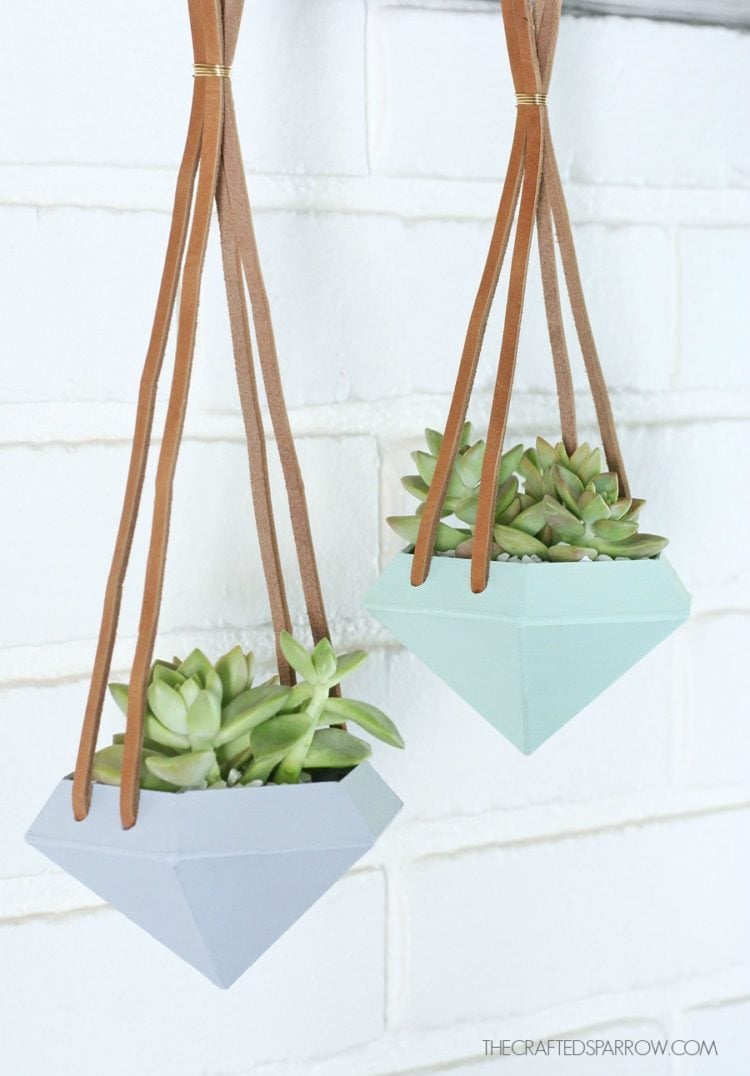 These diamond hanging planters from thecraftedsparrow.com are trendy, modern and the perfect decor for just about any space.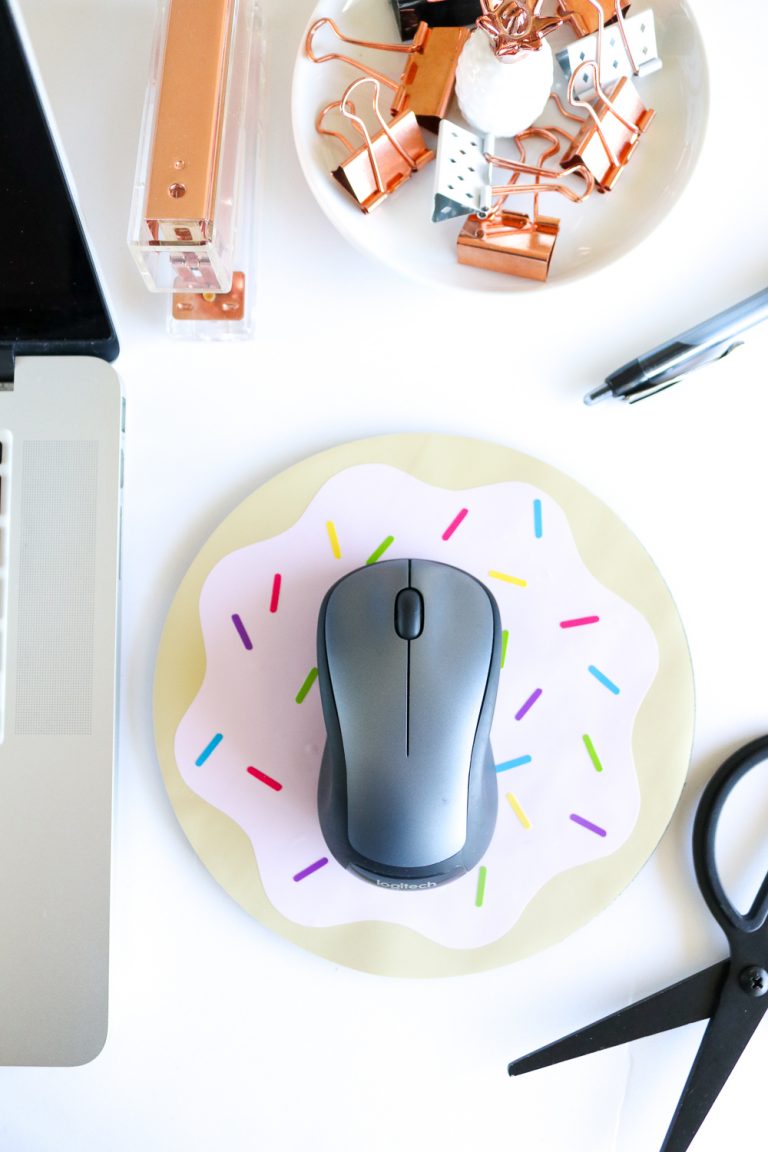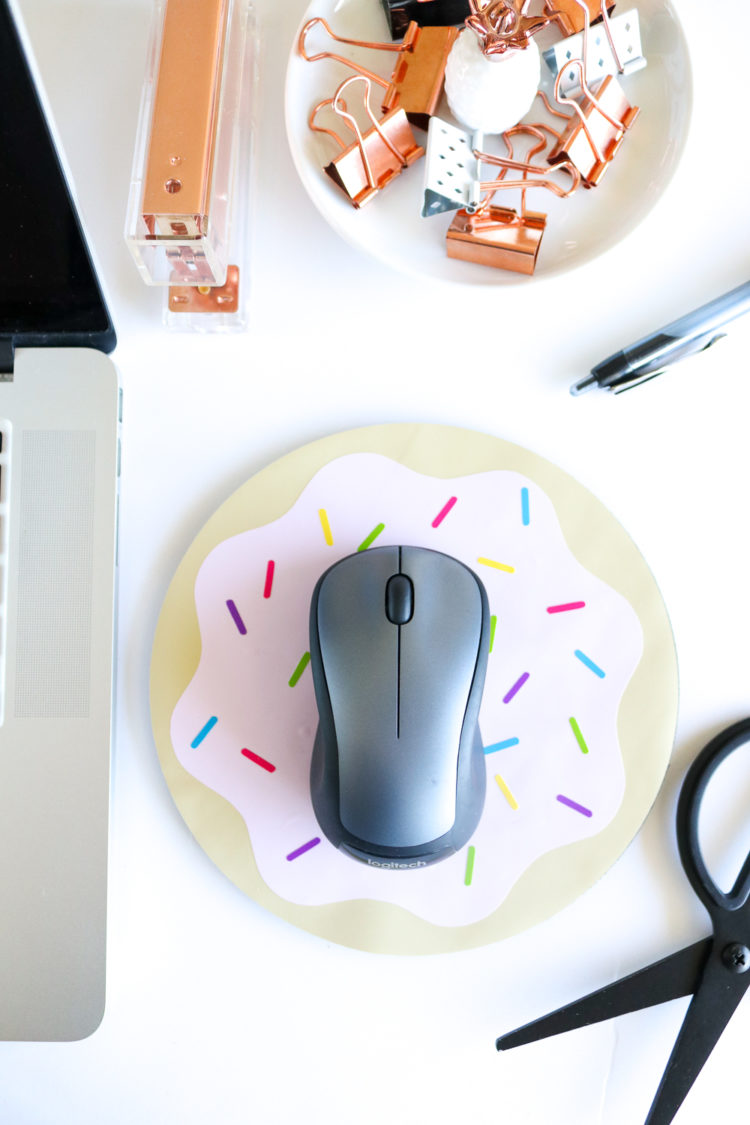 Clubcrafted.com is tempting us with this yummy donut mousepad. Put together your very own colorful computer companion using your Cricut, just don't eat it!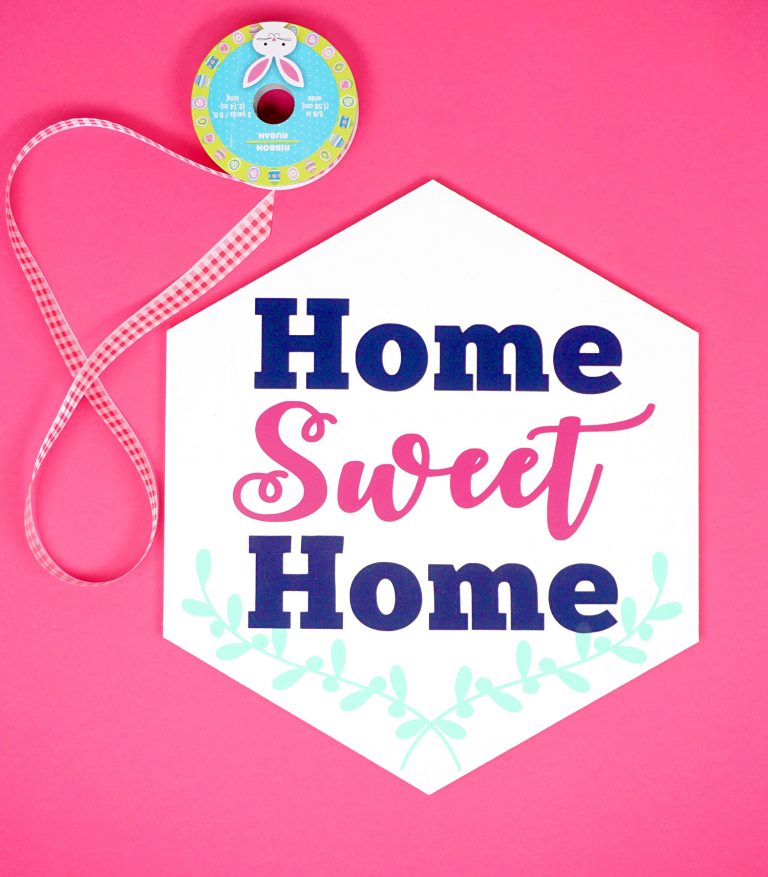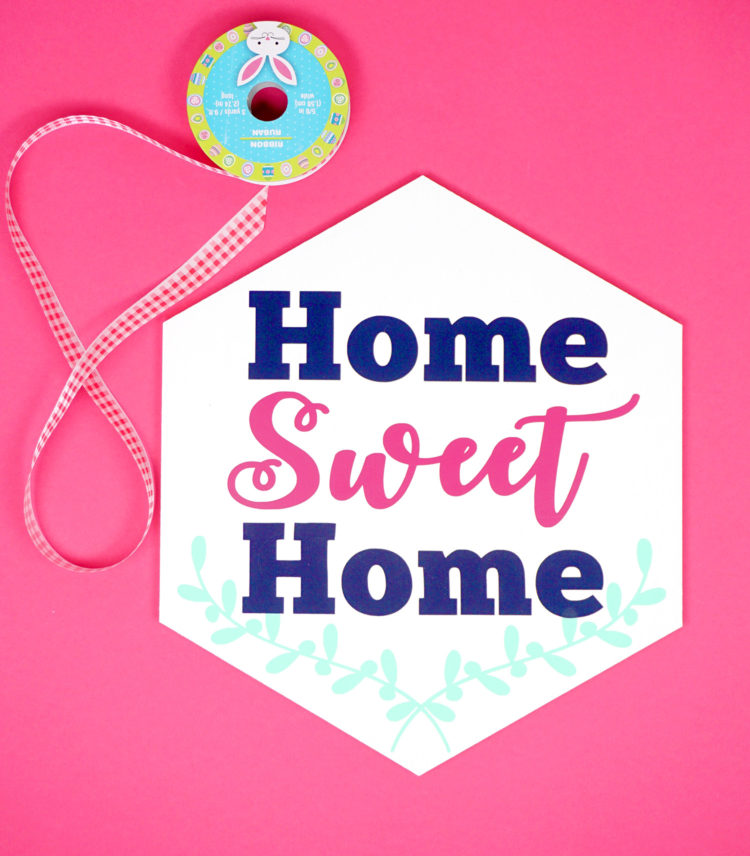 Welcome your family and your friends to your casa with this cheery Home Sweet Home sign made with iron on vinyl and your Cricut. Happinessishomemade.com shares her tips and tricks.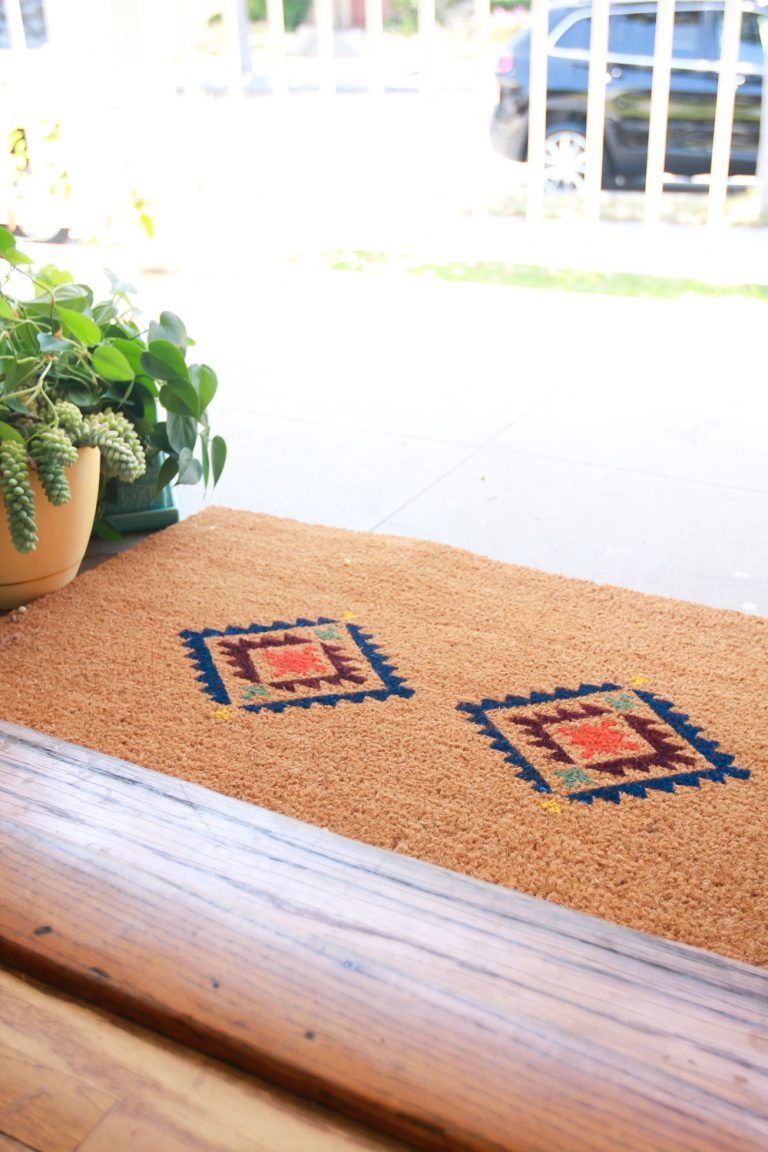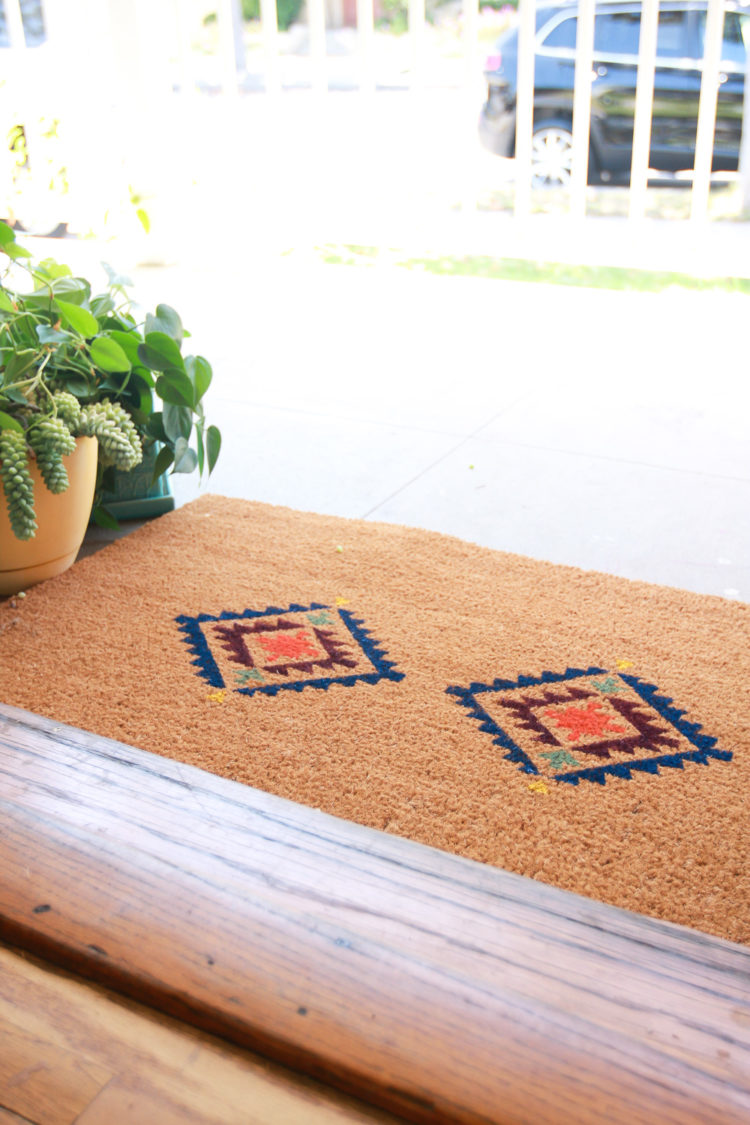 This fun doormat from jestcafe.com is almost too cool to step on. Set one up right outside your front door.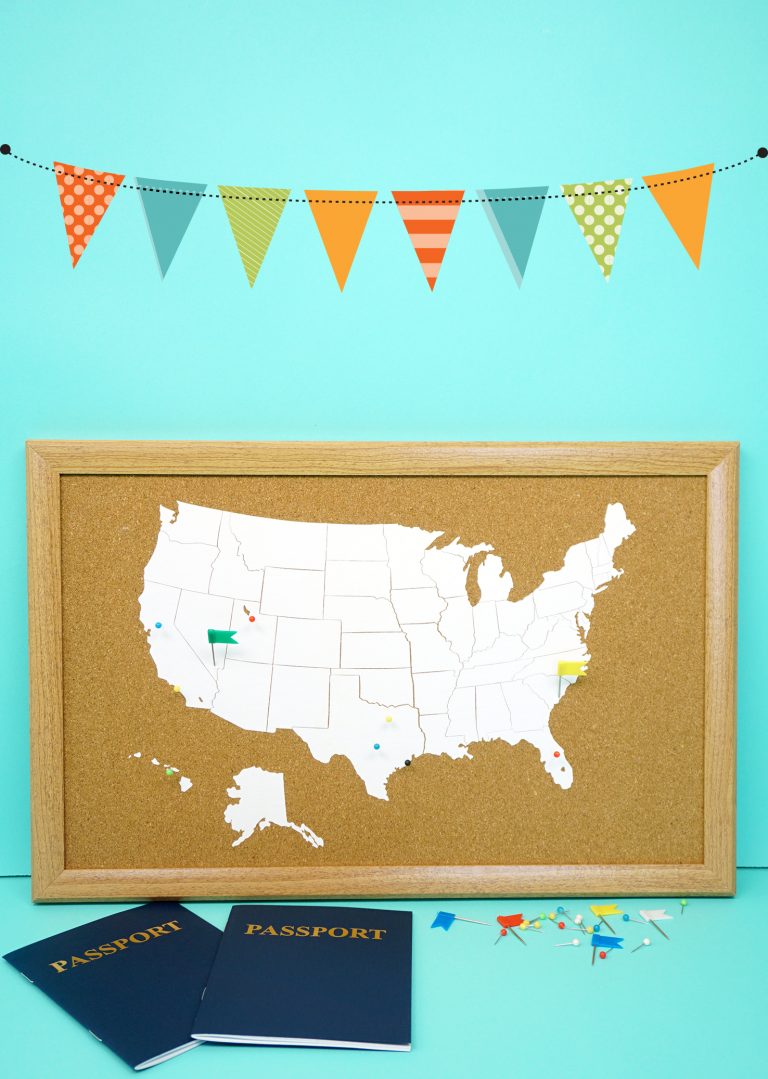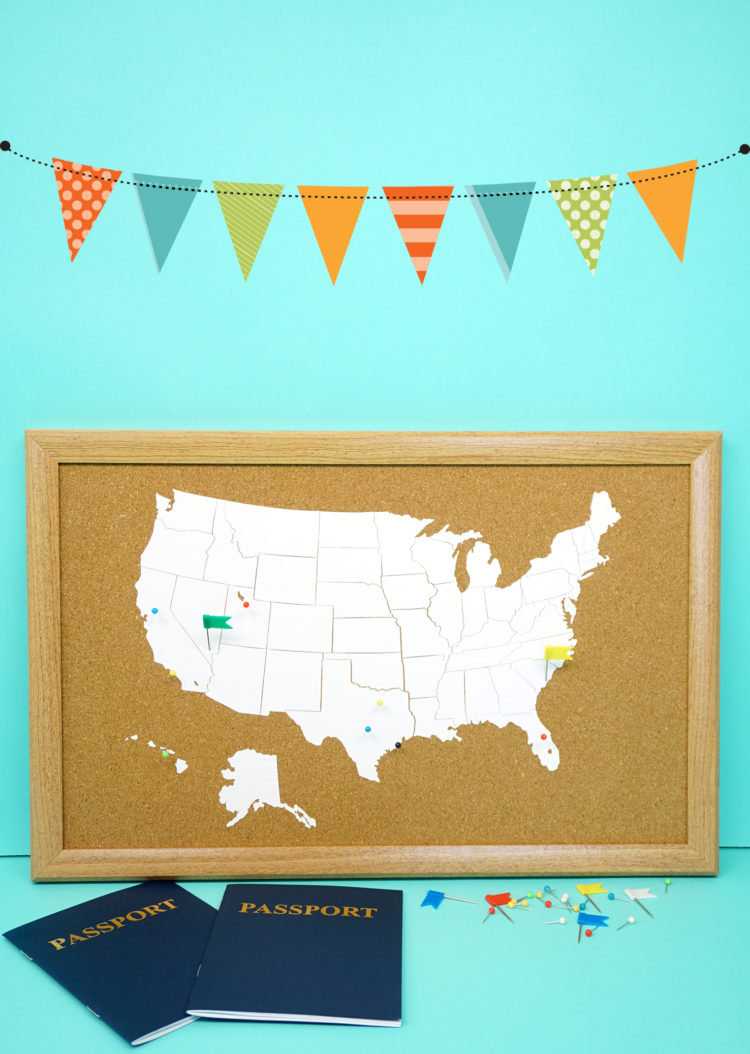 Show off your family's passion for travel with this DIY cork board travel map from happinessishomemade.com. Your Cricut will have fun putting this together.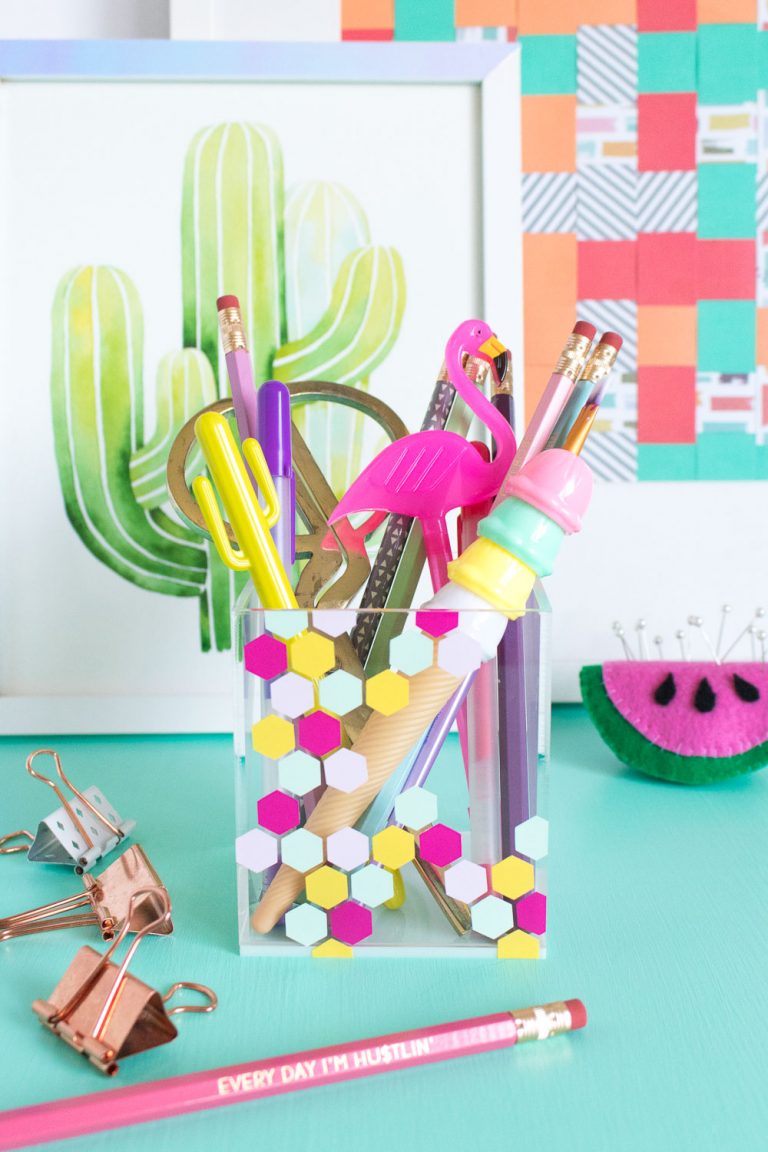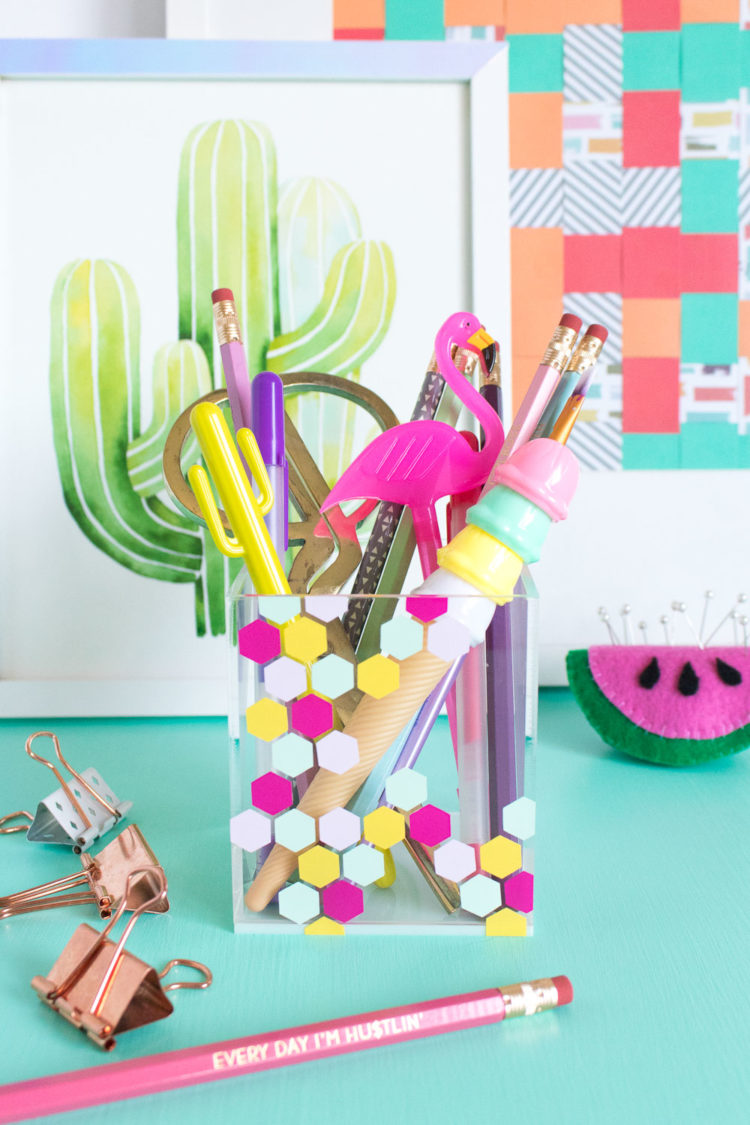 Give your pens and desk goodies a cute little home! Clubcrafted.com shows you how to make this colorful honeycomb acrylic organizer.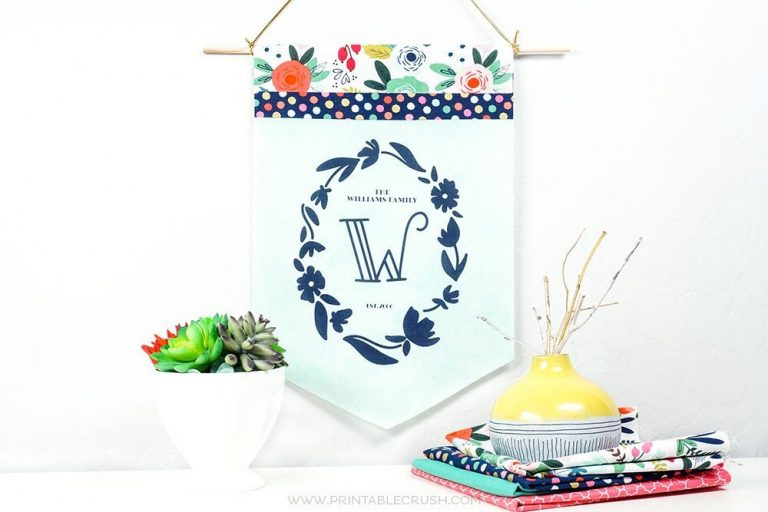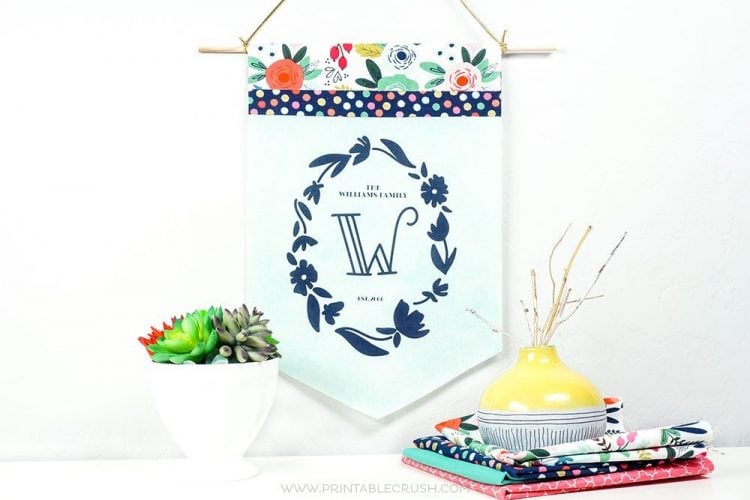 This printable monogram flag would make a thoughtful housewarming gift. Printablecrush.com shares her secrets for printing on fabric with Terial Magic.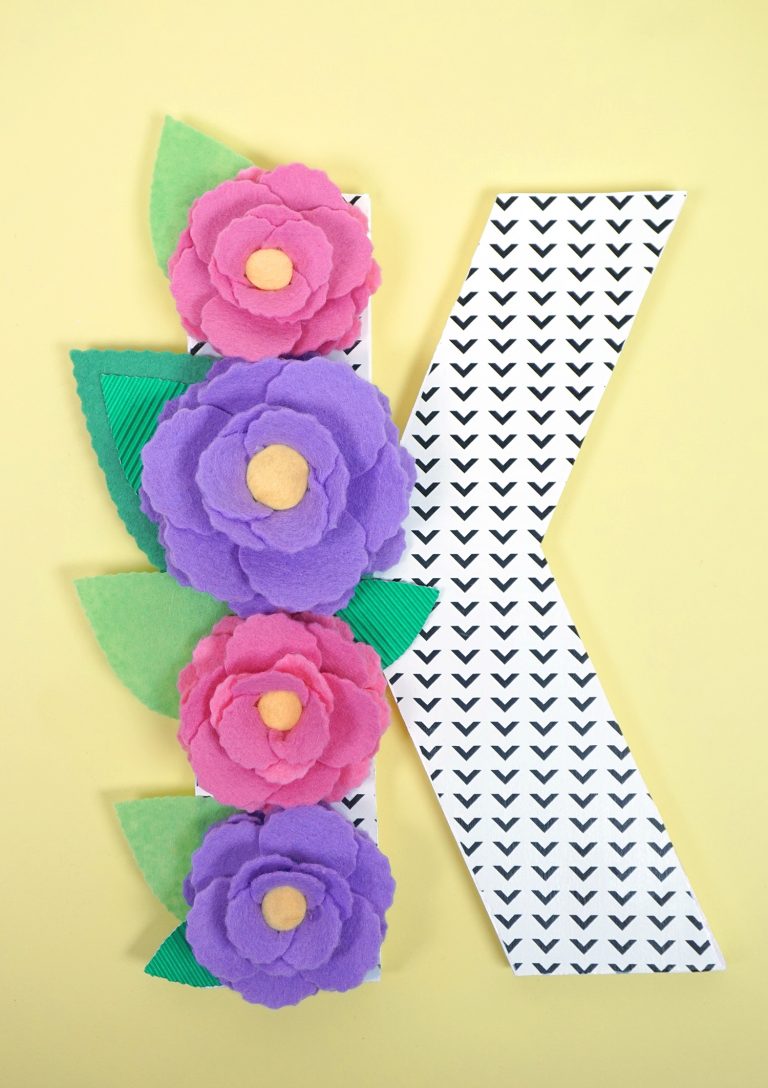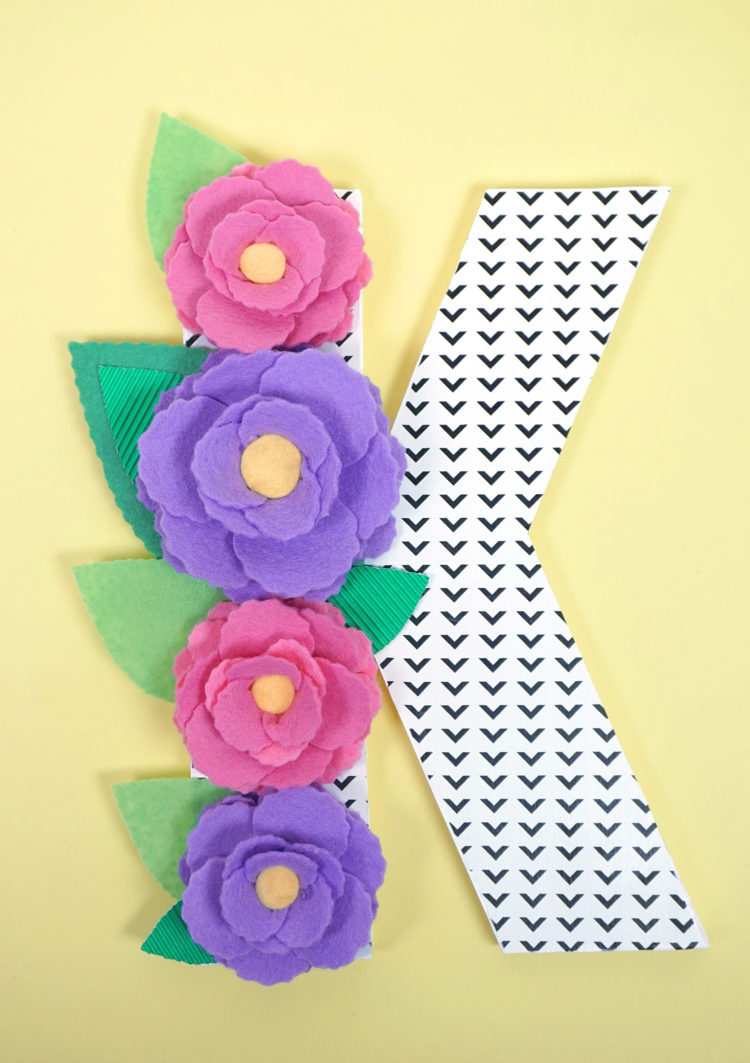 Add a floral touch to your favorite letters and make a statement piece in for any room in your home. Create these floral monogram letters with this tutorial from happinessishomemade.net.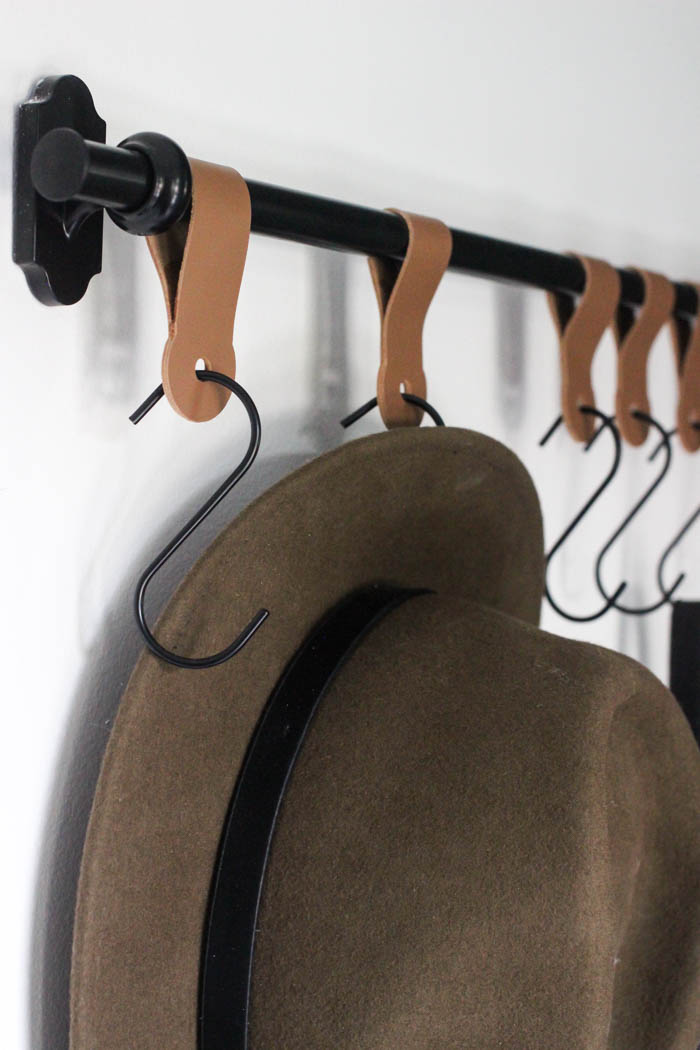 Give your family and guests some place stylish to hang their hats. Use your Cricut to make this modern entry wall hook set up from lovecreatecelebrate.com.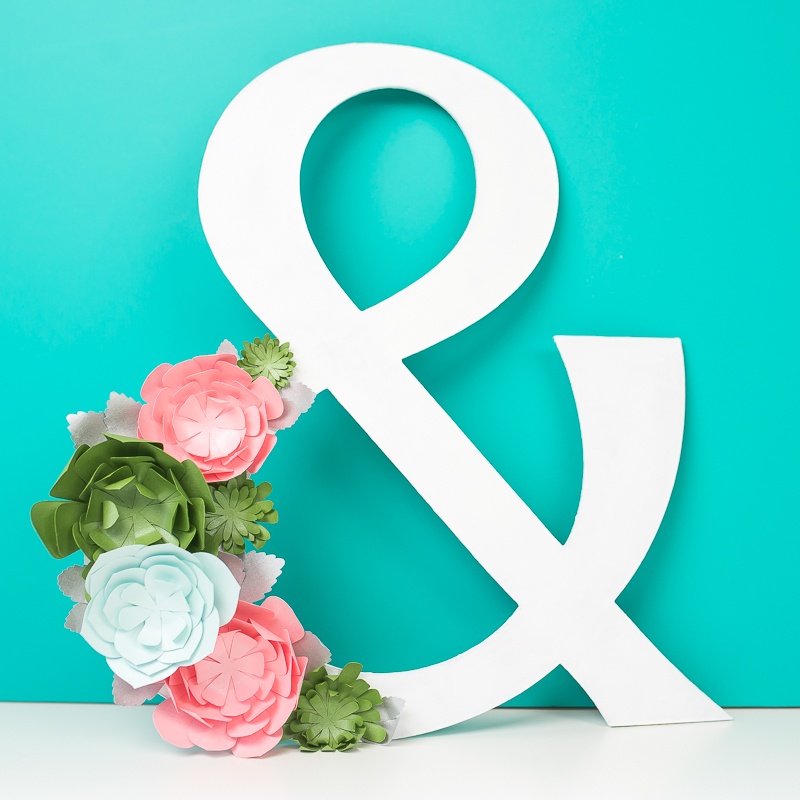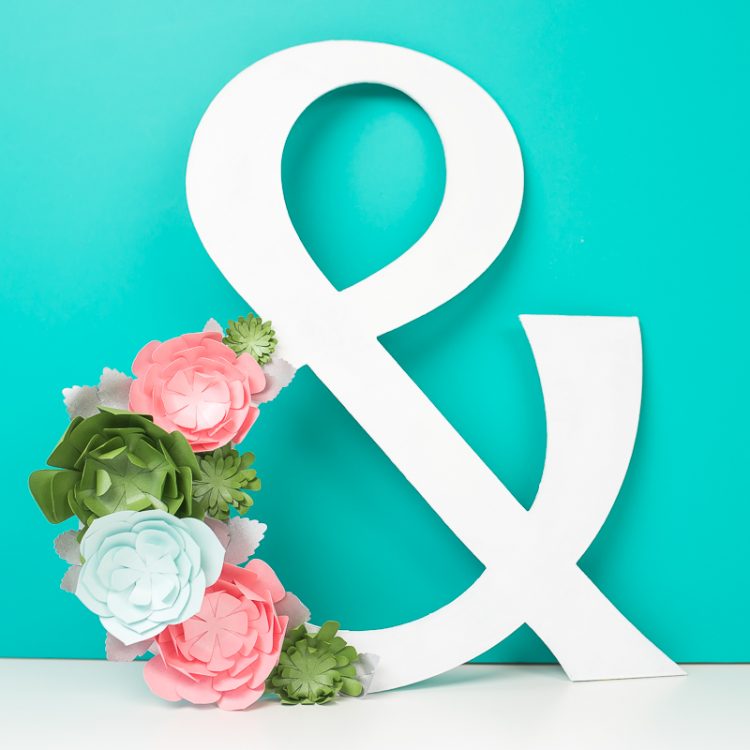 Make your very own paper succulents and dress up a giant ampersand, perfect for a master bedroom. Learn how to use your Cricut to make this colorful yet elegant piece.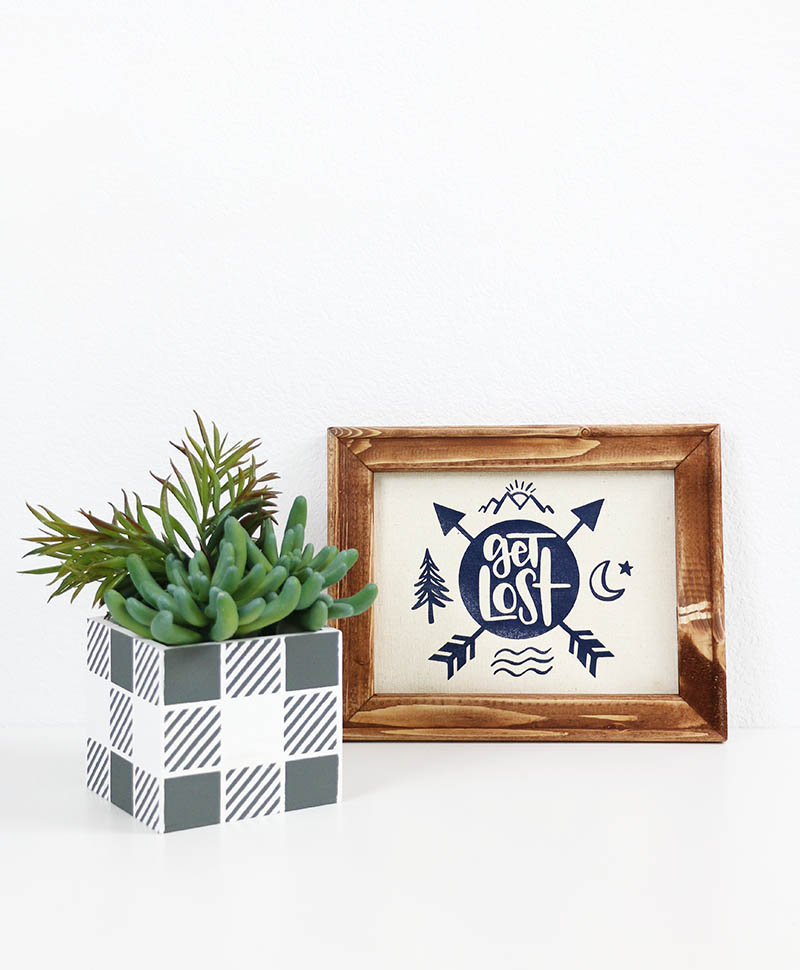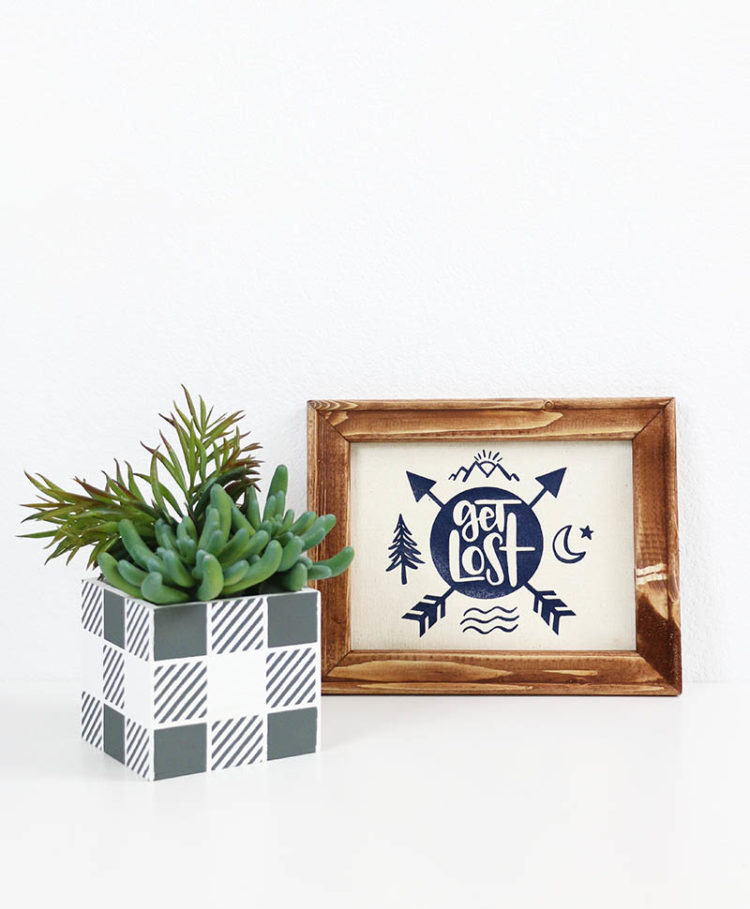 Make your very own reusable stencils with your Cricut then dress up a planter in this cute buffalo plaid pattern. Persialou.com shows you how to get it done.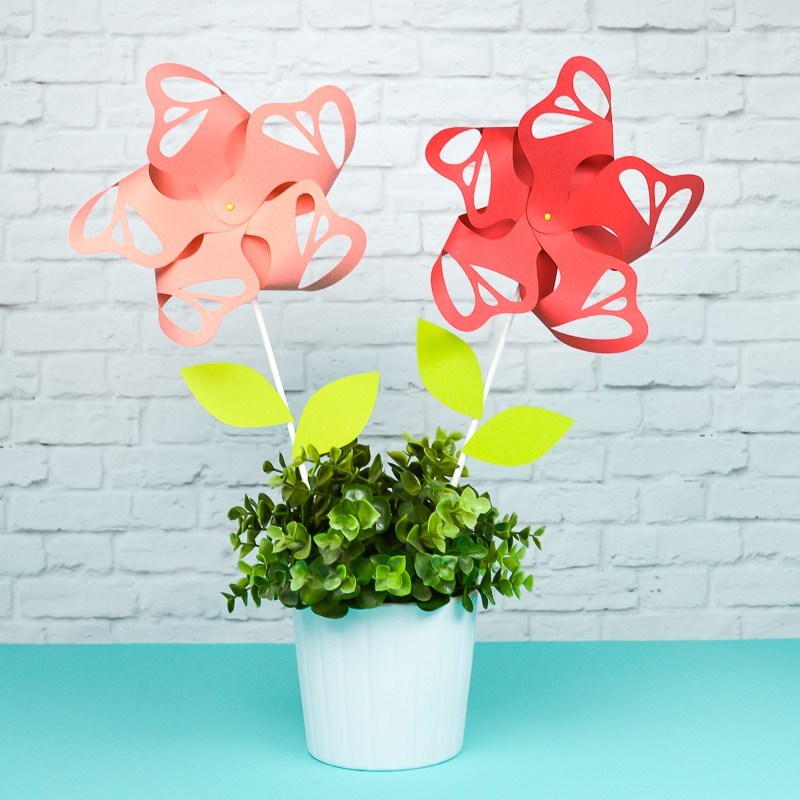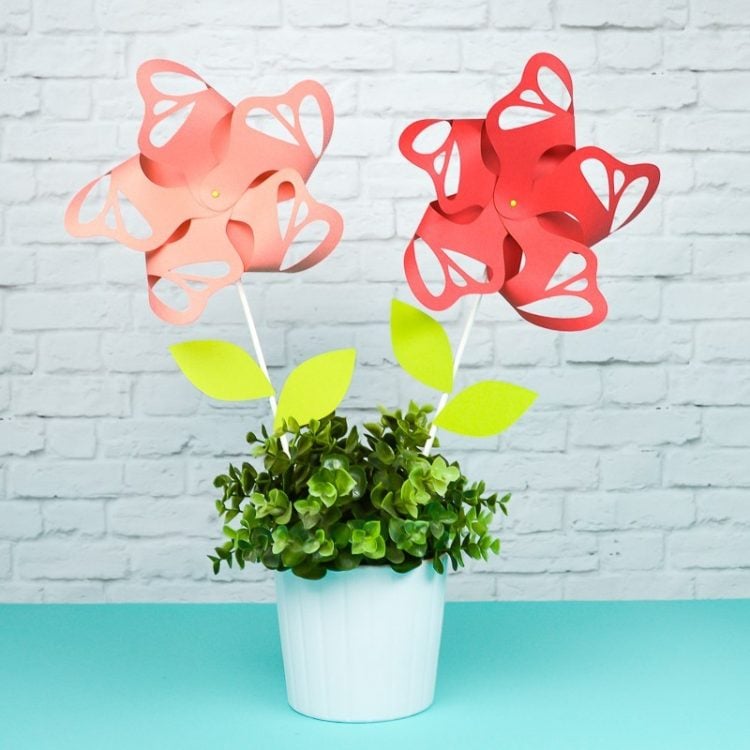 These paper pinwheels from here on my blog are perfect for birthday parties, garden parties, or adding a fun and colorful touch to a guest room or bathroom.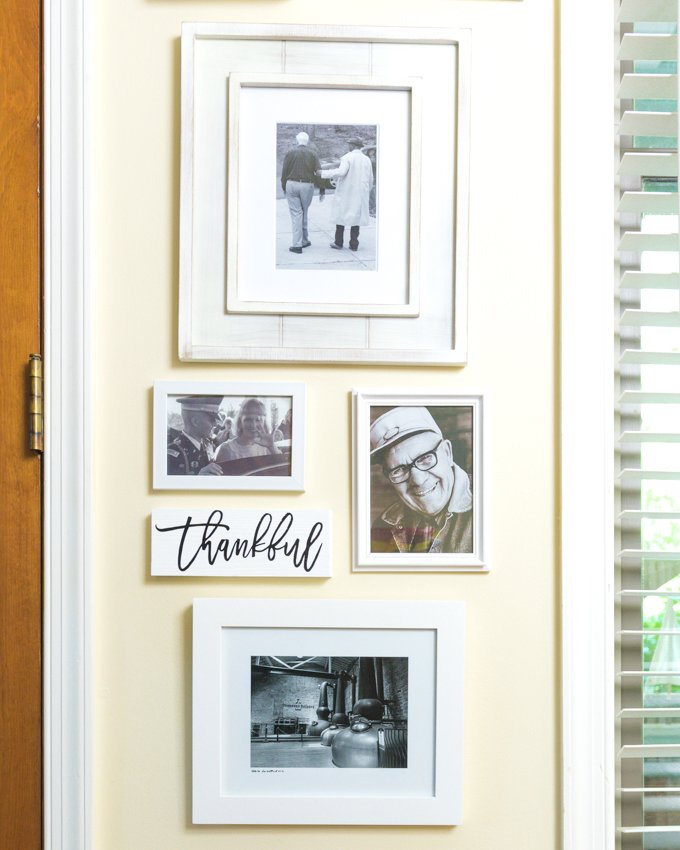 Grab a piece of scrap wood, your Cricut and some of your favorite photos to create this wood wall art from kingstoncrafts.com.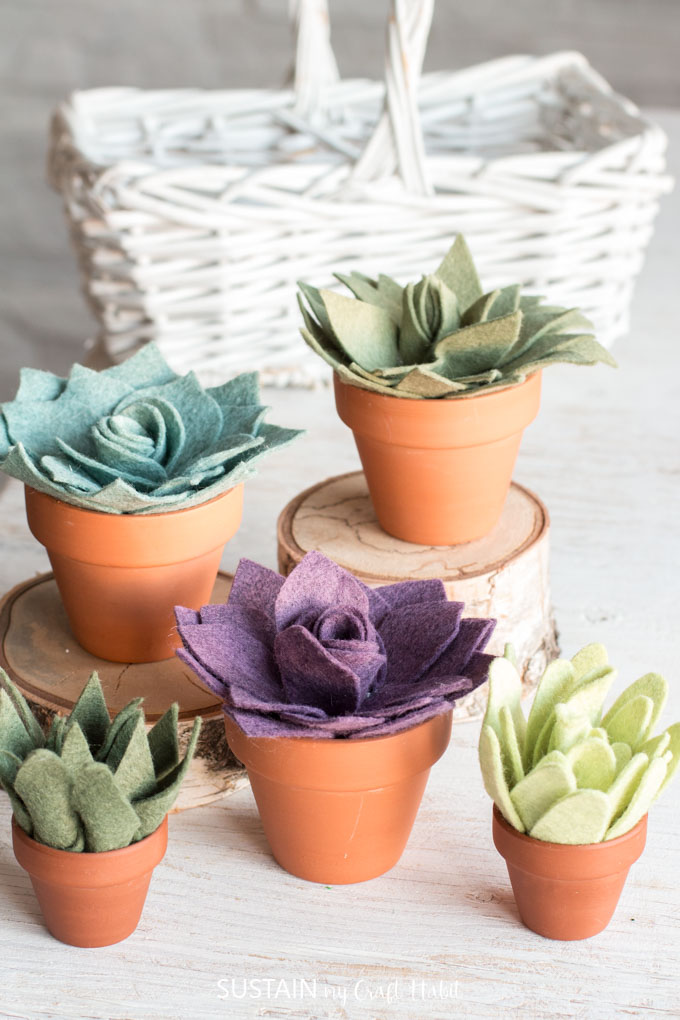 You don't need a green thumb to keep these potted felt succulents alive, you just need your Cricut. Sustainmycrafthabit.com walks you through how to make this lifelike craft.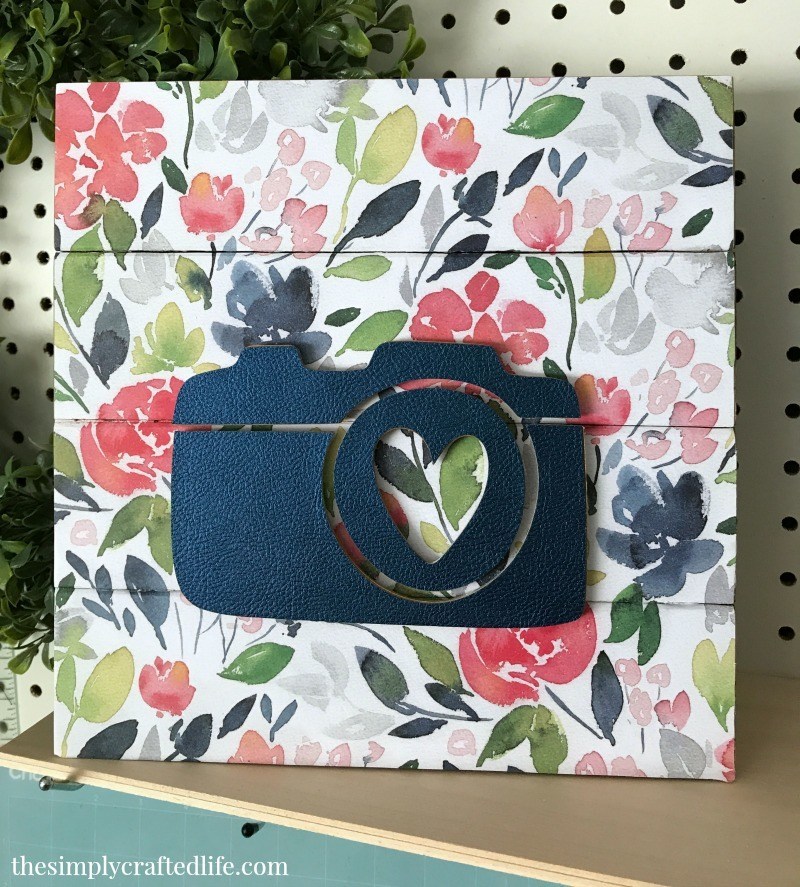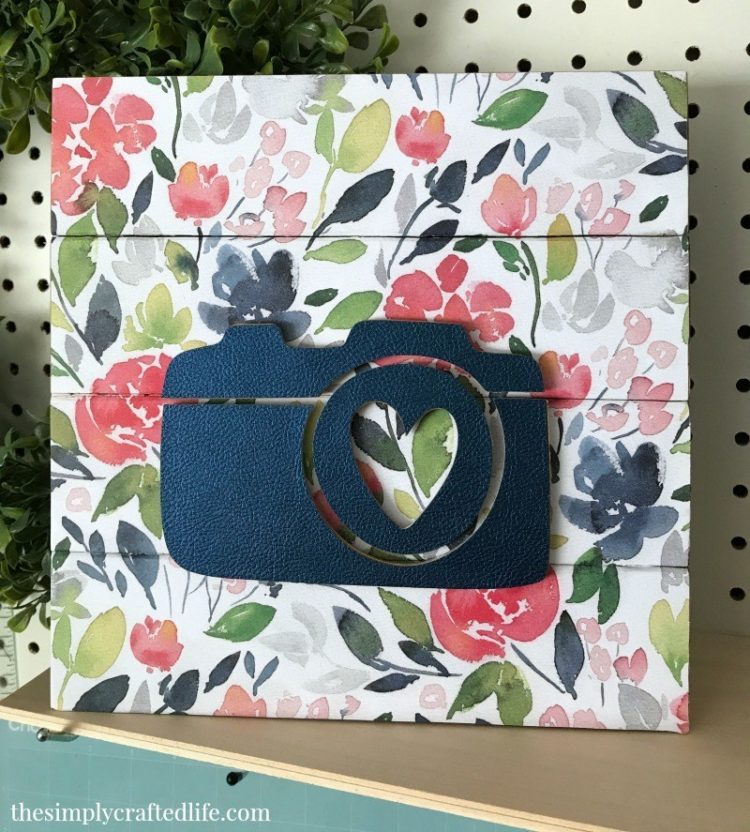 How adorable is this DIY wooden sign from thesimplycraftedlife.com? I love the floral pattern and that 3D camera! Perfect for a home office or guest bedroom.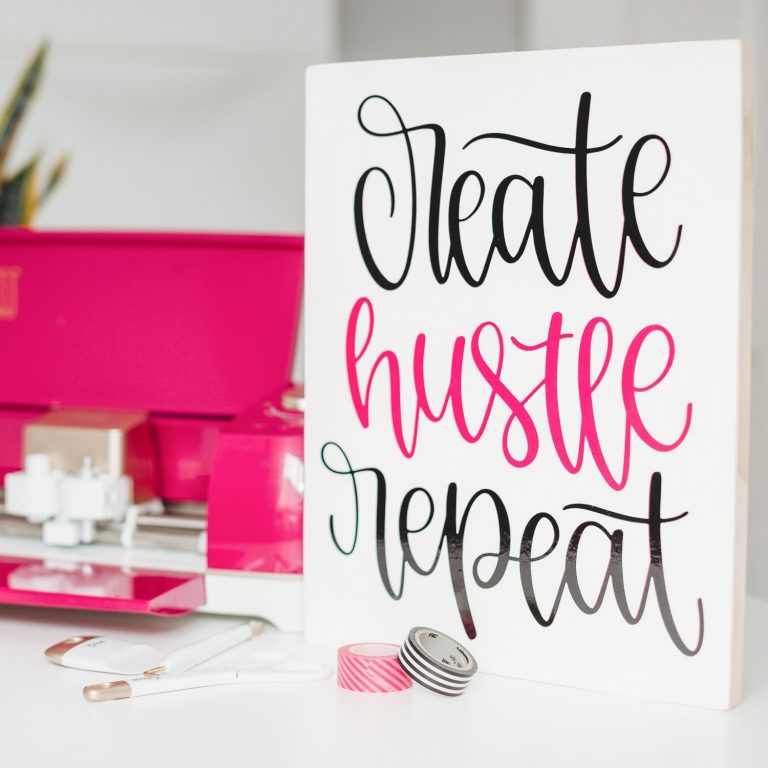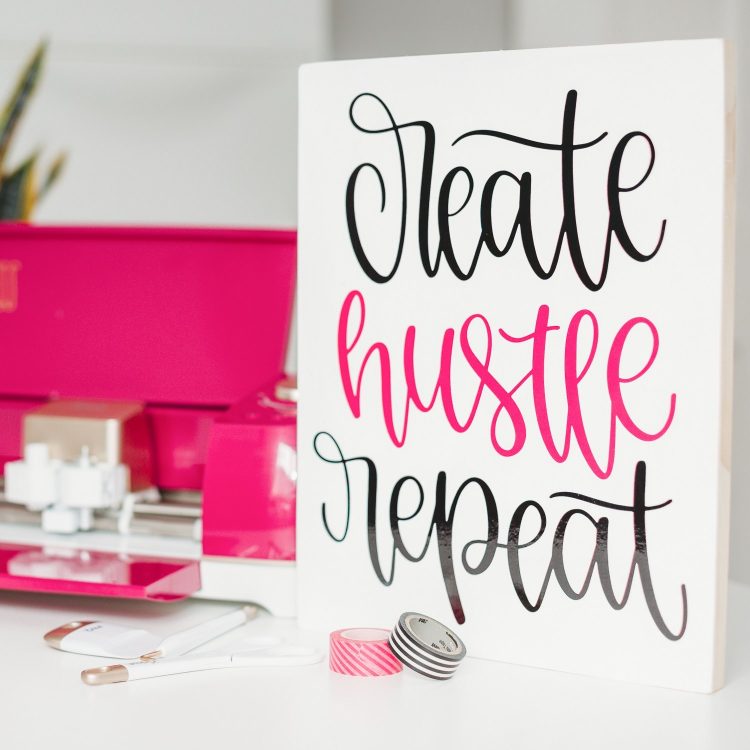 I show you how to use vinyl on painted wood to create this boss mom piece for your home office!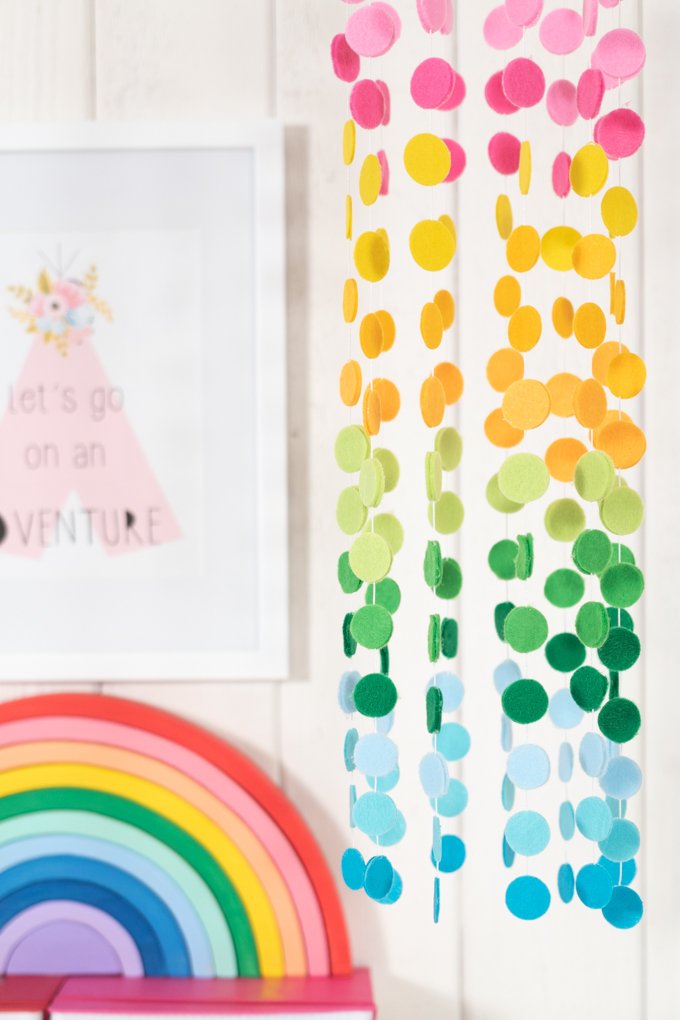 This felt hanging mobile from kingstoncrafts.com is full of color and cuteness! Dress up a nursery, entryway or playroom.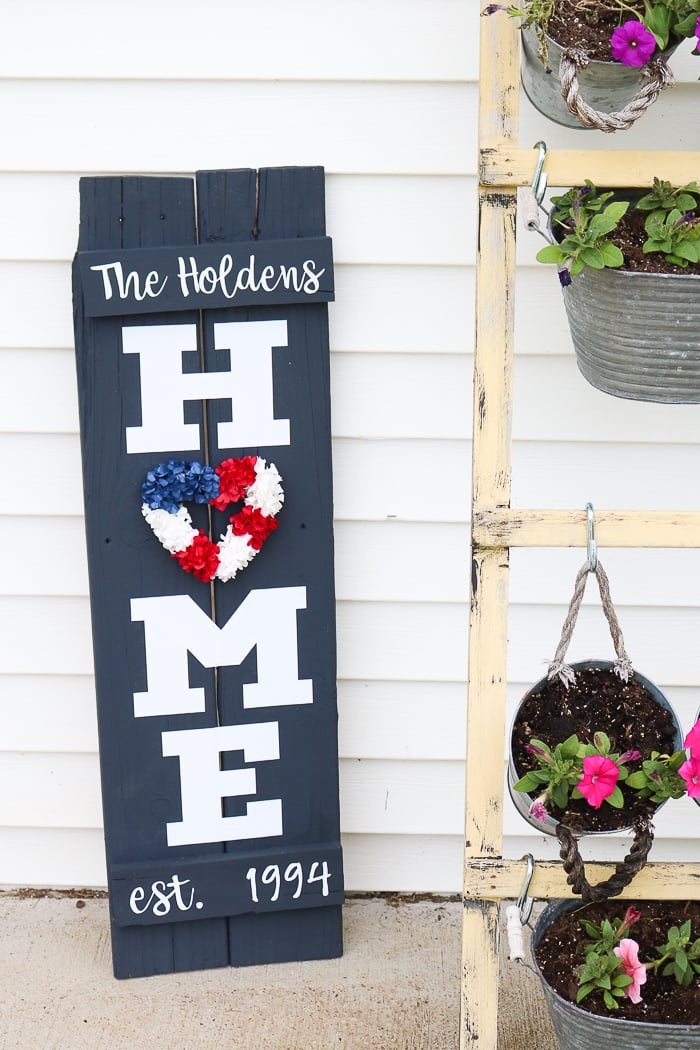 Welcome your friends, guests and all your visitors with this DIY home sign wreath. Thecountrychiccottage.net shows you how to make this easy sign using your Cricut.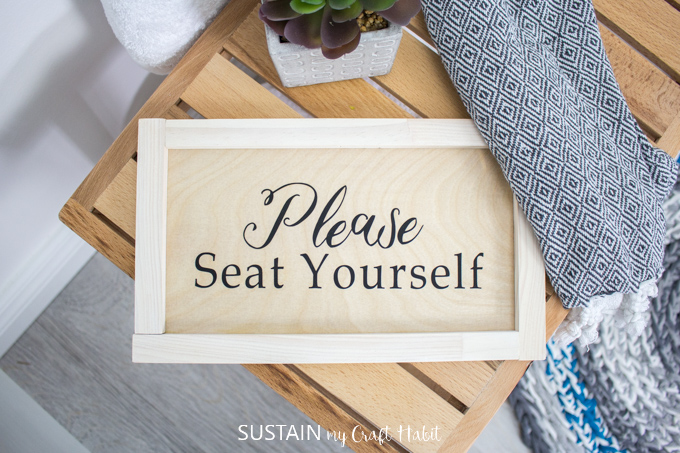 Here's some upscale bathroom humor for you. Sustainmycrafthabit.com uses her Cricut Easypress to create this DIY bathroom sign.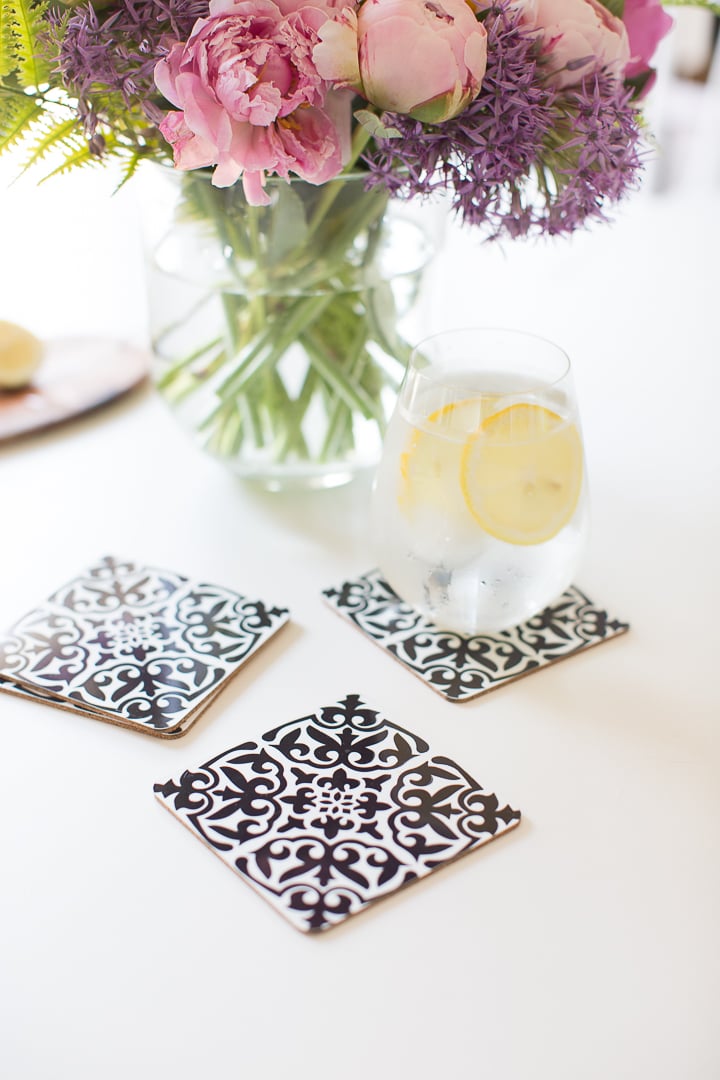 Craftberrybush.com uses Cricut Infusible Ink to create these chic DIY coasters. Dress up your very own set and give your guests somewhere trendy to place their drinks.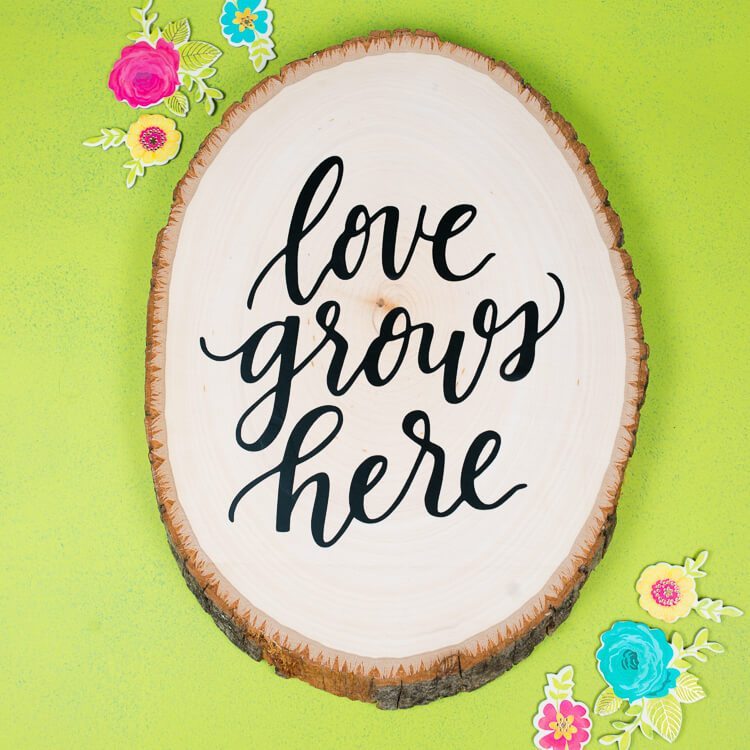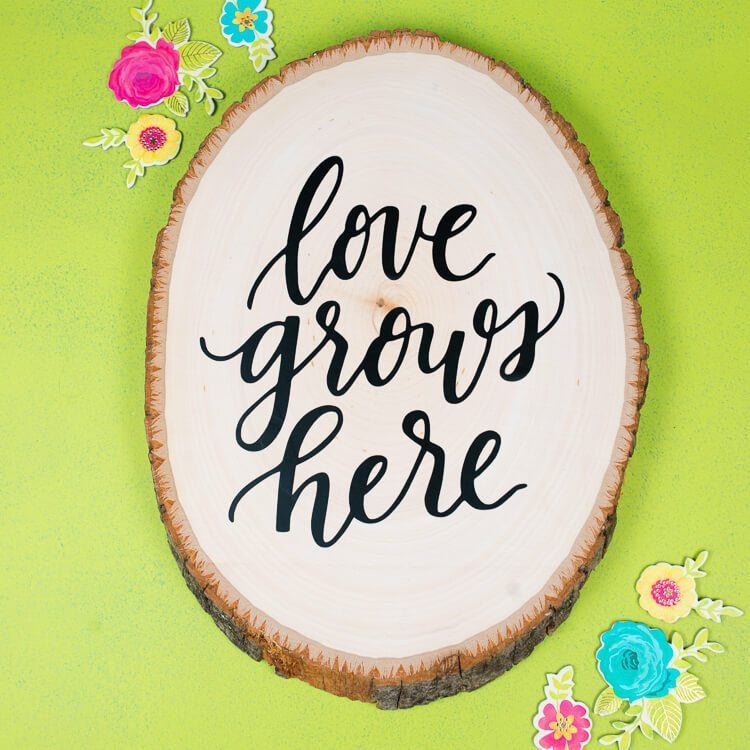 Use iron on vinyl on wood to create this sweet and welcoming message for all your guests. I walk you through the steps to make your very own piece.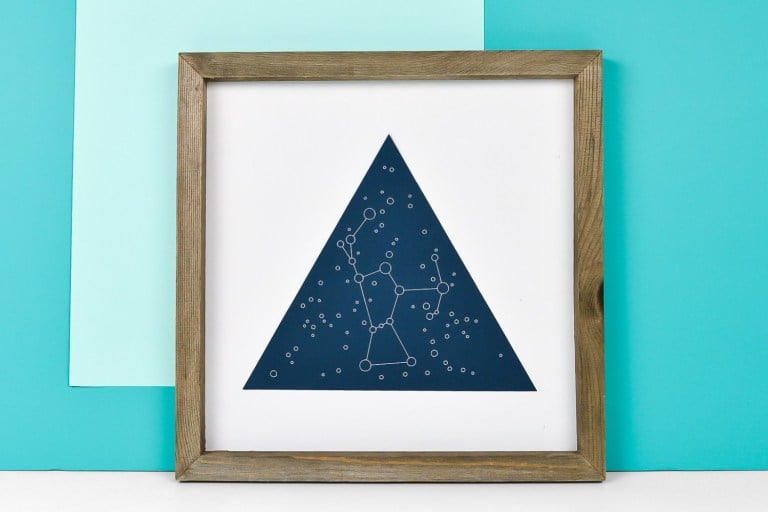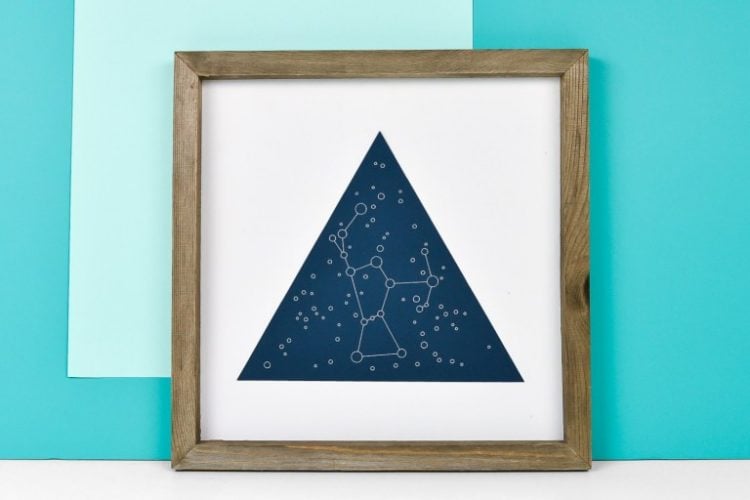 Have you used the Foil Quill with your Cricut yet? I show you how to create beautiful foil projects that will decorate your walls with style.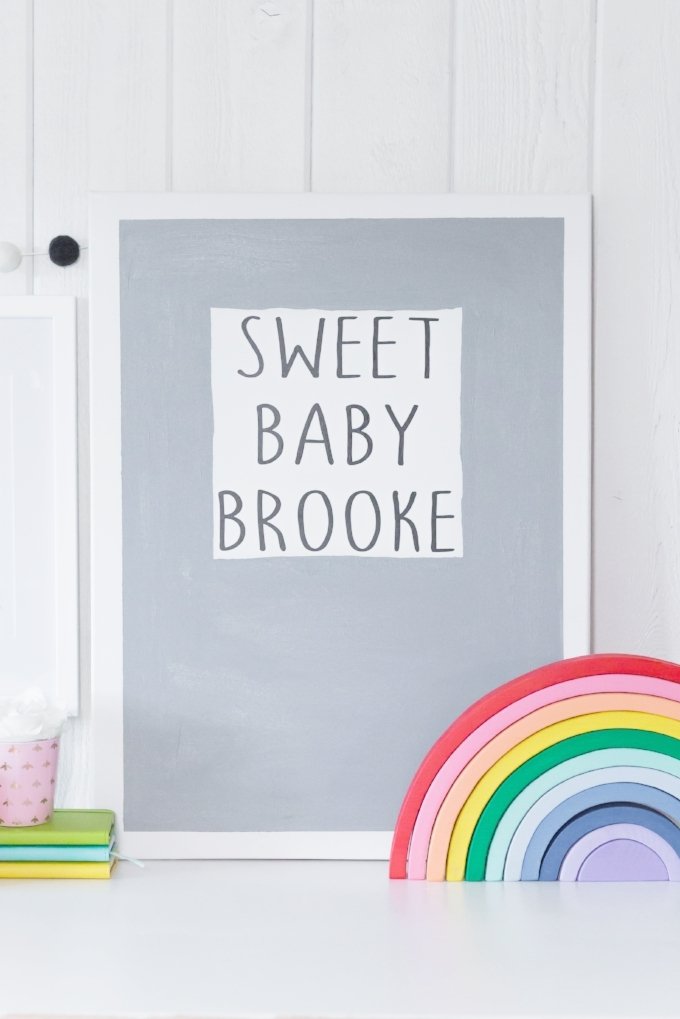 If you're planning a nursery or redoing a kids' room, use your Cricut to create these sweet baby wall decor pieces from kingstoncrafts.com.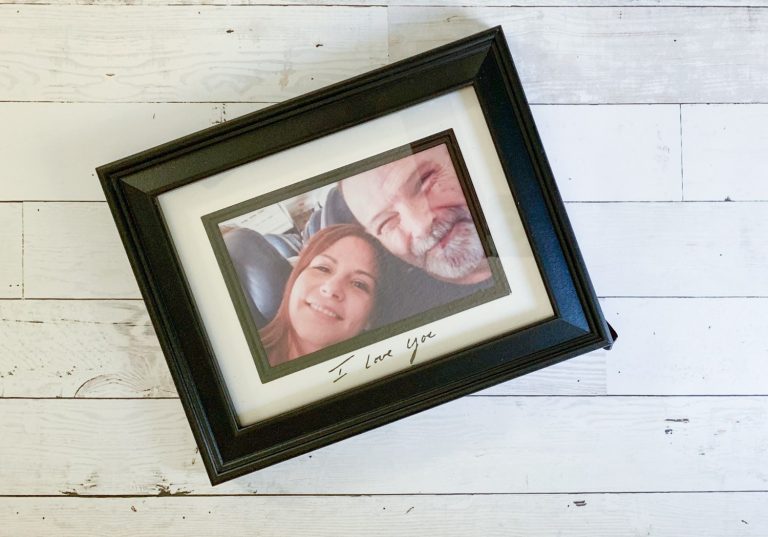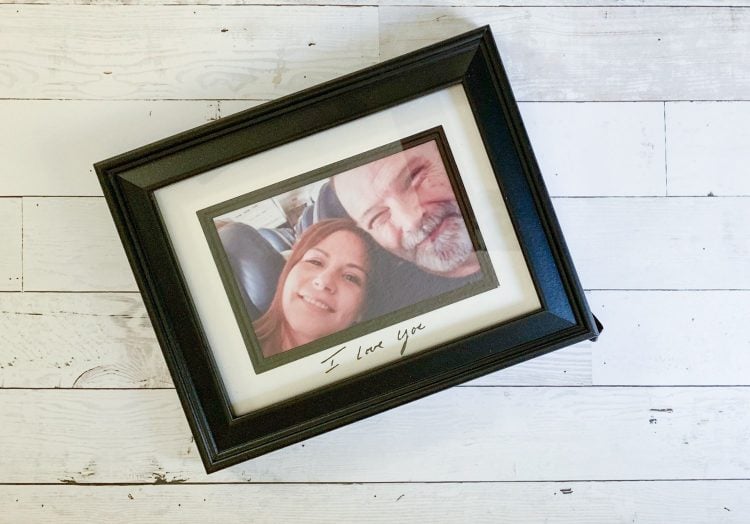 Make this sweet DIY memory frame as a gift or as a special reminder of a special loved one. Everydaypartymag.com walks you through the process using a few materials and your Cricut.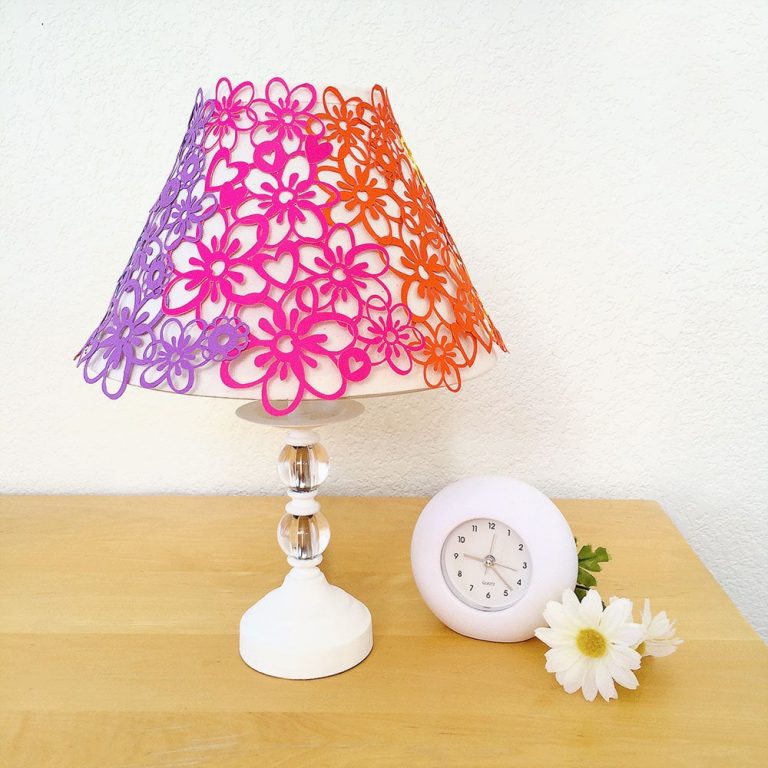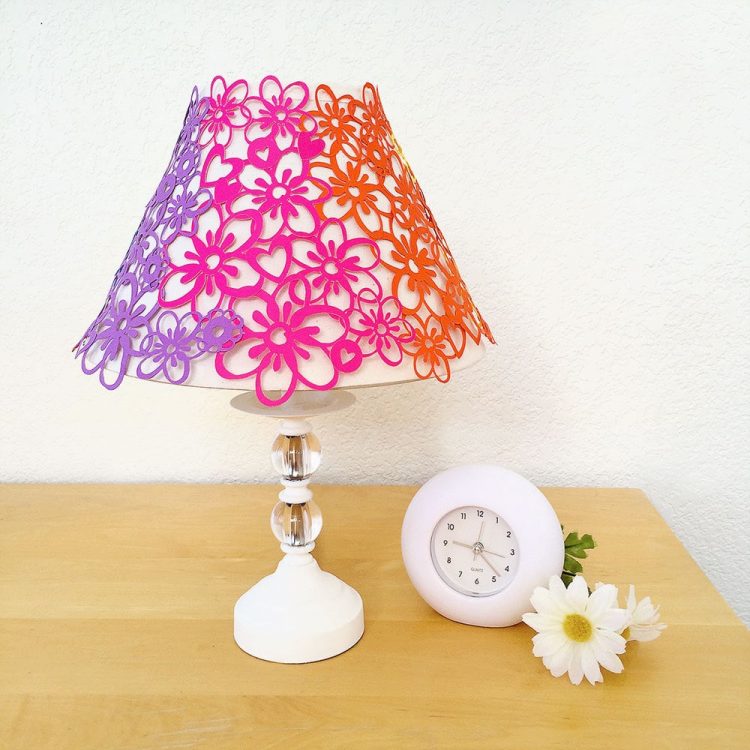 This DIY paper lace rainbow flower lampshade from 100directions.com would look great in any corner of your home that is screaming for a pop of fun color.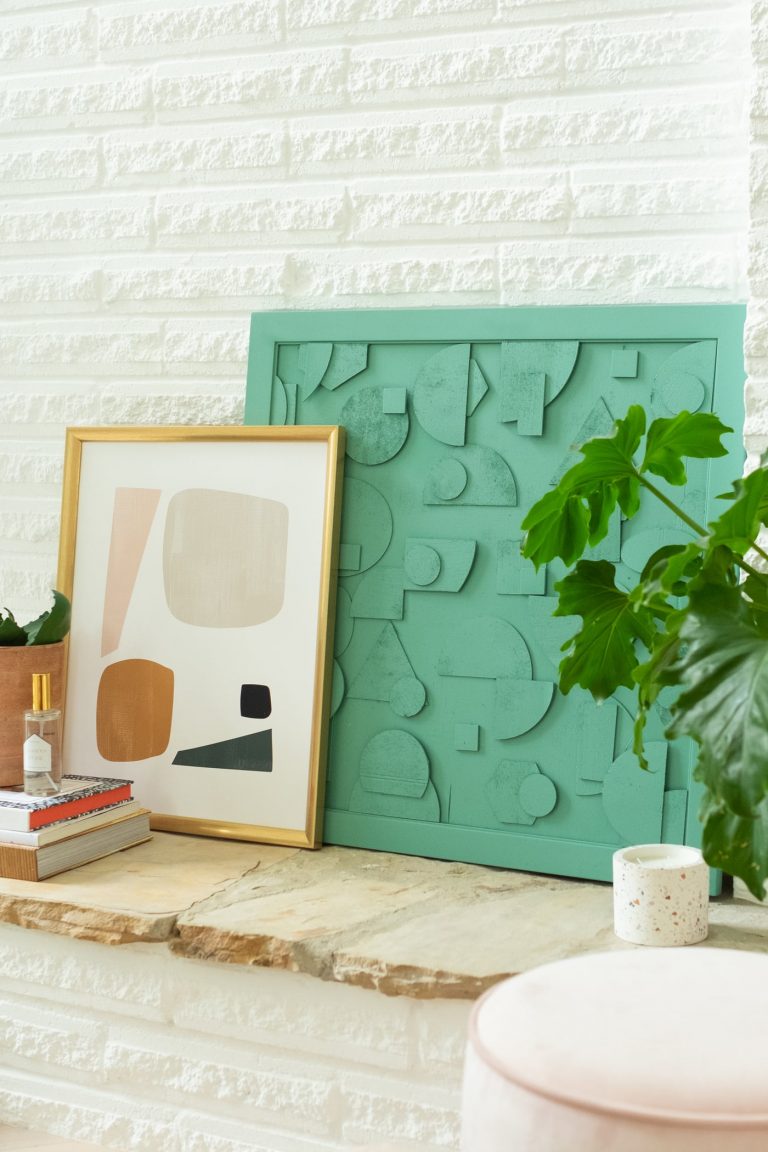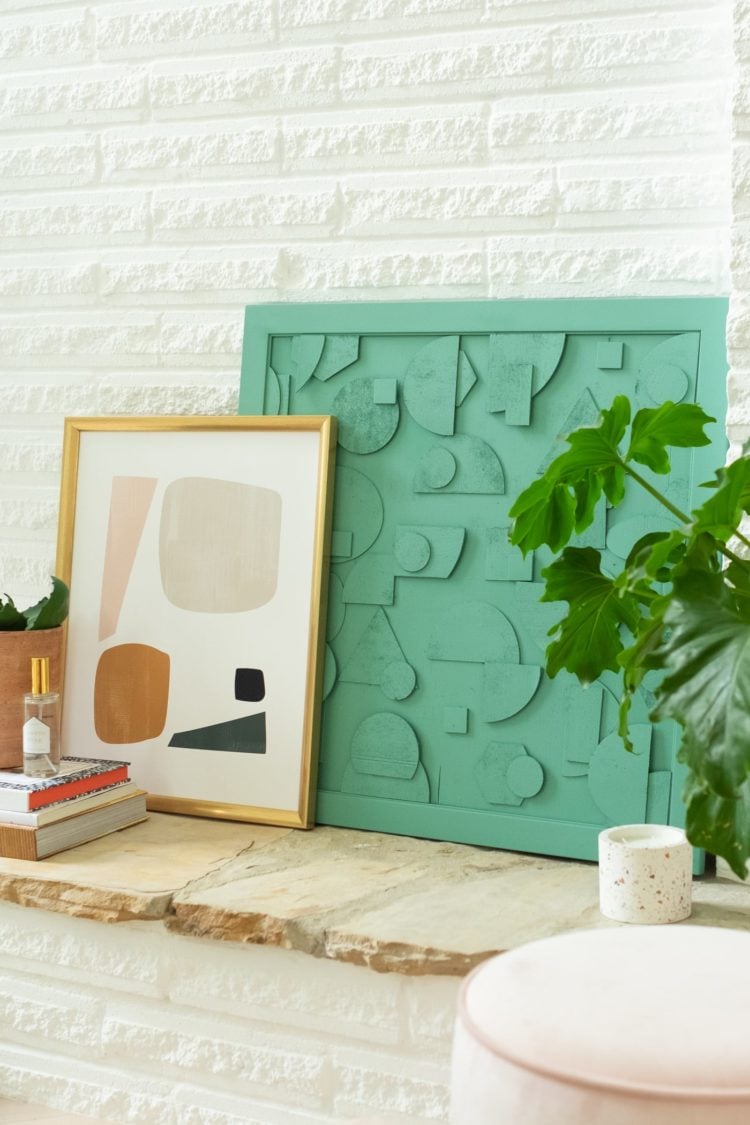 If modern art is your style then let sugarandcloth.com show you how to make some DIY wooden artwork. Cutting wood with your Cricut is easier than you might think.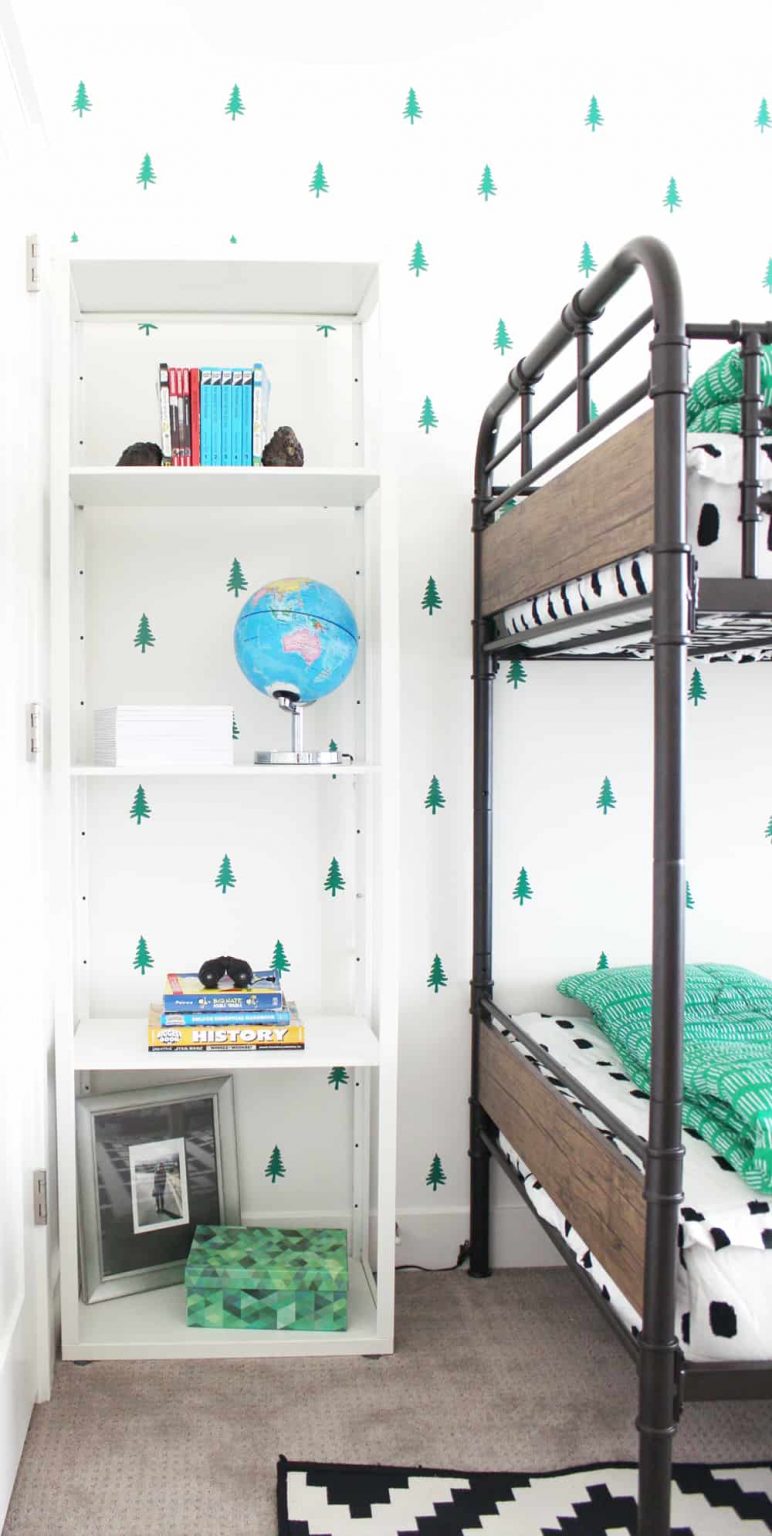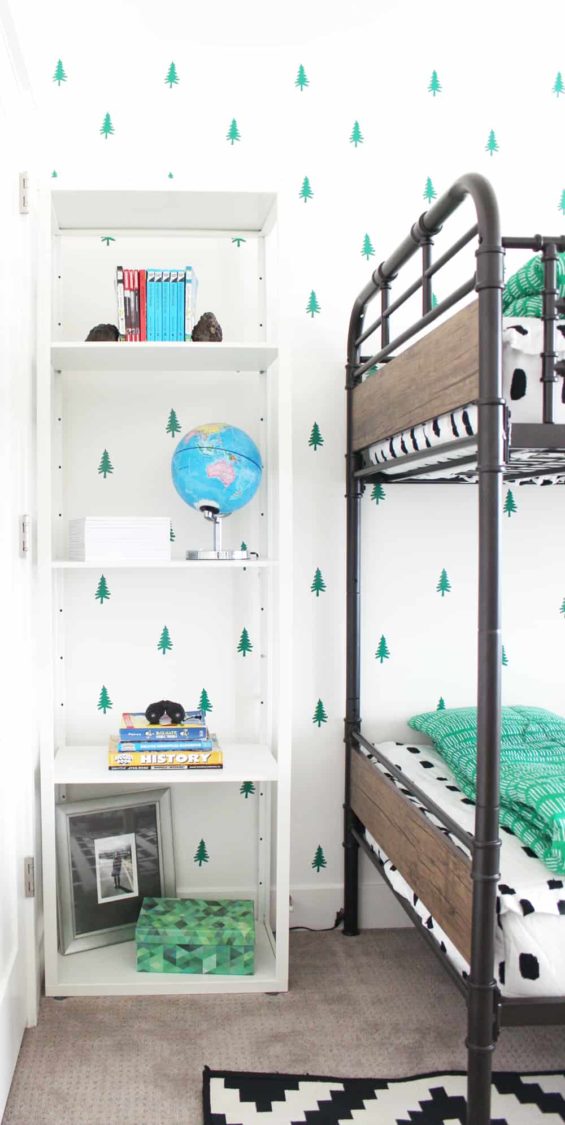 If you're looking for some trendy wallpaper but don't want to spend all the money, make your own! Check out this tree wallpaper prettyprovidence.com made with her Cricut! You can make it too.
I'm pretty sure your master bedroom needs this you & me sign. Not sure how to make it? Don't worry, thehappyscraps.com teaches you how to put it together using your Cricut EasyPress 2.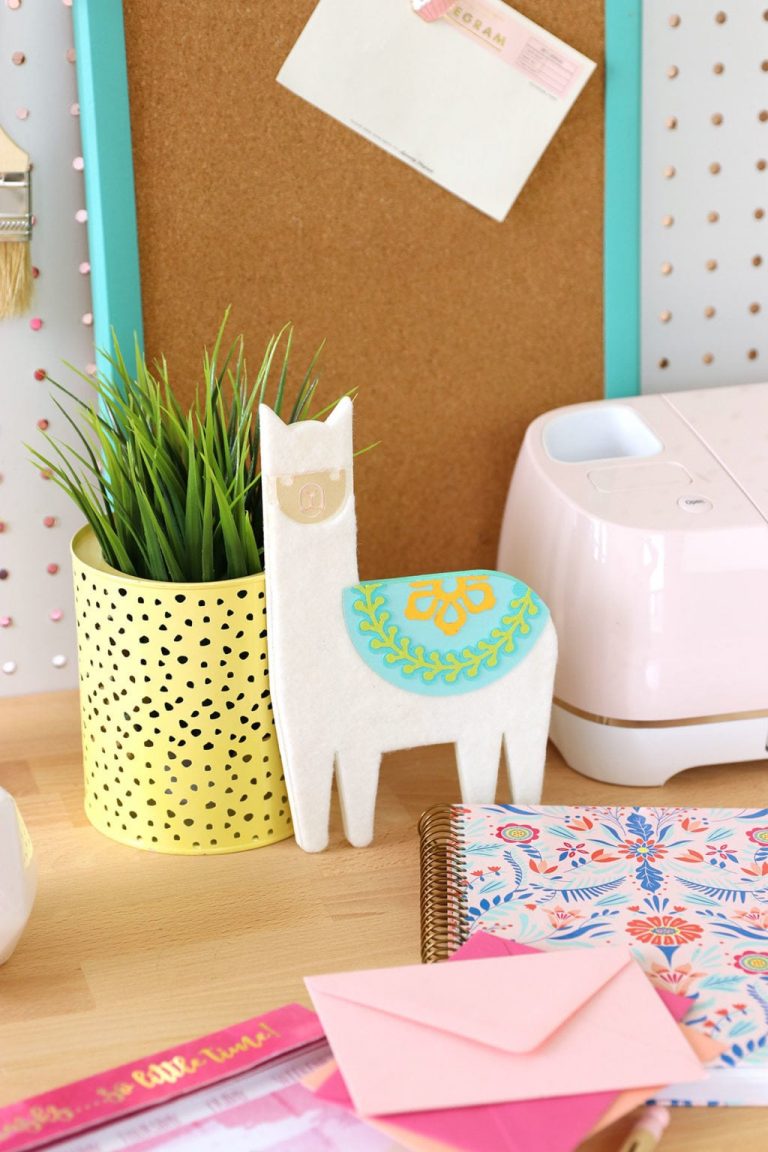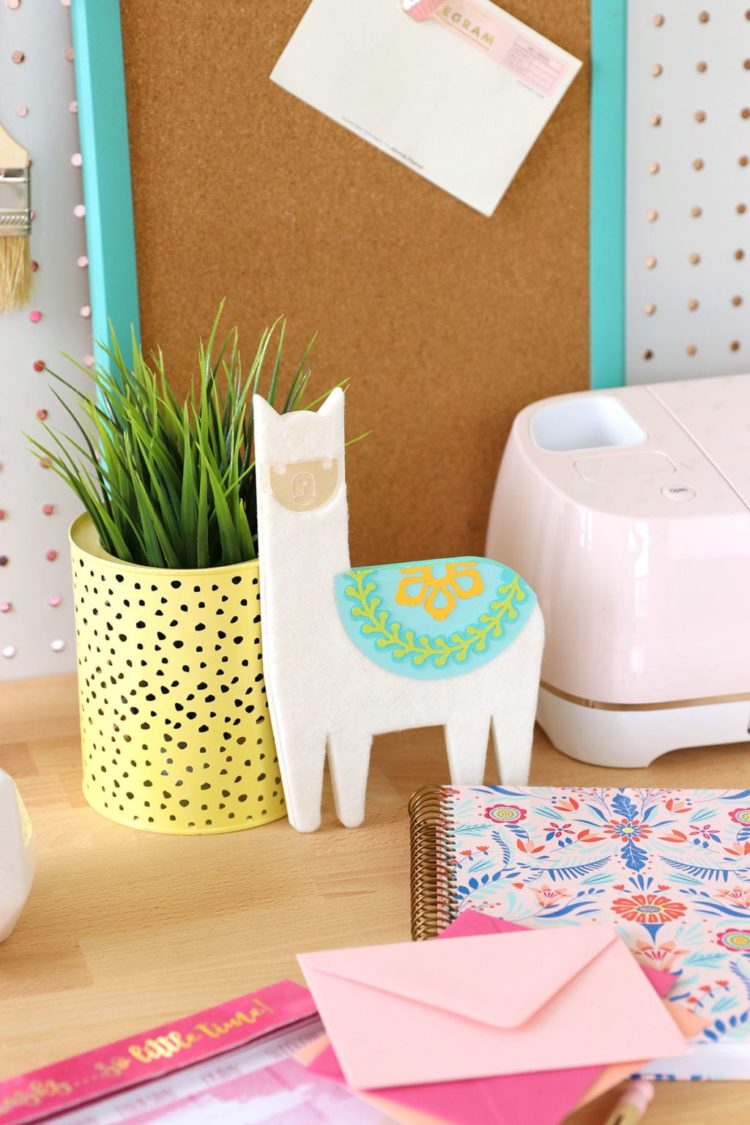 Because we all need a DIY chipboard llama desk buddy. This little guy is simple to put together with your Cricut and this tutorial from damasklove.com.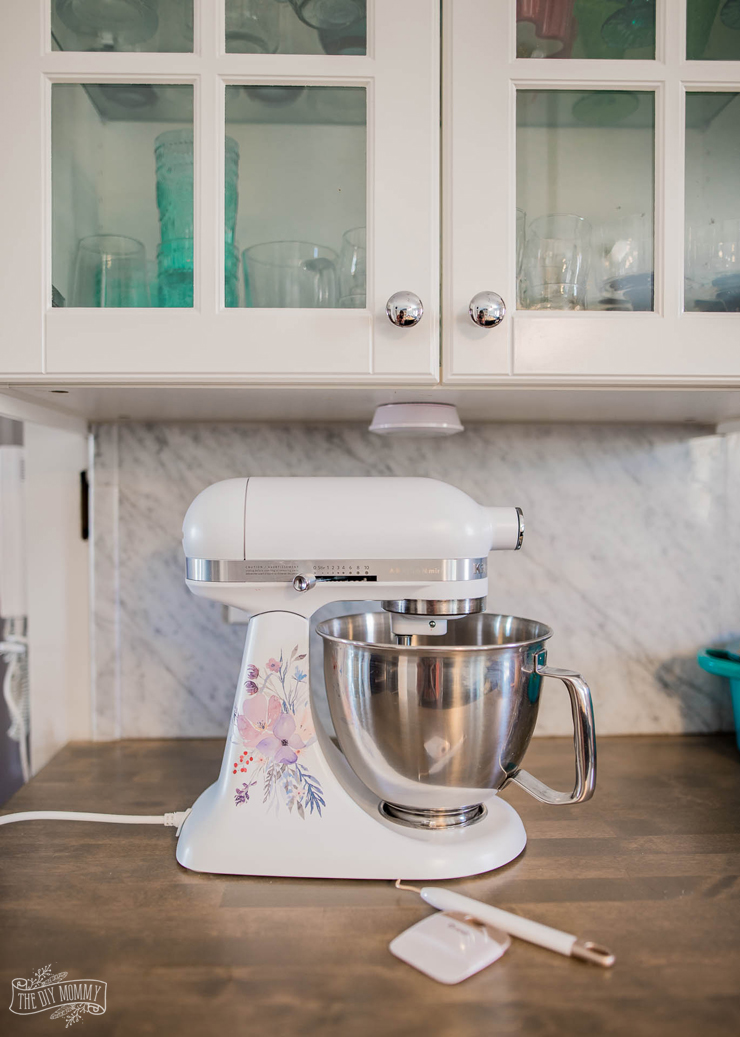 Dress up that countertop mixer with this sweet and elegant watercolor mixer decal. Grab the pattern and plans from thediymommy.com.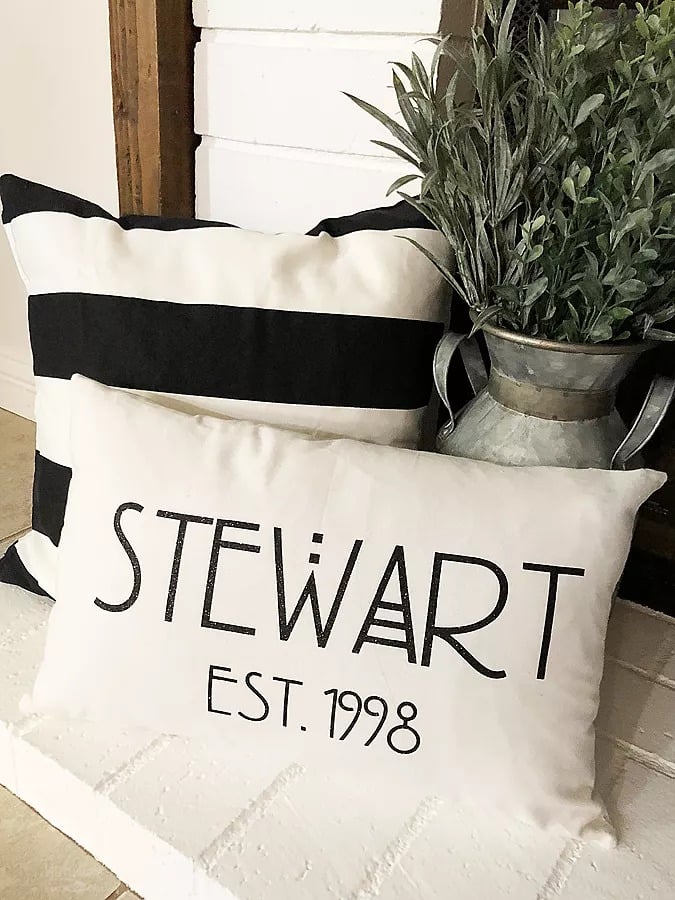 Your name, your kid's name, your dog's name — pick your message and add it to this personalized pillow that michellespartyplanit.com shares with us all.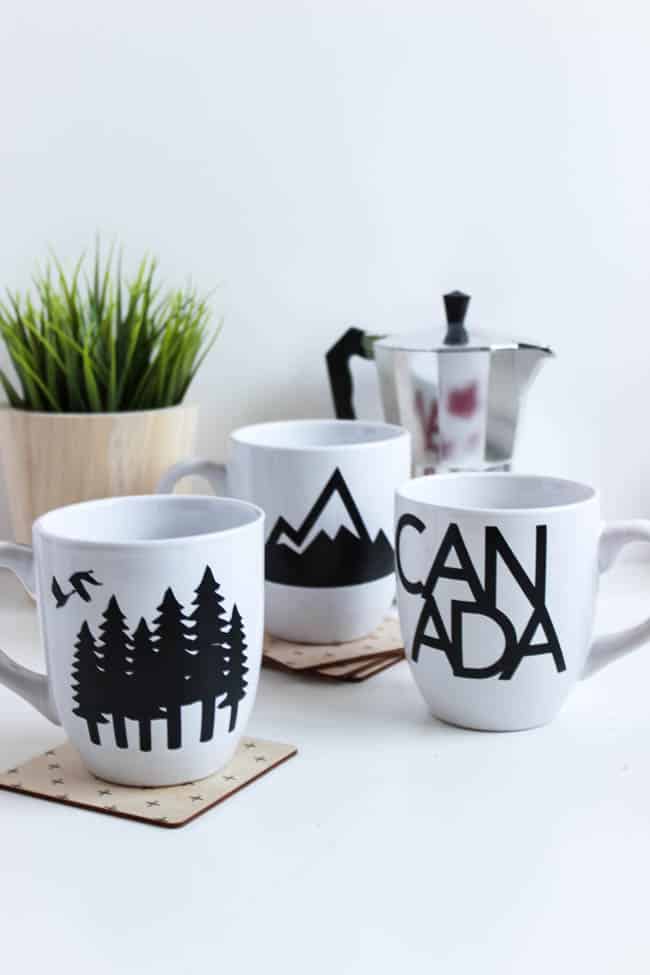 Oh, Canada! Even if you're not Canadian you can still celebrate the great country to the north with these Canadian mugs from lovecreatecelebrate.com.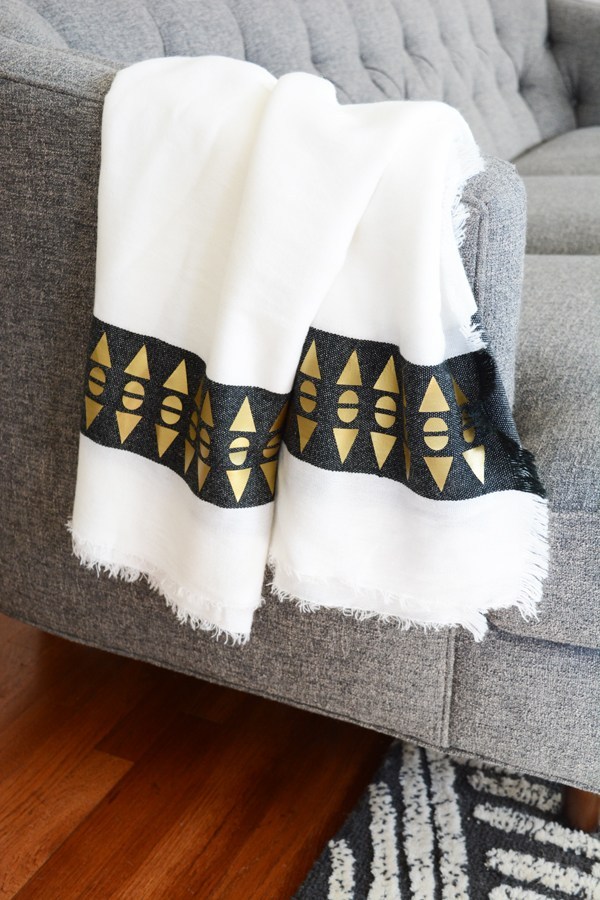 I love the simple geometric artsy gold flair on this throw blanket from oleanderandpalm.com. Grab your Cricut and create your own blanket so you can snuggle up in any room in your home.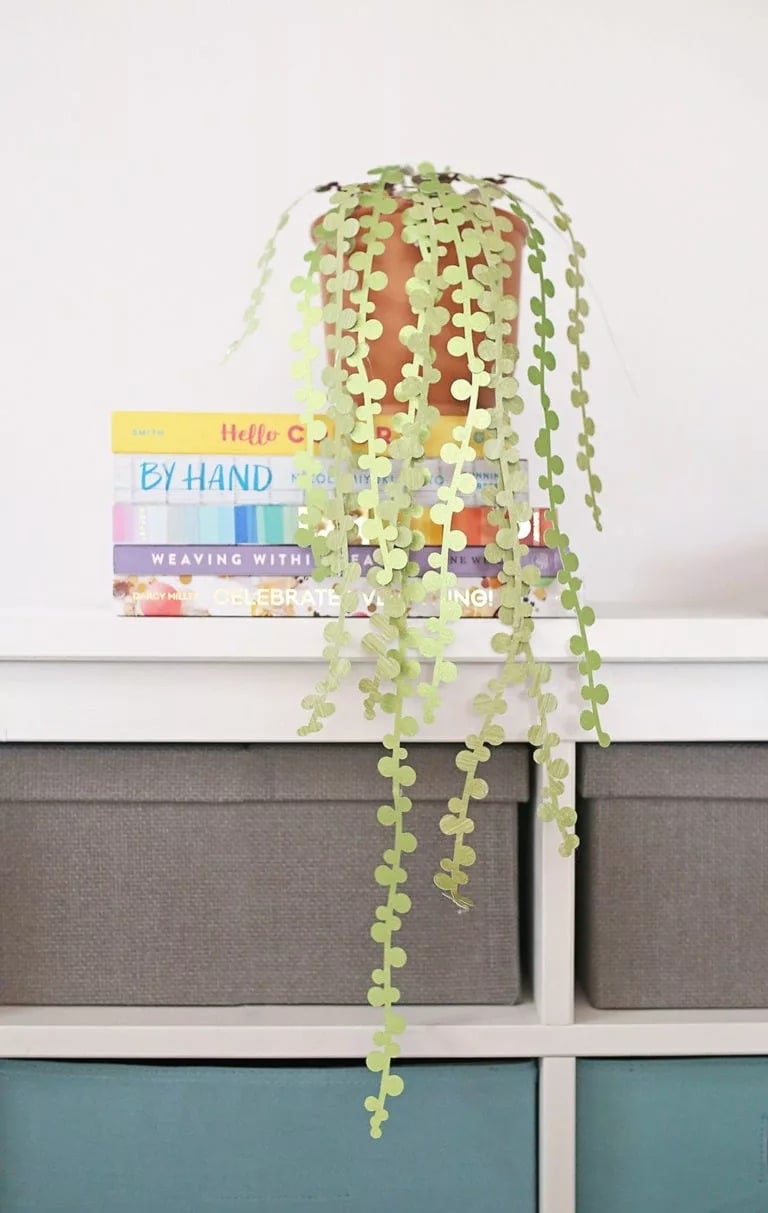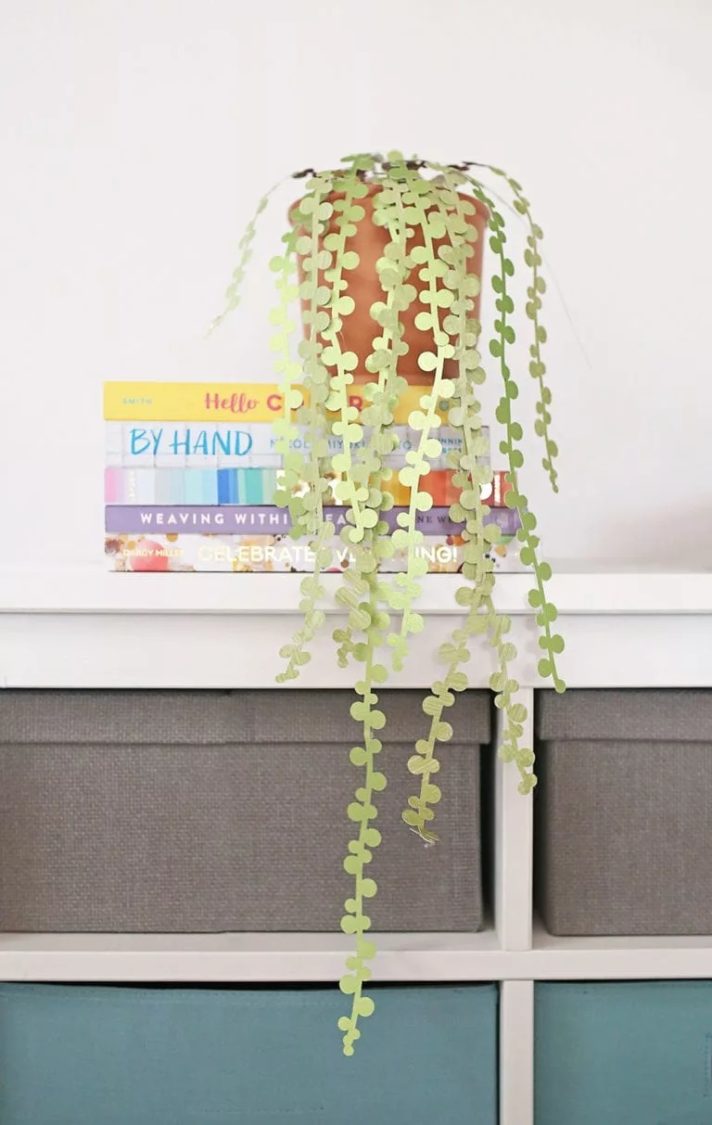 I love paper succulents, maybe it's because I'm incapable of killing them. These DIY paper succulent pearls from shrimpsaladcircus.com is whimsical, fun and simple to put together.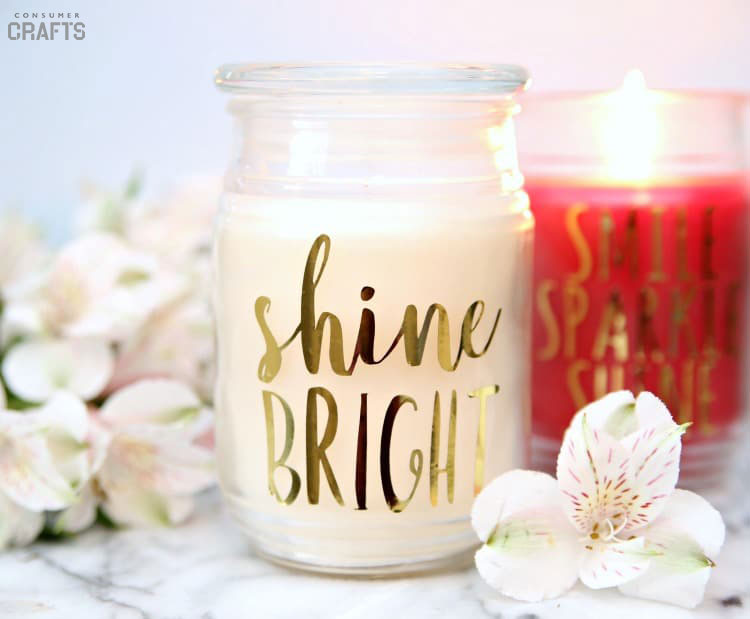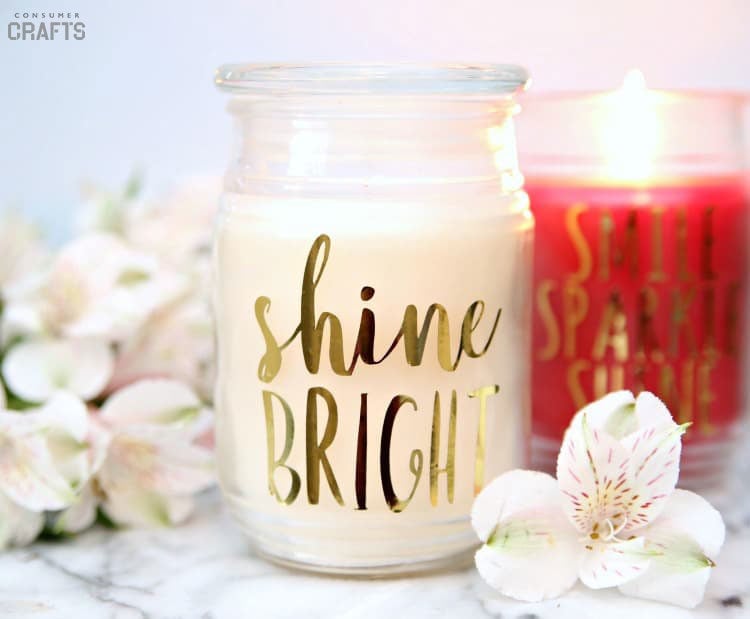 Turn your favorite candle into an inspirational message with your Cricut and this tutorial from consumercrafts.com. Light up a guest bedroom, office or restroom in your home.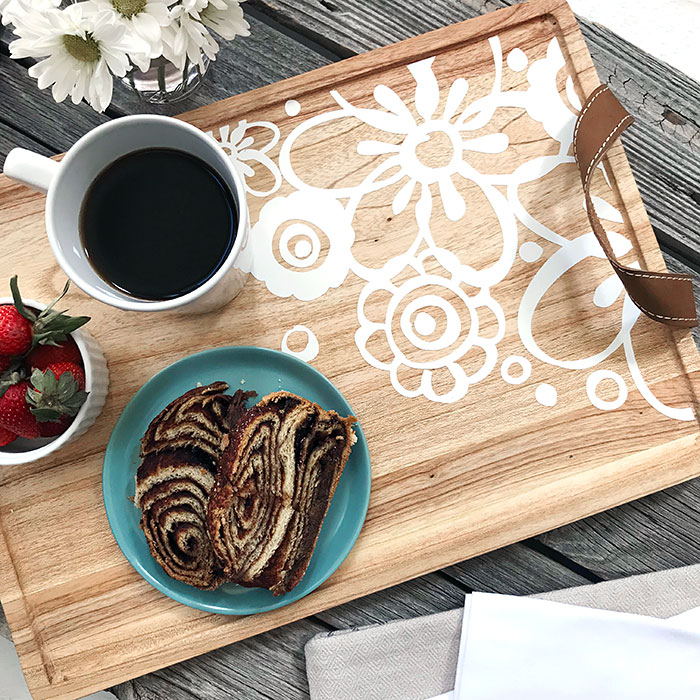 100directions.com shows us how to turn an ordinary serving tray into a decorative serving piece for your kitchen. Your coffee and dessert never looked so good.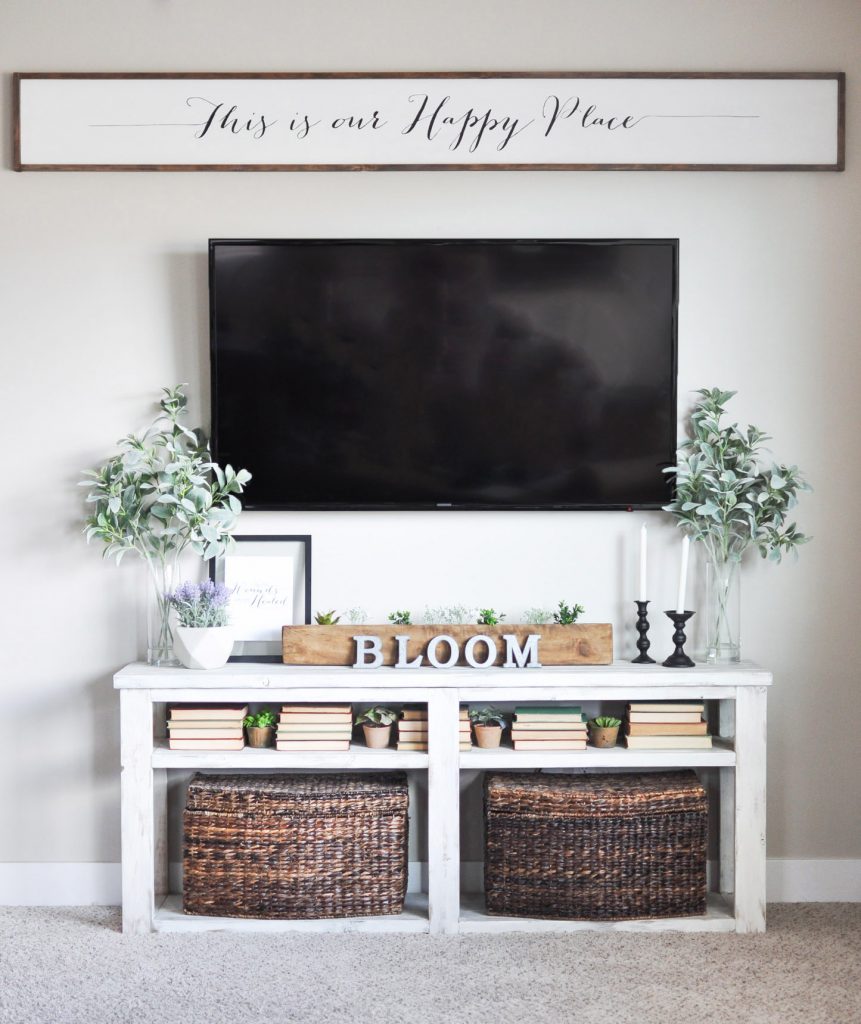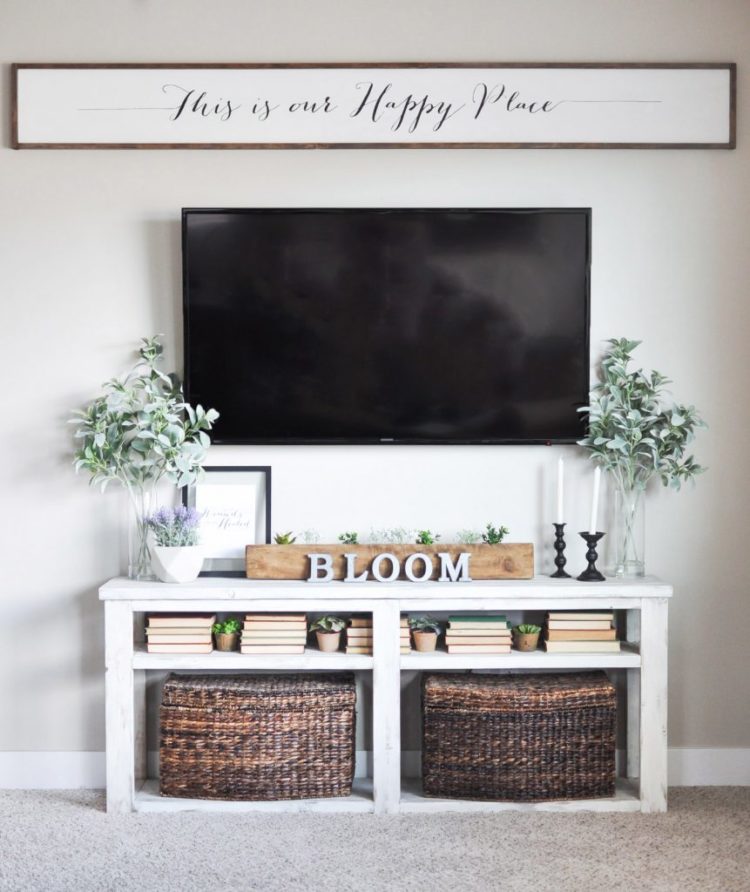 This DIY large wooden sign is definitely an eye catcher and would look great in your living room or family room. Use your Cricut and the directions from cherishedbliss.com to make your very own sign.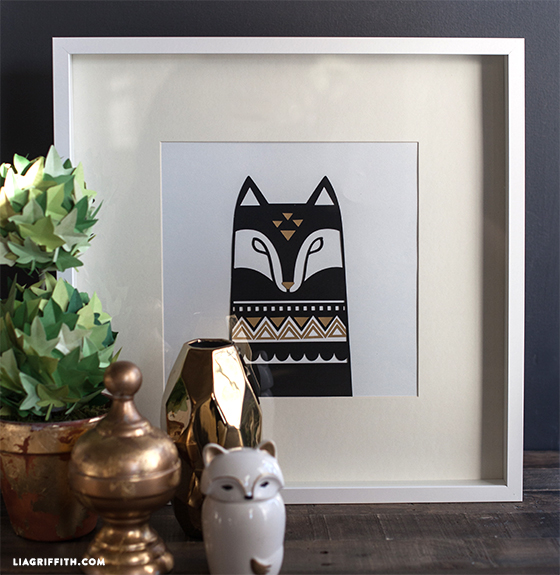 We could all use a touch of Scandinavian animal art in our homes, right? liagriffith.com shares a trendy collection of foxes, owls, and lions for your walls, dishes or anywhere else.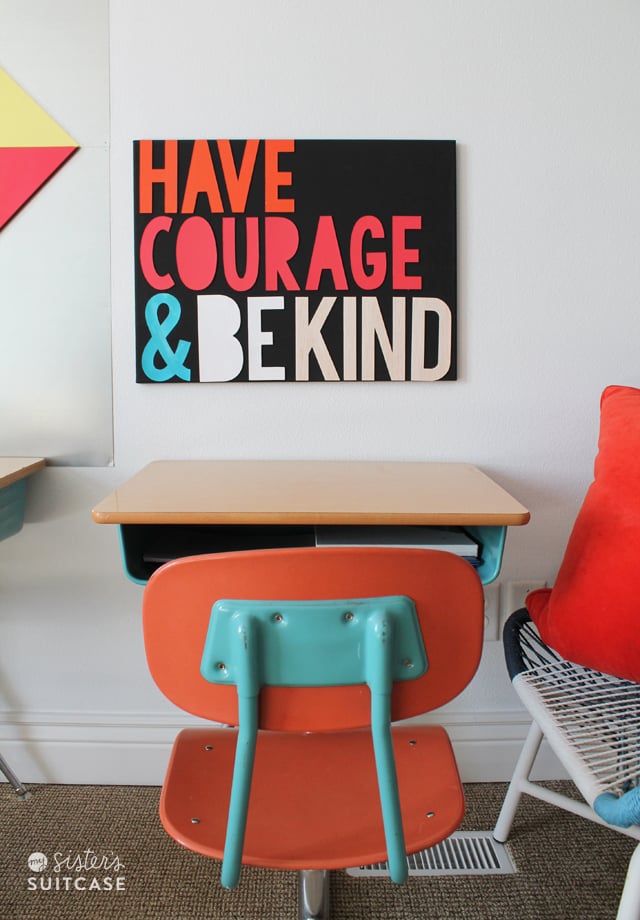 Sisterssuitcaseblog.com created this awesome and bold wooden sign with her Cricut. I love the message here and can definitely see this colorful piece hanging on a wall in my home.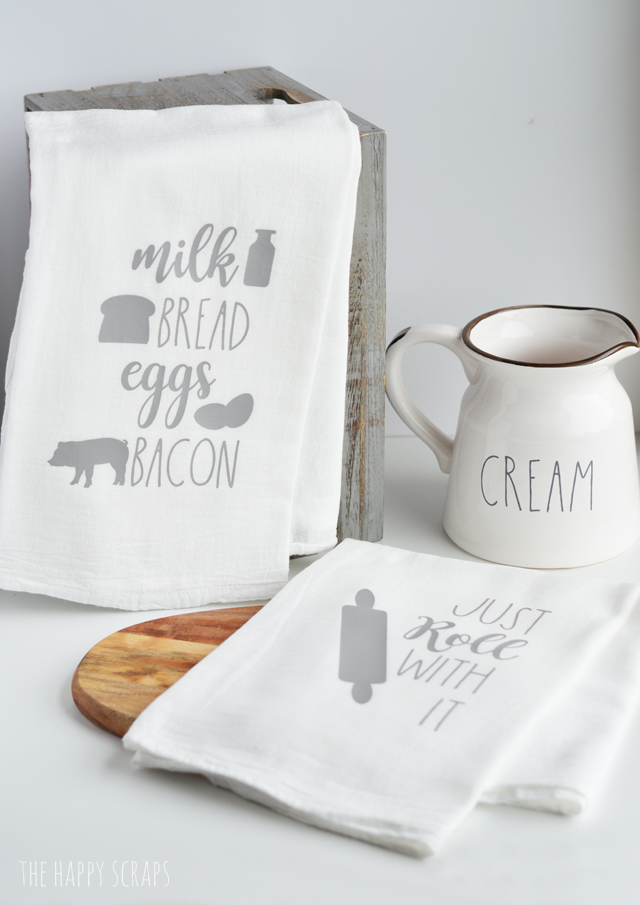 If farmhouse is your style than these DIY farmhouse inspired kitchen towels are right up your alley. Learn how to make them using your Cricut and these instructions from thehappyscraps.com.
Brighten up your morning and your kitchen with some glittery flamingo mugs. Madincrafts.com shares the pattern, all you need is your Cricut and a few materials.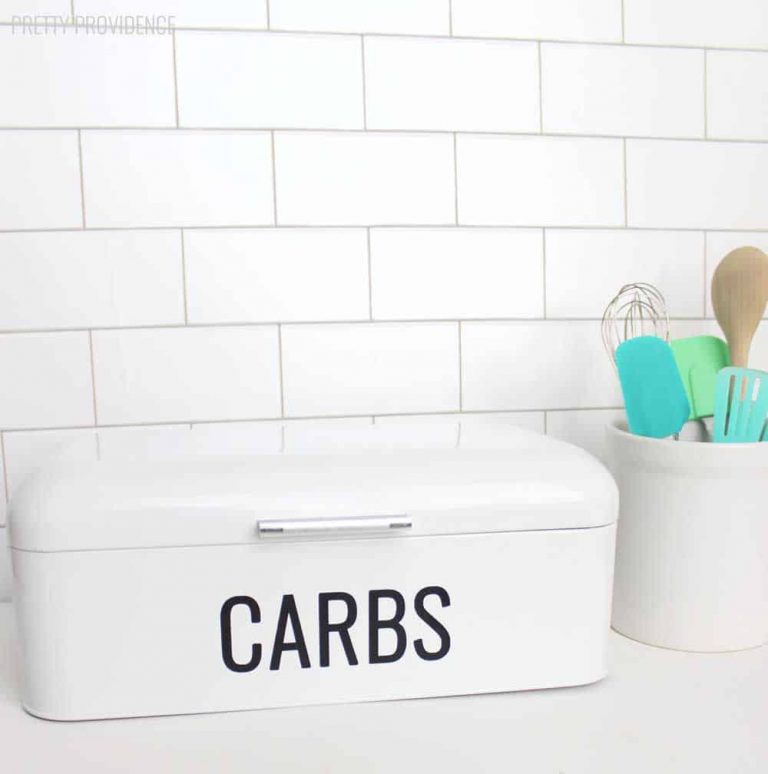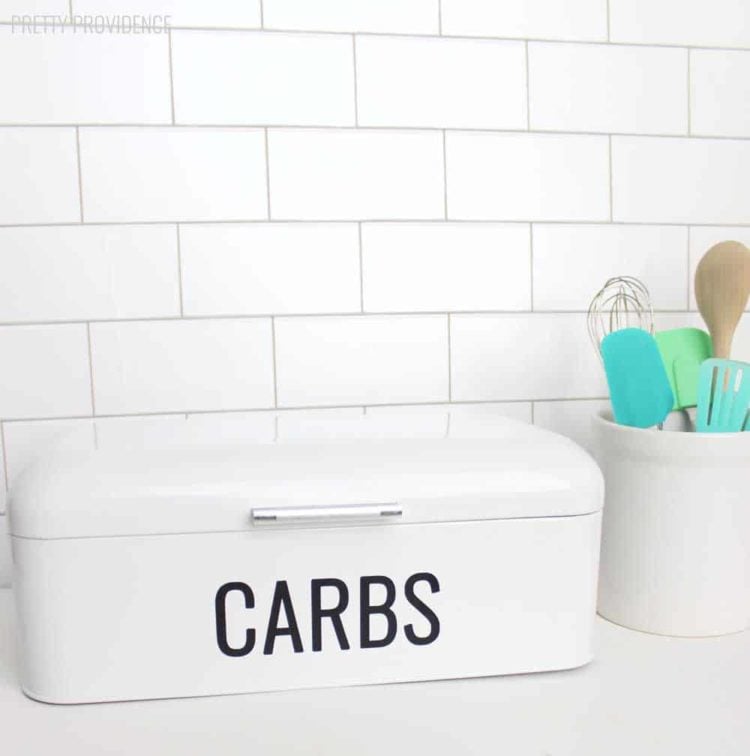 If you keep bread around long enough to store it then this retro carbs bread box from prettyprovidence.com is perfect for you.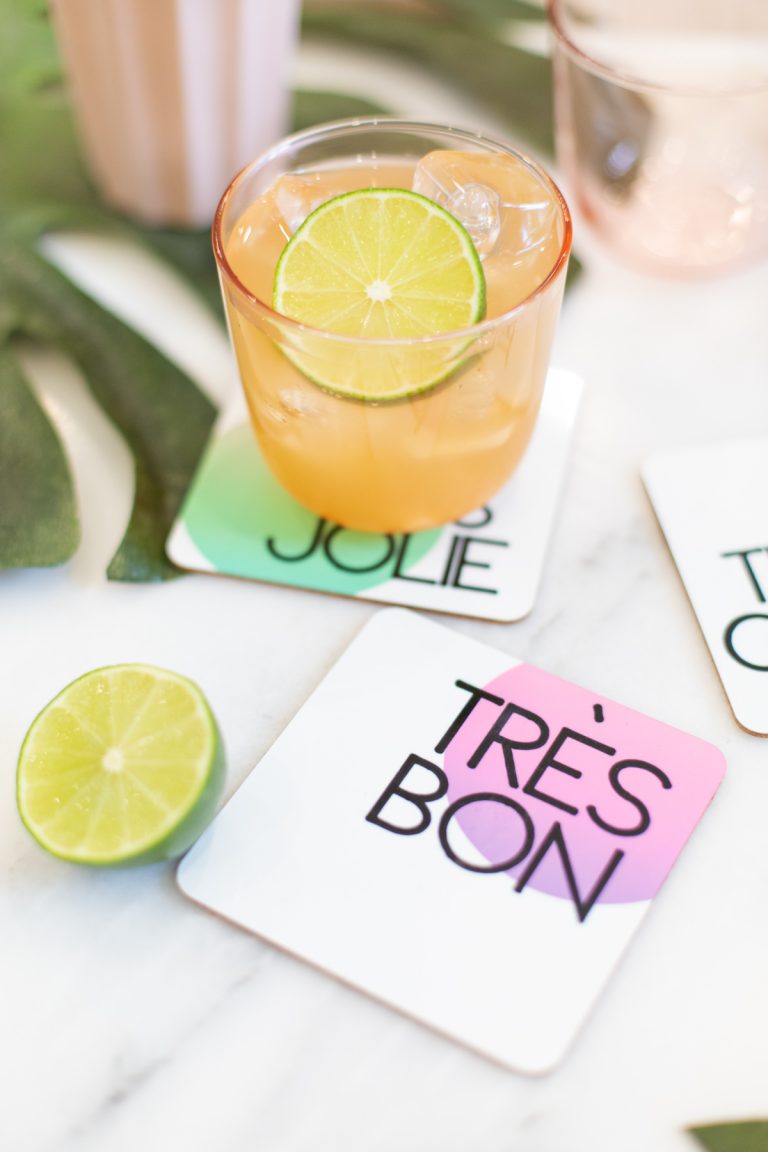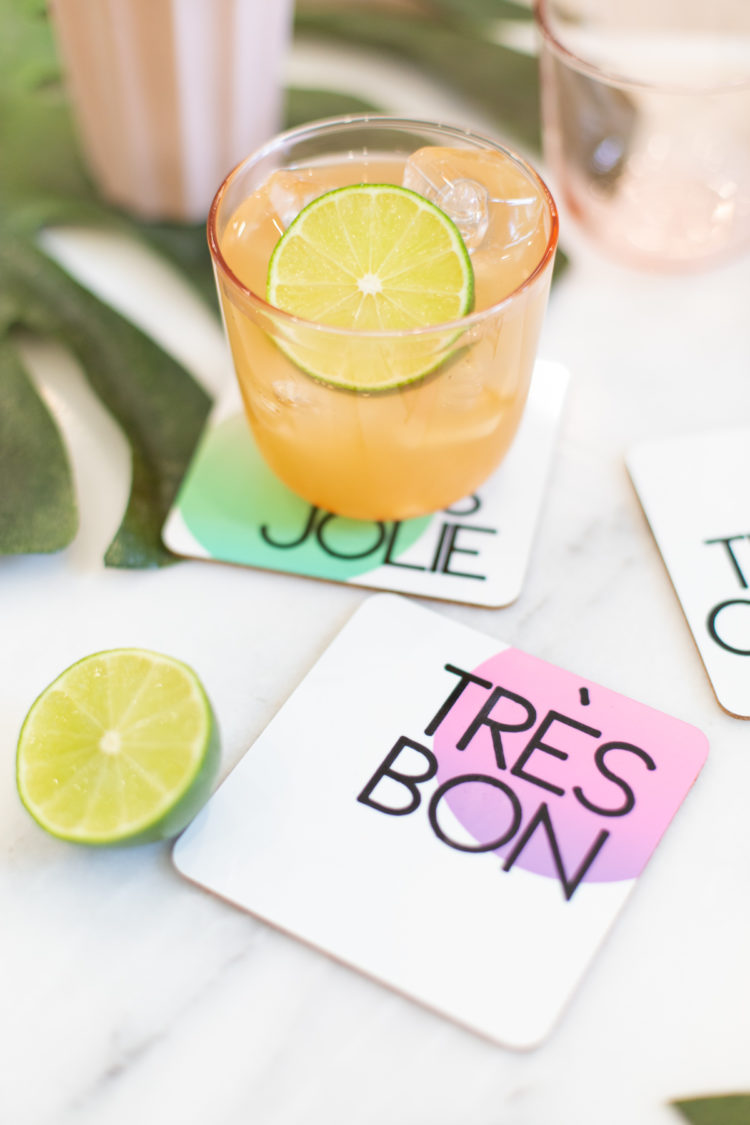 Give your guests something pretty to set their drinks upon with these DIY coasters. Lovelyindeed.com uses her Cricut and infusible ink to make this set and so can you.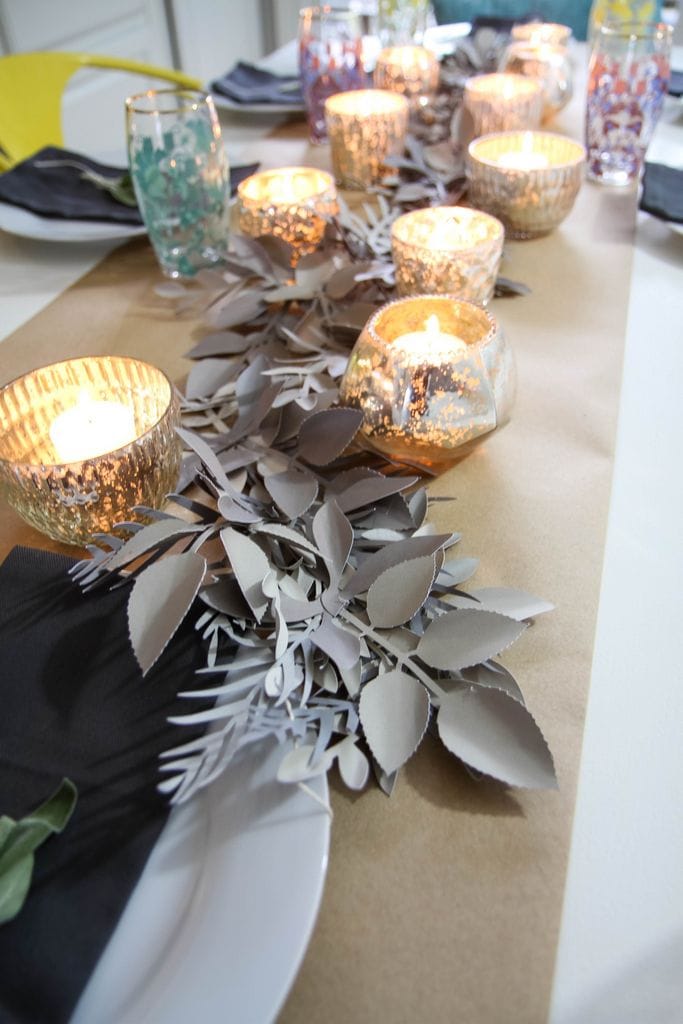 This DIY table runner is perfect for any season, any party, any gathering and just about any style of home, check out how momadvice.com puts it all together using her Cricut.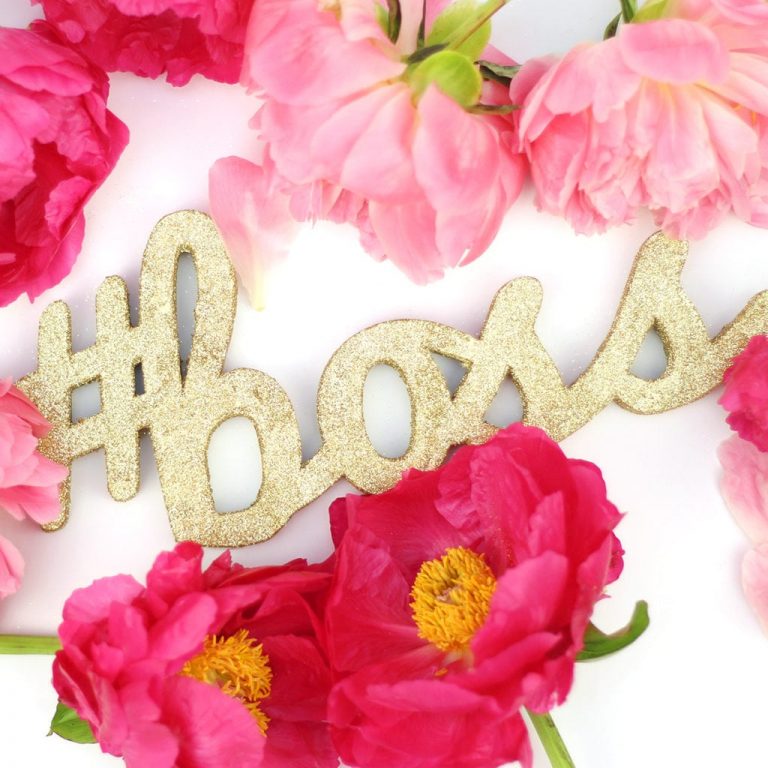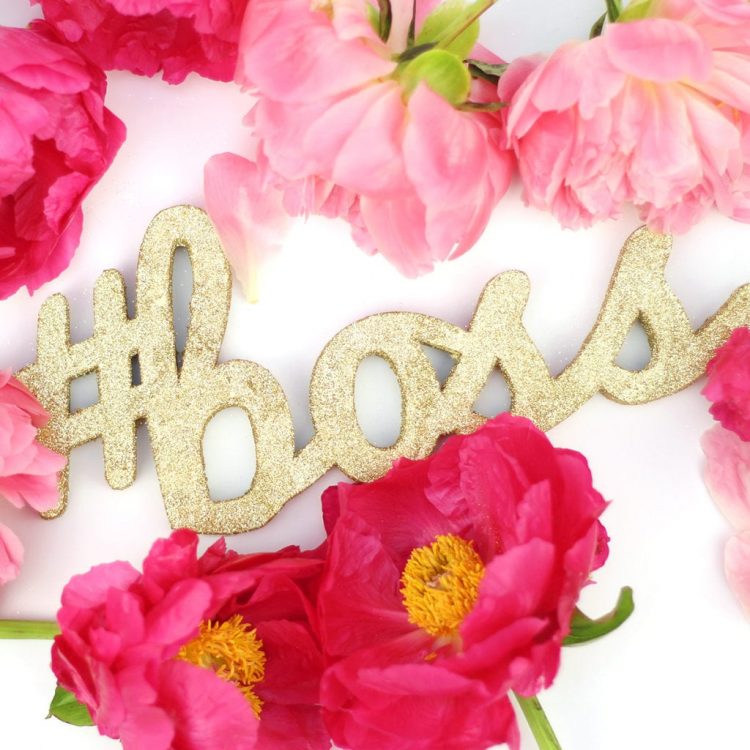 This DIY boss desk accessory will remind everyone, especially yourself, who is boss! Can't wait to make one for yourself? Start now with this post from damasklove.com.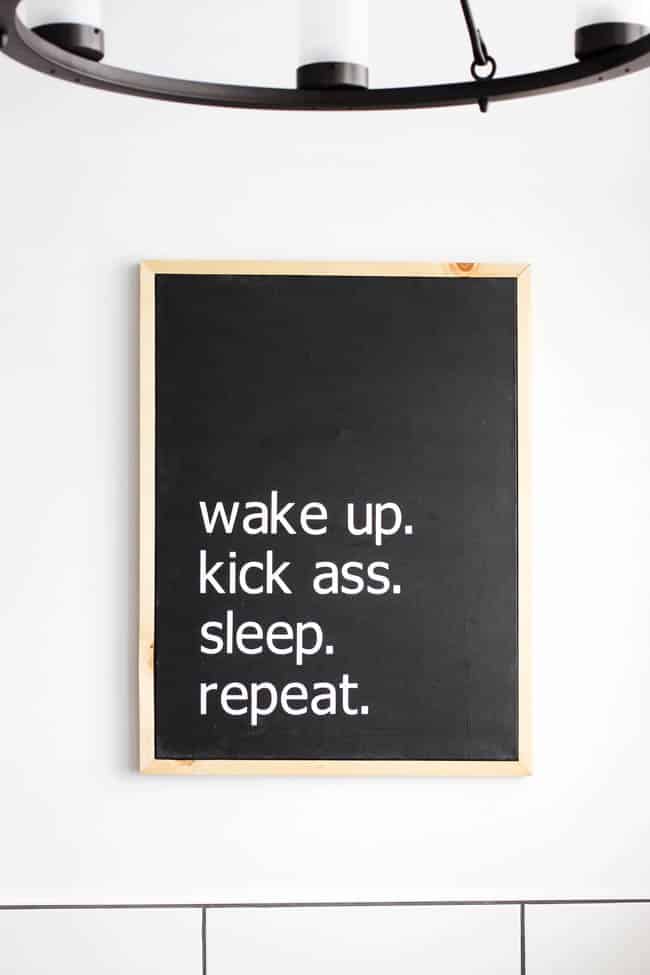 Get your day going with this motivational modern canvas wall art from lovecreatecelebrate.com. Find the perfect place in your home to hang it.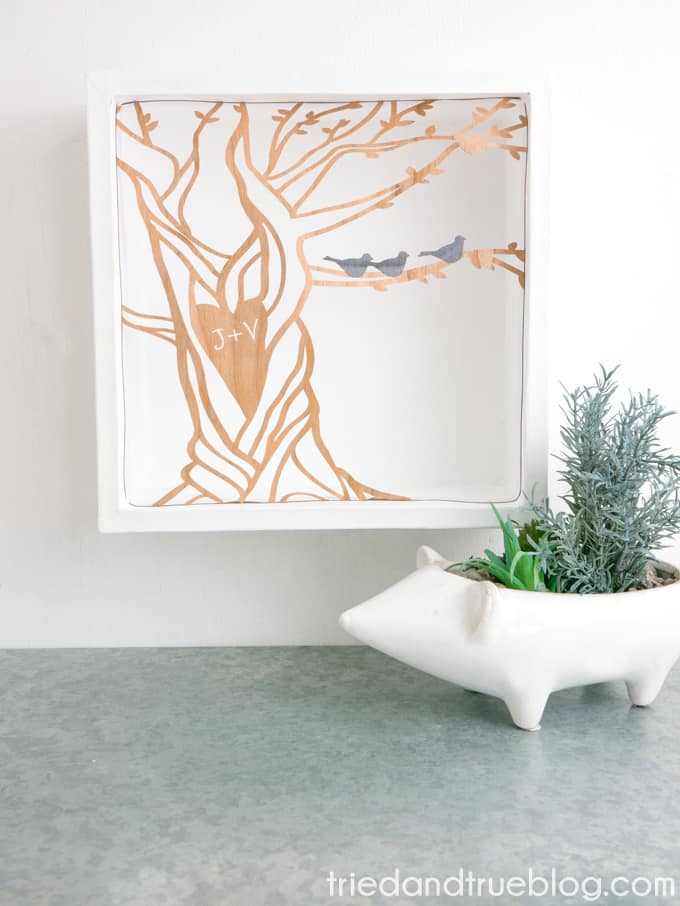 With the instructions from triedandtrueblog.com and your Cricut you can make and customize this curved tree artwork so it fits perfectly in your home.


Cricut Accessories!