Wood can be a tricky base when making vinyl home decor signs and other wood projects. If you're using vinyl on painted wood, check out these tips for getting the best results!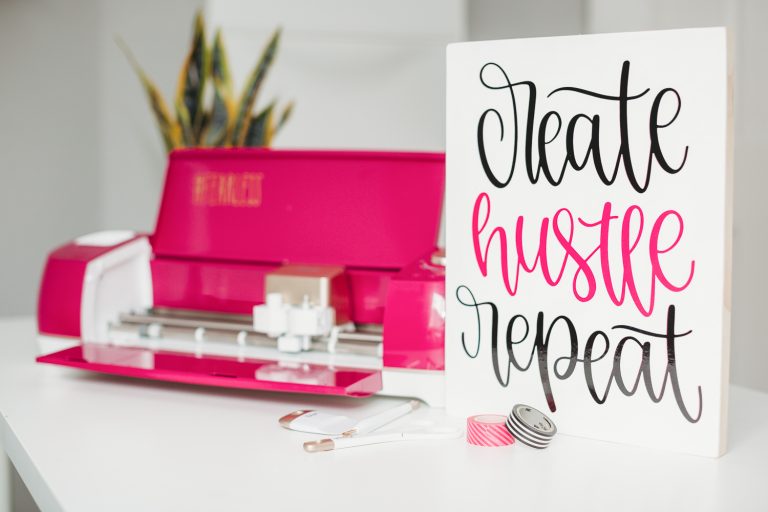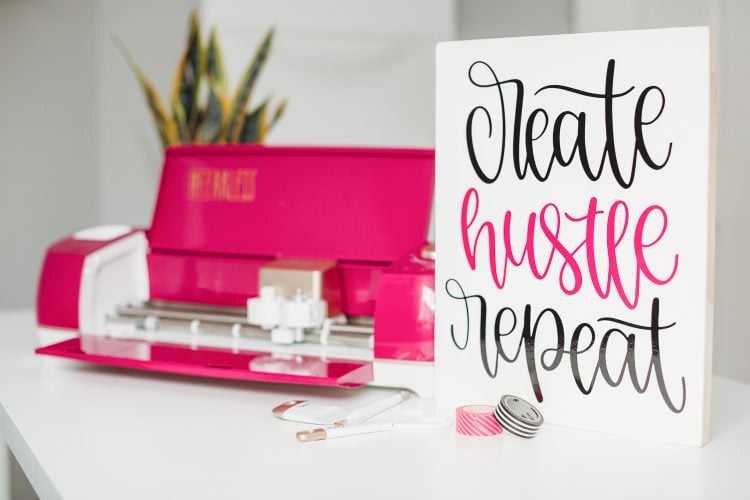 This is a sponsored conversation written by me on behalf of Cricut. The opinions and text are all mine.
Hey hey friends! Today is a fun day for me because this is the first in a series of three projects I'm making using my gorgeous new Wild Rose Cricut Explore Air 2 bundle, exclusive to JOANN. This series also allows me to take you inside my craft space and creative journey a little more than normal—I hope you enjoy getting to know me and my passion for crafting!
In this first post we'll take a look at this awesome bundle and then you'll get all my tips and tricks for using vinyl on painted wood with a fun project that's perfect for your craft room—plus learn why I'm a #fearless creator!
[adthrive-in-post-video-player video-id="4Zv0ymXX" upload-date="2022-05-29T19:48:00.000Z" name="Adhesive Vinyl Projects to Make with a Cricut" description="Make all sorts of amazing adhesive vinyl projects using your Cricut, including tumblers, signs, mugs, ornaments, and more. " player-type="default" override-embed="default"]
Wild Rose Cricut Explore Air 2 Bundle Materials
I'm kind of (okay, TOTALLY) obsessed with this new Cricut color. The Wild Rose color is seriously gorgeous, and combined with the gold details it's such a bold statement in my craft room!
Like all Cricut Explore Air 2 machines, the Wild Rose bundle comes with a blue LightGrip cutting mat, a black pen, power and USB cords, a sample project, and the getting started manual.
Above and beyond these standard items, this bundle also includes more than $100 worth of additional supplies and tools!
10 sheets of premium permanent vinyl
10 sheets of premium removable vinyl
10 sheets of shimmer removable vinyl
10 sheets of printable vinyl
3 sheets of transfer tape
3 sheets of strong grip transfer tape
Gold weeding tool
Gold scraper
Everything you need to get started making projects, and more! New Cricut users are often paralyzed when it comes to making their first projects—this bundle gives you the both tools and materials to dive right in!
Along with a bunch of materials, this bundle also includes 5 pre-cut vinyl hashtags that you can use to personalize your machine. I chose #fearless.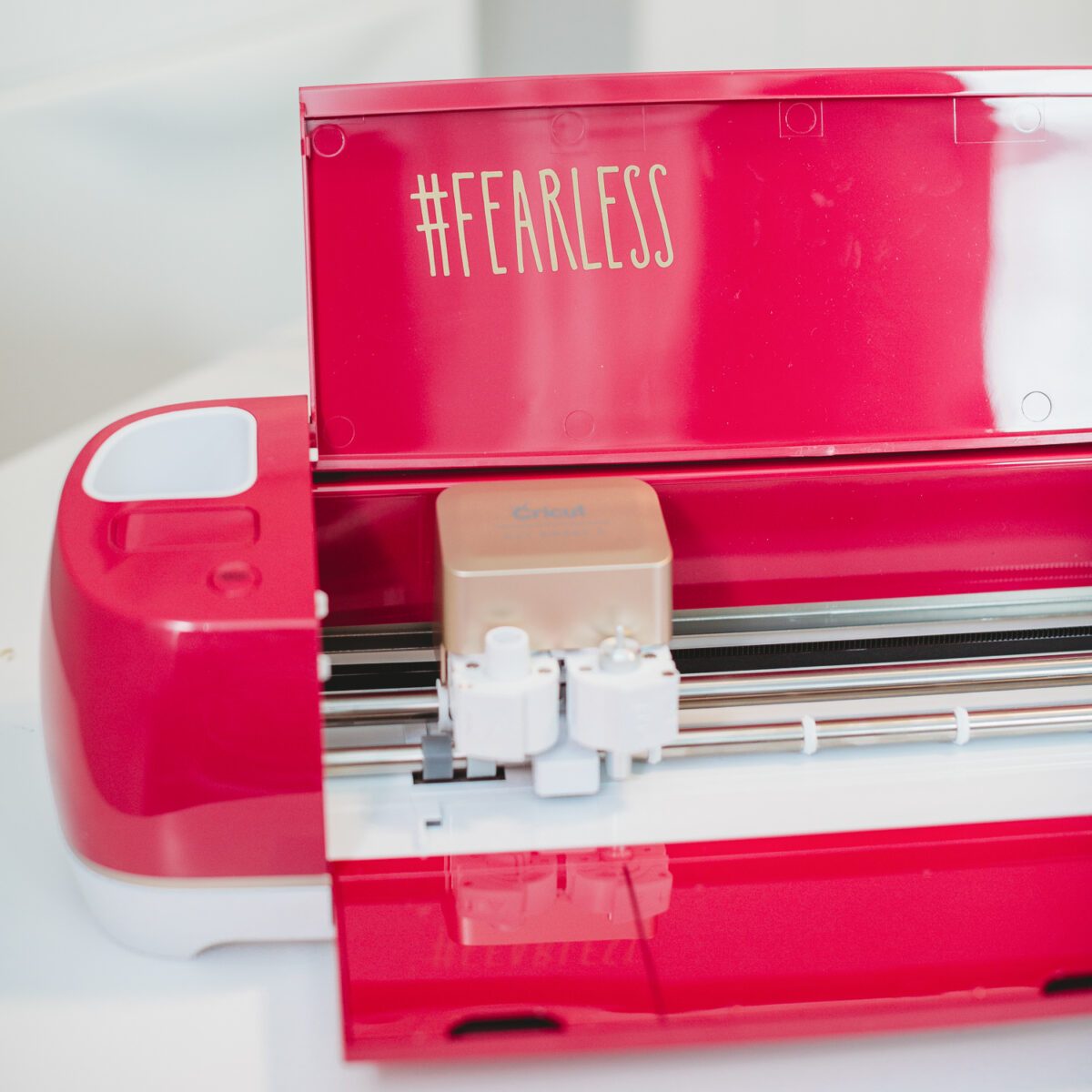 Taking Risks
About two years ago, I decided I was done trying to do what everyone else was doing. My blog had too many topics and zero focus. My style and brand was all over the place. I was running both my blog, and the blogging program for a large retailer. Oh, and I had two toddlers. I was kiiiiinda losing my mind.
So I took a big risk. I stopped doing everything I didn't like doing. No more recipes. No more long posts about travel. No more interior design (have you renovated a kitchen while you had two babies? I have.). No more modern farmhouse or shabby chic style. I was going to focus on bright, modern, happy crafts using my Cricut, awesome digital files, and fun printables. Everything else? Bye bye.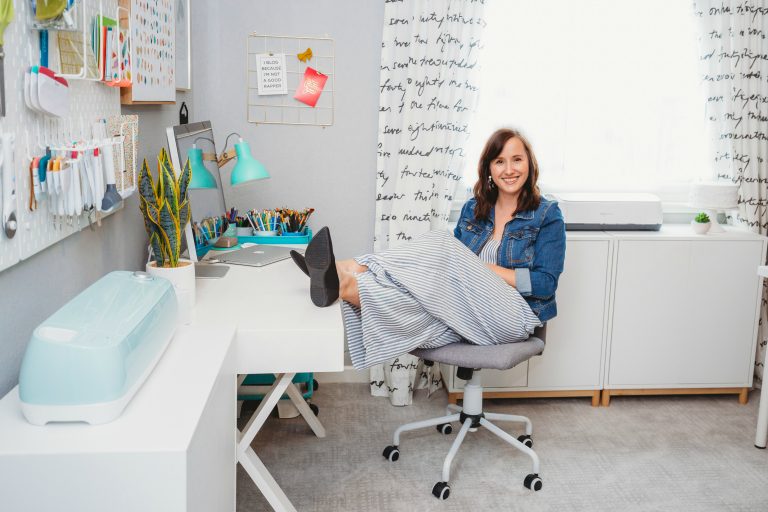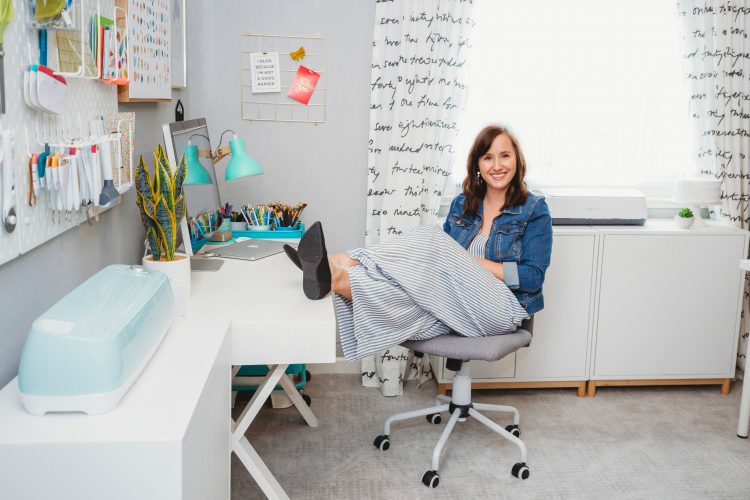 I'm not sure I was fearless, but I did it despite the fear. And two years later? Zero regrets. I get to do exactly what I want to do every day, and I have built a community that I just love.
Which is what I'm going to do now—create a fun project with YOU! This Create, Hustle, Repeat sign is perfect for every mom-boss, entrepreneur, or creative shop owner who knows how to get stuff done.
Painted Wood Sign Supplies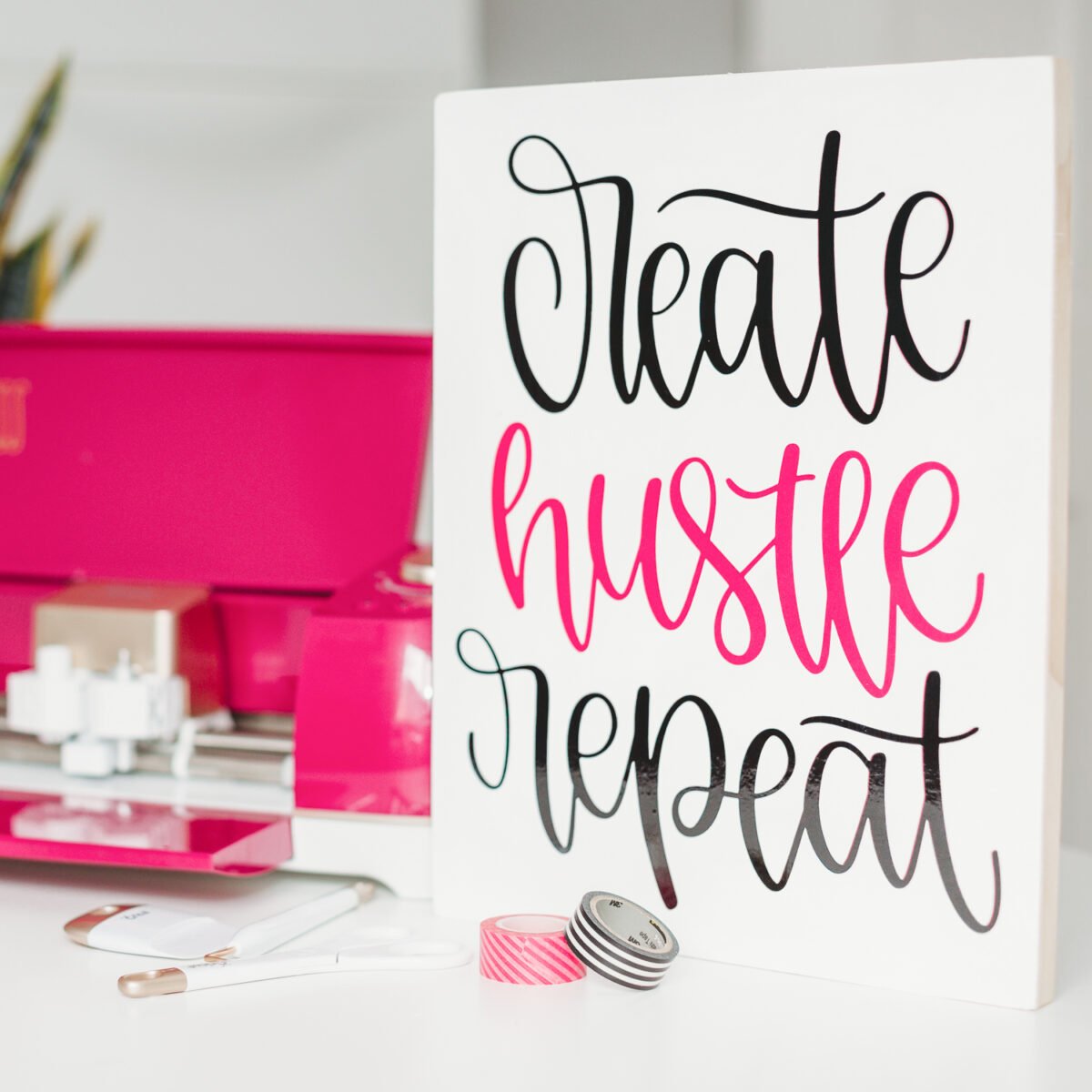 Almost everything you need to make this project is right in the Wild Rose bundle!
Wild Rose Cricut Explore Air 2
Black adhesive vinyl
Pink adhesive vinyl
Transfer tape
Weeding tool
Scraper
You will also need the following:
Here's how to use vinyl on painted wood.
Paint Your Sign

If your sign is originally raw wood, you'll want to paint it. If it has a rough surface, make sure to sand it down—the smoother the wood, the better your vinyl will stick. My best advice is to start with the smoothest piece of wood you can find.

Then paint with at least two coats of paint. I used a simple acrylic craft paint in white for my sign. Then let your sign dry, preferably for more than 24 hours so the paint has time to cure.



Open the Design Space file

Click here to get the Cricut Design Space file to make this project.



Resize Your Project

Depending on the size of your sign, use the size tool in the Edit Toolbar at the top to resize your image. I did not end up welding the two black words because I wanted them to fit on a single sheet of black vinyl—welding them would have made it taller than 12″.



Cut Your Vinyl

Once your project is sized correctly, hit Make It in the upper right corner. You'll be prompted by Design Space to cut your two colors of vinyl. This is NOT iron on vinyl, so do not mirror your image. Place your vinyl, colored side up on your mat. Then insert into your Cricut and press the blinking C to cut!


Weed Your Vinyl

Once your project is cut, use the weeding tool to remove the "negative" vinyl off your project. I have an in-depth post for weeding adhesive vinyl that you should definitely check out—so many tips and tricks to make it easier! Then cut out the pieces to see how they are going to fit on your sign.



Apply Transfer Tape to Your Image


When using transfer tape I usually lay my cut vinyl face up and then put the transfer tape on top of it. But with larger pieces, I will often place the transfer tape sticky-side up and then place the cut vinyl face down. Sometimes larger pieces of transfer tape can be a little staticky, so this makes it easier to apply.



Then use the scraper to burnish the vinyl onto the transfer tape. Cut apart your words, if necessary (I had two words on a single sheet of transfer tape in this instance). Then, when you peel back the white carrier sheet, your vinyl should stick to the clear transfer tape.

Line Up Vinyl on Your Sign

Place your vinyl and transfer tape onto your project. You want to make sure everything fits properly before burnishing.



Burnish Your Sign

Using the scraper, burnish the words to your wood sign.



Peel Back the Transfer Tape

Then peel back the transfer tape. If you find that it's not sticking (which can be difficult with some painted wood), burnish again. I found the vinyl stuck very well to this particular sign, but I have had to go more slowly on other projects, sometimes using the weeding tool to help release the vinyl from the transfer tape and onto the sign.



Add a Clearcoat

If you'd like, add a clear coat to your project. I suggest ModPodge Ultra, which is a spray that dries hard and clear.


This sign is now hanging in my craft room—it really is exactly what I do over here on my blog. I create. I hustle. I repeat. Fearlessly!
You can get the Wild Rose Cricut Explore 2 exclusively at JOANN—and start creating fearlessly yourself!