Need tips and tricks for cutting balsa wood with the Cricut Knife Blade? Balsa wood can be a tricky material—here's how to get the best results.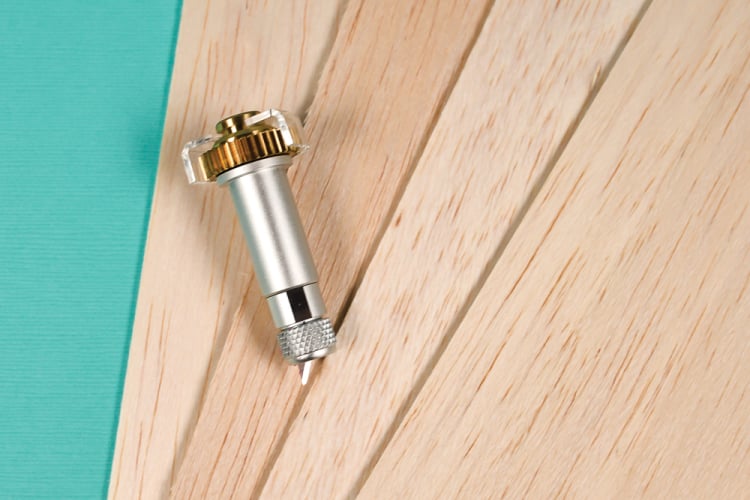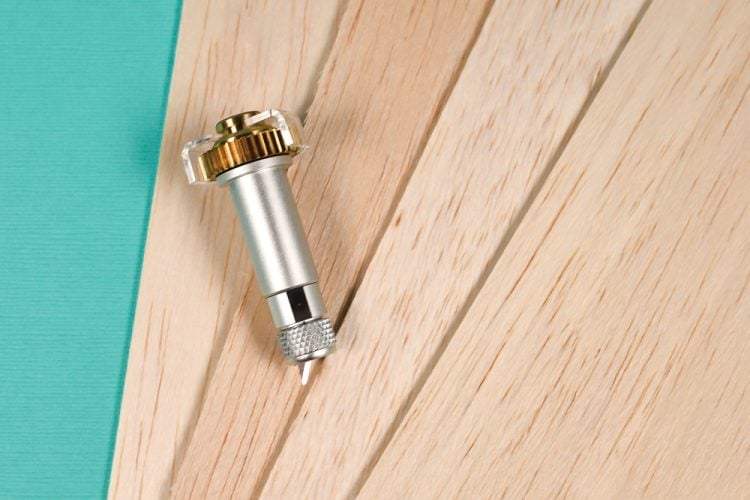 It's time for another Knife Blade tutorial! We've tackled chipboard, basswood, and matboard—and today we're talking balsa wood!
What is Balsa Wood?
If you've ever had one of those super lightweight model toy airplanes, you probably know what balsa wood is. Balsa, surprisingly, is a hardwood. But it weighs practically nothing. It has a high strength-to-weight ratio (it's super strong for how light it is), making it good for crafts like model-building.
Honestly…it's not my fave. It feels so brittle and breaks super easily. Heck, it can even bend, which is weird for wood, right? It's apparently strong for its weight…but it's not really all that strong at all. Sourcing balsa wood is difficult and expensive as well, as you'll see. If you're looking to cut wood, basswood is absolutely better in my opinion, unless you're specifically making models or something that needs to be really lightweight.
Which Cricut Machines Cut Balsa Wood?
The Cricut Maker cuts balsa wood quite well, and it's by far the fastest of the Knife Blade materials that I've cut.
Some users have also successfully cut balsa wood using the Cricut Explore and the Deep Cut Blade. For the Explore, there is no setting for cutting balsa wood. It's another case where you'll have to play around with the settings. Try the a custom setting using the Deep Cut Blade, a pressure of 220 and multi-cut of 4x, then adjust from there.
Or, if you are really interested in doing more woodworking with your Cricut, upgrade to the Cricut Maker.
What Balsa Wood Works With the Cricut?
Balsa wood is quite expensive compared to basswood, and it's harder to find larger pieces. I bought a sampler pack of balsa wood from JOANN and the widest my balsa wood strips were was 3″. Fine for cutting small projects but not much else.
Then again, your project is going to be very delicate, so maybe it's best that it's hard to find larger sheets.
Right now, the Cricut Maker has qualified 1/32″ and 1/16″ balsa wood, so make sure you're looking at those thicknesses. Try and find the most even, defect-free balsa wood as possible.
Buying Balsa Wood
Balsa wood is hard to find, particularly in sheet sizes that are good for the Cricut. Often when you search for balsa wood, you'll get other results like basswood, chipboard, and plywood, so double check the listing before you buy. You can try these retailers, or even a local model shop for balsa wood:
Tips for Cutting Cricut Balsa with the Knife Blade
As with all Knife Blade projects, be aware of the 10 things you need to know. That post has important information you need to know any time you use your Cricut Knife Blade, including information about taping your materials to the mat, sizing your project, and moving the "star" wheels before cutting.
This is mentioned in the 10 Things post, but when designing balsa wood projects for the Knife Blade, make sure to keep your cuts at least the width of a pencil wide. This is particularly important with basswood, because the narrower the cuts, the more likely your balsa wood is to split along the grain of the wood (seriously, it splits so easily!). It can be repaired with a bit of wood glue, though I don't think the results are as pretty as with basswood.
Cut down the longer pieces of balsa using a craft knife — just running a few passes in a straight line using a ruler, then snapping it into two pieces. You don't want to use the long piece sticking off the end of your mat — the weight of the balsa wood will cause the smaller pieces of your project to pop out and potentially jam your project. If this does happen, do not remove your project from your machine! Clear the debris (I like canned compressed air for this purpose) and hit the "go" button again to restart where the machine left off.
Use a brayer to really adhere your balsa wood to the mat before taping.
Because the cleanest cuts generally occur on the face-down side of the project, I often mirror my image in Cricut Design Space before cutting to ensure that the final project will have the clean cut on the front side.
While cutting, if pieces start to "pop" out of your project, you can remove the smaller pieces. I keep larger pieces in the machine, however—removing them can cause your material to shift slightly, and even the slightest shift can ruin your project. If one of these popped pieces jams your Cricut, do not remove your project from your machine! Clear the piece and any debris and hit the "go" button again to restart where the machine left off.
At the end of your cut, before you remove your mat, double check that it's cut all the way through. I've never had a balsa wood project not cut all the way through, but it's good to check. Cricut Design Space will give you the option to do one more pass if needed. If you do that and find there's still small corners or parts that haven't cut all the way through, but the majority has, then remove your mat, release your project, and use a craft knife to cut the last little bits in the corners.
To remove your material from the mat, bend the mat away from your project instead of trying to pull your balsa wood straight up off the mat. This will help keep it from breaking.
I do like that you can easily use iron on vinyl on top of balsa wood—I made this cute little hello sign using teal HTV and I think it's cute! This could be a great way to do personalized name tags. Want to learn how to do a fat offset like this? Design Space doesn't do it (*grumble*), so you'll have to check out this Adobe Illustrator post!
You can paint or stain balsa wood anyway you'd like!
Troubleshooting
If your material shifts, make sure it is taped down correctly (see the 10 Things post). Use a brayer to really press your balsa wood into the mat's adhesive. If it still shifts, you may need to replace your mat.
If your balsa wood is not cut all the way through after all the passes are complete and you've done the "extra pass" mentioned in the 10 Things lesson, you may need to replace your blade.