Drowning in rolls of vinyl? Can't find your Cricut tools? You need to organize your Cricut supplies! I've rounded up the best Cricut storage and organization ideas so that you can find what you need the first time—and get back to crafting more quickly!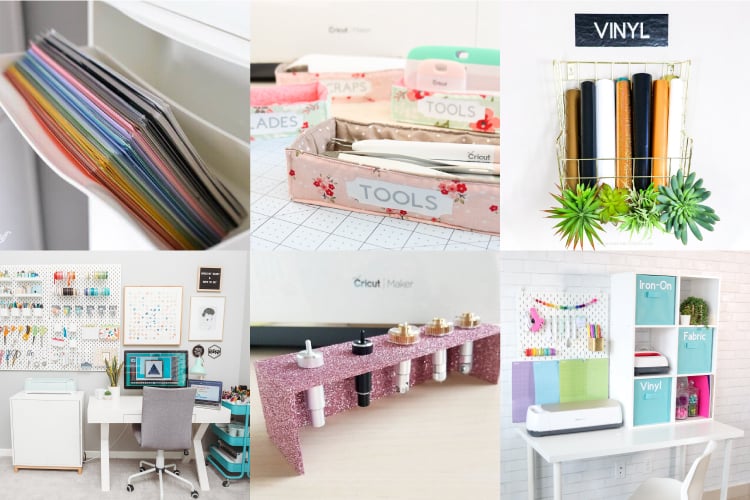 Do you spend as much time looking for your Cricut supplies and materials as you do actually crafting? It's time to get organized!
I can be a super messy crafter, but I actually have found that having a more organized craft room has really helped me stay sane and craft more. Everything has its place and although I do make changes to my organizational systems a bit here and there, I've found a bunch of ideas that work really well for me.
So today I'm sharing some of my favorite Cricut storage ideas from my craft studio and the craft rooms of some of my favorite bloggers. You'll find different ways to store vinyl and iron on, ideas to keep your mats clean, ways to keep your cardstock from ending up bent. Oh, and you'll never lose your Cricut weeder again!
Some of these Cricut organization ideas are inexpensive, some may cost a bit more. Many are things you can buy, and some are DIY. Really think about what works best for you in your space and tailor these ideas to your needs. Have your own Cricut storage ideas? I'd love to hear about them in the comments!
Iron on and Vinyl Storage Ideas
Storing vinyl and iron on can be a pain! Here are a few ideas for keeping it all organized.
Cardstock and Scrapbook Paper Storage Ideas
My cardstock used to pile up in corners of my craft room, often ending with bent corners. Here are a few ways to store cardstock!
Cricut Tool Storage
Always misplacing your scraper? No idea where your weeding tool is? These ideas for storing your Cricut tools will keep you from losing your tools…and your mind!
Cricut Mat Storage Ideas
If you're tired of dirty mats and sticky surfaces, try these Cricut mat storage hacks!
How to Store Your Cricut Machine
Where do you keep your Cricut machine? Here are some ideas for keeping it accessible without taking up all of your table space.
Cricut EasyPress Storage
I find the EasyPress machines particularly fussy to store, with their odd shape and cords everywhere. Check out these ideas for storing them!
General Cricut and Crafting Storage Ideas
There's always more to store! Here are some fun ideas for keeping everything in its place while you craft.
Love these ideas? Me too! I hope they've helped you brainstorm more ways to get all of your Cricut supplies organized so that you can enjoy crafting even more!
Get Organized with these Amazon Finds