Excited to finally share my craft room reveal! It's chock full of craft room organization ideas to hide the clutter, plus all sorts of other modern craft room inspiration!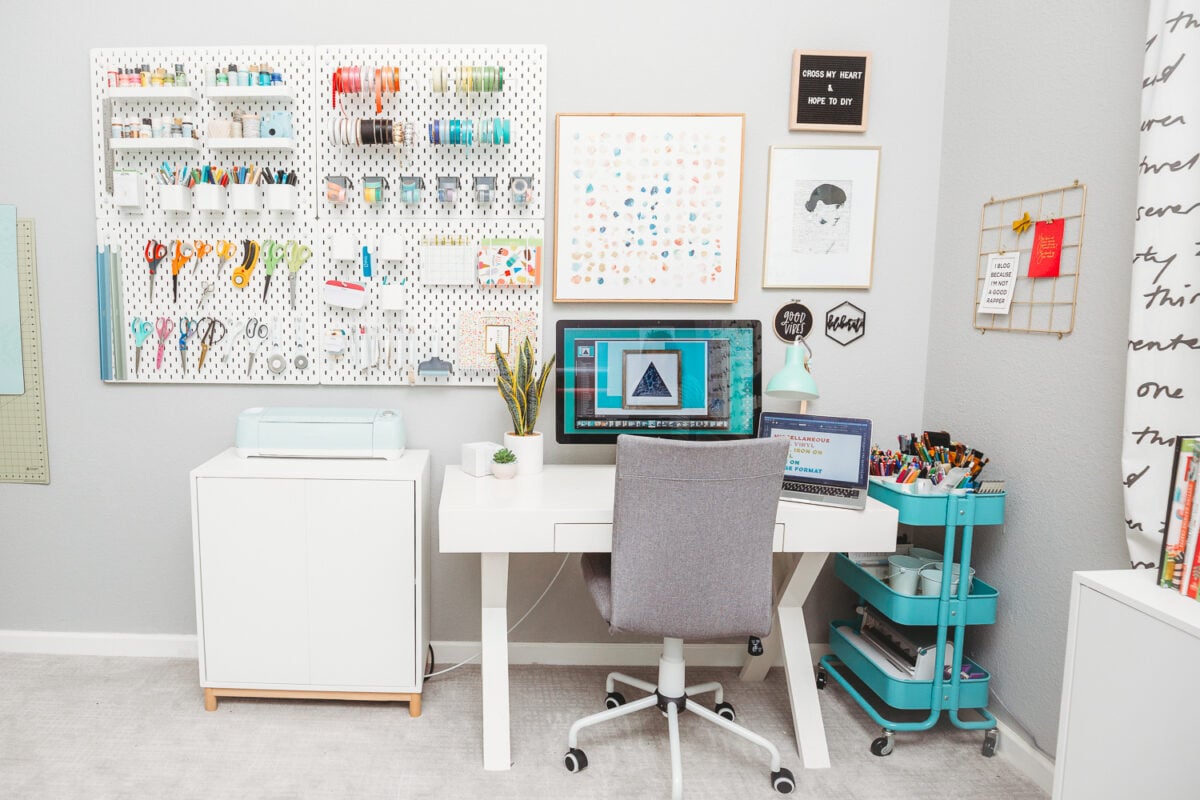 Update: check out my newest craft studio in our house in Washington!
A while back I sort of stopped doing "big" house projects for my blog. It was one of the ways I was reclaiming some of my time. I just didn't have it in me to sand down any more cabinets or paint wall murals anymore. I have no idea why…oh wait—I have twin three-year-olds. That's why.
But then we recently got new carpet. Which meant that I had to move out of my craft room because I'm not very good at levitation spells. So I decided to do a massive purge and reorganization effort. You can see my original craft room reveal from January 2016. It was functional for a long time. But I realized I wanted to hide some things and make other things more accessible. Crafting is so messy that I didn't need the additional visual clutter of open shelves.
Niching down my blog and Kon Mari-ing my entire house also meant that it was easier for me to pare down what I need to actually be creative and run my blog. I was able to get rid of piles of materials of I knew I'd never use. Supplies for crafts I'd never make. I use a specific color palette for every project, so gone is 95% of stuff that doesn't go with my style. This made organizing my space a lot easier—there's just less STUFF now.
Craft Room Peg Board
One of my favorite things in my original craft room was the peg board. It was small but I used it mostly for my scissors and Cricut tools. It was sort of in an awkward spot, tucked into the corner. I wanted to expand it, so I went with the new IKEA SKÅDIS pegboard. It's a system unto itself, which means it only fits their hooks and bins. But I thought it was reasonably priced and I love the look—it really is the ultimate in craft room organization.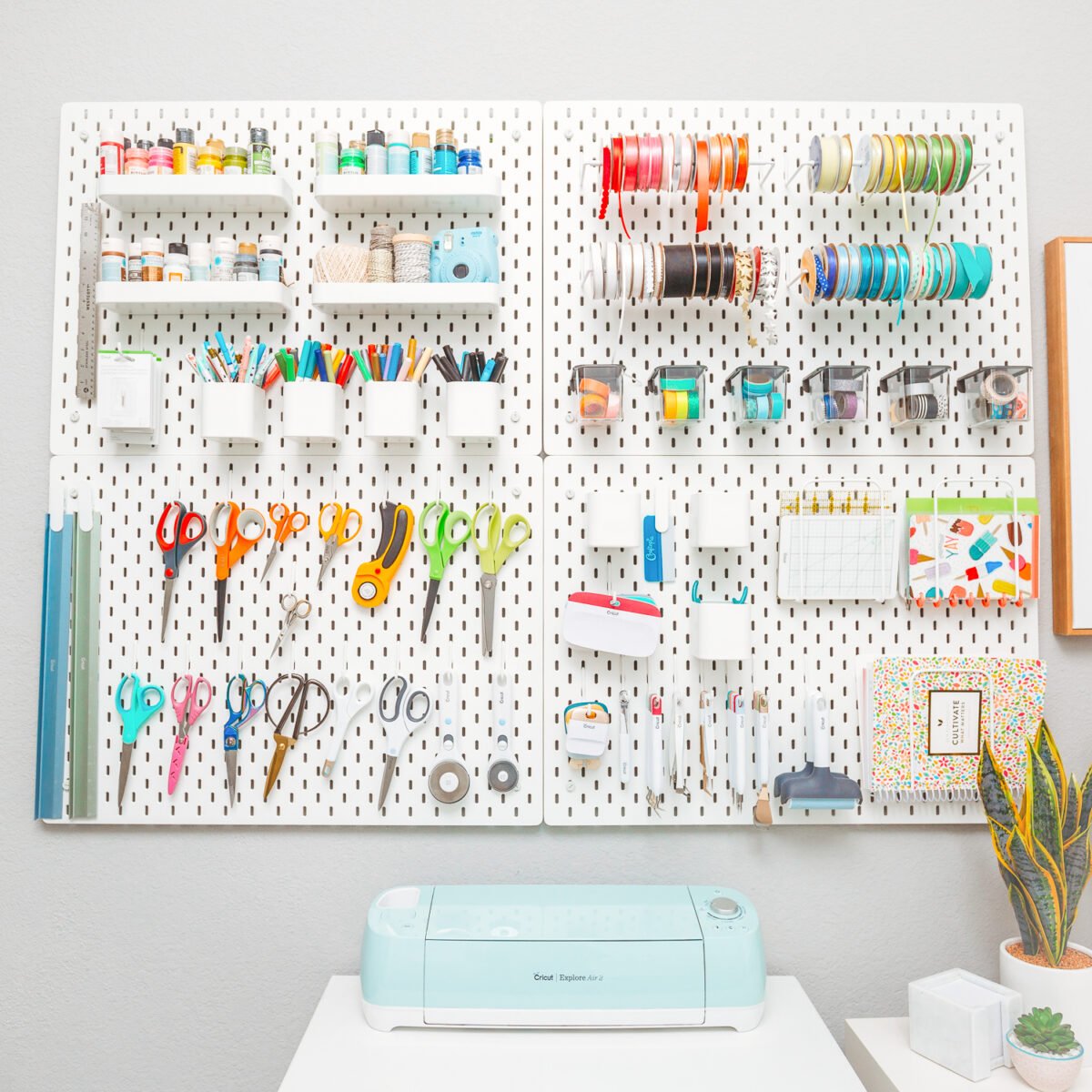 It is so convenient to have everything so easily accessible, plus it was easy to install and looks great. It now holds all my Cricut tools, my vast collection of scissors (anyone else a scissors hoarder?), pens, washi tape, ribbon, and craft paint, as well as my journals and planners.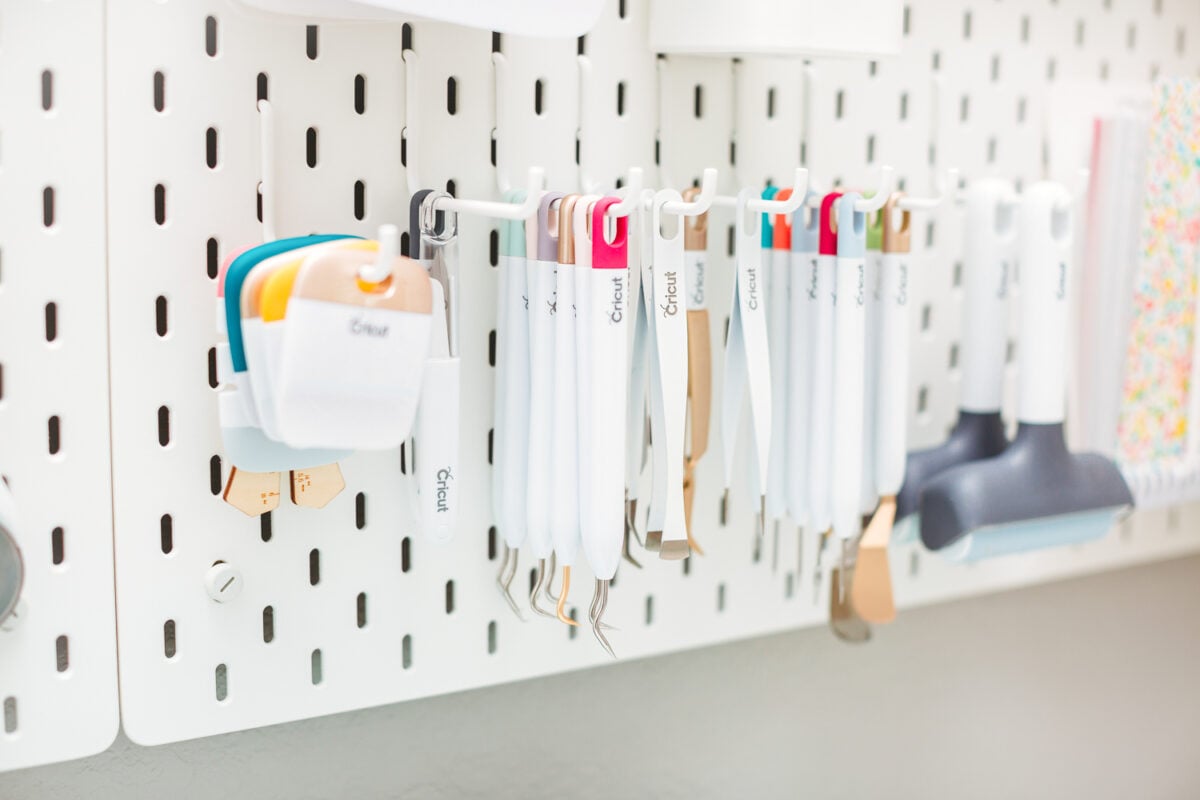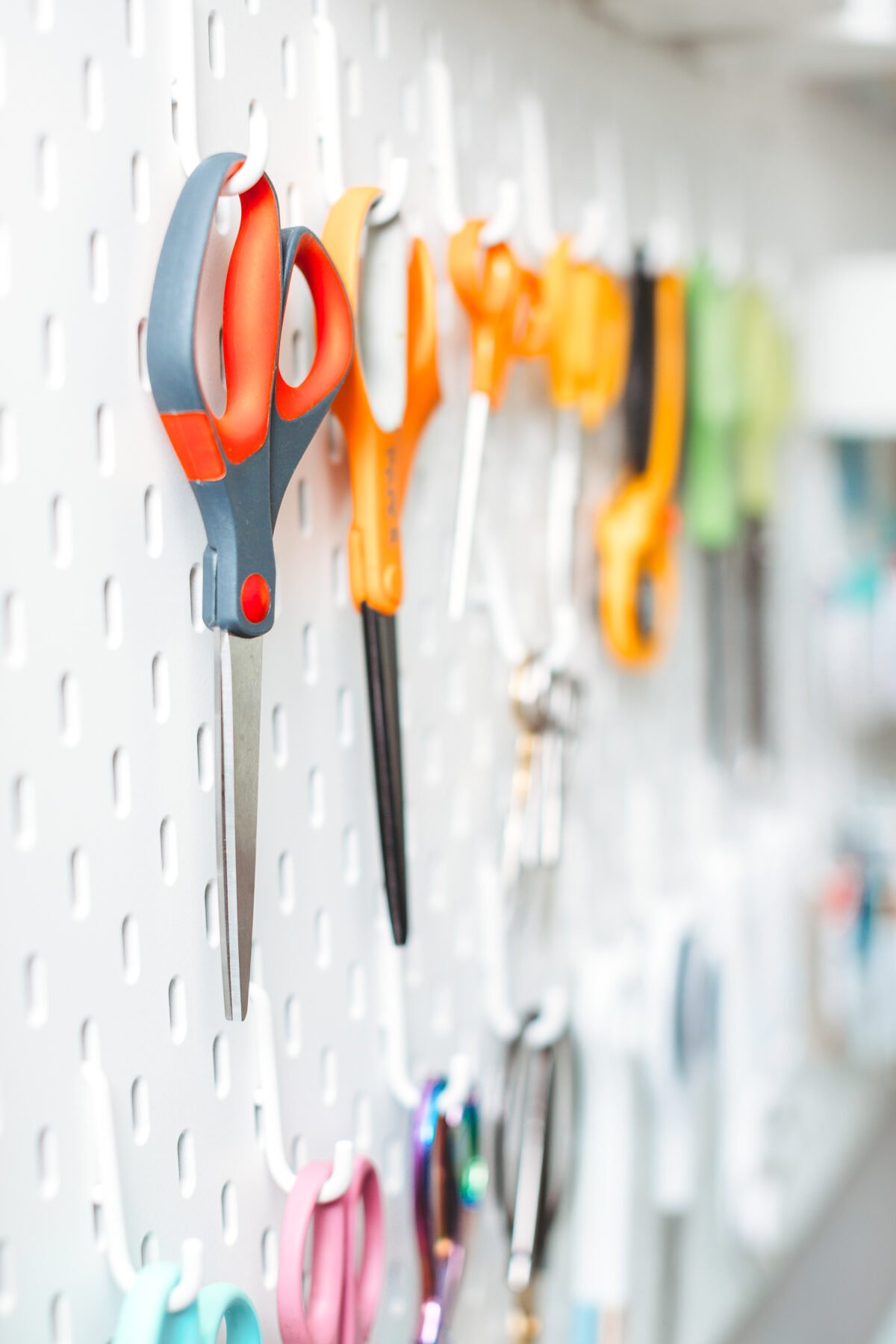 I was originally going to center it over my work desk, but it would go from one inconvenient spot to another. So instead, it's to the left of my desk, over one of my three small IKEA EKET cabinets. The other two are below the window.
Craft Room Cabinets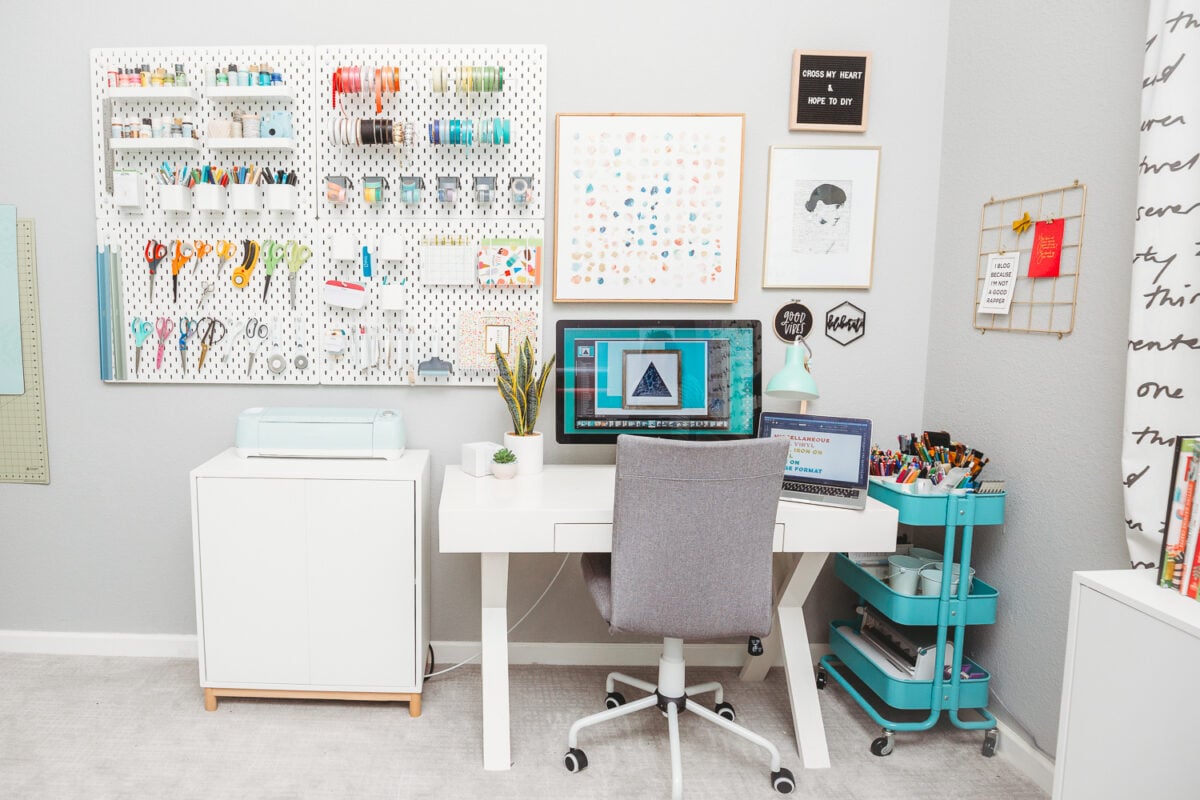 The EKET cabinets are perfect for craft room organization. They contain pretty much everything that was on the shelves before—glues and adhesives, tape, glitter, office supplies, 8.5″ x 11″ paper, Cricut Cuttlebug stuff, and a terrifying box of cords (don't we all have one of these?). Basically everything that isn't pretty lives behind the doors. I have a selection of books on top of those cabinets as well as my three Cricut machines.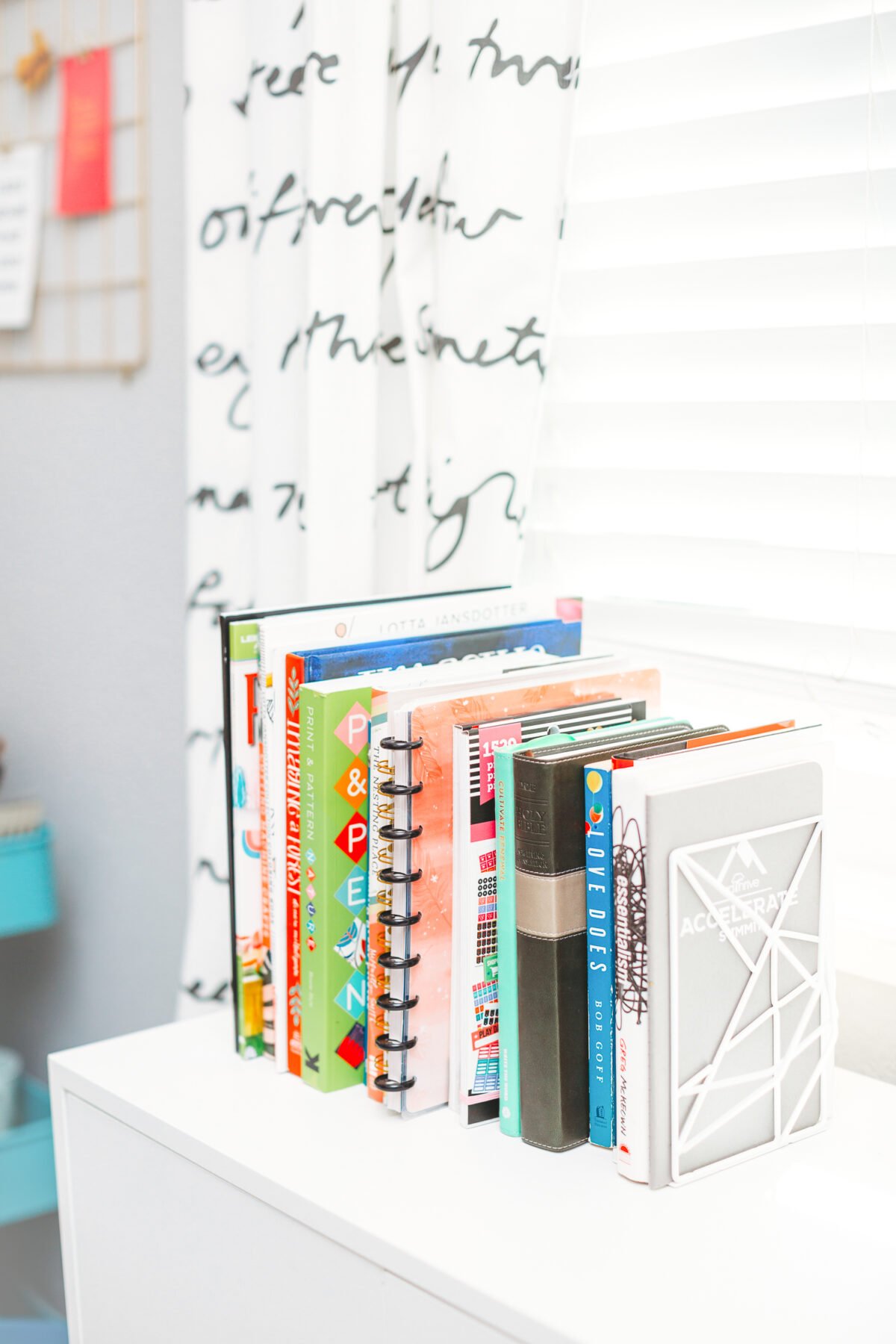 Craft Room Desk Ideas
I've had the same desk for a few years, a Josephine desk from World Market, which is discontinued. Wayfair has a few similar options. A while back I got the large monitor for my laptop, which has been a significant improvement for my back and neck. The chair is from Amazon and I like it okay (way better than my old plastic chair). The large framed artwork is from Target, and the smaller print of the woman was from Etsy, both from a few years ago.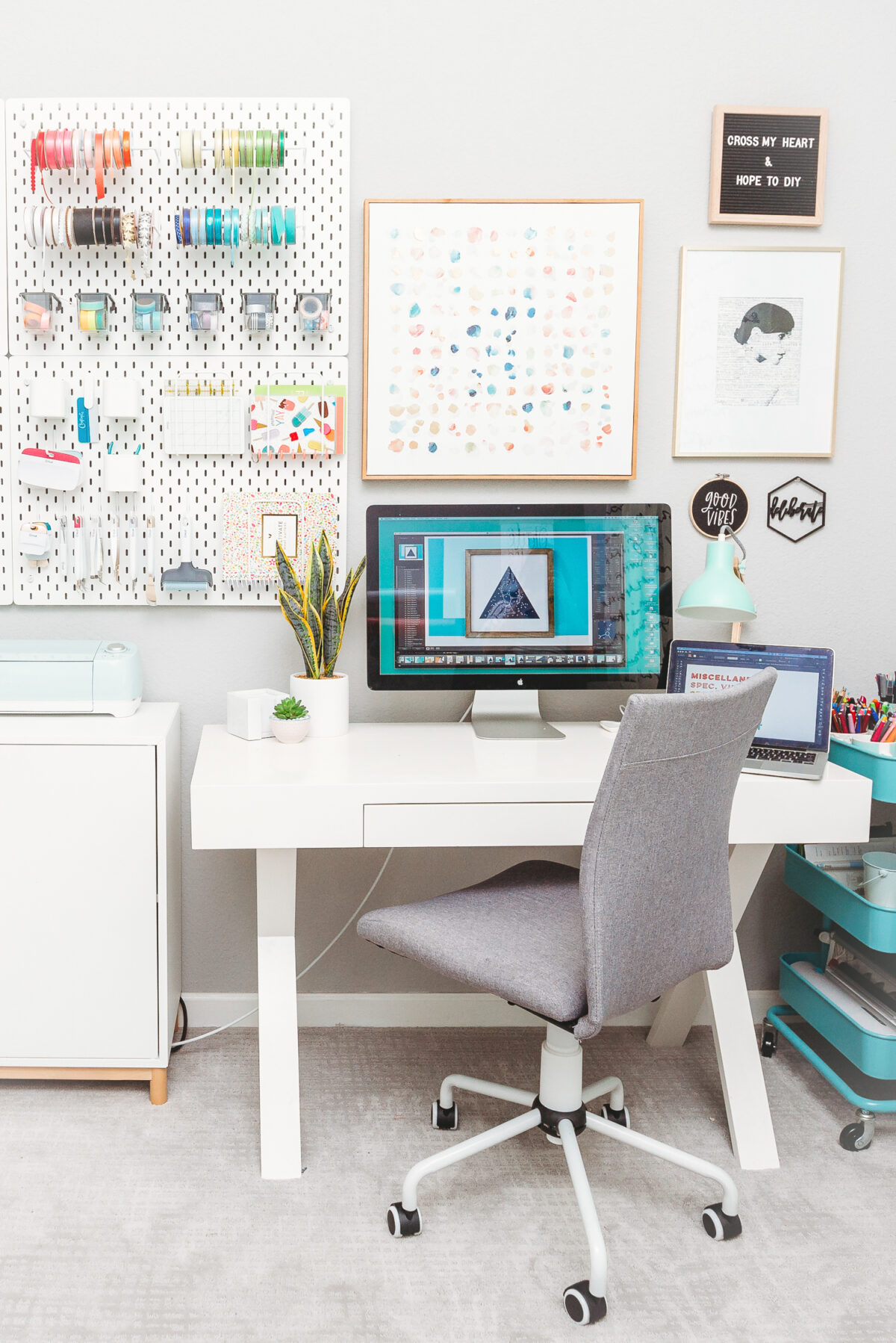 Then to the right is an IKEA RASKOG cart, which isn't available in teal anymore as far as I can tell. Amazon has some similar teal utility cart options. I have a collection of mugs holding all my different pens, paint brushes, etc. It also houses other random stuff I use fairly consistently, like my Xyron sticker maker.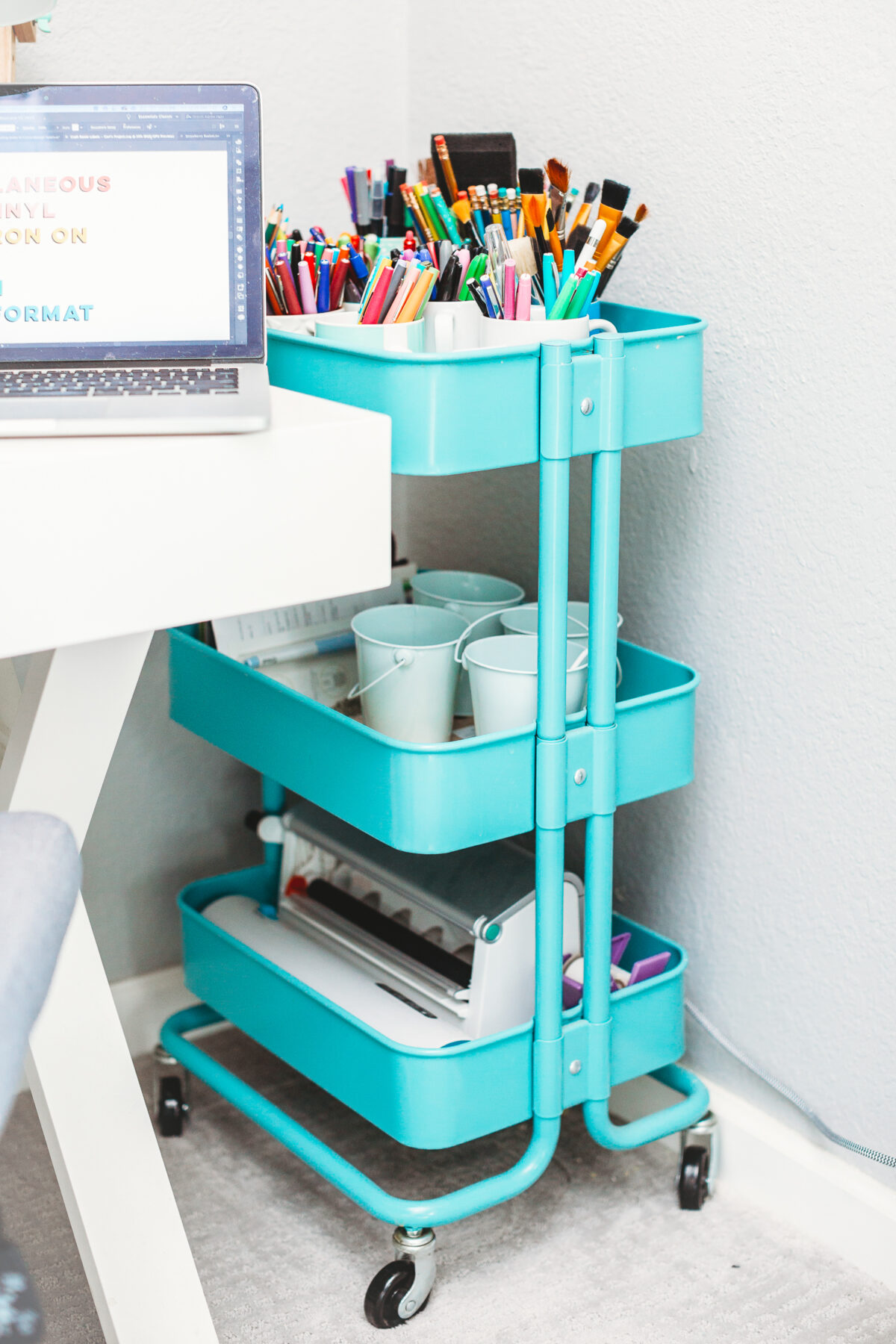 Craft Room Work Table
Let's turn around to the wall opposite the desk. I sold the bookshelves and replaced them with my work table against the wall, swapping out the legs so the table now rolls. This is now where I the majority of my crafting and all of my photography.
Above the table are rolls of paper that I use as photo backgrounds, mounted on small IKEA curtain rods. I just pull them down when I need to use them, and roll them back up when I'm done. A lot easier than having them all standing in the closet (and by "standing" I mean "falling over into the closet abyss").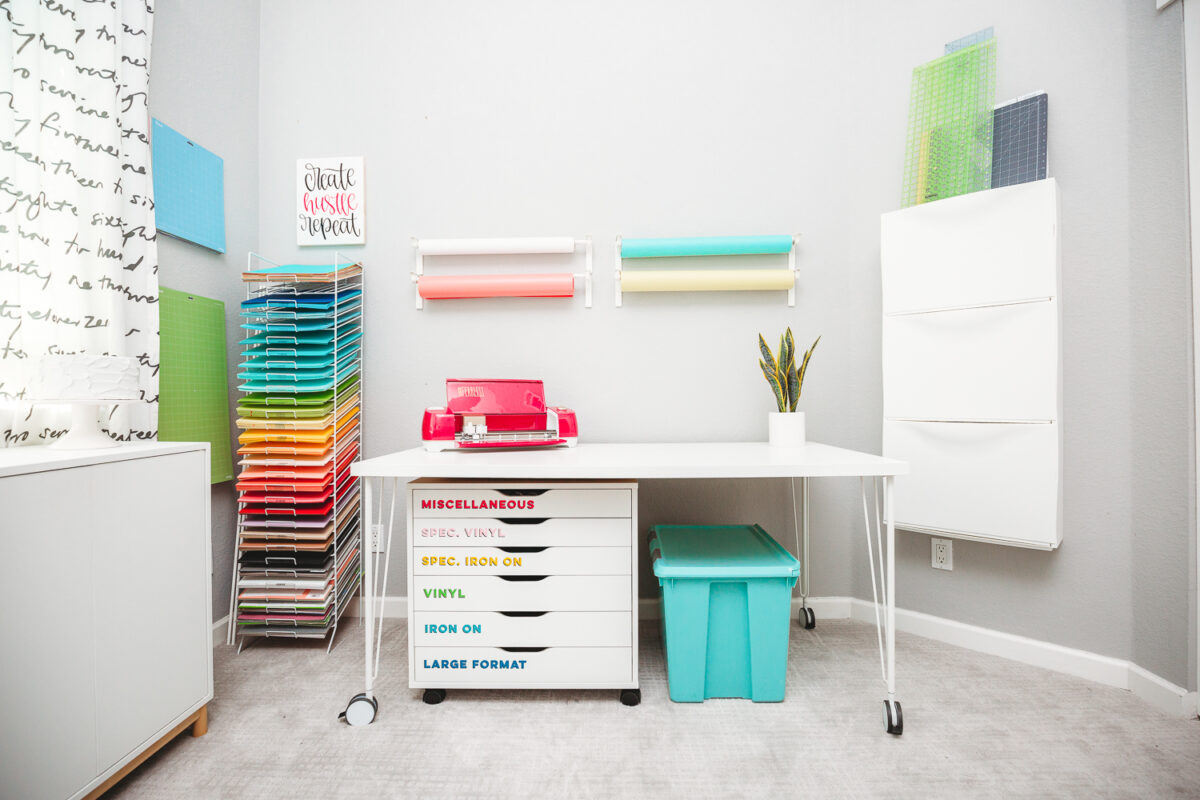 Craft Room Paper Storage
I also bought a wire paper rack for storing all my cardstock. This is so much more convenient than storing it in the IKEA TRONES shoe holder on the right. My Cricut mats hang on screws to the left of my worktable.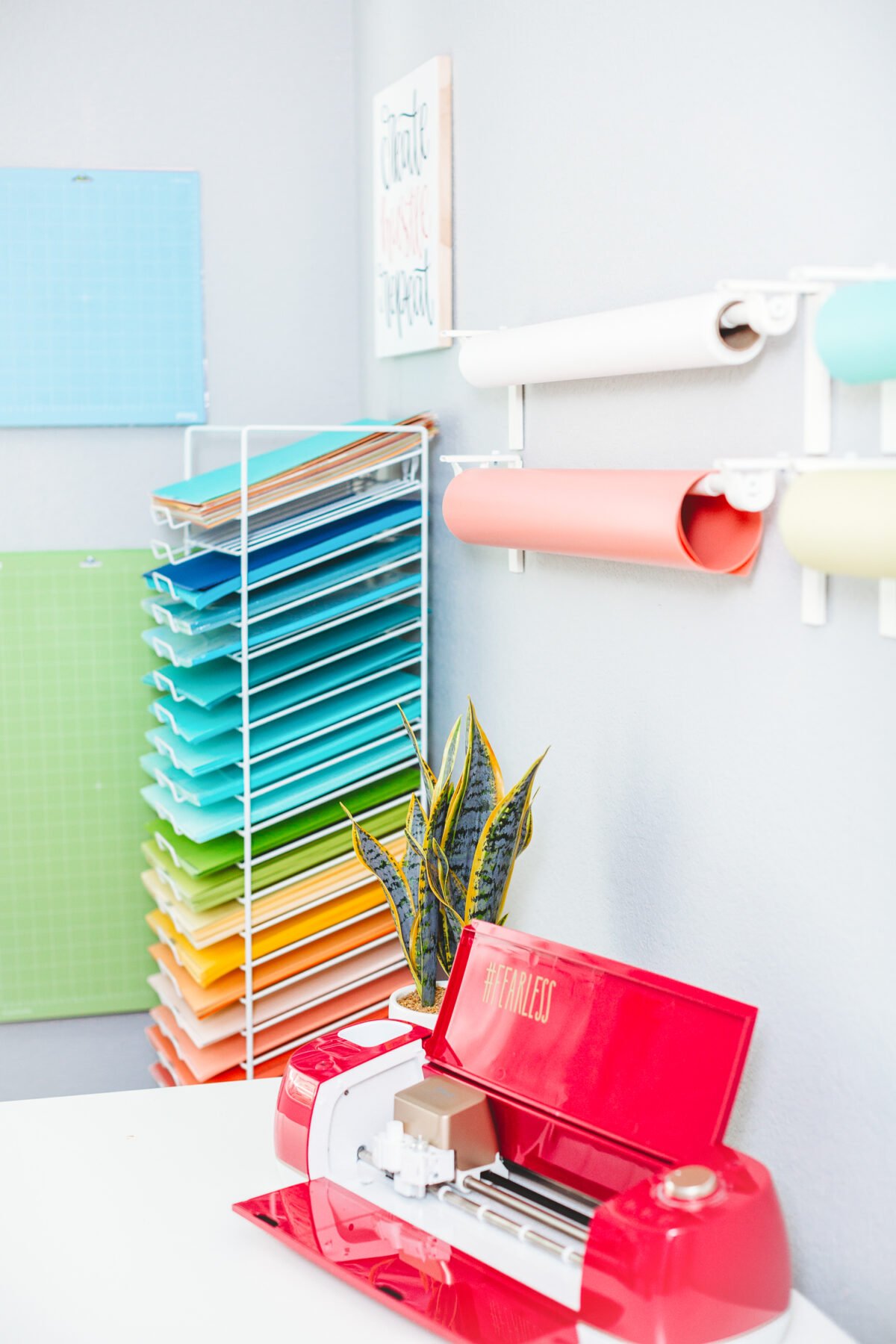 I still have the shoe holder, but I use it for larger scrapbook paper stacks, leather, and felt. On top I have all my big acrylic rulers—it actually works really well—much easier to set a ruler up there than trying to get it on a nail in the wall.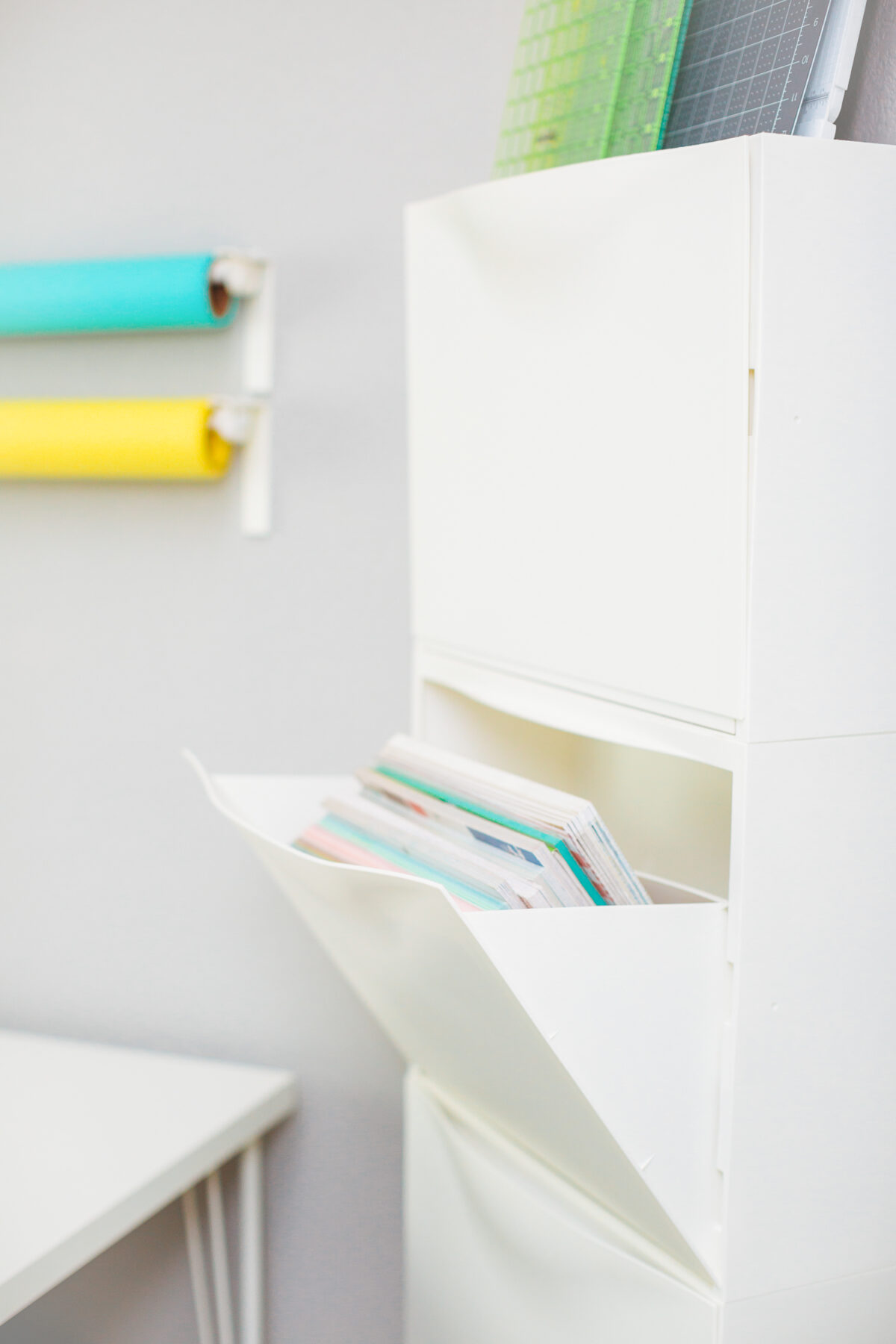 Cutting Machine Vinyl Storage
Below my work table is all of my vinyl, iron on, and other large materials in a set of IKEA ALEX drawers. I labeled these drawers using vinyl—be on the lookout for an upcoming tutorial! There is also a plastic bin of wood blanks and my sewing machine under this table. (New Post: 200+ Modern Craft Room Labels)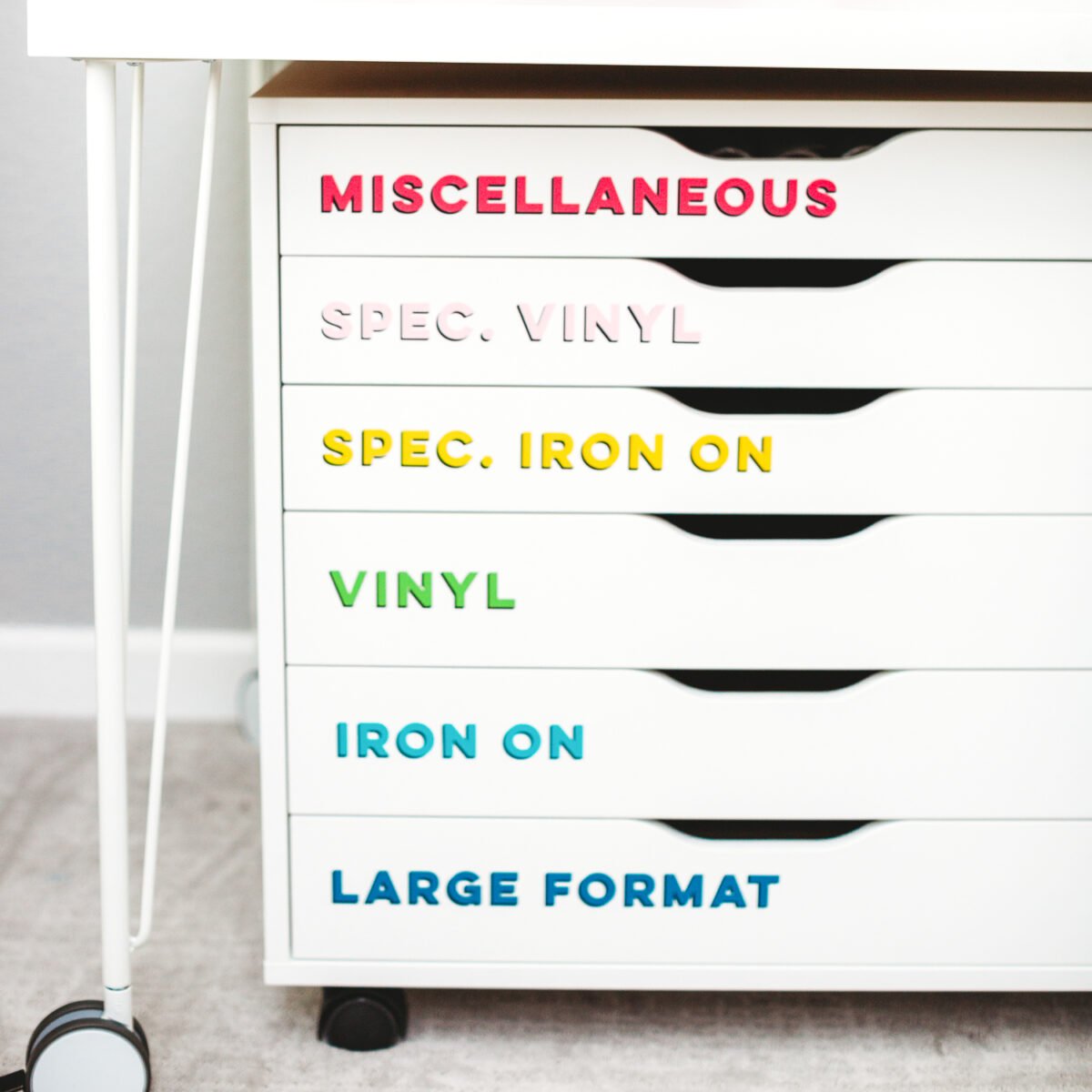 I didn't photograph inside the closet, but it's actually organized as well—there is a cart with my four Cricut EasyPresses, my giant heat press, a bunch of plastic bins full of blanks and other supplies, and some wire drawers for random staging props and other supplies. Again, stuff I don't use often and don't need out on a regular basis.
I can honestly say that my craft room is my favorite room in our whole house! I'm always so inspired when I'm working in here. I know I'm lucky to have a dedicated craft room—it's easy for me to come up with awesome ideas to share with you when I'm crafting in such an amazing space! Hope you found helpful craft room organization ideas and that it inspires you to make your space work for you!

Get Organized!